We're getting back into entertaining and this savory herb and cracked pepper goat cheese quiche that is nestled in a delectable hash brown crust hits the spot every single time. This recipe uses lot of herbs, lemon, and cracked pepper making it irresistible. You can serve this anytime of the year -timeless.
Breakfast, lunch or dinner – this quiche checks all of the boxes. It's a perfect dish for anything you have planned, a busy Saturday morning, potluck, brunch, overnight guests. You can serve it piping hot, room temperature or cold and it's so easy to grab to reheat for a mid-day bite.
Naturally vegetarian and gluten-free (as long as you read your frozen hash brown ingredient package).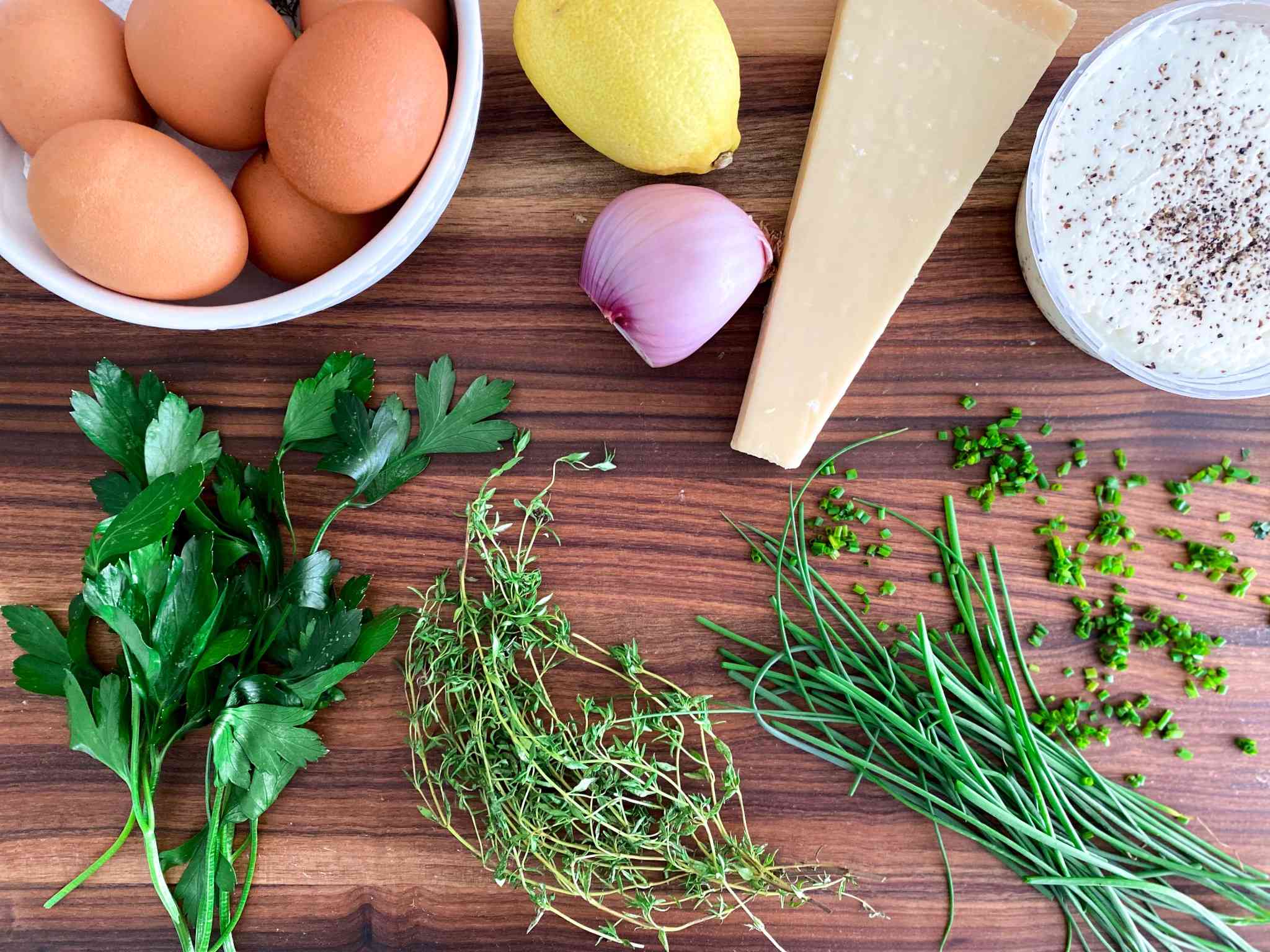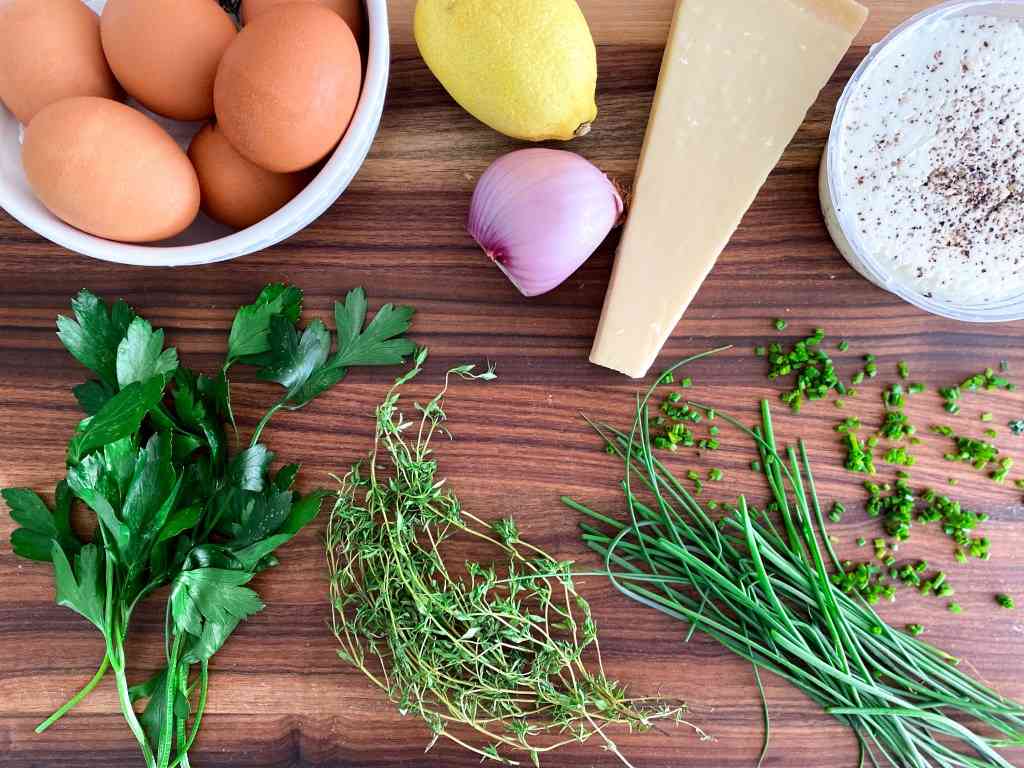 What is Quiche?
What is a quiche. A soft creamy egg dish that is known as a ratio recipe – you can make as little or as much as you want as long as you stick to the ratio – 2 eggs to 1 cup of cream or milk. This ratio uses the fat in the egg yolks and the fat in the cream to keep it soft and creamy as it bakes for a soft succulent bite every time.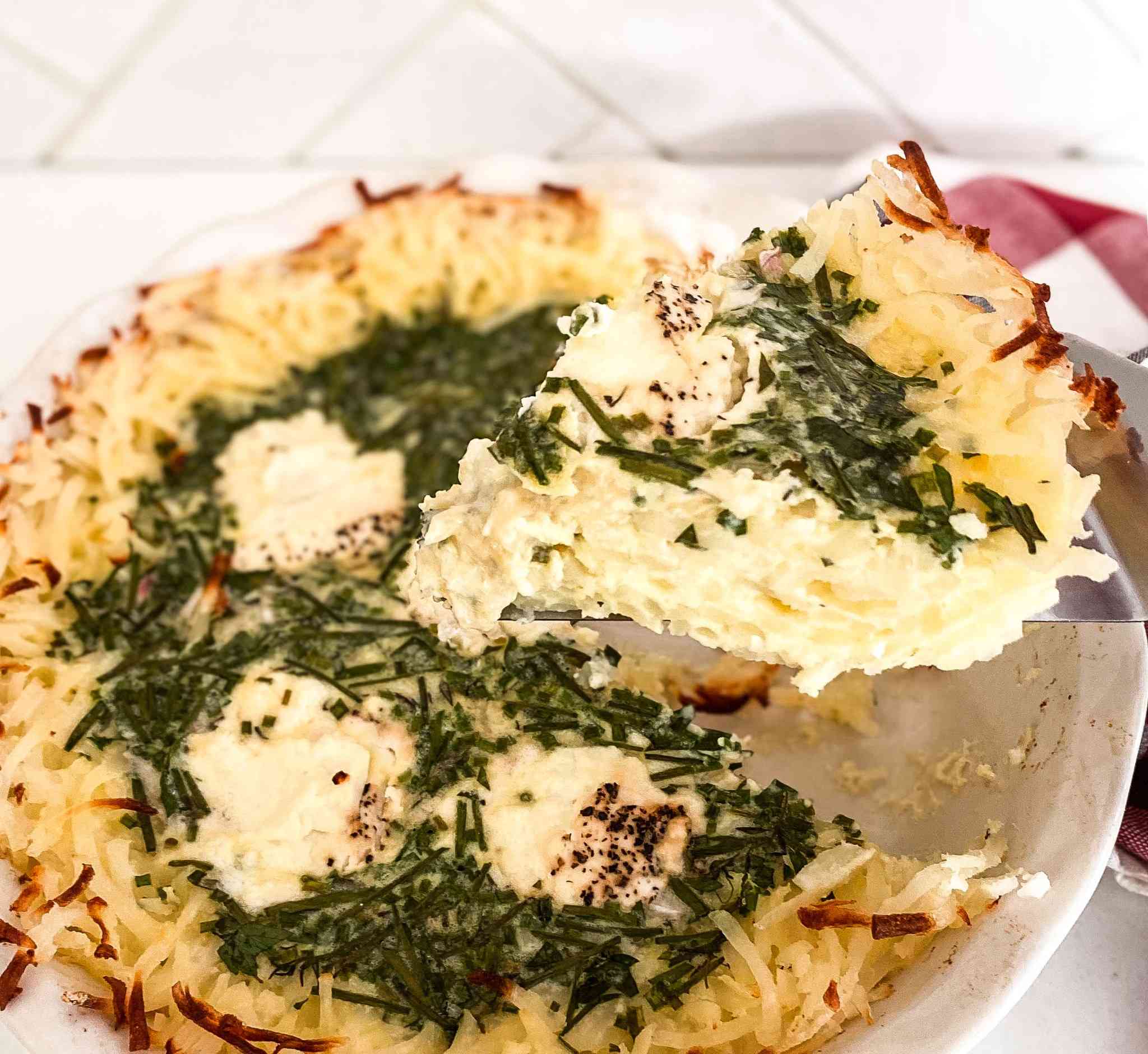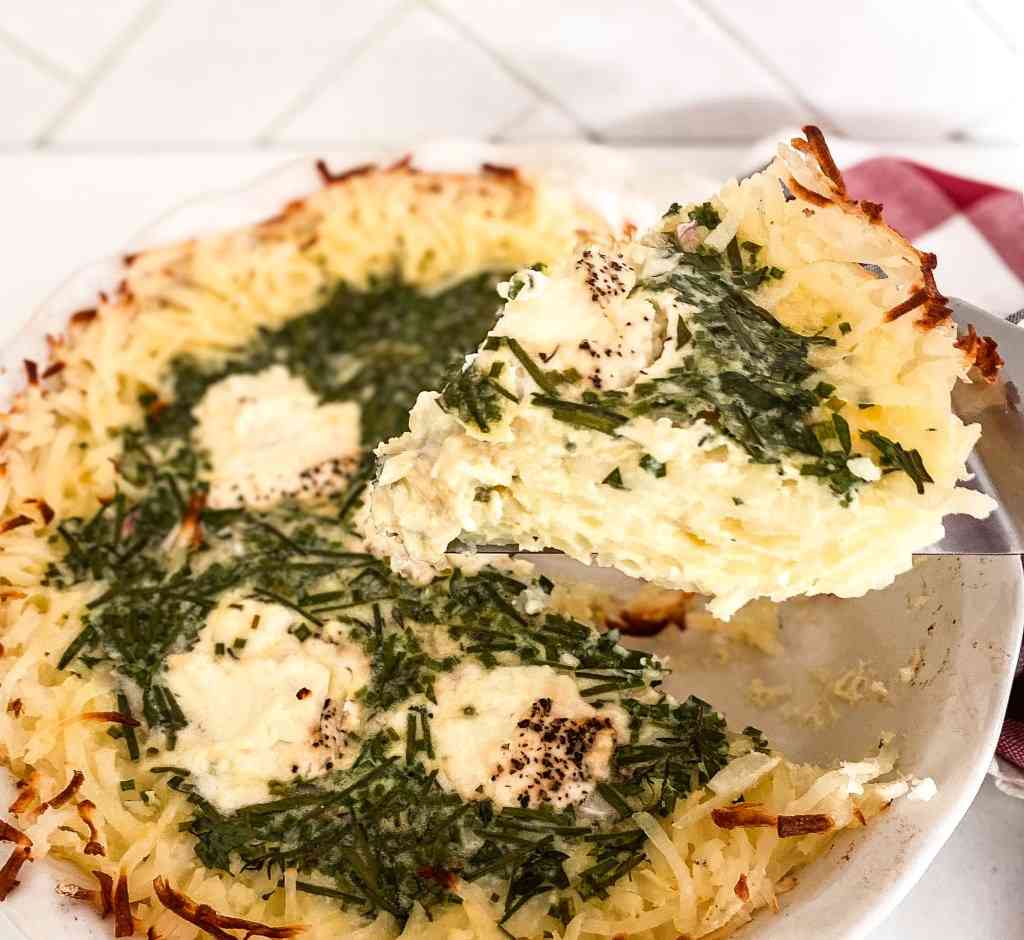 Hash Brown Crust
There are so many different flavors of frozen shredded hash browns out there and if we are making them on the side of eggs I love the southwestern flavors. For this hash brown crust, I bought plain shredded hash browns because the quiche is full of vibrant fresh flavors I didn't want to compete with that. 
Not only is it unbeatably delicious, the hash brown crust is naturally gluten-free (but double check the ingredients of your frozen hash browns). 

Fresh Herbs are a Must
This quiche is loaded with freshness and a lot of herbs which makes it perfect when you want something that is show-stopping, light and easy. The key secret is that the herbs must be fresh, you either have to grab them from the produce section or pick them out if your garden. 
Don't skip them and don't skimp out on them – the devil in in the details and you'll all of the herbs in the recipe and a hint a lemon zest for the most scrumptious quiche ever made.   


Farmer's Marker Goat Cheese 
I picked up this amazing cracked black pepper goat cheese for our local farmer's market, it was a dream. It was super creamy, fresh and delicious. 
I realize that not everyone has this option in the grocery store, you can buy plain goat cheese and add in freshly cracked black pepper at home to get the same flavors.

To make it bought goat cheese more creamy and "scoop-able" you can give it a quick whisk in a bowl first to loosen it up. This step is totally optional.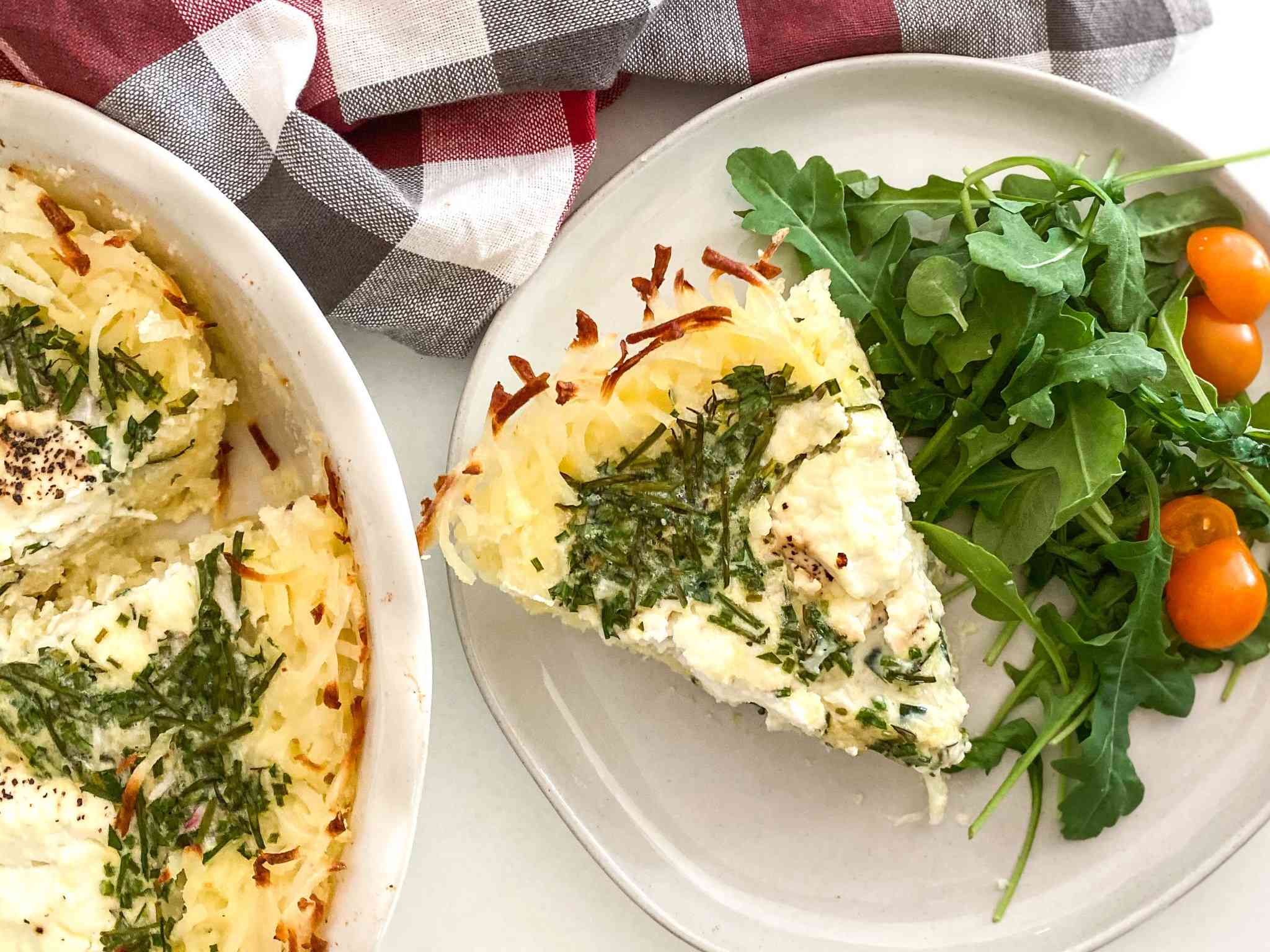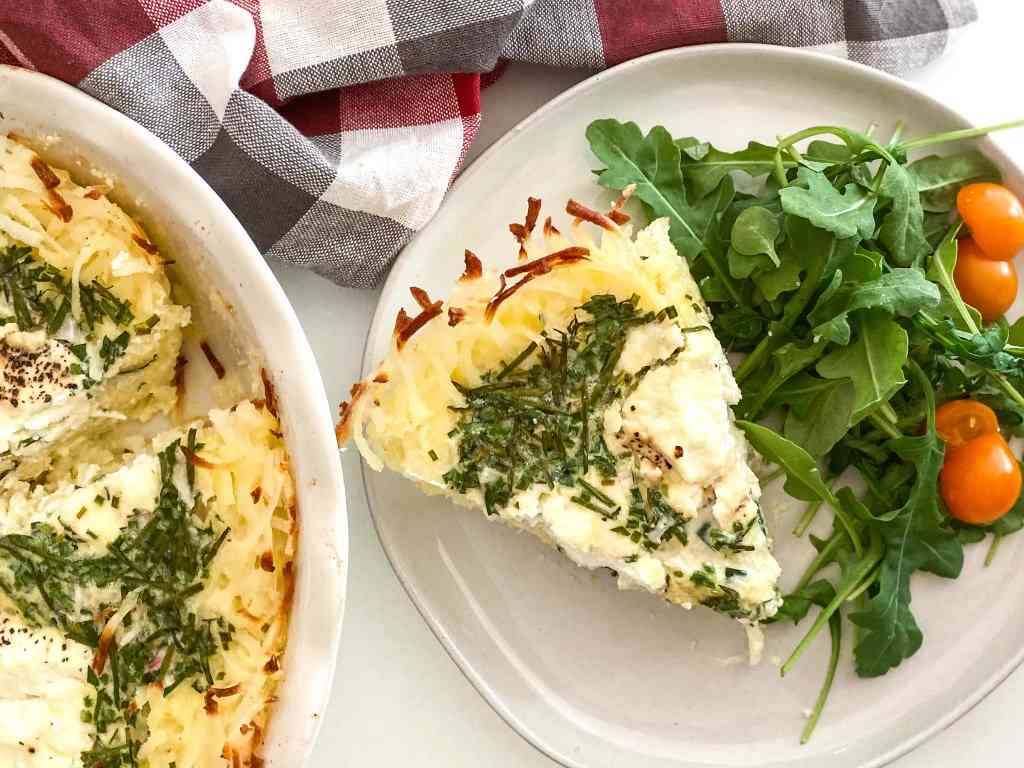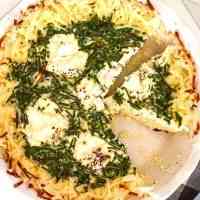 Herb & Cracked Pepper Goat Cheese Quiche (with a hash brown crust; vegetarian and gluten-free))
The creamiest quiche ever serves with a crispy hash brown crust, it's the perfect combo. The herbs and seasonings give it the most amazing flavor - perfect for brunch!
Print
Email
Pin
Rate
Ingredients
16-20

oz

Frozen Shredded Hash Browns - thawed out

3

Eggs

1½

cup

Cream

1

small

Shallot - diced small (about ¼ cup)

1

tsp

Fresh Lemon Zest

1

TBSP

Fresh Thyme - chopped

¼

cup

Fresh Chives - thinly cut

¼

cup

Fresh Parley - chopped

¼

cup

Freshly Shredded Parmesan Cheese

½

tsp

Salt

4

oz

Cracked Black Pepper Goat Cheese

see blog notes.

2

TBSP

Butter
Instructions
Preheat your oven to 350F.

Using cooking spray, spray your pie pan. Line your pie pan with an even layer of your thawed hash browns.

In a bowl, whisk together your eggs and then your cream and whisk to combine.

Carefully and slowly pour your egg mixture into your hash brown crust, make sure to do it gently not to move your hash brown layer.