Stuffing is one of my all-time favorites. Impress your guests this holiday season with this vegetarian sourdough herb & pomegranate stuffing. Pretty with the pop of red pomegranate seeds, this recipe is perfect for your holiday table. The seeds give this traditional sourdough and herb stuffing a fresh burst of flavor making it super special.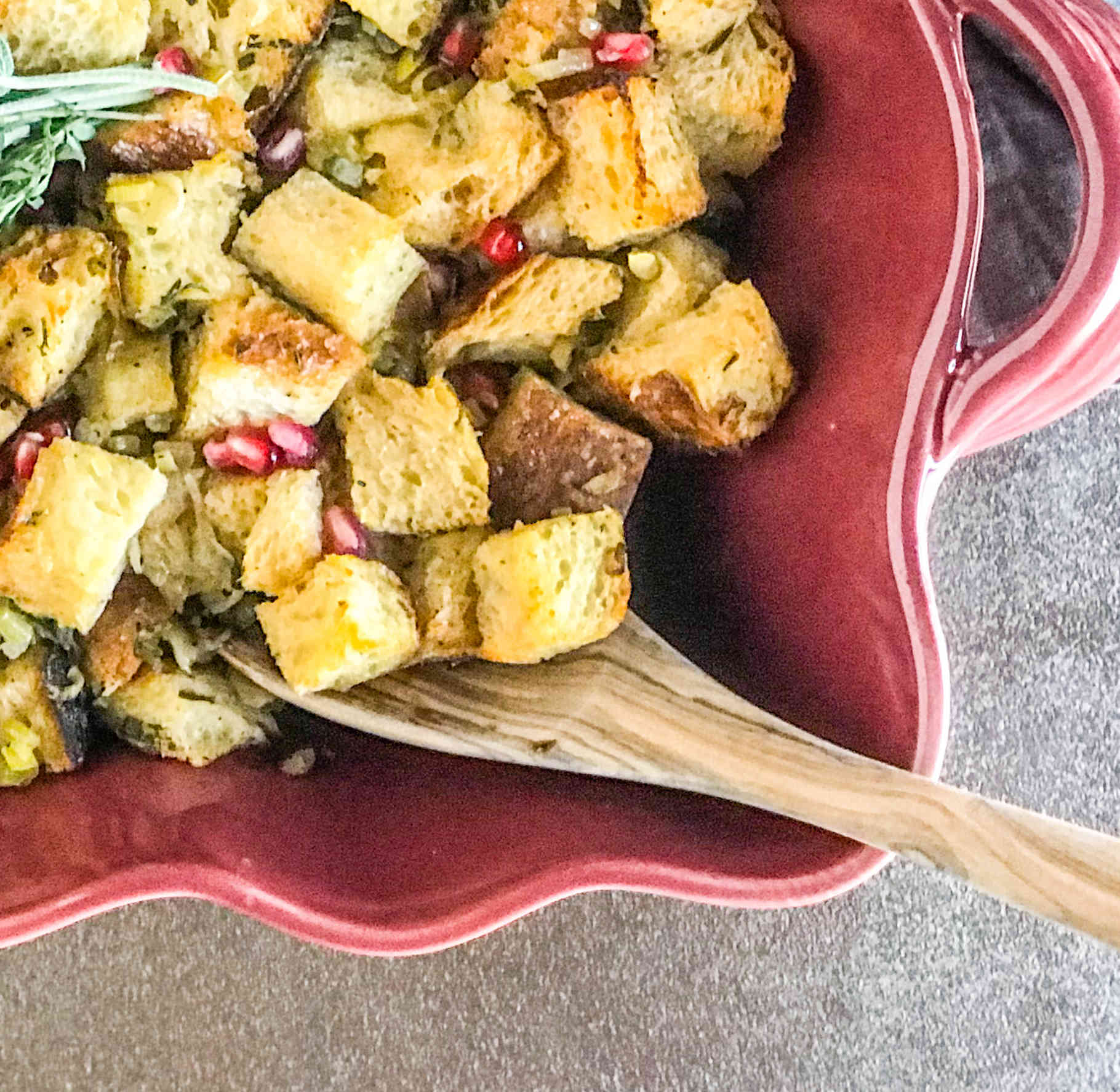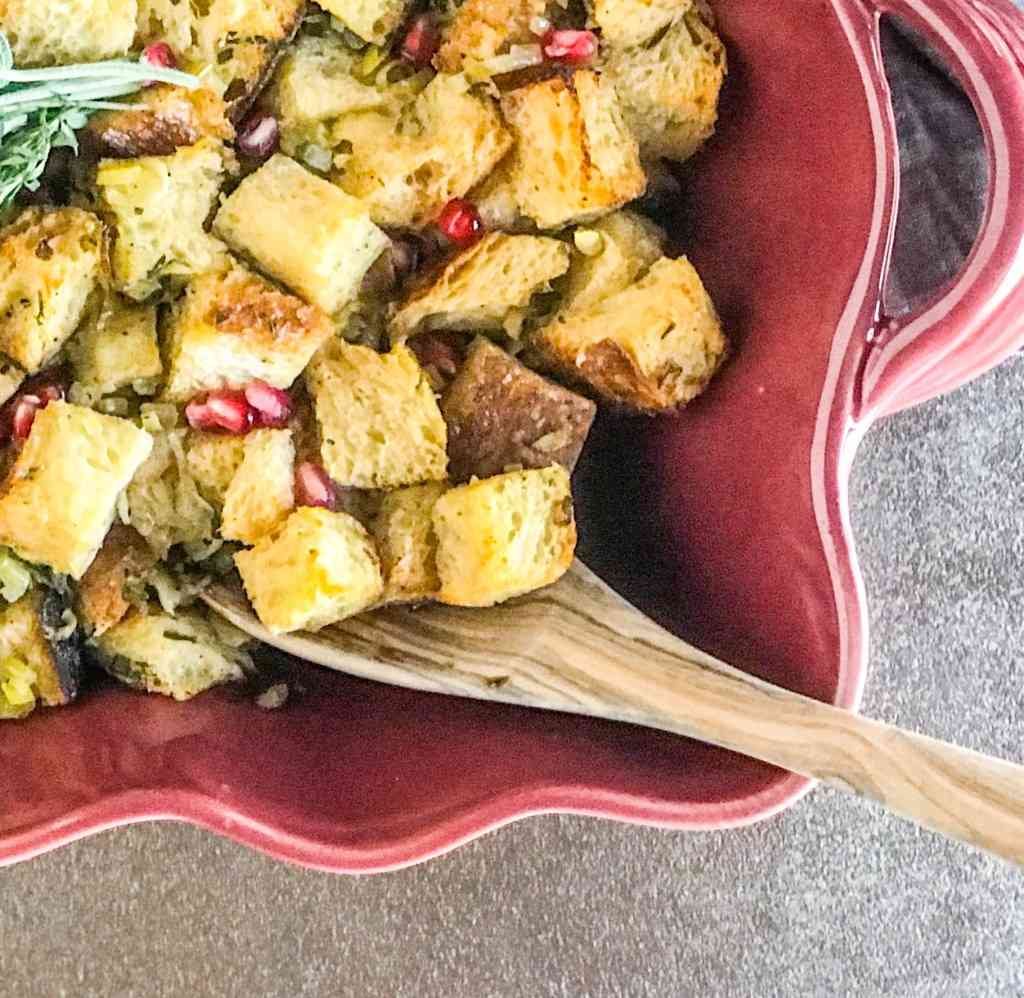 Pomegranate Seeds
There are several ways to get pomegranate seeds out of the pomegranate. With all of the techniques I think it's super easy to do one of these two options.
– Cut the pomegranate in half, and then hit the bottom of it with a wooden spoon, the seeds should easily fall out into a bowl.
OR
– Cut the pomegranate in half, dig a spoon into the pomegranate and loosen the seeds, scraping them into a bowl with your spoon or fingers.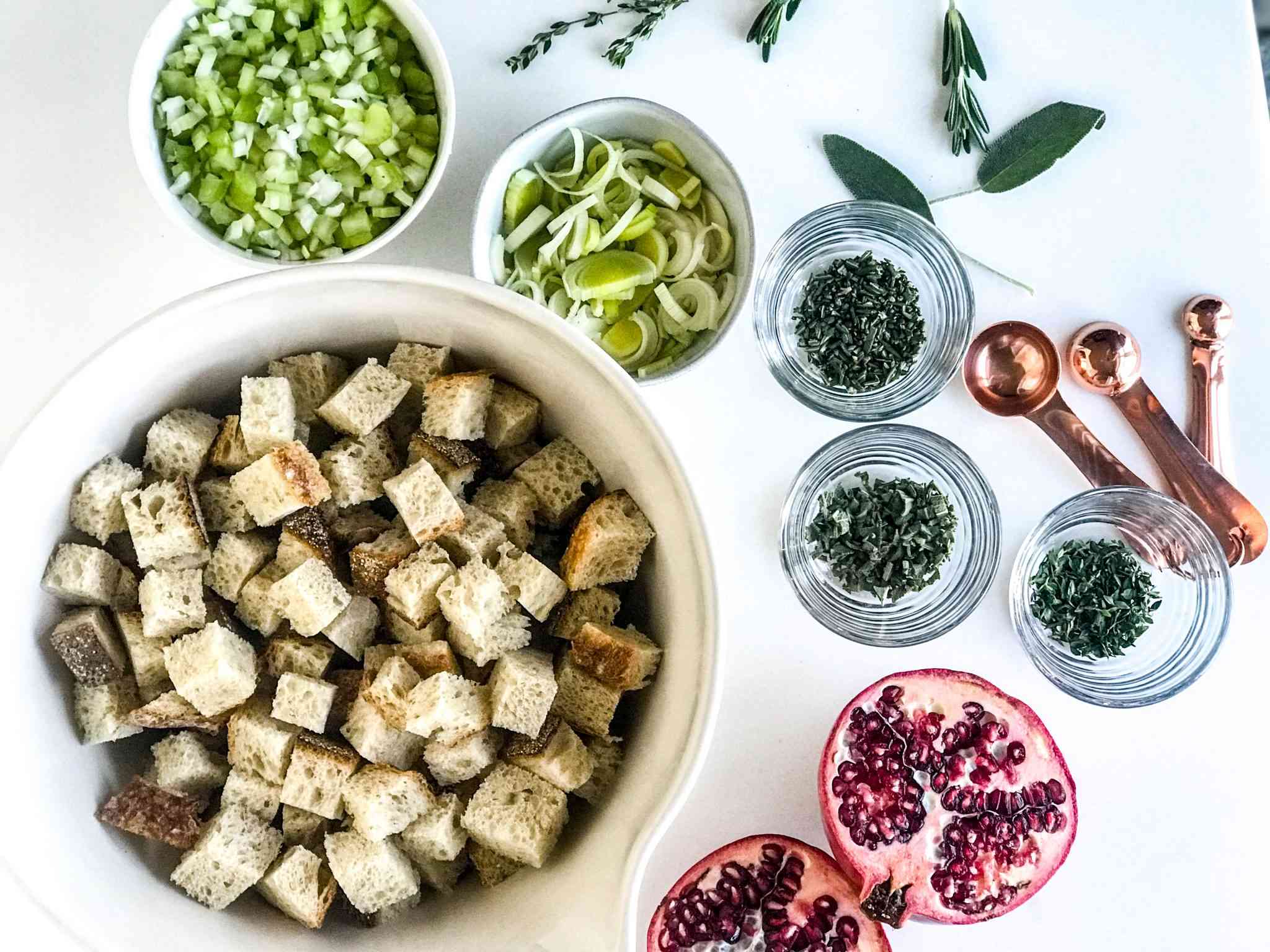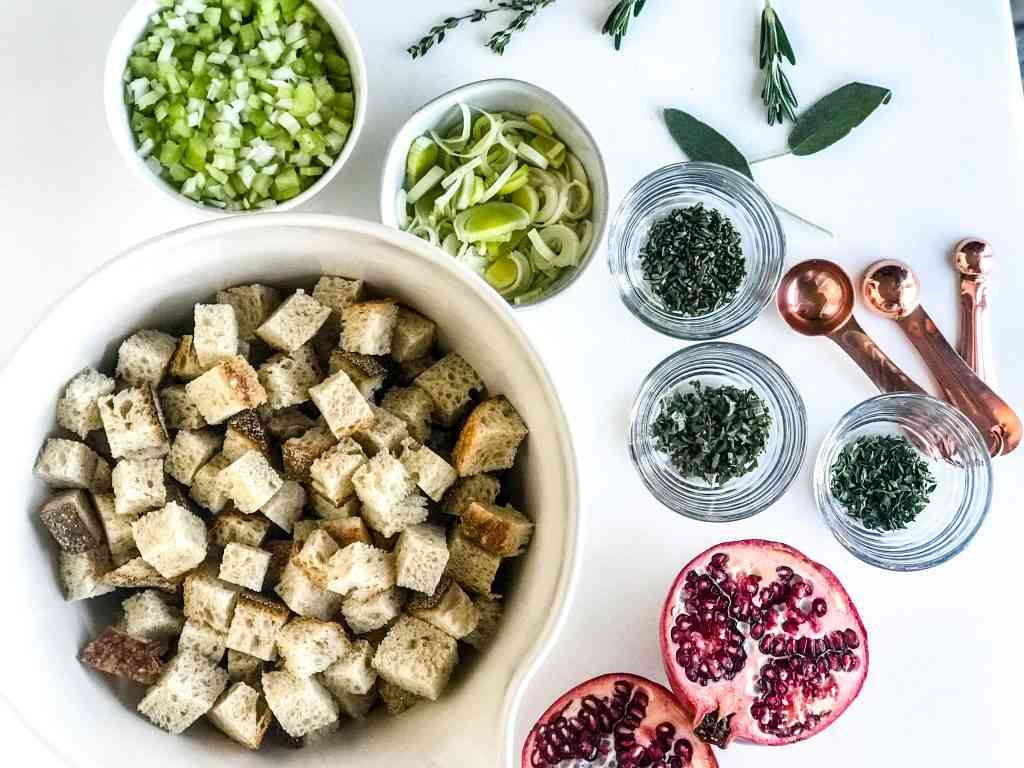 What you'll need, the ingredients are so pretty.
Small Loaf of Sourdough Bread – You will want to cut it into 1/4 – 1/2 inch cubes (12 cups). You can also use smaller cubes if you want a more traditional stuffing. Lay them out on a cookie sheet so that they will get hard and stale for this recipe, it take about 12 hours.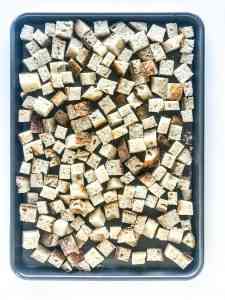 Leeks – You will want to use a small leek. Leeks have a mild onion-like flavor, it adds another layer of savory in this dish.

To clean a leek, you will need to trim off the top dark leaves, cut in half lengthwise and soak in cold water, this allows the dirt to fall to the bottom of the bowl. Take the leeks directly out of the bowl and pat dry before cutting for the recipe.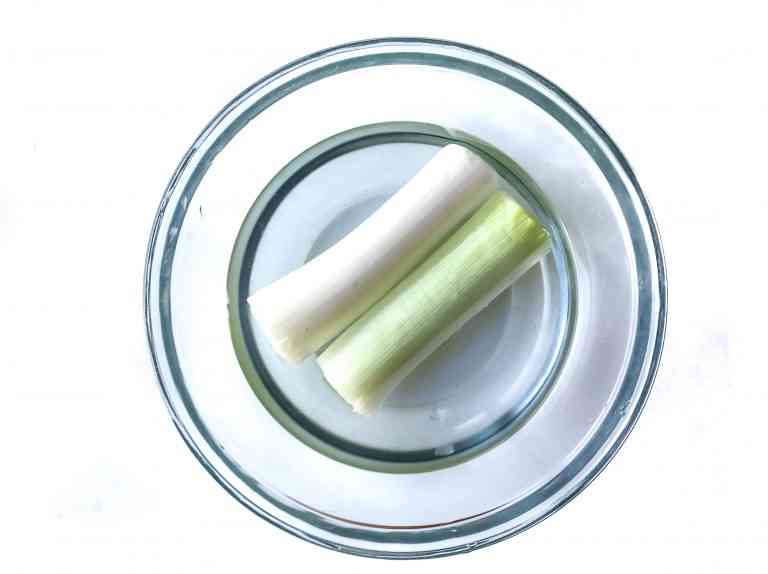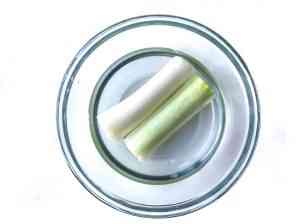 Celery and Onions – Three stalks of celery and a small onion. To easily dice celery, you should cut the celery longwise into thirds and then turn to cut it into a small dice.

You can check out my step-by-step photos for how to dice an onion easily and safely.
Herbs – Fresh Sage, Rosemary and Thyme. You will need to chop your herbs. It's best to make sure your herbs are dry, that you're using a sharp knife. You want to make sure you are cutting through the herb leaves, and you only want to cut your herbs 2-3 times. If you continue to cut through your herbs they become smushed and lose their integrity.
Vegetable Stock – To keep this vegetarian, I used vegetable stock. You can also use chicken stock if you want to. I'm a huge fan of McCormick Kitchen Basics (this is not sponsored, or a paid ad, I just love their stocks).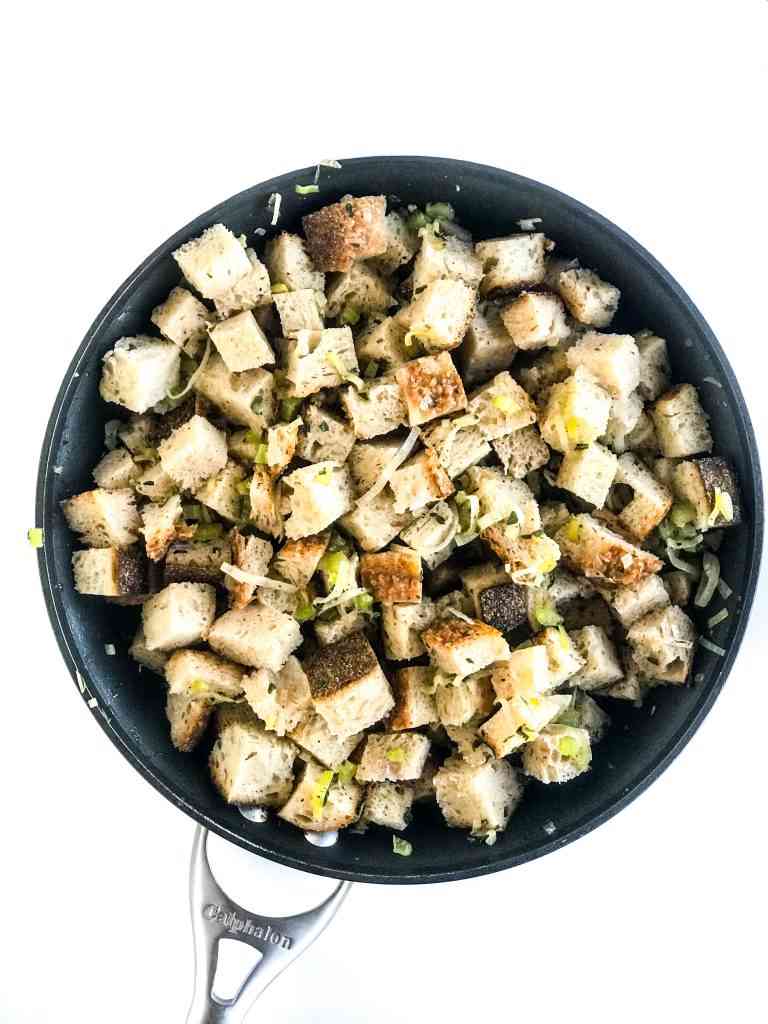 Stress Free Holidays – Prep Ahead Stuffing
This dish is easy to prep ahead, there are a couple options on how to start and stop making this super stress-free and easy for the holidays.
Option 1 Cut and measure all of your ingredients. Keep your bread cubes out on the counter, but store everything else in the refrigerator until you're ready. Freshly cut vegetables and herbs will keep for a day or two in the refrigerator, make sure to keep your herbs dry.
Option 2 Follow Steps 2-5. Do not preheat your oven until you're ready to bake 🙂 You can complete all the steps and add your stuffing mixture to your casserole dish (do not add in your stock or lemon juice until you are ready to bake the stuffing). Store your prepared casserole dish, covered, in the refrigerator for up to a day. When you're ready to bake, bring out your prepared stuffing and let it sit on the counter while you preheat the oven. Pour in the stock and sprinkle with lemon juice. Bake accordingly to the recipe below.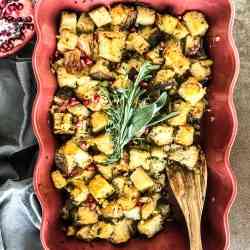 Vegetarian Sourdough Herb & Pomegranate Stuffing
[ratings]
Cube your bread and let it sit out on the counter over night so that it becomes stale.
* You can prep this dish ahead, see blog for details.
Print
Email
Pin
Rate
Ingredients
12

cups

Stale Sourdough Bread Cubes

3

TBSP

Butter

divided

½-1

cup

Thinly Sliced Leek

one small leek

1

cup

Small Diced Celery

about 3 stalks

1

cup

Small Diced Onion

one small onion

1½

tsp

Salt

1

tsp

Pepper

1

TBSP

Fresh Chopped Sage (heaping)

1

TBSP

Fresh Chopped Rosemary

1

TBSP

Fresh Chopped Thyme

2 -3

cups

Vegetable Stock

½

Lemon

1

Pomegranate
Instructions
Preheat your oven to 400F and spray your casserole dish.

As your oven preheats, over medium heat, melt 1 TBSP of butter and sauté your leek, celery, onion, salt and pepper until they are almost soft. About 3 minutes.

Add in the herbs and stir to combine. Cook over medium heat for about 2 minutes until the herbs start to become fragrant.

Pour your mixture into your casserole dish, pour your vegetable stock over the stuffing mixture as evenly as possible. I used about 2 ½ cups, but if you like a more moist stuffing use 3 cups. If your cubes are smaller, start with 2 cups.

Dot the top of your stuffing with the remainder 2 TBSP of butter.

Drizzle on the juice of 1/2 a lemon.

Bake at 400F for 20 minutes. Str your breadcrumbs, if it seems a little dry add in more stock.

Bake for another 20 minutes so that it's hot throughout.

Sprinkle your pomegranate seeds and garnish with fresh herbs.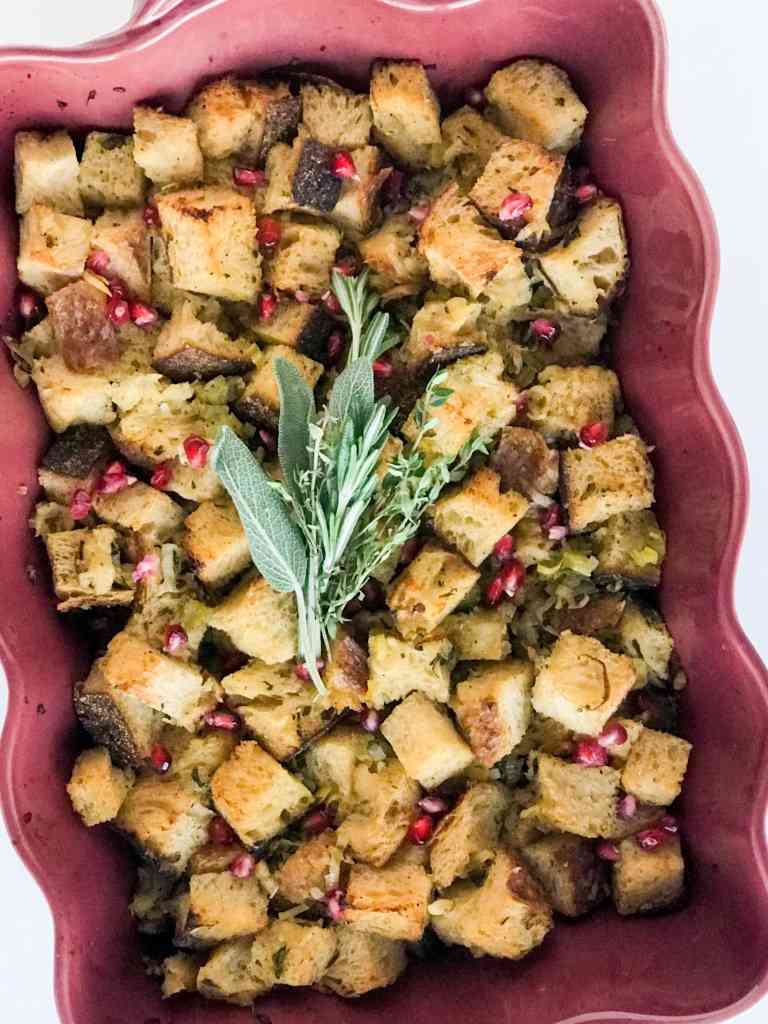 Complete your dinner…
Autumn Spiced Herby Turkey Breast
Lemon-Thyme Roasted Chicken
Bacon Honey Almond Brussel Sprouts