Is the weather getting better for you? I have the window's open and the spring breeze is finally here! I know today is pie day but I can't resist sharing this Irish mac and cheese recipe. This beer, cheese and pasta combo be a great addition to any of your St. Paddy's day celebrations. What else can you ask for?
This recipe has Irish Beer and Irish Cheddar Cheese, because when in Rome… or should I say Dublin?

I'm sure you can substitute the beer with whatever you like to drink. I really enjoyed this Harpoon Craic because it was hoppy so it adds an additional bitterness to the dish. Bitterness is one of the five flavors chefs try to have on plate so that the meal is satisfying. It's how chocolate and toast are described in the culinary world (the darker you like your chocolate or toast the more bitterness you enjoy). At first that may sound undesirable but for this dish it will round out the flavors and it is a perfect combination with the cheese and pasta.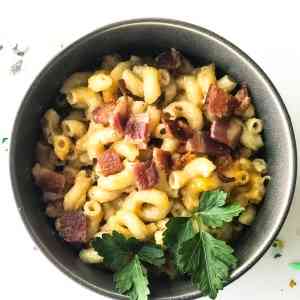 Ingredients
1

Lbs

Macaroni

Elbow or Cork Screw

4

TBSP

Butter

unsalted

4

TBSP

Flour

6

oz.

Irish Beer

Harpoon Craic

1

TBSP

Dijon Mustard

2

cups

Whole Milk

¼

tsp

Salt

¼

tsp

Pepper

3

cups

Cheddar Cheese

(7oz Kerrygold Dubliner White Cheddar & regular Sharp Cheddar)
Garnish
Bacon

cooked and diced

Parsley

Chives

thinly chopped