Oven roasted ginger carrots are going to be your new favorite side dish. It's fancy enough for the holidays but simple enough for everyday dinner. The fork tender soft carrots roasted in herbs and ginger really make these carrots irresistible.
I was a late-39 years old before I liked cooked carrots as a dish. I would eat cooked carrots when they were chopped up in a recipe like soup or pot pie but I never ever ate them as the meal's vegetable side dish until now. These slow oven roasted ginger carrots changed mind and now I crave them. I want them all the time.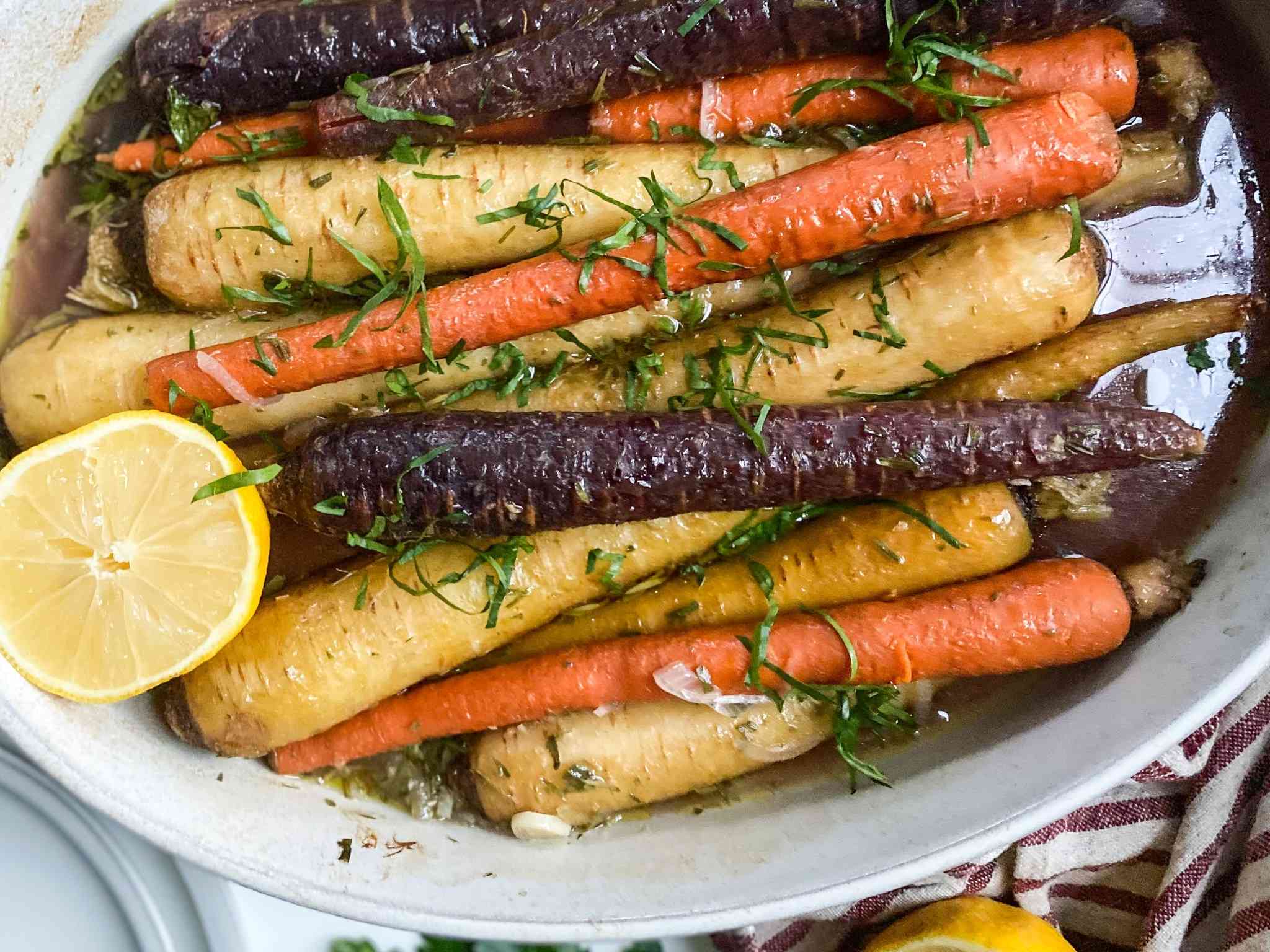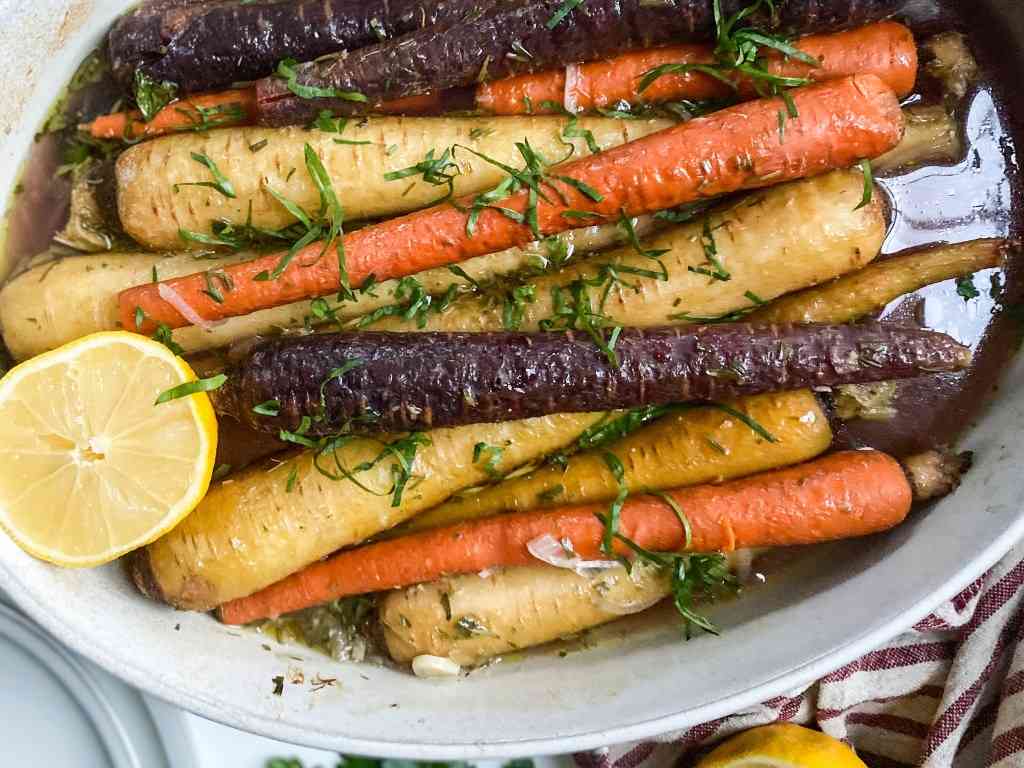 Slow Oven Roasted Ginger Carrots – Prep Ahead
Weeknight dinners and the holidays are hectic. The challenge to get dinner on the table before hanger sets in is real. Thick hard crunchy carrots take time to soften to fork-tender, there are a few ways to beat the clock.
Roast ahead. You can make this entire recipe beforehand and re-heat in the oven right before serving. For weeknight dinners, roast the recipe on your prep-day and then pull them out to reheat during the week.
Cut the carrots. If you don't want to make the dish ahead of time, simply cut the carrots. The thinner the carrots, the shorter the cook time will be needed. You can cut them into circles or lengthwise, do whatever look you want, both ways are equally delicious and beautiful.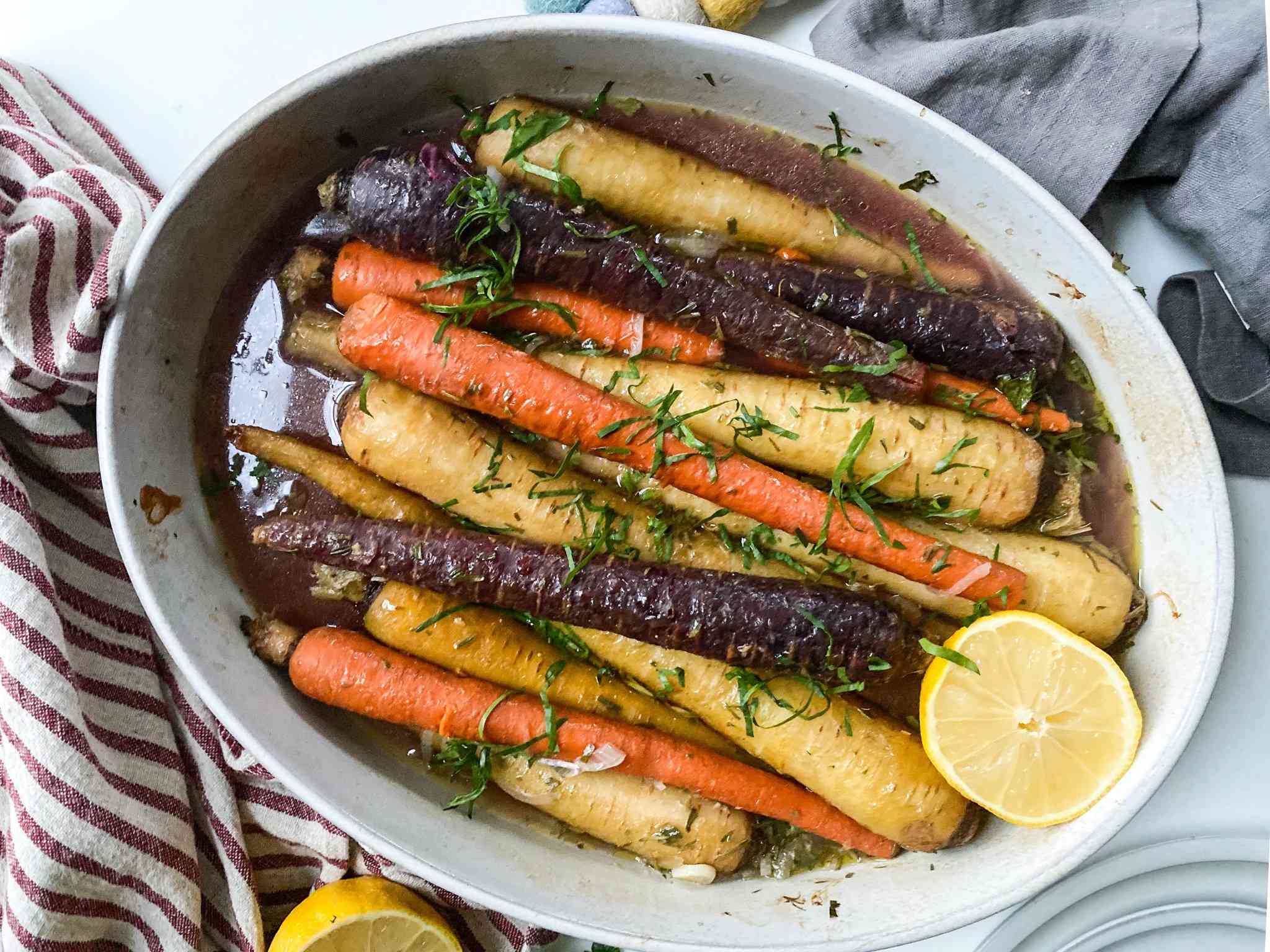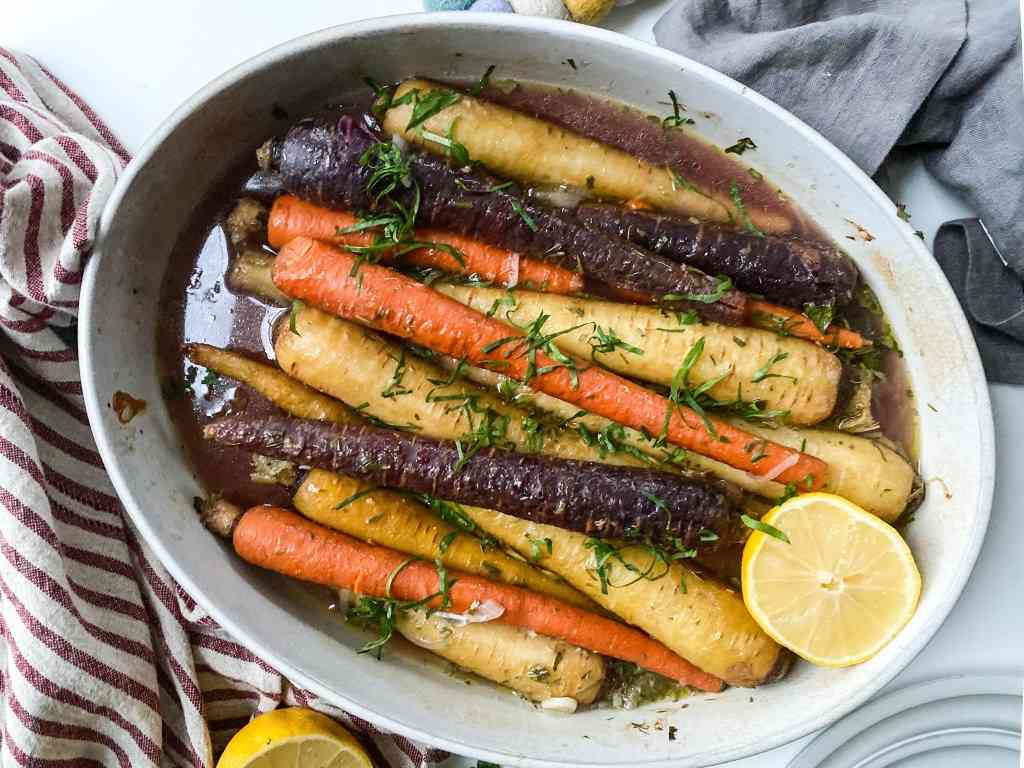 Rainbow Carrots
I don't think there is any change in flavor, per se, but colored carrots seem to be more appealing to the eye. Not to mention, when you have two little girls, purple carrots are always a win.
Carrots come in a lot of different ways. The smaller "fingerling" carrots are my favorite. You can easily swap those in for this dish, the cooking time may need to be adjusted because they won't need to cook as long.
If your carrots come with a greens still attached to the top, keep them on. Those greens are edible and healthy! Or if you want to, cut them off and add them to you morning smoothie for a health kick.
Ginger Carrots
Fresh ginger really adds a punch to the carrots. It adds a little bit of brightness and freshness to the root vegetable making them super delicious.
These ginger carrots are topped with shallot, garlic and tarragon and roasted in a chicken stock, making the mild carrots develop rich and warm cozy comforting flavors, perfect for the chilly cold weather.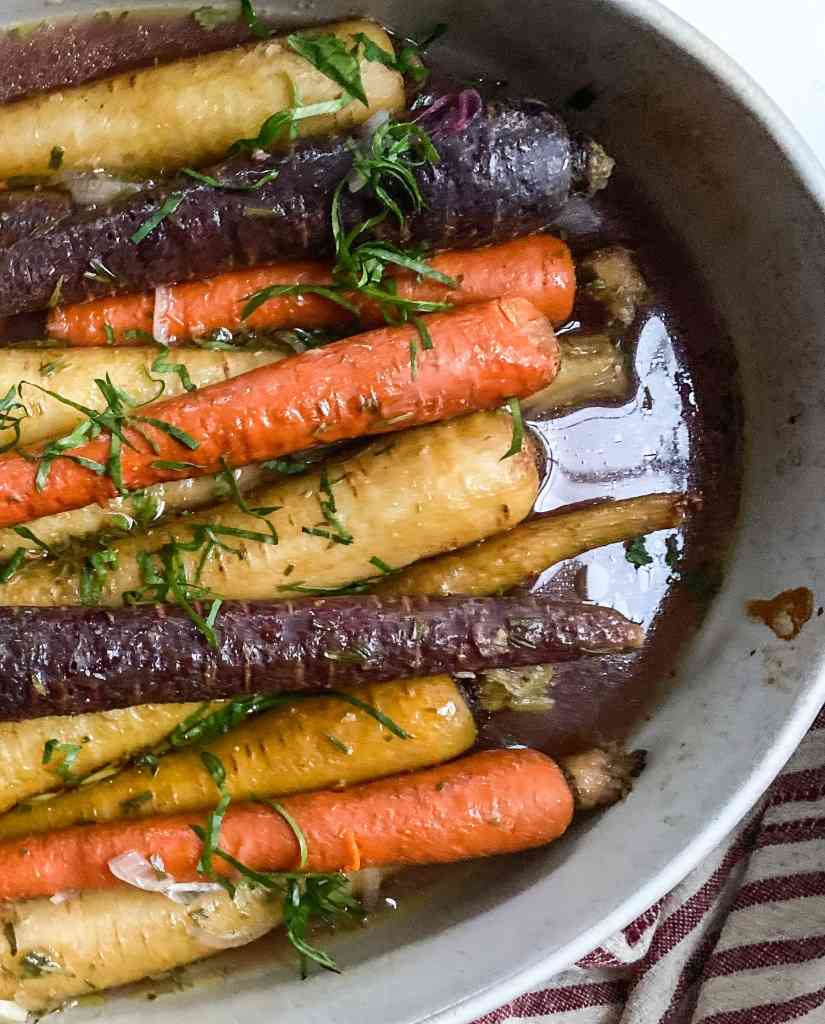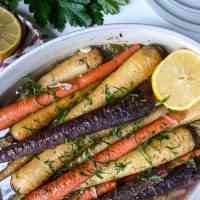 Simple Oven Roasted Ginger Carrots
These fork-tender oven roasted ginger carrots are the perfect side dish for everyday dinner and fancy enough for the holidays. The fresh ginger, shallot, garlic and tarragon give these carrots the most cozy comfort flavors, pure perfection.
Easy recipe to prep ahead - see blog post for tips.
Print
Email
Pin
Rate
Ingredients
2

lbs

Carrots

1

bunch

Fresh Parsley

1

Shallot -thinly sliced

3

cloves

Garlic - peeled and thinly sliced

1

TBSP

Fresh Ginger - grated

1

TBSP

Fresh or dry Tarragon

¼

tsp

Salt

2

cups

Vegetable or Chicken Stock

½

Lemon
Instructions
Preheat your oven to 400F.

Pour in your stock, just enough to cover the bottom layer of carrots. If you're using smaller or cut carrots you may not use the entire 2 cups.

Cover with foil and roast at 400F for 40 minutes. After 20 minutes, move the carrots around so that the top carrots are now on the bottom of the casserole dish and in the stock, recover and roast for the remaining 20 minutes.

Uncover, give the carrots a toss, make sure the carrots that are still firm are on the bottom in the stock. Roast uncovered until the carrots are soft and fork tender about 20 more minutes.

Cooking time will vary if you have smaller or cut carrots.