Quick stir-fry chicken and broccoli is so simple and easy for any busy weeknight and has the most incredible sauce. Top it with a sprinkle of sesame seeds and green onions for the perfect weeknight meal you can make in 20 minutes or less. It's one of our favorite go-to meals.
Chicken, Steak or Salmon
This recipe may look familiar to you because it's similar to the OG, the quick stir-fry beef and broccoli recipe on Nicole's Tasting Spoon. After my family fell in love with the flavors of that dish, I decided to write another recipe for chicken. I haven't tested it, but I am pretty certain the flavors would be amazing with salmon or shrimp too!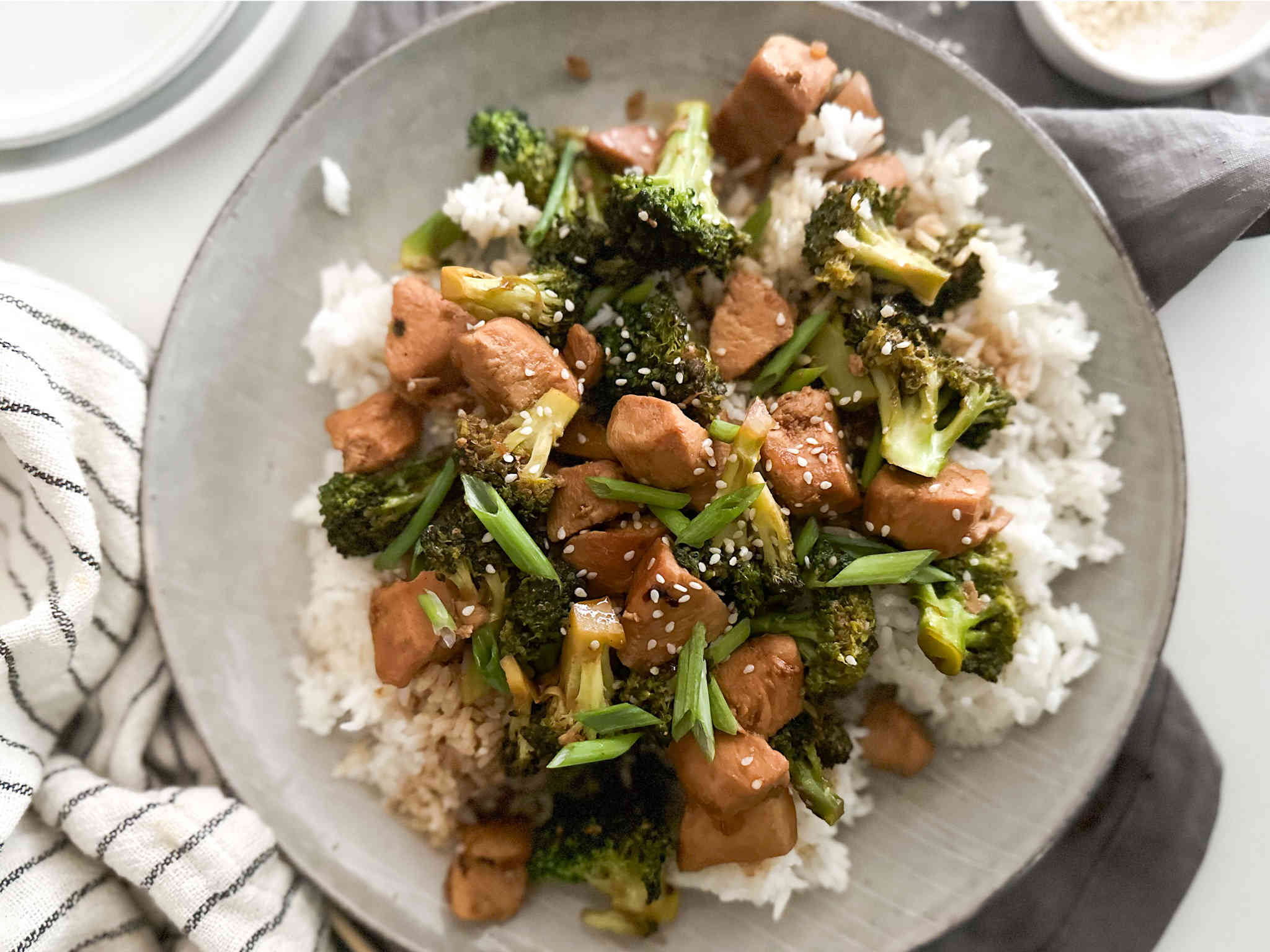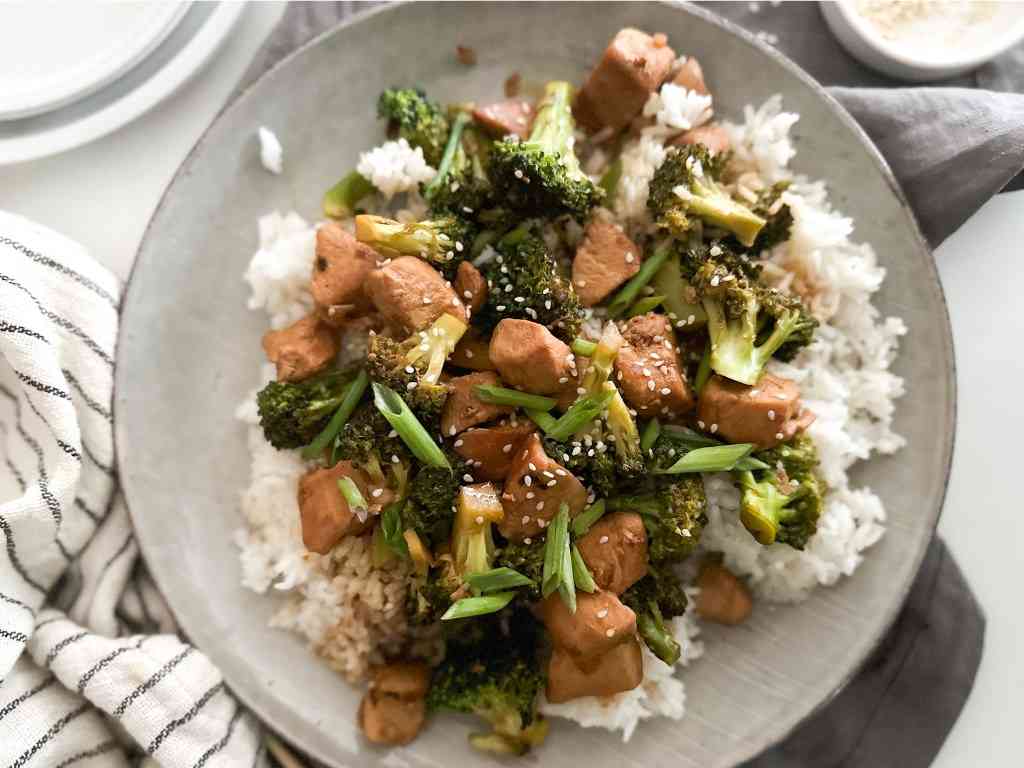 Stir-Fry Chicken and Broccoli – Simple Ingredients
Chicken Breasts: Trim your chicken breasts and cut them into bite-size pieces.  These bite-size pieces will cook quickly, try to make the pieces all similar in size so that they cook at the same pace.
Soy Sauce: I find that the less-sodium soy sauces taste better.
Hoisin Sauce: A thick salty and sweet bold sauce that provides the main flavors of this stir-fry. It can be similar to BBQ sauce but with more of an Asian flare of flavor.
Rice Vinegar: Is a milder vinegar that adds a little acidity to the sweet and salty to help create the perfect balance.
Brown Sugar: In my opinion, brown sugar and soy sauce go hand-in-hand. A little bit of the warm brown sugar gives the hint of molasses which deepens the flavors of the stir-fry.
Red Pepper Flakes: Found in the spice aisle of the grocery store. This will add a little heat to the sweet and salty flavors we will get from the pan sauce.
Green Onions: Thinly sliced green onions (otherwise known as scallions) are a mild onion. You will use the white end in the recipe and the green tops for garnish.
Broccoli: You will want to use fresh broccoli for the best flavor. Cut the broccoli into bite-size florets.
Sesame Seeds: Garnish the top with a sprinkle of sesame seeds for a nutty crunch texture.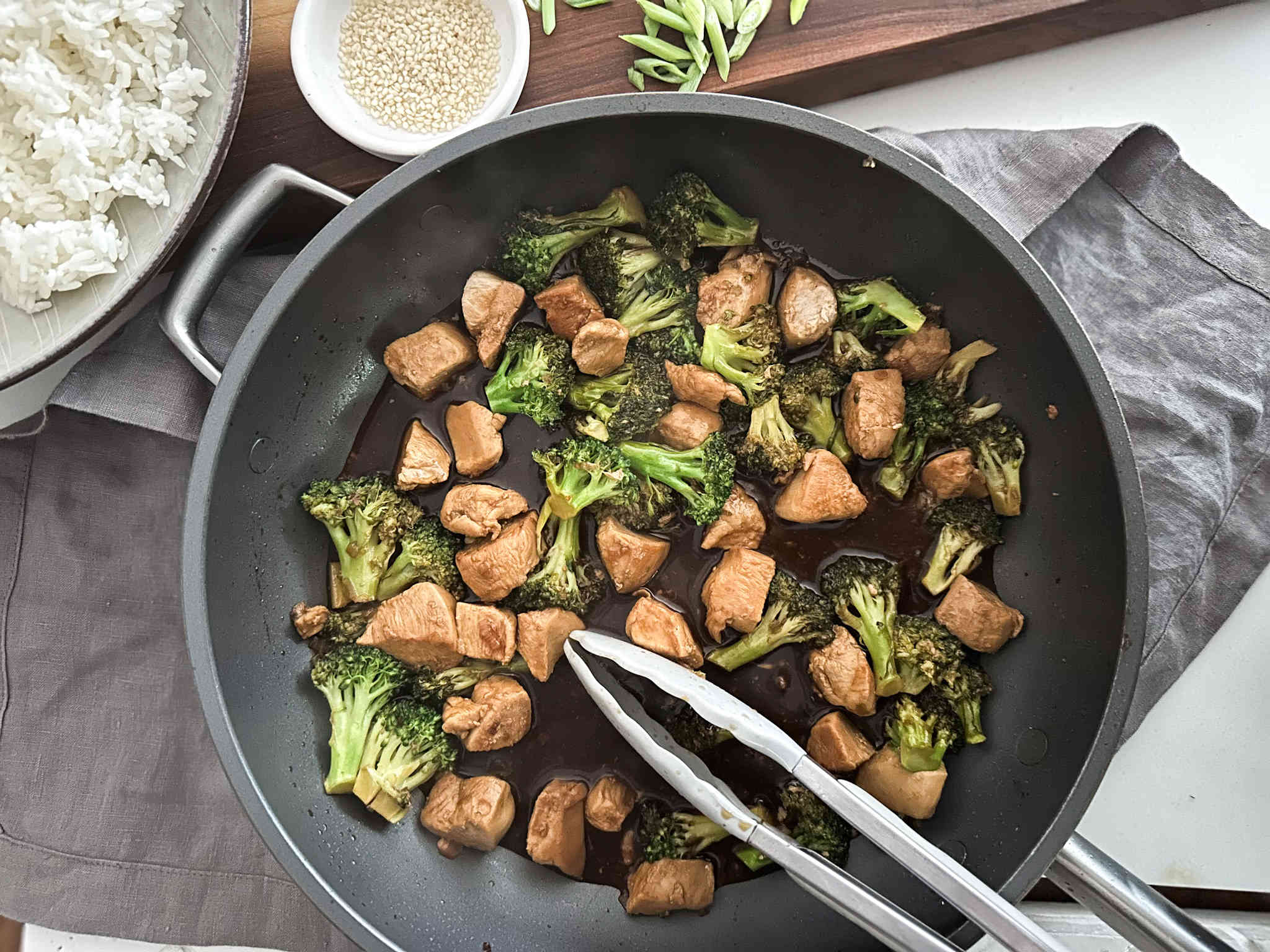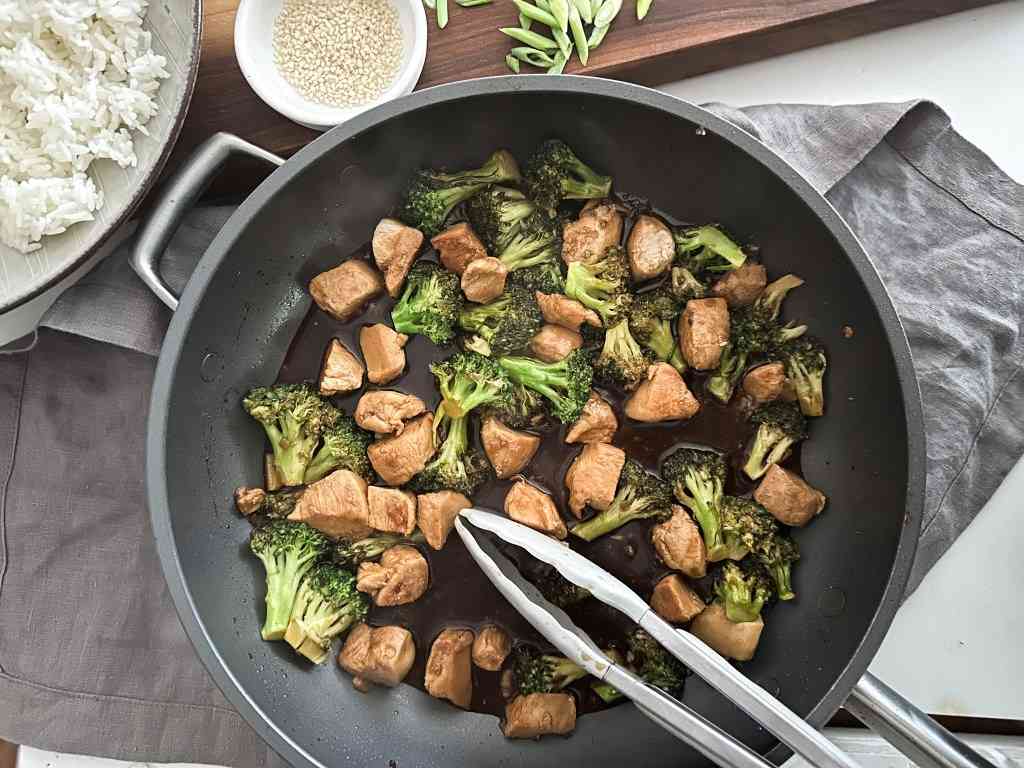 How to Cook White Rice
There are two main types of white rice:
Long Grain White Rice/Jasmine Rice: Light and fluffy, plump and soft. The "normal" rice when you think of white rice or rice pilaf.
Short Grain Rice: Otherwise known as sticky white rice, which is another favorite in our house. This is our favorite rice to pop in the microwave (amazon affiliate link).
To Make Stir-Fry Chicken and Broccoli Rice:
Instant Pot: This is my favorite way to make a pot of fluffy white rice. The Kitchn has my go-to Instant Pot recipe on how to make the perfect rice.
To cook rice on the stove: 1 cup of long-grain white rice: 1 1/2 cups of water (FYI 1 cup of rice will be 3-4 servings cooked)
Rinse the rice under cold running water. Rinse until the water runs clear.
Add the rice and water into a pot (make sure the pot has a well-fitting lid). Bring the water up to a boil, add the lid. Turn the heat down to a low simmer for 15-17 minutes, until the water is gone and the rice is cooked through. Do not take the lid off during the simmering.
Fluff with a fork.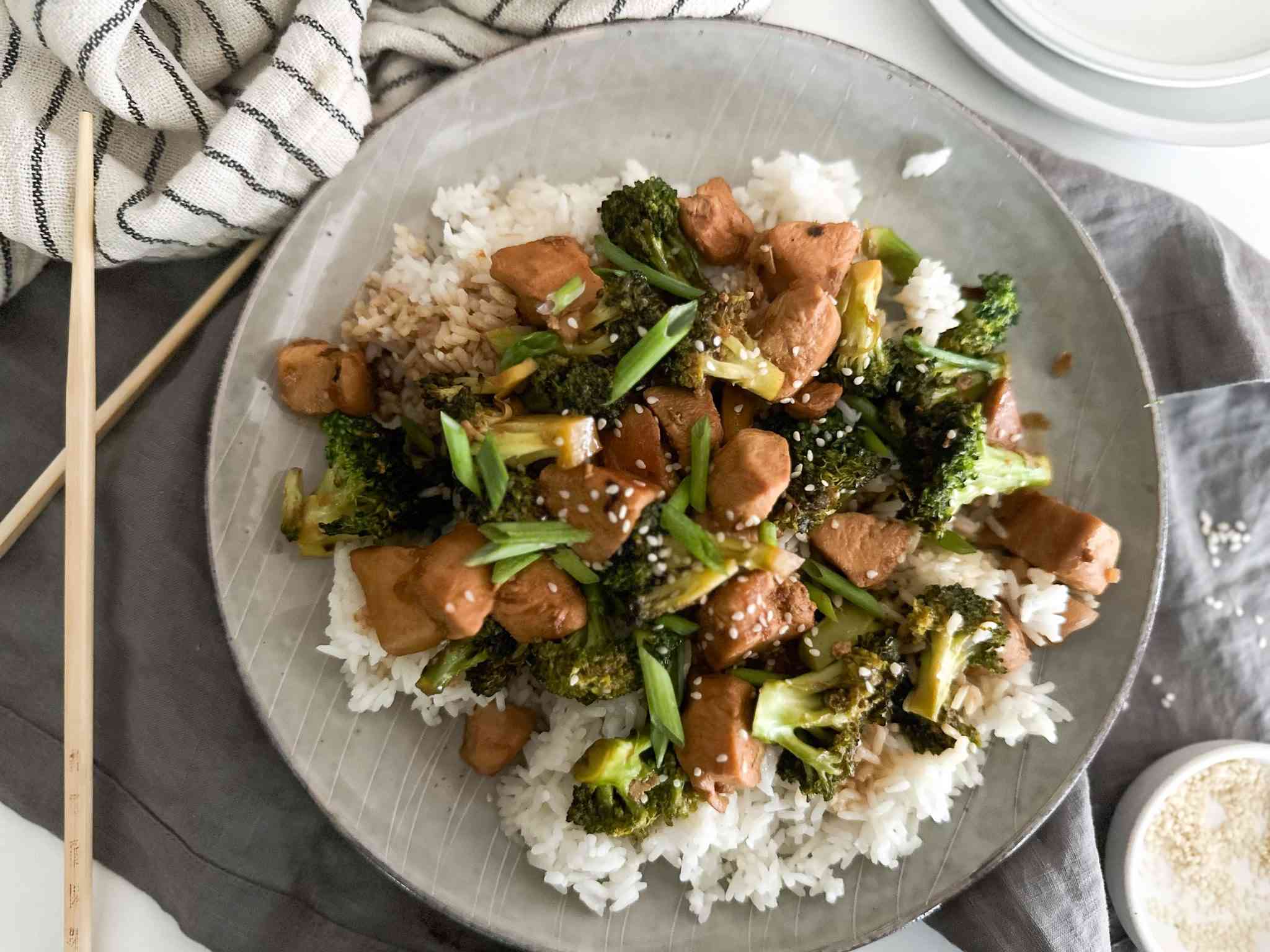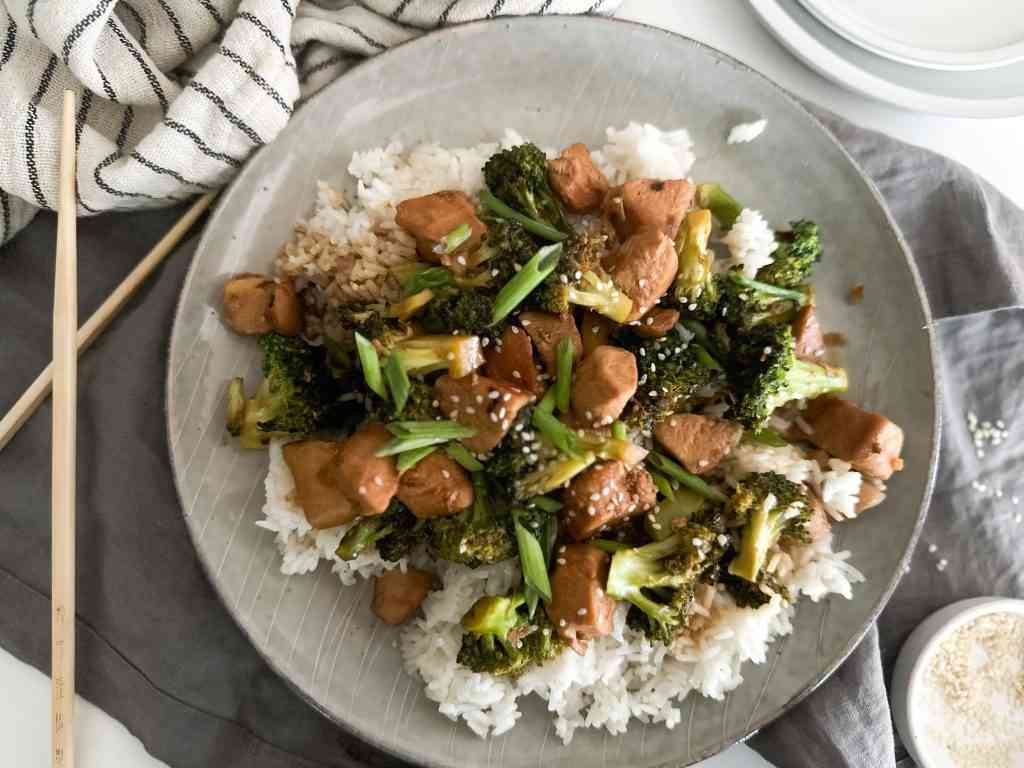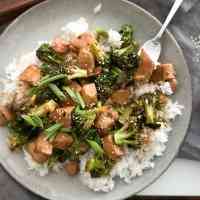 Quick Stir-Fry Chicken and Broccoli
This quick stir-fry chicken and broccoli is one of the easiest recipes to make at home, using super simple ingredients, ideal for any weeknight, takes less time than take-out.
Print
Email
Pin
Rate
Ingredients
Rice

See blog notes

2

TBSP

Olive Oil

1

lb

Chicken Breasts - cut into bite size pieces

2

TBSP

Green onions - thinly sliced white end

save the green end for garnish

¼

cup

Soy Sauce

2

TBSP

Hoisin Sauce

1

TBSP

Rice Vinegar

1

TBSP

Brown Sugar

¼

tsp

Red Pepper Flakes

1

head

Fresh Broccoli - chopped into bite size florets

about 4 cups