I created smothered barbecue chicken sliders! Completely inspired by my favorite go-to entrée at those popular chain restaurants. You know the one – a sizzling hot plate of chicken breasts smothered in bbq sauce, onions, cheese…. you name it, delicious.
These sliders are perfect for when you want that chain-restaurant-comfort-food but you can't make it out. Served as individual finger-food makes them perfect for small socially distant get together. Perfect for game-day.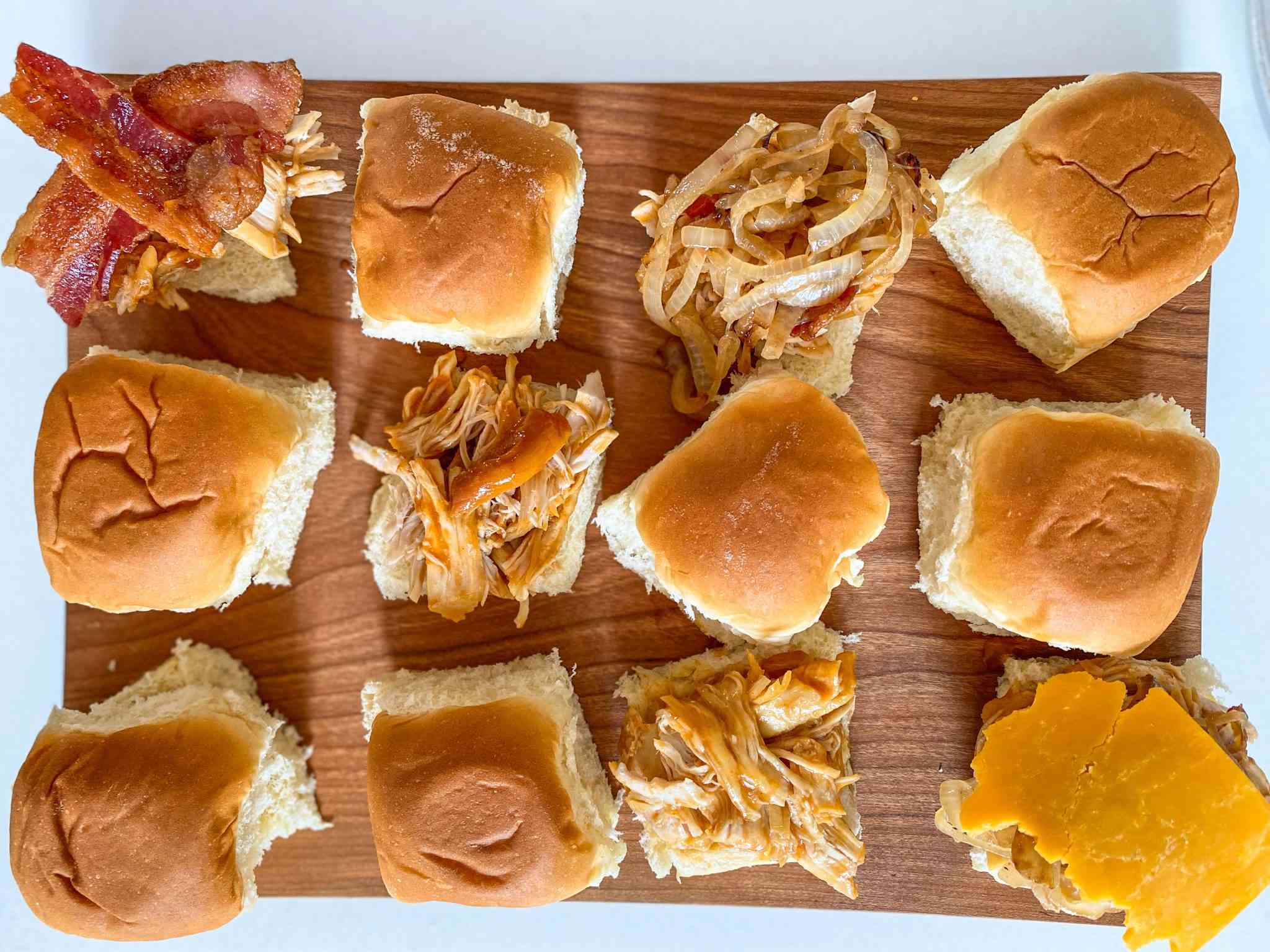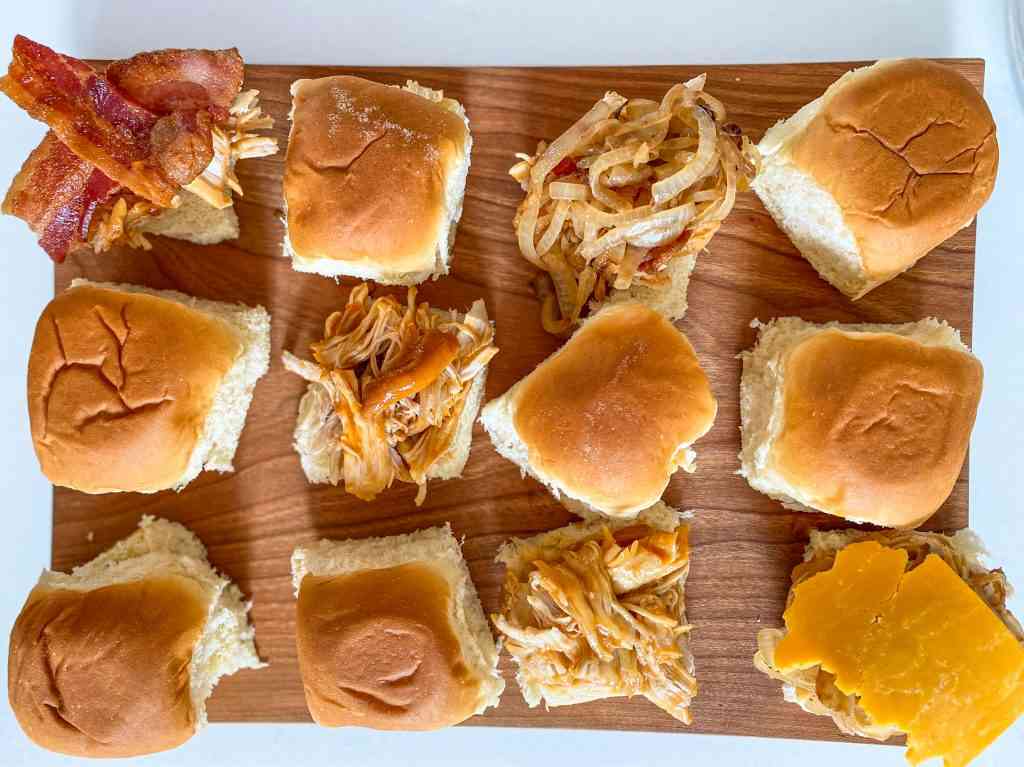 Let's discuss the chicken slider toppings
The Barbecue Sauce: Definitely a must. If this is the only topping you add – this is what carries the flavor and keeps the chicken juicy. You can use whatever your favorite sauce may be. I highly recommend a tangy and mustardy Gold Barbecue Sauce.
Caramelized Onions: They are buttery, soft and sweet but still give a bite to the sliders. They are totally worth the extra few minutes and effort. In a pan, over medium heat, add in your sliced onions, butter and a pinch of salt.
The key to perfect caramelized onions is resisting the urge to stir them. Let them sit and slowly brown only stirring them occasionally to prevent burning. Trust me on this. It will take just around 10 minutes depending on the heat of your stove.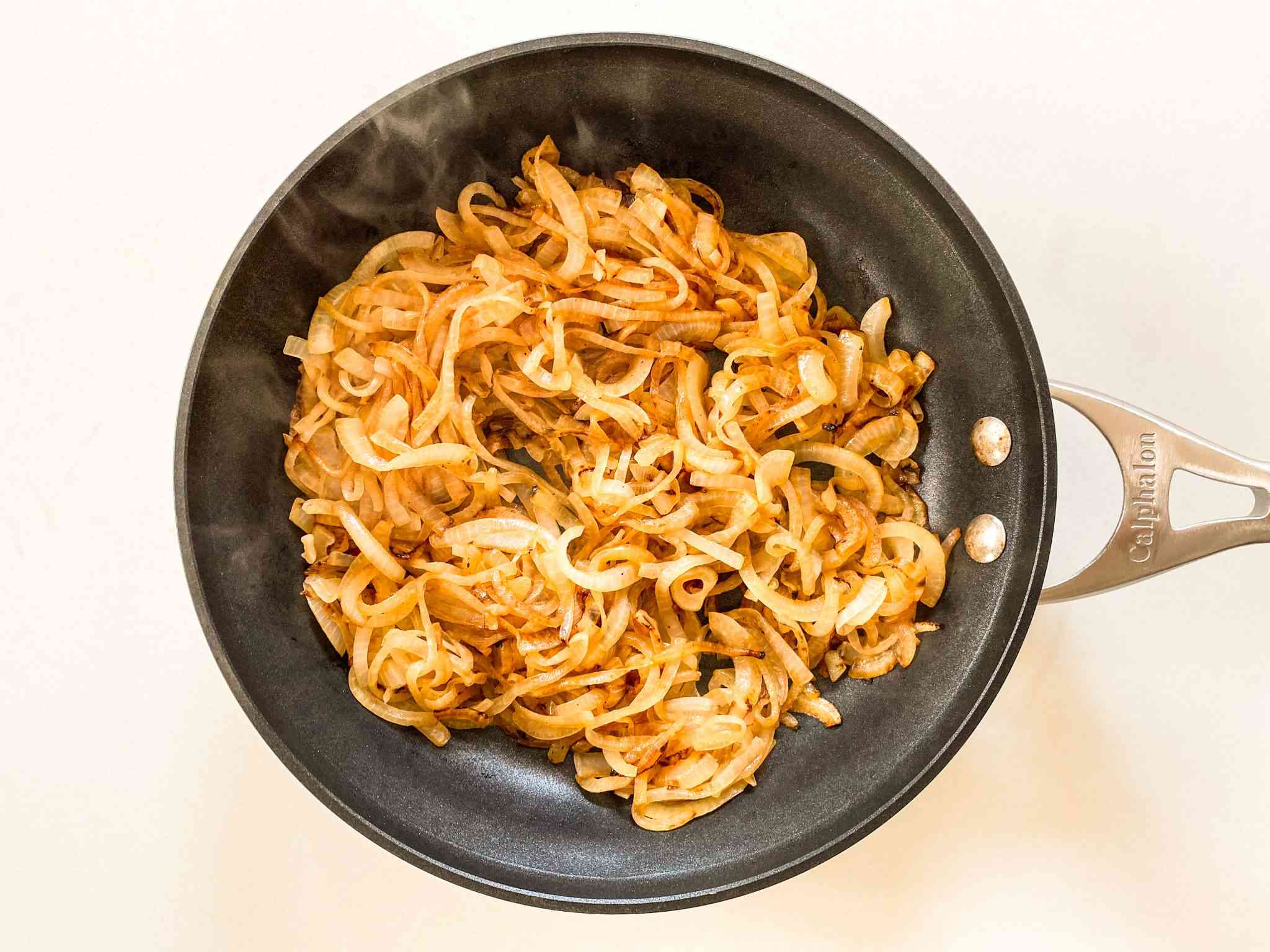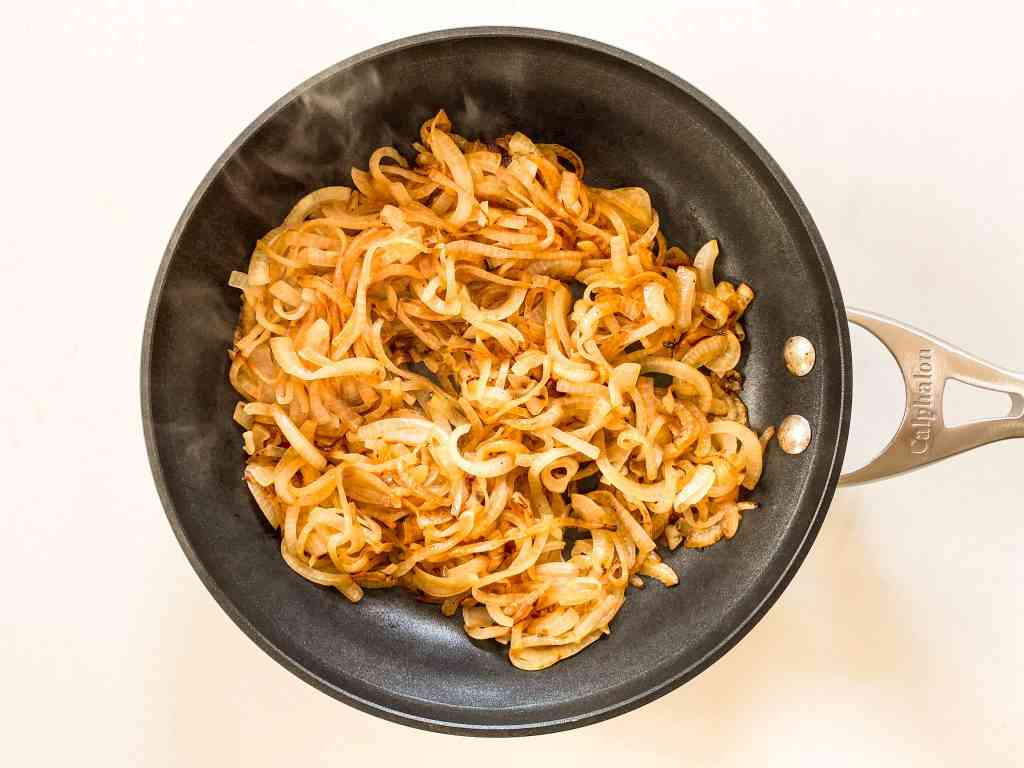 Bacon: Bacon adds a little smokey and a little salty, no chicken slider is complete without it – you can use turkey bacon as well!
The easiest way to make bacon is in the oven. It's grease splash proof and super simple. Preheat the oven to 450F. Line a cookie sheet with edges with foil or parchment paper, then lay down your bacon slices side by side. Bake for about 10-15 minutes until your preferred crispiness, drain and cool on a paper towel.
There are a lot of bacon options out there! If you're looking for a favorite, it's no secret that my go-to Applegate, Uncured Sunday Bacon. Not only is their bacon and other meat options delicious, Applegate Farms operate with a mission I can stand behind, try them out, I'm sure you'll fall in love with their products just like I am. This is not sponsored.
Cheddar cheese: Topped with creamy sharp cheddar cheese put the "smother" in the smothered barbecue chicken slider, acting like the glue to hold it all together.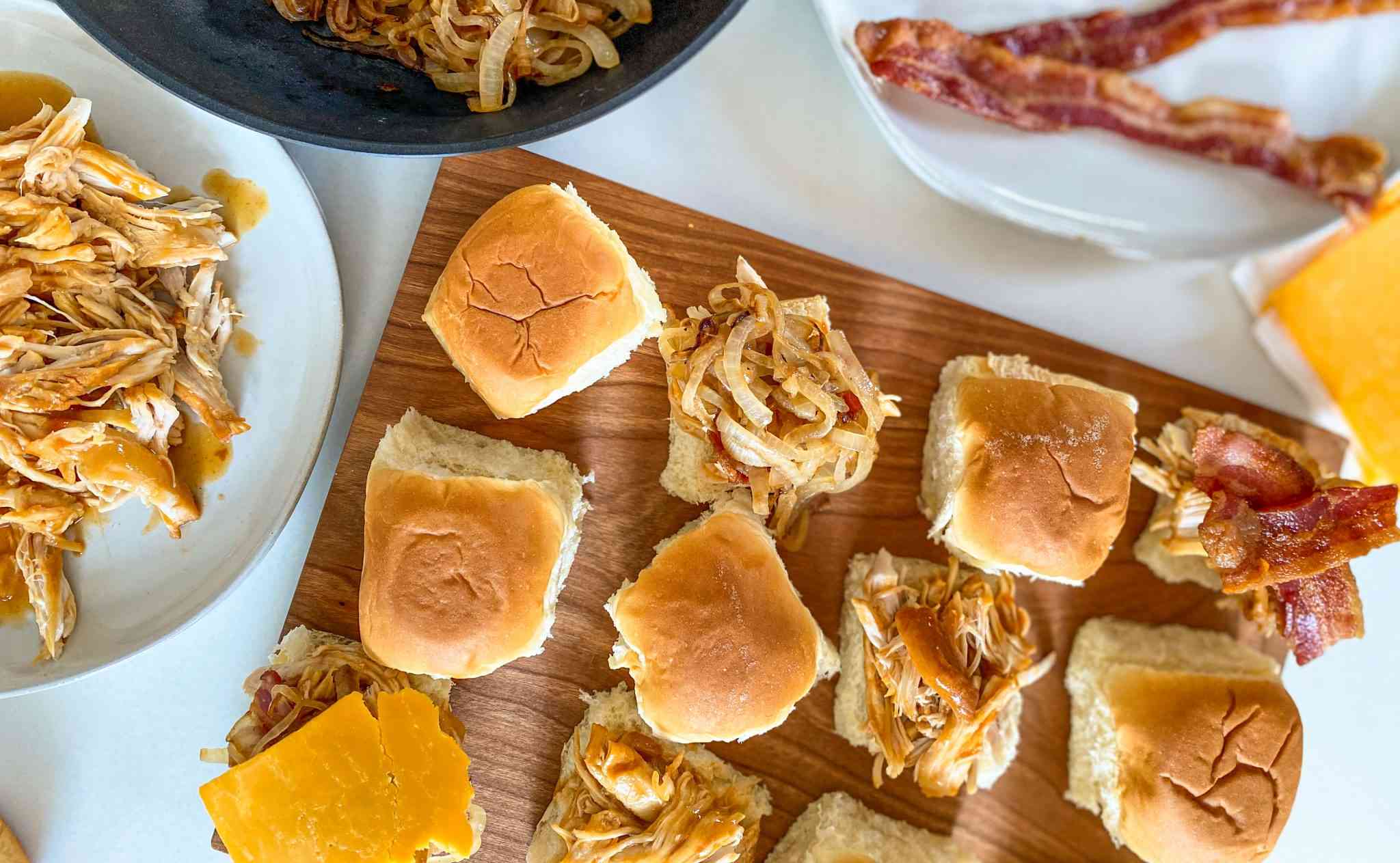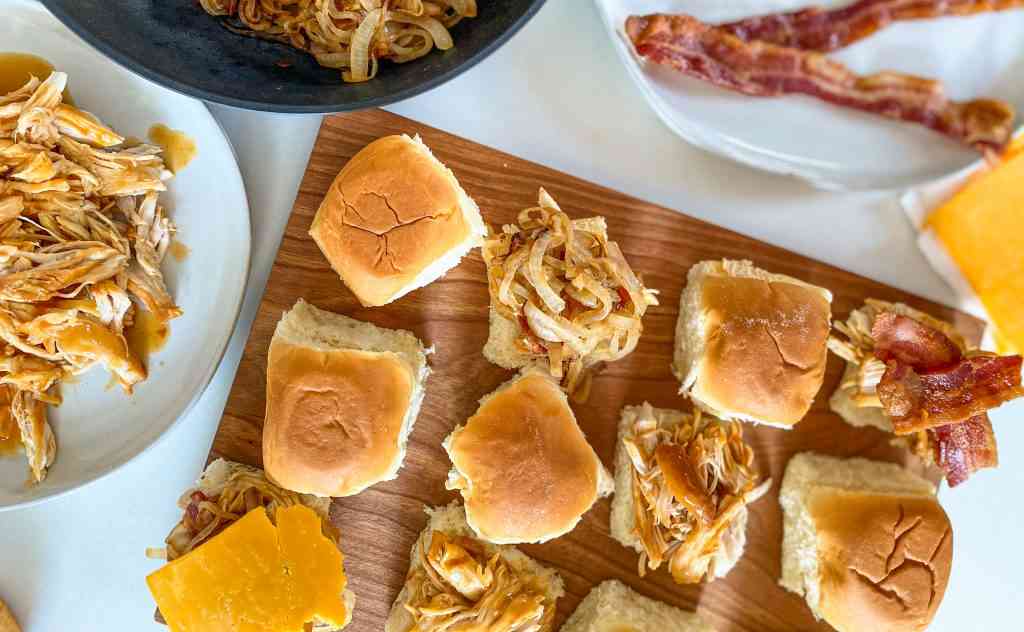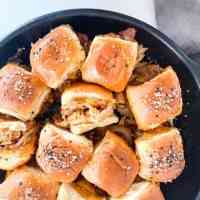 Ingredients
1

lb

Chicken Breasts

1

jar

Gold BBQ Sauce

(20 oz) See blog notes

3

small

Onions – thinly sliced

½

tsp

Salt

2

tbsp

Butter

8

slices

Bacon – cooked

6

slices

Sharp Cheddar Cheese
Sliders
1

package

Hawaiian Slider Rolls

12 small rolls in the package

4

tbsp

Butter

divided

Everything seasoning (optional for topping)
Instructions
Toppings:
Bacon: You can use regular bacon or turkey bacon – or skip this all together if it's not your jam. The easiest way to make bacon is to bake it. Preheat the oven 450F. Line a sheet pan, one that has sides, with foil or parchment paper. Lay the bacon out in one layer and bake 10-15 minutes until it reaches your preferred crispiness.
Putting it all together
Shred the chicken, pour some of the BBQ sauce over the chicken and reserve the rest of the BBQ sauce.

Break apart the rolls and cut to separate the tops from the bottom.

Once the rolls are put together, brush the top of each roll with melted butter.

Add everything seasoning (optional).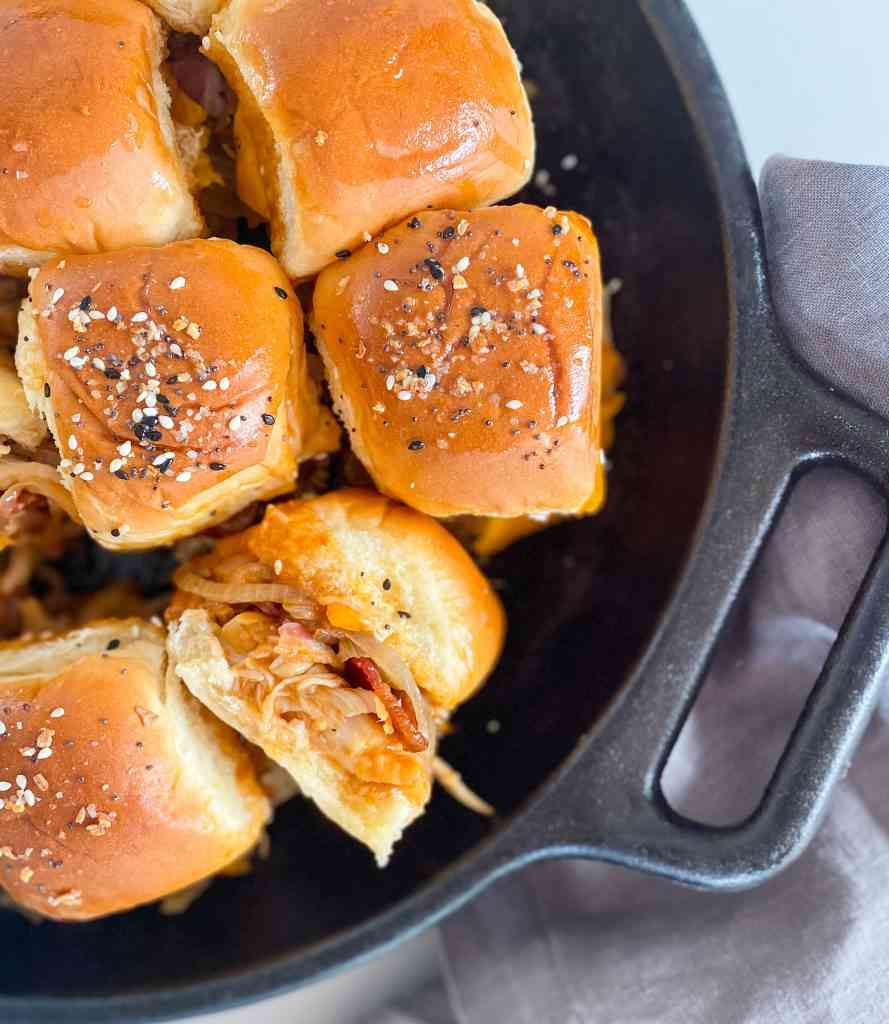 Other Crockpot Meals
Slow Cooker Irish Stout Sliders
Crockpot Pot Roast
Punchy Crockpot Fresh Cranberry & Orange Sauce