Sometimes you just want a salad and this super easy chicken caesar salad is the absolute perfect go-to for your working-from-home lunch or a quick weeknight dinner. It's so easy to throw together for anytime. I'm so so excited about this salad.
I went out to dinner a few weeks ago and after being told the cheeseburger was not a dinner option (lunch menu only) and the creamy pasta dish I ordered was no longer available, I opted for my third choice, a caesar salad with chicken. I was not expecting this decision to be life-changing but it was. The salad came, perfectly dressed and seasoned but the thing that made it memorable and crave-worthy to order again was that the chicken was perfectly grilled and still warm. The warm chicken sharing the same bite with cold crisp lettuce was everything. It was an instant obsession that I was eager to recreate to add to my meal rotation and most importantly, share with you! This is that salad, the one that you think about, crave and look forward to. It's so simple.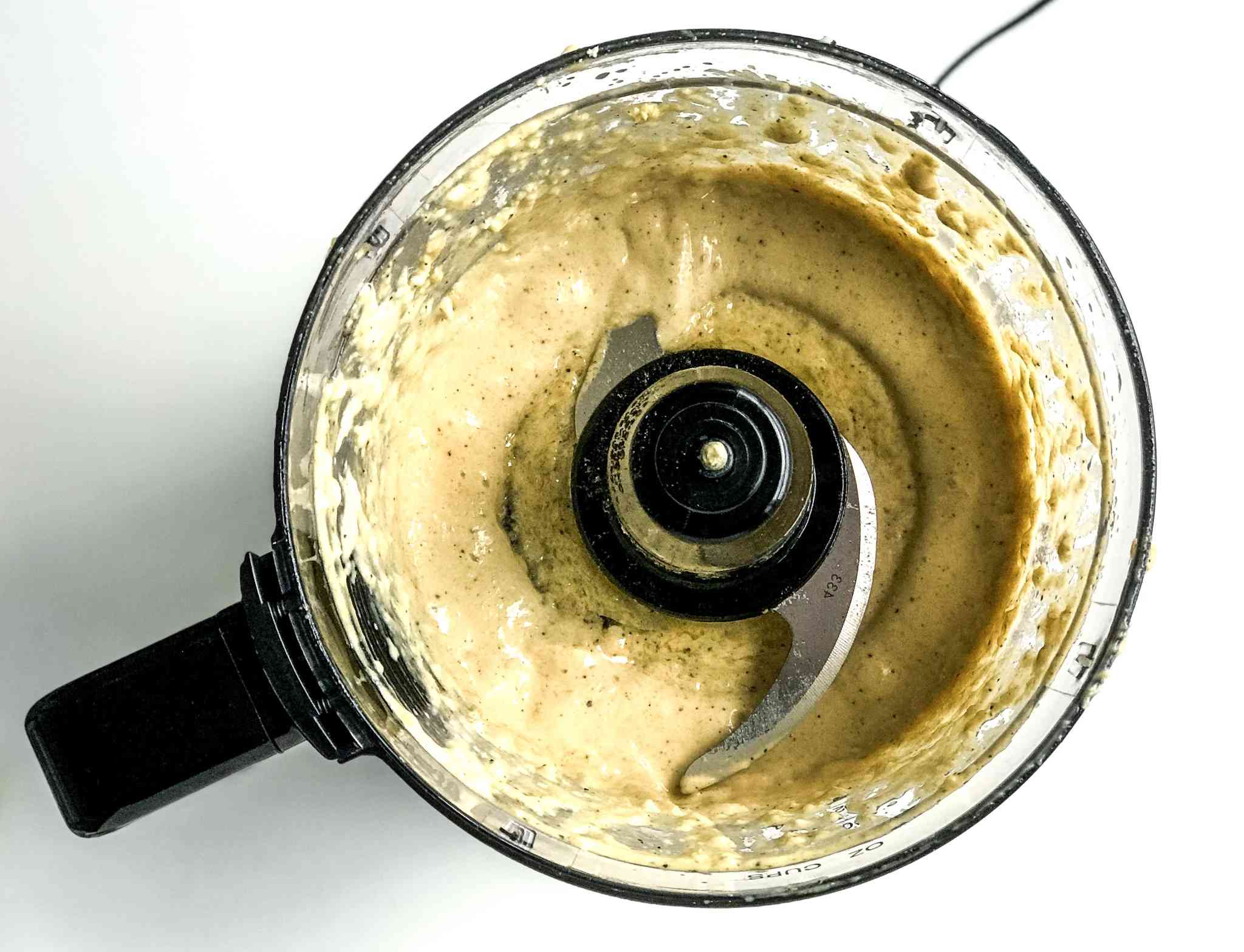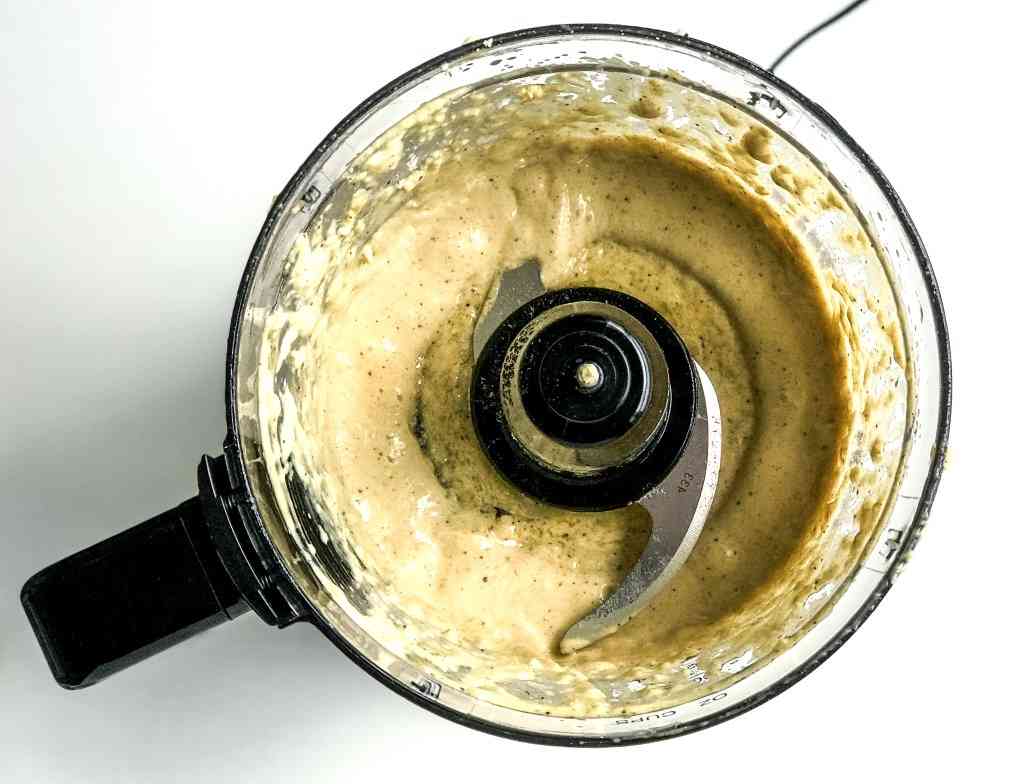 Chicken Caesar Salad – Homemade Dressing
Homemade caesar dressing is so easy to make and you taste the freshness! I have a recipe that is quick and easy to make – takes 15 minutes if that. Making it from scratch lets you control the layers of flavors so you can adapt it for your preferences.
Simple and Easy Chicken Caesar Salad
Chicken Caesar Salad – Chicken options
Chicken is my favorite option for this salad but you can also top it with any protein you're in the mood for, even a sliced hard boiled egg, they take 12 minutes, here is a recipe for that too.
In the video above, I used a stove-top grill and kept it super simple, salt and pepper on the chicken and butter melted on the grill to help with flavor, color and to keep it from sticking to the grill.
If you don't have time or feel like grilling chicken, you absolutely do not have to. You can even re-heat left overs, or those pre-cooked packaged strips in a pan with a little butter, salt and pepper. Chicken tenders right out of the oven would also be delicious.
Whatever you decide to use, the key to the perfect chicken caesar salad is adding your chicken hot, right off the grill, stove or out of the oven. Trust me, the hot chicken and cold lettuce is an unbeatable combination.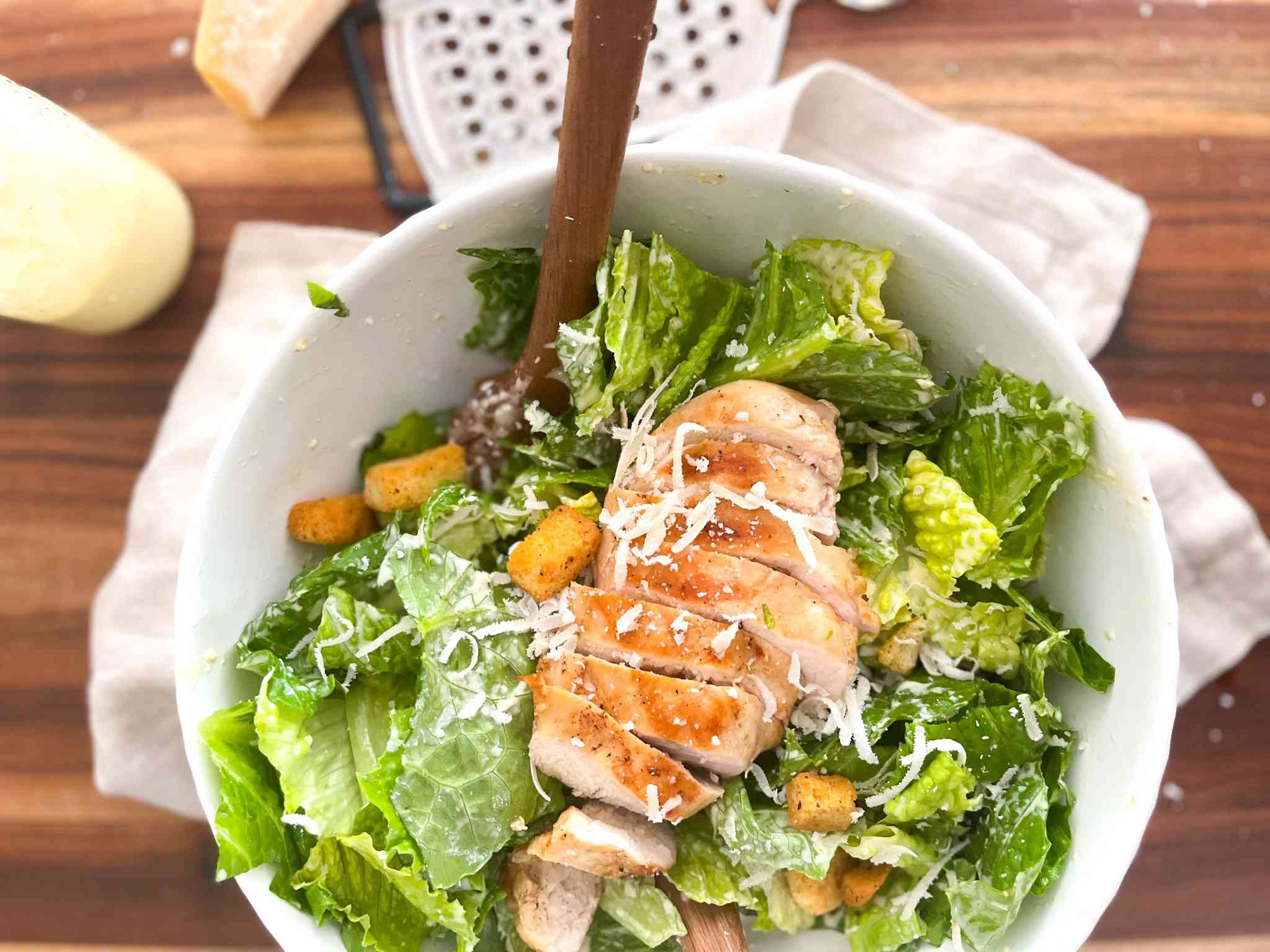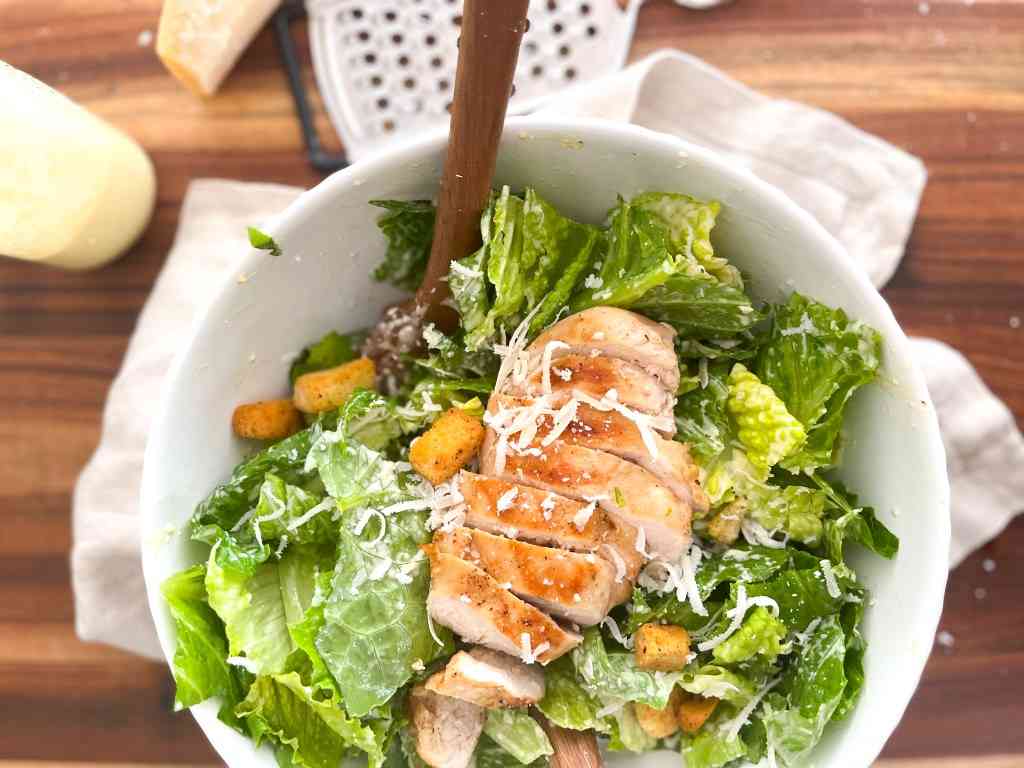 Simple Chicken Caesar Salad Add-ons
This simple and easy chicken caesar salad doesn't need all glitz and glamour of add-ons, but if you must here are a few ideas to toss in. Crispy bacon bits, sunflower seeds, dried cranberries or even cooked noodles!
Wrap it! Grab your favorite wrap or tortilla and make it a hand-held – perfect for the working zoom lunch! It works best if you warm up your wrap first so that it folds without breaking. You can do this by placing your soft wrap shell in a slightly damp paper towel so that it covers the top and bottom and heating it in the microwave for 30 seconds. Another option for those who have a gas stove, carefully using tongs, over medium flame, place your wrap for 10-20 seconds until it's warm but not burnt, flip and and heat for another 5-10 seconds. Once the wrap is warm, add in your already-tossed salad, bite size chicken and roll up like a burrito, fold the bottom up and then tightly roll one side in and fold the other side over it so that it's all enclosed except for the top.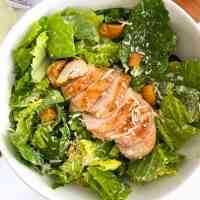 Ingredients
2

TBSP

Butter – divided

1-2

Chicken Breasts

2

pinches

Salt & Pepper

2

Heads of Romaine Lettuce

½

cup

Shredded Parmesan Cheese

1

handful

Croutons – any flavor

Caesar Dressing

See blog notes for homemade recipe.
Instructions
Over medium heat (grill or pan) add in 1 TBSP of butter until melted. Sprinkle on a few pinches of salt and pepper on both sides of the chicken breast. Place the chicken on the pre-heated grill/pan and let it brown. Cook on the first side for about 10-12 minutes and then flop to the other side, brown and cook until the chicken is cooked through about 5-8 minutes – chicken should have an internal temperature of 165F.

*if using the grill top or a stainless steal pan, the chicken will stick to the bottom. Do not try to move the chicken breasts, once they are browned, they will lift and move easily without tearing.

While your chicken cooks, you can prep your salad.

Add your shredded parmesan cheese and croutons.