Lasagna is one of those dishes we usually shy away from because of the complex layers of instructions, (ha! see what I did there) but I've made this white lasagna recipe with quick and easy steps for you! It can be easily prepped ahead of time, making it the PERFECT dinner for a weeknight or the holidays. This vegetarian white lasagna is a twist on the classic, deliciously full of flavor and was an instant hit in our family – the toddler could not resist. It's oh-so-good!
I love lasagna, but a lot recipes call for homemade tomato sauce that requires all-day simmering, although delicious, most days, if you're like me, we don't have time for that. This recipe calls for a quick béchamel sauce that will give this white lasagna irresistible flavors making this vegetarian white lasagna your new favorite.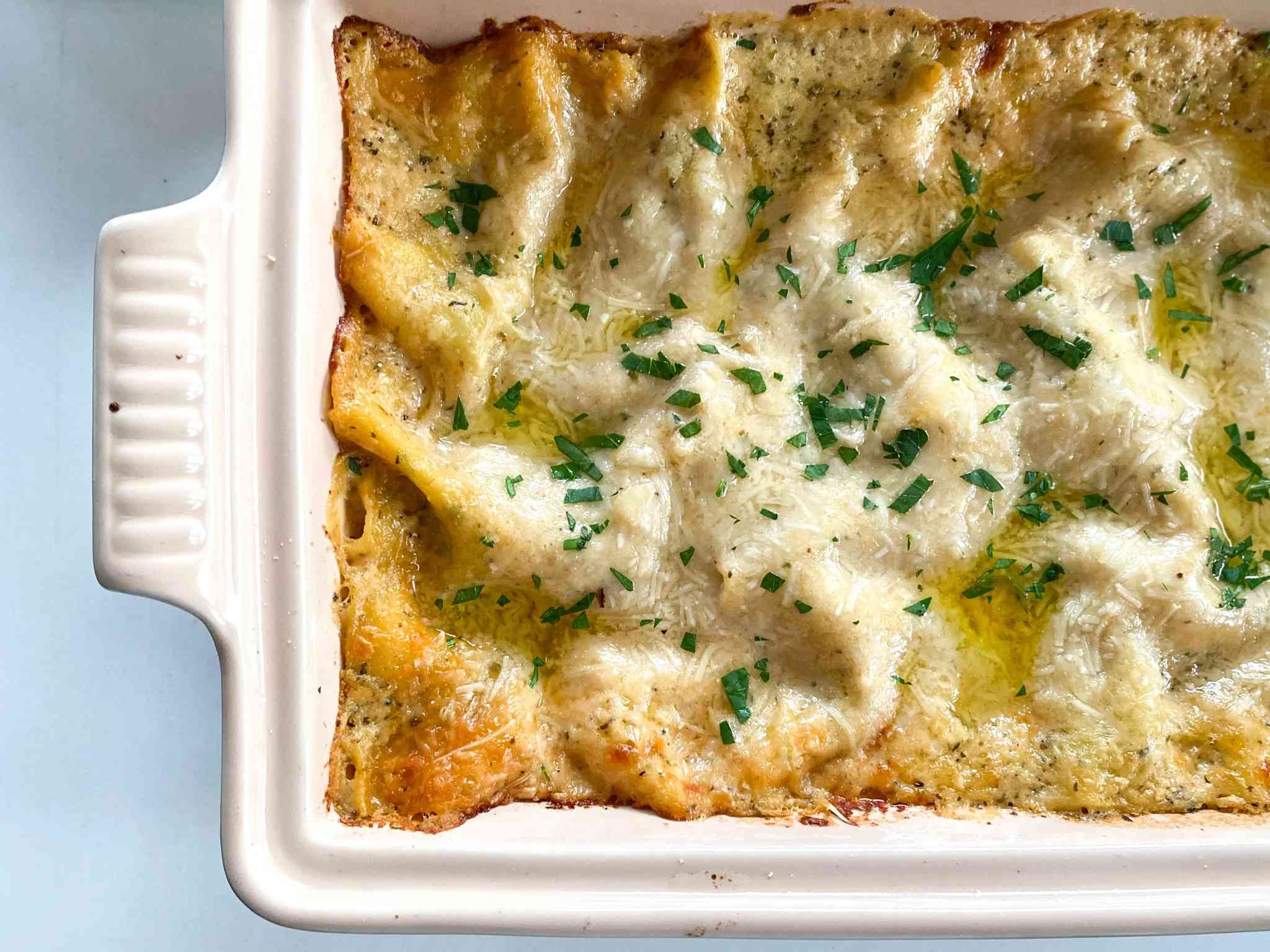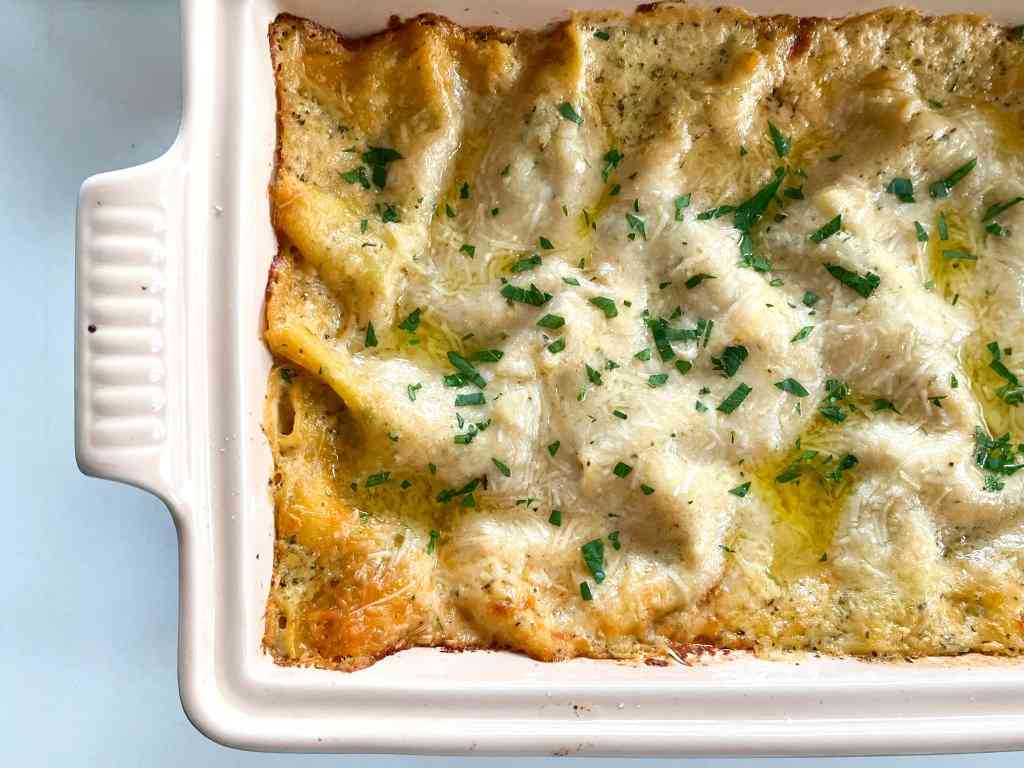 No-Boil Noodles
I used to participate in a national campaign called Lasagna Love where we bake lasagna for families that need a home-cooked meal, from sharing ideas on facebook, I read comments and built confidence in the no-boil noodles.
I'll be honest, I just started using them, while doing some after-thanksgiving shopping, I picked up a box because I was running late, and after the first try I was hooked!

After trying a few different brands, I like the noodles that best resemble the wavy noodles we know and love. I found that this Target brand will be my go-to.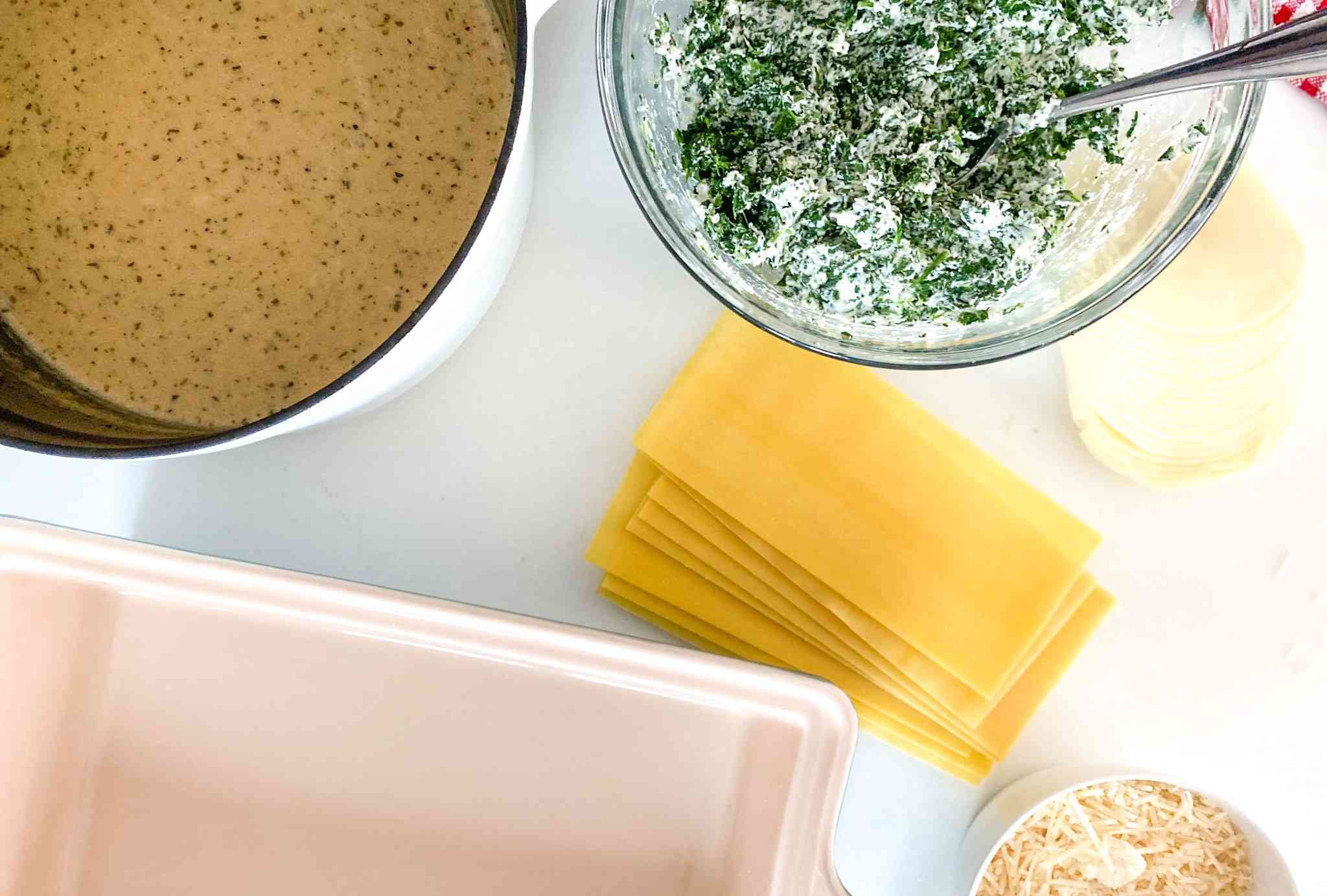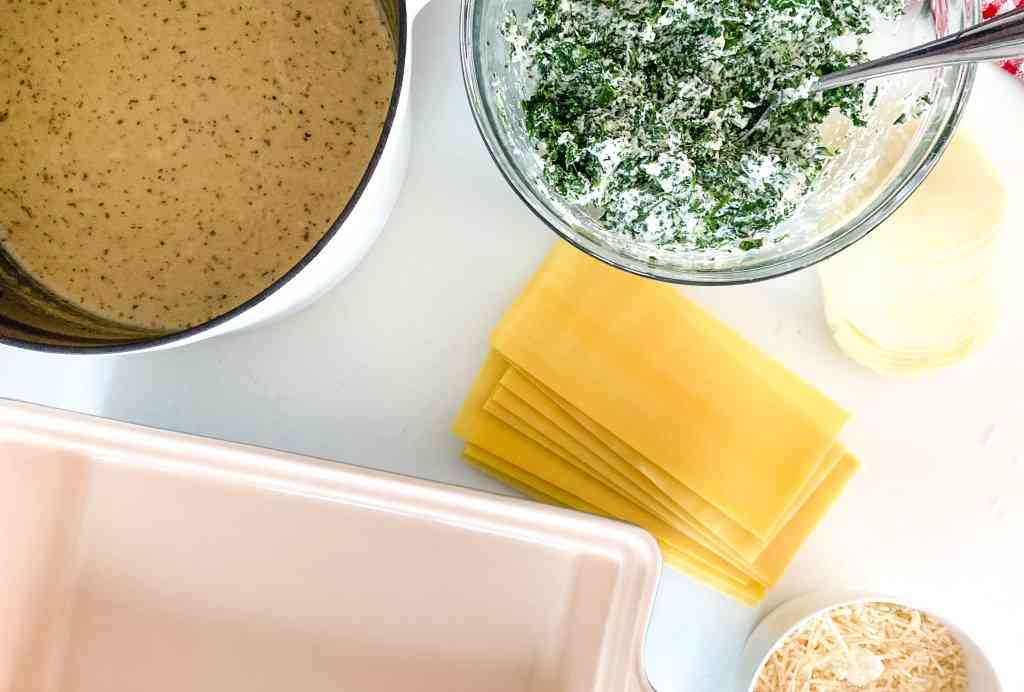 What are the Layers of Lasagna?
This lasagna has three layers of noodles with sauce, provolone cheese and a spinach-ricotta mixture, I am a big fan of many layers stacked up. The key to no-boil noodles is that they need sauce to help cook them during the baking process, for this white lasagna we'll start with a flavorful shallot and white wine béchamel sauce.
Béchamel Sauce – is one of the mother sauces used in cooking. To be considered a true béchamel sauce, you make a roux, which is a fat combined with flour, in most cases this is melted butter and flour so that it looks like wet sand. Over medium heat, you whisk in milk creating a thick white sauce. This would be the base of the sauce, from there you can add seasonings and cheese, most commonly known for baked macaroni and cheese. For this recipe, I add a few ingredients before creating the traditional roux so that we build an irresistible depth of flavors of garlic, shallot and white wine.
Mozzarella – I used the already shredded cheese in a bag from the grocery store.

Spinach – you will want to use defrosted frozen chopped spinach. Once it's defrosted, you will notice that there is excess liquid, you will want to pat it dry or place in a kitchen/paper towel and wring out, see video (don't ask me why I didn't do it over the bowl and made a mess instead).
Ricotta – You will want to use whole milk.
Provolone – I love using sliced provolone because it makes it super simple and easy to add to the layers. The creamy unique flavors of provolone really matches well with other ingredients as it all stacks together.

Parmesan – Here is the deal. If you use off the block freshly grated parmesan it will be less greasy. I used store-bought grated cheese and that is why you see little melted cheese puddles in the picture. You may still have a few of those either way because Parmesan cheese melts like that – no matter what it is still incredibly delicious.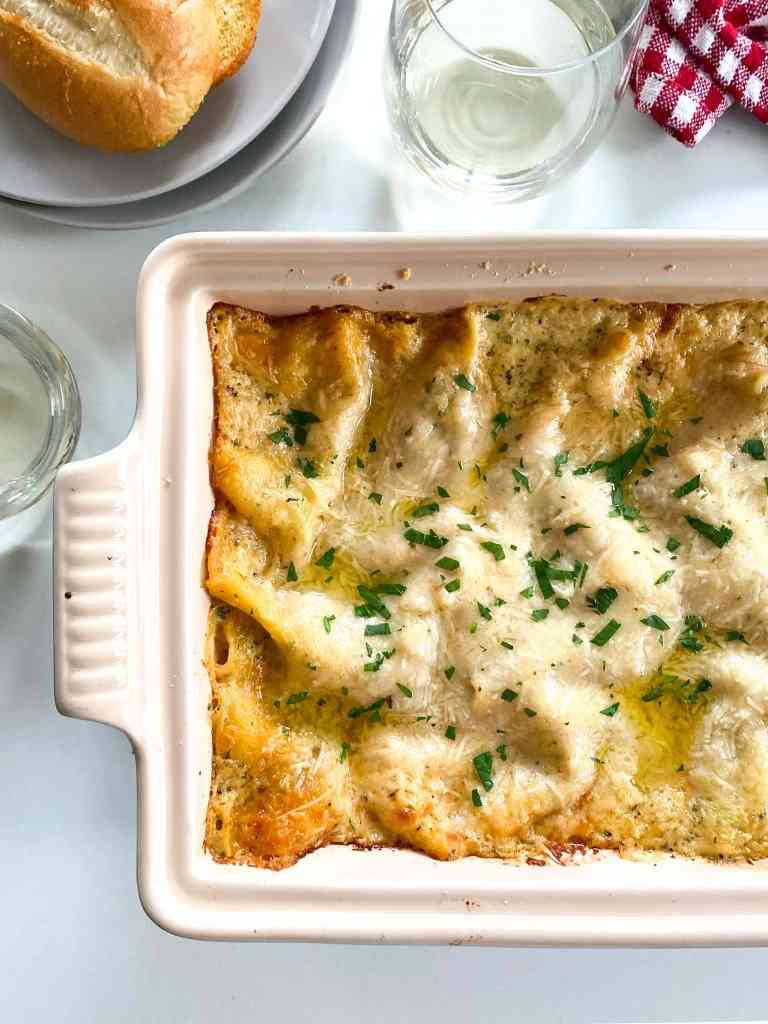 Prep Ahead
You can always prep ahead of time. Once the lasagna is assembled, cover and place in the refrigerator for up to 48 hours. When you're ready to bake, preheat your oven and bake according to the recipe below.
If you want to freeze, once he lasagna is assembled, cover and freeze. When you're ready to bake, let it defrost in the refrigerator the day before, preheat your oven and bake according to the recipe below.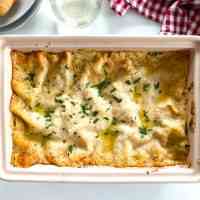 Vegetarian White Lasagna
This lasagna is so flavorful and a truly one of my favorites. It's the perfect recipe to prep ahead for entertaining company or for a quick weeknight dinner.
Print
Email
Pin
Rate
Ingredients
1

Shallot – thinly sliced

¼

tsp

Salt

1

tsp

Italian Seasoning

1

tsp

Garlic – minced (2 cloves)

½

cup

Butter

¼

cup

Dry White Wine

(optional)

¼

cup

Flour

2

cups

Milk

Whole or 2%

2

cups

Vegetable Stock

can also use Chicken Stock

1

cup

Shredded Mozzarella Cheese

16-20

oz

Frozen Chopped Spinach – defrosted

15

oz

Ricotta Cheese

¼

sp

Nutmeg

8

oz

Sliced Provolone Cheese

12 slices total

1

box

No-Boil Noodles

9-12 depending on your pan size

1

cup

Parmesan Cheese – Shredded

See blog notes
Instructions
In a large pot, over medium heat sauté your shallots, salt, Italian seasoning and garlic until the shallots start to soften and the Italian seasoning and garlic become fragrant, about 1 minute.

Add your stick of butter, stir until melted.

If using, add in your white wine and let it evaporate and cook off while you, stirring occasionally so that the garlic doesn't burn. Should take about 2-3 minutes.

Once most of the white wine cooks off, add your flour and stir to combine with the butter, it should resemble wet sand. Cook for about 1 minute.

Whisk in your milk and stock until all the lumps are gone. Continue to cook until it starts to thicken. It should easily coat a spoon.

Remove from heat and stir in your shredded mozzarella until it's evenly distributed and melted into a white cheese sauce. Set aside.

Pat dry or towel dry your defrosted frozen spinach to remove all excess liquid (see video in blog notes).

In a bowl, combine your spinach, ricotta and nutmeg.

Get all of your layers ready to assemble – béchamel sauce, spinach & ricotta mixture, sliced provolone cheese, no-boil lasagna noodles and parmesan cheese.

Preheat your oven to 350F.

In your 9 x 13 casserole dish, assemble your lasagna.

On the bottom spread 1/4 of your béchamel sauce, top that with a single layer of your no-boil lasagna noodles, do not overlap them and leave a little space between each of them. I usually give them a light pat down so they sit down into the béchamel sauce. Layer 6 slices of provolone cheese, they can overlap slightly on the sides. If your pan is smaller, you may not need all 6 slices. Then spread 1/2 of your spinach and ricotta mixture. Top with a 1/4 of the béchamel sauce, noodles, 1/4 of the béchamel sauce (again), 6 slices of provolone cheese, the last 1/2 of your spinach and ricotta mixture, noodles, the last 1/4 of the béchamel sauce and sprinkle the top with 1 cup of shredded parmesan cheese.

Cover with foil and bake at 350F for 40 minutes, remove the foil and bake for another 20 minutes.