Have you had fried green tomatoes? They are unique in their own right, fun and absolutely delicious. Perfect for watching the game, adding an irresistible appetizer or layering on the classic BTL for a leveled up work-from-home lunch experience.
Green Tomatoes
Green tomatoes are simply underripe red tomatoes, pulled from the vine a little earlier. All summer we battled our squirrels for vine-ripe tomatoes but in the meantime we made these irresistible fried green tomatoes.
Green tomatoes are firmer, tart, and less juicy making them ideal for frying. And ideal for dipping in a smooth rich ranch dressing. It's the perfect match up, complementary to all taste buds.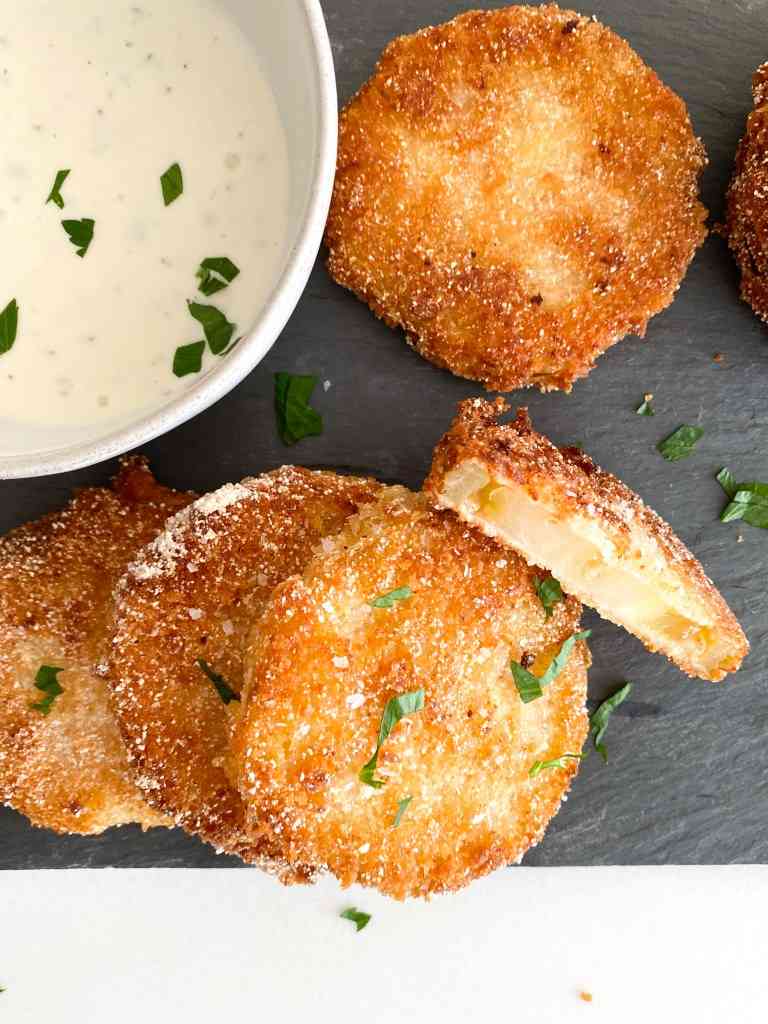 The Breadcrumb
To get a flawless crispy shell around the green tomato that packs flavor and crunch, it's important to mix the panko breadcrumbs with the cornmeal. The cornmeal will fill in all of the little gaps and holes created by larger breadcrumbs. Together they make the perfect outer later, perfectly brown, perfectly crispy, perfectly crunchy.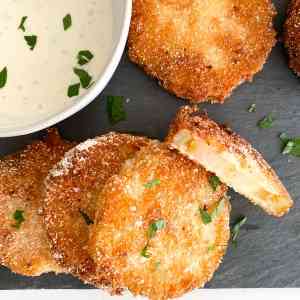 Summertime Fried Green Tomatoes
Fried green tomatoes, perfect for watching the game, adding an irresistible appetizer or layering on the classic BTL.
Print
Email
Pin
Rate
Ingredients
3

Medium Firm Green Tomatoes

1

cup

Flour

2

TBSP

Cayenne Pepper

¾

cup

Buttermilk

1

Egg

⅓

cup

Cornmeal

½

cup

Panko Breadcrumbs

½

cup

Vegetable or Canola Oil

enough to have about 1 inch deep in your pan
Instructions
Cut the green tomatoes into 1/4 inch thick slices and sprinkle with salt.  Allow the salt to dissolve and then pat the tomatoes dry with a paper towel.

Assemble the dredging stations.

In one bowl add the flour and cayenne pepper, toss together until evenly distributed.

In bowl two, whisk the buttermilk and egg until combined.

In bowl three, combine the cornmeal & panko breadcrumbs.  

One by one, take a tomato slice and place in the flour mixture, flip it over to make sure both sides are covered in flour.  Give it a little shake to make sure the excess loose flour falls off.

Dip the flour covered tomato slice into the buttermilk & egg mixture to completely & evenly cover over the flour.

Place your buttermilk soaked tomato slice into the cornmeal & breadcrumb mixture so that it is evenly distributed and covered, no flour or milk mixture peeking through. Set aside.

Preheat oil in a wide-area pan or pot to 350 degrees.  

Carefully drop tomatoes in pre-heated oil – WARNING – oil may pop up.

Make sure to only do a few at a time, do not over crowd the pan, the oil temperature will drop when you add them in, and if it's not hot enough instead of frying, the tomatoes will just soak up oil – I usually do 3 at a time.  

Fry for about 3 minutes on each side – long enough to cook the tomato & to create a brown crust on the outside.