Today I'm so excited to kick start my Lemonade Days 2019 Campaign! Lemonade Days is a week long fundraiser that helps support Alex's Lemonade Stand Foundation to fight childhood cancer.
I decided to participate in this incredible fundraiser because I fell in love with Alex's story while I was in college, many many years ago. I follow ALSF on facebook so I've read hundreds if not thousands of stories over the years, some have happy endings and unfortunately there are still too many that do not. Seeing little kids in their treatment phase (hospital gown, no hair from chemo) really upsets the heart but their smiles are contagious and inspiring. From this, I'm continuously reminded about how important fighting childhood cancer is and how expensive that task can be which is why Lemonade Days is so important.
For the next 9 days I'll be sharing favorite lemon recipes on Instagram and Facebook – today starting with Simple Lemonade. This has been a family favorite for many summers. It's the perfect sweet and pucker combination that is refreshing on the hottest summer days. Follow along, share with friends, and most importantly I hope you can donate to my Lemonade Days 2019 Fundraiser. The direct link for my fundraiser will be on my website June 1-June 9th.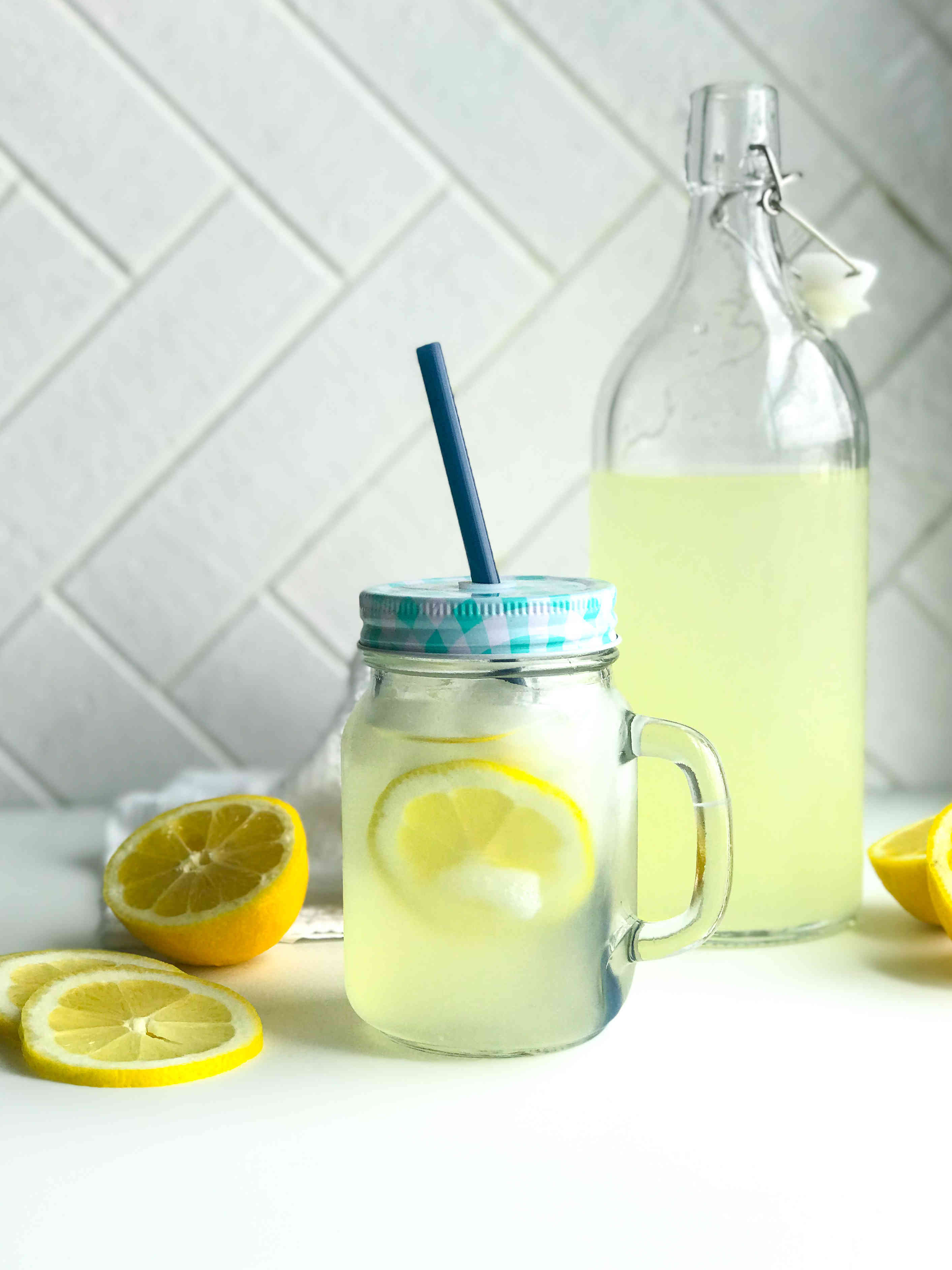 Lemonade Days 2019: A little girl with big dreams on curing childhood cancer.
Just before she turned 1, Alexandria was diagnosed with neuroblastoma, which is a form of childhood cancer. After going through treatment, at age 4, she held her first lemonade stand in her front yard with the goal of giving back to her treatment hospital doctors so that they could "help other kids, like they helped me." She and her brothers raised $2000.
In 2004, Alex passed away at the young age of 8 years old. By that time, while continuing her own cancer treatment and with the help of others, she had raised over $1 million to help fight childhood cancer. Today, moved by her story, her family and supporters continue to carry on her dreams through the Alex's Lemonade Stand Foundation. To read more about this amazing little girl, check out Alex's full story.



Childhood Cancer Facts
(AlexsLemonade.org)
91,250 children worldwide lose their life each year to cancer. That's just about 250 children A DAY. In the U.S. Childhood Cancer is the leading cause of death by disease for children under the age of 15.
Every year, a new estimated 250,000 new cases of cancer affect children under the age of 20 world wide. That's about 700 new kids are affected every day.
1 in 285 children will be diagnosed with cancer by the time they are 20 years old (in the U.S.)
Only 4% of the annual budget from the National Cancer Institute funds childhood cancer research.



How ALSF Spends Your Money
(AlexsLemonade.org)
Alex's Lemonade Stand Foundation funds childhood cancer research by providing nearly 1,000 grants at 135 institutions.
They took the initiative in compile all accessible data into one large research database so that all scientists and researchers have the ability to compare data so that they can make the best impact on curing childhood cancer.
ALSF supports families who are going through one of their most difficult times. Supporting travel expenses and sibling comfort are just two examples on how they care for families during treatment.




Let's Fight Childhood Cancer Together
I've made a goal of $1,000. Please donate if you can, any amount is appreciated. Please help make this a NTS community event by sharing with your family and friends!

$50 Funds 1 Hour of Research
$400 Funds 1 Day of Research
$2,000 Funds 1 Week of Research
$8,000 Funds 1 Month of Research



Don't forget to Follow Me for 9 days of Lemon Recipes!
Instagram @nictastingspoon
Facebook Nicole's Tasting Spoon