This simple kale spaghetti carbonara is a spin on the classic. Carbonara is a classic Italian dish of hot pasta tossed in a creamy egg and Parmesan cheese sauce, topped with pepper and cured pork. Now it also has wilted soft kale. It is delicious.
This used to be an "order out only" dish for me because I just could not figure out how to make the creamy egg sauce without scrambling the eggs. As a result of that, I ended up writing this awesome carbonara pizza recipe.
I'm happy to say that I never gave up and now I have I finally figured it out! I'm so excited to share the secret with you!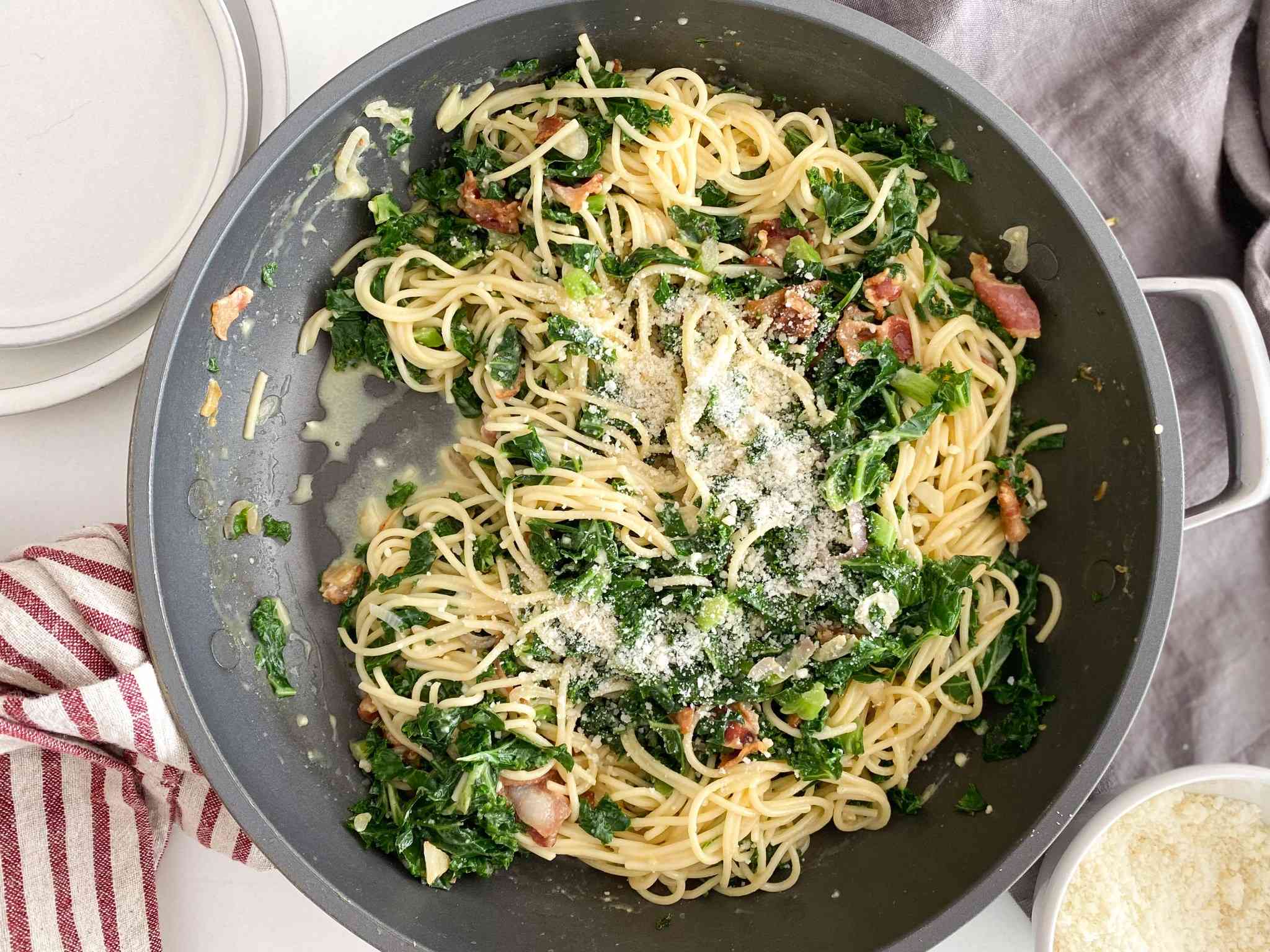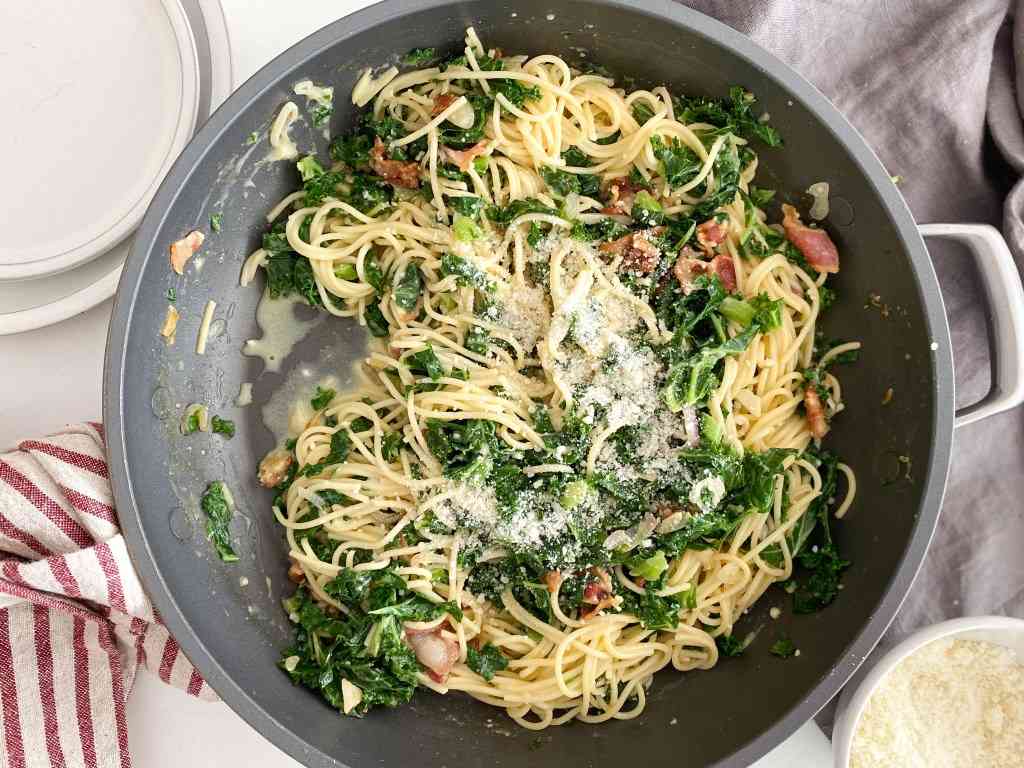 Simple Kale Spaghetti Carbonara
There are only a few ingredients and about 20 minutes that stand between you and this creamy kale spaghetti carbonara, perfect for those busy weeknights when you want something to really hit the spot and sneak in a vegetable – win win.
Bacon – I prefer to use bacon but any cured pork would work, like ham, pancetta, crispy prosciutto. Contrary to origins of this dish, I buy uncured bacon, my go-to bacon brand is Applegate. (not sponsored, we are truly fans). I fell in love with it while pregnant, and uncured bacon seems to be better for my digestion.
Shallot and Garlic – I'm obsessed with these flavors together right now. They give just about any dish a deeper layer of flavor and brings the "wow" factor.
Eggs – you will need at least two, maybe three depending on how saucy you want the dish to be.
Parmesan Cheese – you will want fresh parmesan cheese usually found in the deli section or the speciality cheese section at the grocery store. I fully support buying it already grated, in one of those plastic tubs. Try to avoid the pre-packaged shredded cheese, that cheese is usually coated to make it more shelf-stable without the cheese sticking together in clumps. The coating and throw off the sauce in this recipe.
Spaghetti –  Use your favorite. I love the thin spaghetti. When measuring, 2 ounces of dry spaghetti is considered one serving. If you're grabbing straight from the box without a scale, place your pointer finger to the tip of your thumb like you're making the "okay" sign and then shrink that hole to about the size of a quarter, put enough dry spaghetti to fit inside that quarter-size "okay" sign hole and that is one serving of spaghetti. This simple kale spaghetti carbonara recipe makes 4 servings, which is 8 ounces, or 4 "okay" signs.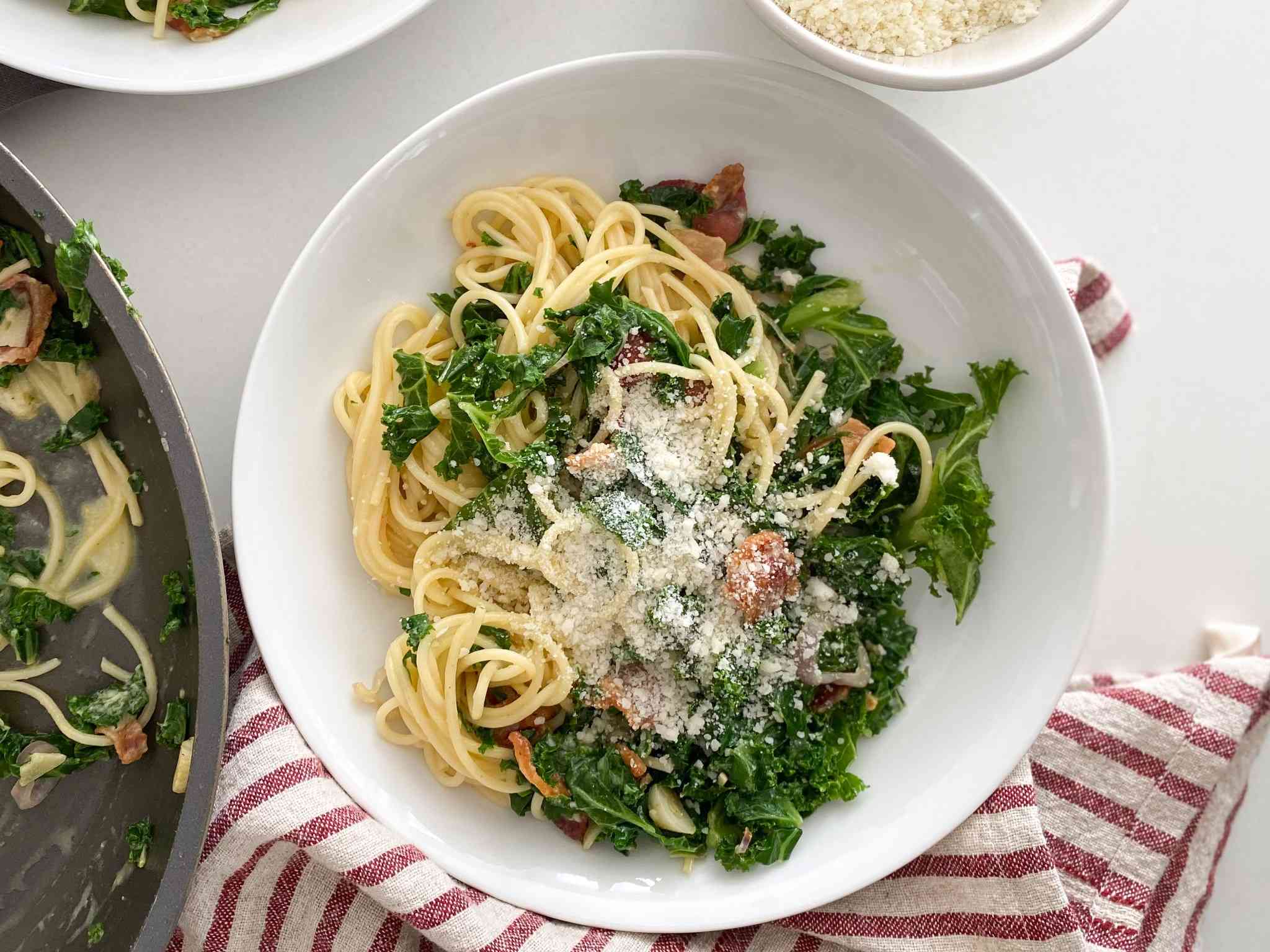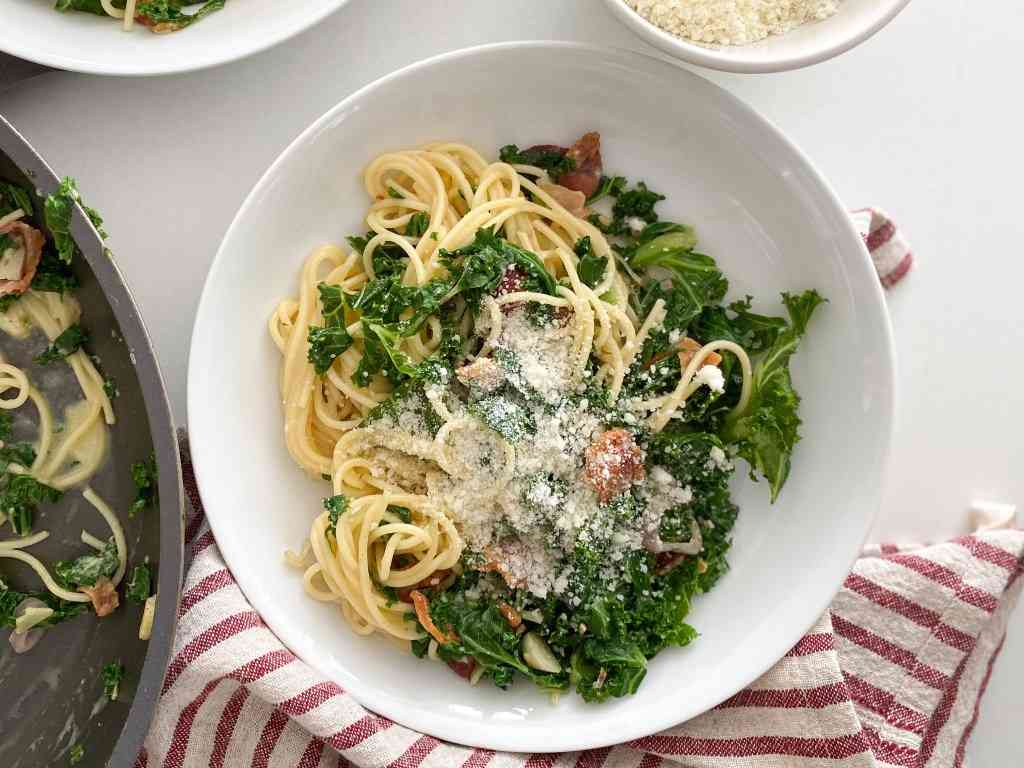 Simple Kale Spaghetti Carbonara – The Secret
The secret to a luscious creamy egg sauce that perfectly coats the pasta is what you do minutes before tossing it all together.
The eggs have to the tempered so they do not scramble immediately after being put in the pan. Tempering means to bring the eggs up to a hotter temperature first so that the heat of the pan is not a shock.
To temper your eggs, whisk together the eggs in a bowl, stir in the parmesan cheese. After the pasta is cooked al dente (meaning only having 1-2 minutes left to go) scoop out a cup of the hot pasta water straight out of the pasta pot. On the counter, in the bowl. whisk your eggs and slowly add in about 1/4-1/2 cup of water at the same time. This hot water will bring the eggs up in temperature so when it is added to the pan it stays becomes a creamy sauce. There you go, simple kale spaghetti carbon success is waiting for you!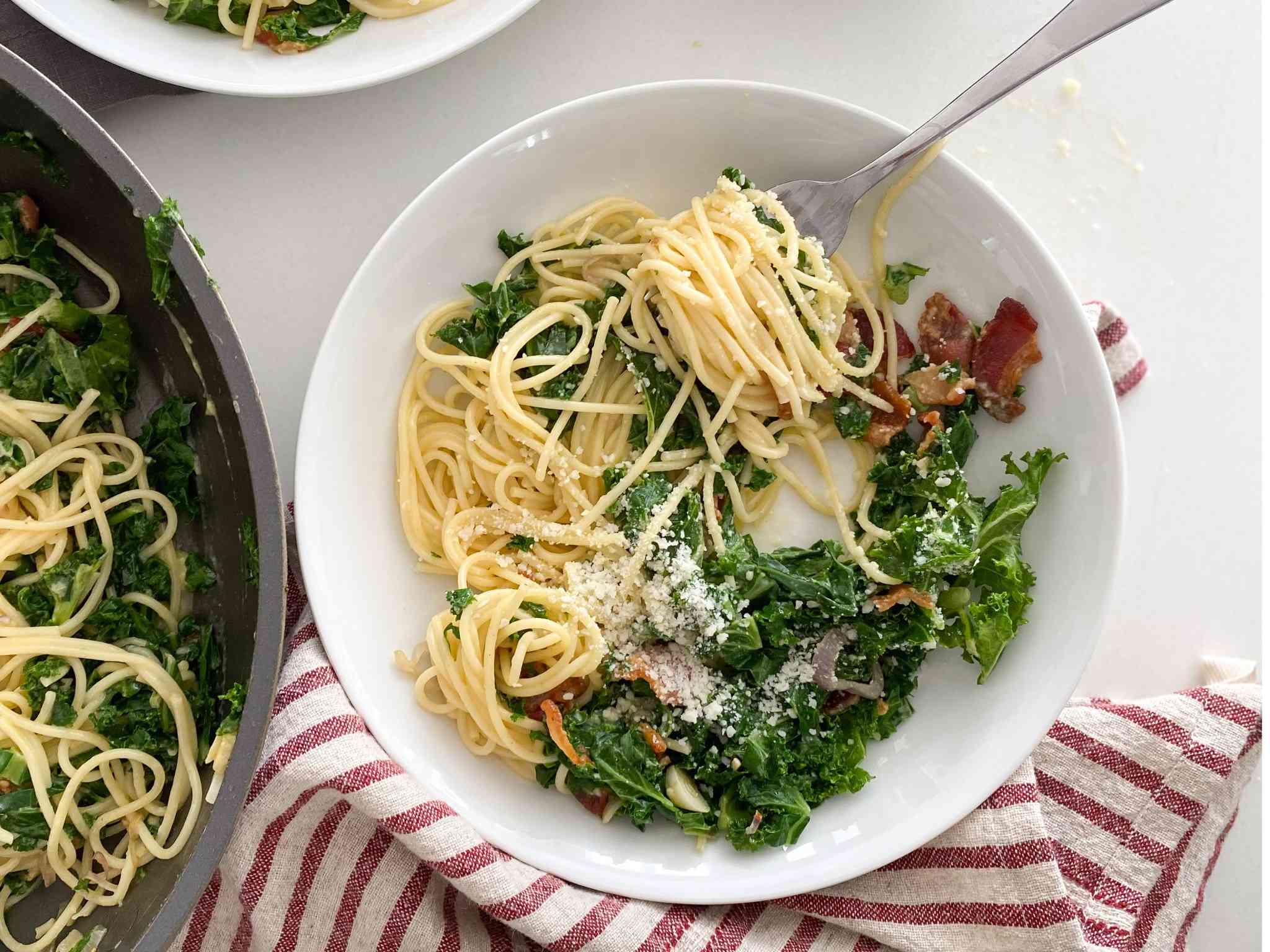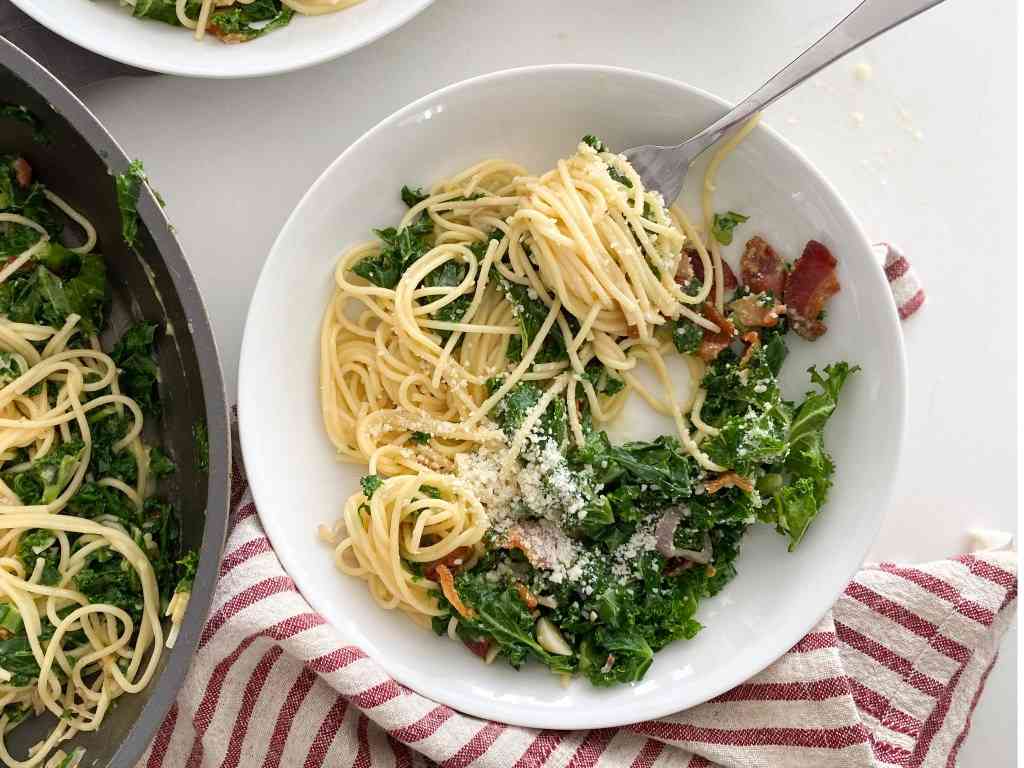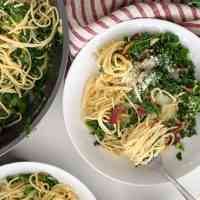 Simple Kale Spaghetti Carbonara
A twist on the classic. Spaghetti and soft wilted kale tossed in a creamy egg sauce topped with Parmesan cheese and bacon. So simple. Perfect for any weeknight when you need something quick and easy.
Print
Email
Pin
Rate
Ingredients
8

oz

Spaghetti

(see blog notes on measuring)

4

slices

Bacon

1

Shallot - thinly sliced

3

cloves

Garlic - thinly sliced

½

tsp

Salt - divided

4

cups

Chopped/Shredded Kale, remove stems/stalks

(about 6 oz.)

2

Eggs

¼

cup

Grated Parmesan Cheese + more for the top

½

cup

Pasta Water

(see blog notes)
Instructions
In a large pot of boiling salted water, cook your spaghetti according to the packaging.

Chop up your bacon. In a large pan over medium heat, cook your bacon until crispy. Remove from the pan and drain on a paper towel. Pour out the remaining bacon grease.

Using the same pan, add your shallot, garlic and ¼ tsp of salt. Over medium heat let the shallot and garlic cook until soft and fragrant about 2-3 minutes.

Check on the spaghetti, if the pasta is al dente, scoop out the pasta water and set aside.

In the bowl with your eggs and parmesan cheese, whisk and pour in ¼ cup of the hot pasta water to temper the eggs.

Lower the pan temperature to medium low. Pour the egg sauce into the pan and immediately toss with your spaghetti and kale until coated. If you need more sauce, you can add in the remaining ¼ cup of pasta water. Add in your crispy bacon.