Cherry cranberry brie roast beef sliders are ideal for this time of year. The most amazing fork-tender crockpot roast beef smothered in a tart cherry cranberry chutney and creamy soft cheese baked between soft slider rolls topped with a crusty rosemary butter and salt. It's a dream.
These mouth-watering easy pull apart sliders are a great weeknight dinner, easy to serve a crowd.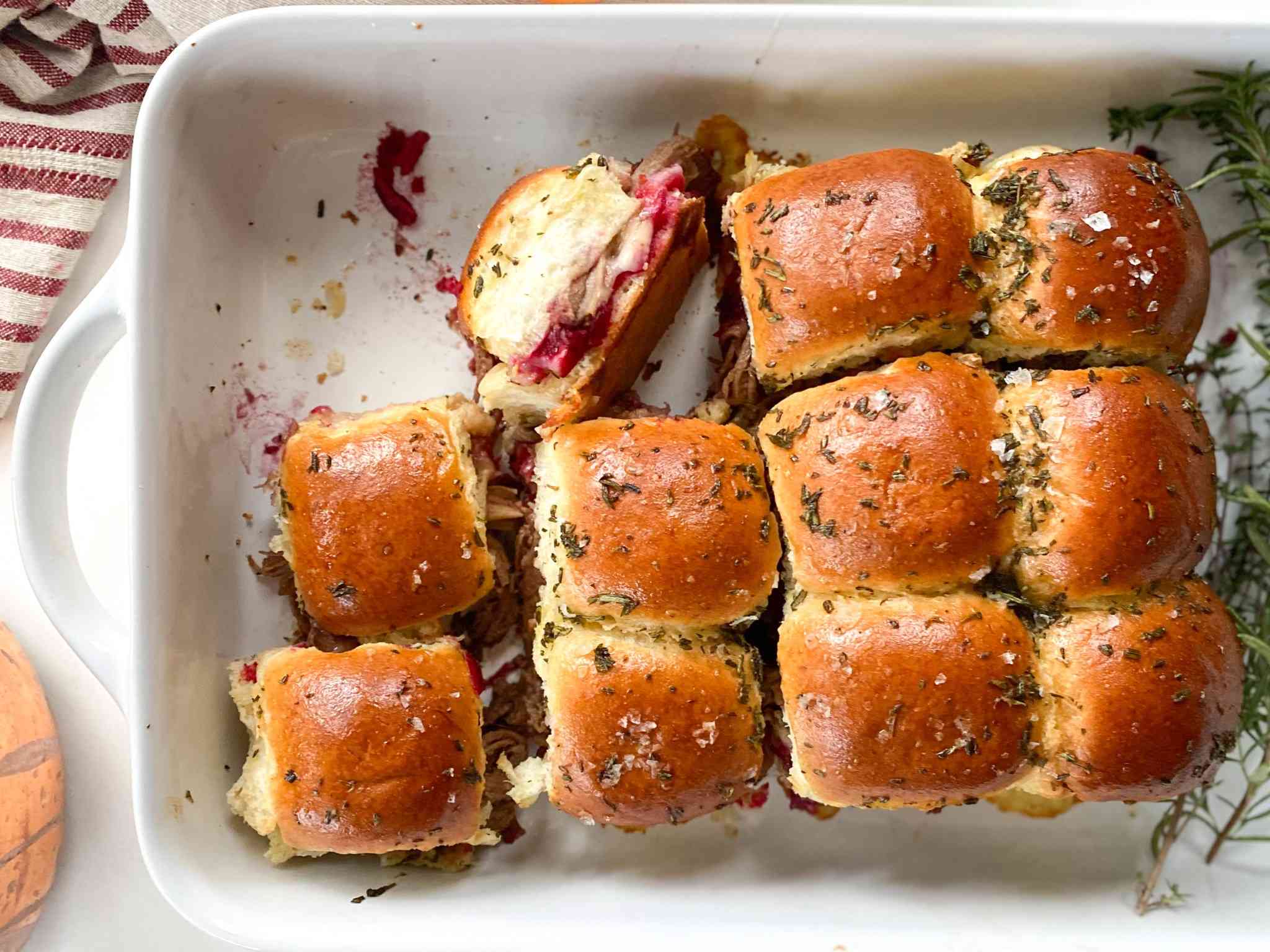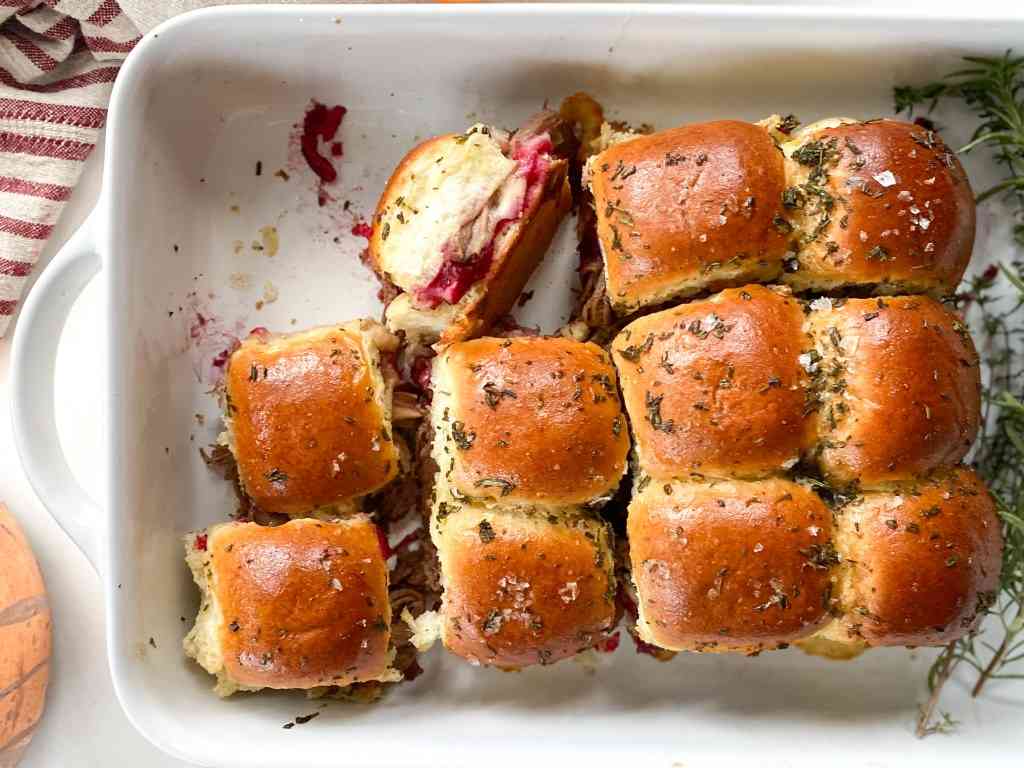 The Most Amazing Crockpot Roast Beef Ever.
I make extra beef for leftovers and I highly suggest you do the same, just double the crockpot recipe below, you only have to double the beef (2lbs), everything else that goes into the crockpot can stay the same amount.
The secret ingredient – Lipton Beefy Onion Soup Dip Mix seasoning. If you can't find that, the onion soup mix seasoning packet will also work. It's the easiest way to create a ton of flavor without having to buy several different jars of dry seasoning. These savory flavors are the perfect match for the cherry cranberry brie combo.
This roast beef is an obsession. I add it to grilled cheese sandwiches, serve it up on top of rice or mashed potatoes, it's so addictively delicious that I also just pick at it every time I open the refrigerator, I can't help myself.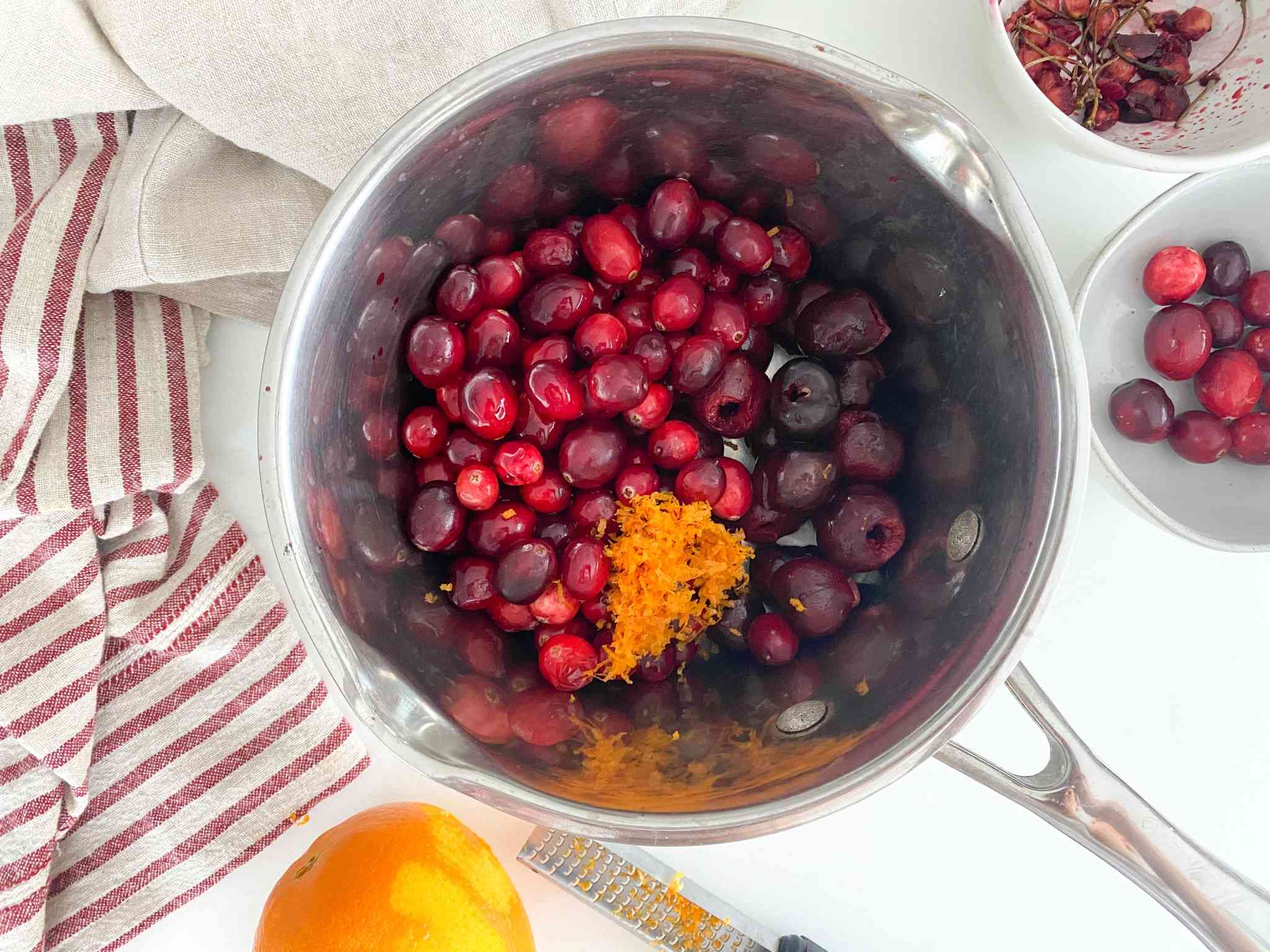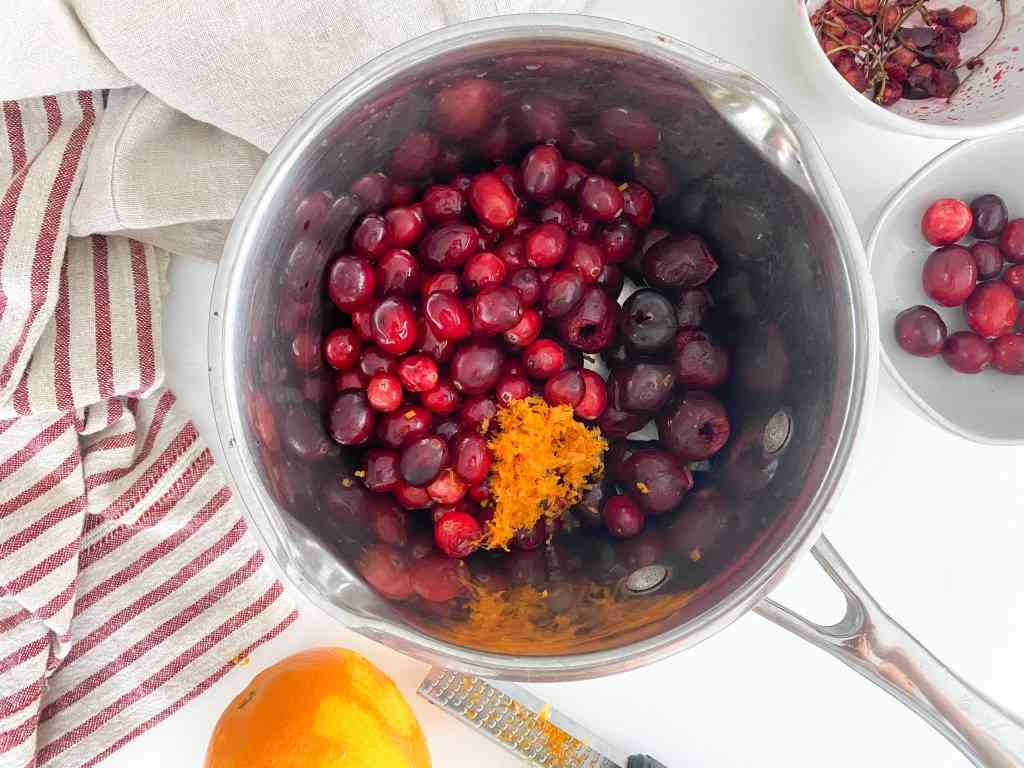 Cherry Cranberry Chutney
Cherry and cranberry chutney is tart, sweet and the perfect partner for the creamy brie cheese and the soft succulent roast beef. It adds a punch of flavor and just the right about of acidity to really balance out the sliders.
A medium simmer on the stove top this cherry cranberry chutney comes together quickly. As it simmers the cherries and cranberries will start to pop open and the liquid will thicken into a sauce.
You can fork smash the cherries and cranberries, leaving chunks of the fruit or you can use an immersion blender to make it more smooth like a relish. It's really your preference.
A word of warning, when you taste it on the spoon it will be a strong jab of tart flavor with a slight hint of sweetness which is exactly what you need so that it stands out once it's inside of these sliders for a complete irresistible bite.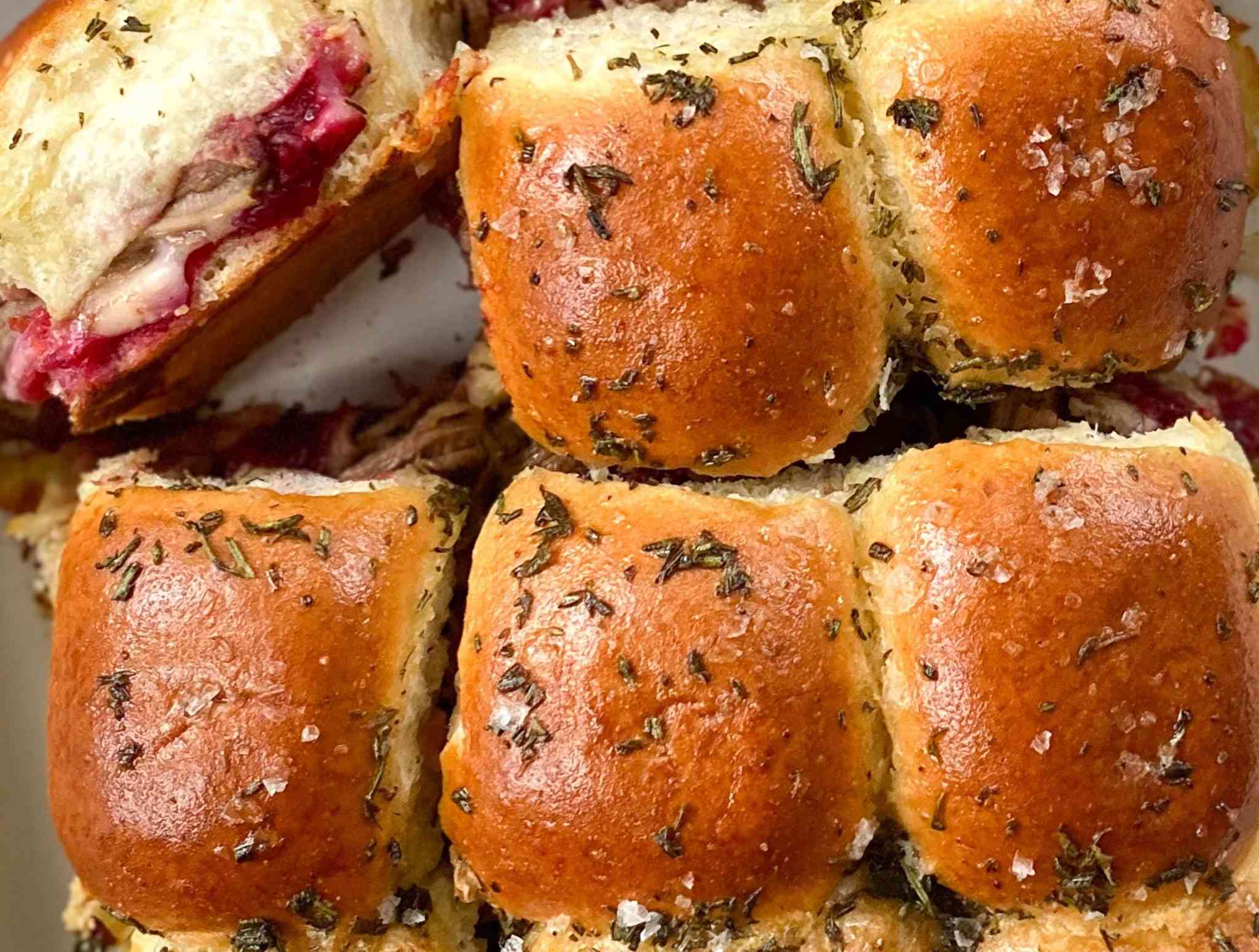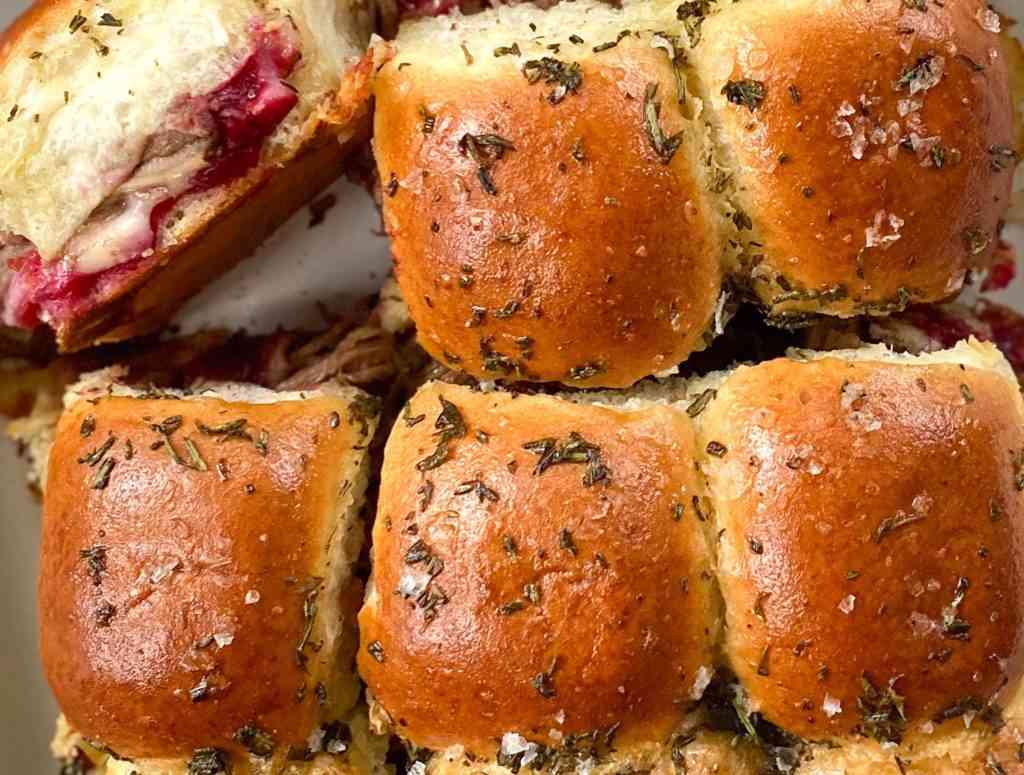 Cherry Cranberry Brie Roast Beef Sliders
Let's talk about these cherry cranberry brie roast beef sliders. They are 1000 percent a show stopper. I cannot get enough. Cranberry brie is a classic flavor, especially around this time of year. Classic.
Cherries – I added a little cherry, because why not. Don't forget to pop the cherry pit out. I have this little nifty cherry pit remover that my sister-in-law gave me for Christmas many moons ago, it makes the process quite fun.
Fresh Cranberries can be a little tart just like the cherries, but they are so pretty and have the best color making the chutney a sight of beauty.
Brie Cheese is a buttery soft cheese that is mild in flavor and usually very popular on a cheese or charcuterie board. Pairs well with just about everything. Brie cheese melts really well. It is creamy and gooey in all the right ways.
Melted Rosemary Butter with a Sprinkle of Maldon Salt goes on top of these cherry cranberry brie roast beef sliders before baking, to create a buttery crusty top.
Maldon salt is a what they call a finishing salt added to enhance the flavors of your food at the end of the cooking process or right before it is served, a little goes a long way.
These cherry cranberry brie roast beef sliders are going to be an instant favorite, trust me.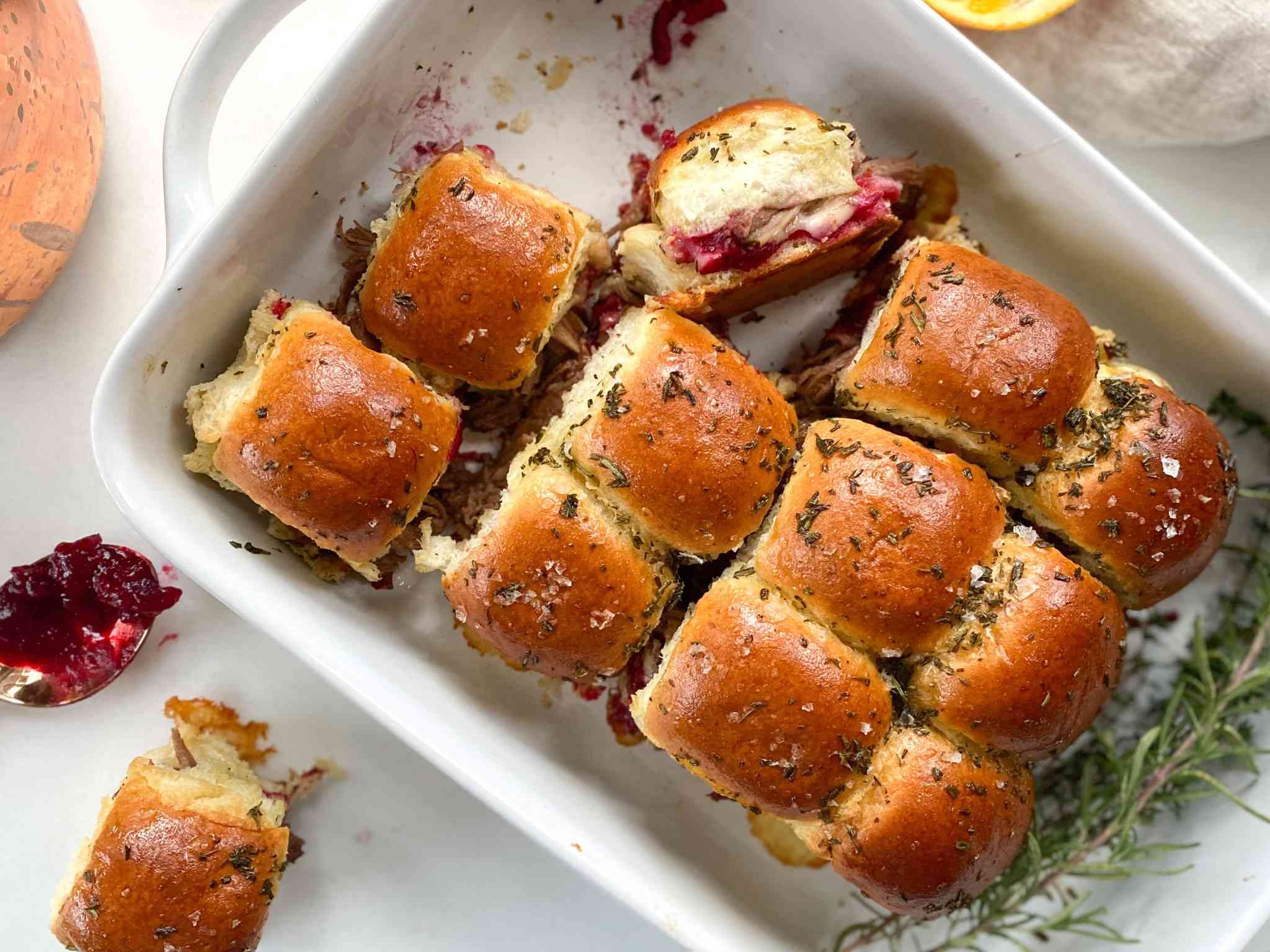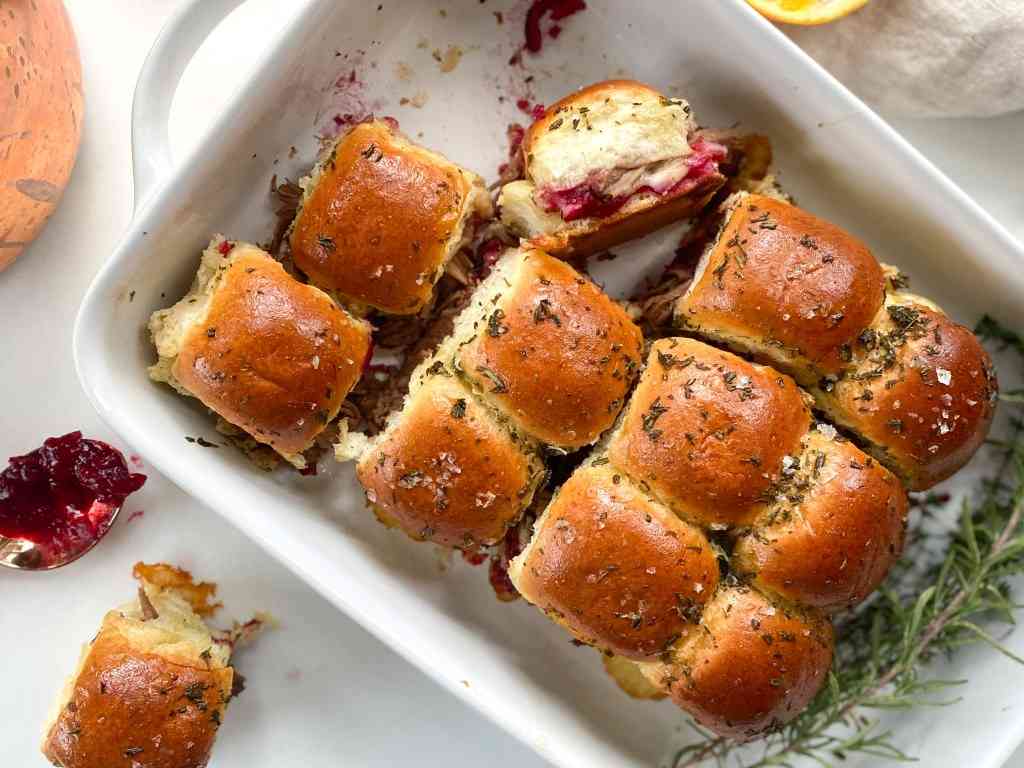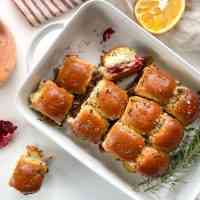 Cherry Cranberry Brie Roast Beef Sliders (crockpot)
Fork tender, perfectly seasoned crockpot roast beef smothered in a cherry cranberry chutney, creamy melted brie sliders topped with a rosemary butter and salt flakes.
Print
Email
Pin
Rate
Ingredients
Crockpot Roast Beef
1

lb

Eye Round Roast

1

cup

Beef Stock

1

packet

Lipton Beefy Onion (or Onion) Seasoning

¼

cup

Worcestershire Sauce
Cherry Cranberry Chutney
½

cup

Fresh Cherries - pitted

1

cup

Fresh Cranberries

1

TBSP

Orange Zest

½

TBSP

Vanilla

2

TBSP

Brown Sugar

1

tsp

Salt

¼

cup

Water
Rosemary-Salt Butter
3

TBSP

Unsalted Butter

1

TBSP

Fresh Rosemary - chopped

Maldon Salt
The Other Ingredients
7

oz

Brie Cheese

12

Hawaiian Rolls
Instructions
In a crockpot - add the beef eye round roast, beef stock, Lipton soup mix seasoning and Worcestershire sauce. Cover and slow cook on high for 4 hours, keep it on warming until you're ready to make the sliders.

Make the cherry cranberry chutney. Over medium heat in a sauce pan add the cherries, cranberries, orange zest, vanilla, brown sugar, salt and water. Heat to a steady simmer and cook until the cherries and cranberries start to pop, about 15 minutes.

Fork smash the fruit for larger chunk chutney or use a blender for a smoother relish-like consistency.

You can make this ahead of time or right before assembling the sliders.

Shred your roast beef and add back into the crockpot with the broth.

In a small sauce pan, add your butter and rosemary. Melt the butter and let the rosemary become fragrant.

Using a bread knife, slice the Hawaiian rolls, the rolls are attached, making it easy to slice all of them at the same time, across the center.

Place the bottom of the rolls in your casserole dish or sheet pan and top with sliced brie chunks.

The rind is edible, but you can also remove it if you want to.

Top the chutney with the roast beef, using tongs or a fork to shake off the broth before adding it to the sliders.

Add the top of the rolls. Brush the top with melted rosemary butter. Sprinkle with a few pinches of Maldon salt.