Here we go again. Packing school lunches. This task is completely overlooked when deciding to have kids, but it should definitely rank in the top ten when weighing the cons with the pros. Sure you have to consider the sleepless nights, the financial hit and overall pure exhaustion of keeping them alive, happy and healthy, but school lunch is the true unspoken hell (kidding…..sort of). It's not because kids change their minds constantly about what they like and don't like, or that schools are moving to nut-free zones, the peanut butter and jelly sandwich is no longer an option.  It is just unexplainably hard. The morning is chaos as is and now I have to think about and prepare lunch for two little girls. If you also feel this way, this blog post is for you.
First I want to set the bar for expectations. I am a mom, not a nutritionist, just mom. I write this knowing that every single household is different. My goal is to help. I want you to pick and choose what helps your family. Do what you can/want, skip what you can't and know that we are all in this together. During the school year, I share their school lunches on my IG & FB stories, you will see that some days are just better than others. Sometimes I don't make it to the grocery store or our budget is tight so we improvise. We all have been there. This is a no-judgement area. I hope this helps!
I have linked a lot of products for your use. As an Amazon Affiliate, at no additional costs to you, I make a small commission. If it is not an amazon link, I am simply sharing for you, I am not a partner or sponsor, I do not make any revenue from those links.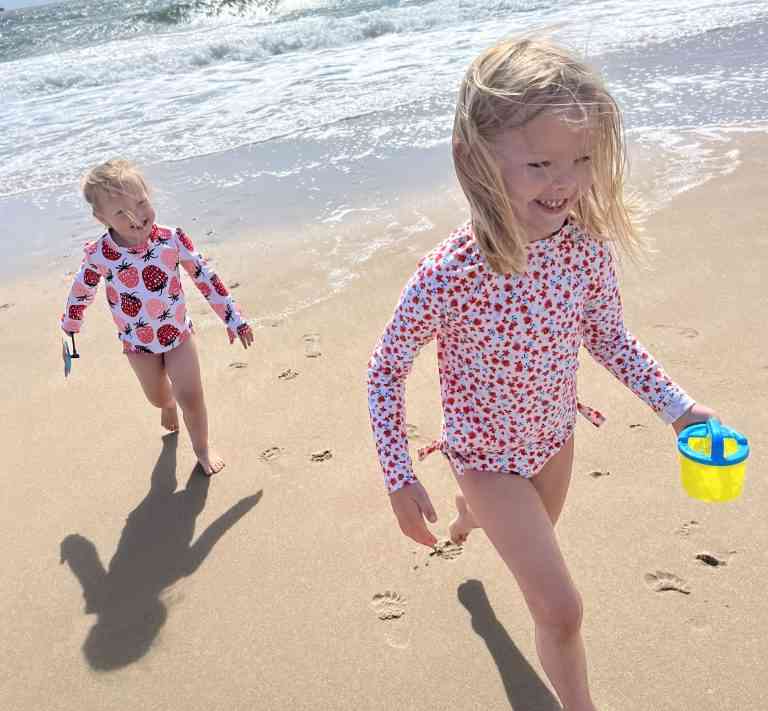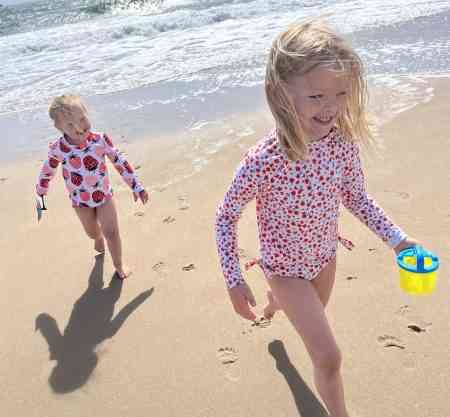 Who I Pack Lunch For
Meet my girls, Olivia (age 6, 1st grader) and Kate (age 3, preschool). They are exact opposites when it comes to what they eat.
Olivia is a very picky eater, I'll share a few picky-eater tips later. Olivia is a self-made vegetarian. She will only eat the occasional scrambled egg, chicken nugget or fish stick when submerged in ketchup. Kate is a very adventurous eater. She asks to try everything. She loves a good sandwich, chicken wing and yellow curry. Kate attends a nut-free school.
School Lunch Boxes & Cooler Packs
Lunch Boxes: When Olivia started Pre-k she had a small lunch box from Pottery Barn.
Last year, Olivia went to Kindergarten and Kate started preschool and I got them cooler pack bento boxes. These were great with the perfect size compartments. The cooler pack was clipped in so it never got lost.  These Bento boxes had a few downsides. They were heavier than I liked and did not fit into the Pottery Barn lunch box I had bought the year before. Without a lunch box, they took only the bento box to school.  I was unable to pack additional items like a napkin, spoon, single-serving yogurt or a cheese stick.
This year I went back to Pottery Barn lunch boxes. I got smaller bento boxes so that they would fit inside with room for extra items.
The links:
Lunch Safety Rules: If the lunch is not stored in the refrigerator, it is important to use a frozen cooler pack. The safest is to put a frozen cooler pack on the bottom and the top of the lunch box to keep everything cold until lunchtime. That means two ice packs. Sometimes I freeze yogurt tubes or yogurt pouches and add them in there for dual purpose, to keep lunch cool and for lunch, on warmer days they will defrost just in time for lunch.
The links:
Make the Lunch Box Fun
I'm so excited to do this again this year because they have real school lunch boxes. I will write a little post-it that says "I love you" or something else now that Olivia is learning to read. I also try to add a fun snack and a napkin in the lunch box, something that matches the holiday or season in that month, you can find these at the grocery store usually as an impulse buy.
Food Labels
I pay even most attention to added sugar and GMOs. I also try to strike a good balance of whole foods. But let's be honest, as the kids are getting older, I have bent the rules for Cheetos, Oreos and other fun delicious items we all love. It's moderation. Balance. And some days it's not.
As Olivia is growing, I am starting to pay more attention to the titles, labels and marketing gimmicks. I hate that as a society things are labeled with calorie count and with the word "skinny". I love Skinny Pop Brand. We get the Costco size box of the single serving bags because they have zero extra ingredients and tastes great when you need a snack on the go, however with Skinny across the front I feel a little guilty giving it to my 6 year-old. The same goes for those individual packaged pretzels that say "100 calorie pack". This is really me brainstorming about next steps. Maybe I'll stop buying the pre-packaged bags and will just do it myself.
Our Tried and True School Lunch Box Favorites
The School Lunch Entrée
Hummus and Pretzels
Plain Bagel with Cream Cheese on the side
Cheese Squares with Ritz Crackers
PB Ritz Cracker Sandwiches (Olivia only)
Cottage Cheese with Fruit on the bottom (Kate only, will try again with Olivia)
Hard Boiled Eggs (Kate only)
Deli Cut Turkey, Cheese and Lettuce, with mustard sandwich (Kate only)
Chicken Salad Sandwiches (Kate only)
Cold Pasta, tossed in a little bit of olive oil so it doesn't stick. If you're looking for added protein, Tolerant Foods Pasta is our go-to, they now also have kid shapes!
Feel Good Snacks
Hippeas Puffs – the white cheddar flavor remind the girls of Pirate's Booty. These are made from chickpeas. You can find them at Costco now.
Made Good – the Chocolate Chip Granola Bars and Chocolate Chip Cookies are our favorite. They are usually cheaper on Amazon.
From the Ground Up Cauliflower Cheddar Crackers
Costco's Trail Mix (Olivia's school only)
Anne's Cheddar Bunnies or Graham Cracker Bunnies
Snacks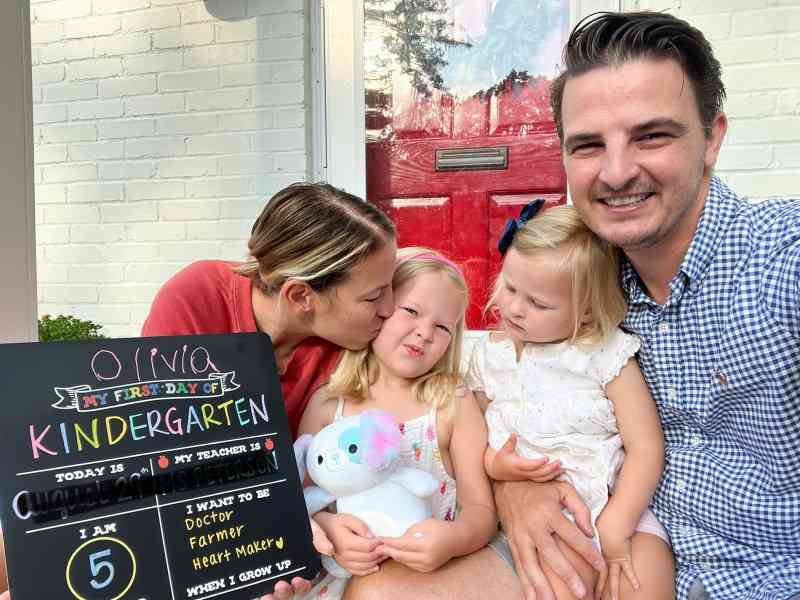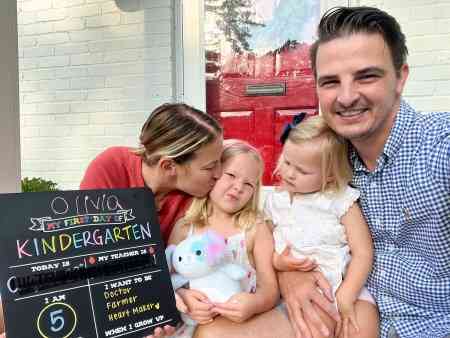 Picky-Eaters
Olivia was a great eater and then one day the switch flipped and she now sticks to a very small list of foods she loves. I lean on Jennifer, a mom and dietitian that runs Kids Eat in Color. She shares a lot of information and her philosophy aligns with ours.
In an effort to support healthy eating habits and body autonomy, our household does not do "one more bite" or the "you have to try it" approach. We do not use dessert as a tool for "good eating" dessert is not a prize or earned. What we do is allow them to choose from the options we provide. We allow the girls to tell us when they are full. Sometimes that means they take one bite, sometimes they ask for seconds, every day is different, I think we can all relate.
"Ew I don't like that" is said often at our house. We explain that in order to say you don't like something you have to try it but they can always say "no thank you".
TIPS to encourage new foods that we have found helpful are:

Make a Try Bite chart. I drew a chart with 9 squares on it and hung it up in the kitchen. Every time Olivia tried something new we added it to the chart. Once she filled in the chart, she got to pick what was for dinner that night. We don't always add something new to it, it took about a month to fill it up.
Always add a safe food to the meal, something you know they love. It makes it less overwhelming.
Smaller portions. It will make it less intimidating. Add something in a small ramekin on the plate can trick the eye. In the lunch box use colorful silicon cupcake liners to do the same trick.
Serve dinner family style.
Try not to draw attention, if they happen to eat something you thought they would pass up on, just keep your poker face and keep normal conversation.
If you have siblings, try not to compare their eating habits.
I have become a little more intentional when it comes to Olivia's meals and snacks. We love products that have added protein, we love Kodiak Cakes for pancakes, waffles and muffins. We also primarily use Dave's Killer Bread. I do not hide vegetables. Everyone has the right to know what they are eating and make her/his choice. For both girls, I try to front load the food with the most nutritional value. Breakfast is the meal I try to jam in a well-rounded meal. Lunch, I try to prepare something that is appealing to her and balanced. Dinner, she eats the worst but after a full day of school and an after school snack, she's usually tired and so I take what I can get.
Uneaten School Lunches (or meals in general)
I don't bat an eye. I do agree it is heartbreaking to "waste" food, but listen, I have no idea how they are feeling, are their bellies already full? Did the teacher give out extra snacks? Some days are just better than others. I mean how many times have you gone to work and forgot about lunch or changed your mind and only ate your snack? It happens. I will never criticize uneaten food and I will never celebrate when everything is gone – their belly is full that is all that matters.
My Thoughts on Dessert
In my house growing up sweet treats and desserts were always available. To this day my mom's motto is to eat dessert first so you have room for it. She has a sweet tooth that can never be satisfied. I think that helped me have a healthy relationship with sweets and desserts. Our approach is this, we offer treats randomly, we don't make a habit out them and we don't use them as a reward for anything – eating dinner and potty training included. I do always include some sort of sweet treat in their lunch box, one cookie or a few m&ms. Sometimes it's the only thing they eat. Surprisingly, sometimes it comes home uneaten and it is really exciting to see them make those decisions on their own.
I'm not saying we do not endure temper tantrums if we say no to sweet treats, we do, but when we offer dessert, it's rewarding to watch them manage their own intake.
I'm always watching for clues that this approach is not working, and I'm willing to pivot if I notice an overindulgence.

The Snack Drawer
I created a snack drawer in the pantry that has all of the parent approve kid snacks. I rotate the options semi-regularly, there are always some favorites – pretzels, crackers and fruit/veggie pouches. The pantry snack drawer is at their height, they can browse and grab it themselves. This gives them independence and more importantly, I am no longer their snack b*tch. You have to set your own family's rules for snack times, this one helps us out tremendously.
It's a Village
I hope this was helpful! If you have any other school lunch ideas please leave a comment, it's a village.
Please like & share with fellow school lunch-packers. Parents and caregivers, I wish you luck in this upcoming school year.