Pecan pie is magical. It's crunchy, a little gooey, sweet and is jam packed with warm holiday flavors like brown sugar, nutmeg, vanilla and a splash of optional bourbon. 

Pecan pie is such a quick and easy pie and effortlessly gorgeous, ready to impress. No top crust, no lattice or fancy design necessary, the pecans rise to the top to make it a show-stopper.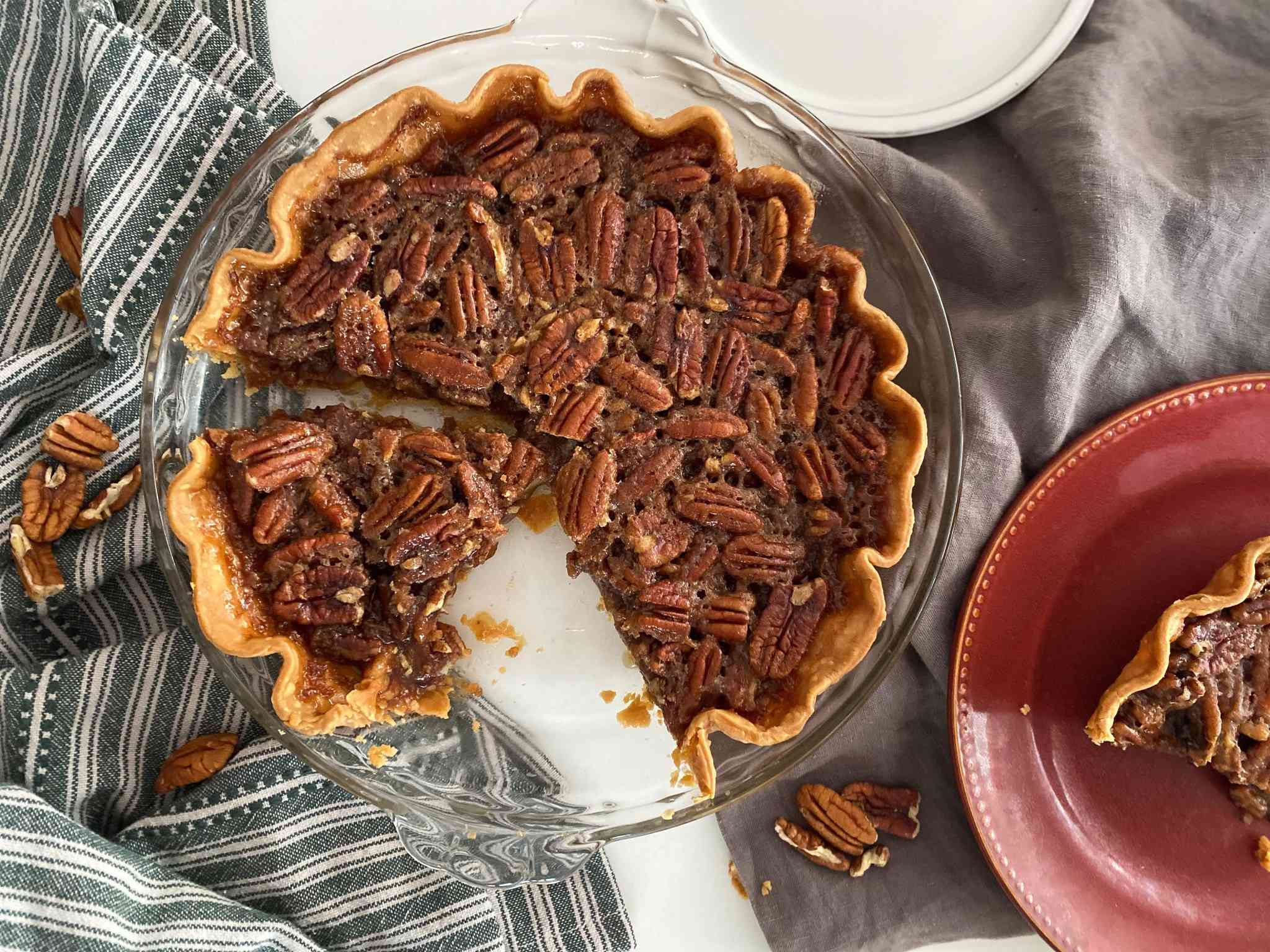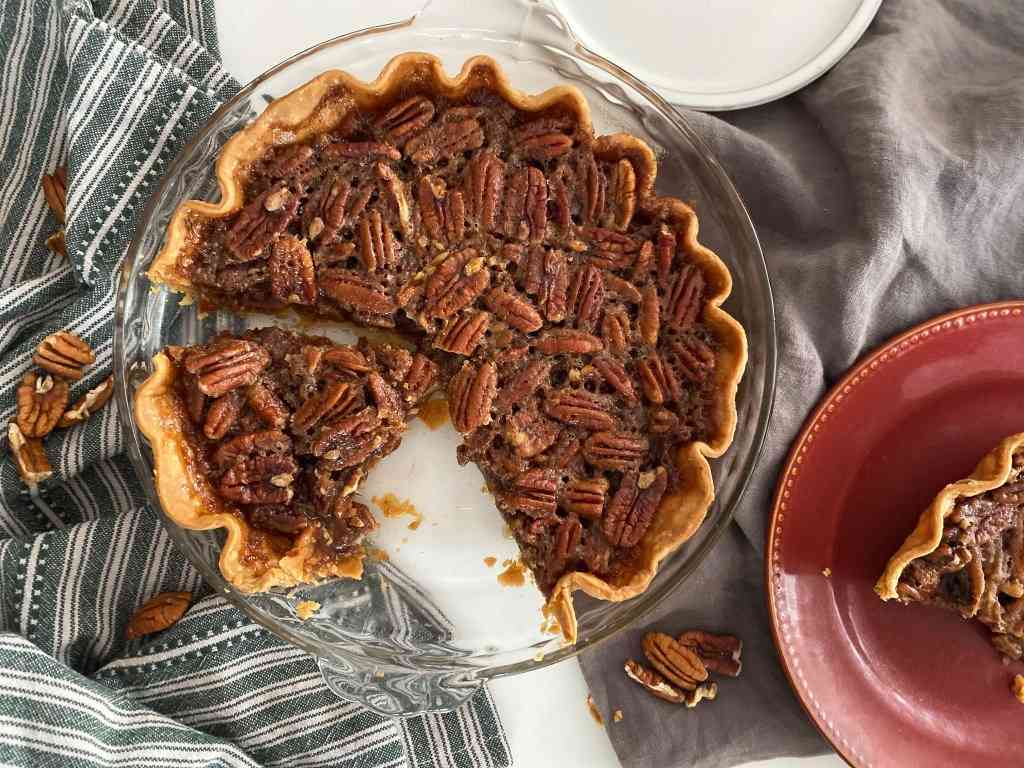 Pie Crusts
There are two types of people, the first one who makes their own homemade pie crusts and the other one that buys them from the grocery store. 

I really wanted to be the person who made them homemade, I even shared a really great butter pie crust recipe on the blog. It's a lovely buttery flakey pie crust that is absolutely delicious. This is all to say that I most often buy my pie crust from the grocery store.

This store bought pie crust is my tried and true favorite. It shrinks a little in baking but it's such a reliable crust. I bake for the holidays and special occasions because I love celebrate, but if you've been here long enough, you know my specialty is weeknight dinners, so I lean on store-bought crust to help with time, energy and stress.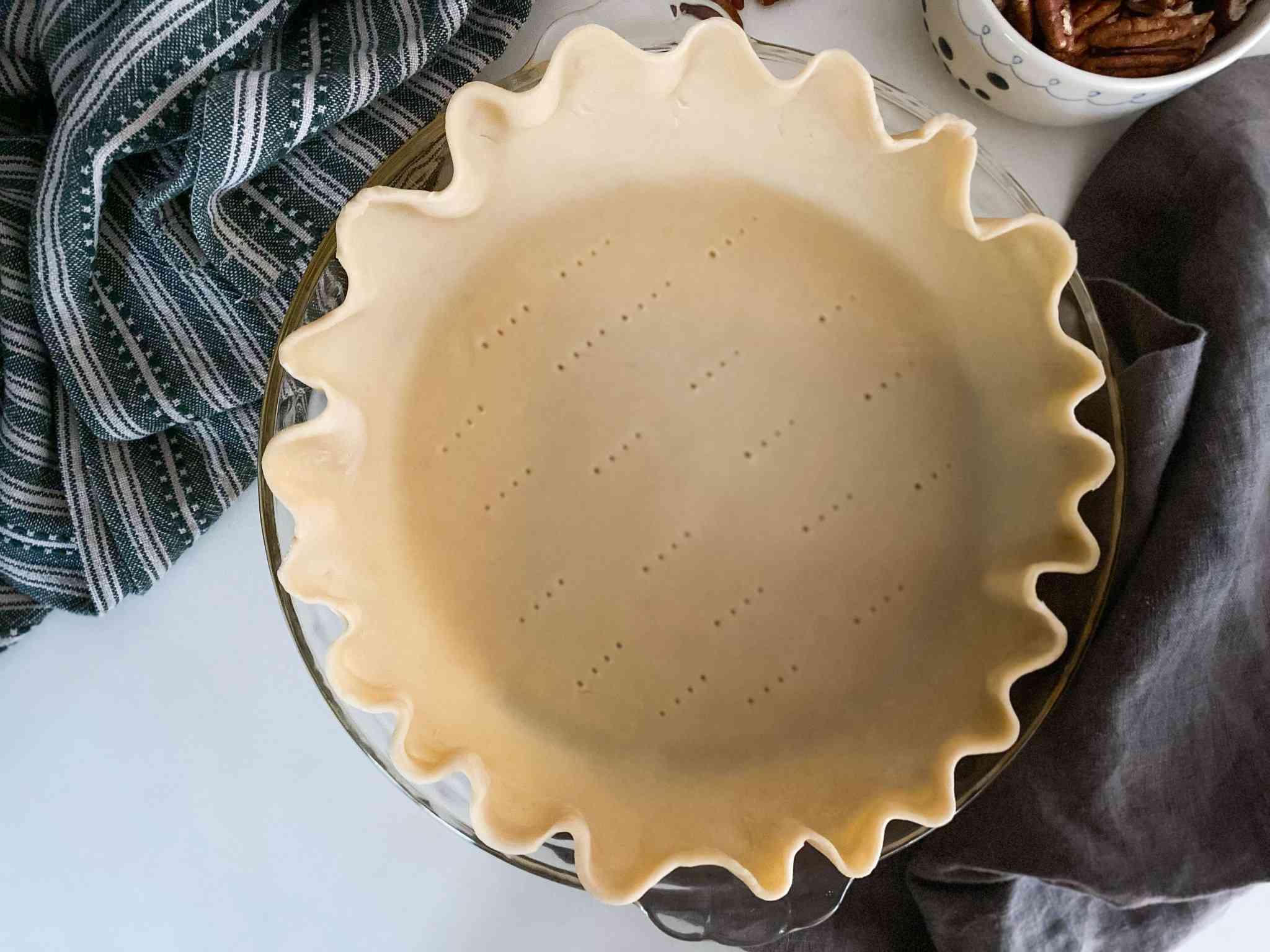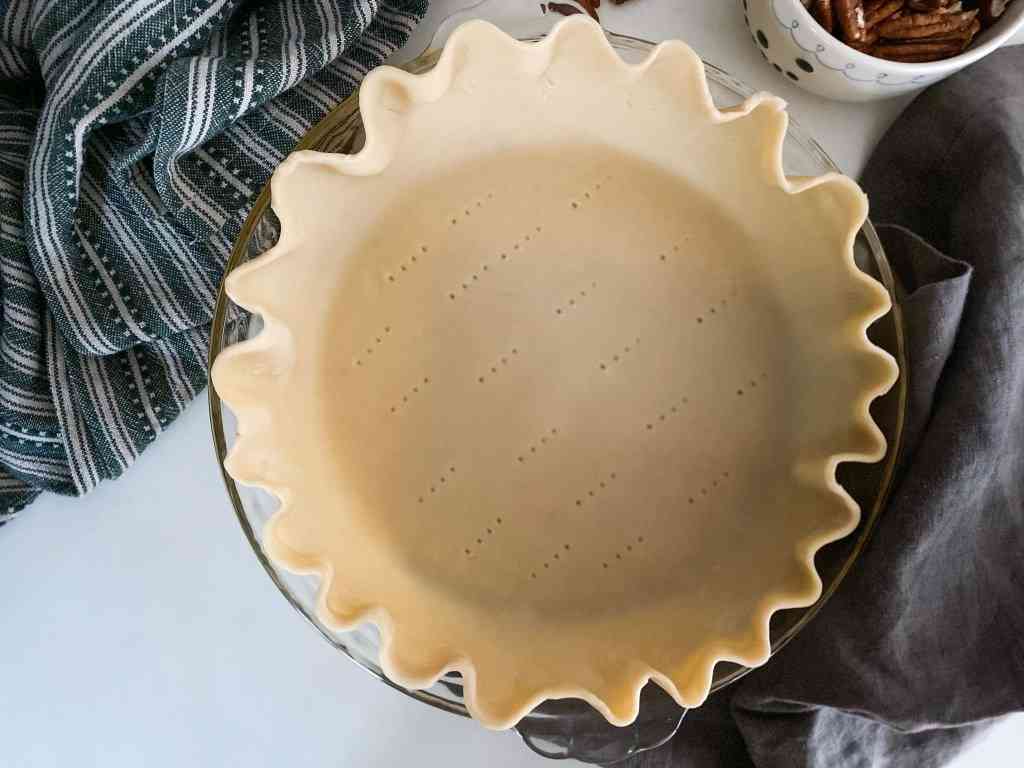 Pecan Pie: Blind Baking 
Blind baking is a culinary term for pre-baking your pie crust. This usually necessary when the filling of the pie takes less time to bake than the crust. In this case, the filling of the pecan pie is a melted sugar, buttery egg mixture, the liquid base requires a blind baked crust as well. The goal is to bake it slightly before, but remember that the crust will finish baking while the entire pie is in the oven. 

To keep the shape of the pie it's important to use baking weights or dry beans to prevent the crust from rising too much during a blind bake. 

After placing the pie crust in the pan, use a fork to poke a few holes in the bottom of the crust (see photo above). Then line the crust with parchment paper and pour your baking weights or dry beans on top, using enough to fill the pie to help keep the shape. If you're doing a scalloped edge, you may need to go back around and re-shape any that were bumped by the weights/beans. 

If you use dry beans, you cannot eat them afterwards, you can save them in a zip lock bag and re-use them again for another blind bake.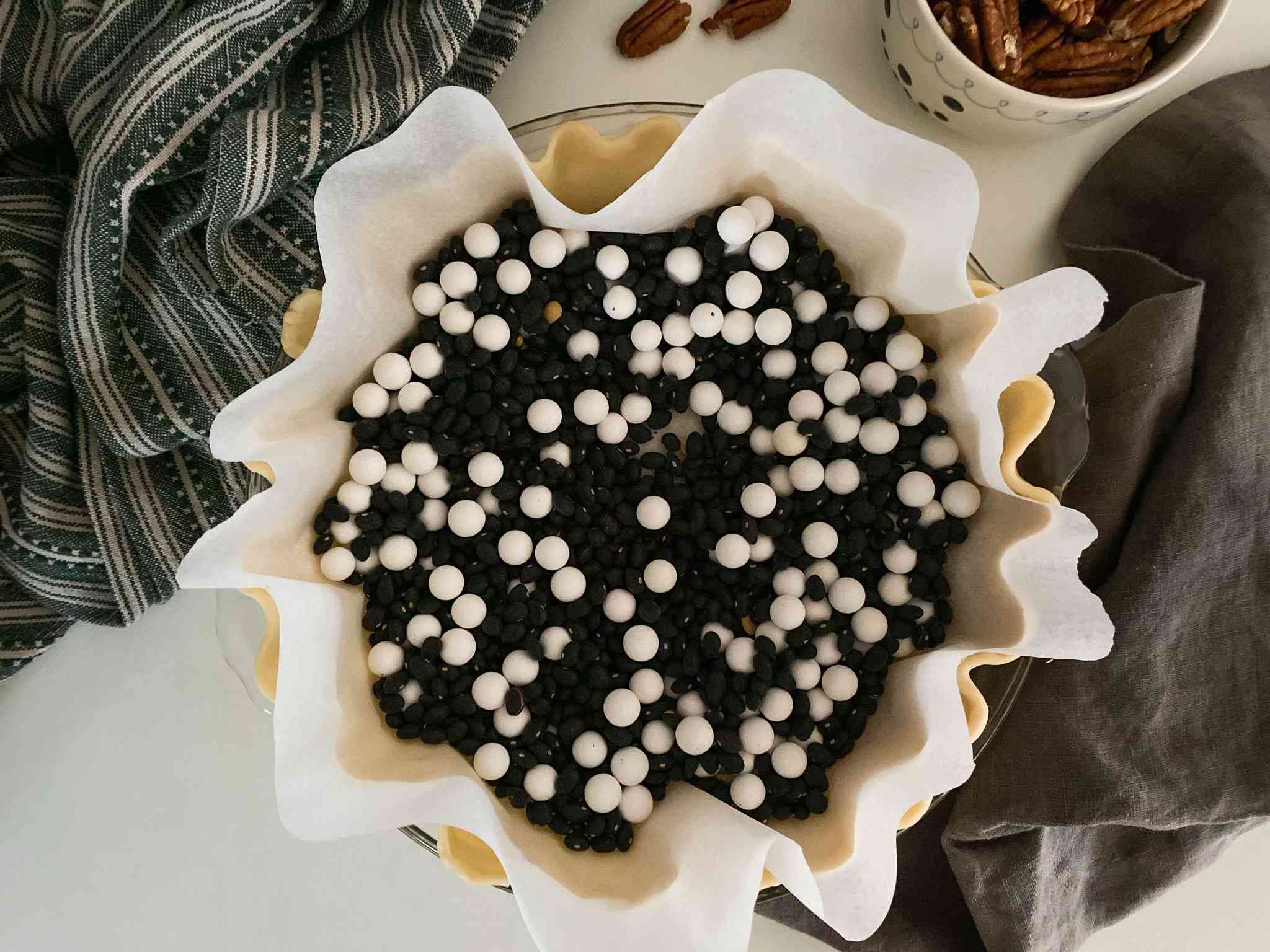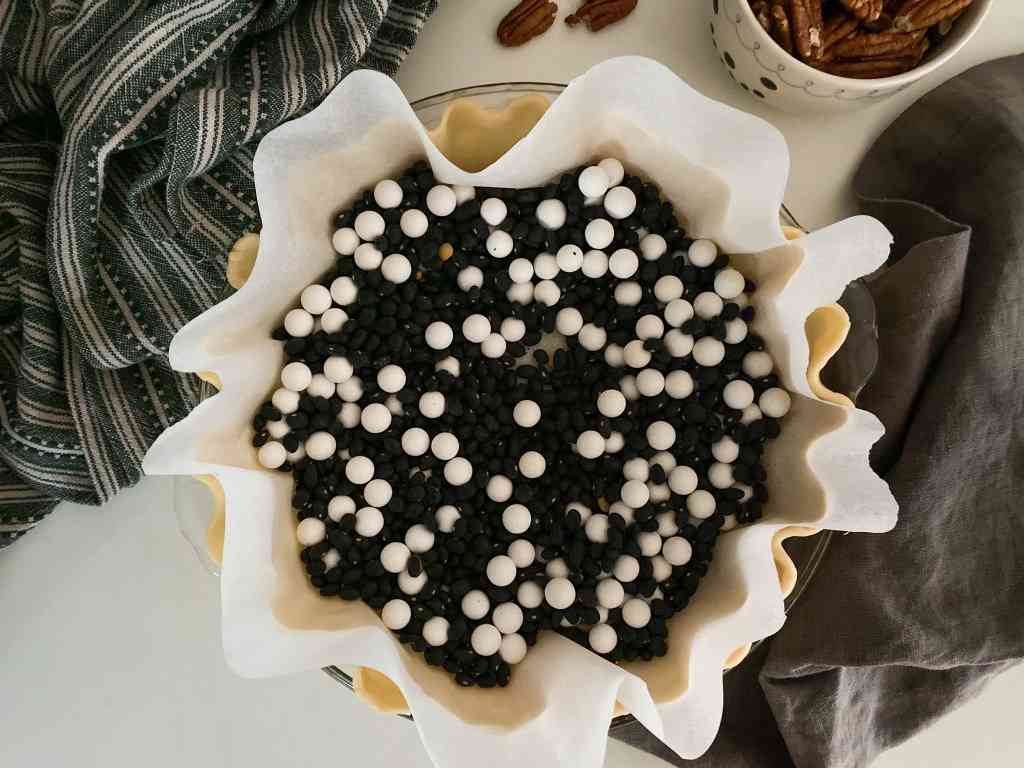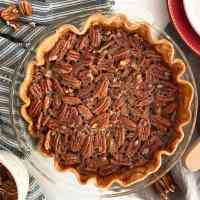 Holiday Pecan Pie
Sweet, crunchy and gooey with the warm holiday flavors of caramelized brown sugar, nutmeg, vanilla and bourbon. Perfect for any holiday occasion.
Print
Email
Pin
Rate
Ingredients
2

cups

Whole Pecans

you can also use chopped

6

TBSP

Butter

½

cup

Sugar

½

cup

Brown Sugar - packed

½

cup

Light Corn Syrup

½

cup

Pure Maple Syrup

2

tsp

Vanilla

1

tsp

Nutmeg

2

tsp

Bourbon (optional)

2

Eggs
Instructions
Preheat your oven to 350F.

Place your pie crust in the pie pan, poke a few fork holes in the bottom of the crust. Line the crust with a sheet of parchment paper, add in your baking weights and blind bake for 25 minutes.

See blog post for additional guidance on blind baking.

Preheat your oven to 325F.

In a sauce pan, over medium low heat, melt together the butter, sugars, corn syrup, maple syrup. Whisk and heat over medium low heat until the butter is melted, the sugars are fully dissolved and the mixture is evenly combined.

Off the heat, add in your vanilla and bourbon (optional)

Set aside and let it cool slightly (about 10 minutes).

Once the butter and sugar mixture is cooled slightly, it still needs to be warm, add in the eggs and quickly whisk them into the mixture until fully incorporated.

Bake at 325F for 40-50 minutes. It should still have a slight jiggle at the end of baking. If you tap the pie pan it should have the consistency of completely set cold jello.

Cool on a cooling rack and place it in the refrigerator until you're ready to serve.