Beef Wellington is the perfect holiday dinner entrée. Filet mignon wrapped in savory herbs, sweet onions, salty soft prosciutto baked inside of a flaky buttery puff pastry. It is easy to prep ahead and gives the ultimate wow factor. I usually serve it with a classic French shallot red wine reduction. It's a truly ideal for a special occasion, dinner party or holiday entertaining. 

Beef Wellington will always have a special place in our household. It has been a tradition for years and it's the very first every cooking class I taught with Nicole Tasting Spoon. 

Very easy to prep ahead.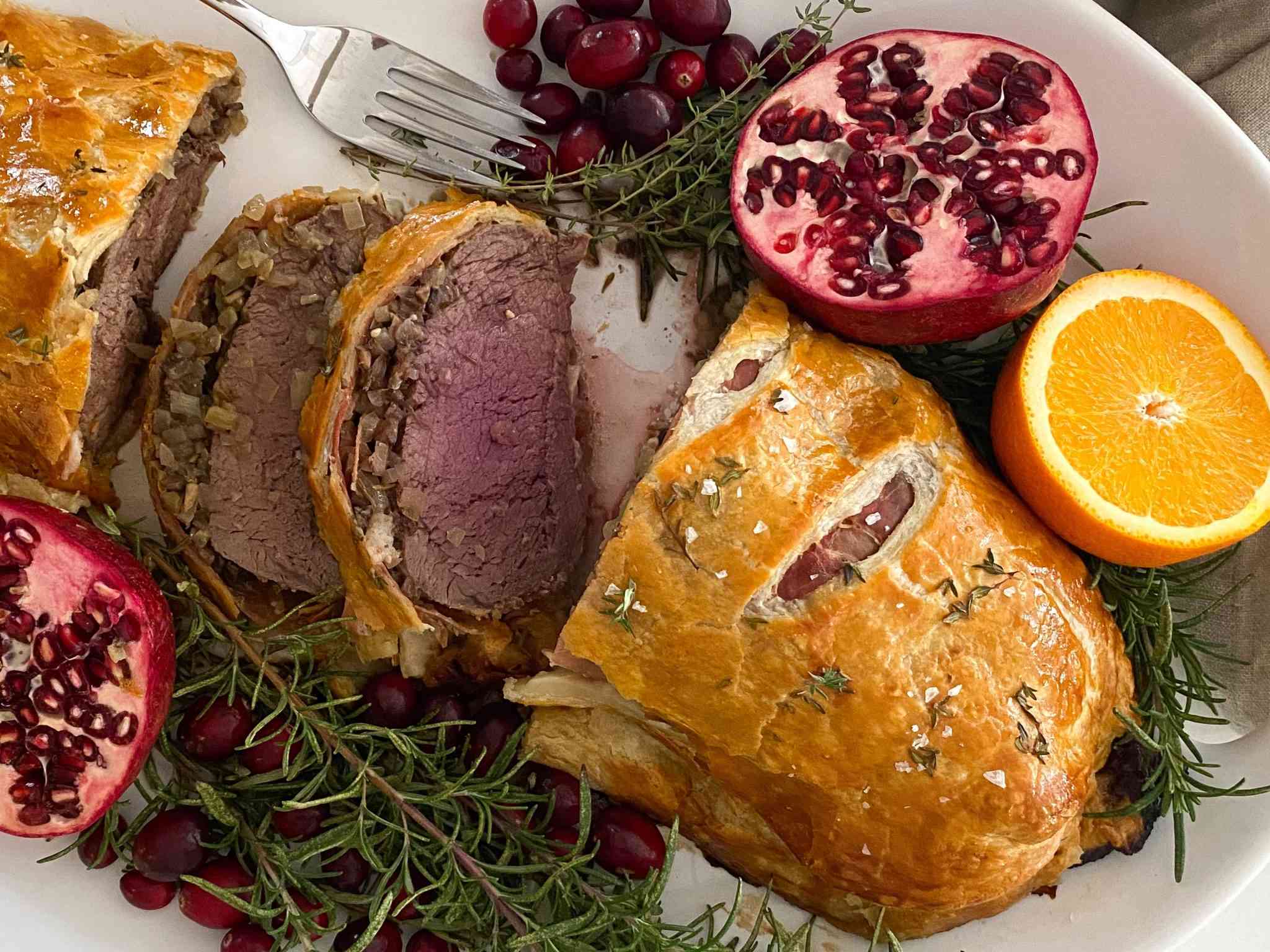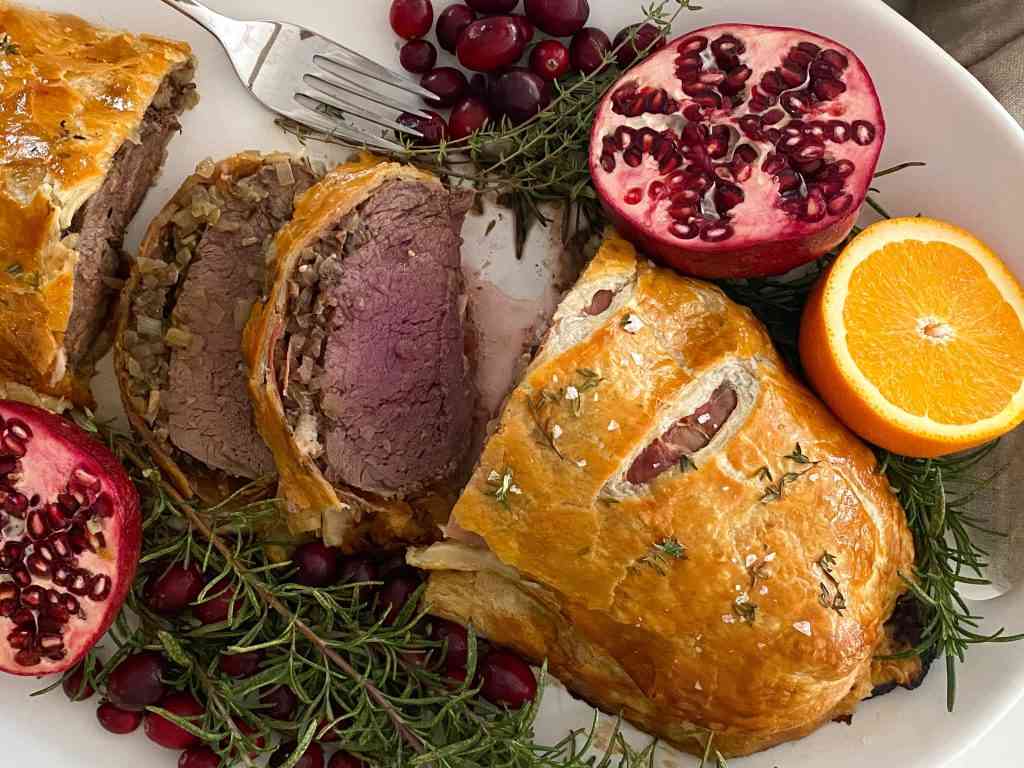 What is Beef Wellington?
It's a large beef tenderloin, otherwise known as chateaubriand, which is the same as filet mignon but not cut into single steak servings. Topped with duxelles (onions, mushrooms, herbs), wrapped into prosciutto, then wrapped in buttery puff pastry and baked to perfection. It seems very over-the-top which it is, but that is what makes it so special for celebrating. 

It's adds so much to the dinner table, impresses so many. The secret is that you can easily prep ahead (tips in the recipe below) and once it's in the oven, you can relax and enjoy your company. 
Some Notes Worth Reading
I want to set you up for success. I pinky promise the pre-recipe hype is more intimidating than actually making the beef wellington itself. It's quite a simple dish but I need share a few notes beforehand. 
This recipe is for a 3 pound beef tenderloin. If you are feeding more than 6-8 people you may want to get two beef tenderloins and make two beef wellingtons to make it easier to handle.
This recipe is adaptable, depending on size of your wellington. The main goal is that you will need enough duxelles to cover the top surface of the entire beef tenderloin. It will seem like the recipe calls for an overwhelming about of onions and mushroom, however they shrink in size once cooked, you have to trust me on this one. You son't want to fall short, it's important to have a thick layer on top of the beef tenderloin. 
Skim the recipe instructions before starting. Make a game plan. It's a lot of chopping but once that that is done goes by quickly.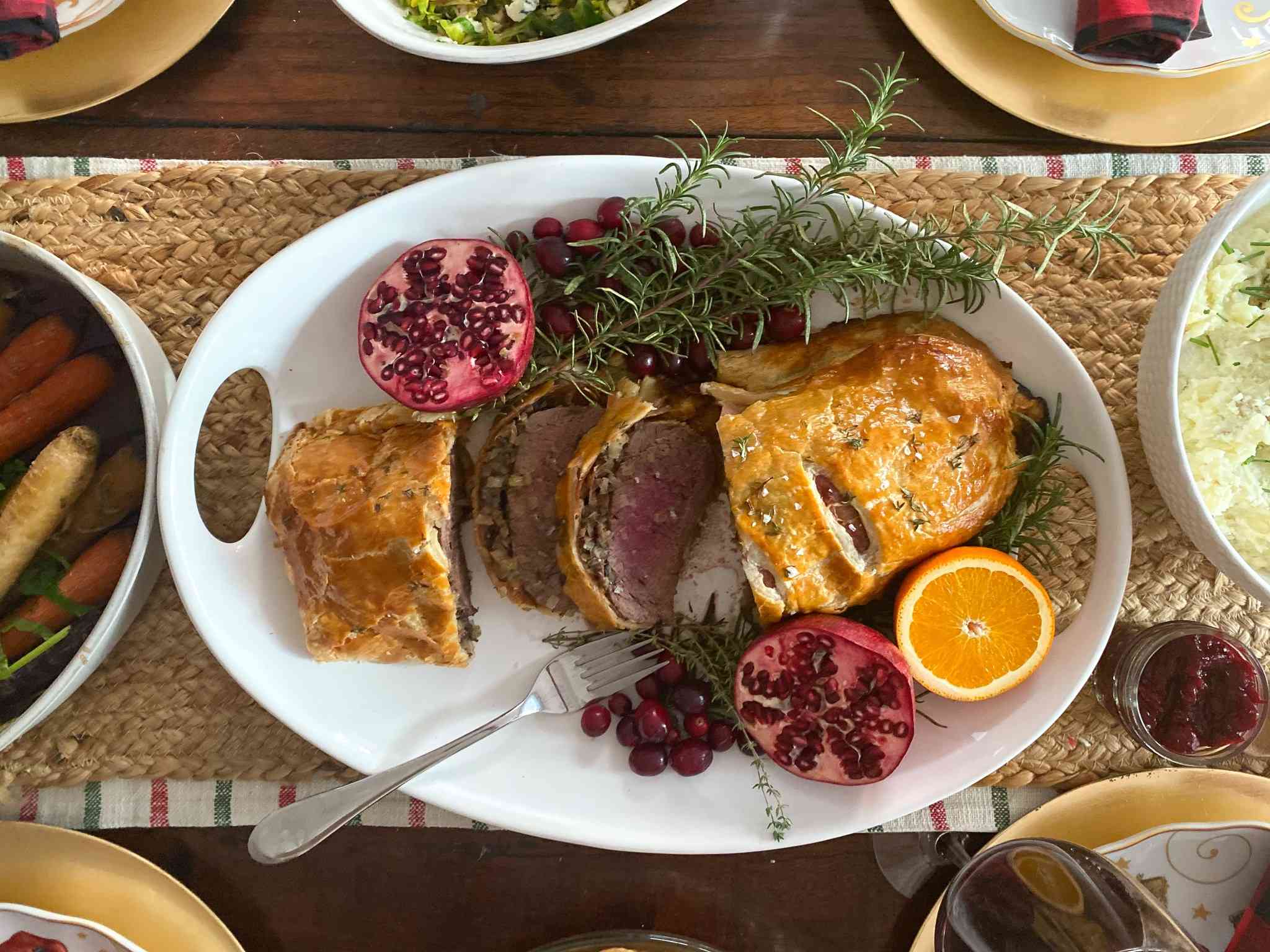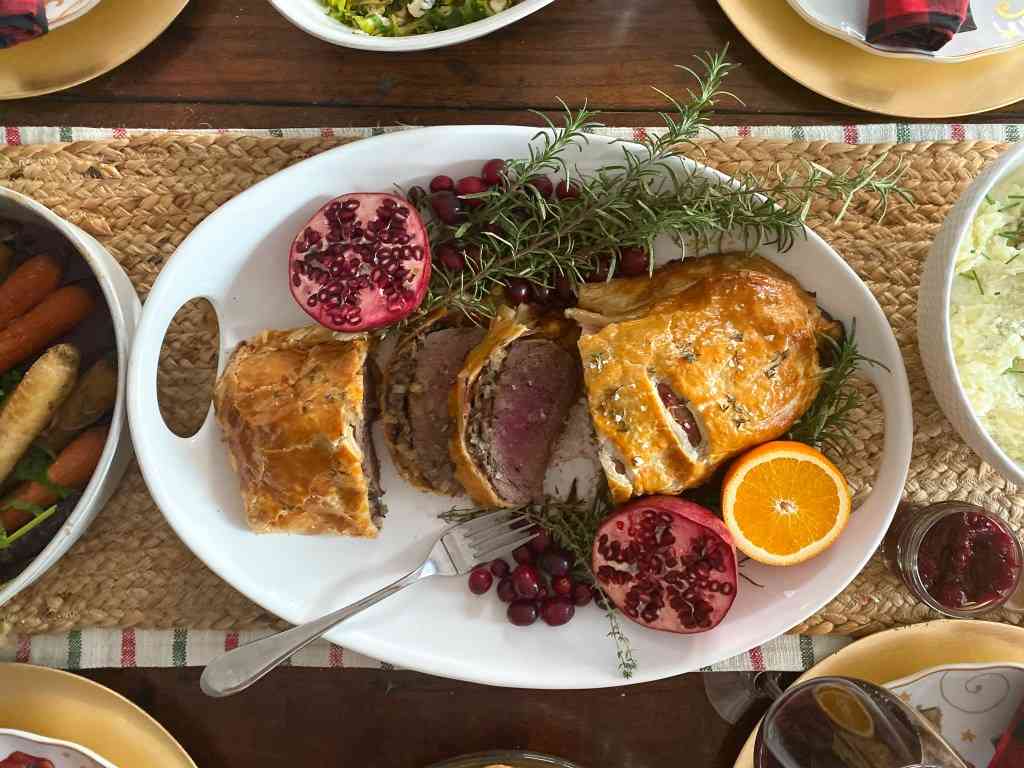 Beef Wellington Internal Temperatures 
The good thing about entertaining with a large beef wellington is that you will end up with different internal temperatures that can accommodate your guests' preferences without having to worry about it. 

The center cut will be the most-rare and it will become more done as you move out to the edges of the wellington. With this recipe, I aim to have the center medium rare (130-135F) and the end pieces closer to medium (145F). If you want this to be more well-done then you can control the internal temperature when you pre-sear the tenderloin. This is probably the most difficult part of the dish because you also want the puff pastry to be baked to a golden brown without overcooking the meat.

To get the perfect golden brown puff pastry, you will double egg wash the dough before baking to create a flaky brown crust. If you find that the meat's internal temperature is ideal but the puff pastry is not quite there, you can broil it. Turn the oven up broil. This will bake the top of the beef wellington quickly – do not walk way, keep an eye on it and take it out when it's a perfect brown crust.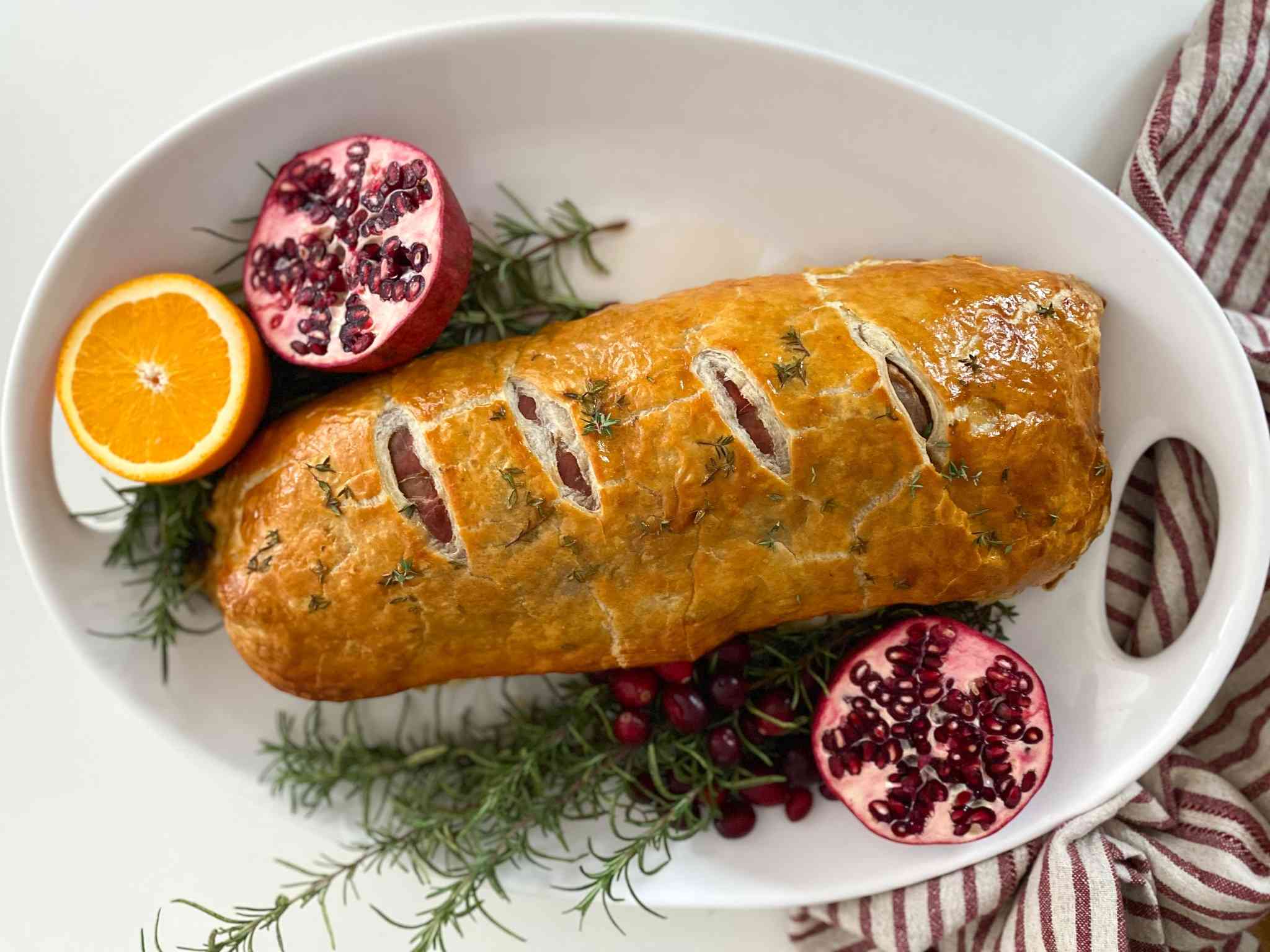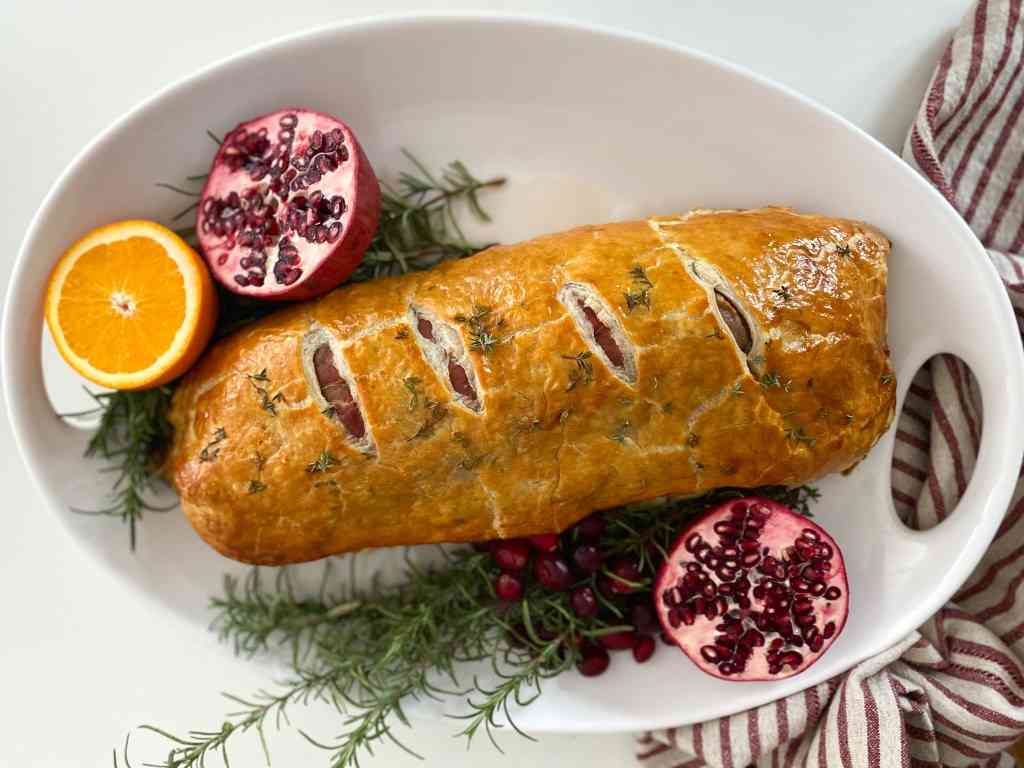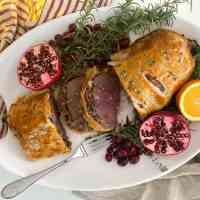 Beef Wellington (Chateaubriand)
Beef Wellington is the ideal dinner for any special occasion or holiday entertaining. Filet mignon smothered in mushrooms and onions, wrapped in salty soft prosciutto and a flaky buttery pastry. 
There are breaking spots on how to prep ahead a few hours up to 24 hours ahead of time.
Print
Email
Pin
Rate
Ingredients
Beef Wellington
3

lb

Beef Tenderloin

2

TBSP

Butter

1

Clove

Smashed Garlic

2-3

Sprigs

Fresh Thyme

1

tsp

Salt

¼

cup

Yellow Mustard

10-12

slices

Prosciutto

2

sheets

Puff Pastry - defrosted but chilled

2

Eggs
Duxelles Filling
2

TBSP

Butter

3

Cloves

Garlic - minced

1

TBSP

Dry Thyme

1

TBSP

Salt

3

cups

Onions - small diced

(about 2-3 onions)

3

cups

White Mushrooms - small dices

(about 8 oz.)

¼

cup

Red Wine (optional)
Instructions
Prepping the Beef Tenderloin: Sprinkle with salt and set it aside to let the salt dissolve.

If you want to shape to your beef tenderloin you can tie it with twine (or keep the twine on until it is seared if your beef tenderloin comes tied already)

Make the Duxelles Filling: Over medium heat with butter and olive oil, add in onion, garlic, thyme and salt.

Start to cook the onions for about 3 minutes. They should start to get soft and translucent without putting on color.

Searing the Beef Tenderloin: I had to use the grill pan this time because the beef tenderloin was too long for my pan, however I like to do this in the same pan that I make the duxelles filling if I can.

Over medium high heat, melt butter, with a clove of garlic and thyme, and sear the beef tenderloin on all sides.

Remove from the heat, let it cool down to the touch. Remove the twine if your beef tenderloin has it.

Assembling the Beef Wellington: Grab the yellow mustard, duxelles filling and prosciutto slices.

Step one: Using a brush or a paper towel, cover the entire beef wellington with yellow mustard. The acidity of the yellow mustard will help cut some of the softer flavors of the mushrooms and prosciutto.

Step two: Pile on the duxelles filling. You will want it to be a thick layer - about an ½ inch thick or more.

Step three: Wrap the top in prosciutto layers. I layer mine one and tuck the ends of the prosciutto under the beef tenderloin.

Step four: Wrap the beef tenderloin in plastic wrap. This will help "mold" the shape of the beef wellington. What you will want to do is lay out two pieces of plastic wrap over lapping so that it's large enough to wrap around the beef tenderloin. Then place the beef tenderloin in the wrap and roll up tightly, twisting the two ends to create tension so that it will hold the log shape. Rest in the refrigerator.

This is optional, you can skip this step and go right into step 5 without shaping the beef wellington. Breaking point. The wrapped beef wellington can be refrigerated for 10 minutes to 24 hours. Recommend at least one hour.

Step five: Wrap the beef tenderloin in puff pastry. Overlapping the edges of two sheets of puff pastry dough, roll it out to about just under a 1/4 of an inch thick.

Take your beef tenderloin out of the plastic wrap and wrap it in the puff pastry - top side down. Make sure there is only one layer of dough, fold over the sides and trim as necessary.

The seem of the dough should be on the bottom, you can use a little egg wash to help keep the seem closed if needed.

Step six: whisk together the eggs. Brush the egg wash over the entire pastry and cut slits. The slits should not pierce all the way through to the meat. Keep the egg wash, you will do a second egg wash brush just before cooking.

If you're feeling festive, add a few pinches of fresh time to stick to the top.

Refrigerate until you're ready to bake.

Breaking point. The egg washed beef wellington can be refrigerated for 10 minutes to 24 hours. Recommend at least 20 minutes. Keep the egg wash in the refrigerator as well until next step.

Preheat your oven to 350F. Bring out the beef wellington to let the chill come off as the oven preheats. Brush on the second round of egg wash.

Bake for 40-60 minutes for a medium rare center (135F). Depending on how long is was in the refrigerator, the more wiggle room you have, it will take a few more minutes to come up to temperature.

To test the temperature, stick the thermometer through the pre-cut slits or on the side so that the "presentation" top does not have a thermometer hole.
Serve with a side of this Red Wine Shallot Reduction Pan Sauce.