Pea basil pesto is a like a hidden gem. The pea helps to soften the bold flavors of basil and together they make the perfect spread for salmon, chicken, pasta or even on a sandwich. This is the perfect end-of-summer weeknight dinner, it's light, super fresh, quick and easy.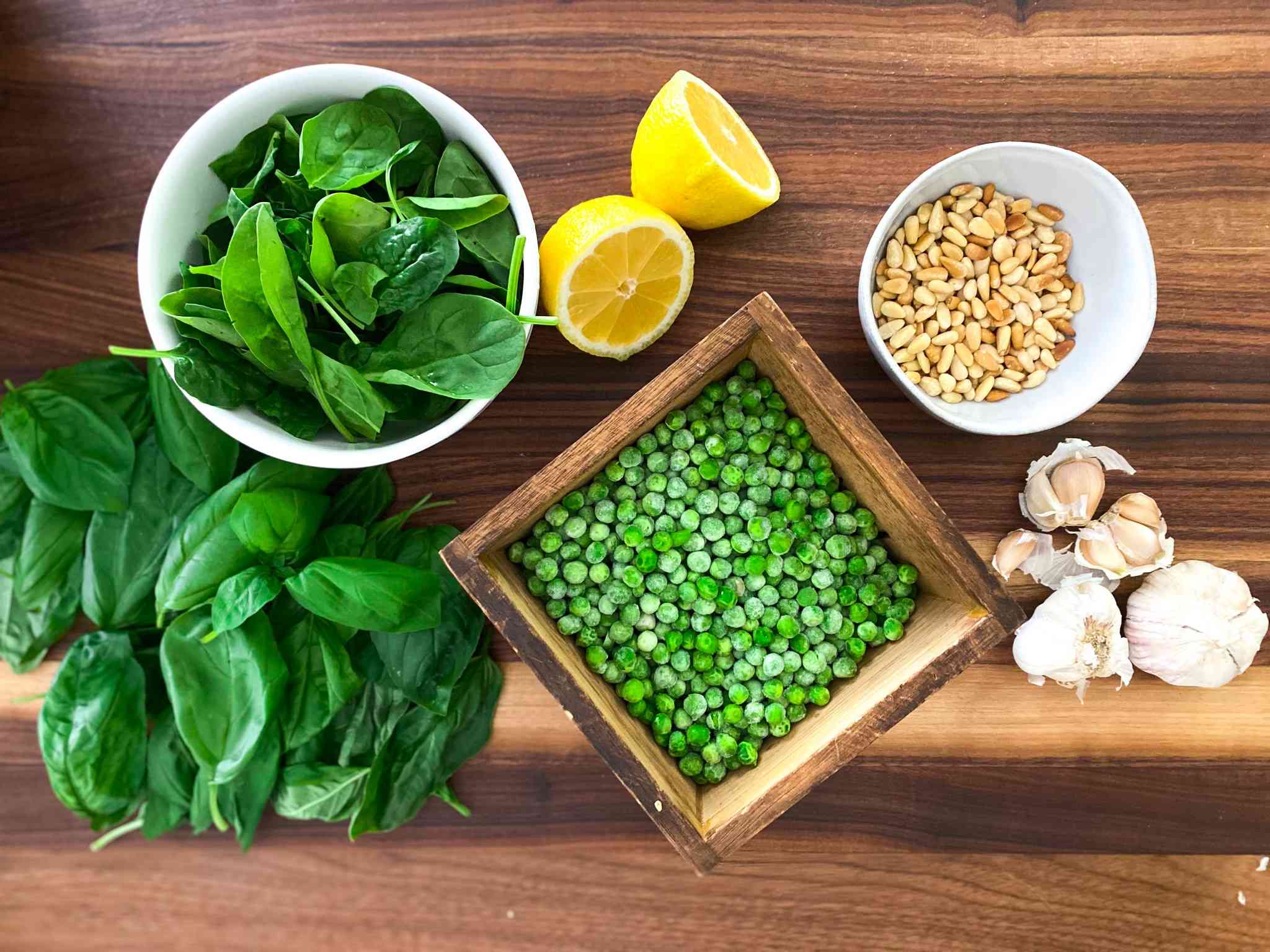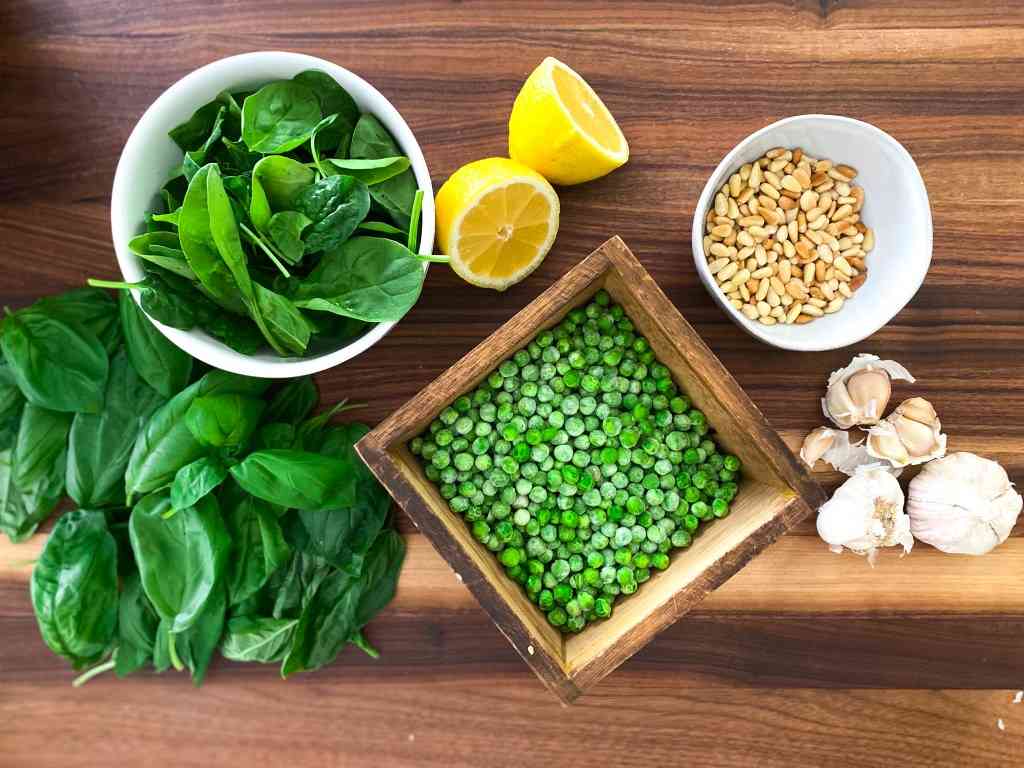 Peas
Peas are an easy and unassuming way to add a legume for extra nutrients to pesto, the sweetness of the pea really pairs will with the herbs, pine nuts and garlic. Frozen peas are just as fresh, if not more fresh, than the produce section of your grocery store or canned peas. They are flash-frozen right at harvest, usually at the same time they are picked, this keeps them fresh-right-of-the-vine so they keep their sweet flavor and important nutrients. They are naturally low in sugar, high in fiber, vitamin c and folate.
Spinach
I put spinach is pesto on the regular. It's such an easy way to bulk up pesto with a leafy green, it's so mild in flavor that when it's added to basil pesto you can't even notice. This add-in makes the pesto super beneficial, because spinach helps your immune system stay healthy. For this, I find that fresh baby spinach leaves are the best, but you can also use regular fresh spinach as well, just make sure to chop off the stems.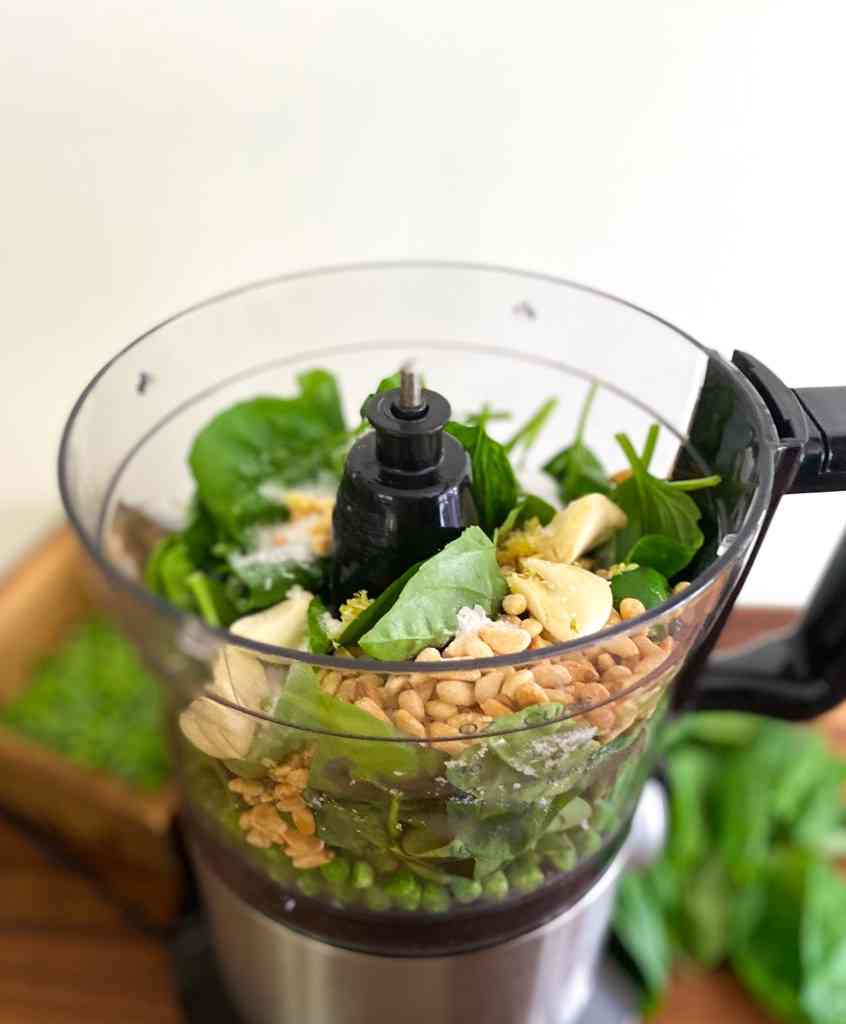 Making Pea Basil Pesto: it's as easy as one, two, three
Step one – Prep the ingredients.

You will want quickly toast the pine nuts. Spread then out into a single layer on a lined sheet pan. Put them in a 400F oven for 2-4 minutes, keeping an eye on them, once they start to brown, remove from the oven and let them cool, they brown quickly so make sure to check on them.

If your spinach has stems, remove the stems from the leaves. Peel and crush the garlic. Zest and juice the lemon.

Step two – Blend together.

In a food processor or blender add in all of your ingredients in the recipe below, except the olive oil. Start with 1/2 of the salt, and add more in later to taste. Pulse until it starts to come together. As is blends, pour in the olive oil until it becomes creamy. If you use all of the olive oil, and you still want it to a thinner consistency, slowly add water. This will change the consistency of the pesto without jeopardizing the flavor.

Step three – Taste and adjust the flavors.
Taste the pesto. If it seems a little bitter from the olive oil, you can give it a pinch of salt to round it out. Salt will also bring out the flavors of the other ingredients, so if the pesto seems dull, add a pinch of salt. You can also add in more peas, lemon juice or garlic to taste.

If you are using the pesto to coat pasta or to make pasta sauce with reserves pasta water, you will want the pesto flavors to be bold and strong because it will dull out once the water is added.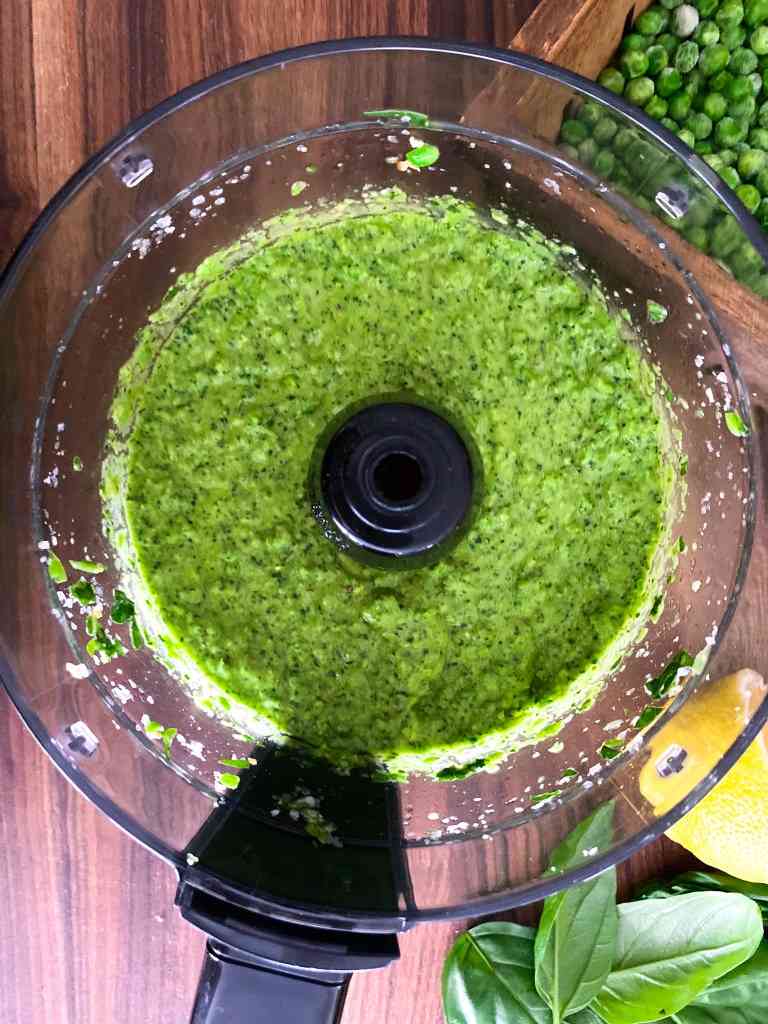 Pan searing salmon
You shouldn't be intimidated by searing salmon. You will need a pan, non-stick, stainless steel or even a cast-iron skillet, the same rules apply to all. Start by pre-heating the pan over medium heat with a drizzle of olive oil. Once the pan and oil are heated, add your salmon top-side down first, skin side up. This is called the "presentation side," because this will be what you (and your dinner guests) will see once it's plated. You want to cook all meats like this, so that the presentation side has the ability to sear and form a nice red or brown crust on top.

Once this is done, you can finish cooking the fish on the bottom side, where the skin is still attached. The skin helps you cook the fish as long as you need to without burning it because the skin will be removed.
Some things to note (this goes for all meats):

You will see the white film start to squeeze out of the side, this is the protein of the fish, as it heats up, protein is pushed to the edges, so you will see that happen. As the fish rests before serving, some of that protein will redistribute throughout leaving the fish flaky and not-dry.
Don't flip early. I know that it's hard to wait because you are imagining a black burnt crust forming, however, the key is to only flip once, so wait, I promise you it works. If your fish sticks to the hot pan (usually in a stainless steel pan), WAIT. Wait until it loosens up naturally, if you try to flip it before it's ready, it will stick and tear leaving chunks of salmon on the bottom of the pan. Once the red crust forms the fish will flip without a struggle. Once you flip the fish, let it finish cooking on the skin. It should have an internal temperature of 145F.
Once it's finished cooking, take it off the heat and let it rest for a few minutes while you gather the rest of your dinner. Once it's cool enough to handle, remove the skin, plate the salmon and top with your pea basil pesto.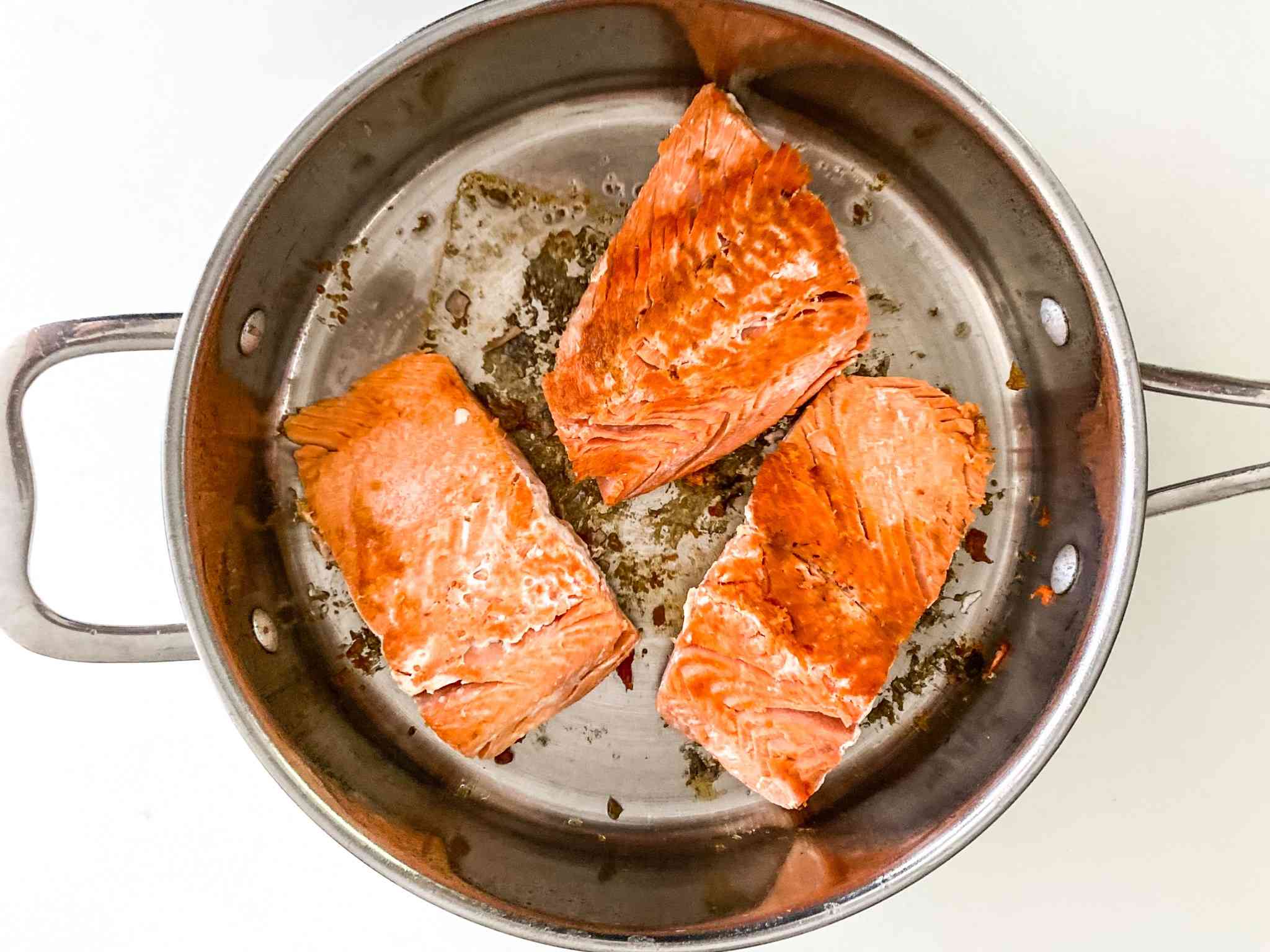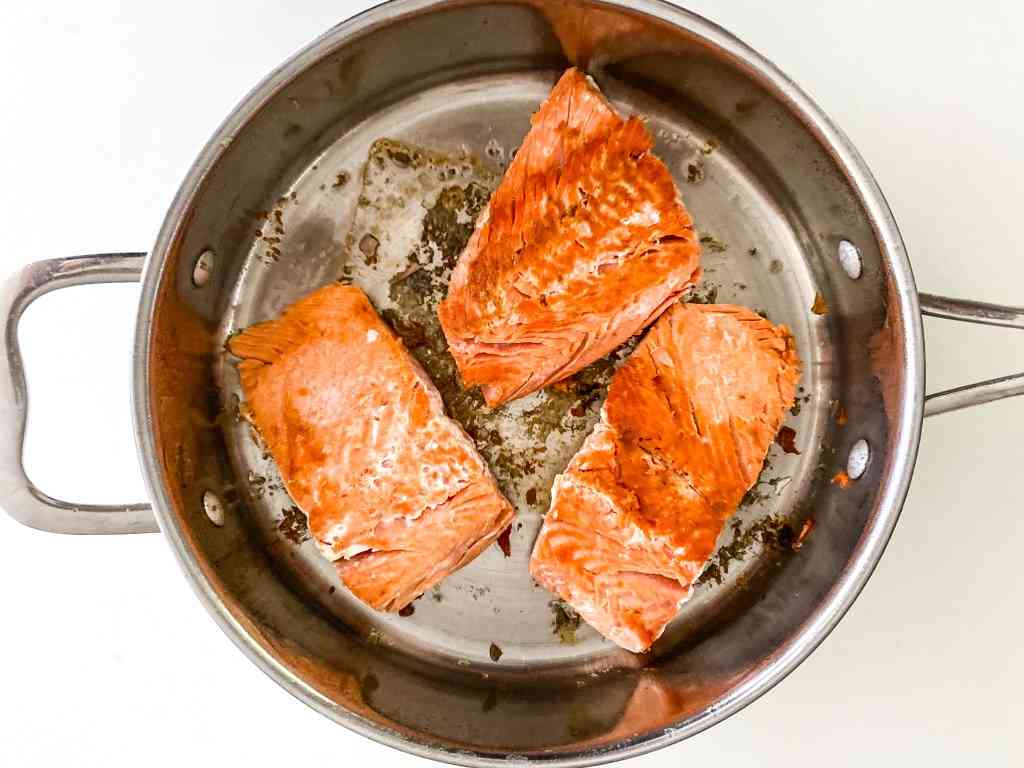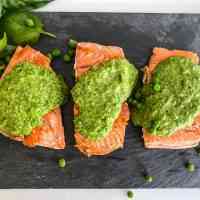 Pan Seared Salmon & Pea Basil Pesto
Pea basil pesto makes this the perfect end-of-summer weeknight dinner, it's light, super fresh, quick and easy.
Print
Email
Pin
Rate
Servings:
4
(+ extra pesto)
Ingredients
1½

cups

Frozen Peas

1

cup

Fresh Baby Spinach

(overstuffed)

1

cup

Fresh Basil

(overstuffed)

½

cup

Toasted Pine Nuts

see blog notes for instructions

6

cloves

Garlic, smashed and peeled

1

TBSP

Salt

divided

1

Lemon, zested and juiced

divided

¾

cup

Olive Oil + a drizzle

4

Salmon Fillets
Instructions
Make the pea basil pesto: in a food processor or blender, add in your peas, spinach, basil, toasted pine nuts, garlic, ½ TBSP of salt, lemon zest, and ½ of the lemon juice. Blend together.

As the food processor/blender is running, drizzle in the oil olive as it runs until it's evenly distributed and starts to be coming creamy.

Taste and season. Add in more salt if needed (see blog notes for helpful hints). If the consistency is too thick, add in water until you reach your desired consistency.

Set aside.

Place your pan over medium heat and drizzle in some olive oil. After the pan and olive oil warm up, place your salmon fillets, top-side down, skin side up. Sear the fillets until they form a red-ish crust, flip over and finish cooking skin side down until the internal temperature is 145F (see blog notes for additional helpful hints).

Rest for a few minutes, top with pea basil pesto.