What better way to celebrate apple season than with these sweet treats. These delectable stuffed caramel apple muffins are the perfect match for your coffee on these crisp fall mornings, step aside early pumpkin season goers, these apple muffins are bringing their A game (get it, apple starts with "A" – great dad joke).
These are so easy peasy that you will want to add them to your weekly routine. They are total fall-vibes and bring a little cheer to starting your day.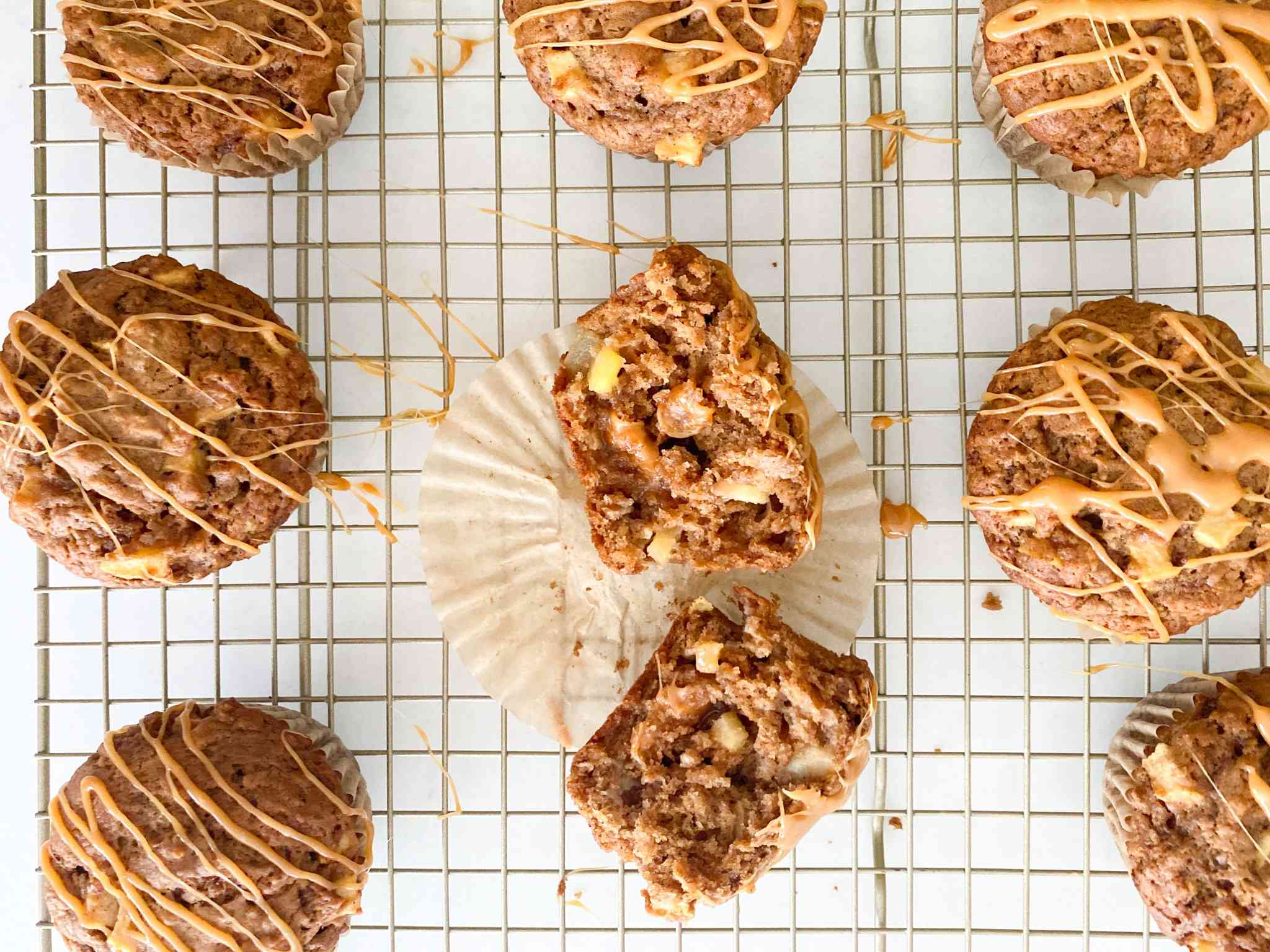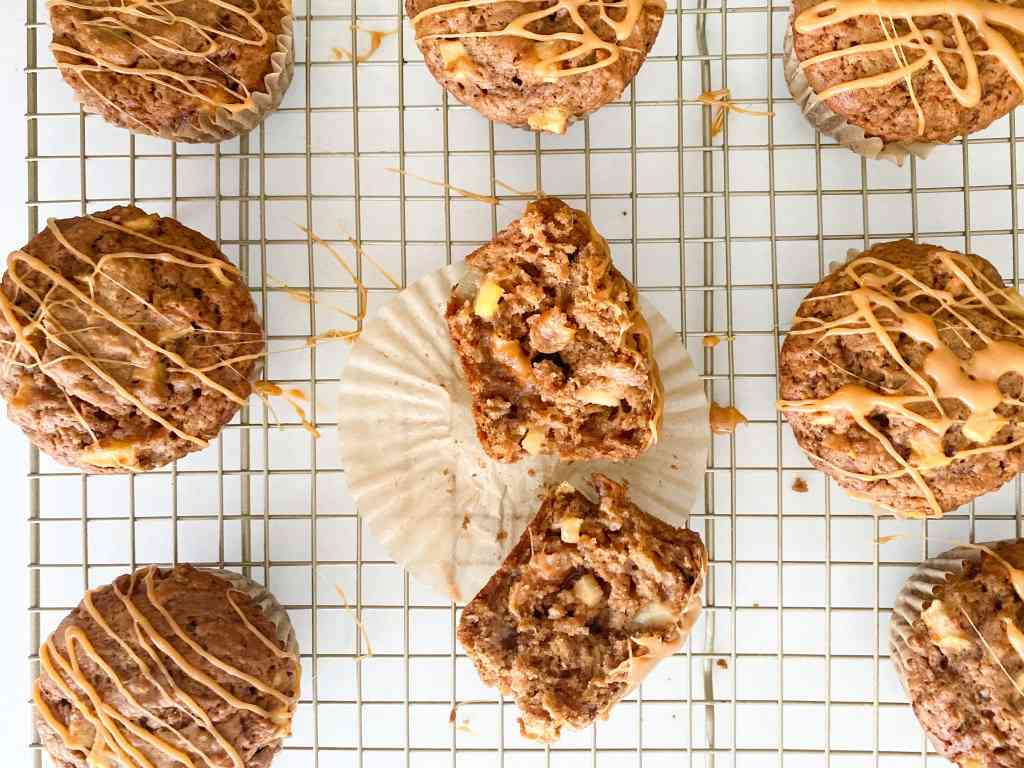 Caramel Candies
These caramel apple muffins are stuffed with soft caramel candies which are easy to find in your local grocery store. I used these, you only need one 11oz bag for the recipe but can you ever have too many caramels? Once the batter is in the muffin cups, it's as easy as pushing a cube of caramel in the middle.
You can also try cutting the candy into smaller squares and putting them in a few different spots throughout the muffin, I didn't do this, but I'm sure it would be just as delicious.
To make the caramel drizzle. As your are muffins cooling, in a sauce pan, over low heat, you will melt about 7 caramel candies, don't leave unattended, once the caramels start to melt you will want to remove from heat immediately and continue to stir. You can add a splash of milk (about 1 TBSP) to help reduce the possibility of burning. The drizzle will cool quickly, so you will need to drizzle while the melted caramel sauce is warm. If it cools too much before you have the chance, you can re-heat until it's the correct drizzle consistency.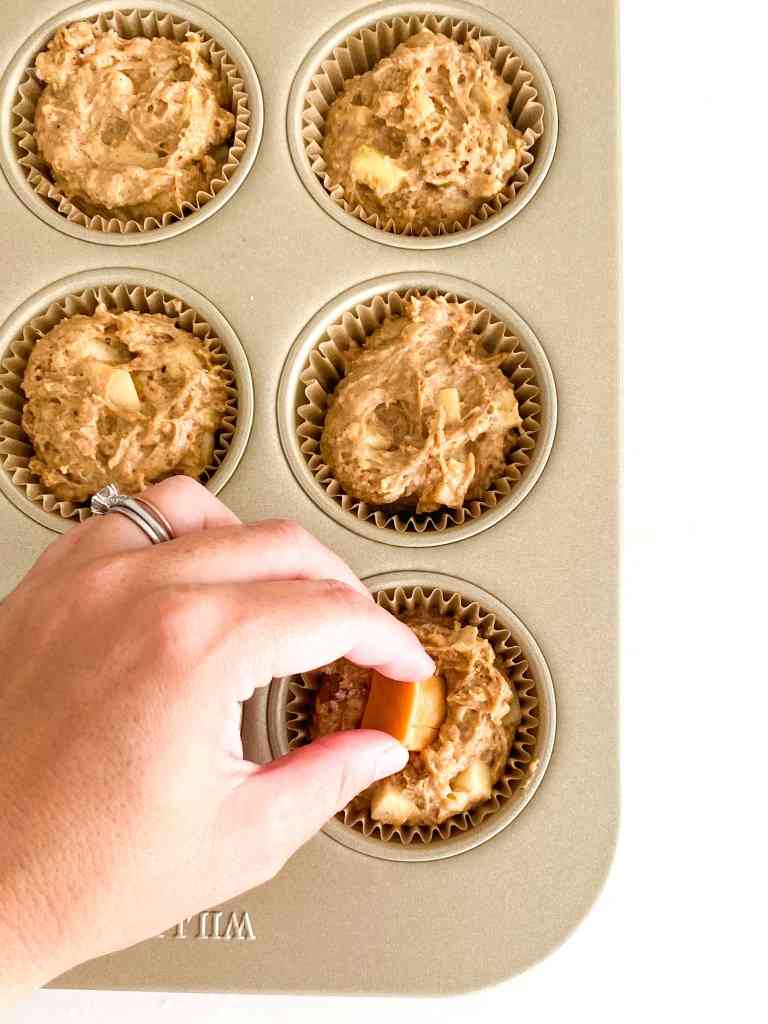 Apple Pie Spice
This recipe calls for apple pie spice, you can usually find it in any grocery store, especially this time of year. If you want to make your own, it's a mixture of cinnamon, nutmeg and all spice. There are a lot of different variations on the internet, I'm sure they will all work, some call for cardamom or ginger – both would be delicious add-ins for a more spicer flavor.
The ratio I would use would be 1 tablespoon of cinnamon, 1 teaspoon of nutmeg and 1 teaspoon of allspice.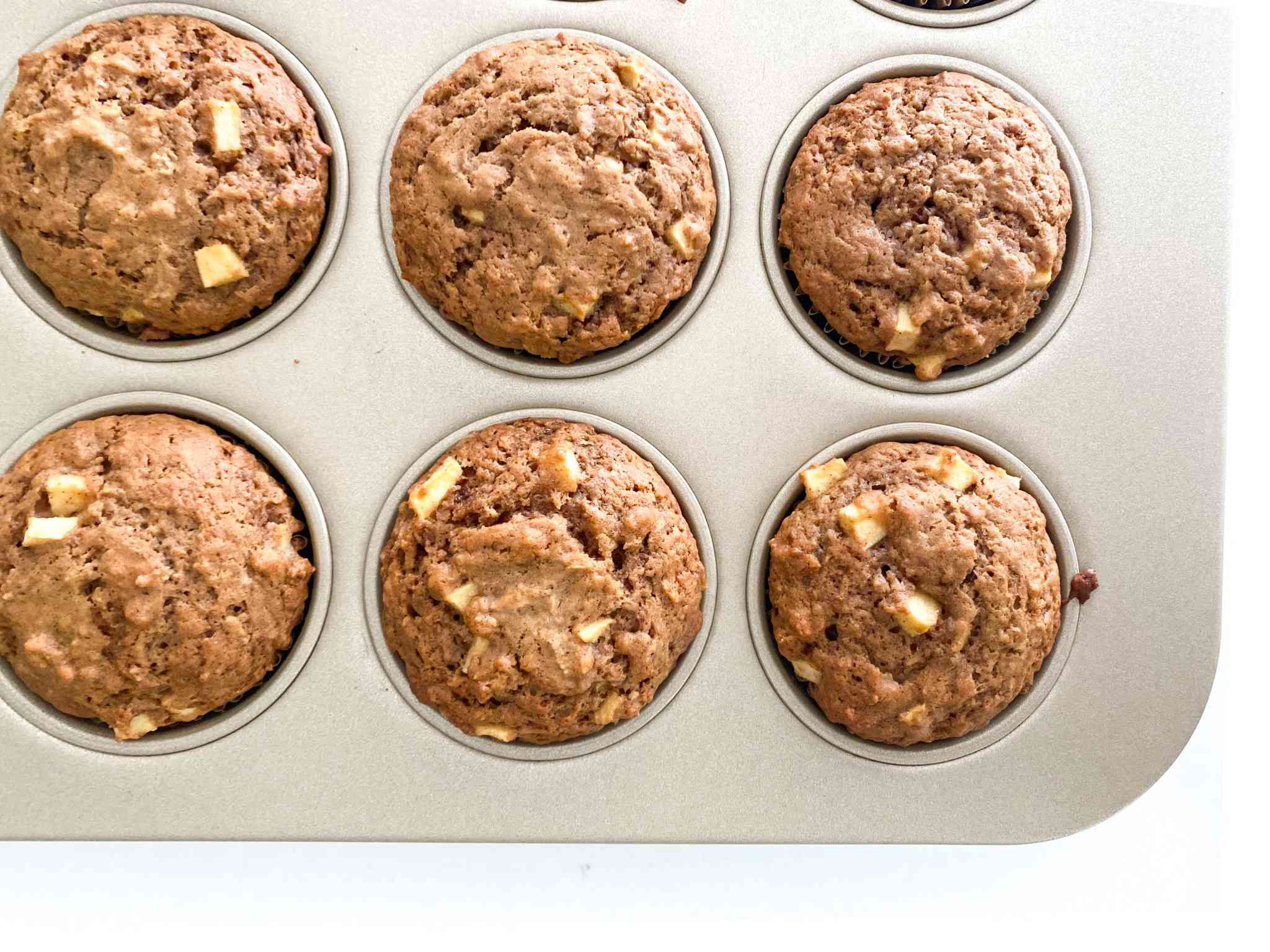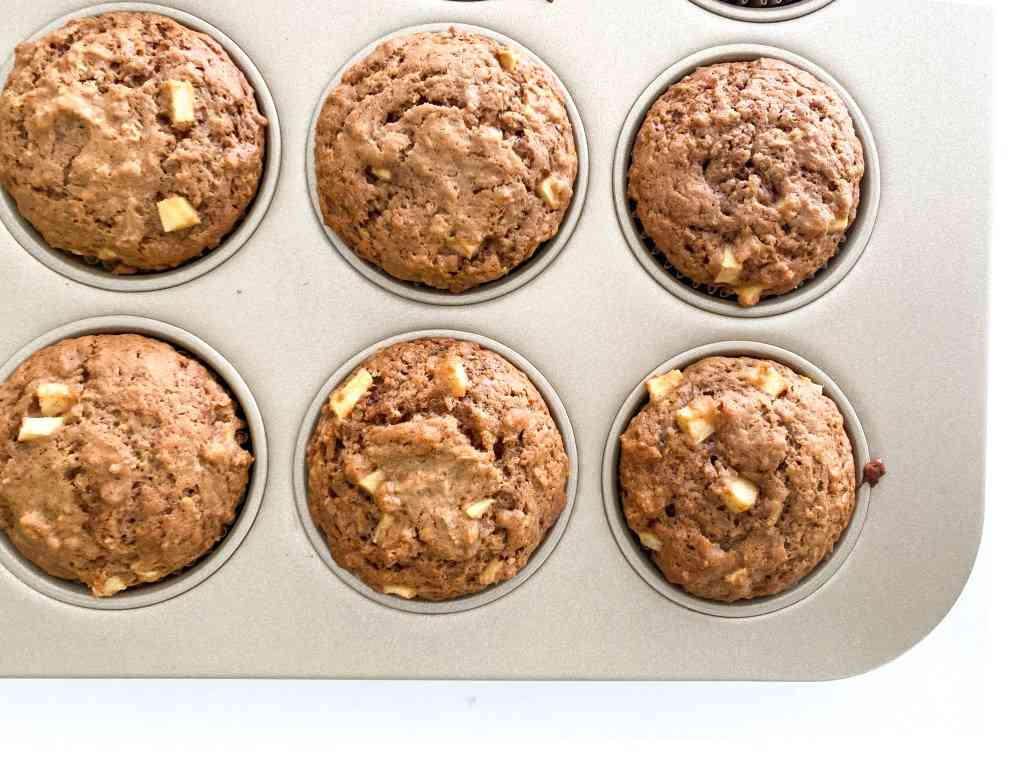 Picking Your Apples
We went to an orchard to pick our apples, there were the equivalent to fuji, you will want your favorite snacking apple, something that is crisp and sweet. A few years ago I put together this apple list which may be helpful.
You will want to peel and dice them into small squares. Two cups total, which really is only about 3-4 small apples if you don't have anyone walking by and stealing any while you bake.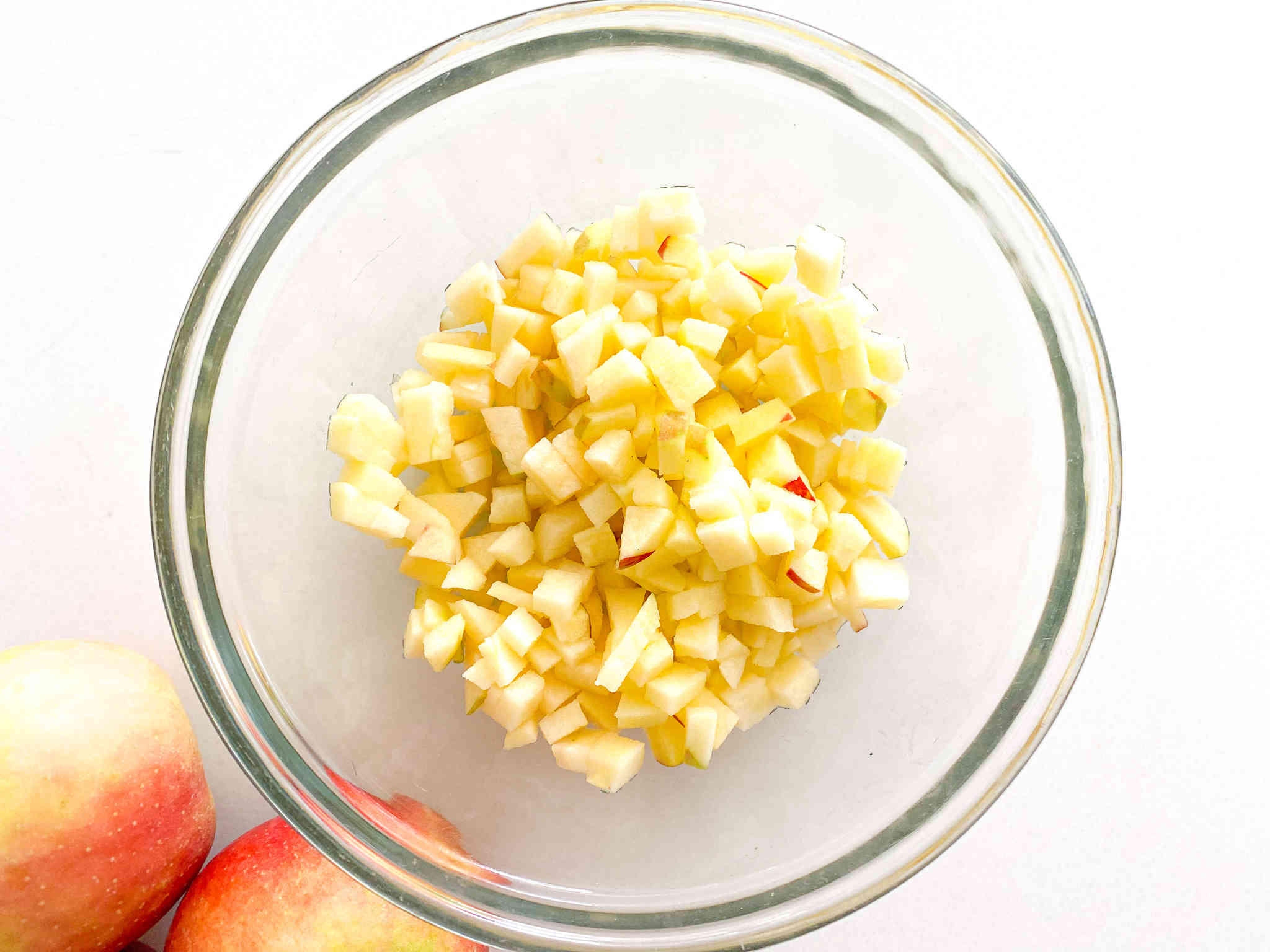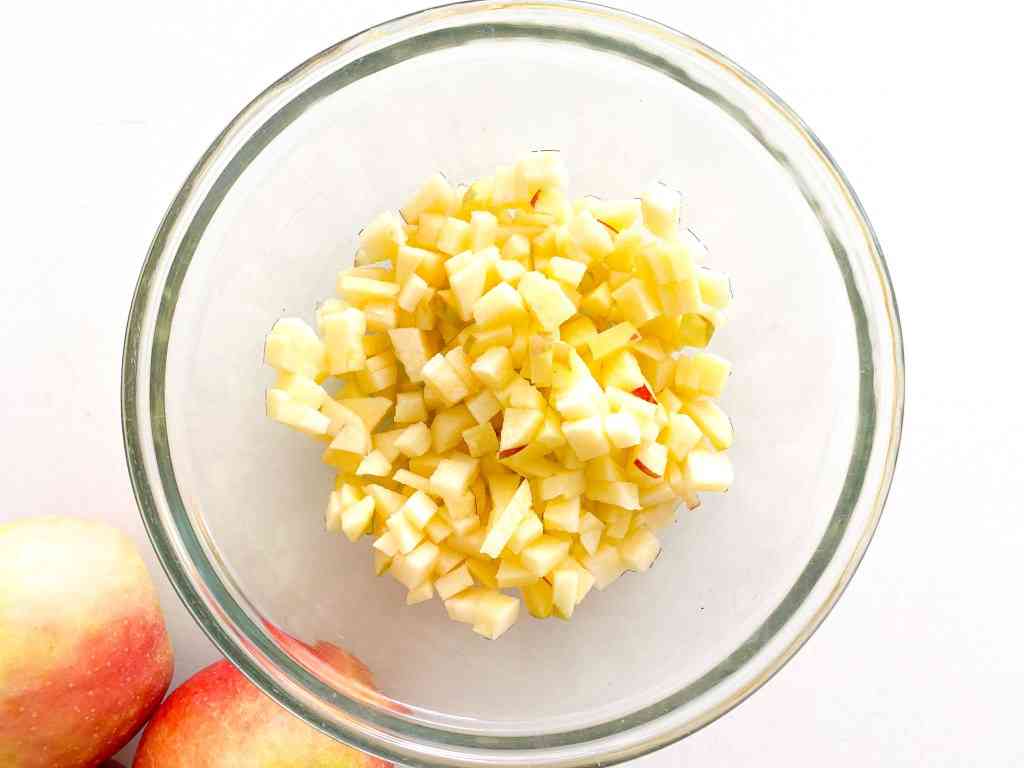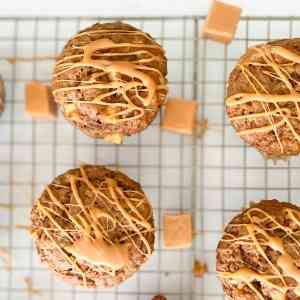 Ingredients
2

cups

AP Flour – knife leveled

1

tsp

Baking Powder

1

tsp

Baking Soda

2

tsp

Apple Pie Spice

see blog notes

½

tsp

Salt

¾

cup

Brown Sugar

Regular or Coconut Sugar

½

cup

Butter at room temperature

½

cup

Vanilla Yogurt at room temperature

2

Eggs at room temperature

½

cup

Whole or 2% Milk at room temperature

+1 TBSP for caramel drizzle

2

cups

Apples – peeled and diced into small cubes

Your favorite sweet apple (Honeycrisp, Fuji)

19

Soft Caramel Candies
Instructions
Preheat your oven to 400F. Use cooking spray or use muffin pan liners for each muffin. Set aside.

In a bowl, whisk together your flour, baking powder, baking soda, apple pie spice and salt. Set aside.

Using a hand mixer or a stand mixer with a paddle attachment, you want to cream together the butter and sugar until combined and fluffy, do not over mix.

Add in your eggs, one at time, mixing the batter between each. Then add in your yogurt, and milk, mix until combined.

Mix in your flour mixture until completely and evenly combined. It will be a thick batter.

Fill your muffin pan up to the top with the batter. Unwrap your caramel candies and stick one in the middle of each muffin. If you want to, you move the batter over the caramel to cover it up, but it's not necessary.

Bake at 400F for 5 minutes. Do not open the oven door, with the muffins still baking, lower the oven temperature to 350F and bake for another 18-20 minutes until a tooth pick comes out clean. Make sure to test the muffin, and not go directly into the melted caramel in the middle.

While your muffins cool, you can make the caramel drizzle. In a sauce pan over low heat, add in 7 unwrapped caramel candies and let them slowly melt. Add in 1 TSBP of milk. Continue to stir until melted. Remove from the heat and drizzle over your muffins immediately.

If the caramel drizzle hardens up before you finish drizzling, re-heat until back to the correct drizzle consistency.

To Store:
You will want to store these ahhhmazing stuffed caramel apple muffins in a food container with lid or large zip-lock bag. You can keep them at room temperature on the counter, for a week. The caramel will stay softer and will actually get better with time but the top drizzle may become less visible over time.
Another option is to keep them in the refrigerator for longer than a week, if you can resist them for that long. You will want to warm up in the microwave before serving so that the caramel is not a hard piece of candy in the center. Using a microwave safe plate, uncovered, reheat for 15-20 seconds.
The last option is to freeze them. When you're ready to eat, just pop them in the microwave, uncovered, for 20-30 seconds.