Fall weather makes us all run to the crockpot for warm, savory comfort foods. This is the best and only chili recipe you will ever need! A big bowl of chili is a great dinner idea after any busy day. You can host a chili bar, stocked with all of your favorite toppings for game day or serve it on top of nachos, the possibilities are endless.
My mom always made chili on Halloween. Growing up in very-upstate New York, trick or treating was always cold, and sometimes snowy, I always had to wear my snowsuit underneath my costume. Warm chili topped with shredded cheddar cheese was always waiting for us when we returned home.
I jazzed up my mom's recipe by adding more spices and new ingredients to make it a little more flavorful and vibrant.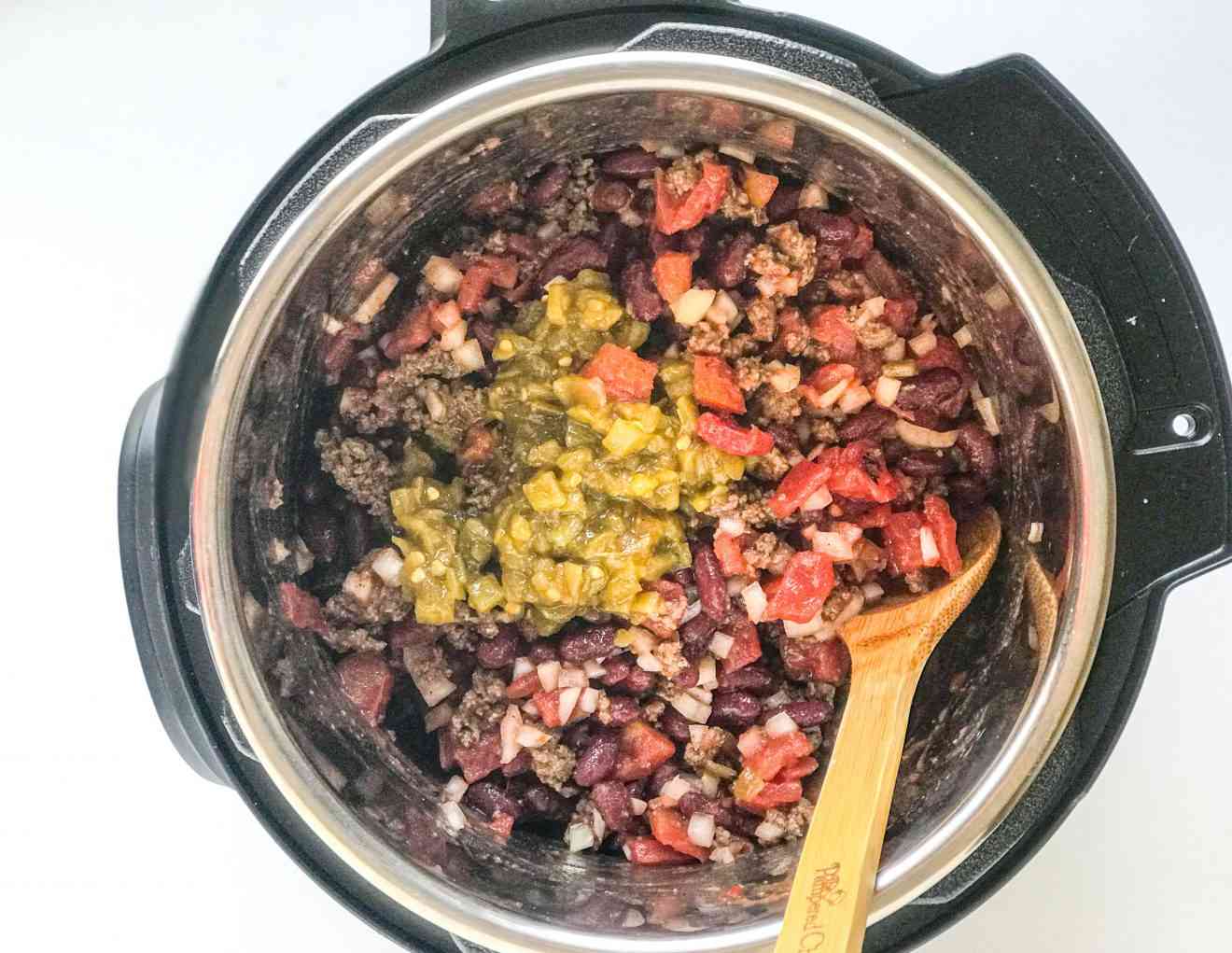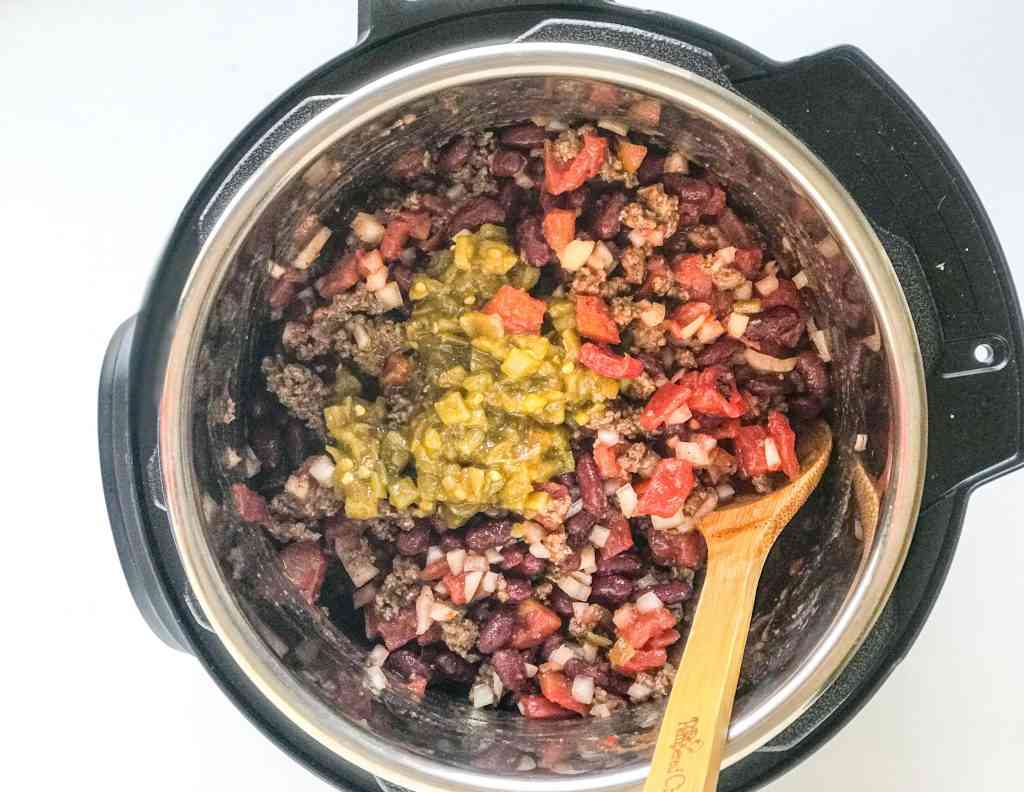 Cooking the BEST Homemade Chili
You can make this chili low and slow using a crockpot/instant pot or in get it done in an hour on the stovetop.
Crockpot/Instant Pot: I love to simmer mine all day, it's really easy to throw together in the morning before you get on with your day. There are three steps:
1. Brown your ground beef (or chicken/turkey). This is made extra simple if you use an instant pot because it has a sauté setting that allows you to do that right in the same pot. If you're using a traditional crockpot, you will have to do this on the stove first, then transfer into your crockpot.
2. Add in all of your ingredients, stir and
3. Set your crockpot to low for 6 hours or high for 4 hours (and then on the warm setting until you're ready to serve).
Stovetop: You can also make this on the stove in a large dutch oven, done in an hour or simmer all day. The longer it sits the more time the flavors have to infuse and develop but it's still a delicious quick meal if you only have an hour. Just brown your ground beef (or chicken/turkey), add in all of your ingredients and cook over medium heat, stirring and tasting occasionally.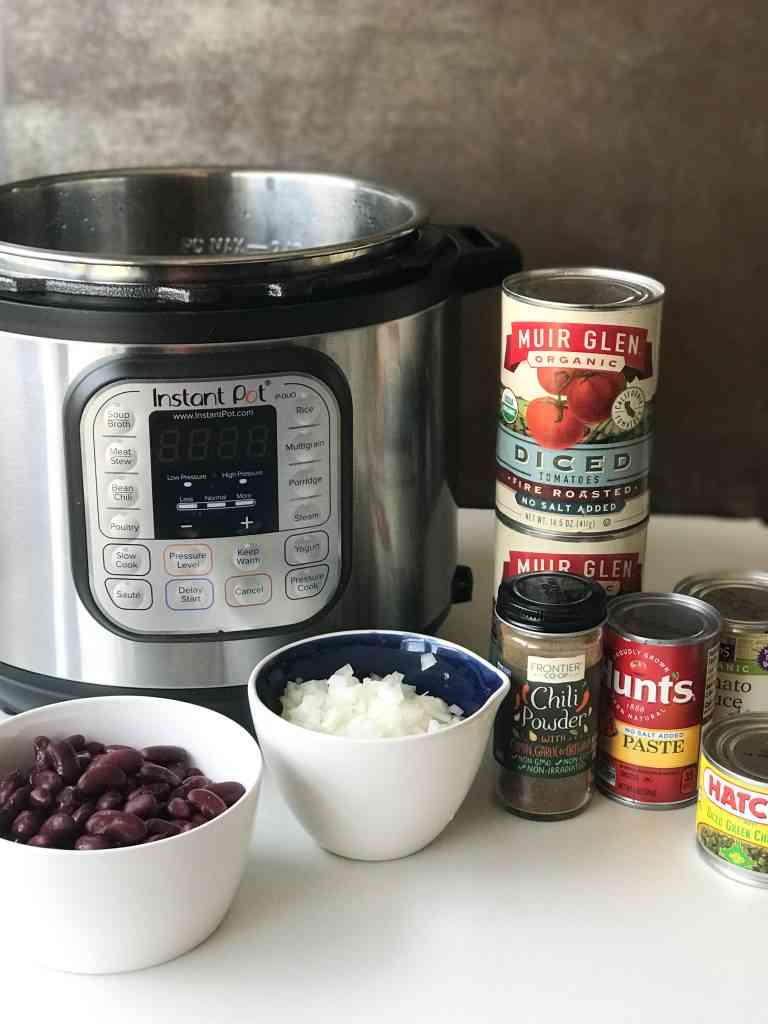 Make it your own chili!
The ingredient list in this recipe is just a suggestion, feel free to add more of what you like!
I love to get seasoned fire-roasted diced tomatoes but if you can't find fire roasted, or you already have diced tomatoes in your pantry, I've made this with regular diced tomatoes too and it's just as good.
My favorite additional add-ins that add another layer of flavor and spice are a can of chopped green chiles (and juice), a handful of fresh chopped jalapeños, or roasted poblano peppers. If you need an extra extra kick you can also add in red pepper flakes.
I like chili to be thick so I used only an 8oz can of tomato sauce. If you want more of a sauce-y chili you can add in 16oz.
Tomato paste is just something I like to have on hand just in case, this time around I didn't use any because my chili was thick already but sometimes a can of diced tomatoes can be extra juicy so if you want to thicken up your chili, you can do so by adding tomato paste, usually a spoonful at a time.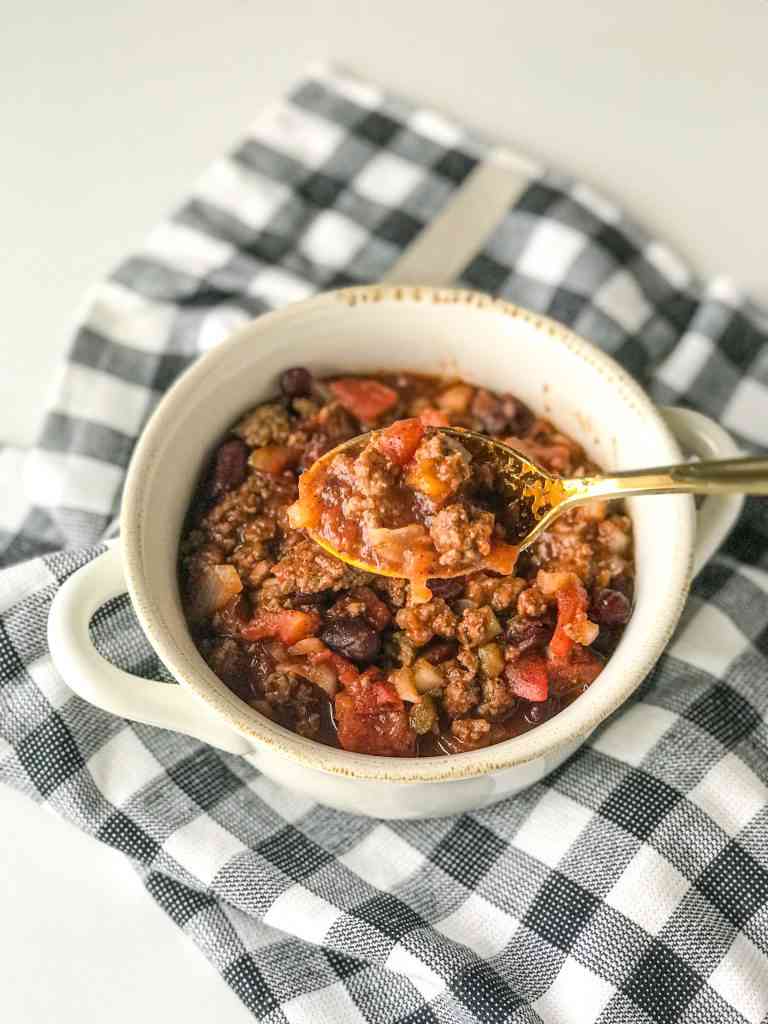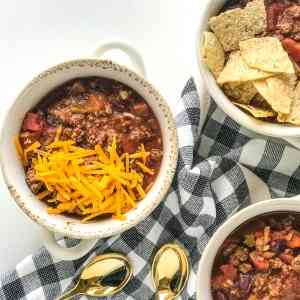 The BEST Homemade Chili
This is the best and only chili recipe you will ever need! A big bowl of chili is a great dinner idea after any busy day.
Print
Email
Pin
Rate
Ingredients
1

lb

Ground Beef (85/15)

(substitute with ground chicken or turkey)

1

TBSP

Salt

divided

1 ½

TBSP

Chili Powder

divided

1

cup

Diced Onion

(approx. 1 cup)

2

14.5 oz

Can of Diced Tomatoes, unsalted

Fire Roasted preferred

1

15 oz

Can of Red Kidney Beans, drained & rinsed

1

8oz

Can of Tomato Sauce

1

4.5 oz

Can of Chopped Green Chiles

(optional – see blog notes)

1

Handful

Chopped Jalapeños or Roasted Poblanos

(optional – see blog notes)

1

pinch

Red Peper Flakes

(optional – see blog notes)

1

6 oz

Tomato Paste

(optional – see blog notes)
Instructions
Over medium heat or using the sauté setting on your instant pot brown your ground beef with 1 tsp of salt and 1 tsp of chili powder. Take out most of the grease.

Cover your crockpot or instant pot and cook on low for 6 hours, or high for 4 hours.

Stovetop: simmer on medium low heat for at least an hour. Stir occasionally.

Taste – add in more seasoning if necessary.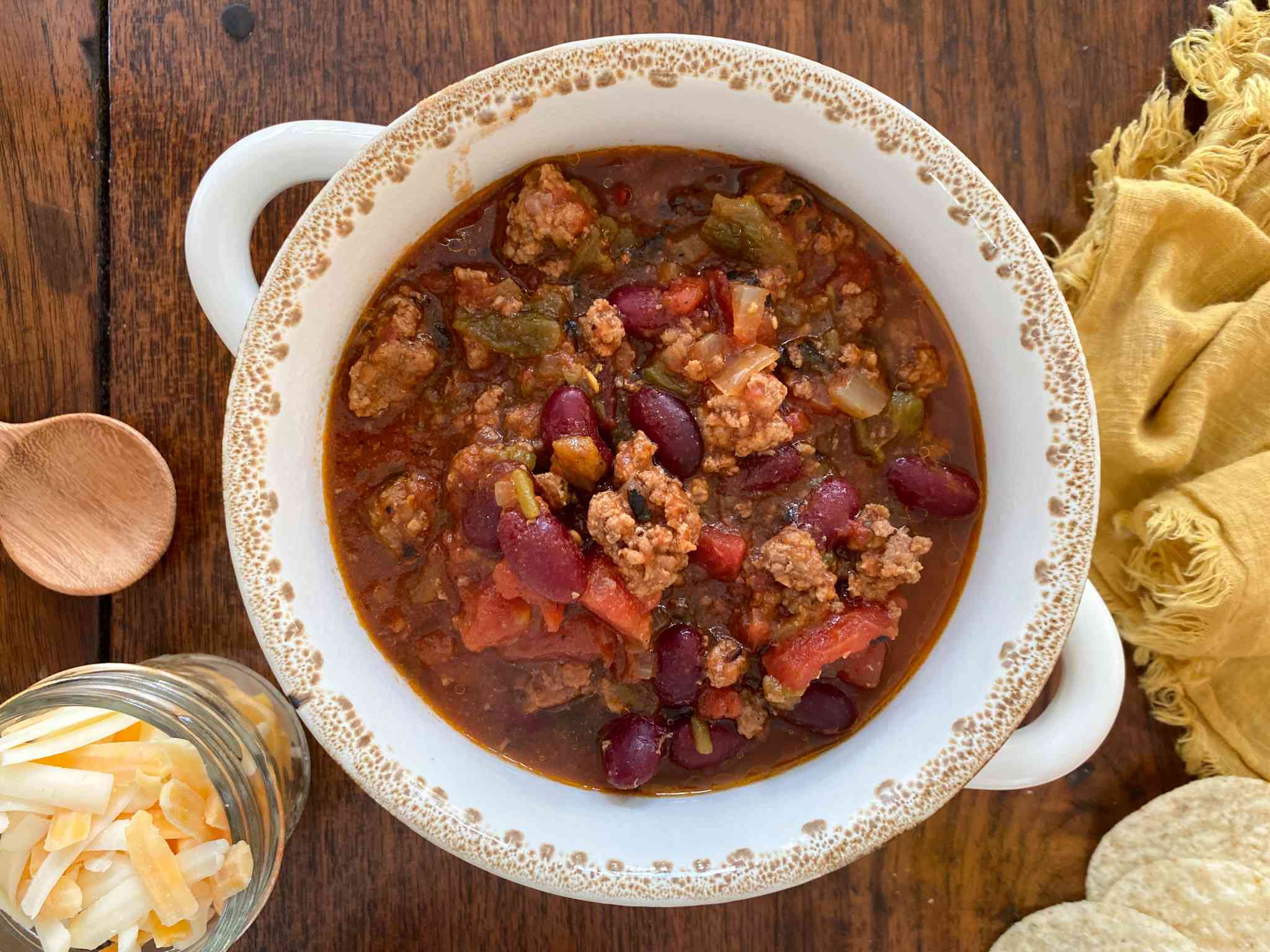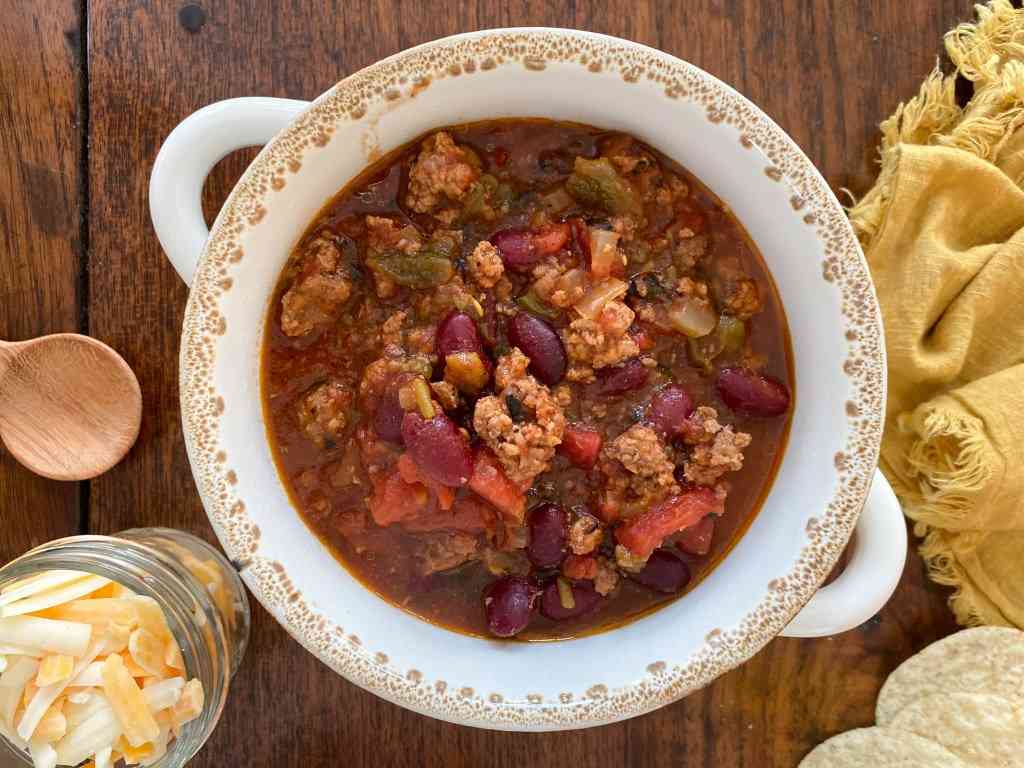 Toppings:
What are your favorite toppings for chili? The possibilities are endless.
I love adding cold freshly shredded cheese to mine. Is it me or does shredded cheese off the block just taste better?
Tortilla chips had a nice salty crunch
Pickled jalapeños
Chopped cilantro
A dollop of sour cream
I'll be sharing a Mac & Chili Bake later this month which is a perfect way to use leftover chili. I'll link it to this post once it's published.