These simple meatballs are one of our family favorites. They are so simple to make, no Italian Grandmother required. I love being able to put these in the oven and walking away for 35 minutes. They are my go-to meatballs for anything that requires meatballs (soups, spaghetti, sandwiches or just eating them alone). They are easy to make in batches and freeze too! Add this to your Sunday Funday Meal Prep and you can have many different ways to use them without getting tired of the same ol' thing.
I love adding them into my lasagna soup – switching out the ground beef with meatballs creates fun new twist. They also make a delicious meatball sandwich -serve with tomato sauce, provolone cheese on a crusty roll. Not to mention the classic – they are great on top of spaghetti all covered an cheese… (get it, now that song is going to be stuck in my head).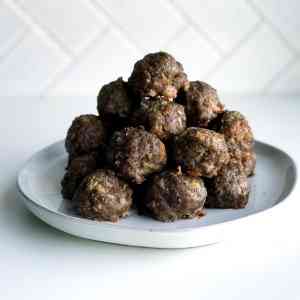 Simple Meatballs
These meatballs are one of our family favorites. Put these in the oven and walk away for 35 minutes.
Print
Email
Pin
Rate
Ingredients
1

Lb

Ground Beef

you can also use ground turkey or chicken

1

cup

seasoned Stuffing Mix or bread crumbs

1

Egg

½

Onion - small diced

1 ½

tsp

Garlic Salt

1 ½

tsp

Italian Seasoning

1

TBSP

minced Garlic

Pinch

Salt and Pepper
Instructions
Preheat the oven to 350F.

Using your hands crumble the seasoned stuffing cubes so that break up into smaller - bread crumb size pieces. I love using already seasoned stuffing because it's just a fun way to get a little more seasoning into the meatball.

If you're wearing rings, take them off and put them somewhere safe - away from the kitchen sink, you don't want them to accidentally fall down the drain. Using your hands, make sure to combine all of the ingredients evenly. I usually will squeeze the ingredients into the ground beef. I know it sounds gross but it's the most efficient way to get this job done.

Using a scoop if you have one (if you don't just use a spoon) start to scoop out the meat mixture and roll them into approximately 1-inch balls and place on a cookie sheet.

Fill up your cookie sheet with your meatballs. You can probably get 24-26 balls our of your mixture.

Bake in the oven on 350F for 25 minutes. Rotate your tray front to back and bake another 10 minutes.

Try not to eat them all before you serve them! Warning they will be delicious!
Notes
If you use turkey or chicken – you may need to add a little more seasoning because those proteins need a little extra.