If weeknight meals and cozy comfort meals had a love child, it would be this weeknight biscuit chicken pot pie! Is it starting to feel like fall to you? Here in DC, the morning walks to school are cool, the windows at home are open and it's making me crave all of those cozy comfort flavors.
I'm not kidding when I say that you can have this chicken pot pie on your table in under 60 minutes without using canned condensed soup and only with a few staple ingredients.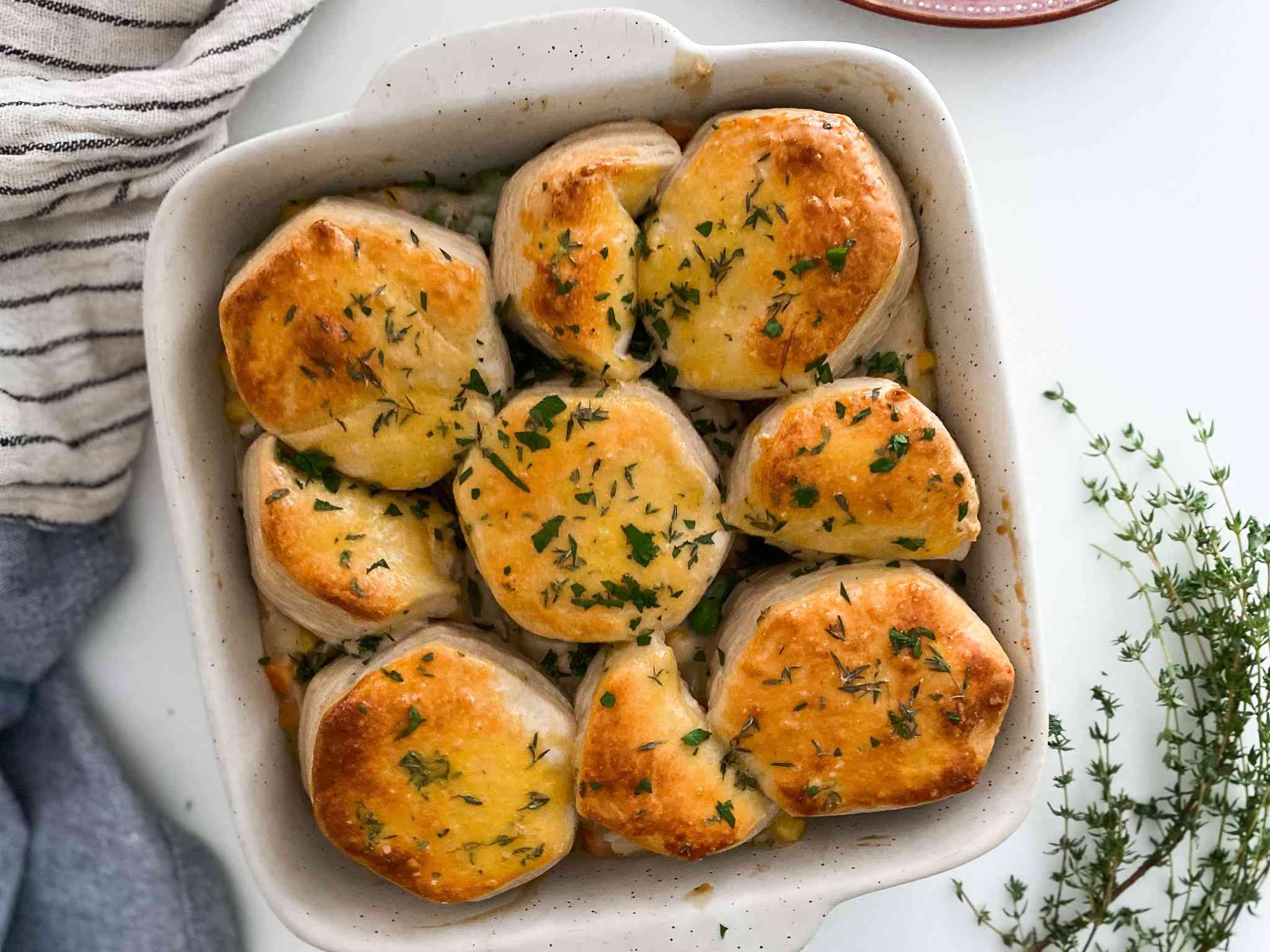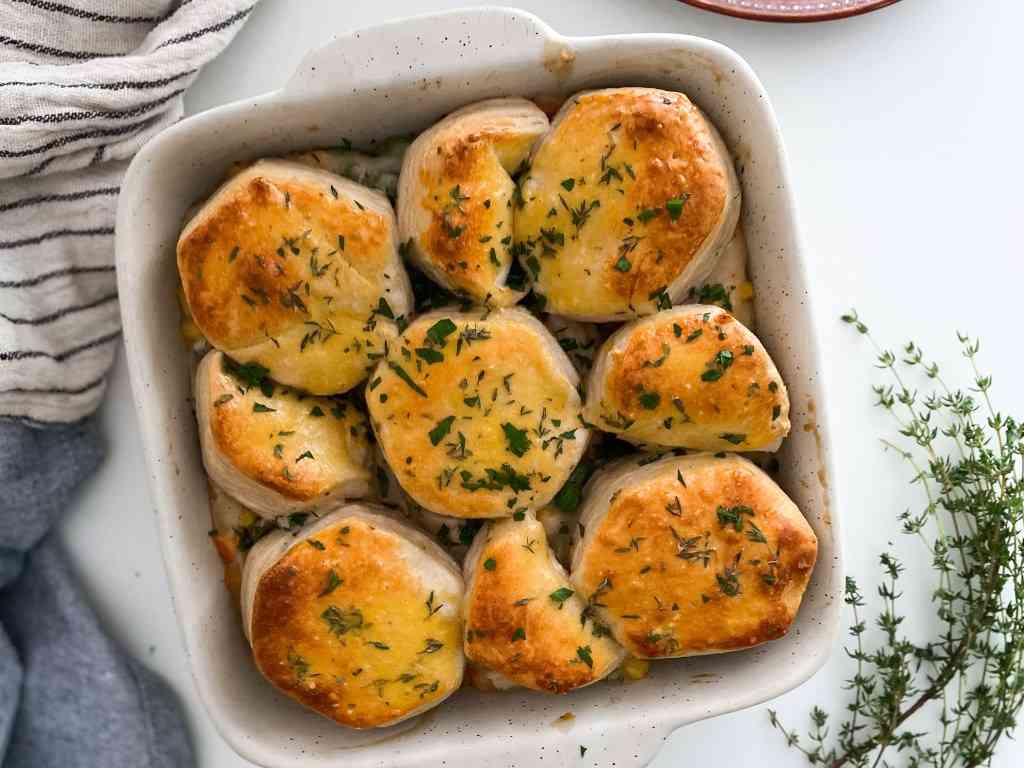 I wish you were at my house the other night just so you could have seen for yourself how simple this really is (and taste the creamy delicious pot pie topped with the flaky buttery biscuits). We came home later than usual and we have a weeknight bubblebath, book, bedtime routine for the little one so I was up against the clock to get dinner on the table and this was the perfect meal for that kind of busy night.
I'll be honest, I had prep help from my husband. Brad cut the rotisserie chicken into cubes for me, because that has always and probably will always be a weakness of mine. I don't know what it is, but the smell and cutting the cooked meat off the bone bothers me but only for rotisserie chicken… does this bother anyone else?
With that said, there is not much prep work for this meal which means it's quick, easy and there is little to clean up! I think other than cutting the rotisserie chicken and measuring a few ingredients the work is done for you. P.S. If you have left over rotisserie chicken here is my favorite classic chicken salad recipe!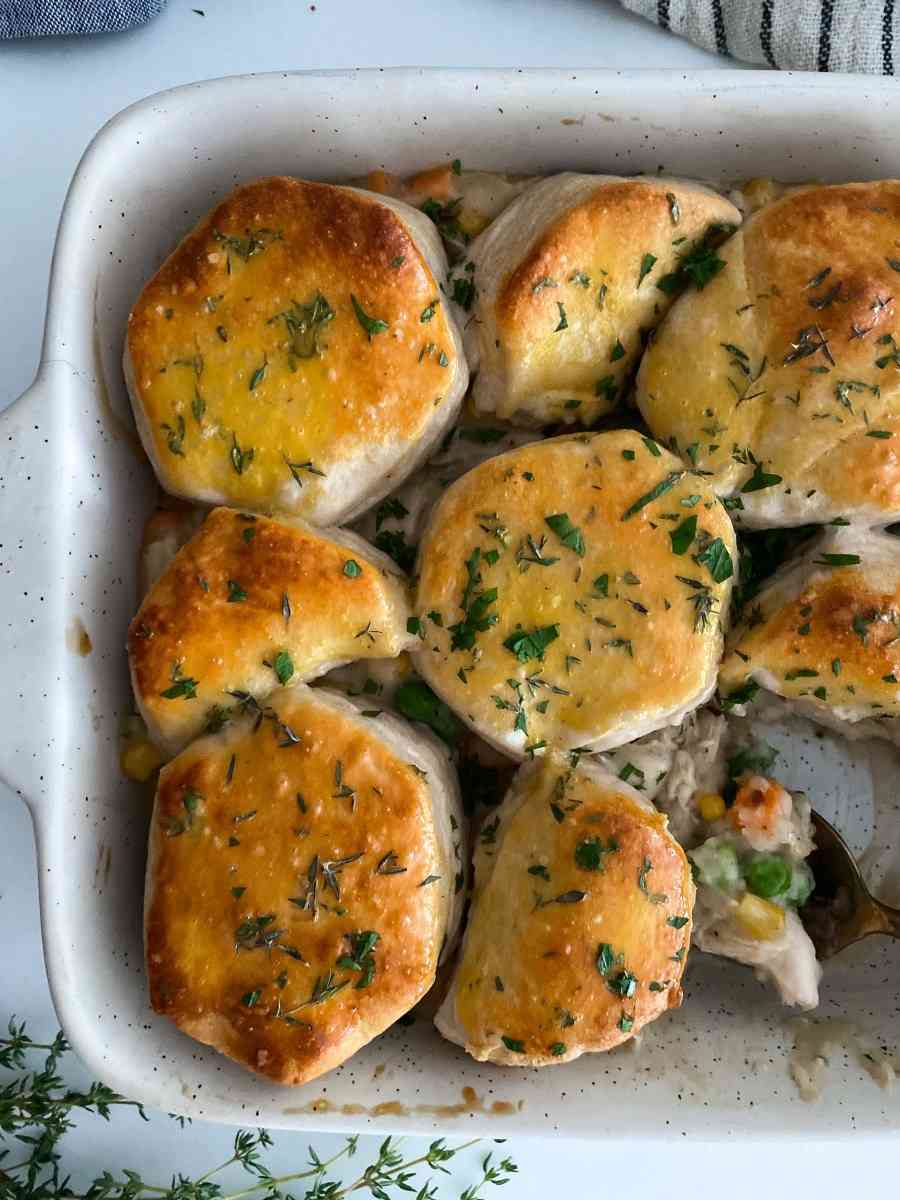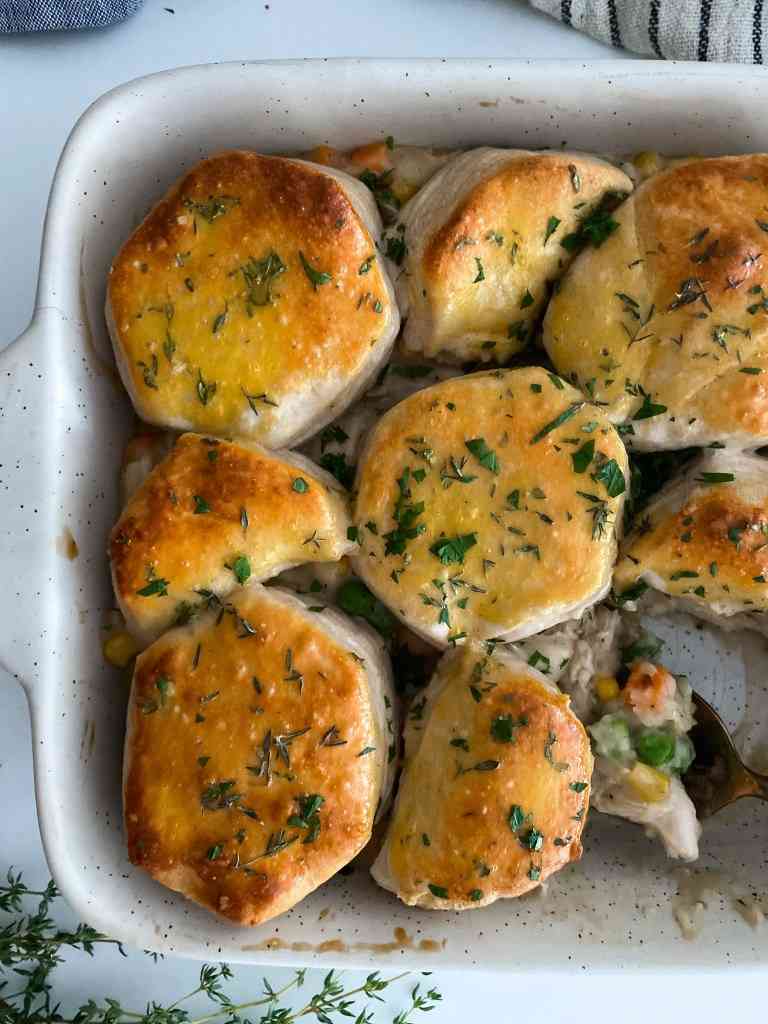 Chicken Pot Pie: Pantry Ingredients
Flour: You will need 1/3 cup of all purpose flour.

Butter: You will need 1/3 cup of butter.

Stock: You can use chicken or vegetable stock, whatever you have on hand. From the grocery store, you will want to get one box of stock, which will have 4 cups, however for this recipe, you will only use a 2 1/2 cups. I recommend buying unsalted or low sodium if you can find it. 

Chicken: You will want already cooked chicken. I use a rotisserie chicken, but if you have left over chicken from another night that would work just as well. You will need 2 cups cubed, which is about one large chicken breast.

Frozen Vegetable Medley: Did you know that frozen vegetables are still really fresh. They are flash-frozen on the spot at the farm when they are harvested. This keeps them from aging, unlike the fresh produce that travels to your grocery store. You probably already have a bag in your freezer. I used one with peas, carrots, green beans, corn and lima beans. You can use whatever mix you love.

Poultry Seasoning: This is where you can make this your own. Dry poultry seasoning is available in most regular grocery stores and is made up of sage, thyme, black pepper. If you don't use it regularly, you may, surprisingly, already have this tucked away in your spice rack from another time.

Other favorites are Herbs de Provence or Trader Joe's 21 Seasoning Salute (not sponsored, just a favorite of mine) 

Canned Biscuits: It is a weeknight dinner after all. I will always have a special place n my heart for canned biscuits – they remind me of home. My 5 year-old will only eat biscuits from the tube can so this recipe is ideal. Any brand, any flavor will do for this weeknight biscuit chicken pot pie. 
Weeknight Biscuit Chicken Pot Pie
The warm comfort of chicken pot pie made easy for an any day weeknight dinner. No canned soup in this recipe and you use your favorite pop-open canned biscuits.
Print
Email
Pin
Rate
Ingredients
⅓

cup

Butter

⅓

cup

Flour

2 ½

cups

Chicken or Vegetable Stock

2

cups

Cubed Cooked Chicken

2

cups

Frozen Vegetable Medley

1

TBSP

Favorite Poultry Seasoning

see blog notes

1

can

Biscuits

(8 total)

1

Egg Yolk

⅙

tsp

Salt

Fresh Thyme
Instructions
Preheat your oven to 350F.

In a large pot, over medium heat, you will want to make a roux, this will thicken your pot pie filling. Melt the butter and whisk in your flour, it should become a wet sand consistency.

Whisk in your stock, making sure to break up all the lumps of the roux. Let this cook over medium high heat until it starts to thicken up, stirring occasionally to prevent burning. About 2-3 minutes, until it reaches your preferred consistency.

If it becomes too thick, whisk is water until it thins out to your preferred consistency.

In a bowl, add your egg yolk and fresh thyme with a pinch of salt. Whisk together with a fork.

Top your pot pie filling with canned biscuits. It's okay to tear in half if it makes them fit your casserole dish better. Brush on your egg wash.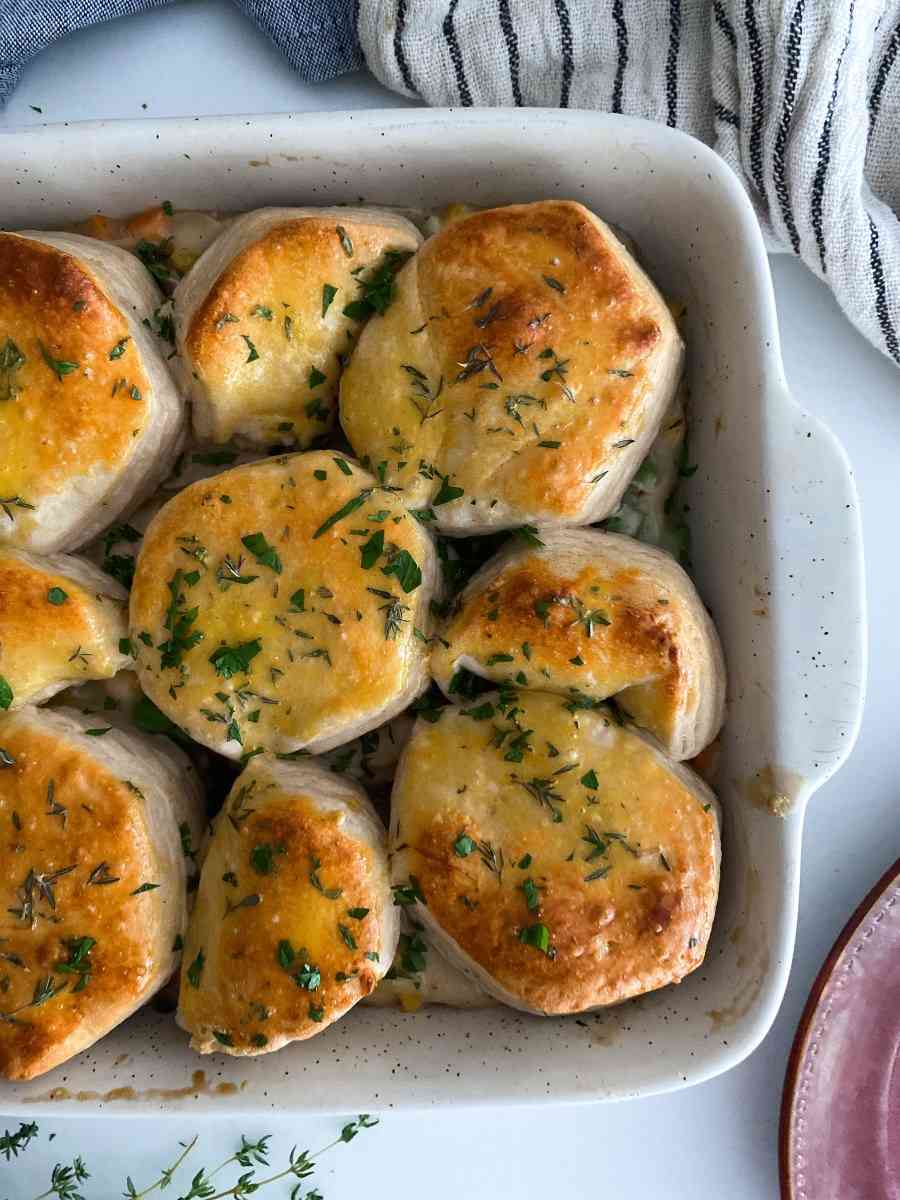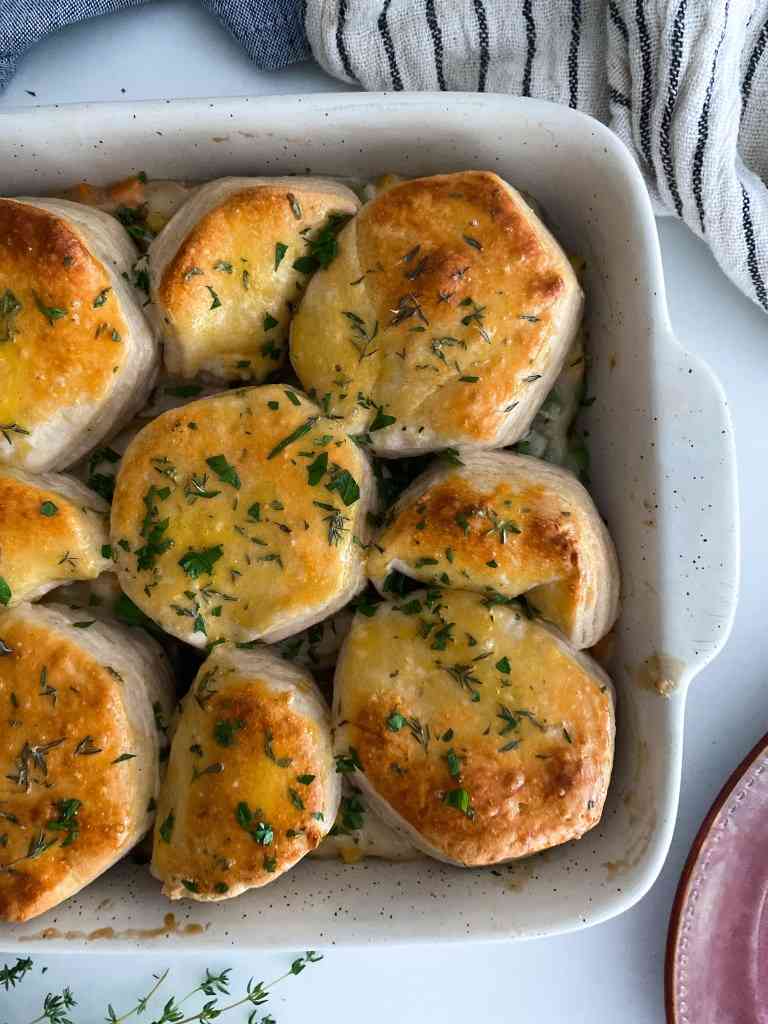 Affiliate links.