Looking for another weeknight dinner idea? You're in luck, this butternut squash, kale & black bean quesadilla comes together so quick and easy, perfect for your busy life. I know there a million of these recipes on the internet but this one will be an instant favorite.
It's vegetarian, perfect for meatless Mondays, switch up your taco Tuesdays, or make a big platter for game day.
As part of my September easy weeknight dinner series this recipe has 7 or less ingredients, takes 30 minutes in the kitchen (if you buy already cubed butternut squash it'll take less time). Lastly, you can scale these recipes up or down very easily no matter if you're cooking for a party of 1 or 6 (+).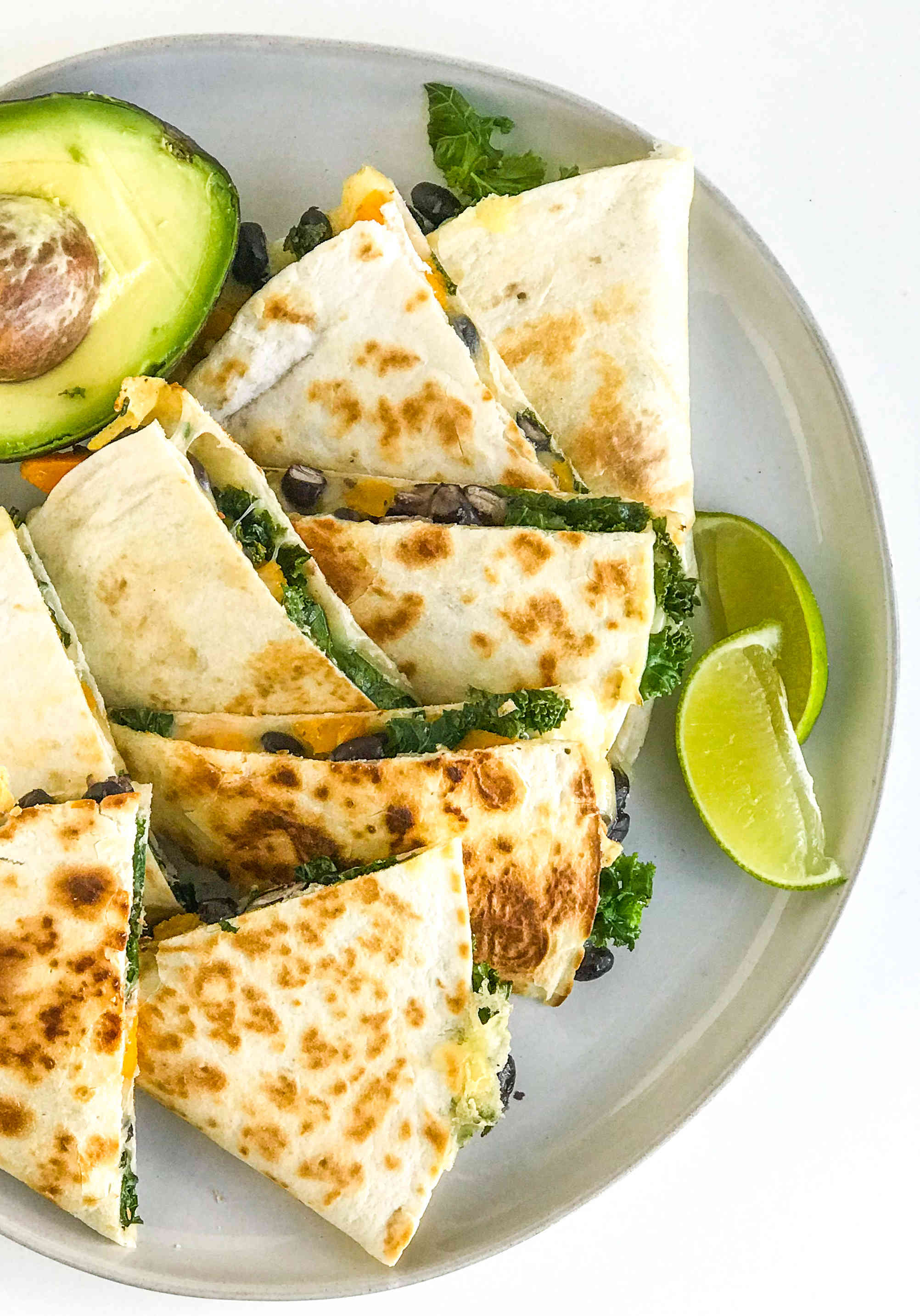 BUTTERNUT SQUASH & KALE QUESADILLA – HOW TO SCALE IT UP (OR DOWN).
This dish is super easy to scale up or down, my recipe below is for 1 serving. Make as many as you like, once the filling it made, it take 2 minutes to put it all together.



Easy Ingredients.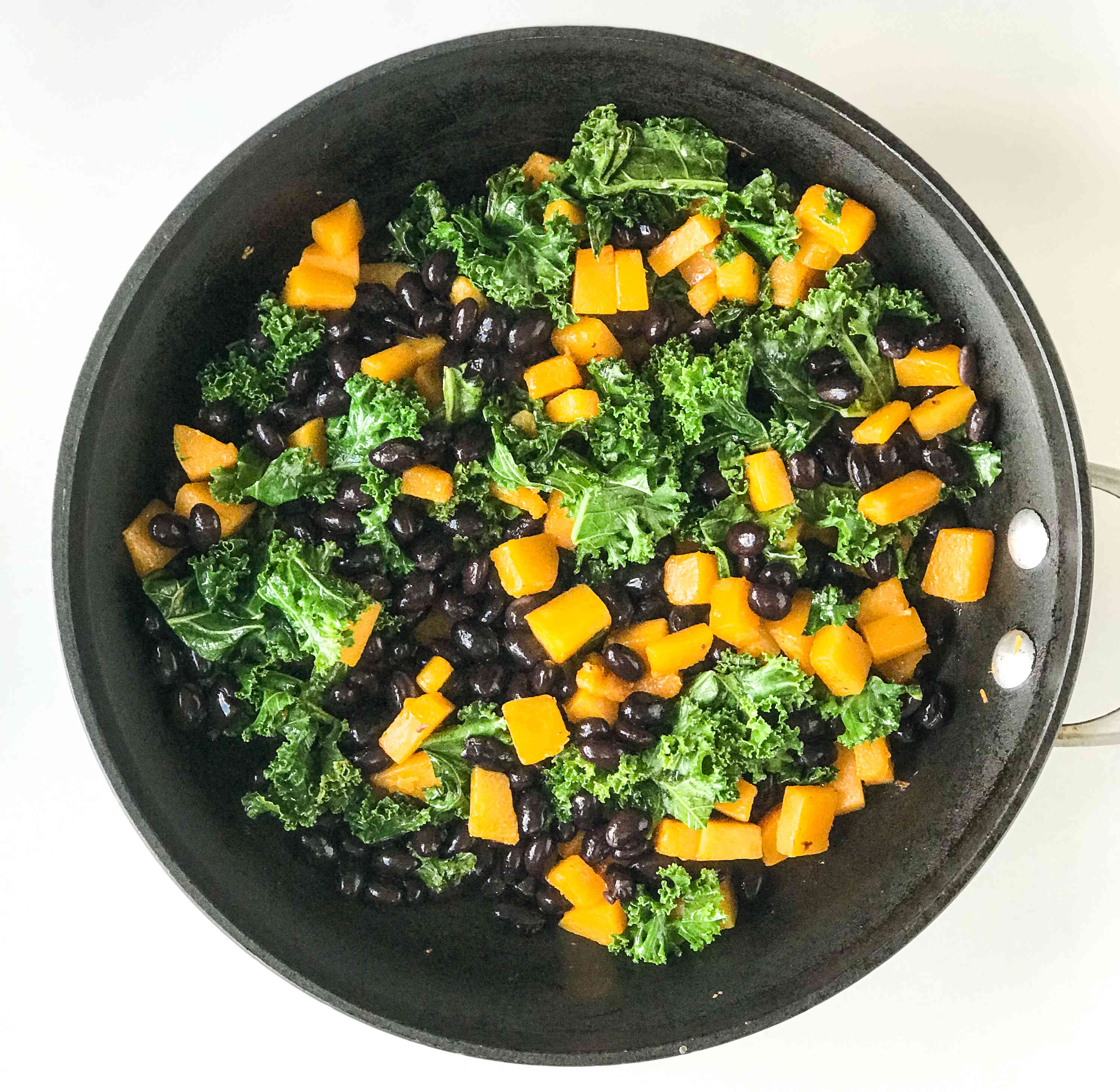 Easy ingredients make dinner that much better.

Butternut squash can be a little intimidating, but don't shy away from it. You can buy a whole squash, peel it, take the seeds out chop it and cook it over the stove top (as I do in this recipe). Cook it all now and save the left overs for another night. You can also buy already chopped butternut squash from the grocery store. The cubes might be a little bigger than mine, but that's ok.
Kale, you will want to tear the kale off the stem and chop into smaller bitesize pieces. Or you can use baby kale, or spinach.
Canned Black Beans, you only will use a 1/4 cup per serving. Unfortunately, this is not an entire can. Make sure you drain and rinse your beans.
Monterey Jack Cheese, this cheese melts the best. It's mild, creamy and delicious and doesn't compete with the other ingredients.
Tortilla, you will want to use a burrito size tortilla for my recipe below. We use flour tortillas for quesadillas but you can use whatever you like. Feel free to mix it up. You can also use smaller tortillas to make a smaller-fun size.



Quick Butternut Squash, Kale & Black Bean Quesadilla
Kale, black bean, butternut squash quesadilla comes together so quick and easy. It's vegetarian, perfect for meatless Mondays, switch up your taco Tuesdays, or make a big platter for game day.
Print
Email
Pin
Rate
Ingredients
1

cup

Chopped Butternut Squash

½

tsp

Olive Oil

¼

tsp

Salt

1

cups

Chopped Kale

(or baby kale or spinach)

¼

cup

Canned Black Beans

drained and rinsed

1

Tortilla

burrito size

1

cup

Shredded Monterey Jack Cheese

divided

(Optional) Chili Powder, Cayenne Pepper

to taste
Instructions
If you have a whole butternut squash, it's easy to peel. First you will want to cut a little off the bottom and top. The flat bottom will make it easier to stand up to peel and cut.

You can use a vegetable peeler, because the squash has a hard thick shell, you may have to go over it two or three time until you get all of the peel off of the flesh.

Cut the butternut squash in half and scoop out the seeds. Cut the squash into small dice size, roughly ¼ inch cubes.

In a pan, add in your cubed butternut squash, olive oil and salt.

Cook over medium heat until it's fork tender. It should be easy to poke your fork into the squash but not be mushy. About 5 minutes, stirring occasionally so that it doesn't brown.

Add in your black beans (drained and rinsed) and stir until everything is evenly distributed. Take off the heat.

In a large non-stick pan, spray your pan with cooking spray, this will help with the browning of the tortilla.

Heat the pan over medium heat until it's hot. Lay down your tortilla flat.

On half of the tortilla (you will fold it over like a book later) spread on ½ cup of cheese. Add your filling, top it with the remainder your cheese. Fold the empty half over on top (like a book) and press down with your spatula. Carefully flip it over so that the top cheese melts.