Brussel sprout bacon blue cheese salad with a balsamic vinegar  reduction is one of the easiest salads to make. The nuttiness of the Brussel sprouts tossed with a creamy sharp blue cheese topped with a sweet balsamic reduction is irresistible. I could eat the entire bowl.
Brussel sprouts are delicious hot or cold, makes for the perfect weeknight salad dinner, potlucks, holidays and leftover lunch the next day.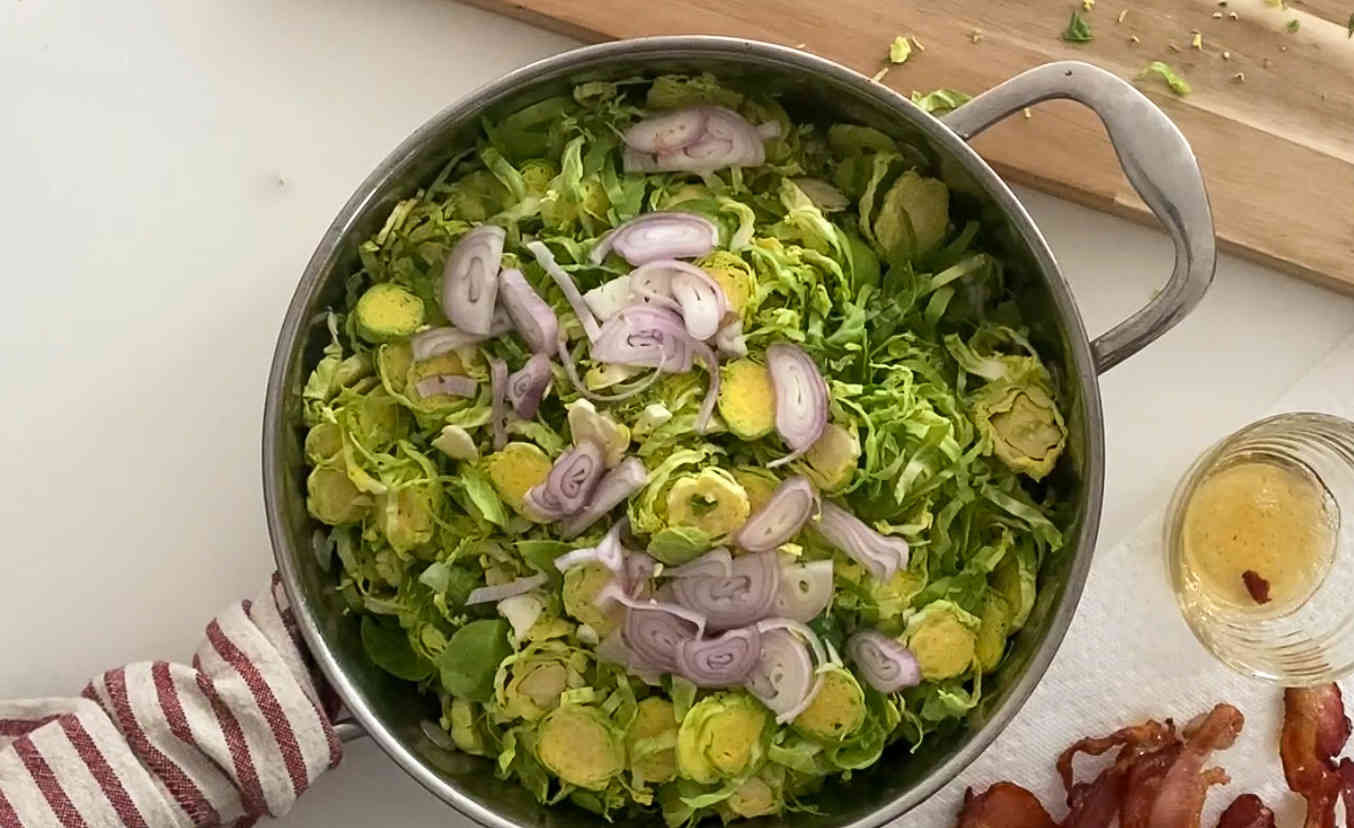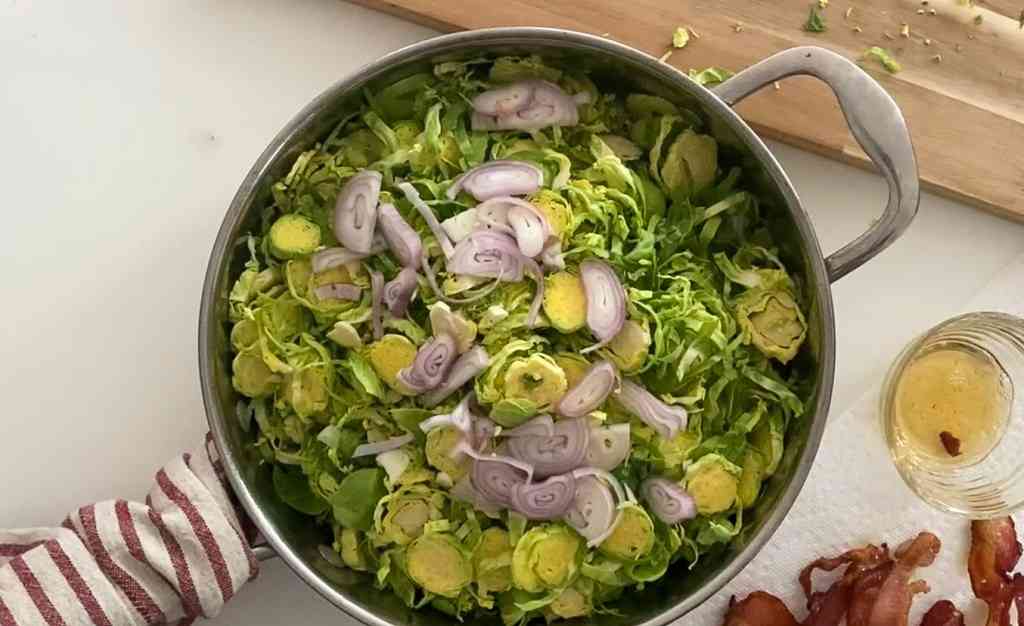 How to Make Amazing Brussel Sprouts
You know the saying, if I had a nickel for every time I have heard someone tell me they didn't like Brussel sprouts, until they had mine, I would have a jar full. If you are on the fence with Brussel sprouts, give these options a try before you write them off completely.
The key is that they need salt and time. Salt will draw out the natural flavors and really gives the dish a pop of vibrance. If you think they are bland, give them another pinch of salt, this goes for just about anything you cook.
I like to cut mine thin, almost like they are shaved, when they are cut like this it takes less time to cook. If you want to cut them in halves or quarters, they will take longer to cut, but don't let that stop you. The goal is to cook them until they are fork-tender, soft but with a little crunch left.
Brussel sprouts pair well with bacon, shallot and garlic. Also a light squeeze of lemon or a quick shake of parmesan has never steered me wrong.
This recipe makes the Brussel sprouts extra special with blue cheese crumbles and a reduced balsamic vinegar.
Balsamic Vinegar Reduction
A balsamic vinegar reduction creates a stronger flavor than using just balsamic vinegar. It adds a punch of deep warm sweet acidity to the dish that marries the nuttiness of the sprouts and the sharp tangy blue cheese.
Make sure you use balsamic vinegar. Do not use balsamic vinegar salad dressing.
To make a reduction, add the balsamic vinegar to a sauce pan and over medium heat let it reduce. It will become thicker and will have a strong aroma.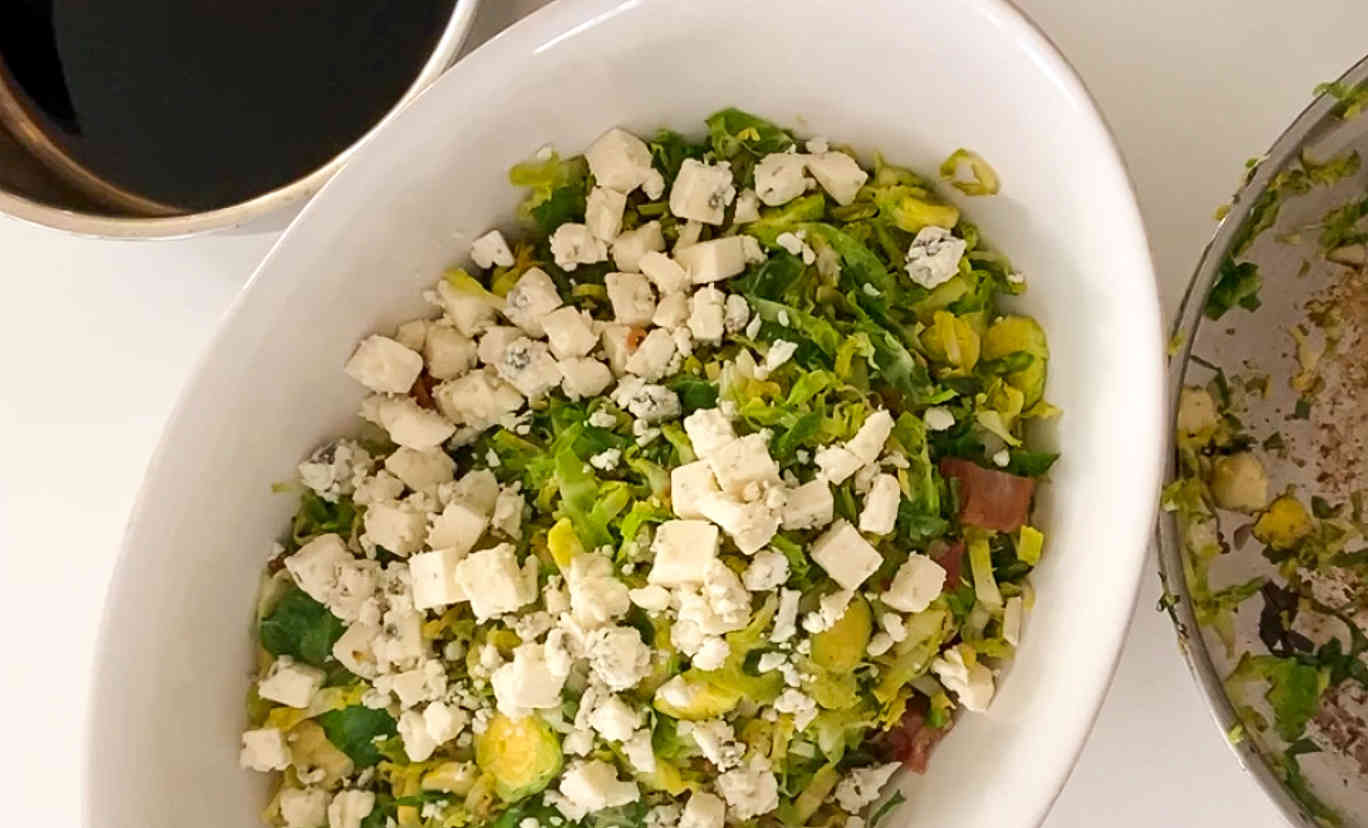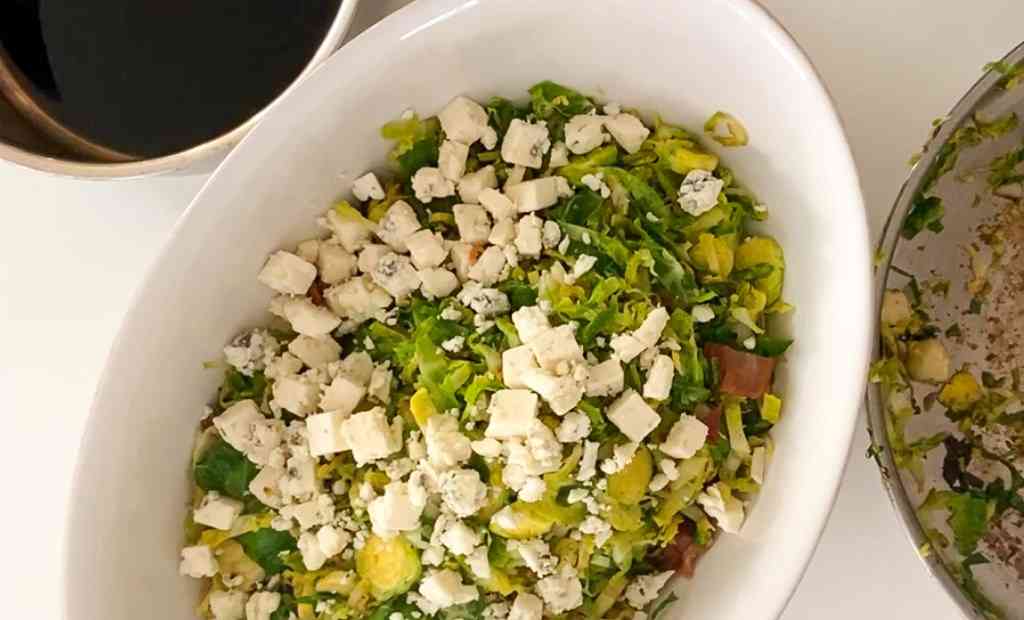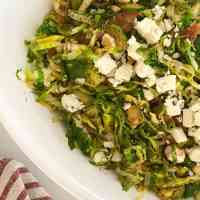 Brussel Sprouts Bacon Blue Cheese Salad with a Balsamic Reduction
Brussel sprouts bacon blue cheese salad - the nuttiness of the Brussel sprouts, creamy blue cheese topped with a sweet balsamic reduction is irresistible.
Print
Email
Pin
Rate
Ingredients
4

slices

Bacon

2

lbs

Brussel Sprouts - cleaned and thinly sliced

1

Shallot - thinly sliced

½

tsp

Salt

more to taste

5

oz

Blue Cheese Crumbles

½

cup

Balsamic Vinegar
Instructions
In a deep pan, over medium heat, make your bacon. Cook until crispy. Remove the bacon and let it drain on a paper towel. Pour out the bacon grease but do not wipe clean.

Add in the Brussel sprouts, shallot and salt. Over medium heat cook until the Brussel sprouts are fork-tender and the shallot is soft, about 15 minutes, tossing occasionally. Taste and season with more salt if necessary. Remove from the heat.

While the Brussel sprouts are cooking, add your balsamic vinegar to a sauce pan and over medium heat, let it reduce to about half (about ¼ cup)