Loaded baked potato croquettes aka fried potato balls are a fun and delicious way of reinventing your baked potato! These little bite size crispy fried potato balls filled with soft creamy loaded baked potato are the perfect way to change up your go-to side, a fun way to update your date-night-in menu or an easy way to get kids excited about dinner. They are jam packed with flavor and absolutely delicious.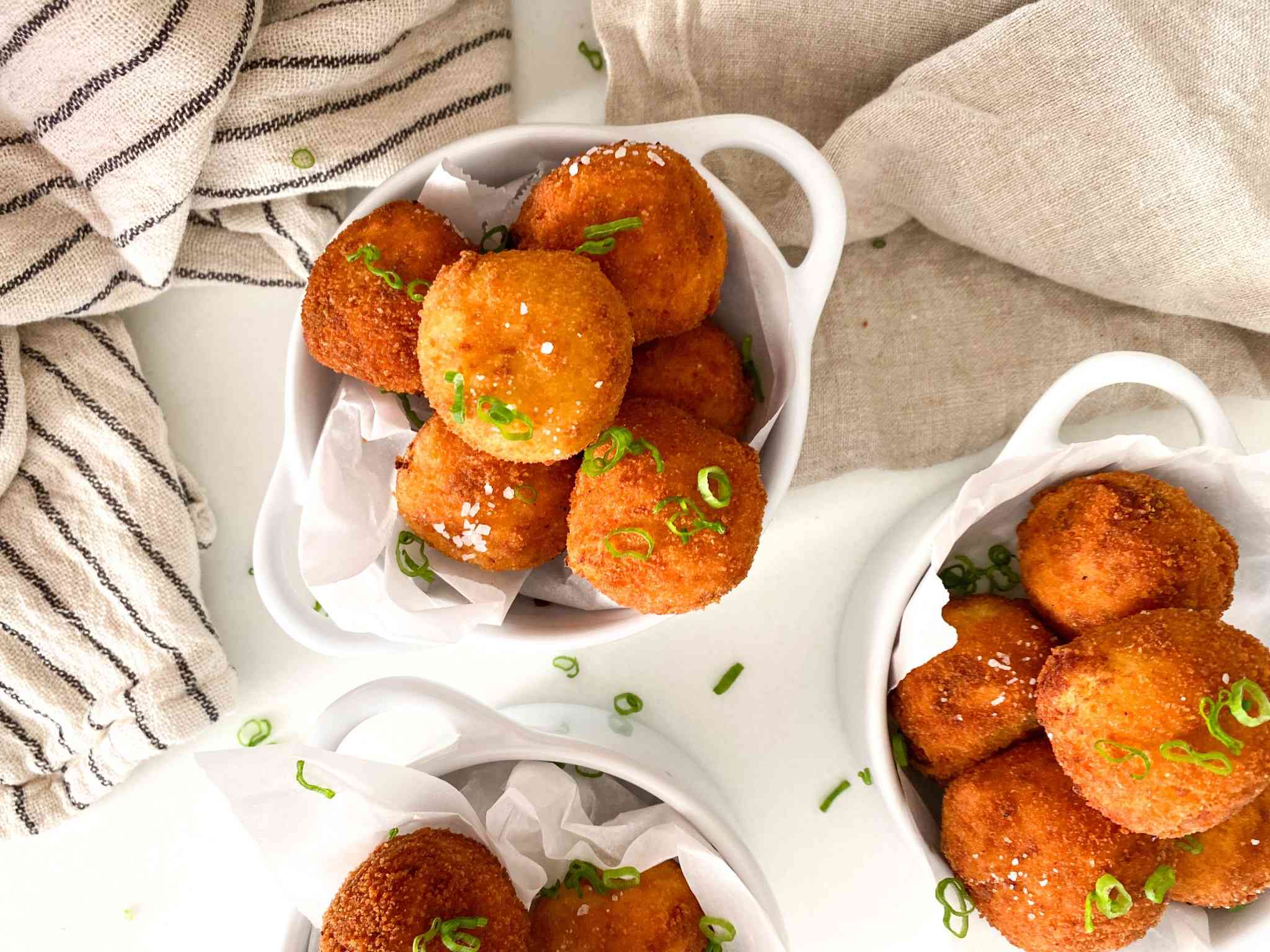 Make these Potato Croquettes Your Own
You can make more or less than the recipe below makes, just make sure to do the math. One reason these croquettes stay in a ball shape rather than falling apart once they are dropped into the hot oil is because they have the perfect potato to fat (sour cream) to egg yolk ratio. If you want to decrease the amount you're making, you can cut the entire recipe in half and just use one potato. If you are increasing the recipe, it's the same idea, just keep the increase consistent for each ingredient.
Add in different ingredients! You can switch out the chives for diced jalapeños, change the cheddar cheese to pepper jack for more spice.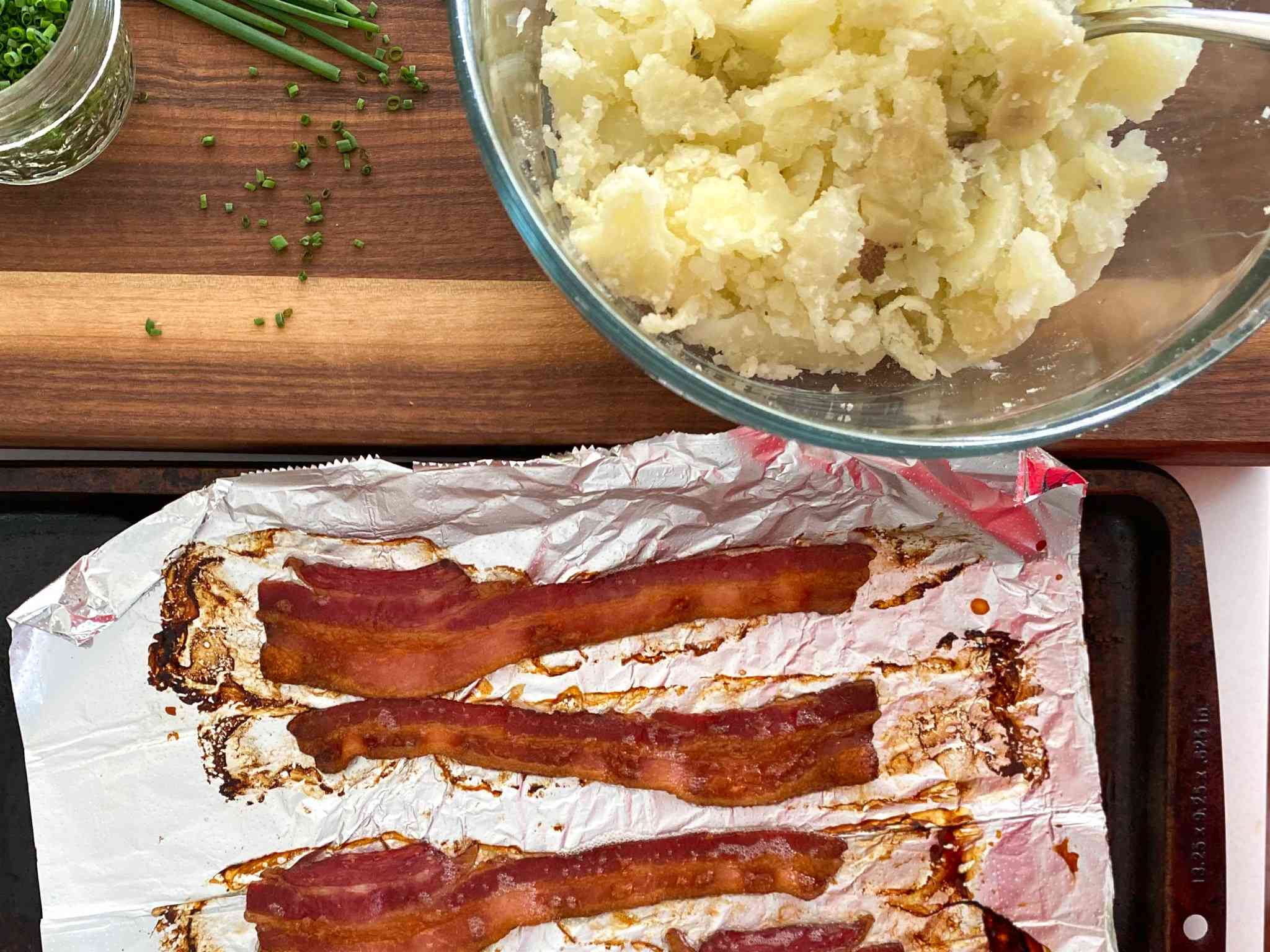 How to Cook Bacon in the Oven Without Splatter
Preheat your oven to 400F. You will want to use a baking sheet with sides otherwise the grease will run all over your oven, speaking from experience. Line the baking sheet with foil or parchment paper for easy clean up. Place your slices of bacon on the baking sheet so that they are not touching, Bake 10-15 minutes until done to your preferred crispiness.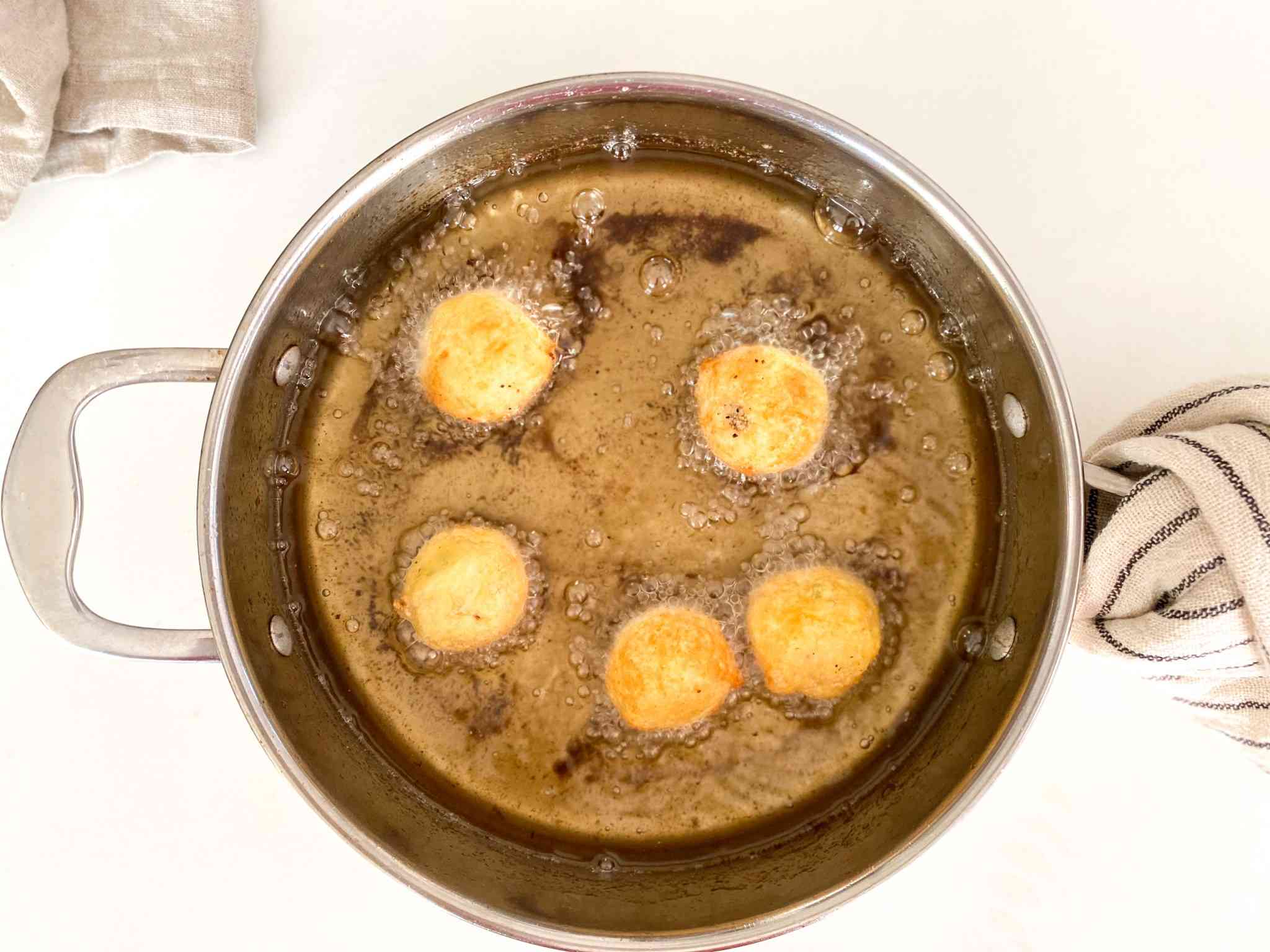 Pan Frying you Loaded Baked Potato Croquettes
It's best to use vegetable or canola oil because it has a high-temperature smoking point which means it is easier to heat up to 350F without it burning or smoking. It's ideal to keep the oil as close to 350F as possible because if the temperature is too low, it will take too long for your croquettes to fry giving them more time to soak up the oil and become greasy. If the temperature is too hot, you risk burning your croquettes or pulling them out before the creamy potato middle is hot all the way through. You can sacrifice one or two and test the temperature before adding more to the pan. Always have the pan come back up to 350F before you add the next batch. Always sprinkle on salt when they are fresh out of the pan and hot.
I'm confident you can do this in the air fryer as well, however I have not had the chance to try it.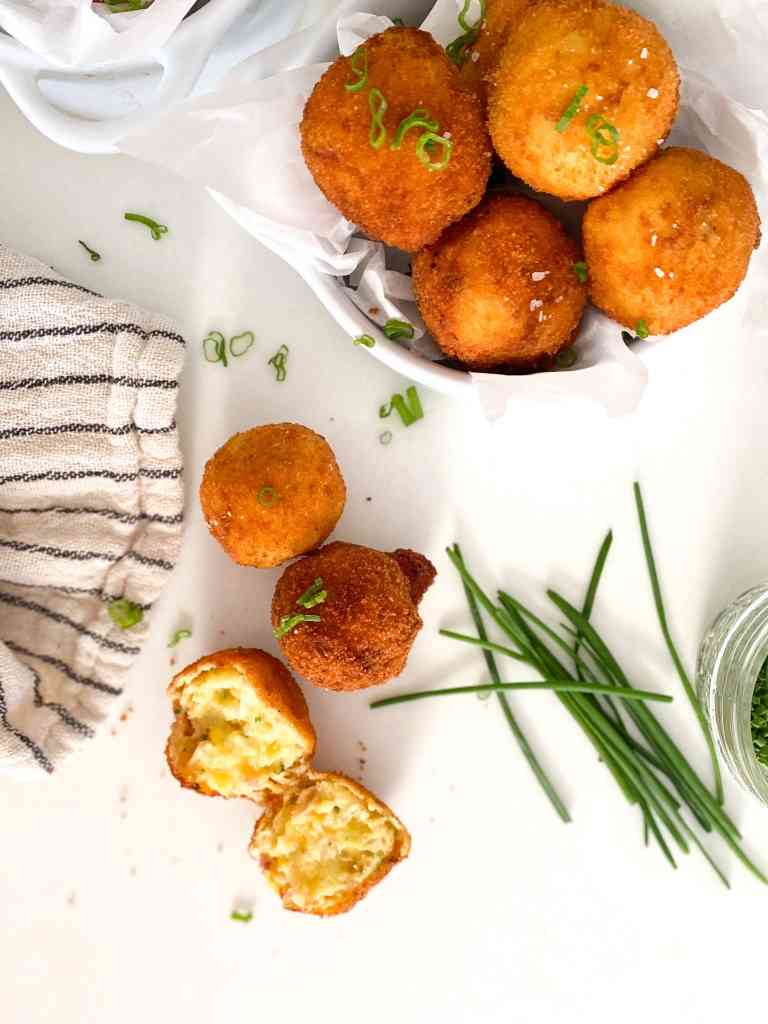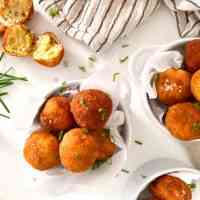 Loaded Baked Potato Croquettes (Fried Potato Balls)
These little bite size crispy fried potato balls filled with soft creamy loaded baked potato are the perfect way to change up your go-to side, a fun way to update your date-night-in menu or an easy way to get kids excited about dinner. Also great for entertaining!
Print
Email
Pin
Rate
Servings:
6
(about 3 balls per person)
Ingredients
2

Russet Potatoes

½

tsp

Salt

¼

tsp

Pepper

¼

cup + 2 TBSPs

Sour Cream

½

cup

Shredded Cheddar Cheese

2

cloves

Garlic – minced

1

TBSP

Fresh Chives – minced

1

TBSP

Green Onions (white section) – thinly sliced

2-3

Slices

Crispy Cooked Bacon – chopped into bits (optional)

2

Egg Yolks

1

cup

Flour

1

Egg

2

TBSP

Water

1

cup

Bread Crumbs

3

cups

Vegetable Oil
Instructions
Bake your potatoes in the microwave – using a fork poke holes in your potatoes and place in an microwavable bowl. Use the "potato" setting on your microwave. If you do not have a potato setting, start at 6 minutes and then poke your potatoes with a fork, it should be soft and fluffy on the inside.

Once the potatoes are cool enough to handle, but still hot, cut them open and scrape out the cooked potatoes into a bowl.

Add in the salt and pepper and fork mash until the potato chucks are mashed and they start to resemble mash potatoes.

While the potatoes are warm add in your sour cream, cheddar cheese, garlic, chives, green onions, and bacon. Stir until the potatoes are creamy and the ingredients are evenly distributed throughout. Give it a quick taste test. If the flavors are a little dull, add in a pinch of salt to wake up the ingredients.

Using a spoon or cookie ball scoop, you can scoop out your potato balls.= (about 1 inch balls). Set them aside on a cookie sheet lined with parchment paper.

Place in the freezer for 15 minutes, the refrigerator for 30 minutes.

This is a great stopping point, if you're making these ahead of time, just keep them in the refrigerator until you're ready to fry and serve.

Set up your dredging station:

You will need three bowls, in the first bowl add your flour. In the second bowl, whisk together your egg and 2 TBSPs of water. In the third bowl, add your bread crumbs.

Take your potato balls out of the freezer or refrigerator. Roll them between you r hands to perfect the "ball" and smooth it out from where it sat on the cookie sheet.

Roll that potato ball into the bread crumbs making sure the cover the entire surface, shake off the excess.

Once you have all of the potato balls dredged. In a deep pan, heat up your vegetable oil to 350F. I used 3 cups, you may use more or less, you need just enough to have about an inch or so deep so it will vary based on the size of your pan.

When the temperature reaches 350F, you can add a few of your potato balls. You don't want to over crowd the pan and the temperature will drop slightly once you add them in.

You will cooking them for about 2-3 minutes and then turn them upside down to finish cooking and browning – about 5 minutes total.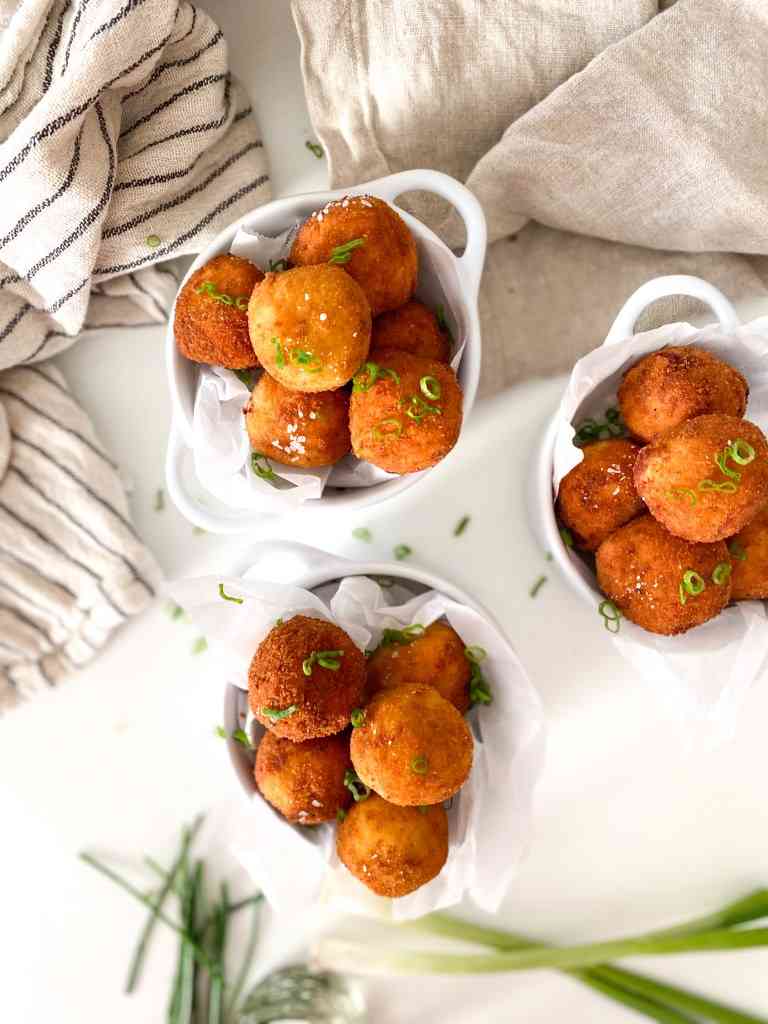 Other potato dishes:
Ricotta and Chive Mashed Potatoes (no-boil recipe)
Parmesan and Thyme Mashed Potatoes
Dairy-Free Creamy Herb Mashed Potatoes