Cacio e Pepe is Italian for "pepper and cheese" which is why this is one of my favorite go-to weeknight dinners. This indulgent 10 minute, one-pot pasta dinner is the perfect dish to help your unwind after a busy day. One pasta fork- twirl and you will instantly be daydreaming of a warm summer night in Italy.
Keep the meal simple by serving the cacio e pepe with a simple arugula salad with a light squeeze of fresh lemon juice.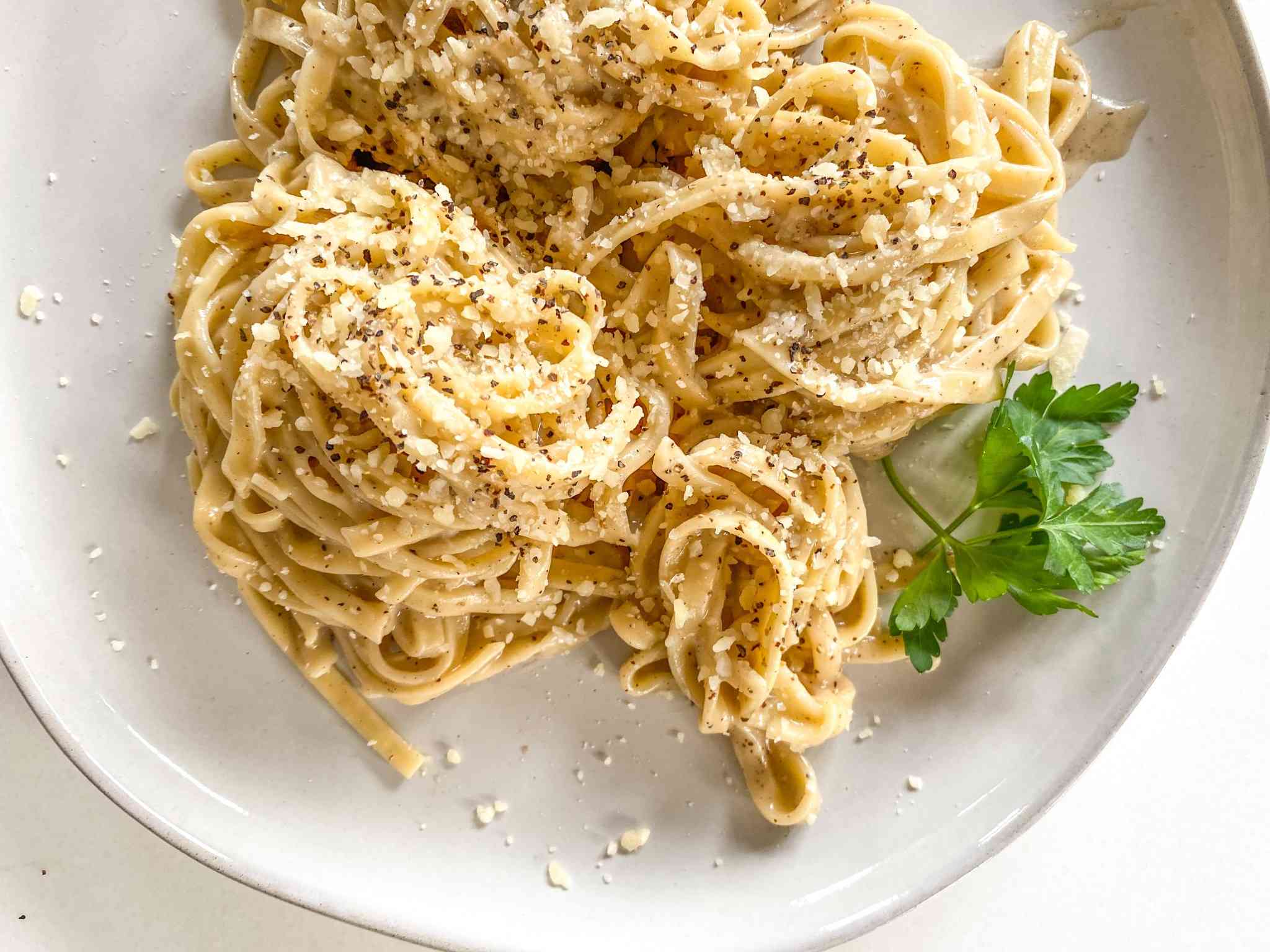 Cacio e Pepeo has super-simple ingredients:
It uses fresh pasta noodles. Choose between linguine, pappardelle, fettuccine or anything alike. You can usually find fresh pasta pre-packaged at most grocery stores near the deli. If you are unable to find fresh pasta, you can substitute dry pasta from the box. If you do this, you will need to add an additional cup of water and cook the pasta longer during step 4 – approx. 8-10 minutes per the back of the box instructions.
A block of parmesan cheese. Freshly shredded parmesan cheese is a must-do for this recipe. You can use the in-store freshly shredded cheese from the deli section of your grocery store. I would avoid using any type of commercial pre-shredded parmesan, the cheese that is shelf-stable and pre-shredded is usually coated to prevent the cheese from sticking to each other – for this dish that will cause the cheese to clump into balls making it harder to create a cheese sauce.
Pepper. I use regular table pepper for this dish. I will garnish with coarse ground black pepper, but this is totally optional.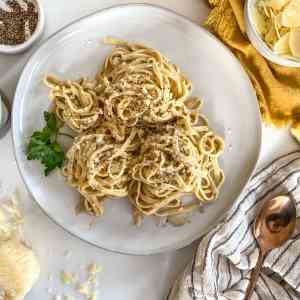 Cheat Day Cacio e Pepe
This indulgent 10 minute, one-pot cacio e pepe pasta dinner is the perfect dish to help your unwind after a busy day.
Print
Email
Pin
Rate
Ingredients
7-8

oz

Fresh Noodles

spaghetti, pappardelle, fettuccine or anything alike

1

TBSP

Butter

1

tsp

Pepper

+ more for garnish

1

tsp

Salt

2-2 ½

cups

Water

½

cup

Shredded Parmesan Cheese
Instructions
Toss your noodles so that they are mostly submerged under the water. Cook for 3-4 minutes, occasionally tossing with your tongs until a soft al-dente. Turn off the heat. You should have about 1/4 cup of water left (see next step)

*Fresh noodles cook faster than dry noodles so make sure to keep an eye on them.

While cooking your noodles, your water should reduce to about 1/4 cup (see picture).

If you notice your water is reducing too quickly during the step above, add a little more water so that your noodles have time to cook.

Off the heat, add your shredded parmesan cheese in the remainder of your pasta water and stir to combine. As the cheese melts start to toss in with the noodles. It's important to start in the pasta water so that the cheese doesn't clump together.

Toss until the cheese is melted and creamy, covering all the noodles. This should only take about a minute or so.

Garnish with shredded parmesan cheese and a pinch of pepper. Enjoy!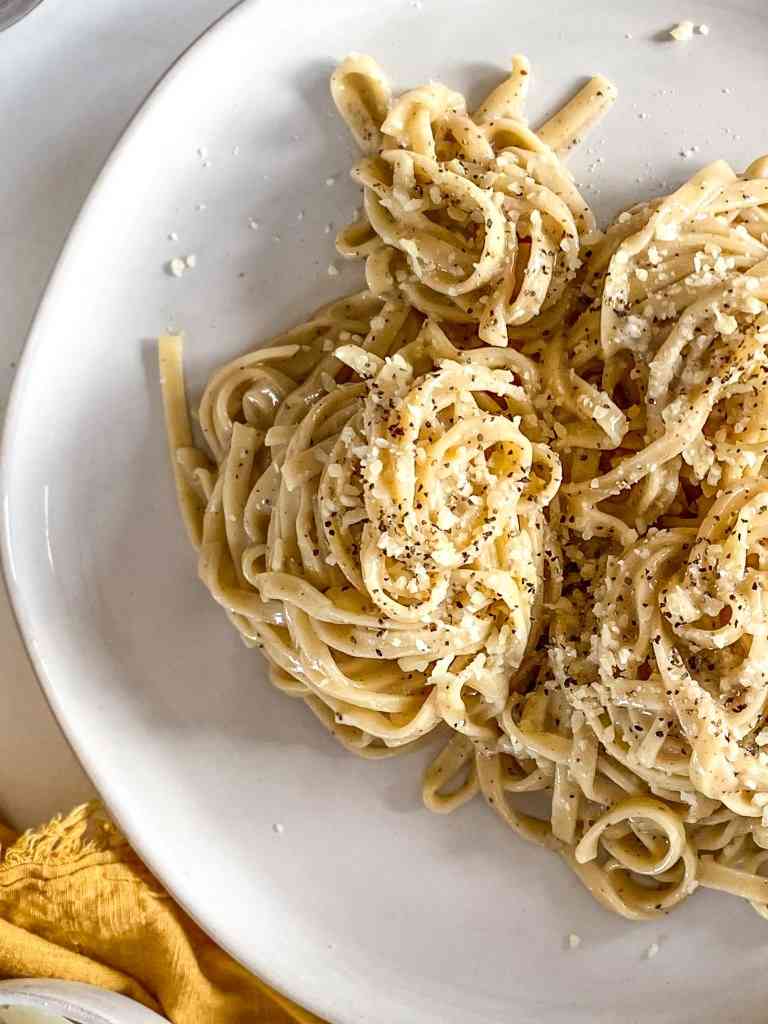 You can also serve this dish with my chicken meatballs!