Stuffed pork tenderloin (or pork loin) is always great for family gatherings, it can feed a crowd and looks good doing it. This recipe is full of sweet and tart flavors that match perfectly with roasted pork.
Cranberry Stuffed Pork Tenderloin
Servings: 4-6
Difficulty: hard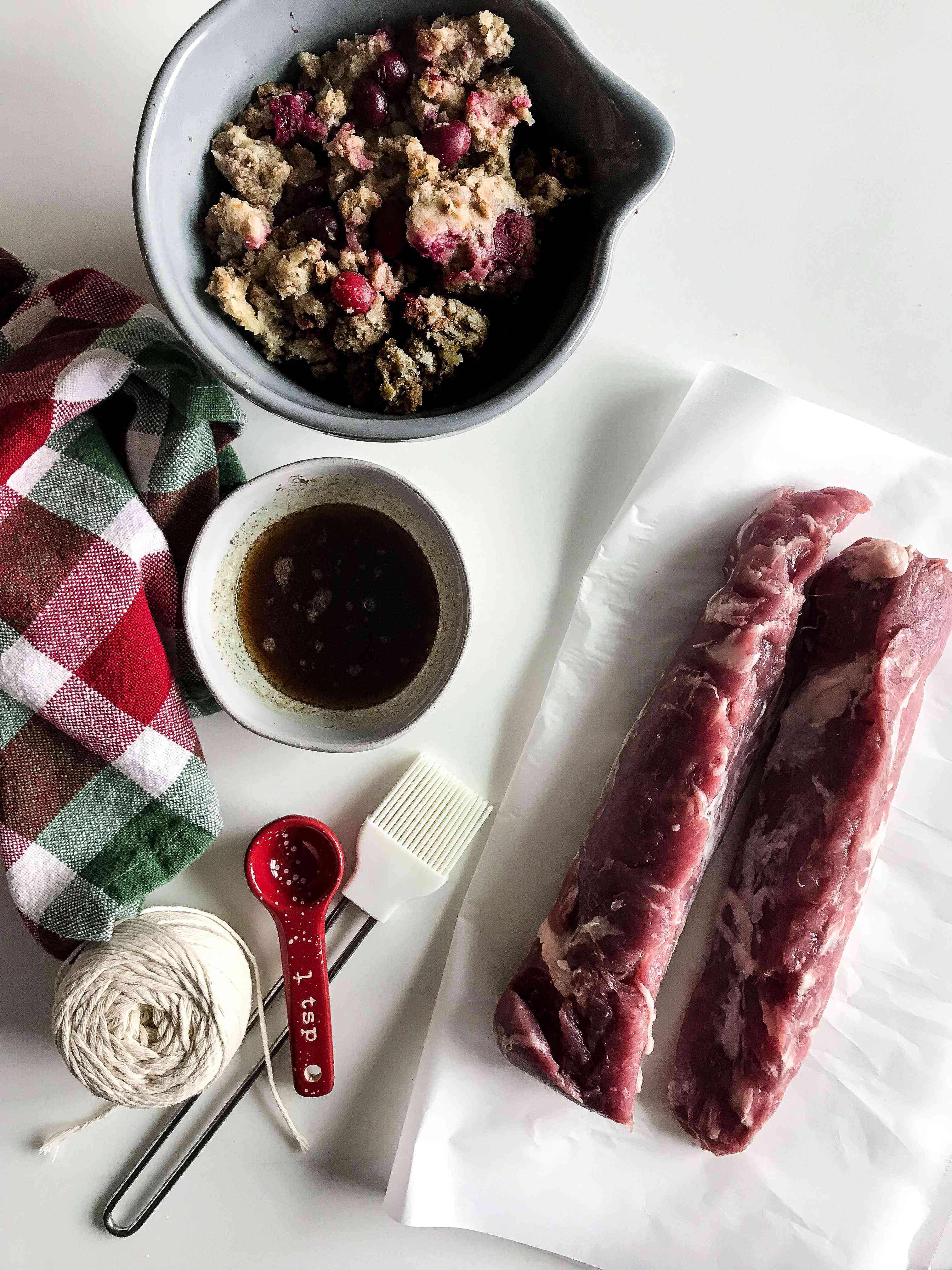 Ingredients
2 lbs of Pork Tenderloin or Boneless Pork Loin
3 TBSP of Maple Syrup
1 TBSP of Brown Sugar
2 Pinches of Ground Cloves
3 Cups of Cranberry Stuffing
3 TBSP of Butter
Twine
You can use pork tenderloin or boneless pork loin. All of my step by step instructions are using a pork tenderloin.
Directions
The first step is to pound out the meat. The goal is to make the surface area an even thickness so when you roll it up it cooks evenly throughout. When I picked up 2 lbs of pork tenderloin from the store, it came in two pieces (much to my surprise) but I decided to roll with the punches.
To prepare the pork tenderloin cut down the middle, not going all the way through, leaving about 1/2 inch thickness. – It should open like a book.
To prepare a pork loin, you can cut it so that it "rolls" out. Place your knife about 1/3 up from the bottom and start to slice across (hot dog length, or horizontally), as you slice pull the meat away with your other hand. So if you're right handed, slice moving your knife to the right and pull or roll the meat away to the left with your left hand. It should unroll like a jellyroll. Goodness I hope I explained that well enough for you to envision it. Essentially you should end up with your pork loin in a flat rectangle… yes? no? did it work?
Pound it out: Then using a meat hammer, or if you're me, using an actual tool box hammer, you will pound out the meat. If you're using an actual hammer, place a piece of parchment paper or ziplock bag between the hammer and the meat to avoid spreading germs.
Pound it out evenly so that it's the same thickness throughout, roughly 1/4 inch.
Because I have two tenderloins, I pounded them out side by side, so that I could create more surface area and have a larger roll.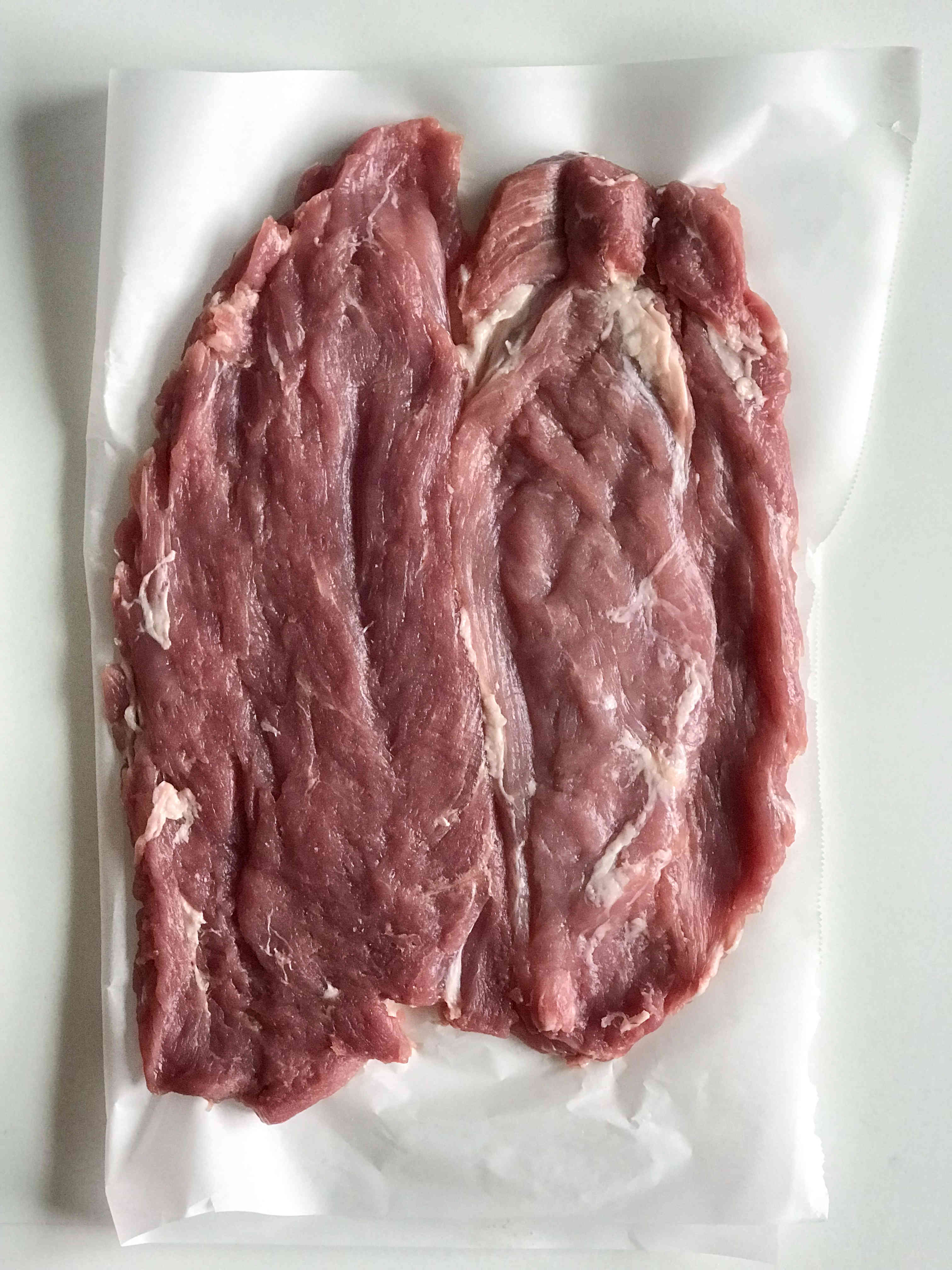 Mix the maple syrup, brown sugar and cloves together until dissolved.
Brush the pork with the maple syrup mixture.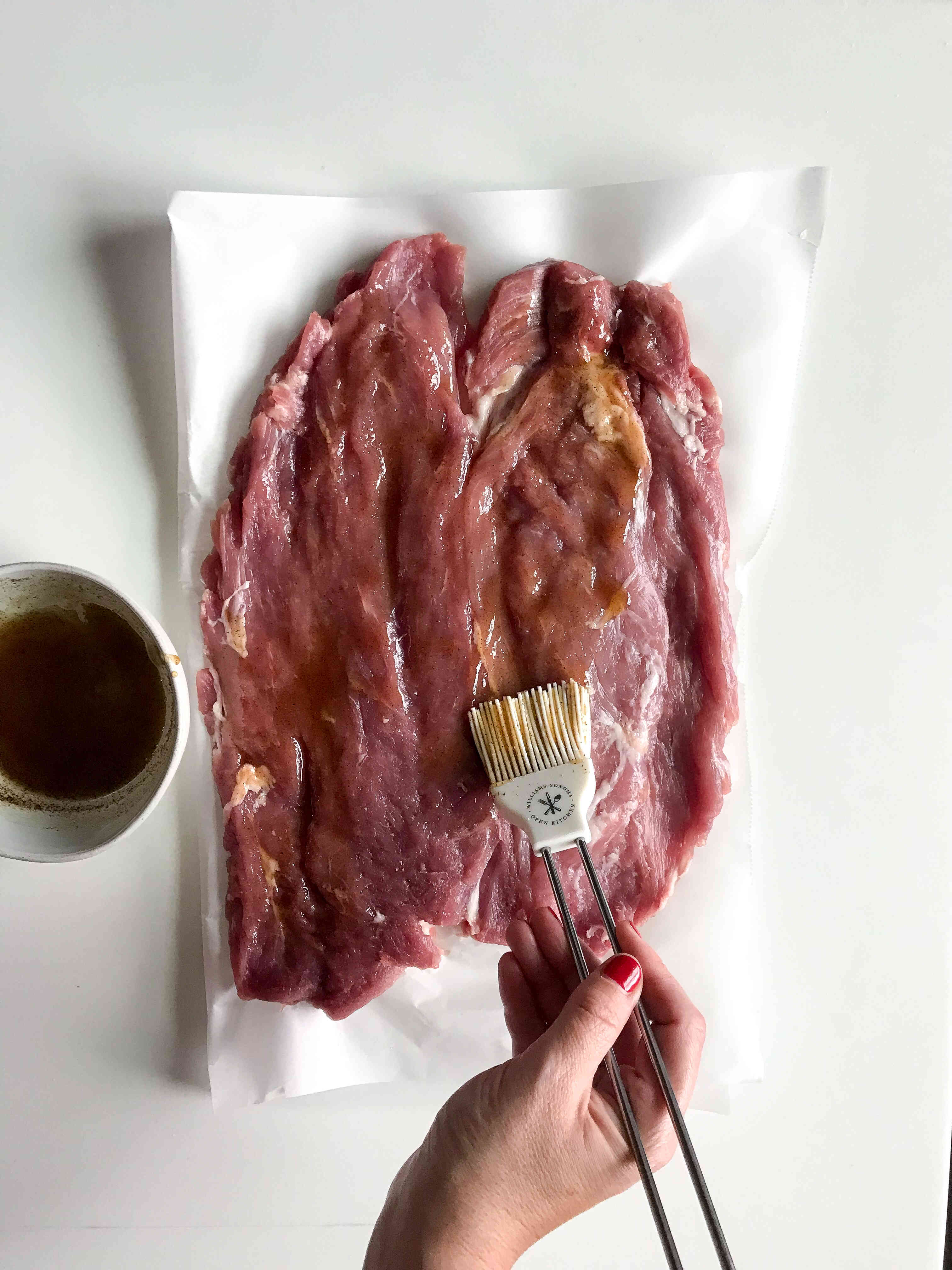 Add on the stuffing. You will want to cover the entire surface area of the pork.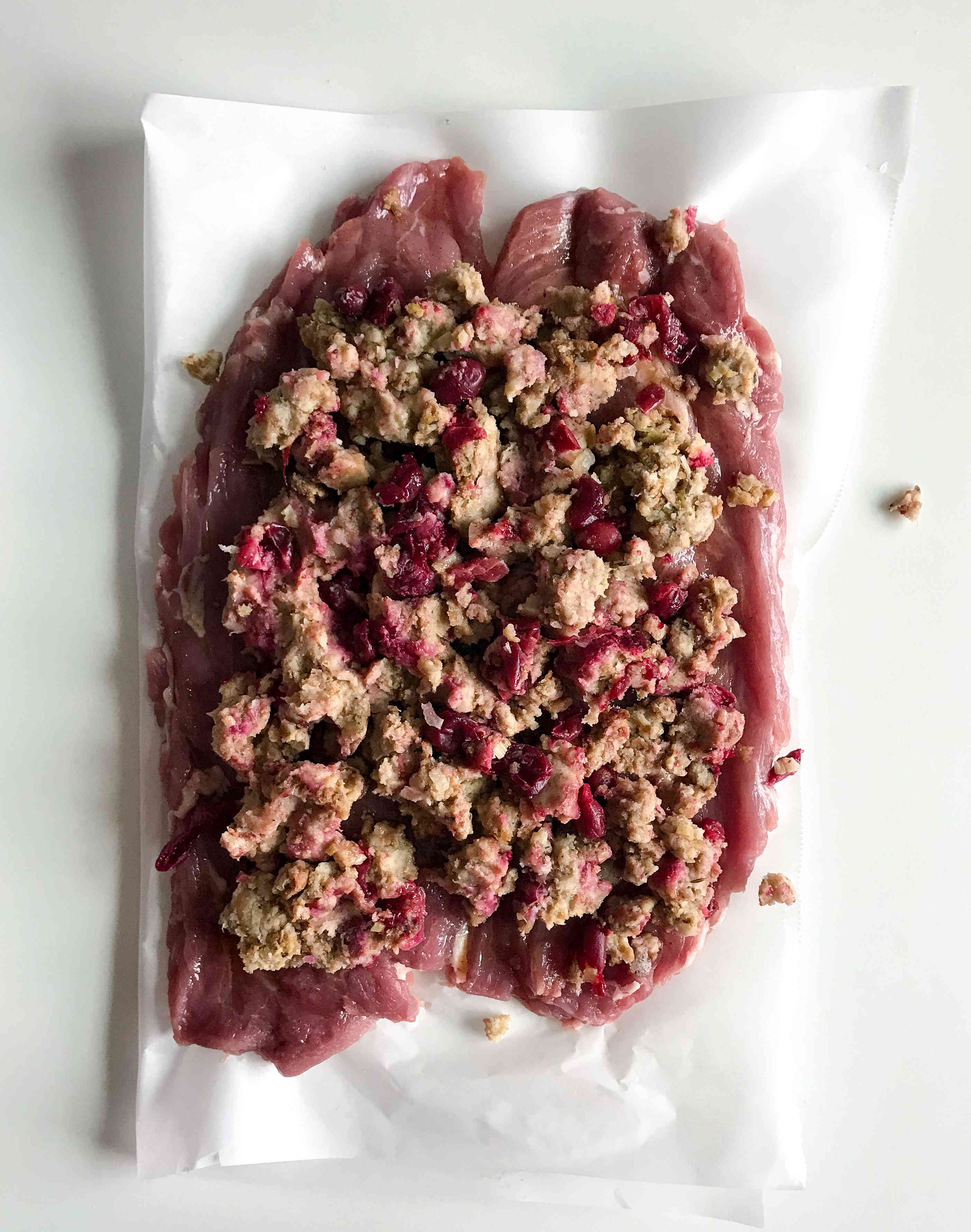 Roll the pork up like a jelly-roll. Tucking the stuffing back in as you go so that it's a tight roll.
With twine, you will tie your pork tenderloin/pork loin so that it holds it's shape.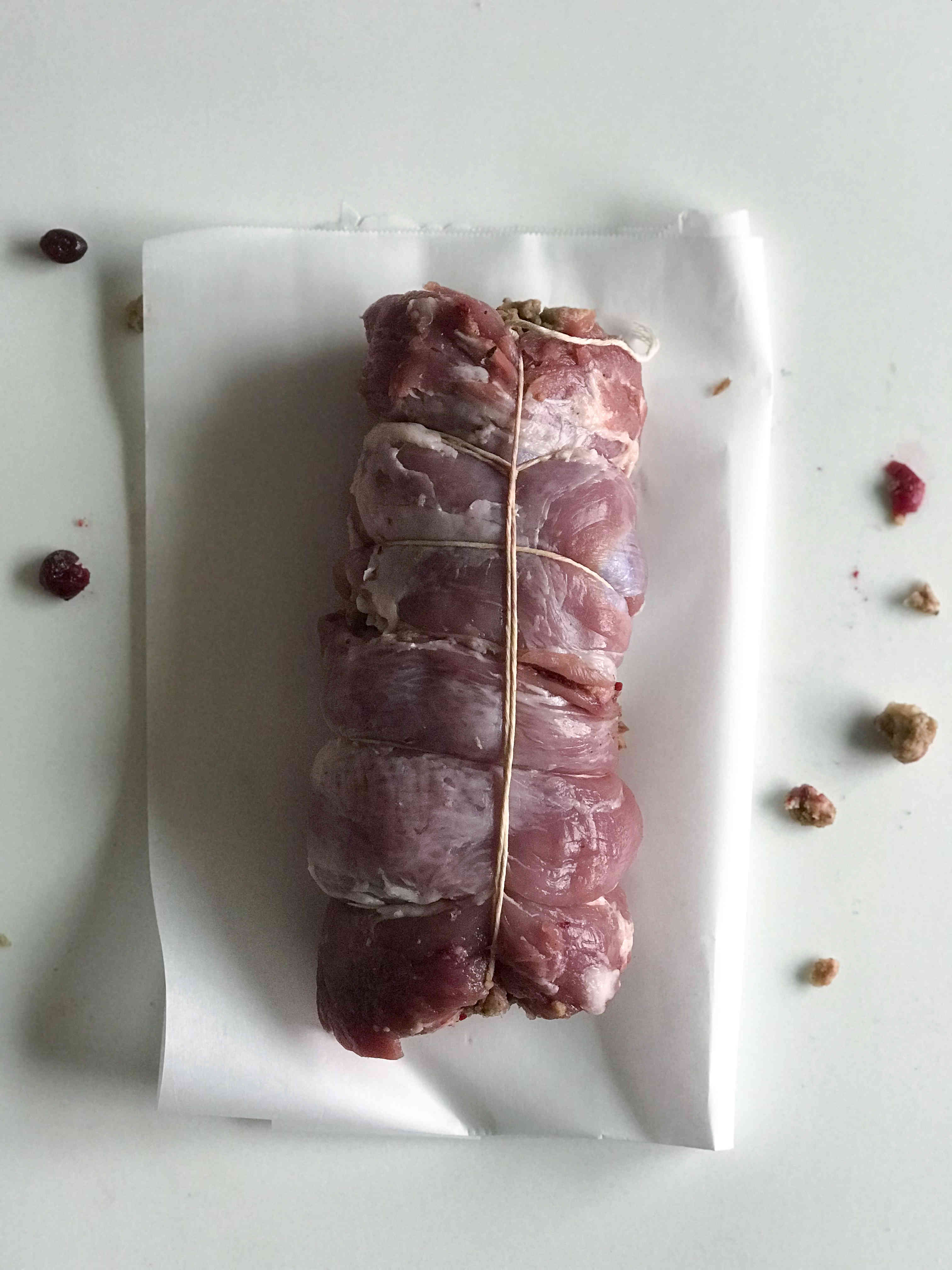 Preheat the oven to 350 degrees.
The next step is browning. I used a cast iron skillet, but that's not necessary, you can use any pan that can move from the stove top to the oven.
Over medium hot heat, melt 2 TBSP of butter. Once the pan is HOT, add your stuffed pork. Place it top side down (presentation side down) so that it can get a beautiful brown color. Let it brown for 5-8 minutes before turning it over.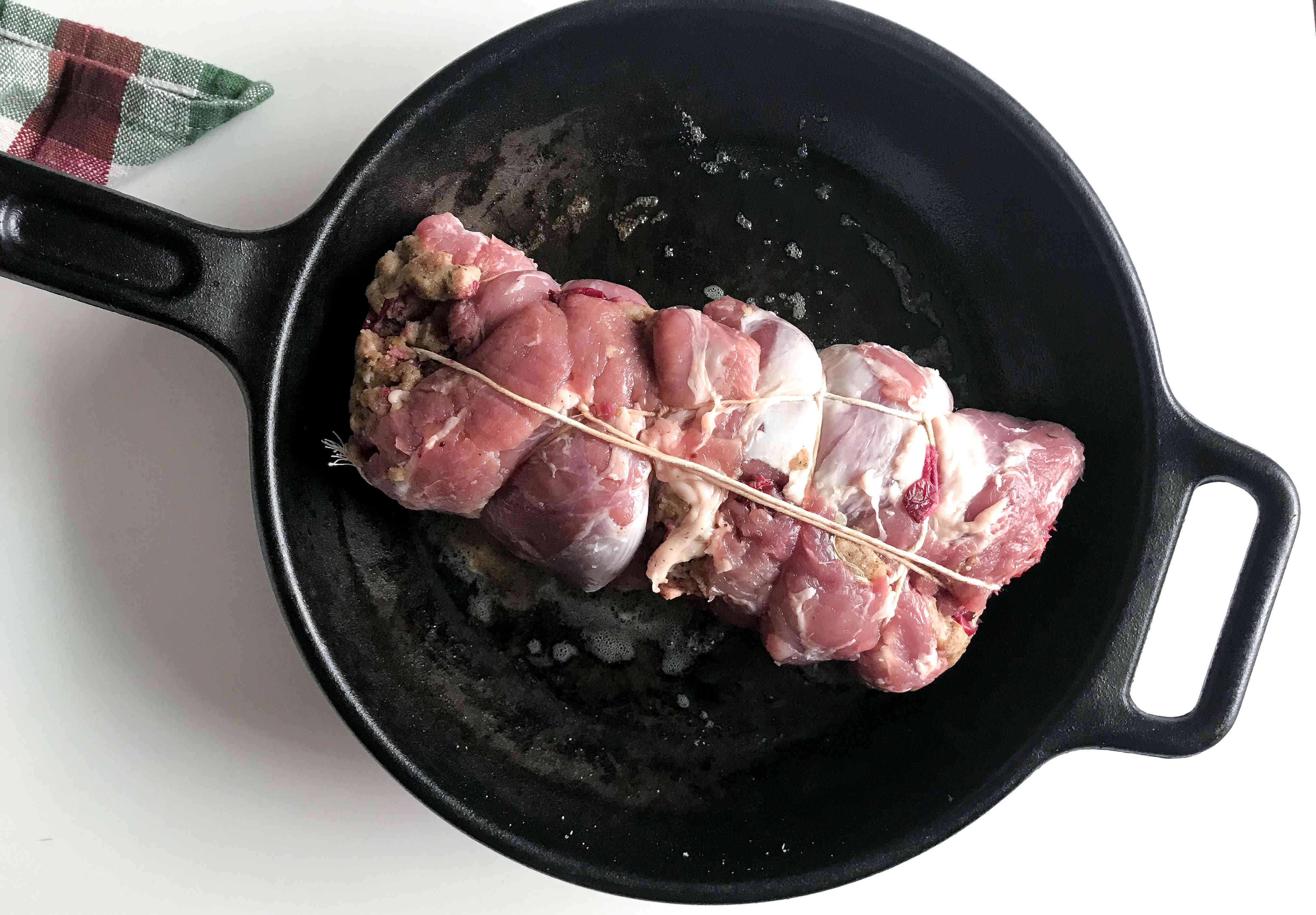 Turn it over and add the remaining 1 TBSP of butter to the pan and baste the top of the stuffed pork (adding more brown to the presentation side and creating a delicious flavor).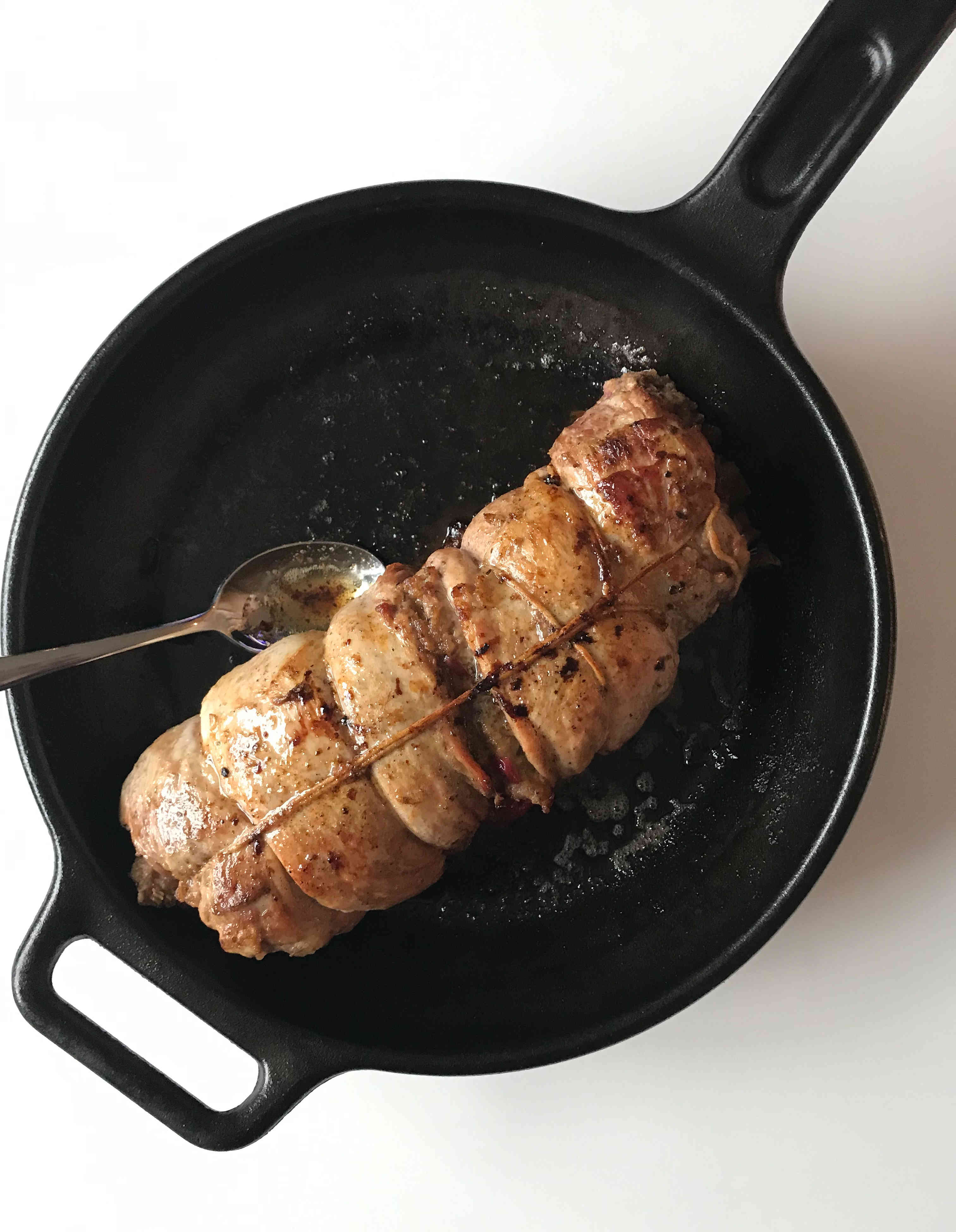 Place in the oven and roast for 25-30 minutes. Internal temperature should be 155-160 degrees. **Make sure you are not testing the stuffing, keep the thermometer in the pork when assessing the temperature.
Rest. Let the pork tenderloin/pork loin rest for 10 minutes before slicing to serve.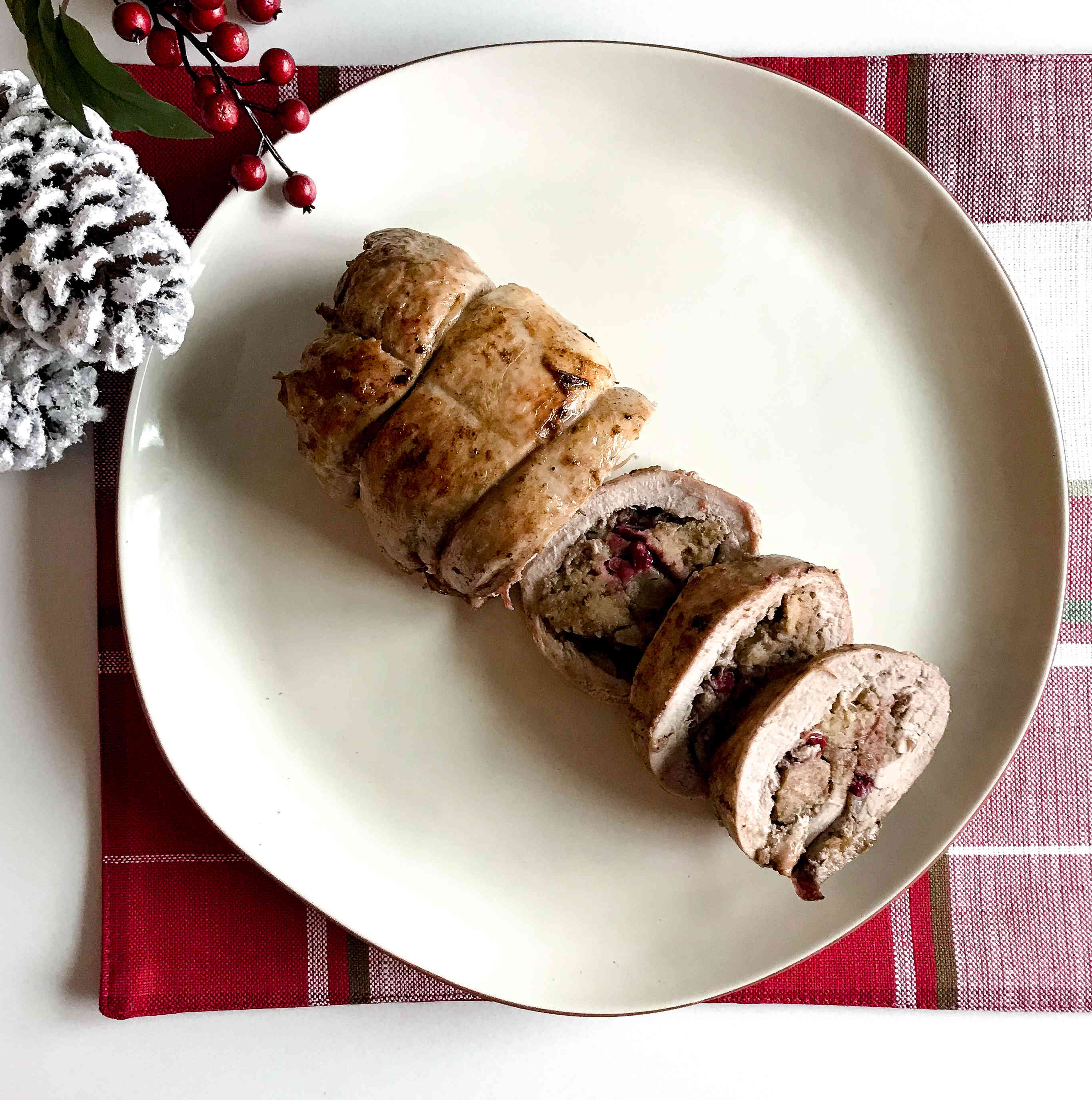 Notes:

If you want to feed a larger crowd, keep the maple syrup, brown sugar and clove ratio 3:1:2. For instance, to double it you would use 6 TBSP of maple syrup, 2 TBSP of Brown Sugar and 4 pinches of cloves (1/4 tsp).

You can eye-ball the butter and cranberry stuffing, as long as what you're doing looks similar to what I do above it'll turn out perfect.

As you can see, my two tenderloins started to split…but I made it work, no sweat… if you find yourself in my shoes with two tenderloins, over lap the edges to help avoid this, make sure to pound those two edges a little thinner so that when it's overlapping it will be the same width as the rest.