Crispy Chicken Tender Cobb Salad is for those super busy weeknights, when you want to throw something together almost effortlessly. This is the answer to "what's for dinner" as you stare into the fridge. It is such an easy weeknight dinner salad that is easily customizable. Use all your favorite ingredients. You can even prep ahead.

Chicken Tender Cobb Salad Ingredients
Crispy Chicken Tenders: From the frozen food section, prepare accordingly to the package. I highly recommend the Air Fryer or oven method for the best results.
Lettuce: Crispy Romaine is our favorite. You can also add a mix of baby spinach or arugula into it. Iceberg or butter lettuce would also be good choices for this salad.
Crispy Bacon: The easiest way to make homemade bacon is to oven-fry it. Set the over to 425F. Using a baking sheet with raised sides, lay out your sliced bacon into on layer, not overlapping edges. Back for 10-12 minutes until preferred crispiness.
Hard Boiled Eggs:  The easiest way to make hard boiled eggs is to make a 12-minute egg.
Thinly Sliced Purple Onion: They will add a zesty zing, and bring out the freshness of the salad.
Chopped Ripe Red Tomatoes: A large ripe tomato will add a little texture and sweetness to the salad.
Blue Cheese Crumbles: A true Cobb salad requirement, but if you don't like the stinky soft cheese, you can also use cubed cheddar cheese or chopped provolone cheese, all options are delicious.
Avocado: Another Cobb Salad ingredient, if you have on one hand, the creamy chunky soft flavors of the avocado really make the salad extra fabulous.
Dressing: This is a personal choice. For this salad, I love a good quality store-bought Chunky Blue Cheese, everyone else opts for Ranch.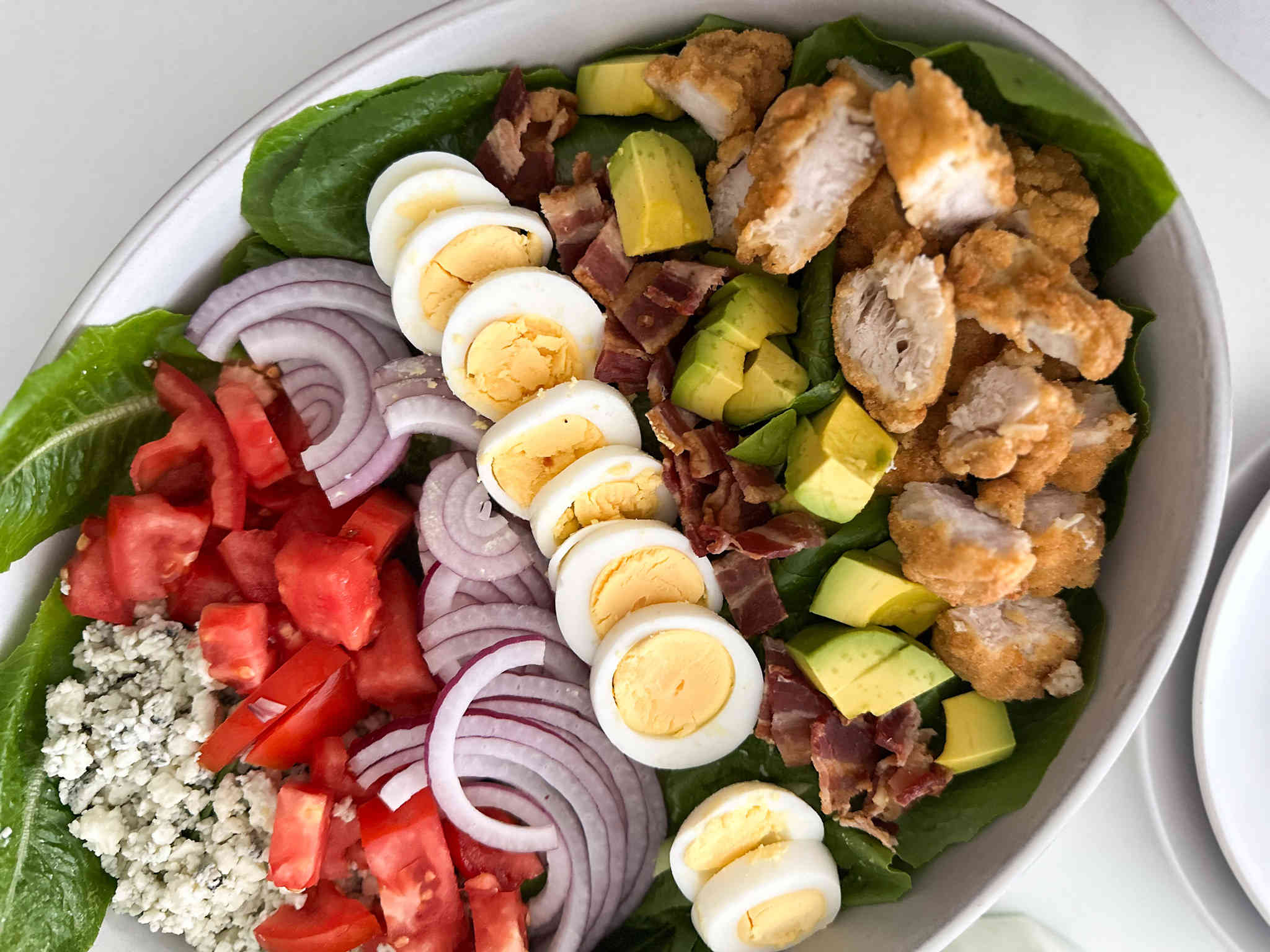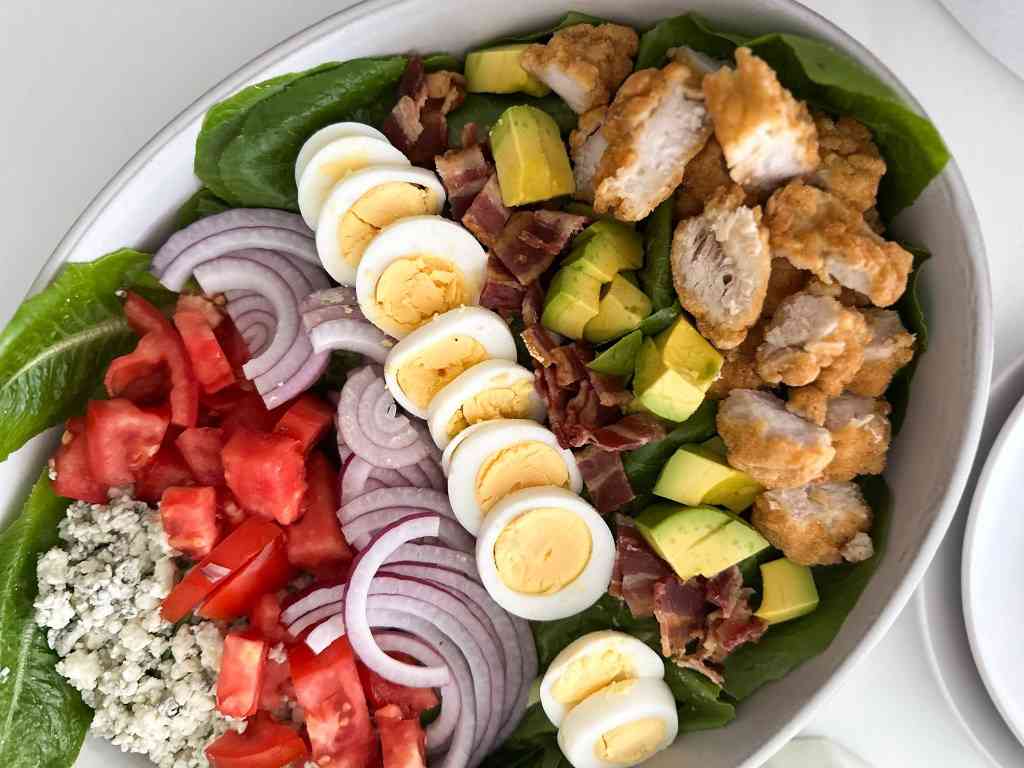 Prep Ahead
It's an easy recipe to prep ahead. The bacon and hard boiled eggs can be made days in advance, just store in the refrigerator until you need them. I love my crispy chicken tenders to be hot on a cold salad, I love the contrast, but if you are not like me, you can also make the chicken tenders ahead of time too!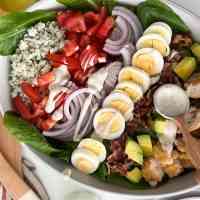 Crispy Chicken Tender Cobb Salad
Crispy Chicken Tender Cobb Salad is for those super busy weeknights, when you want to throw something together quickly and easily.
Print
Email
Pin
Rate
Ingredients
4

Frozen Chicken Tenders

4

Bacon Slices

3

Hard Boiled Eggs

2

Romaine Lettuce Heads - chopped

¼

Purple Onion - thinly sliced

1

Lg

Ripe Tomato - Chopped

½

cup

Blue Cheese Crumbles - or more to preference

about 0.4 oz

1

Avocado - Chopped into large chunks

Your Favorite Dressing
Instructions
Preheat your oven. If you are using the oven for the chicken tenders, use the instructions on the package for temperature. If you are only using the oven for bacon, preheat your oven to 400F.

Cook your frozen chicken tenders according to the package.

Bake your bacon. On a lined baking sheet with side edges, lay your bacon in a single layer not overlapping. Bake in the oven until crispy. Bake at 400F for 10-15 minutes until it is your preferred crispiness.

You can use the same temperature as the chicken tenders if you want to do both in the oven. 350F - 425F will work.

Make the hard boiled eggs. Fill a pot of water deep enough so the eggs will be fully submerged. Bring the water to a boil. Carefully spoon drop the eggs into the water, let them boil for 12 minutes.

When the eggs are done, add them to a bowl of ice water (an ice bath).

In a bowl, add your chopped lettuce, chopped cooked crispy chicken tenders, bacon, sliced hard boiled eggs, thinly sliced purple onion, chopped tomatoes, blue cheese crumbles and avocado chunks.

Toss and top with your favorite salad dressing.