Skip the pie, this easy summer three-fruit galette is ideal for any summer holiday or celebration. The red, "white" and blue colors pop making it in theme for Memorial Day, July 4th or Labor Day. Perfect for backyard get-to-togethers, dessert for the beach house and pool parties. It's so easy to make, it will be your new go-to summer dessert!
Red, White and Blue Galette
The summer season on the east coast is my favorite because the fresh produce is at its best selection and ripe. When you choose the cherries, peaches and blueberries, makes sure they are ripe and ready. These three fruits, when paired together, are pure magic. The combination of tartness and sweetness is an incredible match made in heaven.
Cherries are the perfect red color, a classic summer fruit. The pit will need to be removed before adding them to the galette. I'm not a big fan of cherries but this galette is irresistible, even the non-cherry lover will fall in love.
Peaches give that "white" color. Make sure to pick the peaches that are firm but not hard, soft but not squishy. They also have a pit in the middle that will need to be removed and the peaches will be sliced in about 1/4 inch-thick slices for even baking.
Blueberries are the blue. These little sweet blueberries will add a little pop of sweetness and acidity to balance this treat.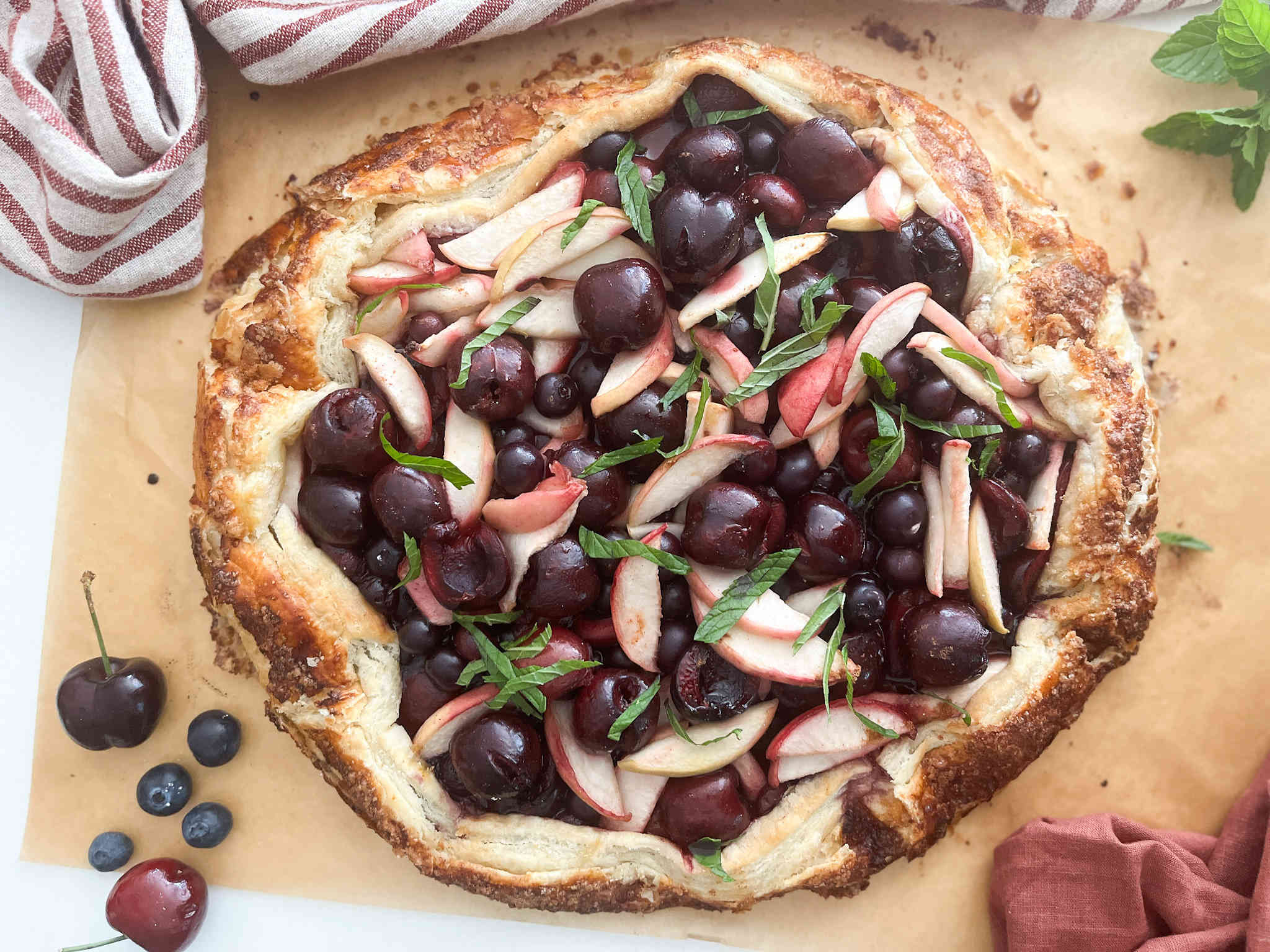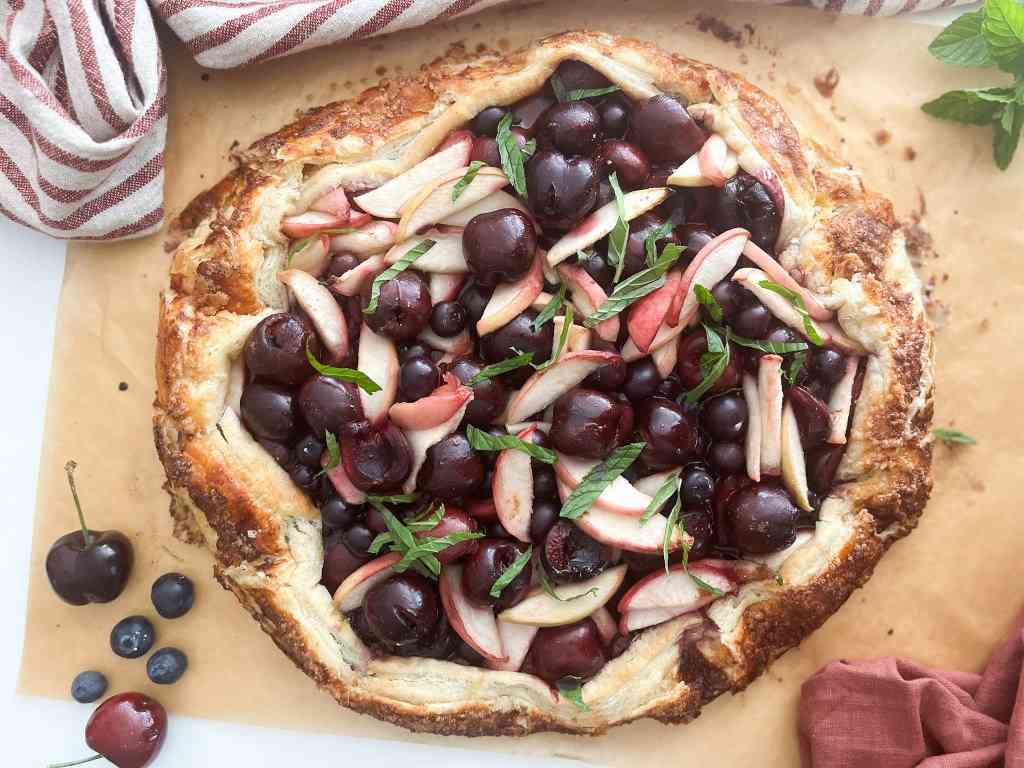 The Fruit Filling
Once the cherry are de-pitted and the peaches are sliced. Add all of the fruit into a bowl, tossed with a splash of almond extract, brown sugar, a small pinch of salt and cornstarch. It's that easy.
Cherries and peaches are stone fruits, which are fruits with one hard pit on the inside and during baking they will release less water than non-stone fruits. Fruits with seeds like strawberries will release more water during baking. I paired the blueberries (non-stone fruit) with cherries and peaches (stone-fruit) to help reduce the water inside puff pastry so that the bottom bakes into the most perfect sweet galette.
If you want to swap out the stone fruit for strawberries or another non-stone fruit, you will need to increase the cornstarch in the recipe so that when the fruit releases water during baking it will thicken into a fruit juice/jam to help the bottom of the puff pastry to bake.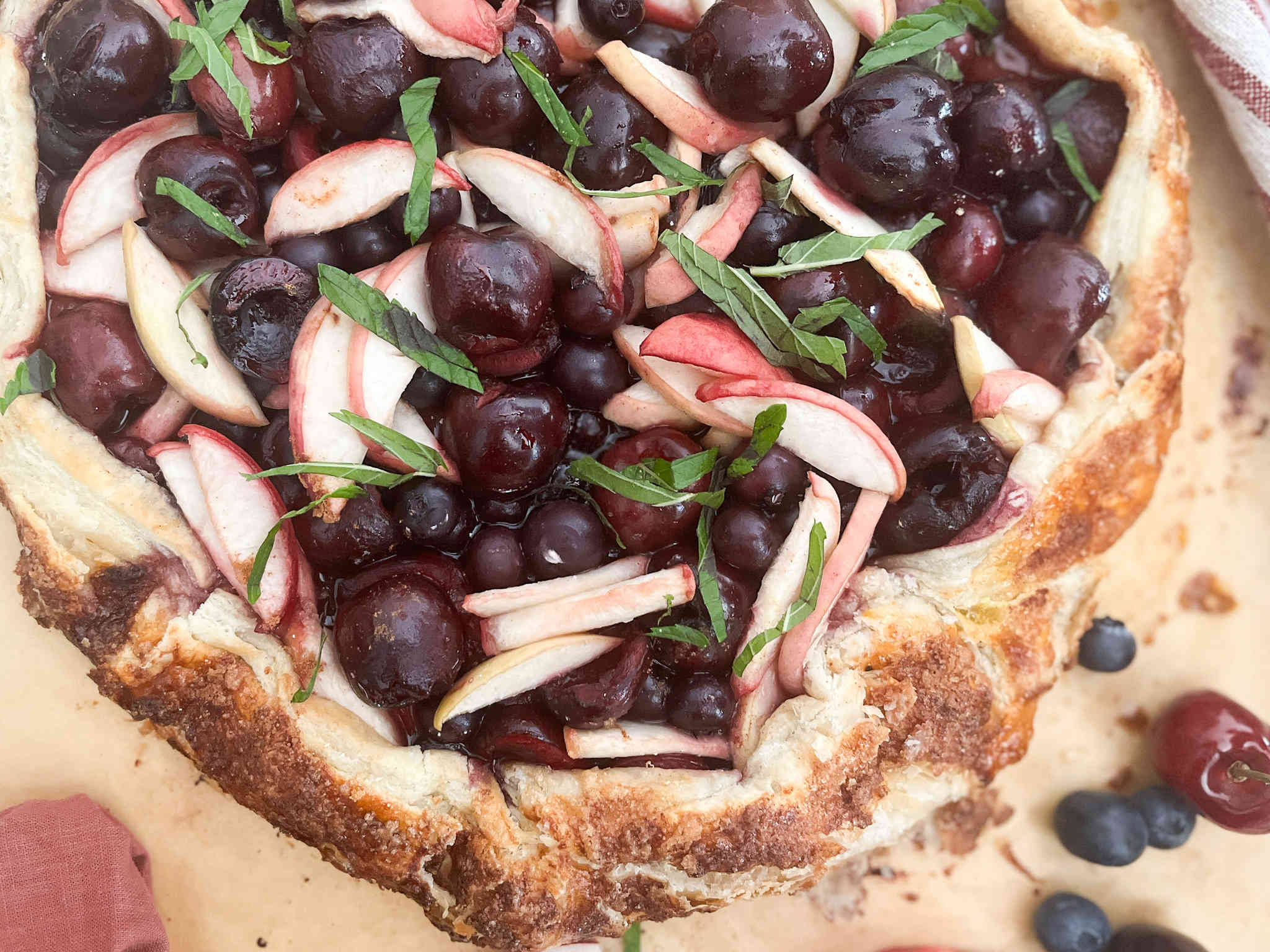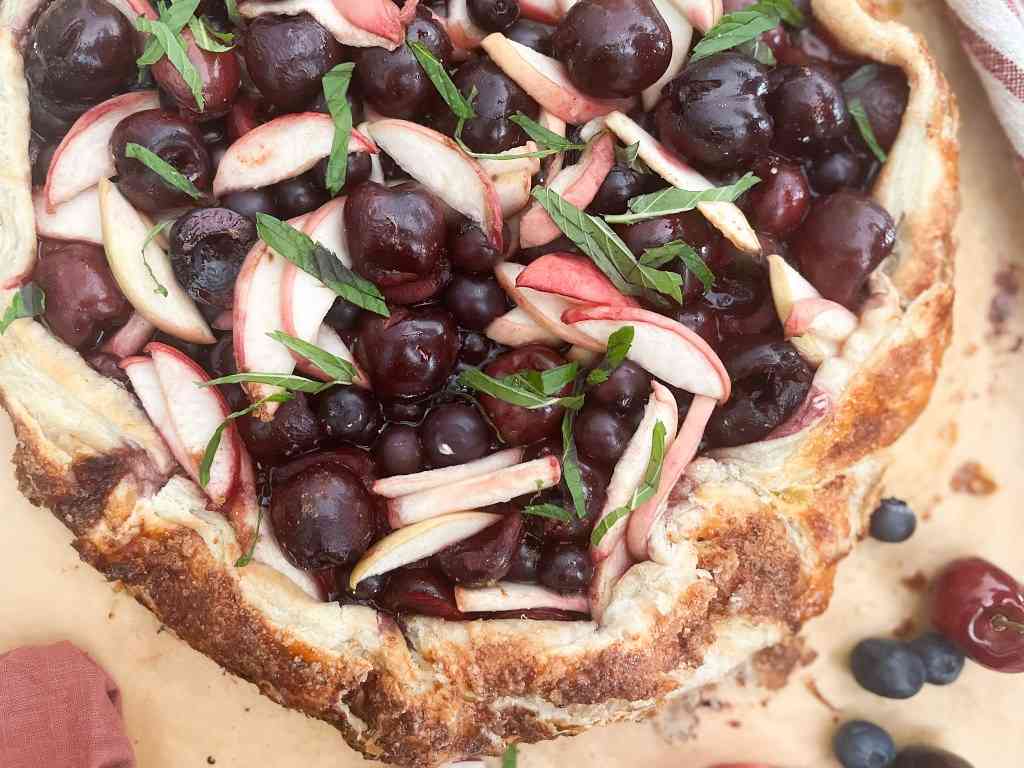 Use Puff Pastry for an Easy Galette
For this galette, I used store-bought puff pastry and skipped making a dough. You can find it in the frozen food section of the grocery store. You will need it to be fully defrosted for this recipe, but keep it chilled in the refrigerator until you need to roll it out.
If you are up for a baking adventure, you can make homemade puff pastry. It's so amazing when it's made homemade but it does take time.
To roll it out, I like to sprinkle the counter with corn meal because it will give the bottom of the galette a little sturdy bite. If you don't have corn meal, you can also use all-purpose flour. Once rolled out, sprinkle the bottom with cinnamon, lemon zest and brown sugar. I took my rolling pin over the dough again to slightly press the ingredients down into the dough.
Galettes are a rustic shape. Roll the puff pastry out into the circle or keep it square. To shape it, use a pizza cutter to trim away the dough you don't need. Make sure the puff pastry is about 1/4 inch thick and there is about a 1 inch border around that will be folded over the fruit filling before baking.

Top with Fresh Mint & Vanilla Ice Cream
Brighten up the baked sweet fruit and warm buttery puff pastry with slivers of fresh mint and cold vanilla ice cream. It's so good. A true crowd pleaser.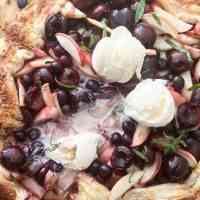 Easy Summer Three-Fruit Galette
Skip the pie, this easy summer three-fruit galette is ideal for any summer holiday or celebration. The red, "white" and blue colors pop making it in theme for Memorial Day, July 4th or Labor Day.
Print
Email
Pin
Rate
Ingredients
2

cups

Cherries - pitted

1 cup sliced in half and I left the other cup whole.

5

Peaches - sliced about 1/4 inch

1

cup

Blueberries

2

tsp

Almond Extract

4

TBSP

Brown Sugar

divided

¼

tsp

Salt

1

TBSP

Cornstarch

3

TBSP

Corn Meal or All Purpose Flour

1

Sheet

Puff Pastry - defrosted but chilled

1

Lemon - zest only

¼

tsp

Cinnamon

1

Egg Yolk

Fresh Mint and Vanilla Ice Cream
Instructions
Preheat the oven to 400F and line a sheet pan (with edges) with parchment paper.

In the bowl add the almond extract, 2 TBSP of brown sugar, salt and cornstarch. Gently toss to combine so that the ingredients are evenly distributed.

Sprinkle the counter with a little corn meal or all purpose flour.

Roll the dough out onto the corn meal sprinkled counter and shape into your preferred galette shape. Trim off the corners for an oval shape.

Add the lemon zest, cinnamon and remainder 2 TBSP of brown sugar. Using your fingers spread it all around to cover the bottom of the dough. You can even use your rolling pin to slightly press it into the puff pastry

Move the dough to the prepared parchment paper.

Dump the galette mixture into the center of the puff pastry.

Fold over the edges. Make sure they are at least 1 inch over the filling. Puff pastry will puff up and move back a little so to make sure the galette keeps a fold over edge, this is important.

Whisk the egg yolk and brush onto the edges of the galette. Sprinkle with a little more brown sugar and cinnamon, just a pinch.

Bake at 4ooF for 20-25 minutes. The puff pastry edge should be golden brown and the fruit baked to perfection.

When you are ready to serve (hot or cold), add fresh mint and ice cream.