My favorite lunch salad, I'm so excited to share it with you. When I say it's my favorite lunch salad, I mean I have loved it forever, I've been making it for a decade plus, it's literally my favorite take to work salad of all times.
It's simple enough to made the morning of, if you're like me I need my lunches to be as-fresh-as-possible. You can prep the ingredients on Sunday and then make an individual salad the night before or the morning of.  Perfect for the office, perfect for work from home.
Why is this Lunch Salad THE FAVORITE?
Inspired by a local salad place on my college campus, adding twisted pasta in with a salad was a game changer for me. After college I realized my little salad place on main street was not the only salad place to do this, as you may have seen in larger salad chain restaurants so although it wasn't a novel idea, it's a good one and worth boiling pasta for – trust me. When the dressing is caught in the pasta twist – it's *chef's kiss* of deliciousness and it really makes the salad my favorite.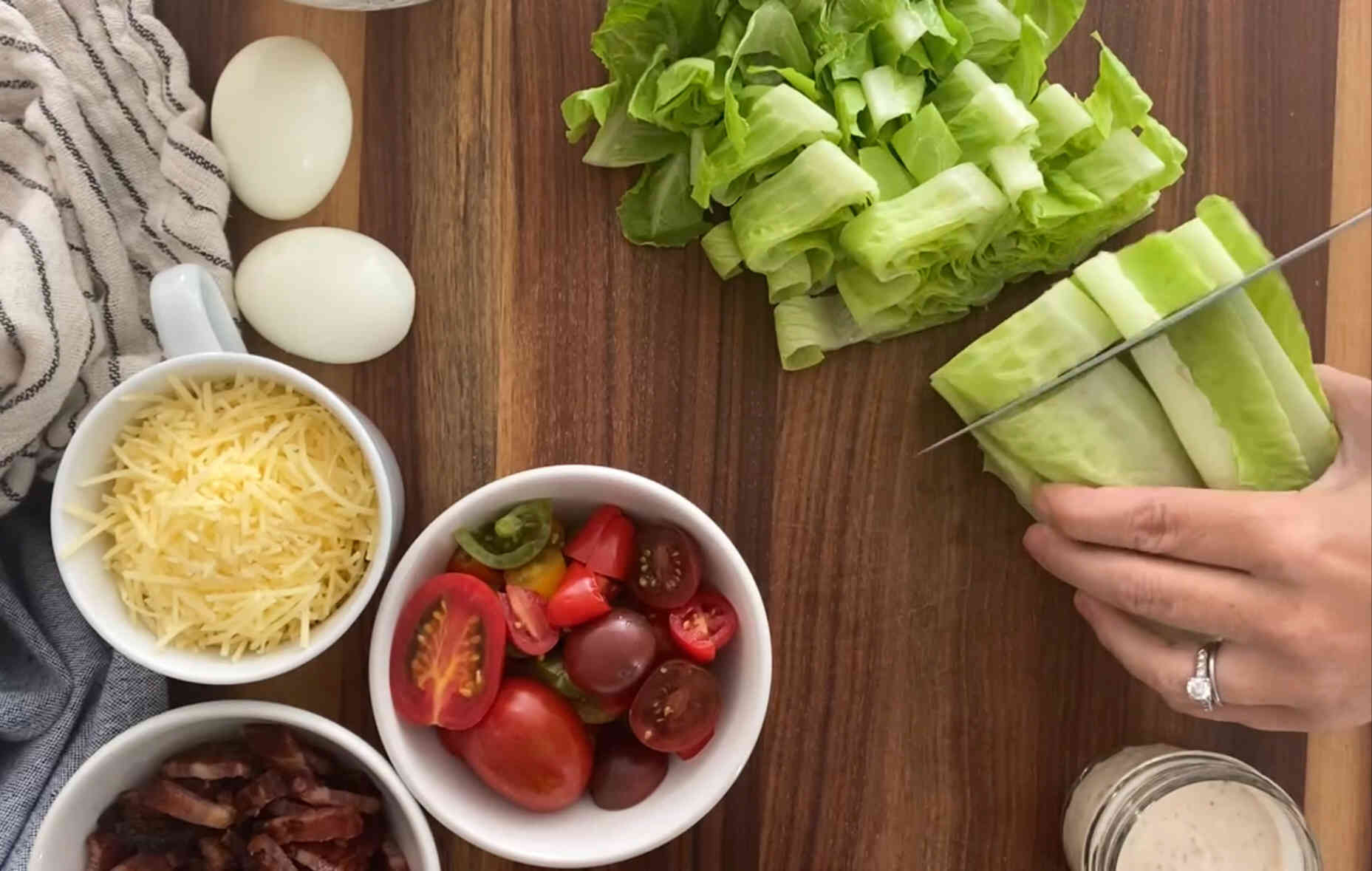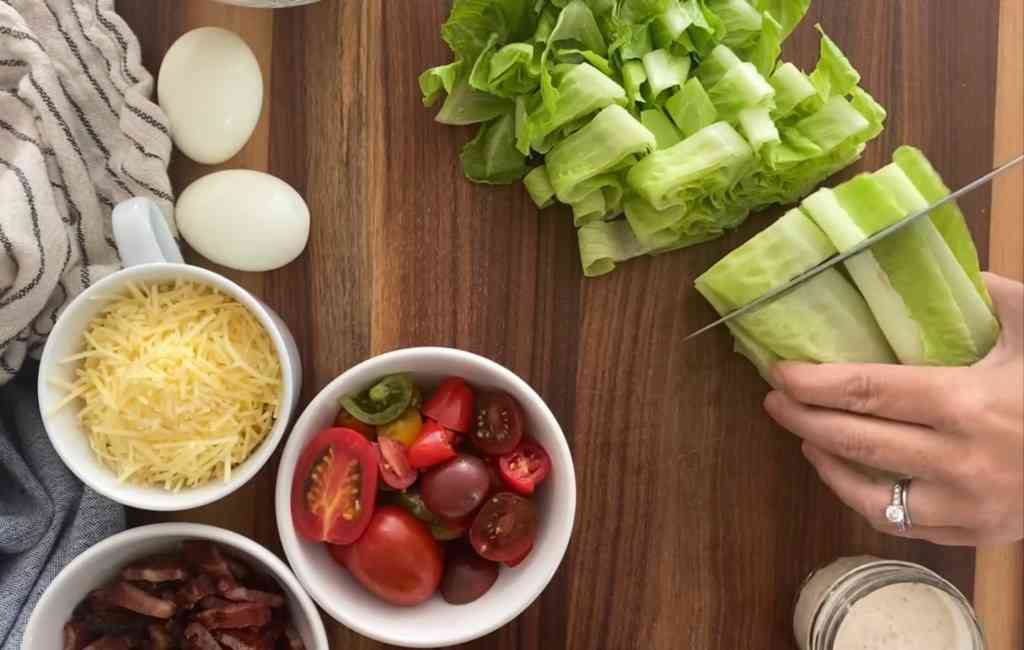 Ingredients and Add-Ins to Make it Perfect for You
You can mix and match, add it all. These are my favorites.
Romaine Lettuce, you can also toss in some baby lettuce and spinach mix but the base should be mostly romaine lettuce for the fresh crunch.
Fusilli or Rotini Pasta, Fusilli is my favorite.
Cherry Tomatoes
Provolone Cheese or Parmesan Cheese
Sunflower Seeds
Cubed Ham, Chicken, or Turkey. You can even ask the deli counter in your grocery store for a thick slice and then cut it into bite size pieces
Chopped Bacon
Salad Dressing, I usually opt for Caesar or Ranch. I love the Marzetti Simple Dressing Brand. (not sponsored, highly recommended after 10 years of it being my go-to)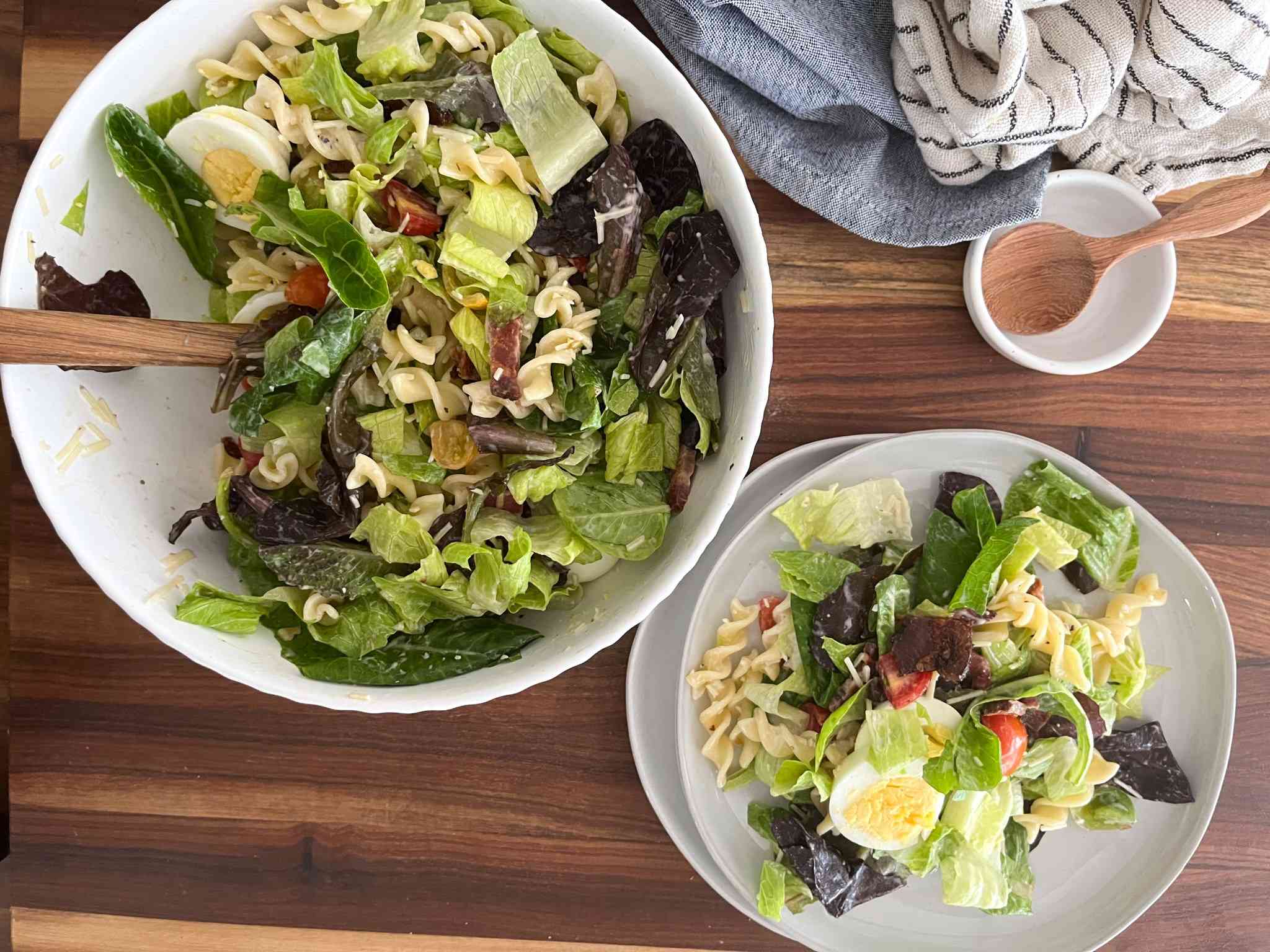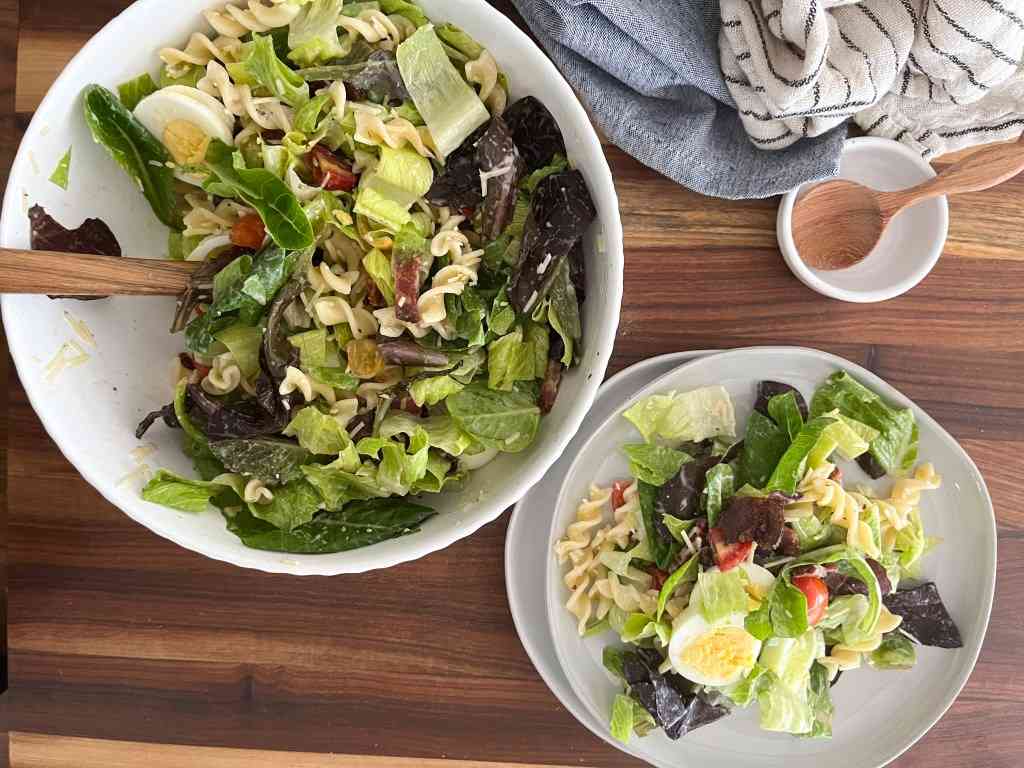 How to Prep Your Lunch Salad Ahead and Make it Easy
I'm a big stickler for freshness, when I make a lunch to take to the office or pack my girls' lunchboxes, I always do it in the morning of. That doesn't mean you can't pack this the night before, because you totally can. More importantly, you can easily prep all of the toppings before the week starts and just grab and make when you're ready.
Before the week starts, I do usually cook the pasta, hard boiled eggs and the bacon. Once the pasta is cooked it will stay good in an air tight food container stored in the refrigerator for the entire week. Hard boiled eggs can be placed in a bowl in the refrigerator for the week. Lastly, once the bacon is cooked, drain it on a paper towel and then chop to store in an air tight container in the refrigerator for the week.
I usually buy the three romaine lettuces in one package from the grocery store and can get one salad serving from one romaine lettuce.  In a bowl, I add the lettuce, a hand-full or two of pasta, and my toppings of choice. Everyday is a little different and you will need to find your favorite mix.
Pro tip: Pack the salad dressing separately and only add when you're ready to eat, it will make the lettuce soggy, losing the crispy fresh bite. I'm a salad dressing lover so I like to pour about 3 tablespoons – 1/4 cup on and mix or shake.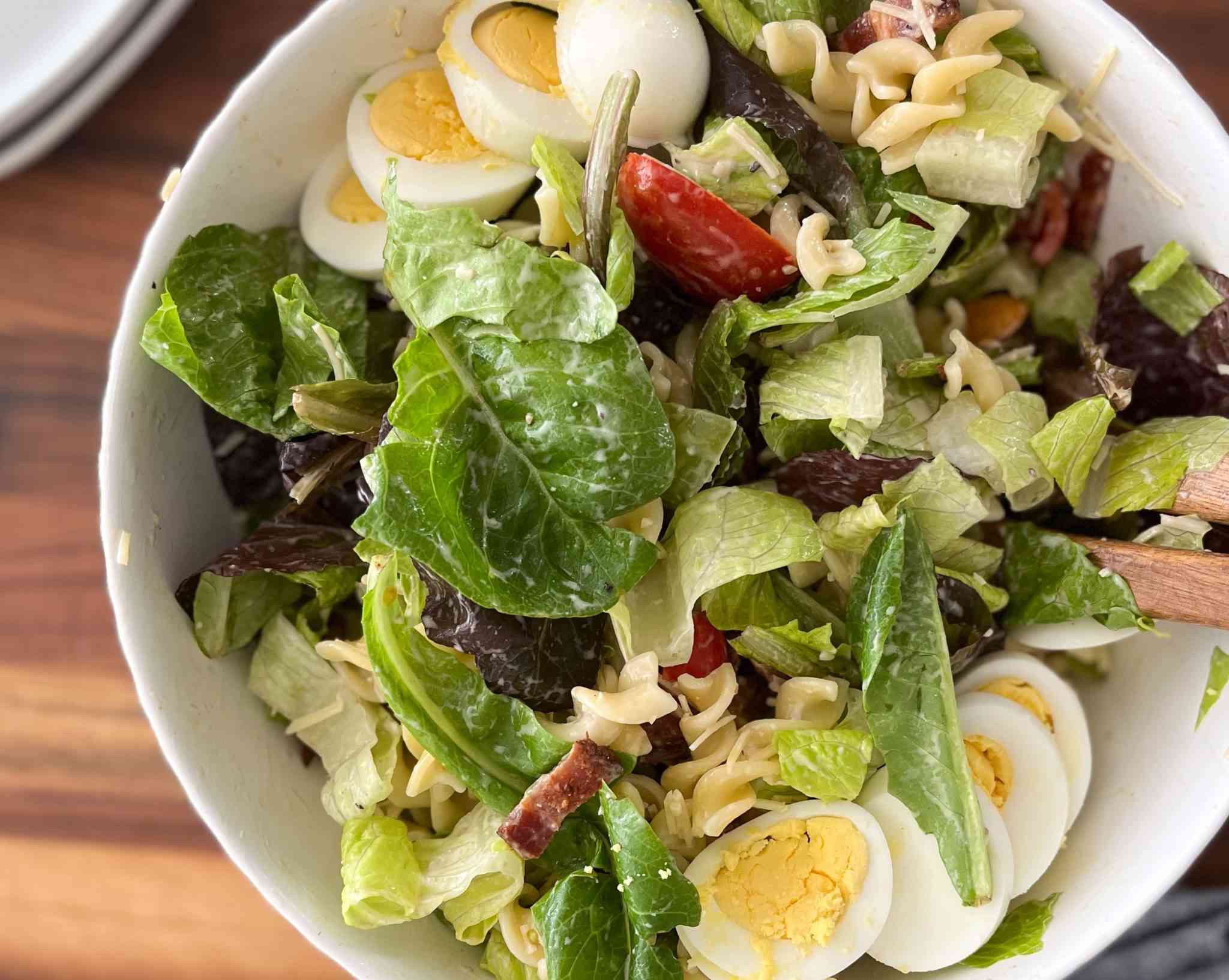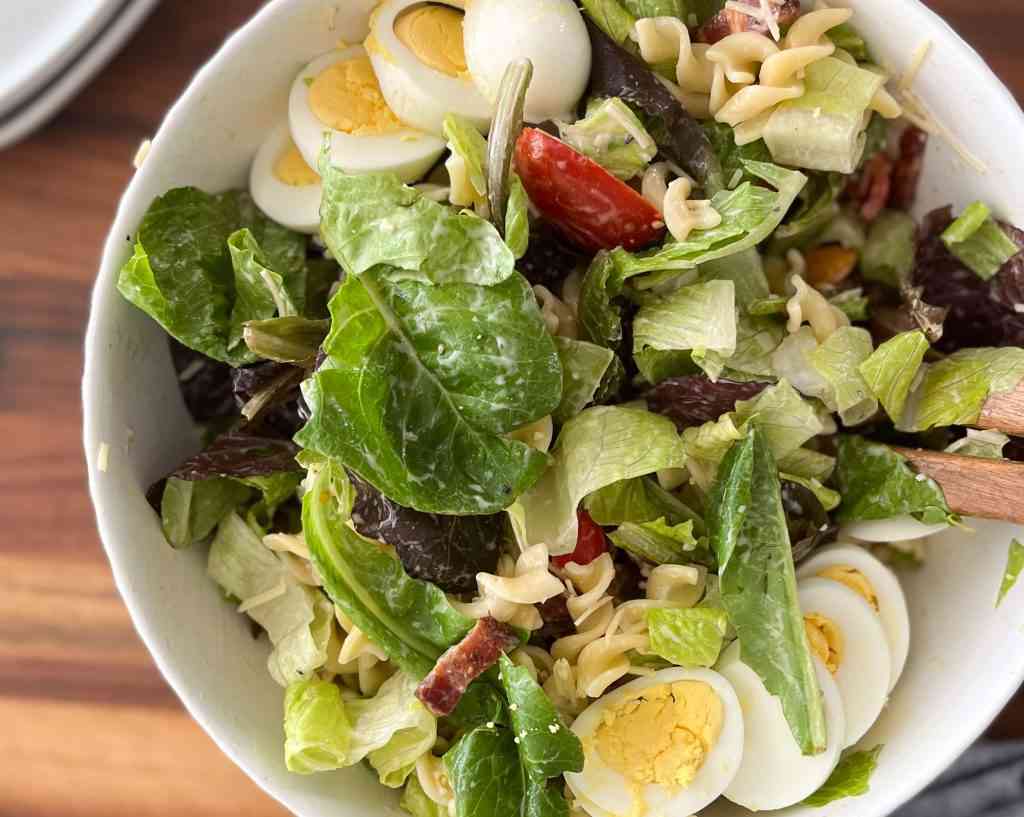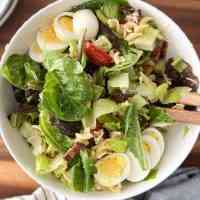 My Favorite Lunch Salad
My favorite lunch salad for over a decade. Easy to make your own, the best part twisty pasta that is tossed.
The recipe below is for one base-salad, feel free to add in any extra toppings. If you want to prep ahead for the week, make to increase the quantities.
Print
Email
Pin
Rate
Ingredients
1

Romaine Lettuce - roughly chopped

1-2

handfuls

Fusilli Pasta - fully cooked

¼

cup

Cheese - chopped provolone or grated Parmesan

½

cup

Halved Cherry Tomatoes

1

TBSP

Chopped Bacon - fully cooked

3

TBSP

Your Favorite Salad Dressing
My Favorite Additional Toppings
Hard Boiled Eggs

Sunflower Seeds

Leftover Chicken - cubed

Deli Turkey or Ham - cubed
Instructions
Chop the romaine lettuce and clean in a salad spinner.

In a large bowl add your chopped lettuce, add the pasta, cheese, cherry tomatoes and bacon. Toss to combine.

Pack up and take to work, store in the refrigerator until lunchtime.

Add your dressing, toss and eat immediately.