My Granny had THE BEST APPLE crisp recipe, and I'm so thankful that I now have it, every time I make it, I'm filled with sweet memories of her. The apple crisp is easy peasy, perfectly sweet and tart, pure comfort.
Granny was a lunch lady at a private Catholic school and made this apple crisp for all of her students for dessert. Those lucky kids (my mom included) had homemade apple crisp – fresh out of the oven for their afternoon treat.
On my wedding day (we were married on what would have been her 110 year-birthday), I lost my hand-sown handkerchief that she made, so this apple crisp and all of the fond memories of visiting her in her little apartment are all I have left. She loved four things; Snuggles, the Downy softener bear, Jeopardy, hand-sewing while watching Jeopardy, and all of her great-grand kids (in an Irish-Catholic family, you can imagine there are many of us).
Granny has been looking over us from above, for over twenty years now – she was definitely watching that one time I made this recipe and I accidentally used salt instead of sugar, I bet she had a great laugh at that one.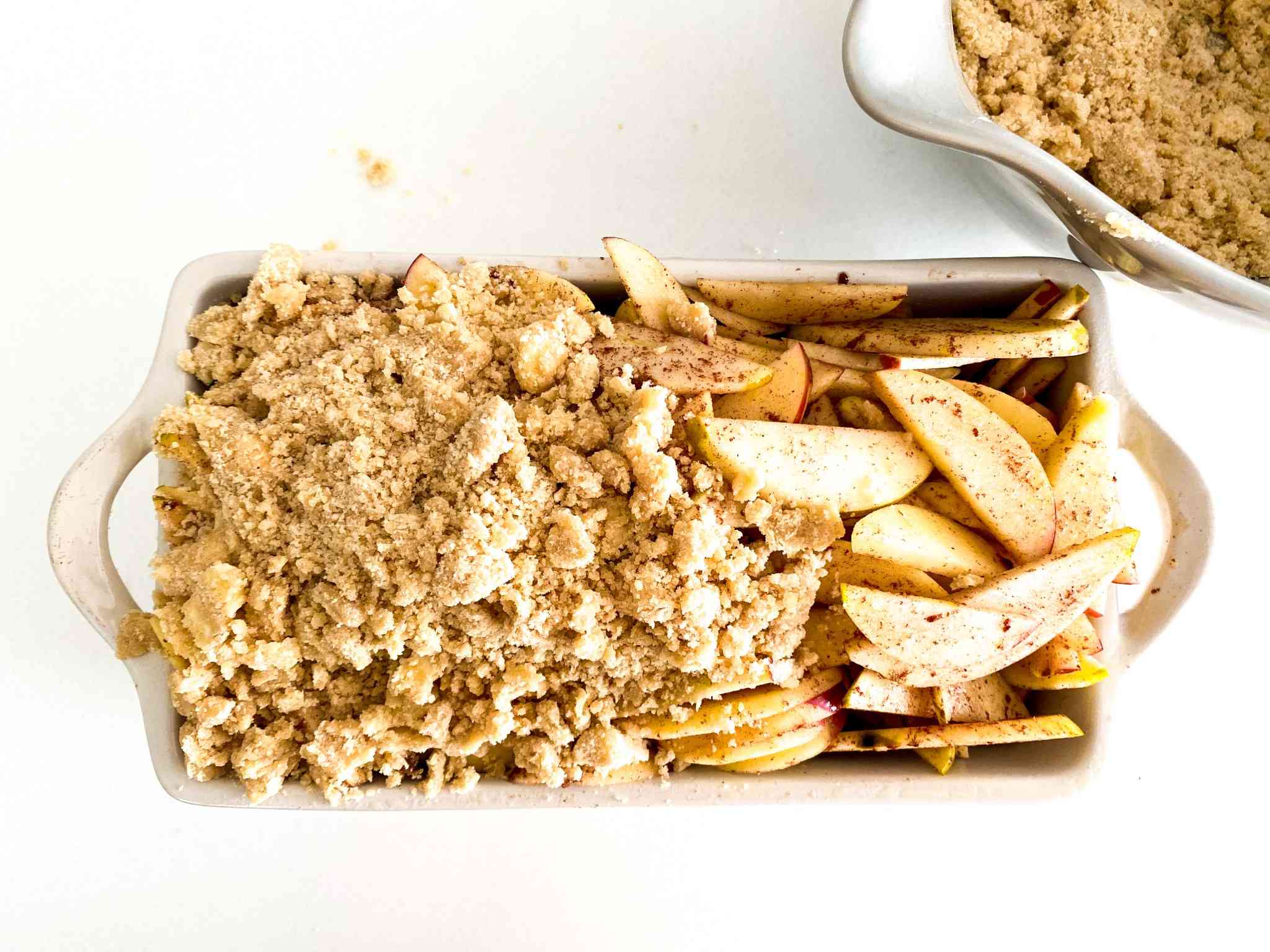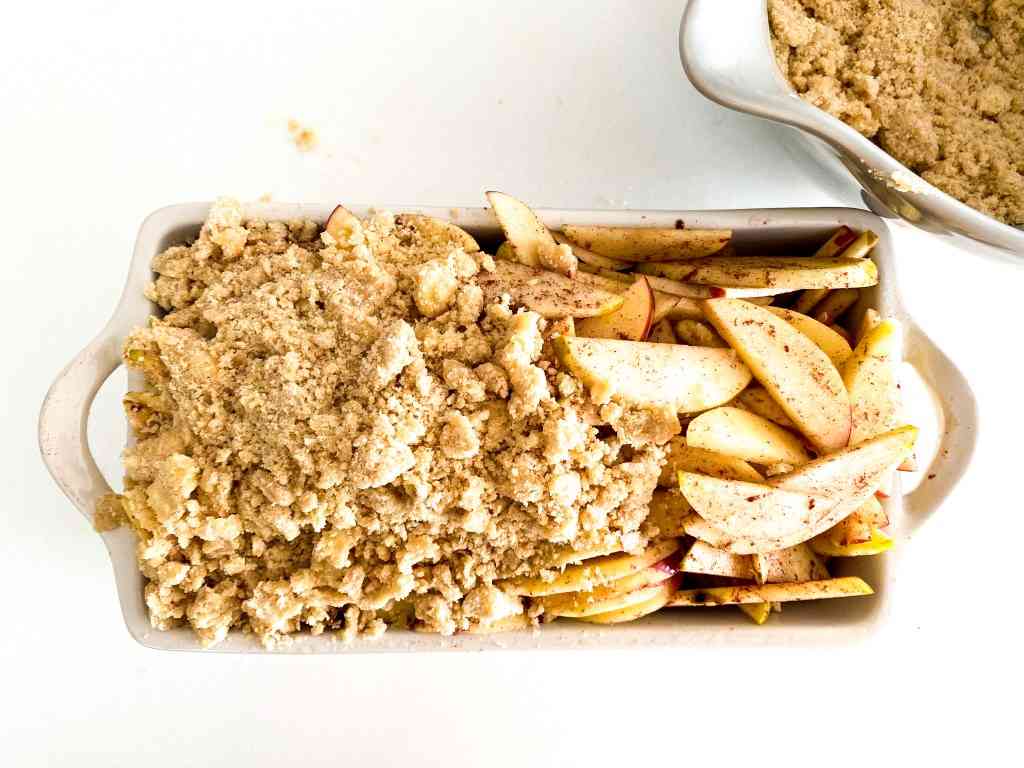 Picking your Apple Crisp Apples
I always like to use a mix – a combination of all the favorites. I tend to lean more sweet and crisp like honeycrisp, gala or fuji. I do like to add in one or two granny smiths to round it all out. A couple of years ago, I made this cheat sheet for apples, I hope it helps.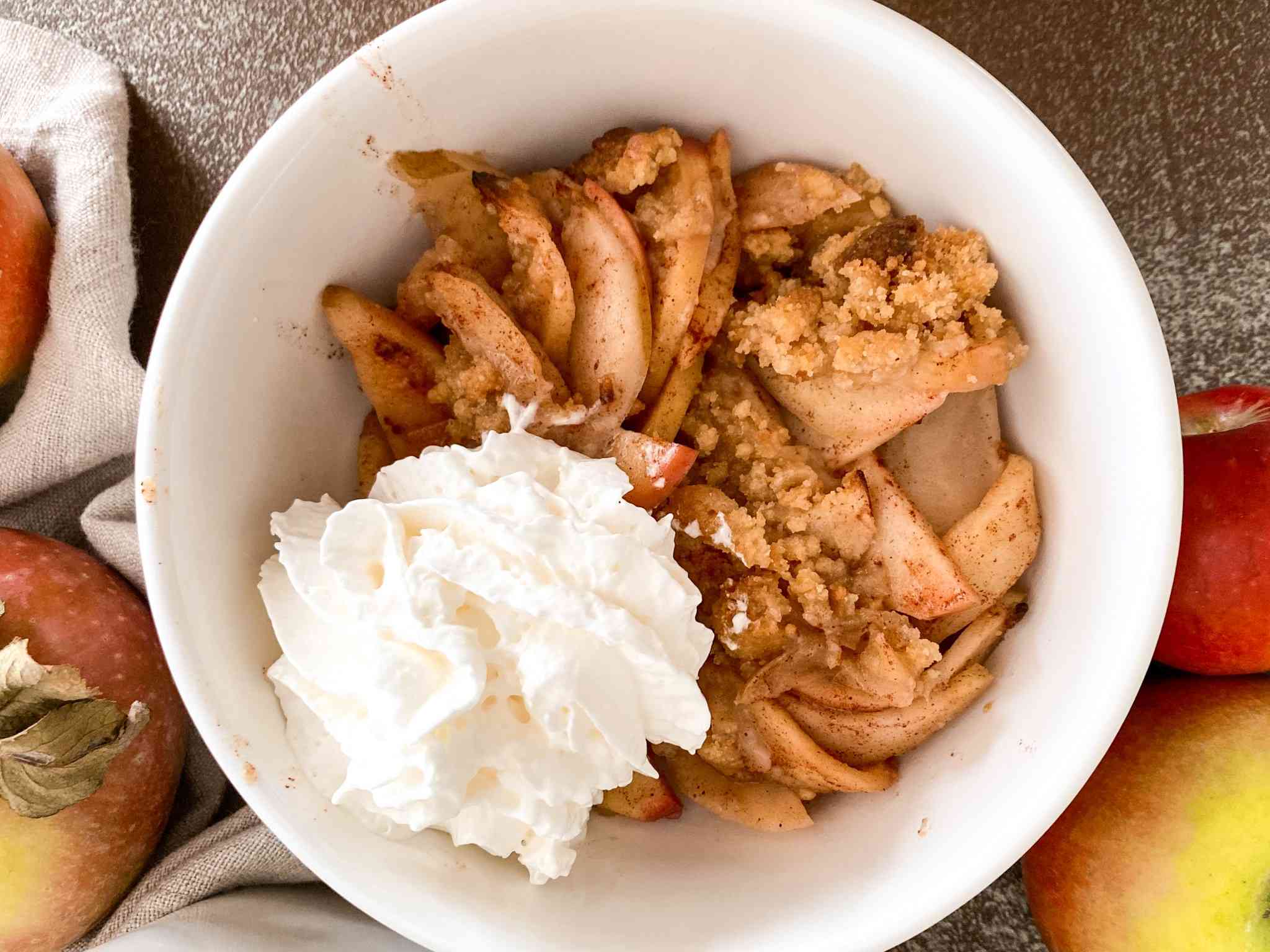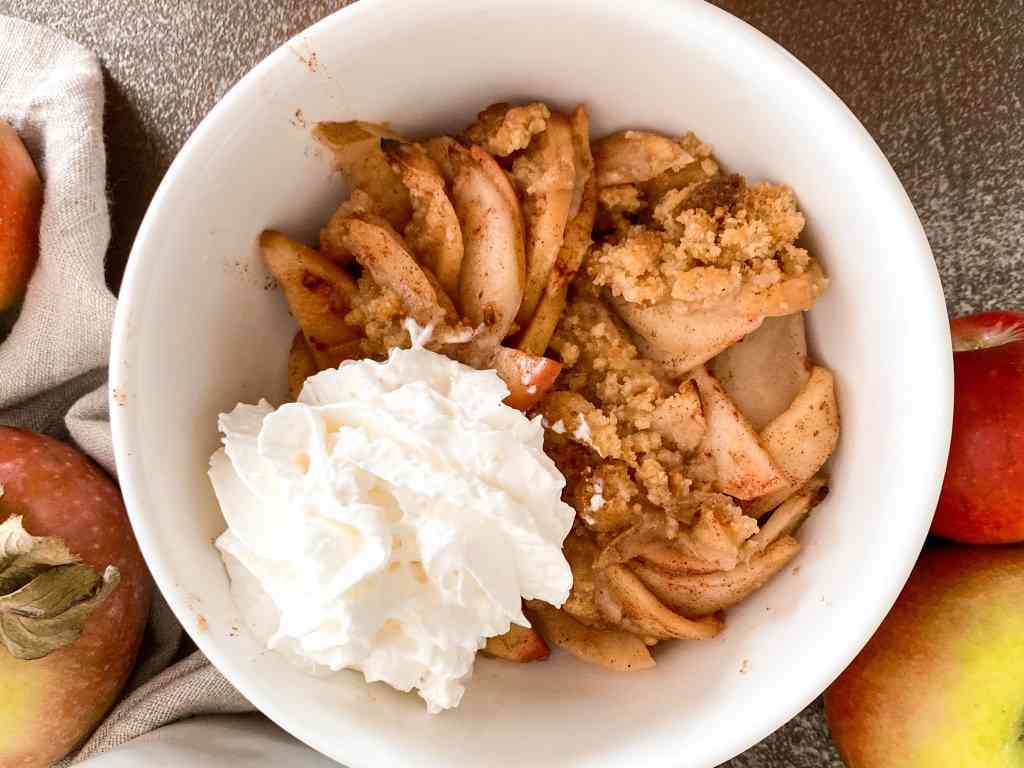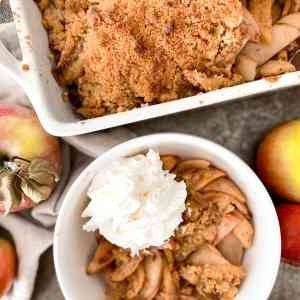 Ingredients
6-8

Apples

2

tsp

Cinnamon

¼

tsp

Nutmeg

¼

tsp

Salt

¼

cup

Water

1

TBSP

Fresh Lemon Juice

1

tsp

Vanilla Extract
Crumble Topping
¾

cup

Flour – knife leveled

½

cup

Brown Sugar – packed

6

TBSP

Cold Butter
Instructions
Preheat the oven to 350F and spray a 9×5 Loaf Pan with cooking spray – set aside.

In a large bowl, toss your apples with cinnamon, nutmeg, salt, water, freshly squeezed lemon juice, and the vanilla extract until everything is evenly covered.

Set aside.

In a small bowl for the crumble topping, first cut the cold butter into smaller cubes – this makes it easier to break it up. Combine the flour, brown sugar and butter, using your fingers or a fork, break up the butter and combine until evenly distributed – it should be a soft crumble texture.

Add your apple mixture to your loaf pan. Top with the crumble topping. Pile it high, as the apples cook, they will settle down.

Place loaf pan on a baking sheet (for easier carrying and for it to be steady and level on the oven rack. Place in your preheated oven for 40 minutes, until your apples are fork tender. Instead of putting an actual fork through the apple crisp I suggest a tooth pick. If the apple seems soft enough (the tooth pick easily goes through) then it's done!

Take it out and let it cool down.
Yay! Apple crisp! You can service this warm with, whipped cream, ice cream, or this easy homemade caramel sauce, or enjoy all on it's own.