This easy pie crust is as close to fool-proof as crust can be. If you're looking for a homemade crust recipe that is as easy as going to the store this is it!
I made five batches of pie crust the other day, it's easy to freeze and use later (more on that at the end). Pro tip – for one them I added in lemon zest because I anticipated a pot pie in my future and the lemon zest will add a little something-something extra. If I've sparked your interest, this optional added deliciousness is added in the recipe below.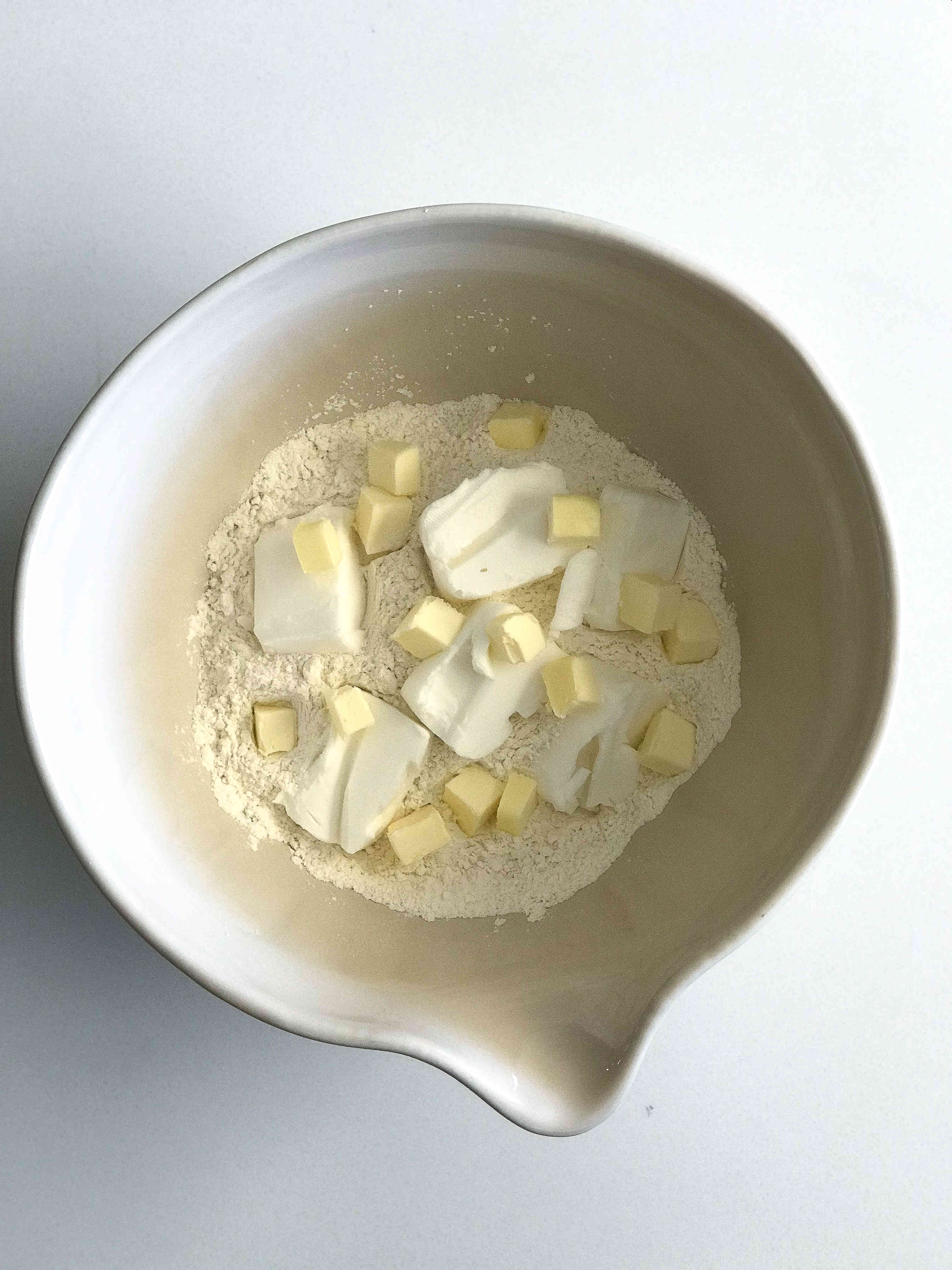 Keep your Easy Pie Crust Ingredients Cold!
This is the key to a flakey buttery crust. You want to keep your ingredients cold so that the shortening and butter do not become homogenous with the dough, the goal is to see chunks of both when you roll it out (see picture above) these will create the flakiness as the crust bakes in the oven.
If your kitchen gets warm like mine, I keep the oven off while I make pie crust. I also measure out all of the ingredients and then keep them in the refrigerator, pulling out only what I need as I work through the recipe. 
In the recipe there is a step for chilling your dough. This step is super important, it allows the ingredients to get cold again allowing your shortening and butter to set back up to prevent instant melting when it goes into the oven. Science has proven that the cold ingredients will create the best flakey crust.


Tips to rolling out your easy pie crust successfully!
Chilling also makes it easier to roll out. If your dough is too cold or too warm, rolling it out will become difficult. It's easiest to take your dough out of the refrigerator, let it rest on the counter while you grab your rolling pin and pie pan and then start to roll. If the dough is too cold it will break apart, that's okay just wait a few more minutes and try again. If the dough is too warm it will stick to your rolling pin and be hard to get a smooth even crust, if you run into this problem, pop it back into the refrigerator to chill longer.
I've discovered a few tricks along the way that will hopefully help you too!

Make sure you have flour handy, a piece of parchment paper, your rolling pin, pie plate and patience 🙂
Step 1: Sprinkle flour on the parchment paper and place your dough disk in the center.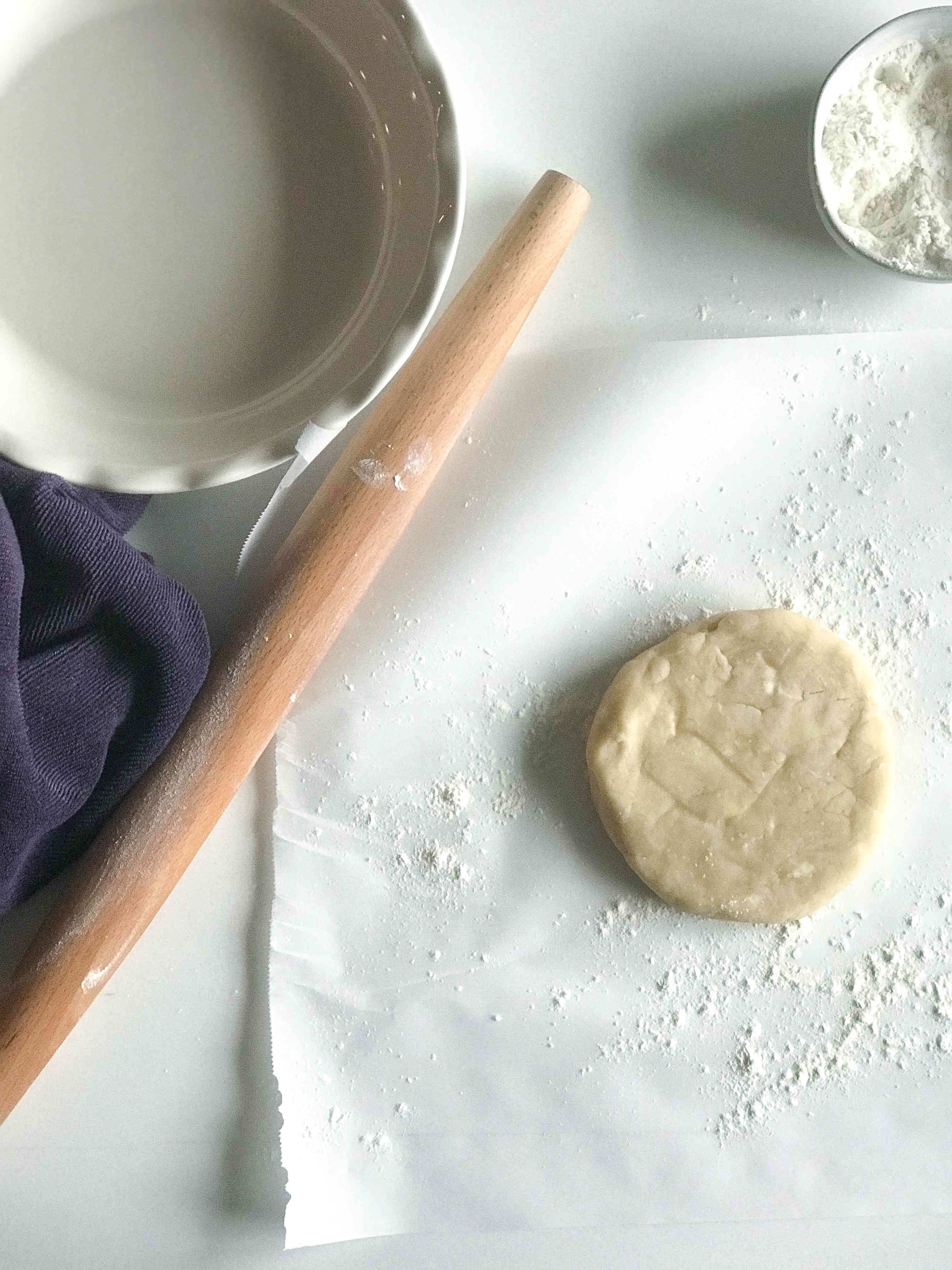 Step 2: Sprinkle flour on top of the dough. Using your rolling pin start in the center.With medium pressure, press down as you roll from one end to the other. You want to try to keep the same pressure on the rolling pin during the entire roll so that the dough stays even in thickness as you roll it out back and forth.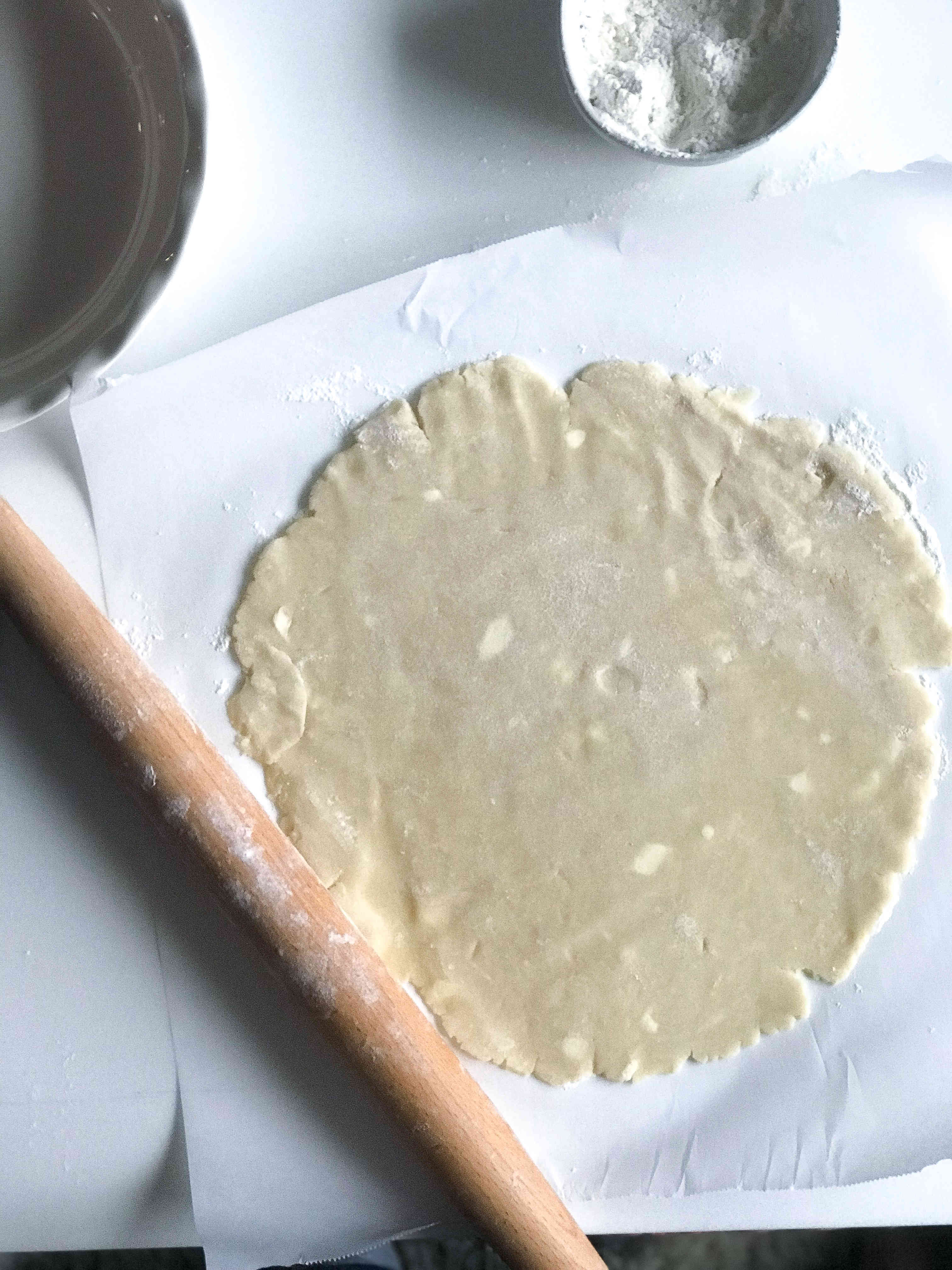 Don't forget to stop (quickly) to admire your butter pieces. Woohoo! 
Step 3: Measure. Once you think you're done rolling, test it out. Place your pie pan over the dough top down to make sure you rolled your dough out enough to fit inside of the pan.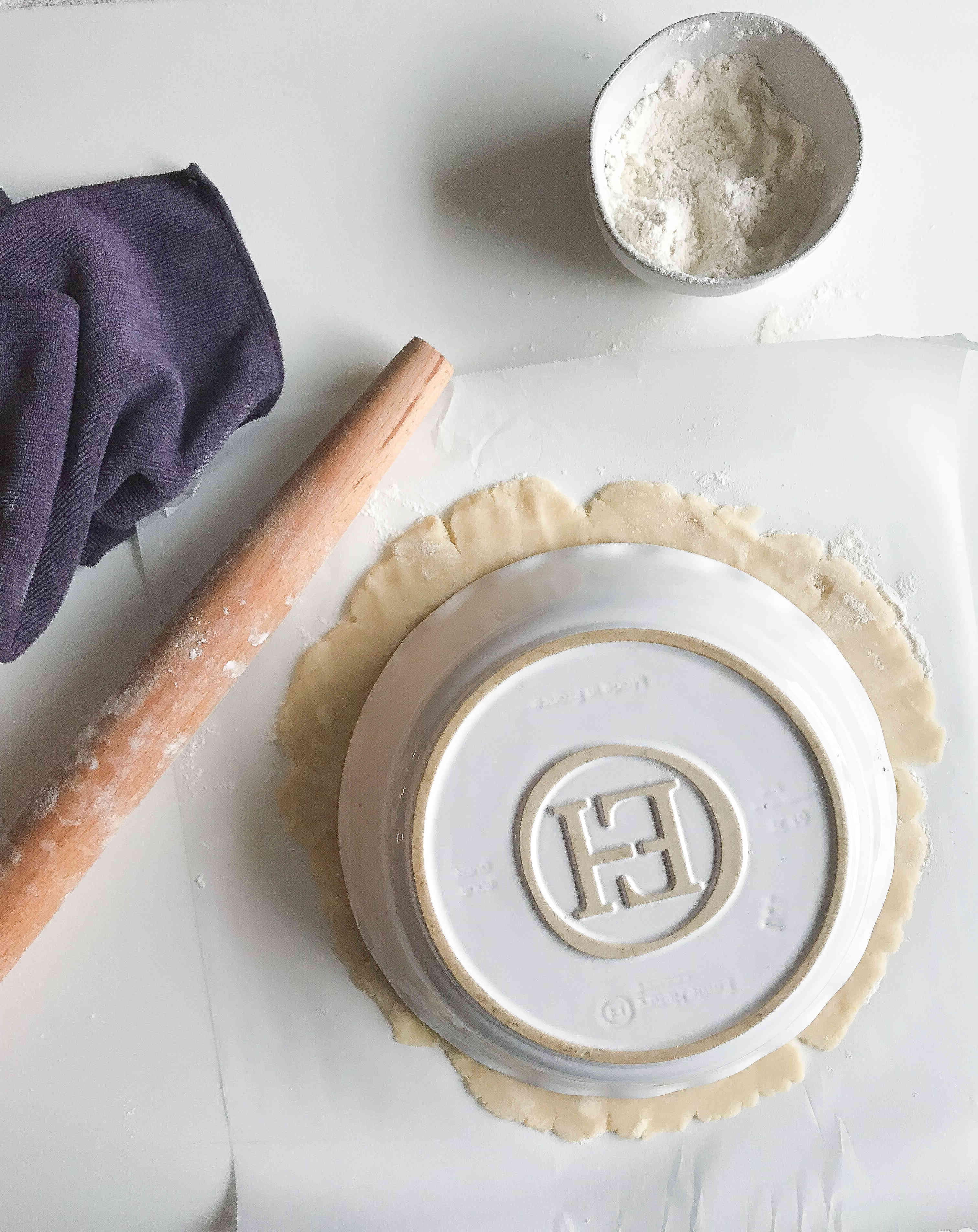 Step 4: Once you know it will fit, you will want to put the dough in your pie pan. This is an easy-fool-proof way. With your pie pan upside down on your dough (like the picture above), pull your parchment paper off the edge of your counter slowly and with your other hand underneath the parchment paper so that you can turn it upside right to look like this: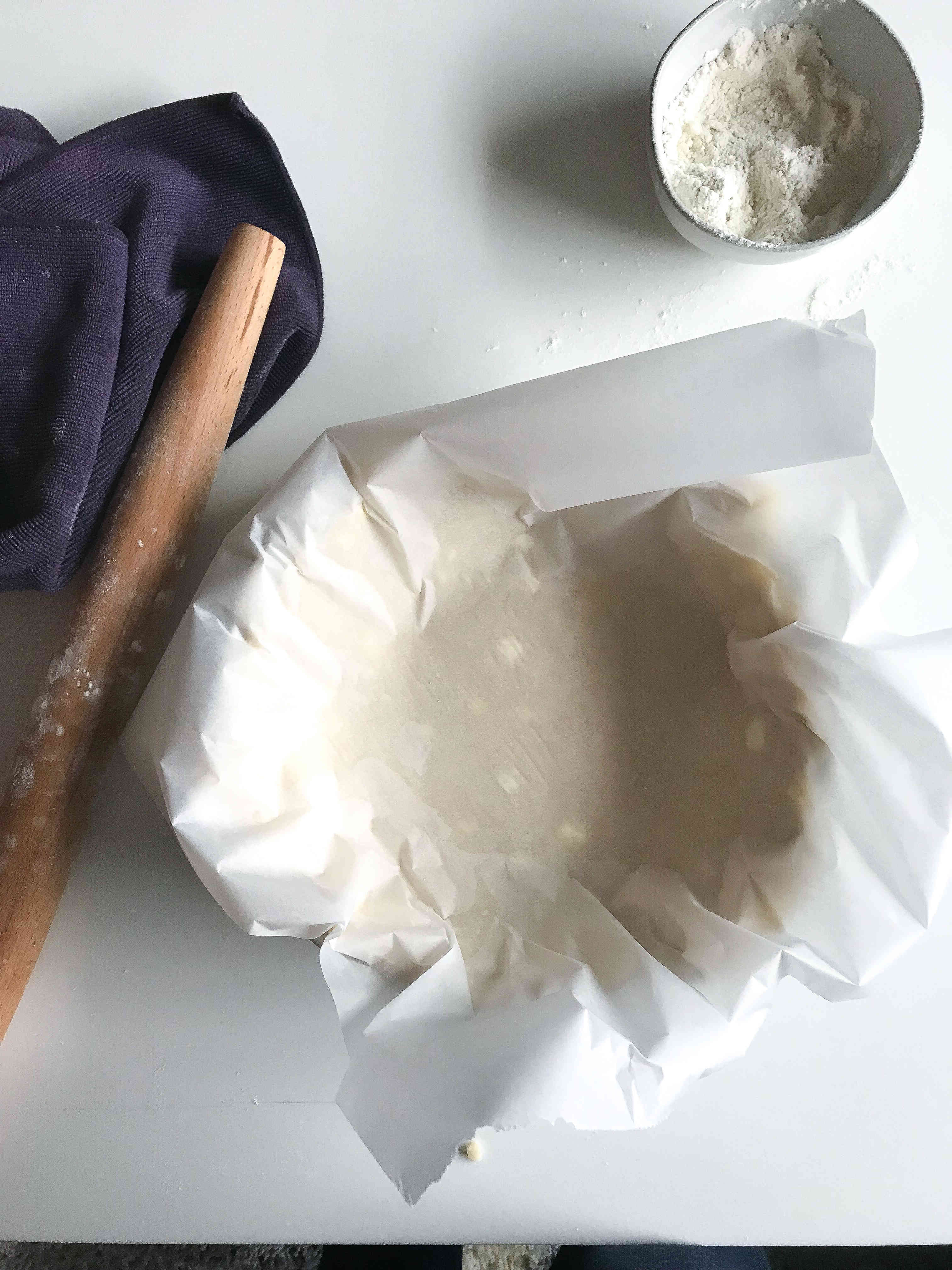 Step 5: Slowly pull the parchment paper off your dough. You may pull a piece of the dough off but don't get discouraged, just press it back down and slowly peel the the parchment paper away from your dough. Remember, any holes in the dough is be patched up (and no one will see it because it's on the bottom of the pie).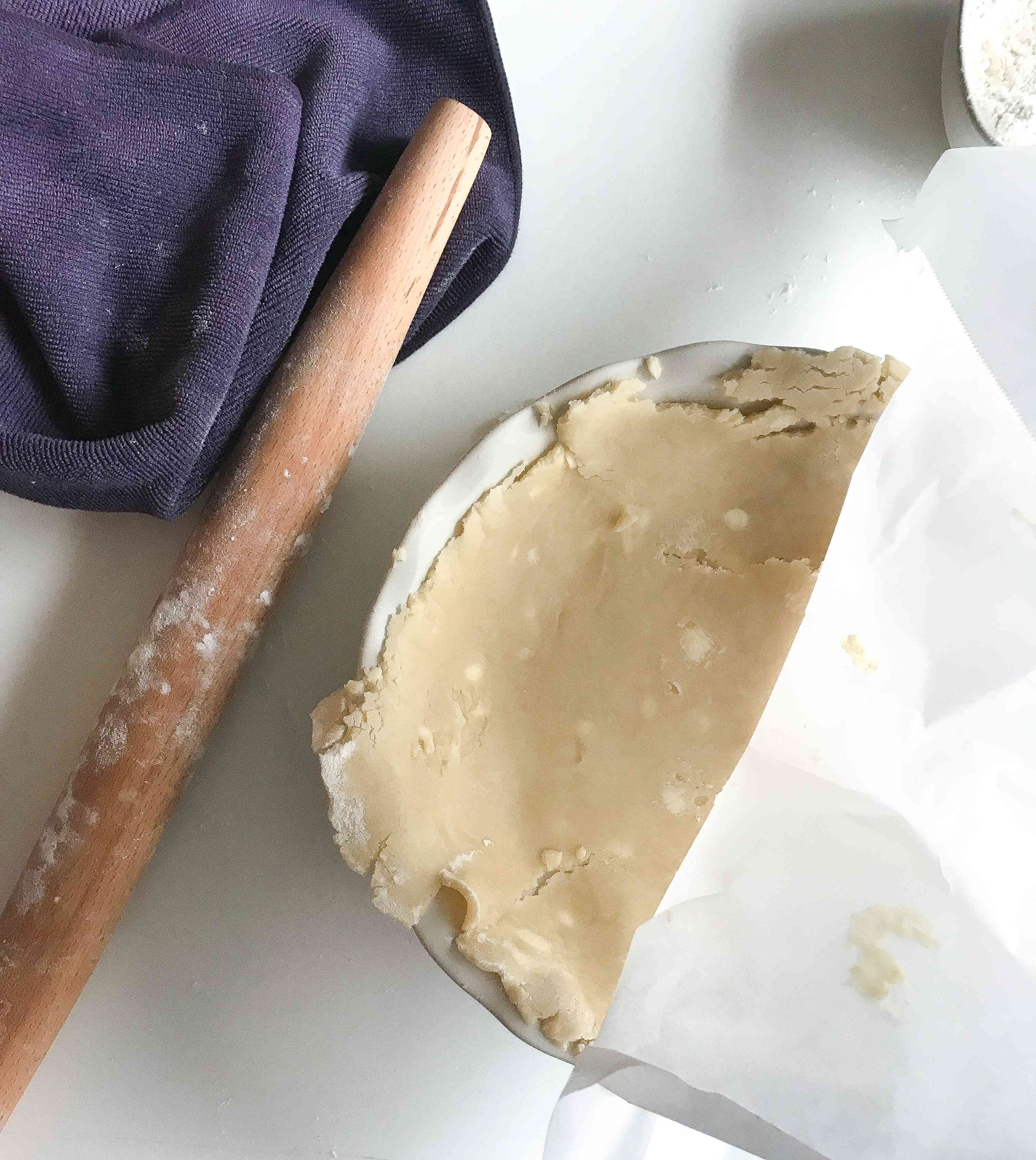 Step 6: Dust your hand with flour and repair any crust holes, piece together crust that may have been separated during the transition.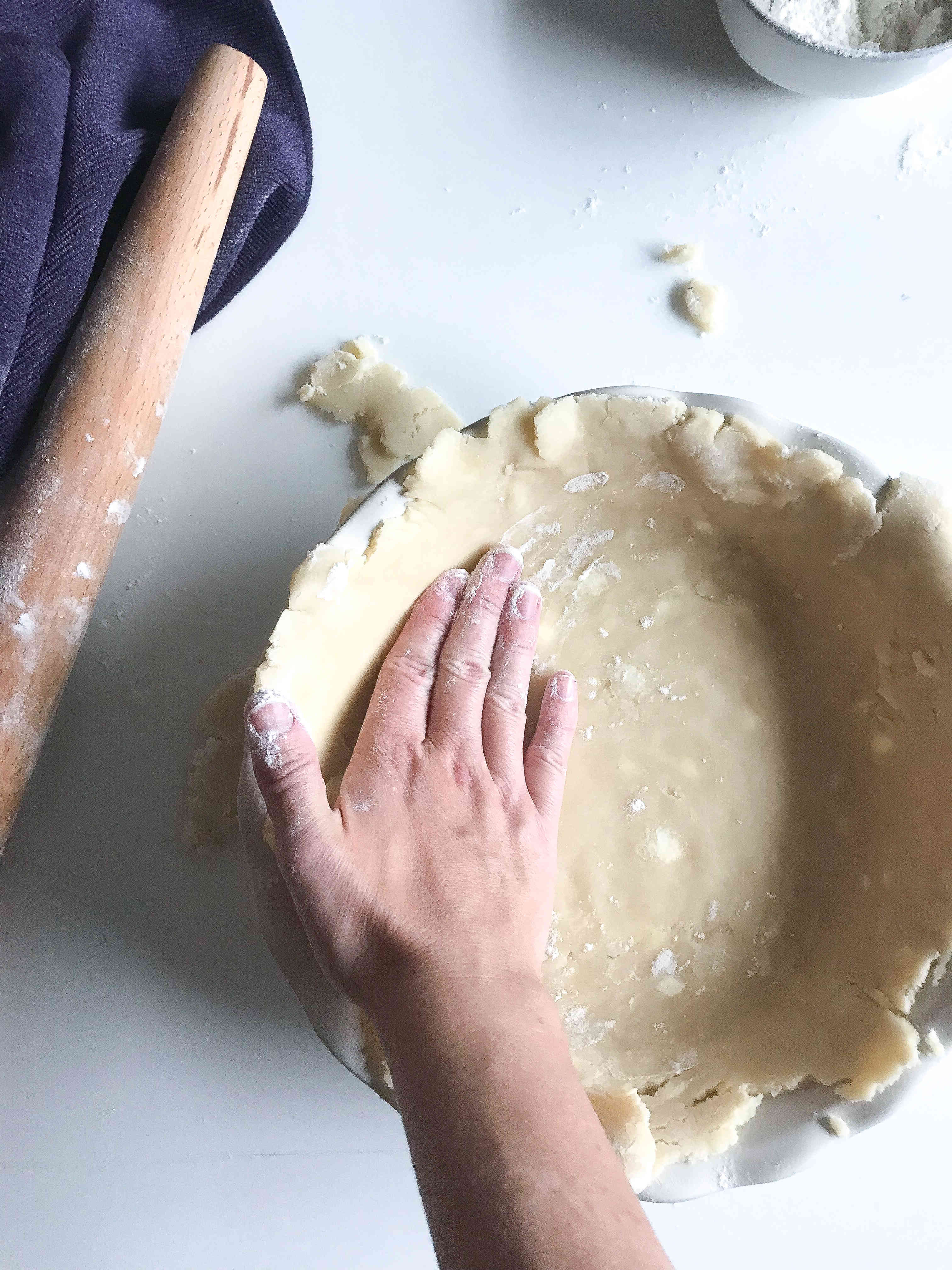 Step 7: The most important part if you ask me – step back and admire your hard work!!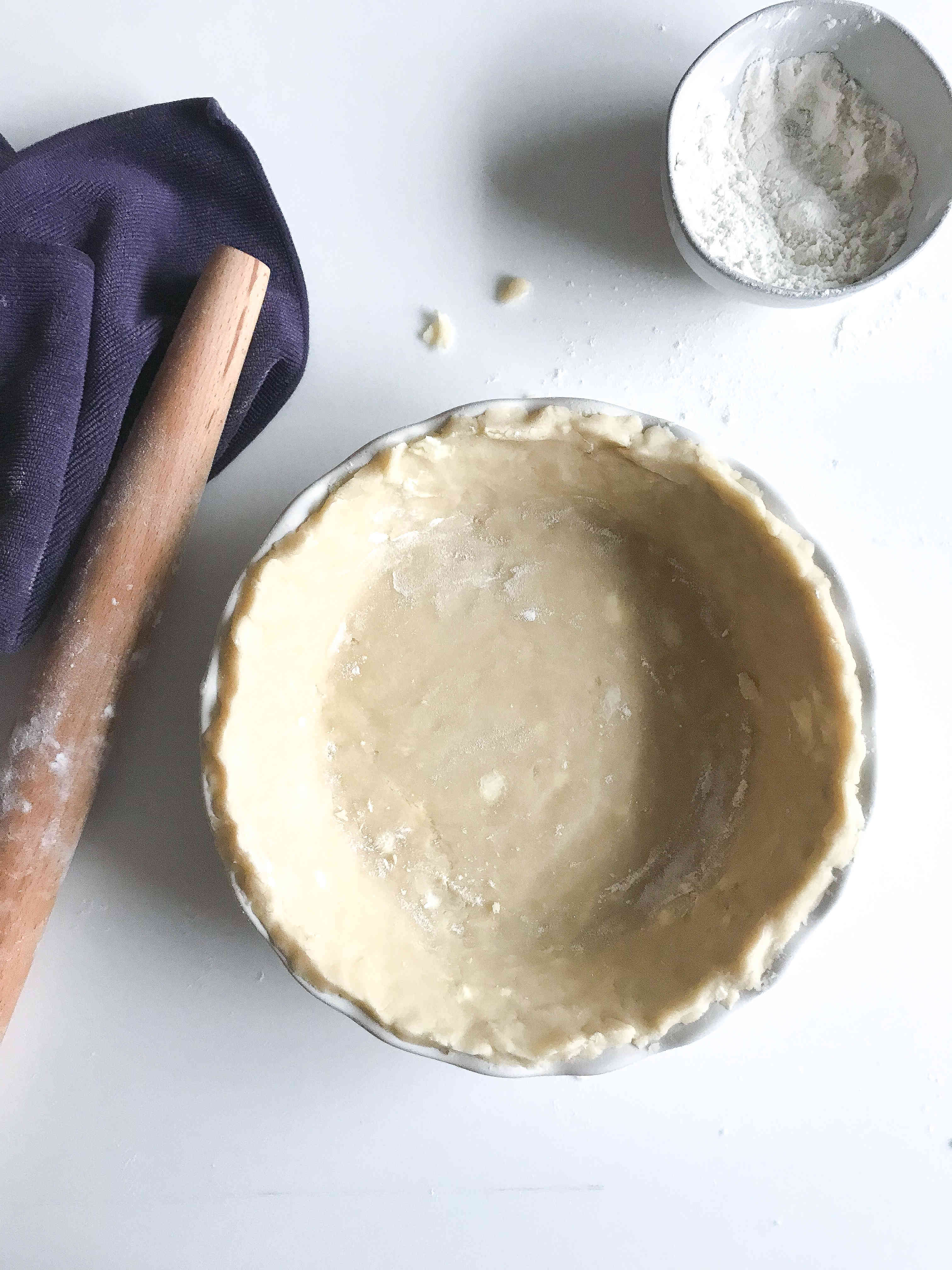 Pro tip – I usually put the crust back in the refrigerator for one last blast of cold (about 10 minutes). You can also do all of these steps ahead of time and bake it the next day. If you do that, just loosely cover the crust with a little piece of parchment paper and foil, then remove, fill with your pie filling and bake.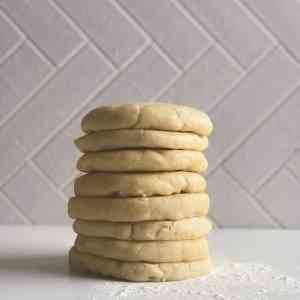 Easy Pie Crust
[ratings]
Time estimate does not include rolling out or baking. You can make this 2 days ahead of time without freezing or freeze for longer.
Print
Email
Pin
Rate
Ingredients
2 ½

cups

All Purpose Flour

½

tsp

Salt

1

cup

COLD Shortening 

3

TBSP

COLD Butter

¼

cup

COLD Whole Milk

1

Lemon Zested

(optional)
Pies!
Turkey Pot Pie
Simple Apple Pie
Pecan Pie
Salted Caramel Pumpkin Pie