Spring time is in full force and summer is right around the corner, this salad topped with grilled salmon is the ultimate feel good big-bowl dinner salad that is light, healthy, vibrant and will give you a little pep in your step. It's definitely a meal that fills you up but also leaves you room for a gooey backyard campfire s'more.
With quinoa and salmon you are guaranteed a gold star for a healthy dinner.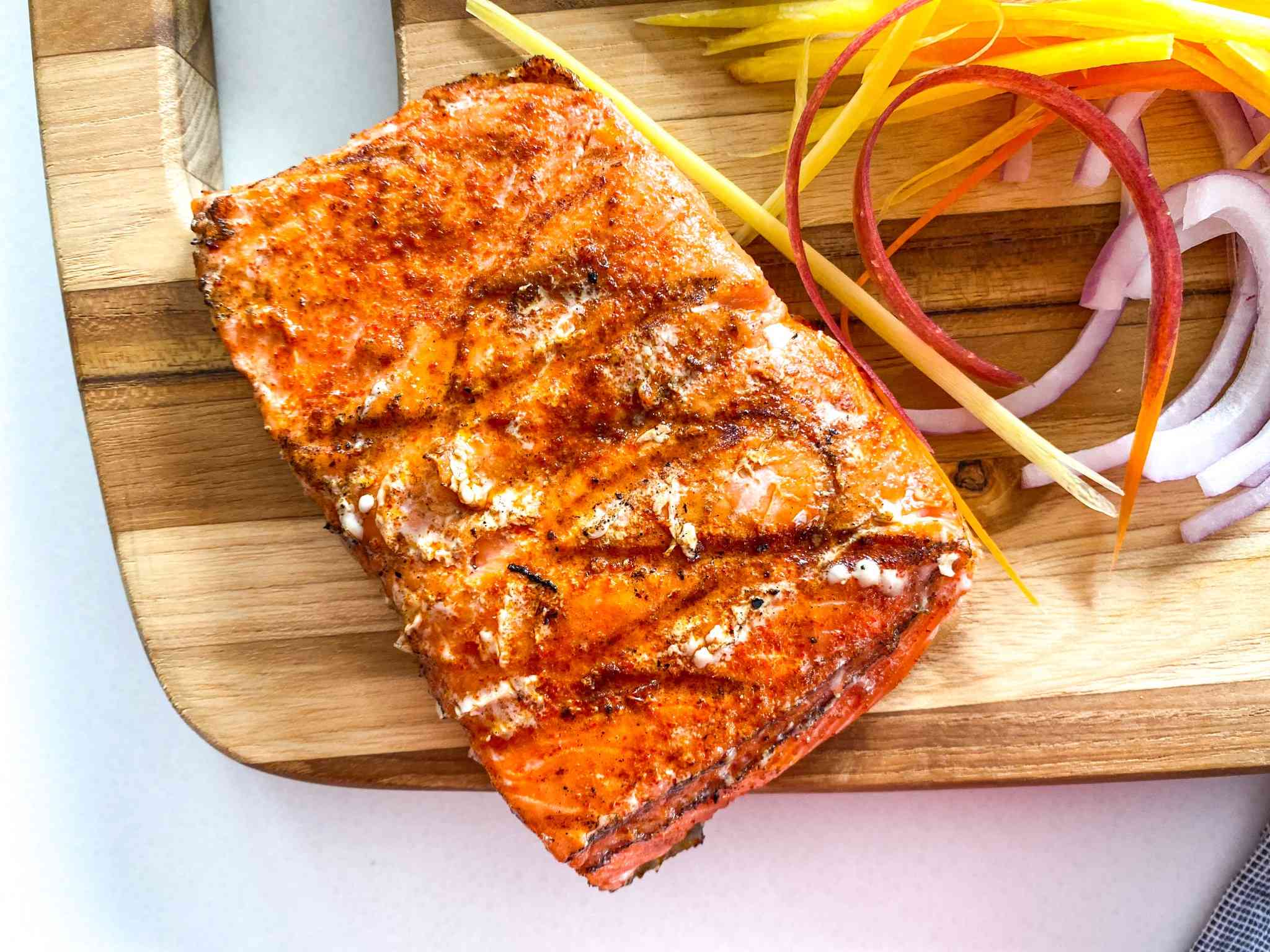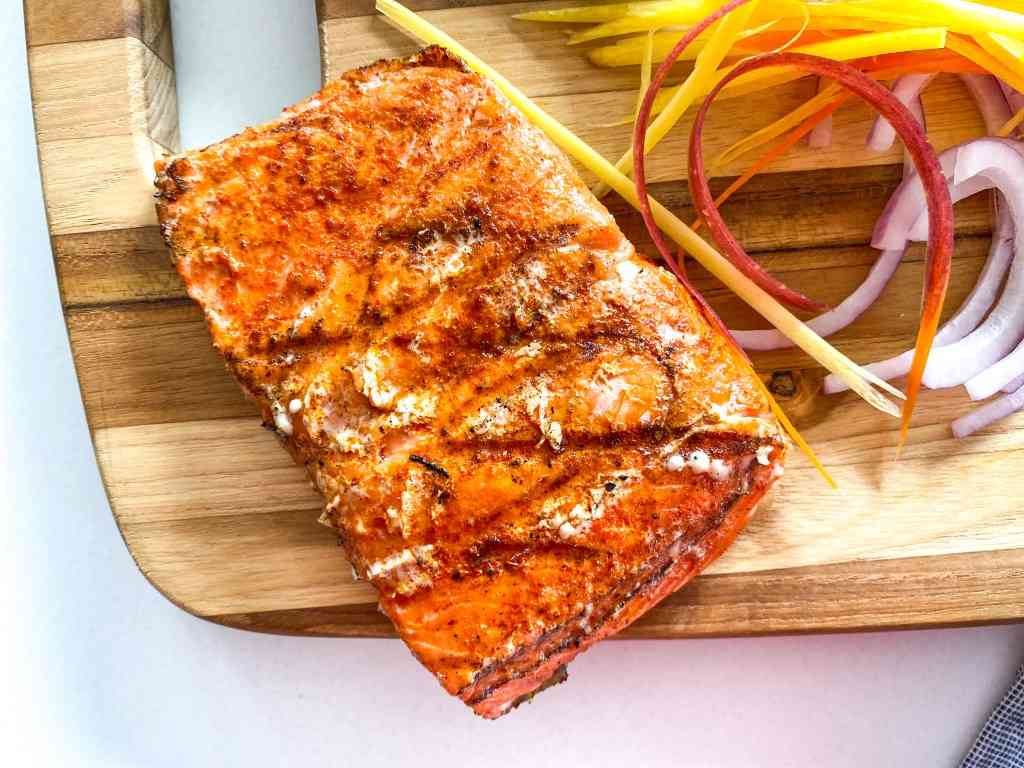 Grilling Salmon
Salmon comes with so many healthy benefits – if you are interested, here is a list of 11 top benefits from Healthline. It also is super versatile – always delicious no matter what seasoning you use. Here we use a simple olive oil, salt and a dash of cayenne pepper which pairs well with the lemon quinoa.
Grilling salmon can be intimidating, but I promise you once you try, you will want to add it to your weekly dinner rotation. It's quick and keeps the kitchen clean (and cool). Plus grilling always adds a relaxed vacation feeling to the night, right?
Prepare your salmon – keep the skin on (!!), and then fire up your grill so that it's medium-high in temperature. Place your salmon "presentation side" down so that it gets the cleanest looking grill marks. Keep it faced-down for about 3-5 minutes until you see it start to turn color up the side. Then carefully flip your salmon over so that it's skin-side down on the heat, you can now finish cooking your salmon without worrying about burning – the skin will be removed before serving so it can take the heat longer without jeopardizing the fish. Take the salmon off the grill and let it cool, peel off the skin and then it's ready to serve. The perfect part of this salad is that you can serve it hot or cold, I serve it cold but it's totally up to you and your time.
Wild Caught v. Farm Raised
I used Alaskan Wild Caught Sockeye Salmon fillets that I bought at Target. These to be precise (not an ad or paid link – I would say Target doesn't even know I'm alive, but I'm sure I have red carpet status, I can't leave that place without a full cart of impulse buys).
I'm not going to preach to you about which one is better because there are pros and cons to both options and the internet has a lot of opinions. In culinary school, we learned that wild caught salmon is cleaner, sustainable and more environmentally friendly. As you will see from my photos – wild caught salmon has a deeper red-pink hue that is not photo editing :).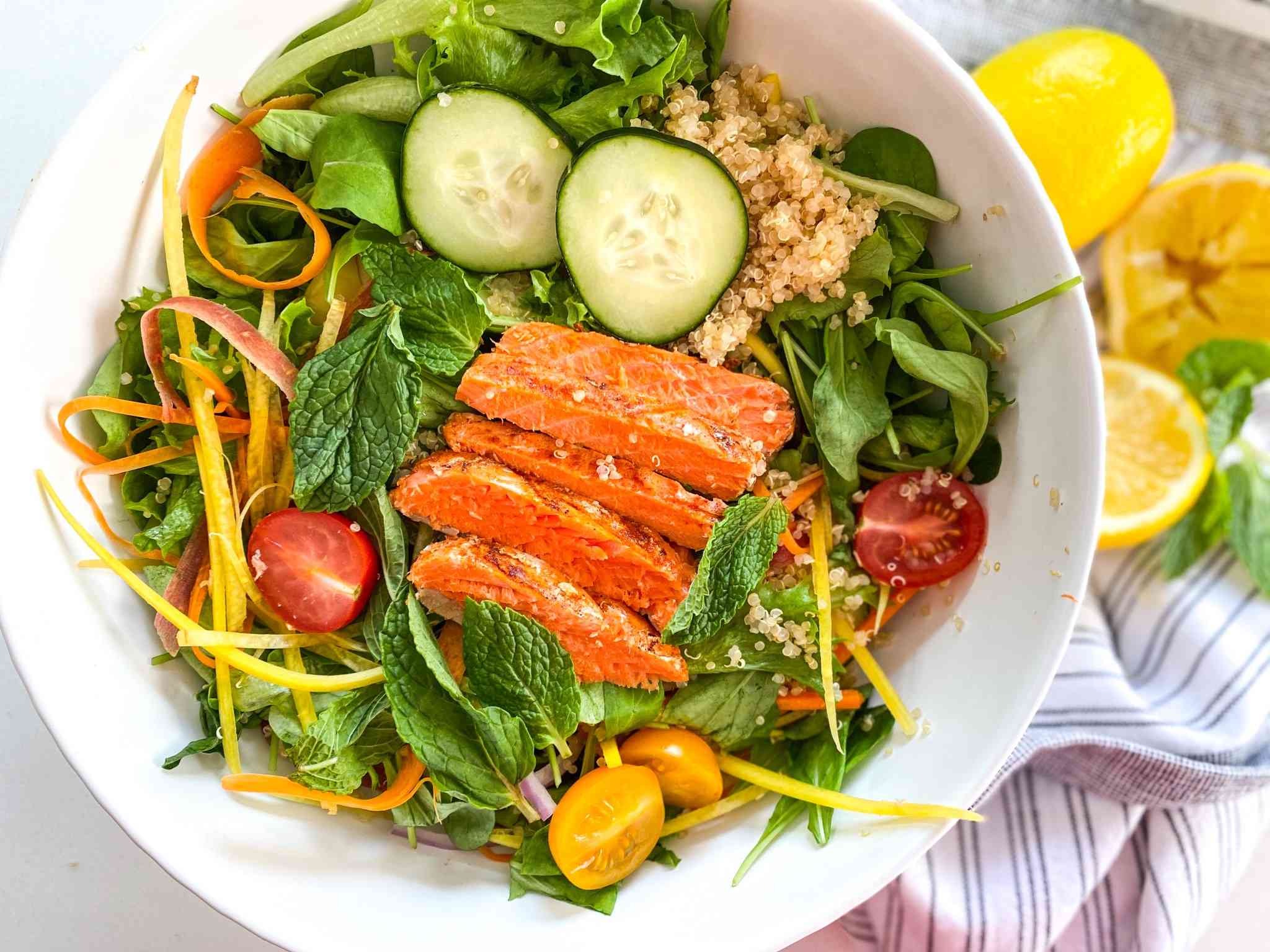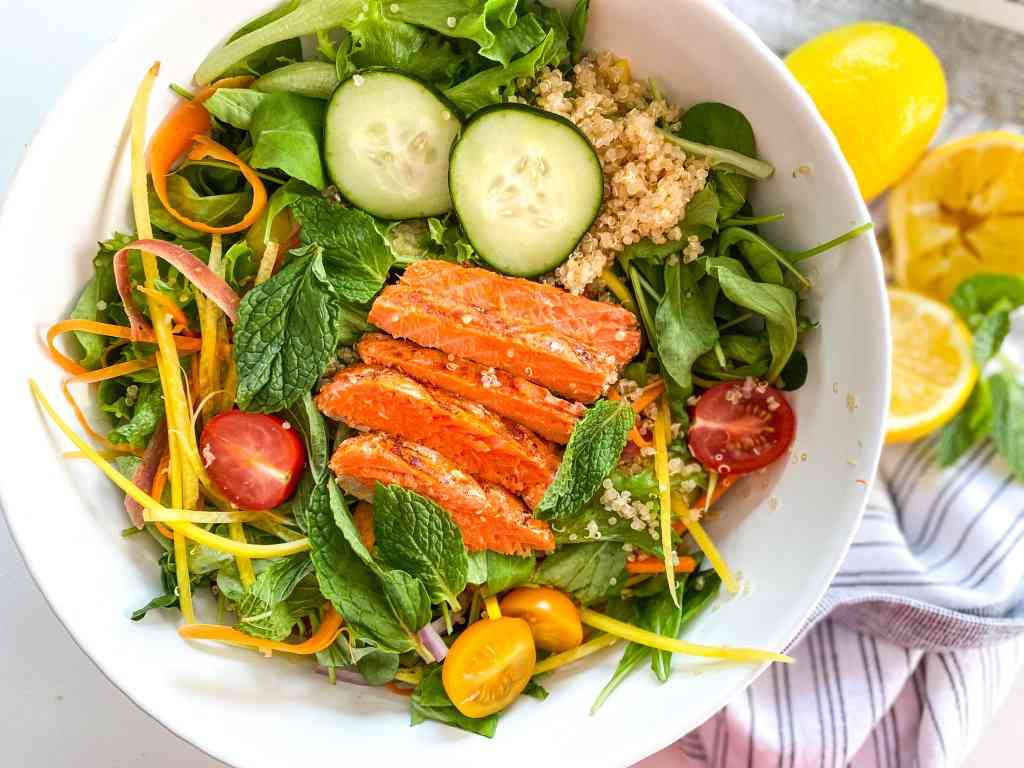 Dishing up Quinoa
Packed with protein and gluten-free this little add in helps "beef" up the salad, adds texture so that your bite is complete and you're not left looking for something else to make this salad a meal. I like to add this to the salad after it has time to cool down completely so that it doesn't wilt the lettuce leaves.
White quinoa is bland but easily takes on the flavors of the ingredients you prepare it with, we are going to use garlic and freshly squeezed lemon juice. I'm not going to lie, I used the already minced garlic out of a jar from the grocery store or you can mince a fresh clove of garlic – your choice.
Quinoa is a ratio recipe, meaning you will always boil 2 cups of water (or liquid) to 1 cup of uncooked quinoa. For this recipe, I added the minced garlic to the water while it was coming up to a boil so that it had time to infuse. Once the quinoa was done cooking I squeezed in the lemon juice and let it sit to cool. It was perfect.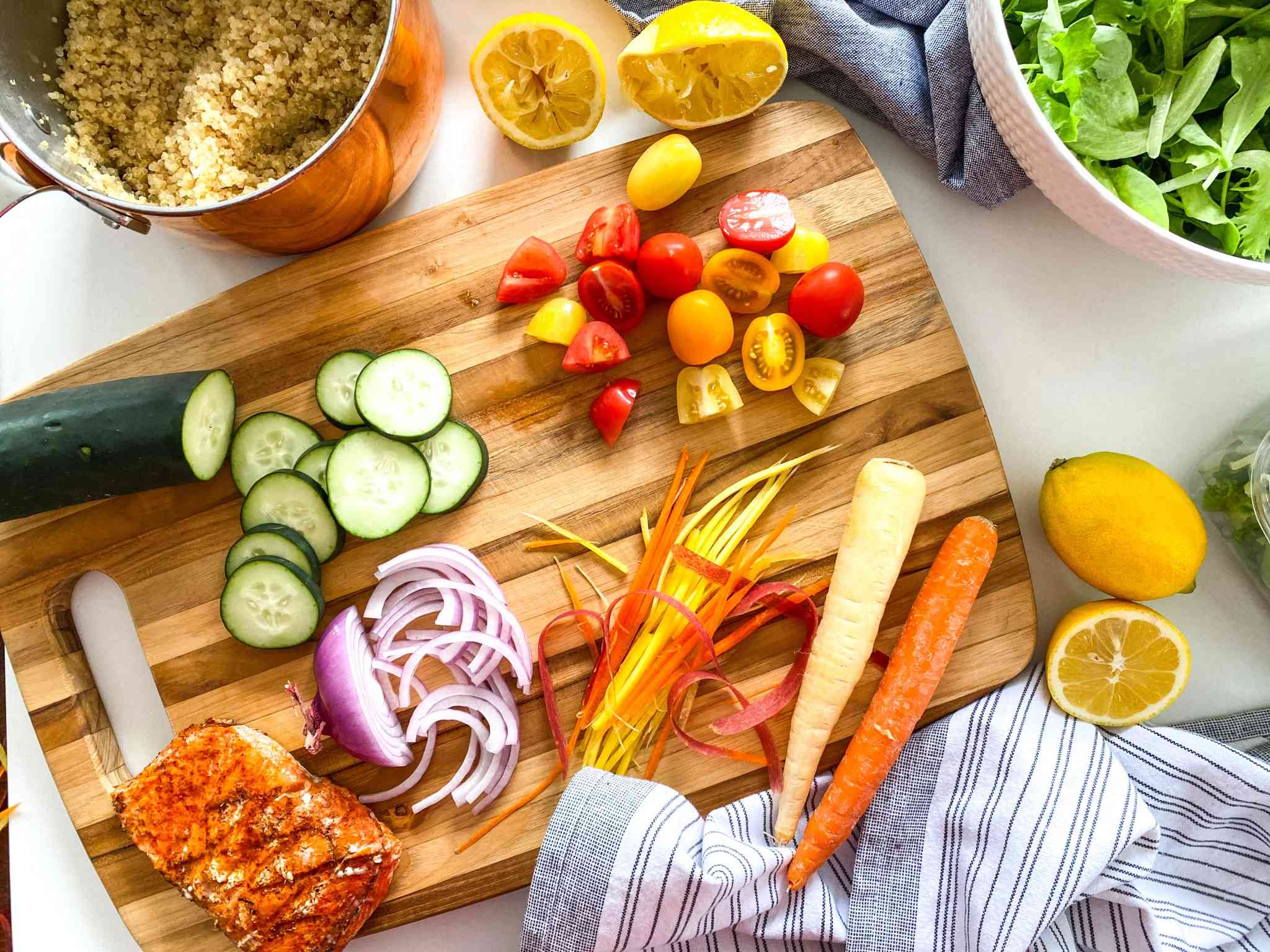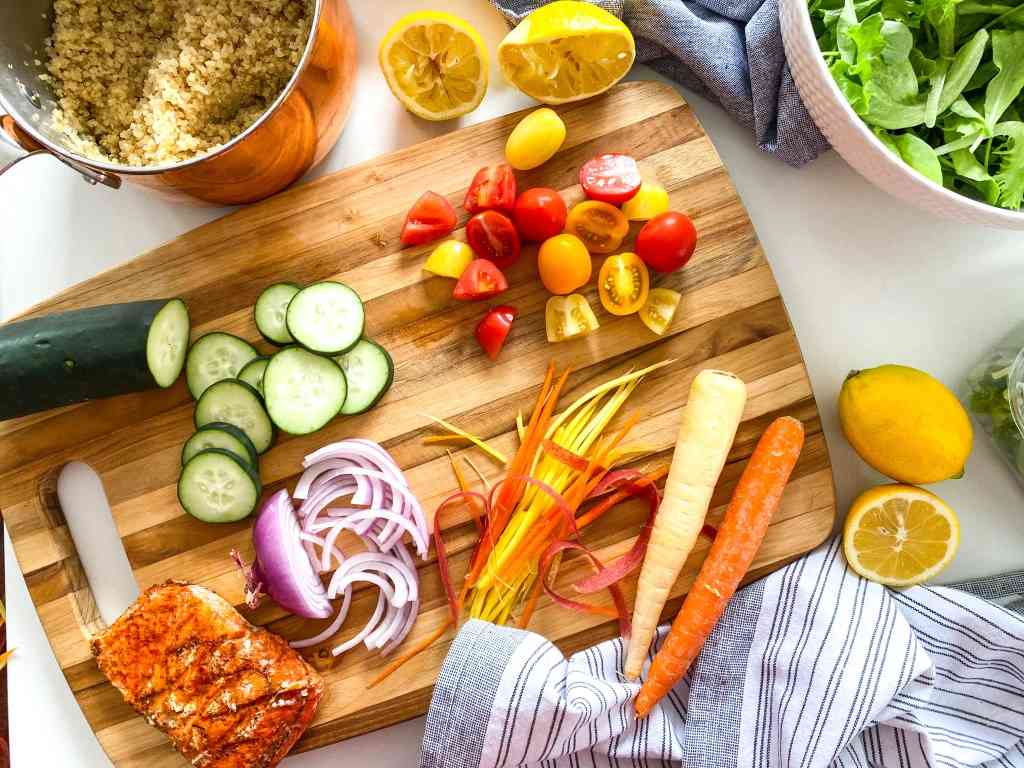 Salad Greens
When you make a salad, you should rinse off your greens in cold water and then dry them either between a kitchen towel or with a salad spinner. For this salad we are skipping the traditional salad dressing and only using freshly squeezed lemon juice and a pinch of salt. Side note – anytime you want to add a side salad you can use lemon and salt, it does absolute wonders to any salad green, it's literally my favorite quick salad go-to.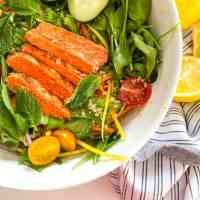 Ingredients
2

cups

Water

1

clove

Garlic – Minced

1

cup

White Quinoa

1

Lemon – juiced and zested

divided

2-4

4-6oz

Salmon Fillets

see blog notes

Drizzle

Olive Oil

Pinch

Cayenne Pepper

Pinch

Salt

1

Cucumber – sliced

2-3

Carrots – cut into matchsticks or peeled into strips

1

pint

Cherry Tomatoes

2.5

oz

Baby Arugula

(about 4 cups)

2.5

oz

Baby Iceberg

comes in a container now or you can use any of your favorite salad greens (about 4 cups)

Fresh Mint Leaves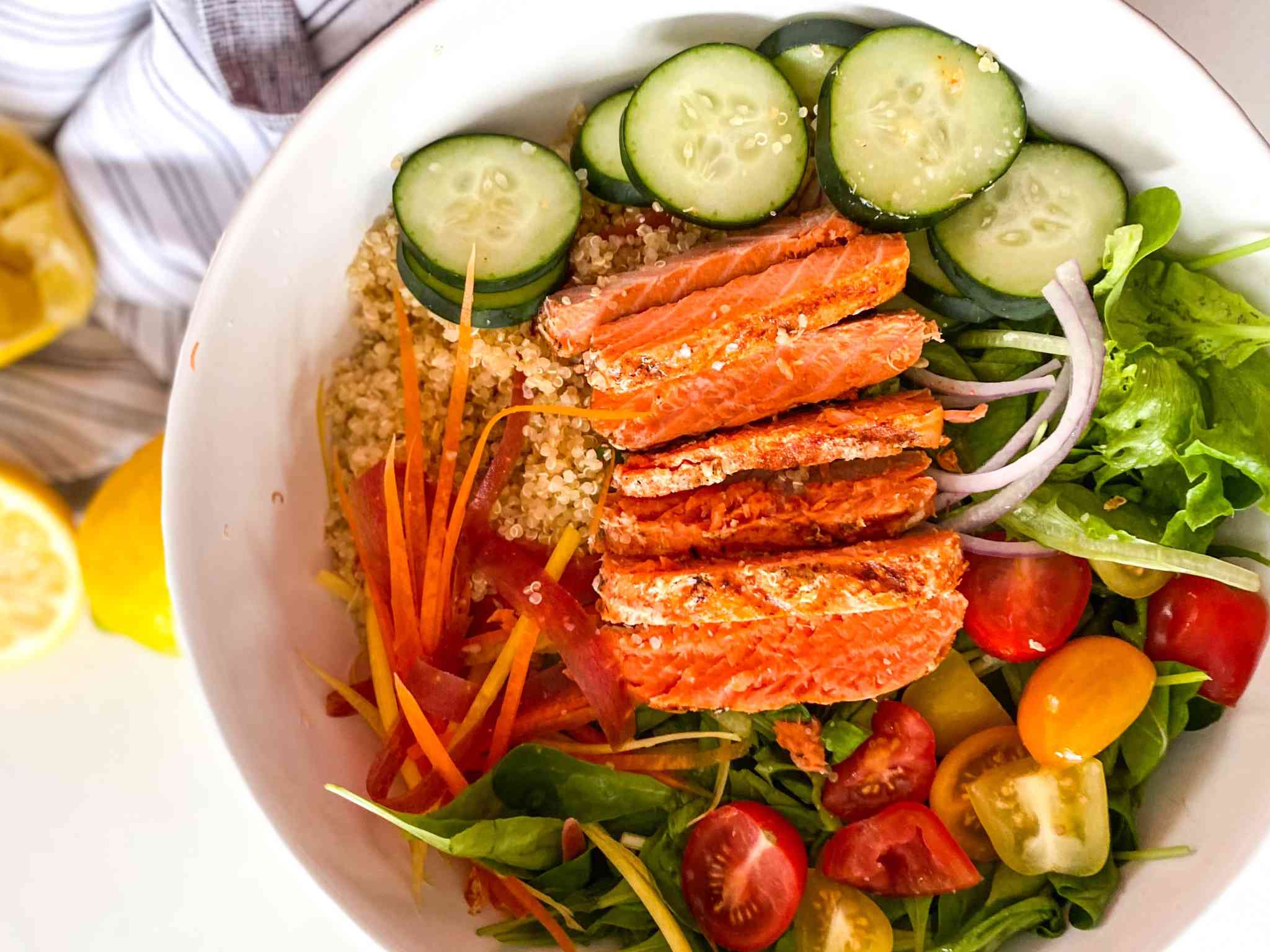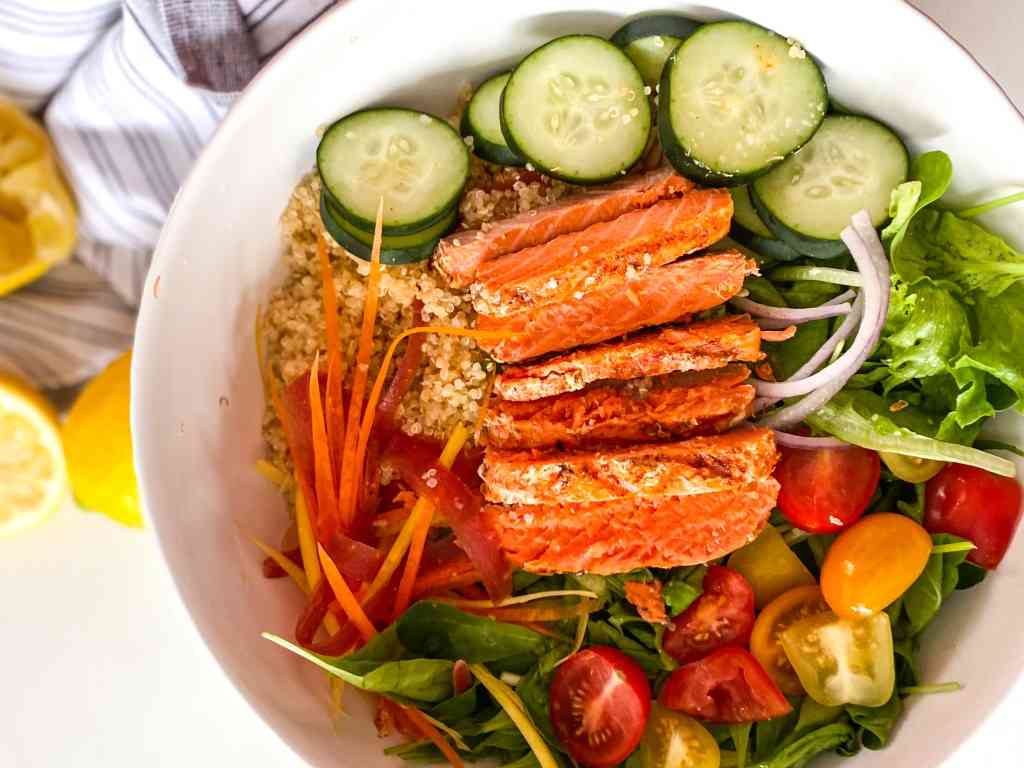 Other Spring/Summer Favs
Honey Lemon Iced Tea
Summer Tomato and Cucumber Salad
Brown Butter Spinach Pesto Tomato Pasta