Break away from your usual dinner routine with this Thai chicken larb gai! It's super simple and the perfect light dinner for a warm spring or summer day. This one pot recipe is full of spicy, fresh flavors and easy clean up. It comes together quicker than it takes to order take-out, a definite must make.
Thai food is one of my favorite take-out options and I will still do that on those busy, can't get ahead of the to-do list days just to keep my kitchen clean and the dishes done. But on those days you want a quick-make-it-yourself Thai dish this checks all the boxes for lunch, dinner, or a crowd. And now that we are getting back to normal – it will be important to have something new in your back pocket for when friends stop over. Serve with a side of sticky rice or lettuce wraps.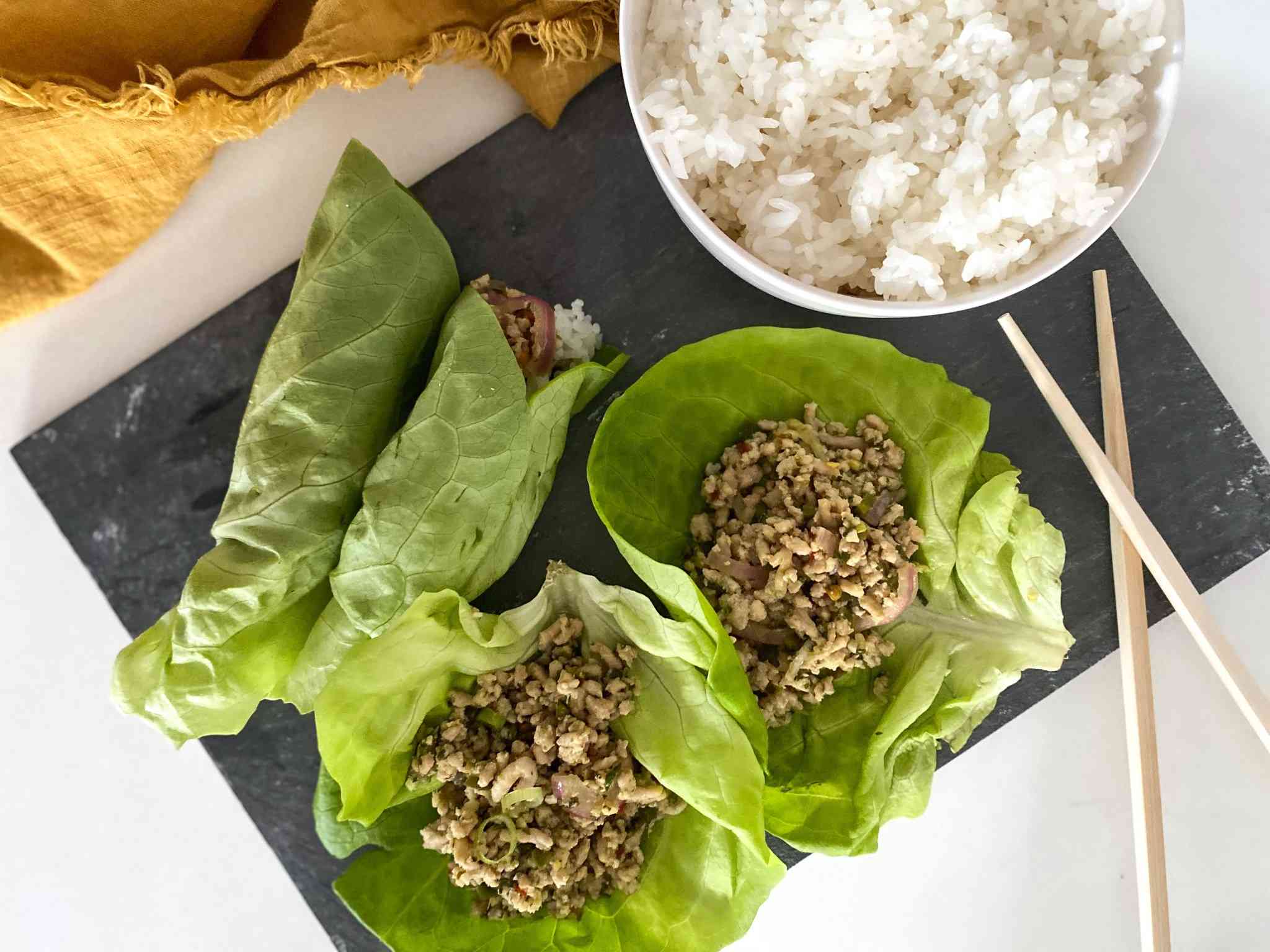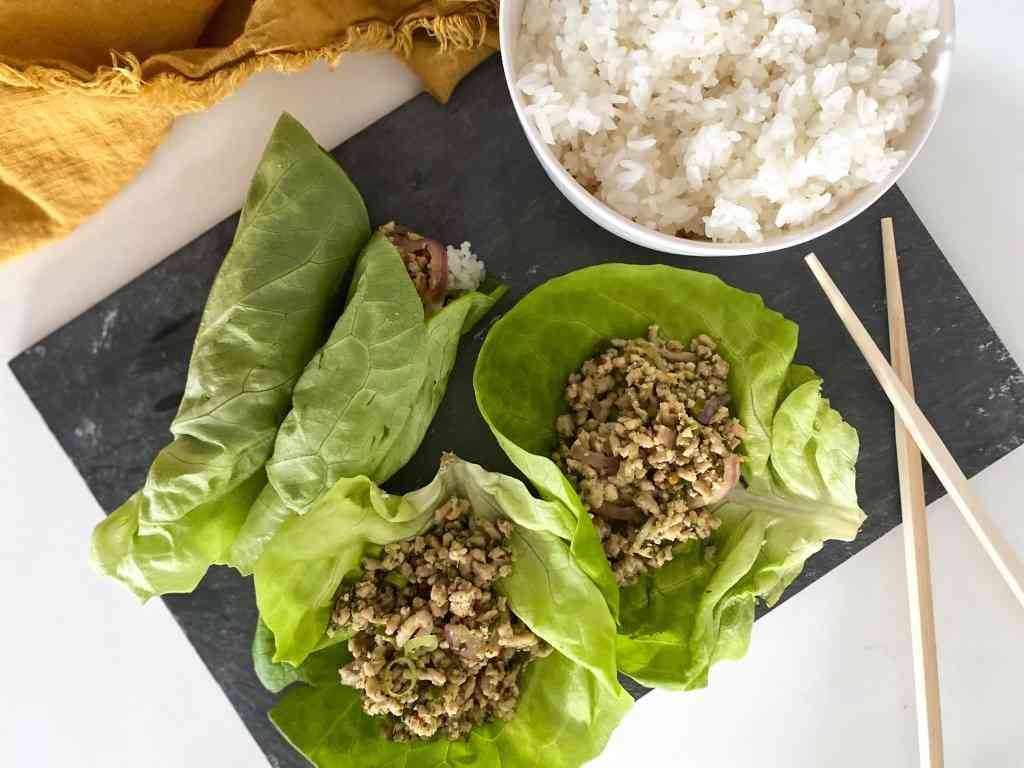 Thai chicken larb gai is a one-pot recipe that takes less than 20 minutes. I use 5 minute microwave-ready sticky rice, it turns out perfectly fluffy, sticky and it saves cleaning a pot. If you want to do lettuce wraps, the best lettuce to buy is bibb lettuce. The leaves are easy to peel back and they create a little pocket to spoon your larb gai into.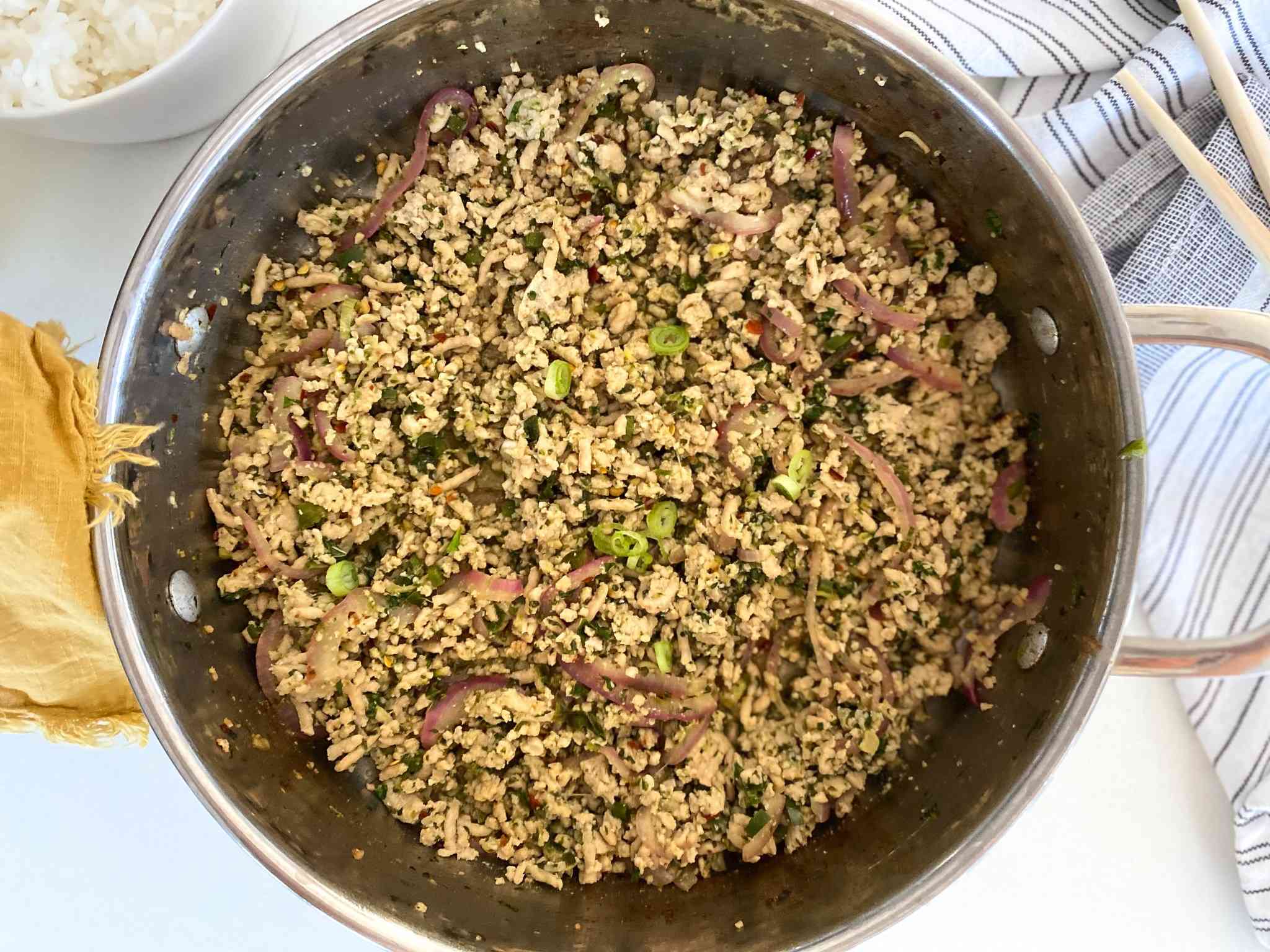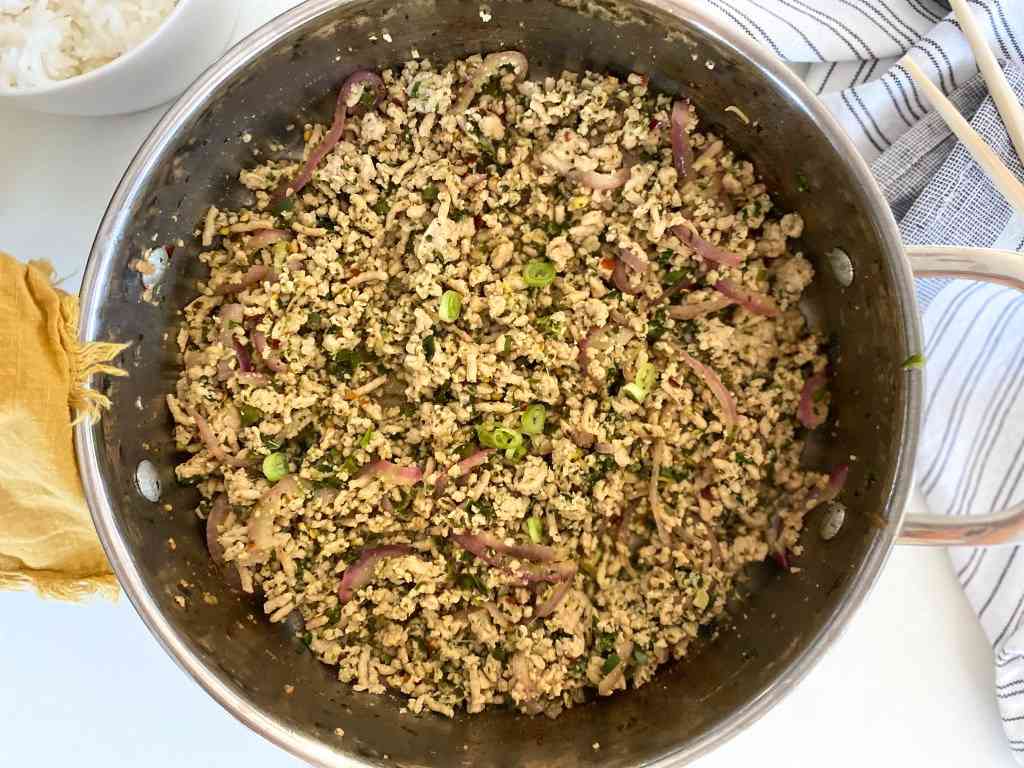 The Spices & Fresh Herbs for
The heart of Thai chicken larb gai is a variety of spices and fresh herbs making this dish heavenly. Seriously, it's the only way to describe it. An easy escape. Happiness on a plate. Imagine sitting around the table outside on the patio, with in the warmth of the summer sun. Nothing else matters. Simple. Light. Fresh.
The thin red onion and freshly squeezed lime juice really adds a summery feel, giving the larb gai a clean crisp flavor. You do not want to skip any of the spices and herbs, they are all essential. You can use either Thai sweet basil or regular basil.
If you can't find fresh herbs, I know that sometimes they are hard to come by. Some grocery stores sell fresh herbs already minced/chopped, you can do that or you can check the frozen food section, a lot of stores now sell fresh herbs that have been minced and frozen in little cubes for easy (and year-long) access to fresh herbs.
Better than take out – you can control the spice level and really make it your own.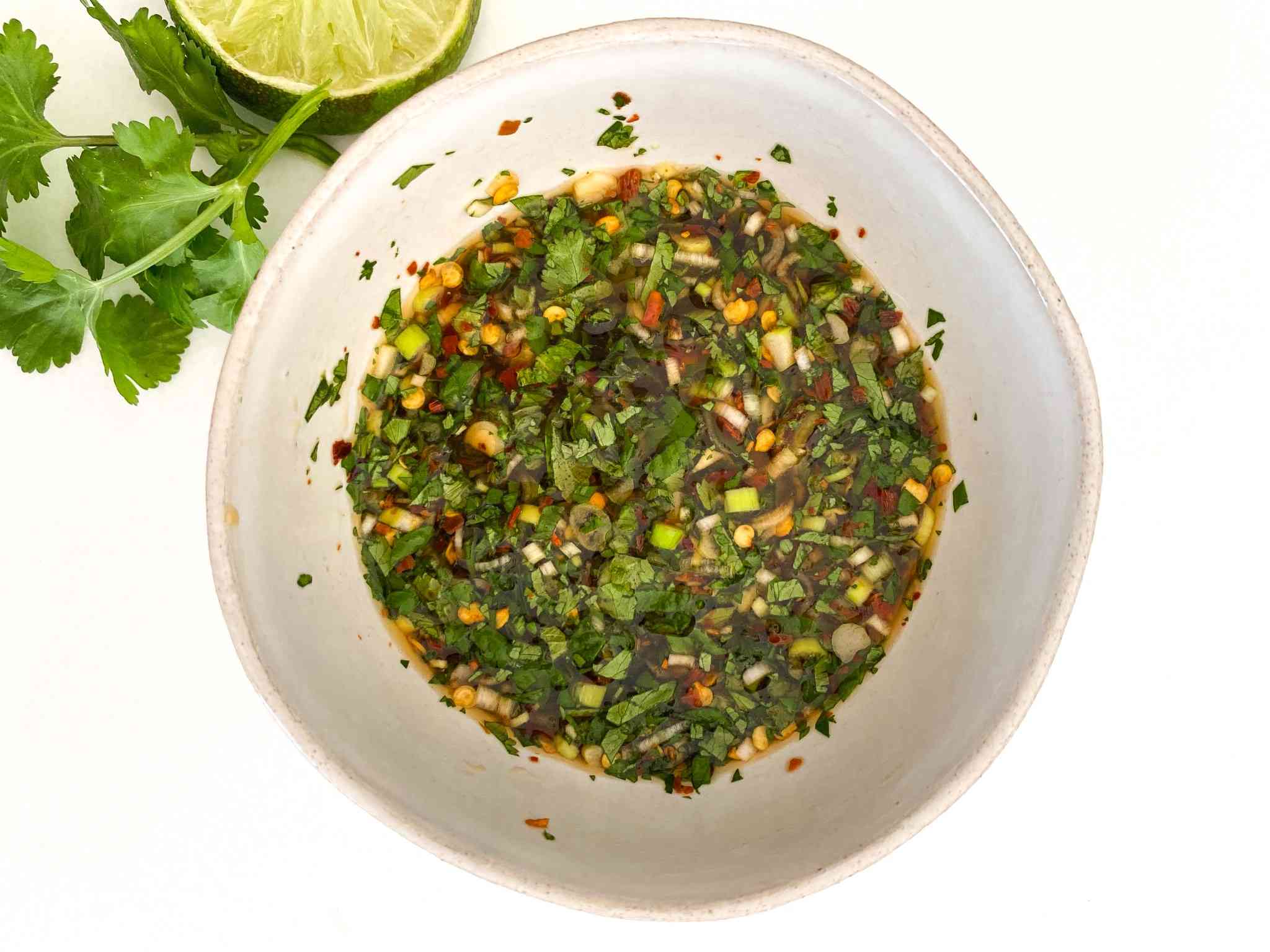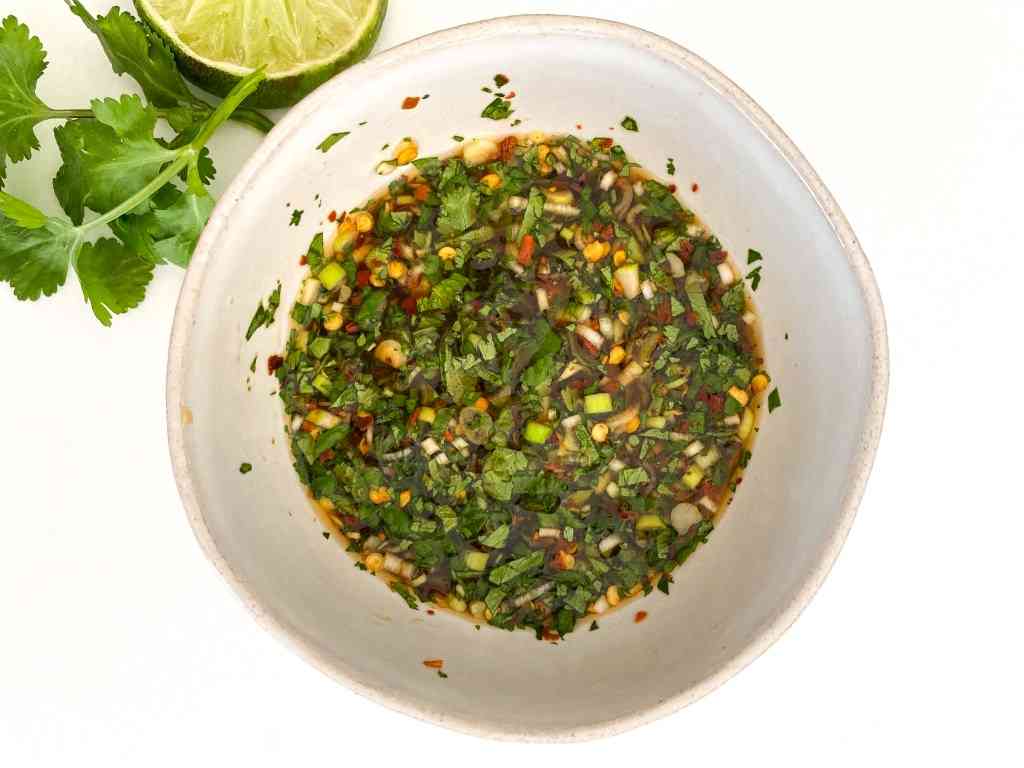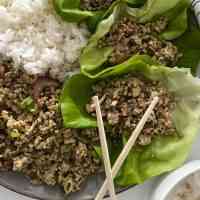 Thai Chicken Larb Gai
Fresh herbs, light and amazing! You can make lettuce wraps, rice bowls or eat it by the spoonful. Perfect for an appetizer or main course. Easier and faster than delivery.
Print
Email
Pin
Rate
Ingredients
1

Lb

Ground Chicken

2

TBSP

Fish Sauce

divided

3

Limes

divided

1

TBSP

Soy Sauce

1

TBSP

Thinly Sliced Green Onions – white section only

(about 3 stalks)

1

TBSP

Minced Mint

see blog notes

1

TBSP

Minced Cilantro

see blog notes

1

TBSP

Minced Basil

see blog notes

1

tsp

Red Pepper Flakes

½

TBSP

Olive Oil

3

cloves

Minced Garlic

½

Red Onion – thinly sliced

Thinly sliced green onions – Garnish

Sticky rice, lettuce wraps
Other Light & Easy Recipes:
Simple Lemonade
Lemon & Thyme Sheet-Pan Roasted Vegetables
Easy Summer Cucumber & Tomato Salad
Summer Lovin' Strawberry Salad
Lemon Blueberry Muffin Cake