This steakhouse wedge salad is as dreamy as a salad for a meal will ever be. It's a leveled-up wedge salad, dressed to impress but still so easy to make. All of the toppings come together in a cinch and are well worth it. Even, as we start to venture back out into the world (safely of course), this salad is perfect when you want to stay home or host friends over for a backyard summertime dinner.
This past year, we all have learned that on the days we get dressed we feel better, well this salad is just like that too. This steakhouse wedge salad is the dressed (leggings count) version of the wedge-side salad and all the toppings can be made ahead. You're worth the extra.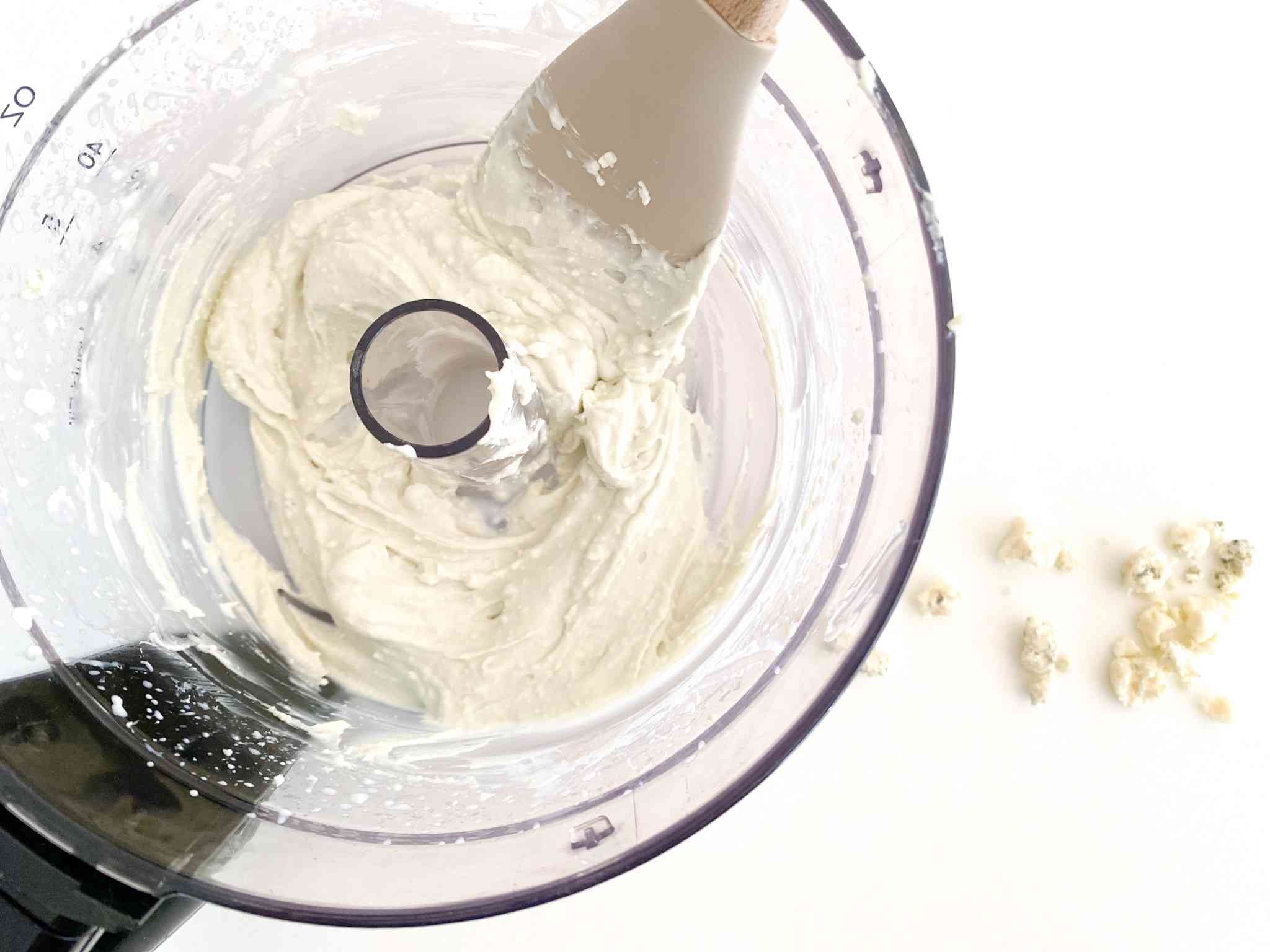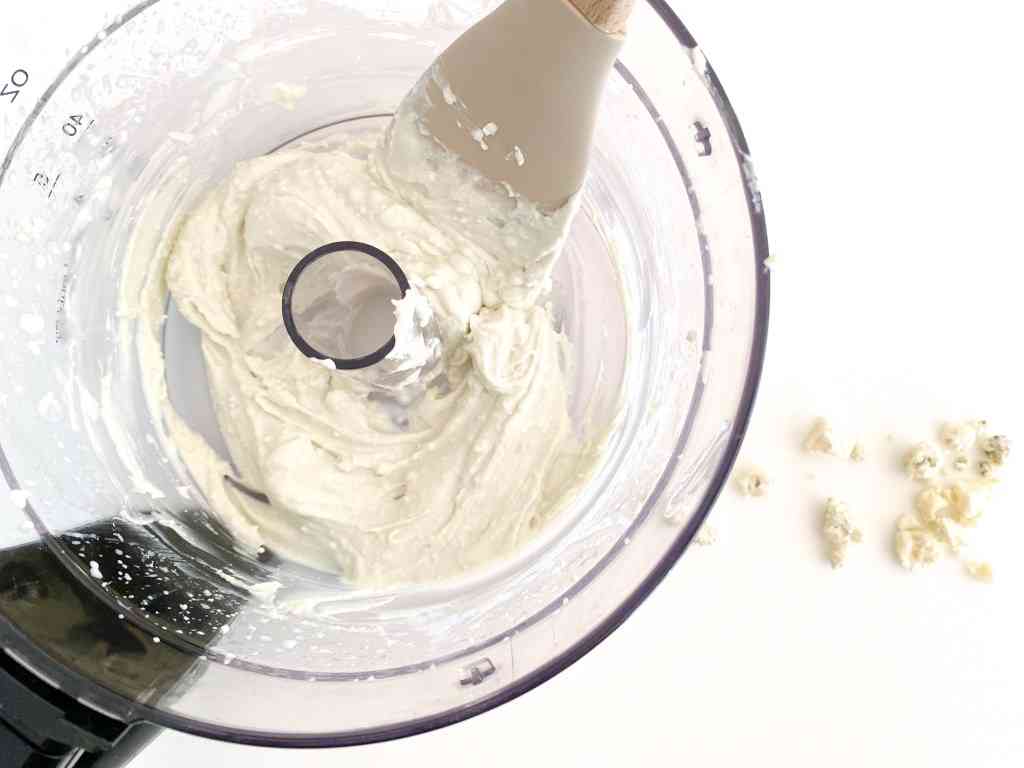 Whipped – Up Blue Cheese
You read that right. Whipped-up blue cheese dressing is Ahhh – MAZING. Blue cheese is one of my favorites, but I know that not everyone shares my love for the stinky crumbles. When you make a whipped blue cheese – the flavor becomes more mild, if you have already written this off as an option, I highly recommend trying this first.
In high school I worked, very briefly, in the kitchen of a chain restaurant. I was the salad and dessert maker. One of my jobs was to divide up blue cheese crumbles into single-serve containers to make it easier for the servers to grab on request. At the time, I thought that it was the worst job – the smell, the texture, the blue of the cheese, I hated it all. But now I can sit and eat the crumbles straight out of the container from the grocery store, we all evolve.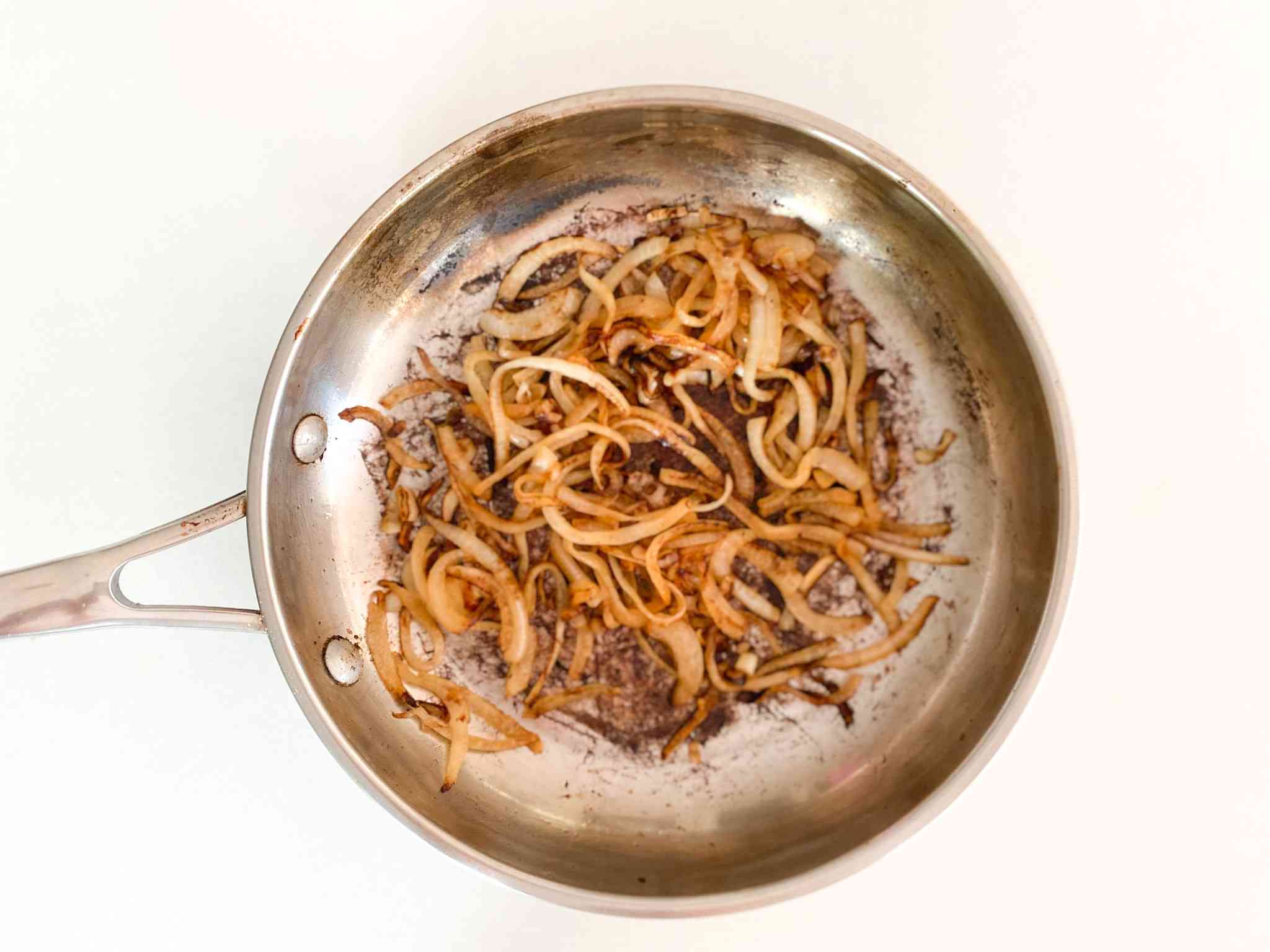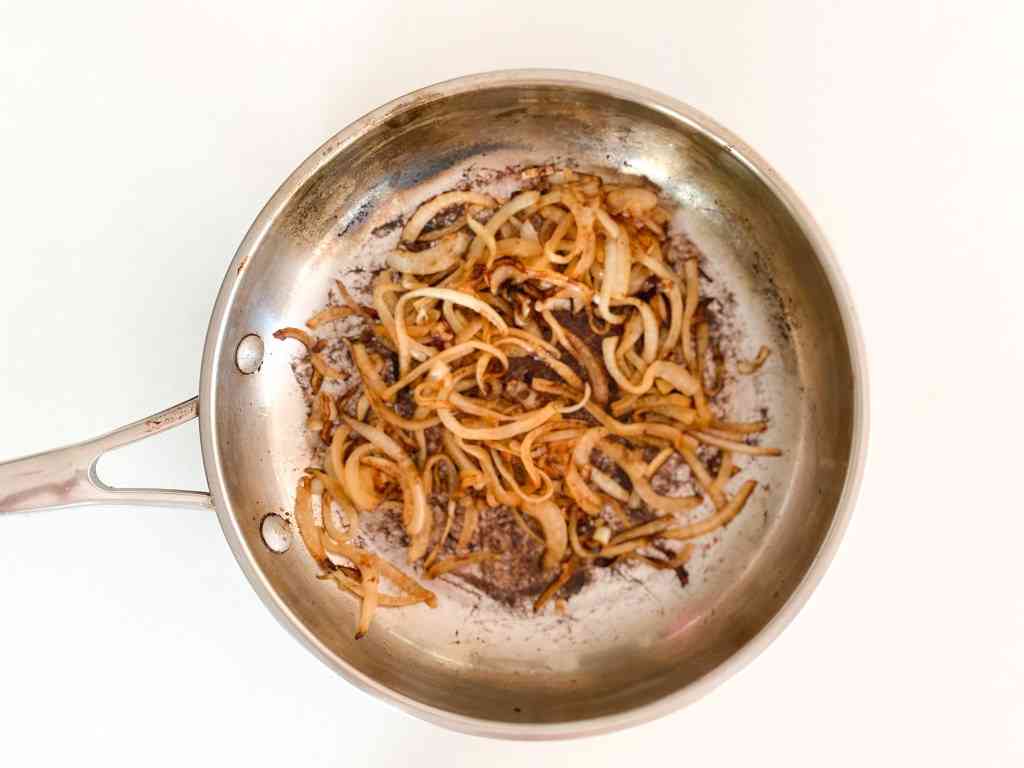 Caramelized Onions
Thinly sliced caramelized onions are easy to make and when they smother the top of a steak they add a layer of sweetness and texture. To make caramelized onions you want to use a little butter, a heavy sprinkle of salt and then just let them heat up and brown, stirring occasionally to prevent burning. You can choose how caramelized you want them to be, just know that the more they caramelize the sweeter they become.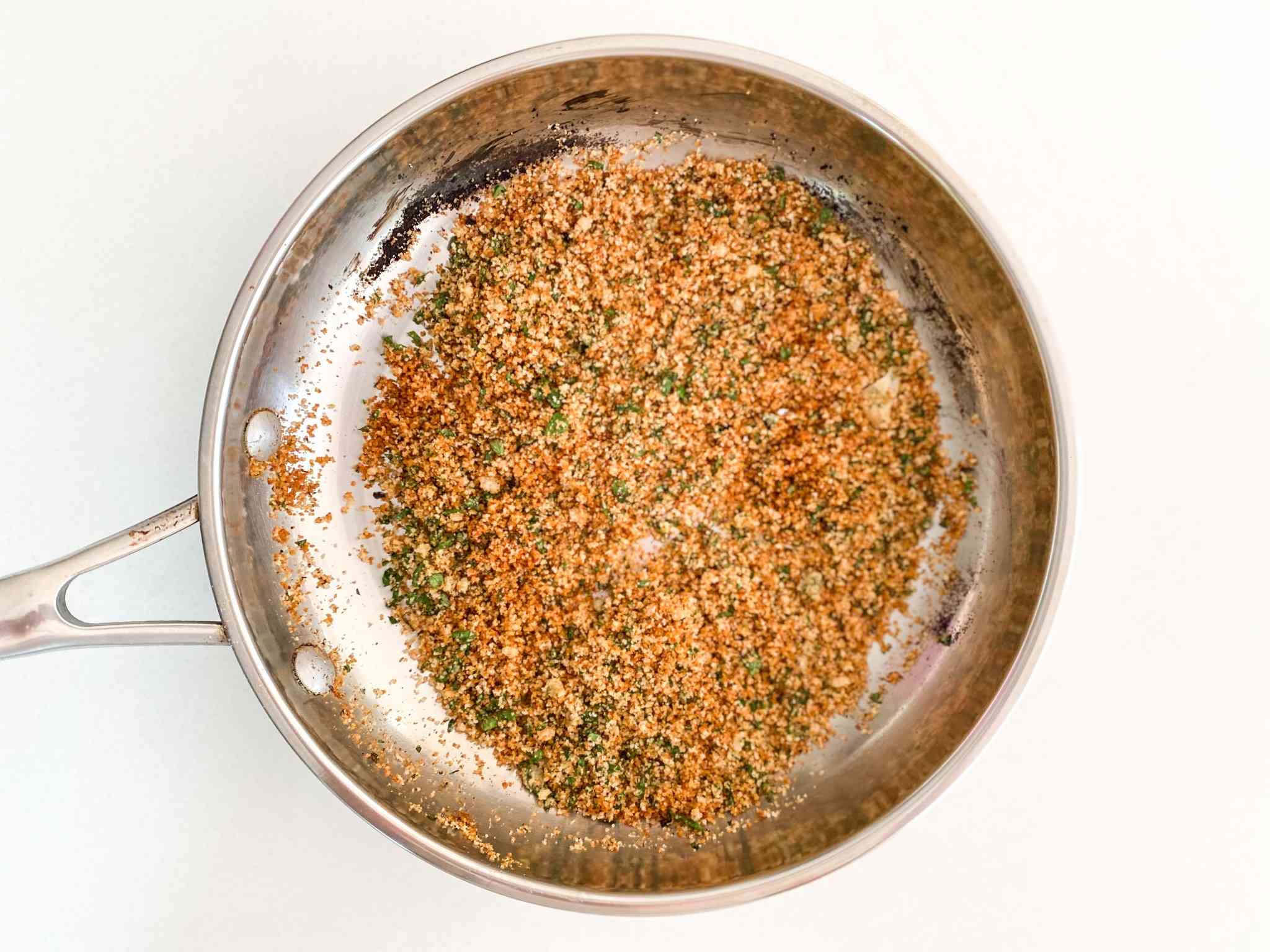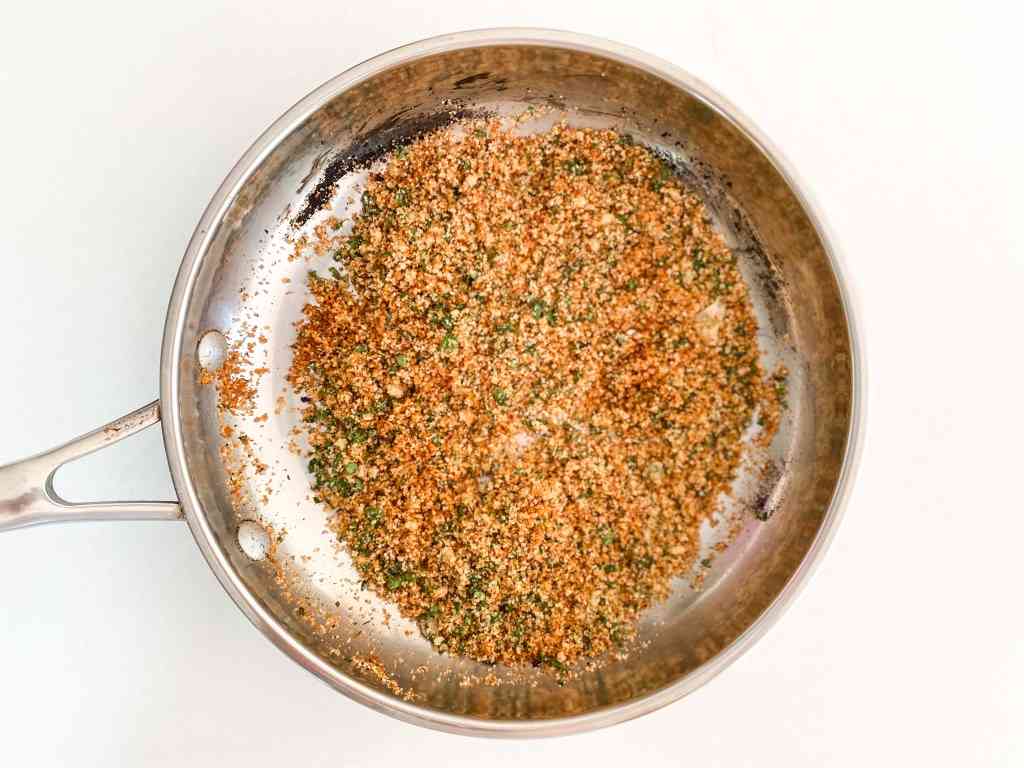 Toasted Herb Breadcrumbs
These will be the final crunch necessary to make this the most satisfying meal.
Just a few helpful hints for chopping up herbs. First, the leaves need to be DRY. Like really dry. Second, your knife should be sharp, you do not want smoosh your leaves into the cutting board, you should be able to make clean cuts.
Roll them up into a log shape, tucking the leaves under each other the best you can. Then rock your knife back and forth using the cutting board to create clean thin cuts. Once you get through the "log" then you will freehand your cuts going back over them until they are "minced".
In a pan over medium heat, you will warm up your breadcrumbs, butter, herbs and a pinch of salt, tossing or stirring. As the breadcrumbs begin to toast, it will go quickly. As soon as it's a beautiful brown, remove from the heat so that they don't continue to cook and set aside until dinner time.

Choosing Your Steak Options
A steakhouse wedge salad wouldn't live up to it's name if we didn't discuss steak. I just happened to get 6oz filet mignons shipped to my house with my last grocery delivery. You can also use a ribeye, porterhouse (similarly t-bone) or sirloin for these steaks. I would trim the meat off the bone before serving.

I snagged this photo from wikipedia online just to give you an idea of what steak cuts we are talking about: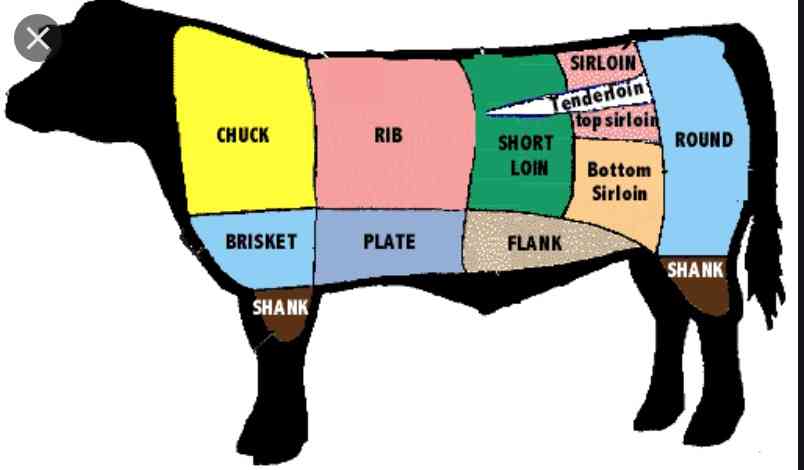 Filet Mignon: A steak cut directly from the tenderloin – this is the most tender steak.

Ribeye – This is the arguably the best choice. The marbling of fat creates a deliciously tender and flavorful steak. This is the "meat lover's" choice.

Porterhouse (T-Bone): This is a combination of the sirloin and filet mignon, they are both attached to the bone.

Sirloin: Another good choice, it's a little leaner than the ribeye making it a little more firmer than tender.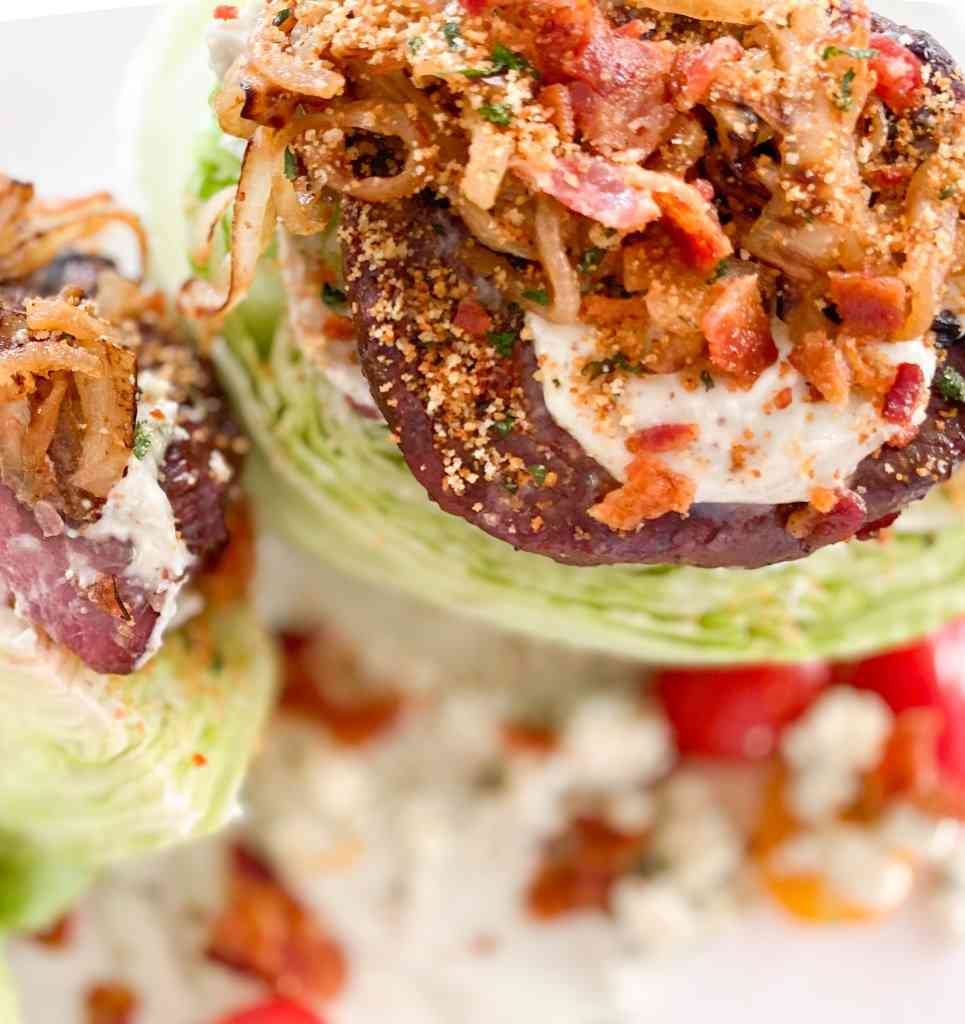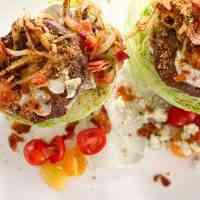 Steakhouse Wedge Salad
All of the toppings come together in a cinch. This steak wedge salad is perfect to stay home or host friends for a backyard summer dinner.
Print
Email
Pin
Rate
Ingredients
2

6oz

Steaks

See Blog Notes

1

head

Iceberg Lettuce
Whipped Blue Cheese
.30

lb

Blue Cheese Crumbles

(roughly 1 cup) + more for garnish (optional)

3

TBSP

Half & Half
Caramelized Onions
1

medium

Onion – thinly sliced

1

TBSP

Butter

1

Pinch

Salt
Toasted Herb Breadcrumbs
¼

cup

Fresh Flat Leaf Parsley – minced

See Blog Notes

¼

cup

Breadcrumbs (you can also use panko)

½

TBSP

Butter

1

Pinch

Salt
Other Toppings
4

slices

Bacon

Cherry Tomatoes
Instructions
The first step(s) will be to make all of your toppings, you can do this step ahead of time too!
Whipped Blue Cheese
In a food processor – pulse your blue cheese crumbles, while the food processor is running, pour in your half and half 1 TBSP at a time. It may form a ball, if you add another TBSP of half and half it will start to become a creamy consistency. Once you get it to your prefered consistency, set aside.

If you are doing this hours in advance, you may want to refrigerate until serving.
Caramelized Onions
Toasted Herb Breadcrumbs
Over medium heat in a sauté pan add your minced parsley, breadcrumbs, butter and a pinch of salt. Toss and stir while the breadcrumbs toast, about 3-5 minutes. Remove from the heat and the pan, put them in a bowl and set aside, this will help prevent them from over-toasting burning in the still hot pan.
Bacon
You can make bacon several different ways (including the grill!). My preferred method is splatter-mess-free and clean up is a cinch.

Preheat the over to 425F and line a cookie sheet with parchment paper.

Bake at 425F until they are crispy – about 10 minutes. Once you start to smell it, check on them.

Remove from the oven, drain your slices on a paper towel. Before serving cut into bacon pieces.
Steak
Sprinkle salt over the steak, then preheat your grill.

Using a medium-hot grill – grill your steaks! The timing depends on the thickness of your steak and the preferred temperature. Make sure to use a meat thermometer. For a medium steak – remove from the grill at 155F and let it rest – it will come up to the 160F.

If you don't want to grill or it's raining, you can also sear them in a pan with 1 TBSP of butter.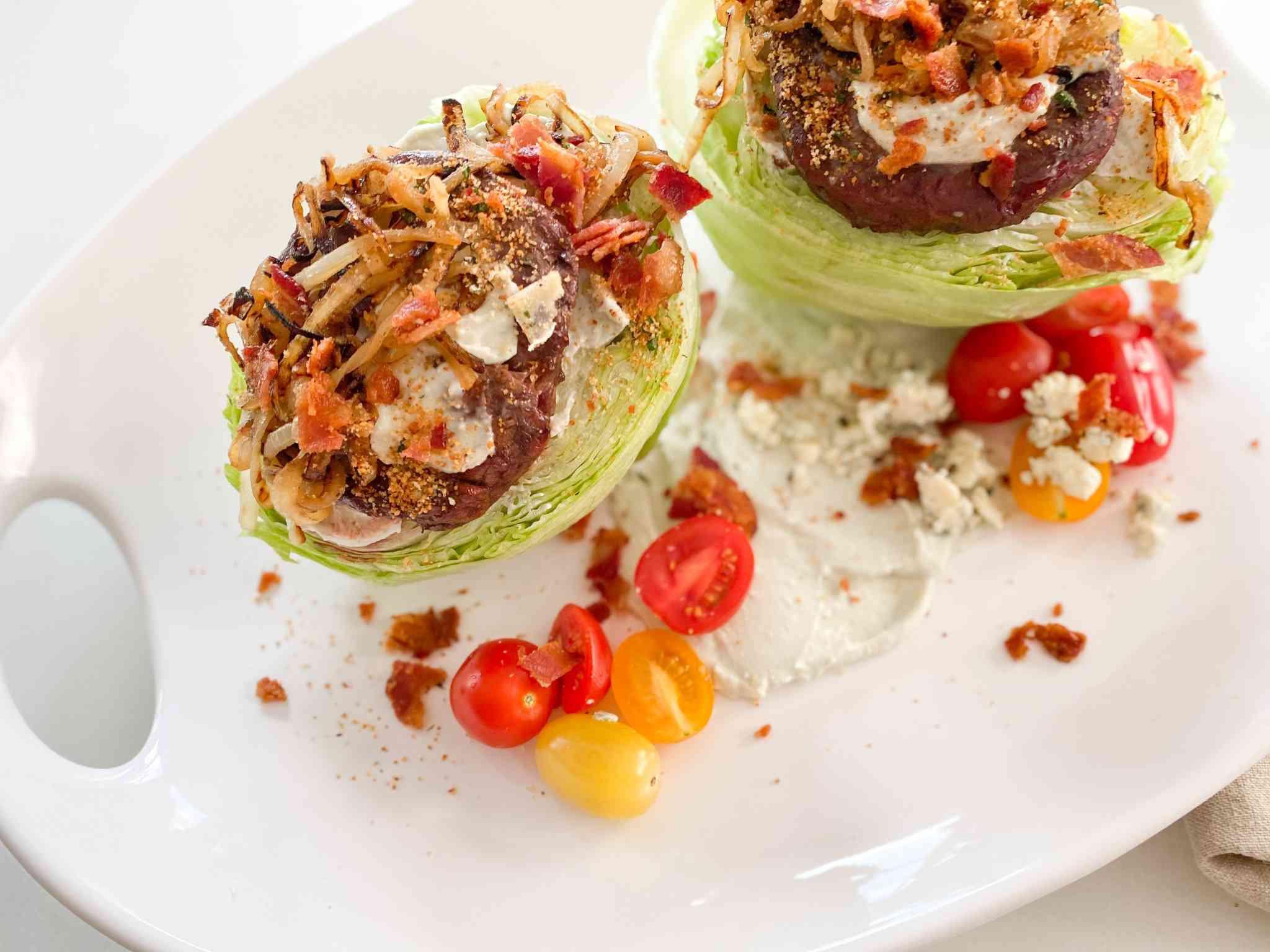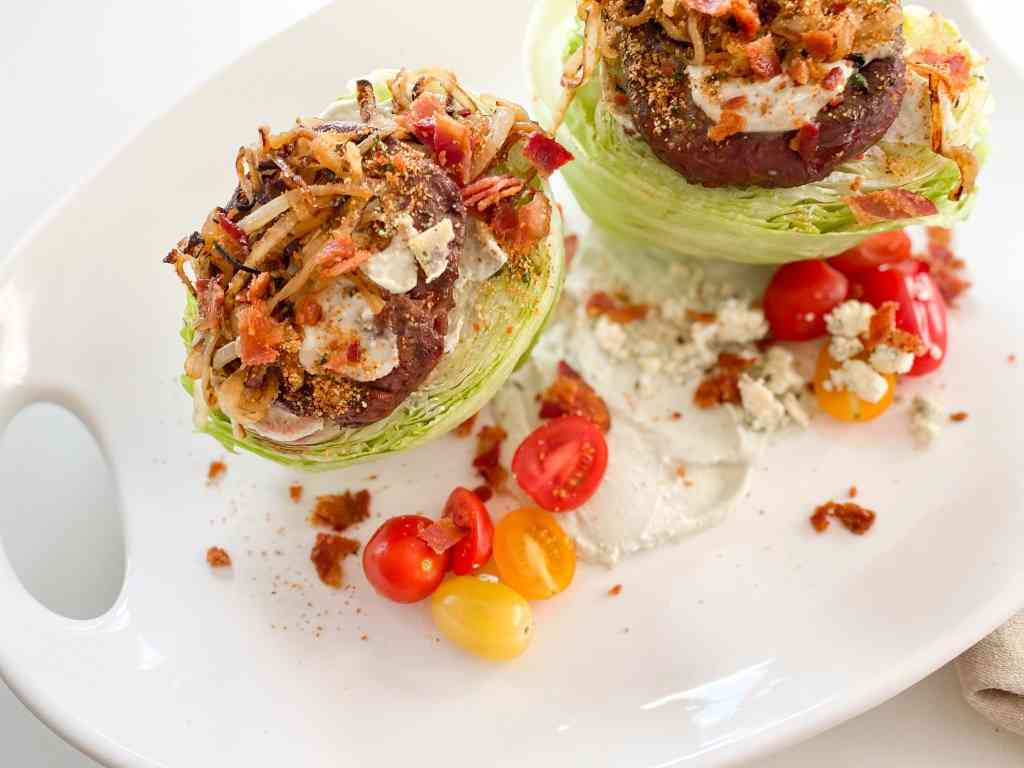 Other Fun Salads
Summer Lovin' Strawberry Salad
Lemon Quinoa Mint Salad with Grilled Salmon
Summer Tomato and Cucumber Salad