Time (or is it thyme?) to step up your mashed potato game. These potatoes are the ultimate way to step up your mashed potatoes without over-stepping the good ol' traditional recipe that everyone knows, loves and expects.

Be a little extra this holiday season. The distinctive hard nuttiness flavor of the parmesan cheese and the sweet peppery flavor of the fresh thyme pair well with the buttery creaminess of the potatoes. It adds a little more flair without losing the traditional mashed potato magic, I just hope you're okay with not having leftovers.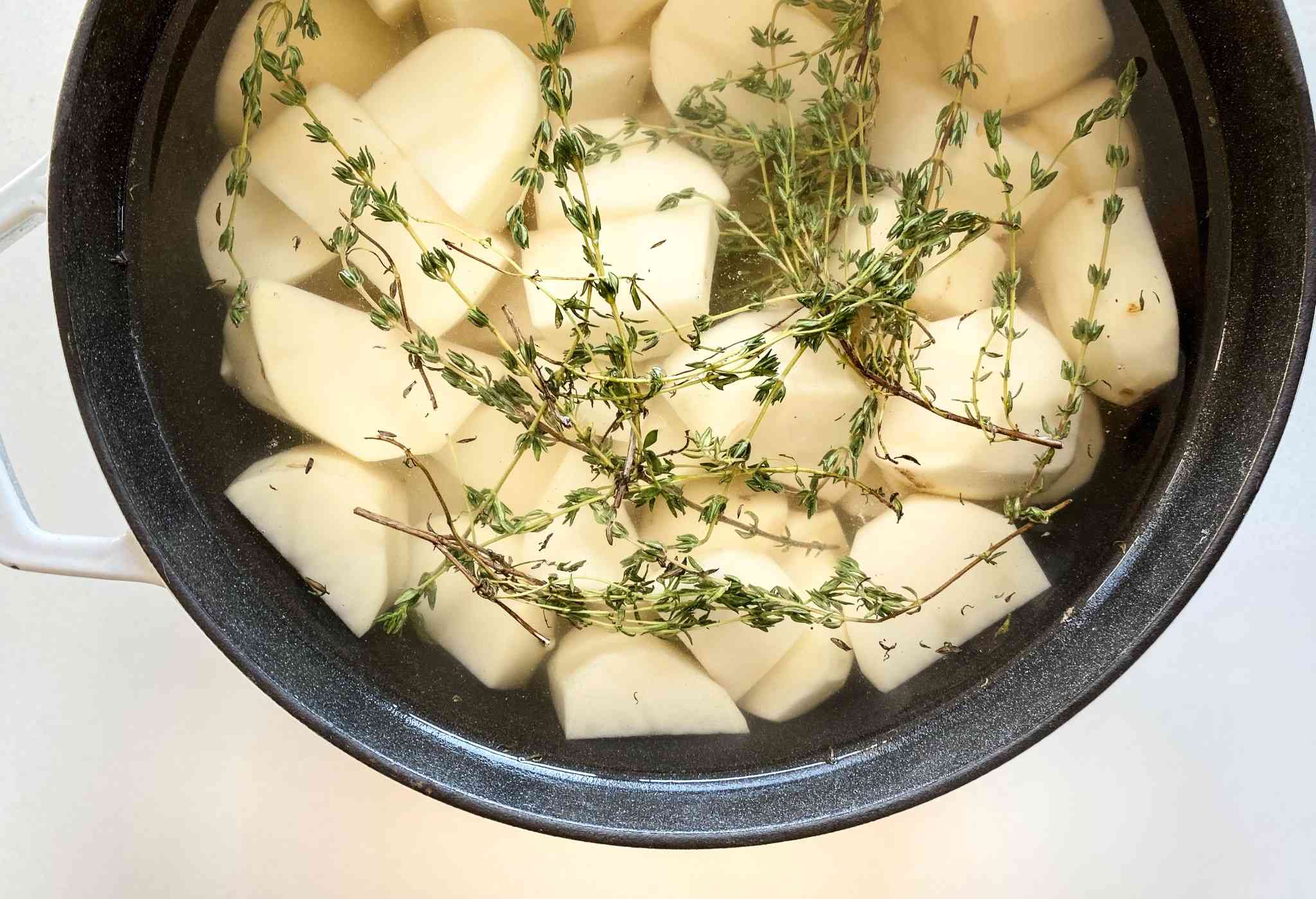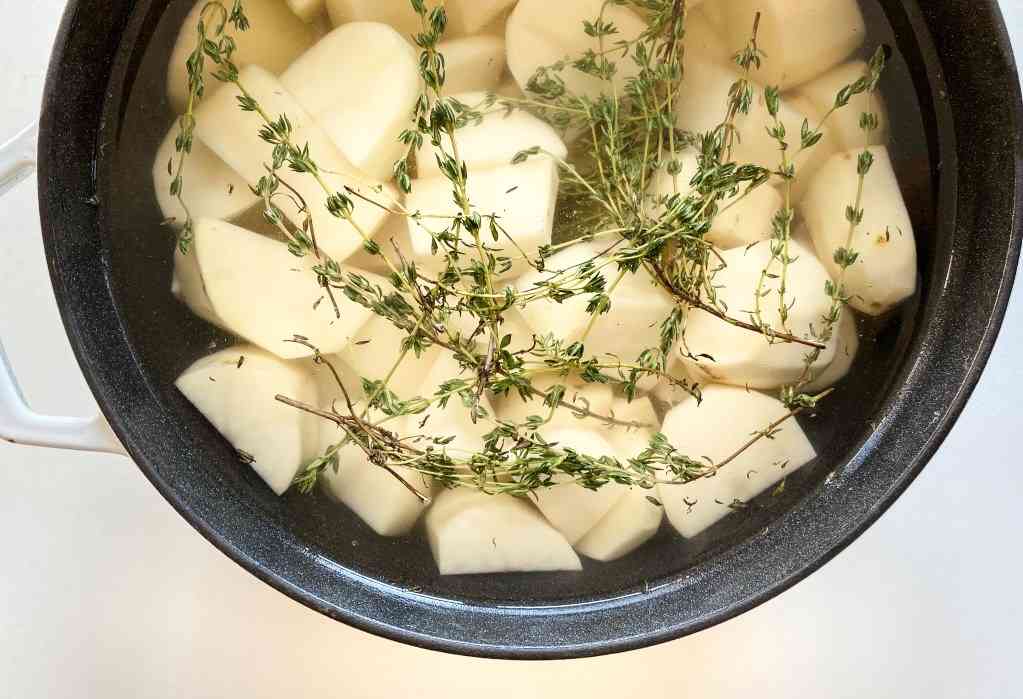 Creamy Mashed Potatoes 101:
In culinary school we learned all about the starch in a potato and how to use it to our advantage. Starch provides a natural creaminess, but like all good things, you have to find right balance.
For mashed potatoes, you want just the right amount of the starch. Here are some tips to make it super easy.
Peel and wash your whole potatoes : You will want to peel your potatoes, and then rinse in cold water before cutting them for cooking.

You can do this ahead of time and store your whole potatoes in a bowl of cold water until you are ready to cut into chunks for cooking. You do not want to rinse again, this will wash away the potato starch which is what makes your mashed potatoes creamy. You want the perfect ratio of potato to starch which is why I recommend one rinse only.
Cut your potatoes into about quarter or sixth chunks: Although it is true, the smaller you cut your potatoes, the less time it takes to cook, it also exposes more side of your potato which means more starch, giving you less time to mash/mix/stir later before it becomes a paste-like consistency.

Tip: You will see starch come off on your knife which can cause your knife and potato to stick together, be careful and wipe your knife clean as you go.
Start with cold water: When you cook your potatoes, start out with salted cold water and add your potatoes. Then bring it up to a boil so that the potatoes and the water come to temperature at the same time.
Mashing: Mashing and continuously stirring your potatoes will create starch. For fluffy, creamy potatoes you want to minimize the extra stirring, eventually they will become sticky.
You still want to mash while the potatoes are warm, using a ricer, hand masher or even a large fork, break up the potatoes. Add in your ingredients and stir/mash until combined and the consistency you like. For extra smooth, you can use a hand mixer, but proceed with caution, if you over-mix they will eventually become gluey or paste like.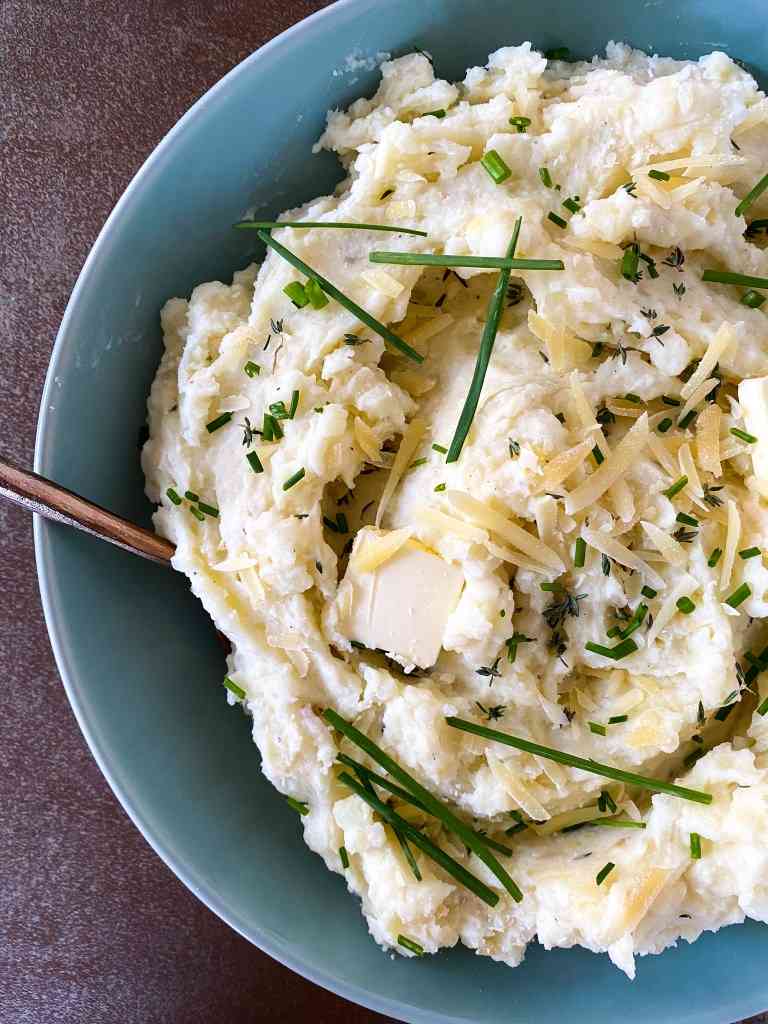 Make mashed potatoes ahead of time:
You can easily make mashed potatoes ahead of time (preferably same day). After you cook your potatoes, you can drain and put them right back into the pot you used to cook. This will keep them warmer longer. Mash your potatoes accordingly to the recipe, hold back about 1/4 cup of milk and a little of butter. When you're almost ready to serve, put the pot over medium heat, add in the milk and stir. Heat until warm all the way through. Stir in the remaining butter and serve.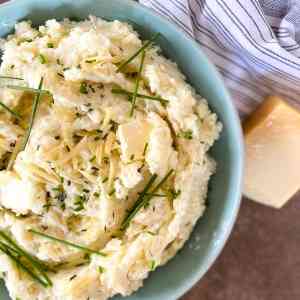 Parmesan and Thyme Mashed Potatoes
The distinctive flavor of the parmesan cheese and the sweet peppery flavor of the fresh thyme pair well with the buttery creaminess of the potatoes.
Print
Email
Pin
Rate
Ingredients
5

lbs

Russet Potatoes

1

TBSP

Salt

+ more to taste

.5

oz.

Fresh Thyme

2

cups

Freshly shredded off the block Parmesan Cheese

1

cup

Butter

(2 sticks)

2

cups

Whole Milk

room temperature

(optional) Chives

Garnish
Instructions
Peel and rinse your potatoes.

Cut your potatoes into roughly 1 inch pieces.

Put your cut potatoes in a large pot and cover with cold water. Add in 1 TBSP of salt and ½ of your fresh thyme.

Bring up to a boil. Cook until you can put a fork in you potatoes and they slide off. About 20 minutes.

While your potatoes are cooking, remove the thyme leaves from the remaining sprigs and set aside.

Drain your potatoes and pull out the thyme stems.

Add your drained potatoes back into your hot pot. Rice or mash your potatoes.
Other Potato Dishes
Dairy-Free Creamy Herb Mashed Potatoes
Twice Baked Holiday Spice Sweet Potato Casserole