Pepper-crusted roast beef is the quintessential perfect special-dinner-holiday dinner. It's a little out of the box but it is something everyone will love, even the pickiest eater. It puts on a great show, impressing guests without a lot of kitchen time. If you get your roast bone-in it adds a little extra flare without any extra work.
In culinary school we made Steak Au Poivre which is French for pepper crusted steak and it was absolutely delicious, so I took that technique and turned it into a whole bigger thing. Pepper-crusted roast beef, is so simple but comes with big layers of flavors and it is roasted to perfection so that it melts in your mouth.
If you have leftover, pair it with your favorite cheese to make amazing leftover sandwiches!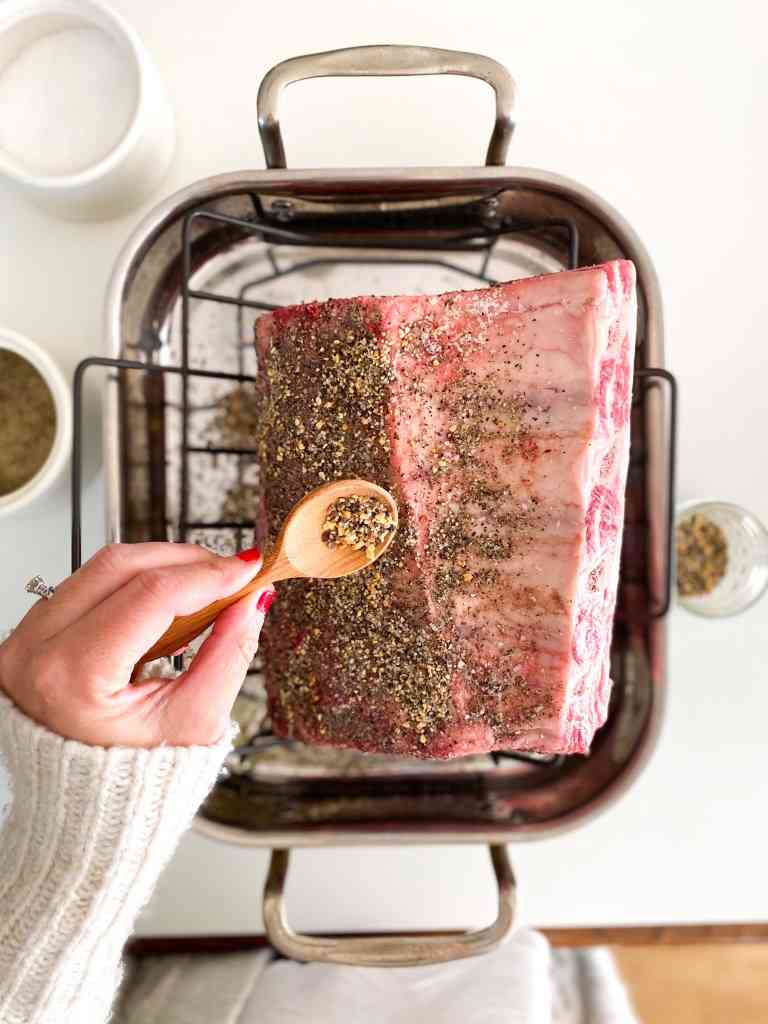 Buying your Rib Roast – Roast Beef
There is not a cut of meat called "roast beef." For this dish, I highly recommend a Standing Bone-In Rib Roast. To serve 4-6 people, you will want 3-4 pounds (or 2-3 ribs) of bone-in roast, depending on what you are planning for sides.
You can also opt for a bone-out rib roast, since you don't have to account for the bone weight, you can order ounce per serving – I usually shoot for about 6oz-8oz per person so people will eat more and some people will eat less. Rib roast without a bone will also cook a quicker so you will need to check the temperature sooner, everything else stays the same in the recipe below.
The standing bone-in rib roast pictured in this blog was over 8 pounds and was made for 9-10 people, we had leftovers.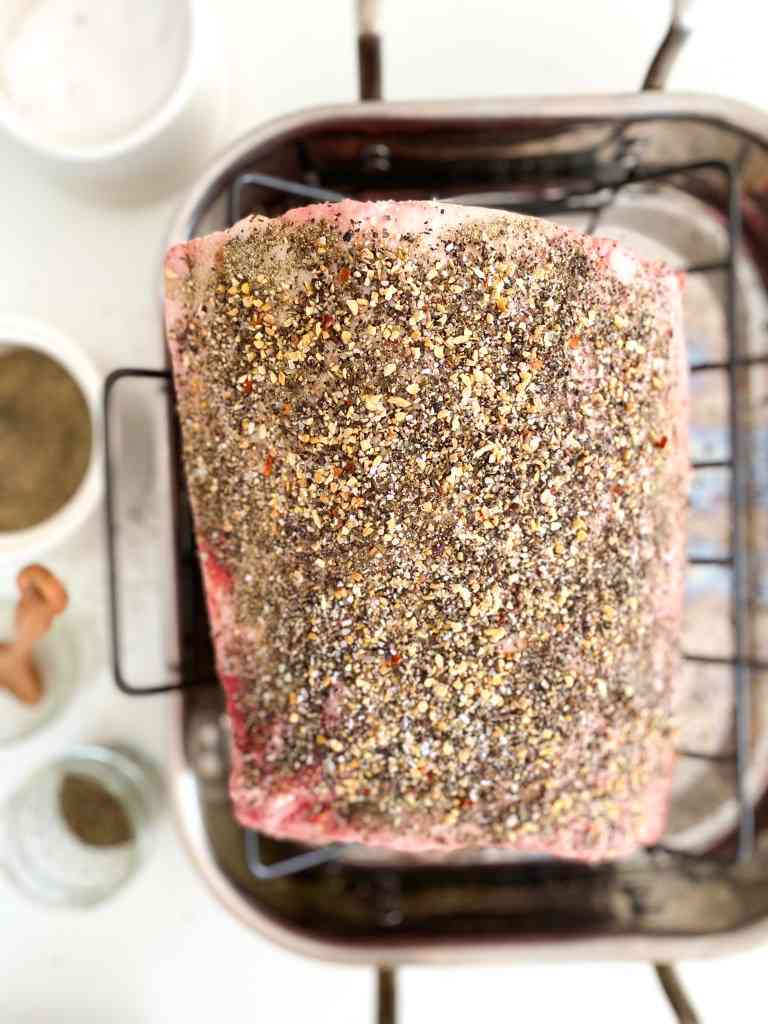 Let's talk about Pepper, Salt (and Garlic)
This roast has only a few simple ingredients but they all have a big-punch-impact. Other than the cut of the meat, pepper is the next most important ingredient to this dish, let's talk about it.
Pepper – there are so many different kinds out there. This roast beef is suppose to be fun and stress free! I would say go with the flow, pick the ones you like the most, but knowing that not everyone can comfortably do that I'll provide you with a path, you can choose the direction you want to go. You will want to cover the entire roast with it so it's nice to have a ground and coarse pepper mix.
Ground Black Pepper: This is what you probably use on the daily bases. You probably have this on hand and it's easily accessible. You can do the entire roast in this and it would be great.
Coarse Black Pepper: This is my favorite kind of black pepper for this pepper crust roast- it's a larger piece of pepper which may turn you away at first but I think it's important to have a variety of depth in both the flavor and crust, this provides that extra something special.
"Broken" Black Pepper: This is what we had to do in culinary school, so if you're looking for that culinary school experience, you can take whole peppercorns and break them up by pressing down the bottom of your pan over them until they break. You can also grind them in a grinder to create one more layer of pepper depth. The fresh grind will release more pepper oils and will be add some "freshness" to the crusted roast.
White Pepper: If you want to do it all in white pepper you can. White pepper doesn't change the flavor, it's just another option to have on deck.
Salt – Essential. You will want to do a heavy sprinkle of kosher salt before adding your pepper.
Garlic – I bought a pepper blend that also had dried garlic in it it was a great addition but not necessary. If you're feeling adventurous, check out the pepper blends in the spice aisle of your grocery store.

Resting your Roast Beef
It is important to rest meat and it's a good rule of thumb to rest it 1/3 of the time you roasted it, it will not be cold when your serve it, this also allows you time to gather your side dishes.
The science behind it would tell you that when meat cooks it pushes it's juices to the outside edges (for a good visual of this concept is when you cook chicken you see the white juices push out to the side of the meat). Resting gives it time for the juice to stop reacting to the heat and allows it to resettle evenly throughout before cutting into it so that everyone gets a perfect mouth-watering roast beef.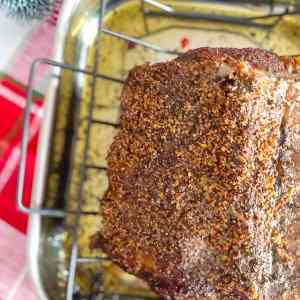 Scrumptious Pepper-Crusted Roast Beef (Standing Rib-Roast)
Pepper-crusted roast beef, is so simple but comes with big layers of flavors and it is roasted to perfection so that it melts in your mouth.
Print
Email
Pin
Rate
Ingredients
3-4

lb

Prime Rib Roast (Standing Rib Roast) (Bone-In)

see blog notes

3-4

TBSP

Kosher Salt

1

heavy drizzle

Olive Oil

½

cup

Pepper Mix

see blog notes
Instructions
Preheat your oven to 450F.

On a roasting pan, cast iron pan, or another oven safe pan place your rib roast. Sprinkle and press in the kosher salt all over the outside (all sides).

Drizzle a little of olive oil on all sides. Press in your pepper mixture so that the entire rib roast is covered in pepper on all sides, including the fat caps.

Roast at 450F for 15 minutes, this will allow the fat to start to render and will jump start the browning of the pepper crust.

After 15 minutes, keep the roast in the oven and drop the temperature to 250F. Roast for about 1.5 – 2 hours or until the internal temperature is 135F for a medium doneness.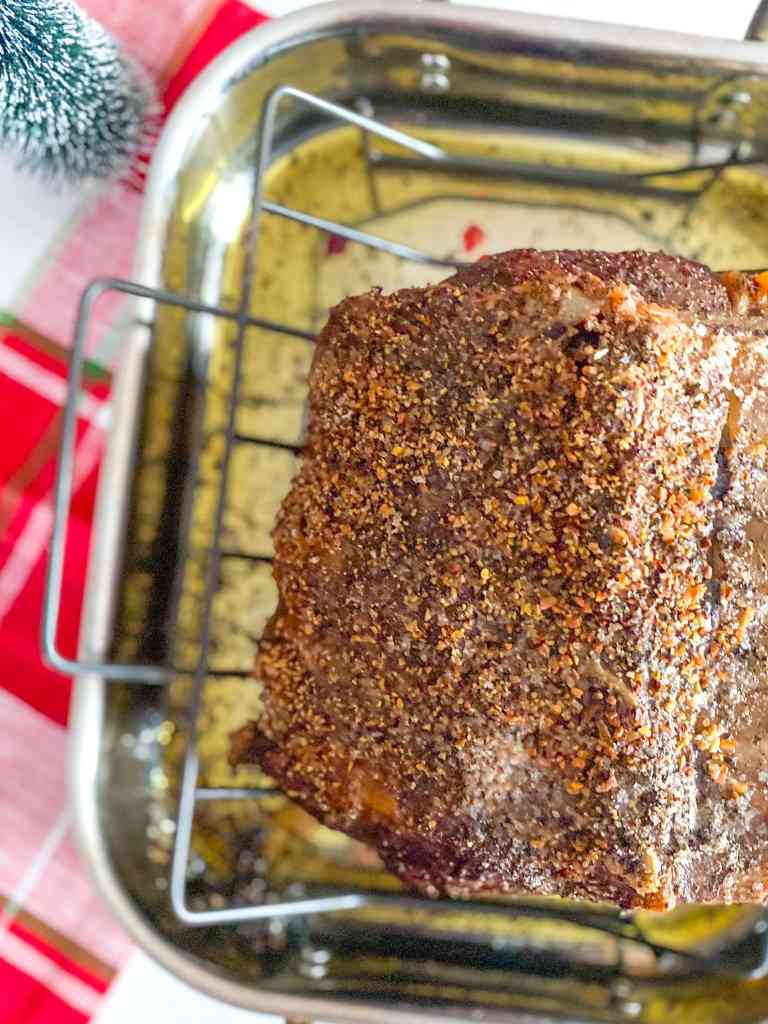 Side dishes
Parmesan-Thyme Mashed Potatoes
Family Favorite Oat Stuffing (Scottish Skirlie, Gluten-Free)
Seasonal Roasted Vegetables
Honey Bacon Brussel Sprouts