Quick, easy and super cute Leprechaun treats for St. Patrick's Day! Look no further, trust me, these are award-winning in my house, simply irresistible.  Delectably sweet, perfectly crunchy, pillows of gooey marshmallows and dipped in white chocolate. I am obsessed.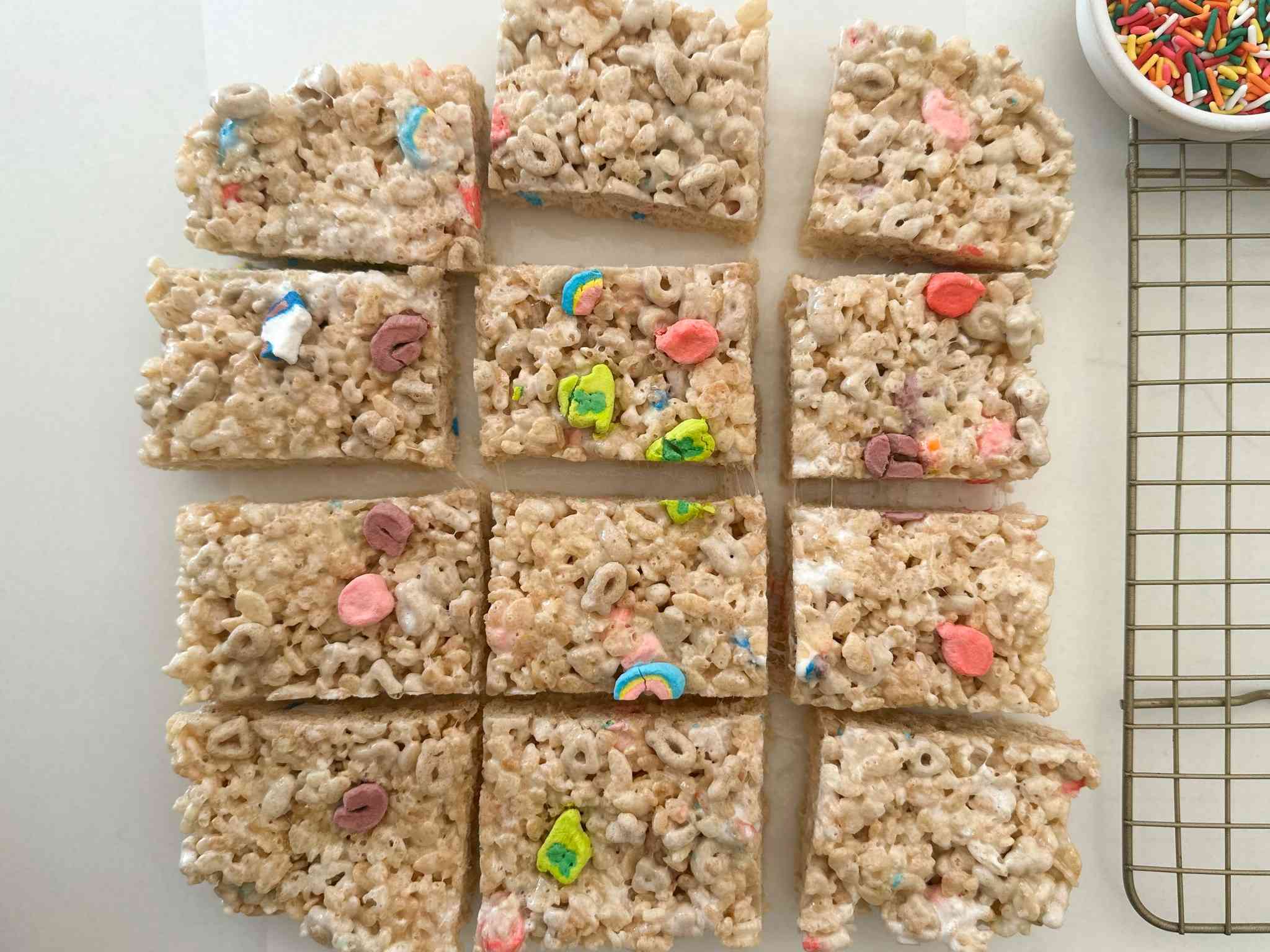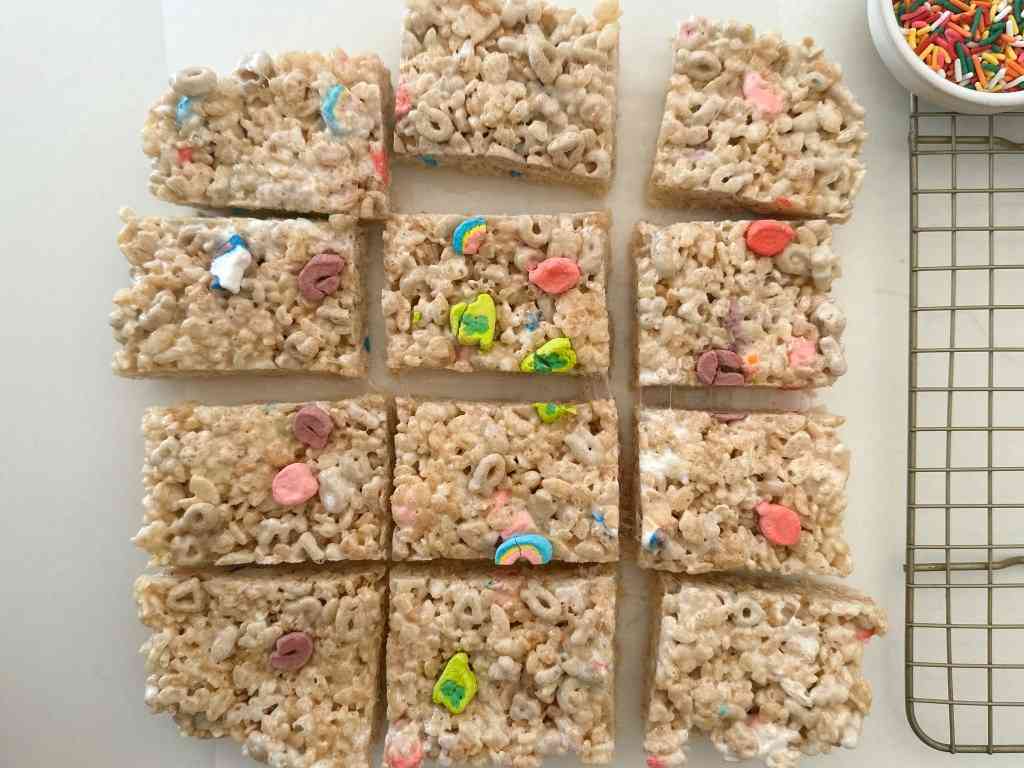 A Leprechaun in Real Life
St. Patrick's Day has always been a fun day to celebrate the luck of the Irish, I spent many years bar-hopping with beers and beads. However, in St. Patrick's Day 2020, my youngest daughter Kate was born, so now that we have a Leprechaun in real life, I try to make the holiday extra special. Shamrocks and Lucky Charms.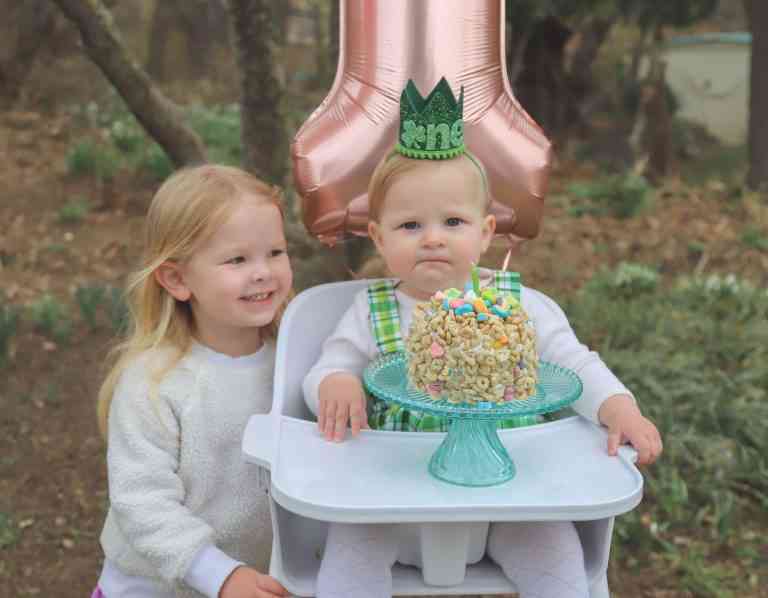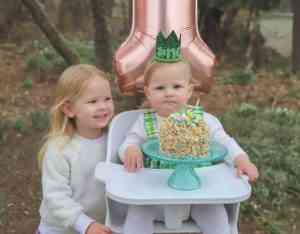 Leprechaun Treats – The Key to the Gooiest Marshmallow Pull
You have to use 12oz of large marshmallows. 10oz is not enough. After making these with both store-brand and Jet-Puffed Brand, I highly recommend these Jett-Puffed Marshmallows.
Now to melt them perfectly for the gooiest pillows of marshmallows. Slowly melt with butter over medium or medium-low heat. Stir to keep them from sticking to the pan. As they slowly melt together you will notice chunks of marshmallow that are partially melted but not melted all the way. Once you have about 90% fully melted and 10% still in the melted-chunk stage, turn off the heat and immediately pour in the cereal. Stir to evenly combine. When the bars set and you cut them you will see epic marshmallow chunks.
To keep the most amazing gooey marshmallow pull, store on the counter. The recipe put the leprechaun treats in the refrigerator to help them set up for chocolate dipping. Once the bars are dipped and the chocolate has set. Store in a container with a lid on the counter to keep them soft enough to pull apart.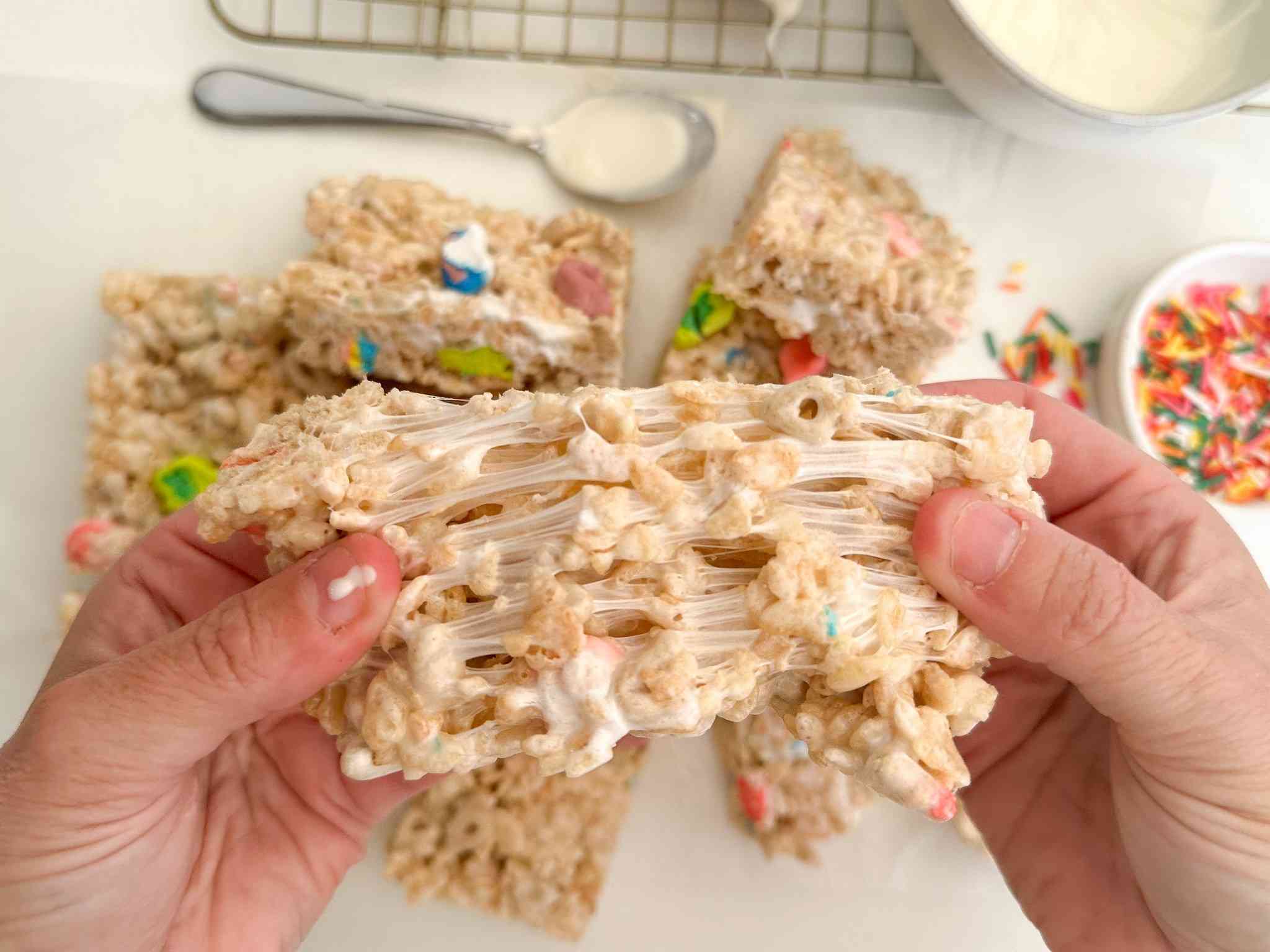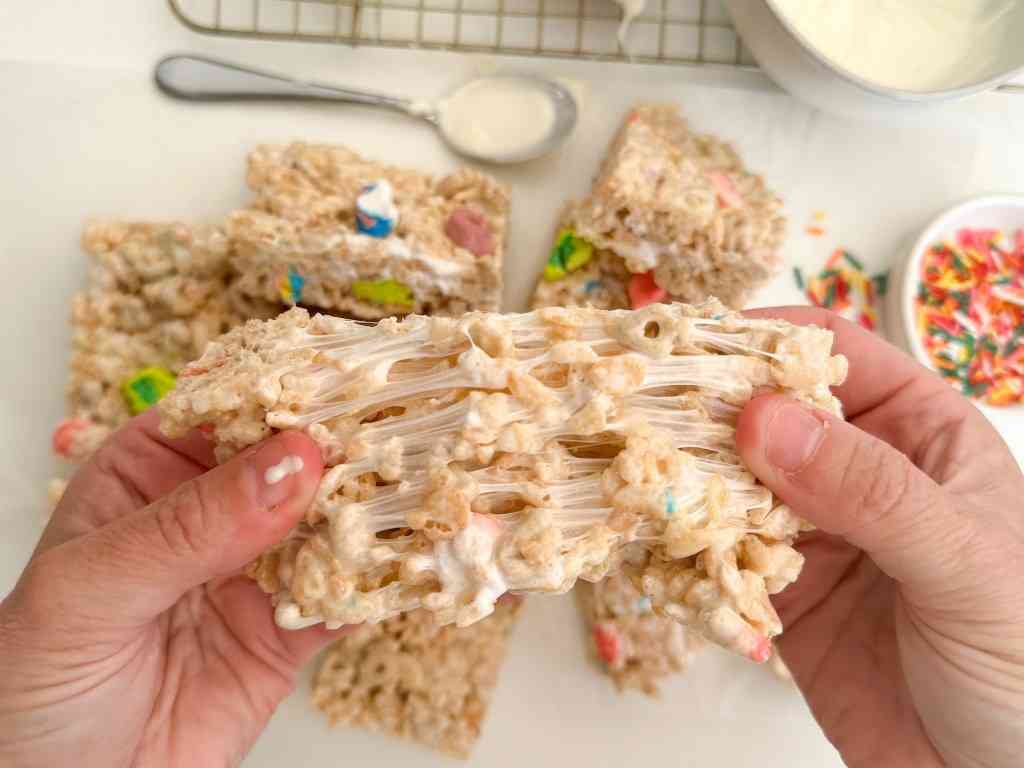 All of the Ingredients You Need
Lucky Charms – I love the classic, but feel free to pick up one of their special boxes with limited time only marshmallows
Rice Krispies.
Jet Puffed Marshmallows – 12oz, you cannot skimp on the brand or the ounces, trust me.
Butter.
White Chocolate Melting Wafers or White Chocolate Morsels, I prefer the melting wafers because they set up and create a harder chocolate shell than the morsels when you store your leprechaun treats on the counter.
Sprinkles of any kind.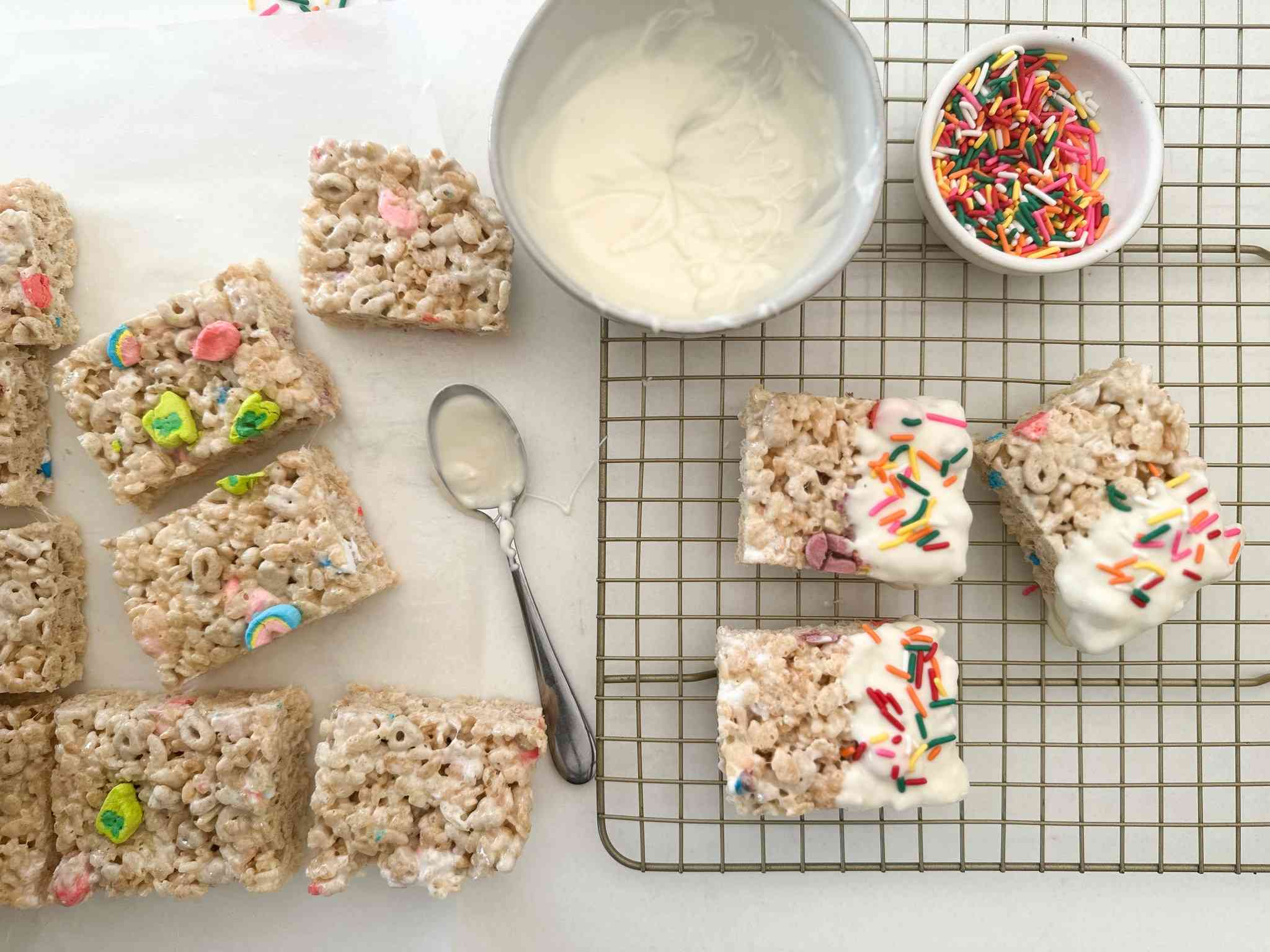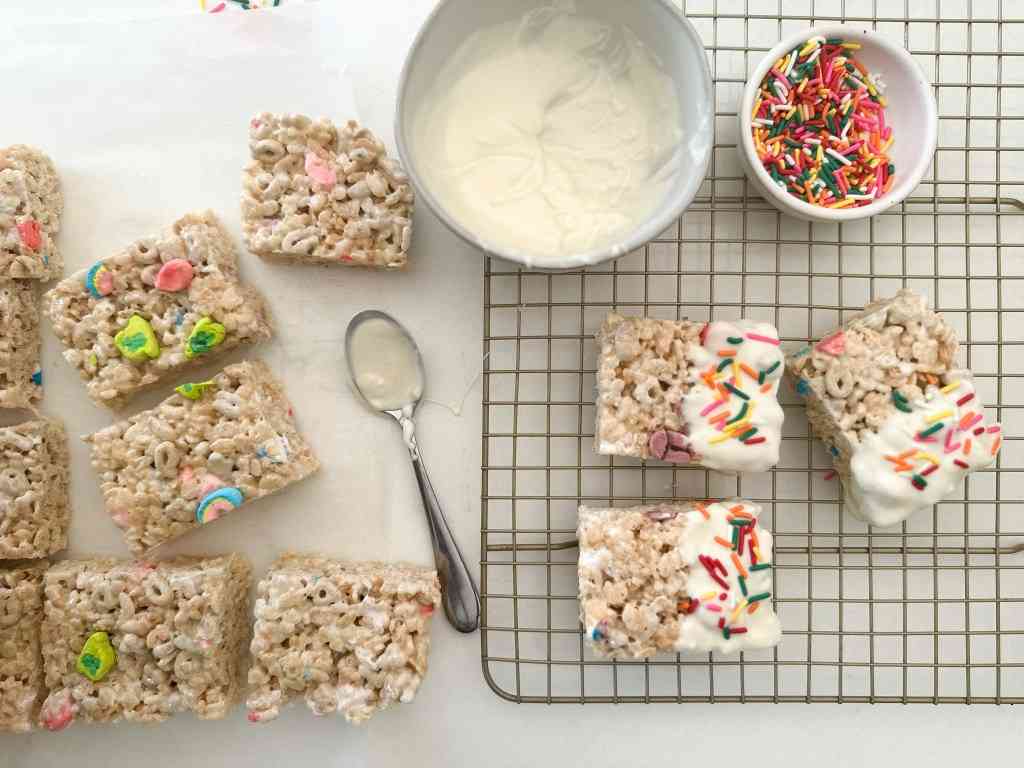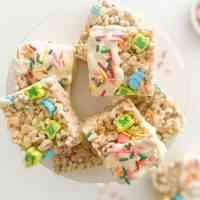 Leprechaun Treats (Rice Krispie and Lucky Charm Bars)
These easy and cute Leprechaun treats are delectably sweet, perfectly crunchy, pillows of gooey marshmallows and dipped in white chocolate and topped with sprinkles!
Print
Email
Pin
Rate
Ingredients
3

TBSP

Butter

4

Cups

Rice Krispies

2

Cups

Lucky Charms (+ more for topping)

8-10

oz

White Chocolate Melting Wafers

Sprinkles of Choice
Instructions
Line a 9x9 pan with parchment paper and spray with non-stick cooking spray and set aside. Spray non-stick cooking spray on your spatula or spoon you will use for stirring the melting marshmallows and set aside.

In a large pot, add your butter and marshmallows. Over medium low heat, melt the butter and marshmallows, using your prepared spatula or spoon stir occasionally to prevent burning.

One the marshmallows are about 90% melted completely, but there are still some semi-melted soft lumps of marshmallow, remove from the heat.

Dump into your prepared 9x9 pan and press evenly into the corners and pan. Once it's cool enough to touch, I spray my hand with non-stick cooking spray to press down.

Put in the refrigerator for 20 minutes to rest and cool. After 20 minutes, remove from the refrigerator and cut into 12 squares.

You can make them larger or smaller, it's up to you.

Melt your white chocolate melting wafers according to the package.

If you are using white chocolate morsels instead, add about a cup to a bowl with ½ TBSP of butter and melt in the microwave for 45 seconds, stir, and if they need more time, put back into the microwave for 15 second intervals until melted, stirring between each.

Lay out a piece of parchment paper or a drying rack.

Dip ½ of each leprechaun treat. into the melted white chocolate and add sprinkles. Place on your parchment paper or drying rack to allow the chocolate to set.

If you are using white chocolate morsels you may need to place them in refrigerator to set.

Store in a container with a lid on the counter.

If you used white chocolate morsels, depending on how warm the kitchen is, you may need to store in the refrigerator.
(Amazon affiliated link, not sponsored)