Springtime Muddy Buddies are so quick to throw together for a simple and easy sweet treat. I mean look how cute these are. We are obsessed. They're perfect to have around the house for any springtime occasion. Birthday parties, egg hunts, baseball opening day watch parties, bridal/baby showers, Mother's day – you name it.
Can we call it a snack rather than dessert? You can treat yourself just a little bit at a time so it's indulgent but also guilt-free.
Kids love it and their "handful"  is so tiny that they think they are having a lot but it's just a few making it a win-win for everyone. 
These muddy buddies make the most ideal party favor! You can bag it, tie it with a cuuuute ribbon and you're done. Simple, elegant and yummy. 
There are so many reasons to make these, most of all, they are simply delicious, crave worthy, cute as a button and they take less than 20 minutes.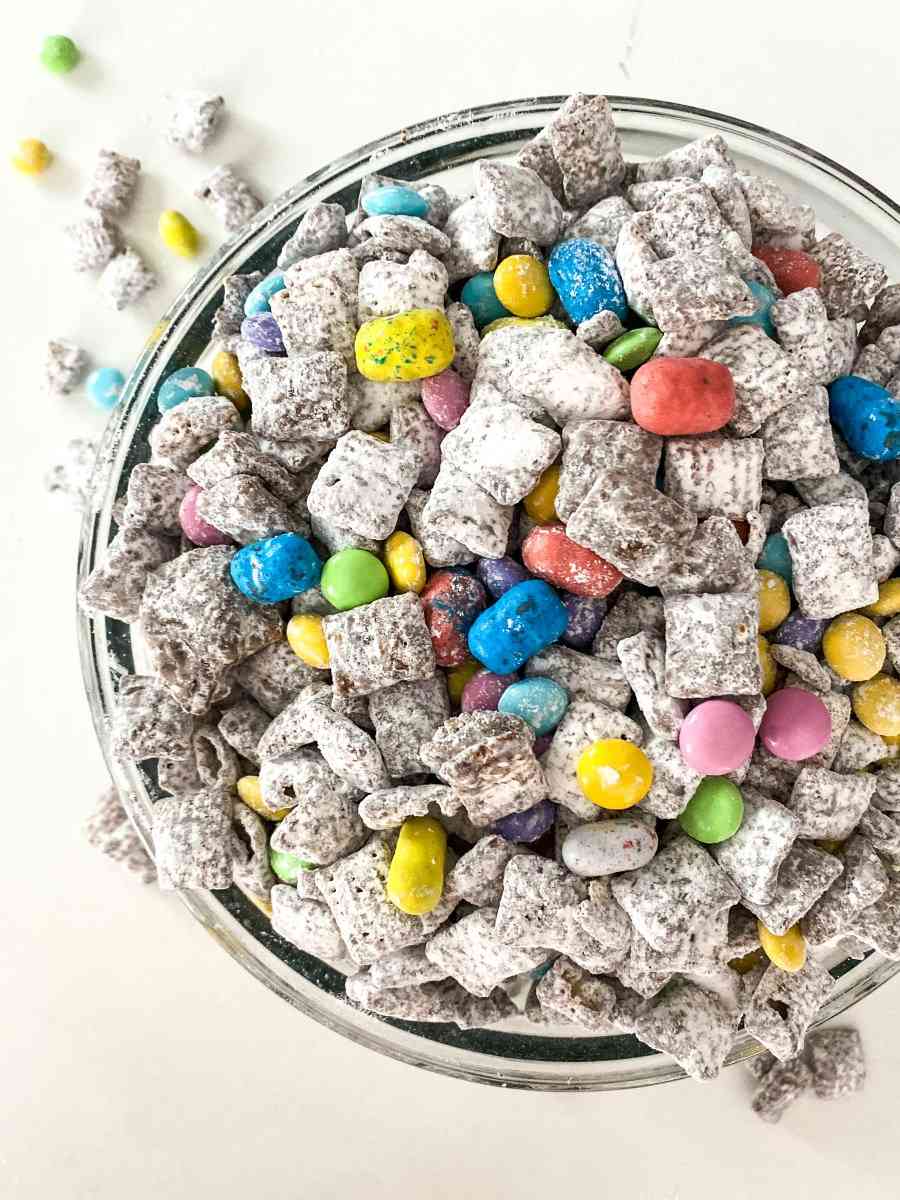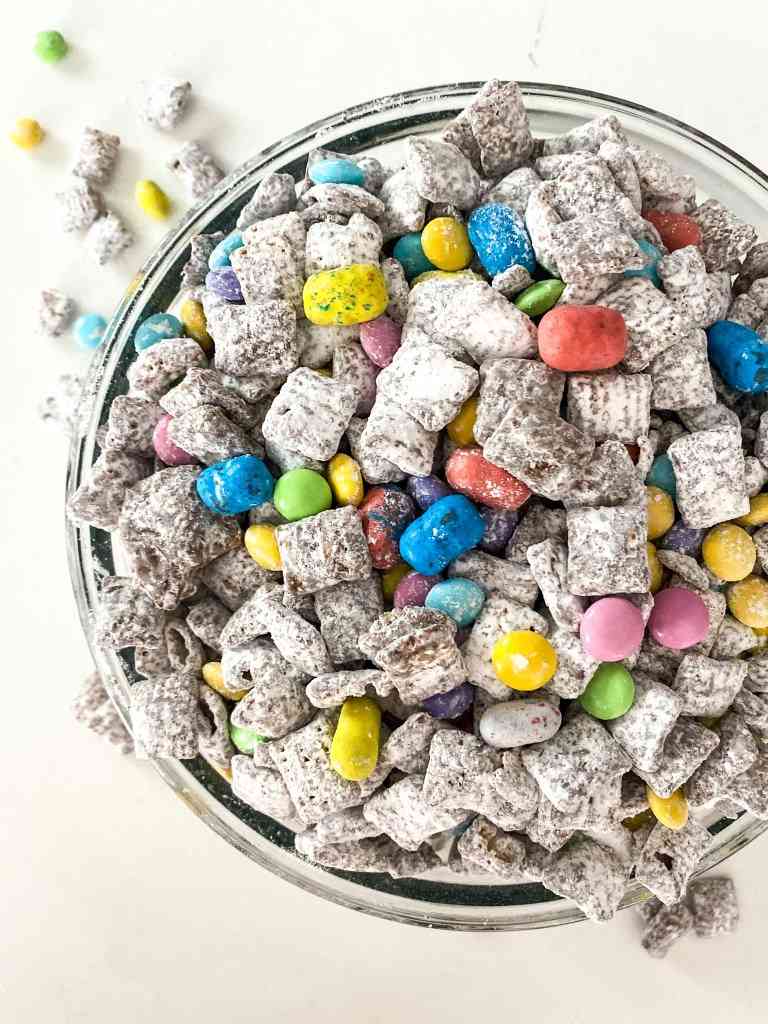 Adapting your Muddy Buddies
This sweet treat is so unique that you can adapt it for any occasion making it extra special. By adding seasonal candies or specific colored candies you can easily make it fit your theme. For the springtime muddy buddies, I love using the pastel chocolate candies (plain M&Ms) and mini robin eggs.
For baseball, I opt for red and white colored candies – Go Washington Nationals! 

Mini M&Ms would be a cute idea. Peanut M&Ms are fun too! For the peanut butter lovers, mini Reese's cups or Reese's pieces would be delicious. 

When deciding what to add in, I would stay in the same lane as M&Ms, and to prevent choking, stay clear of anything that requires extra chewing or hard candy. I would not use anything fruity or sour, you want the add-ins to compliment the muddy buddies. 


Peanut Butter Substitutions
When I teach a kid's cooking class, before the confetti drops, we often end the class with this recipe. Kid's love helping with this sweet treat and they love shaking the mixture in the bag while we collectively dance in our kitchens together. 
Peanut butter has become a very hot topic and a lot of schools are nut-free, no fret this recipe is very adaptable to peanut butter substitutions. You can use almond butter if you don't need to go nut-free or sun butter if you need to go nut-free. Both options are a 1 to 1 replacement so no need to change the amount used. Easy peasy.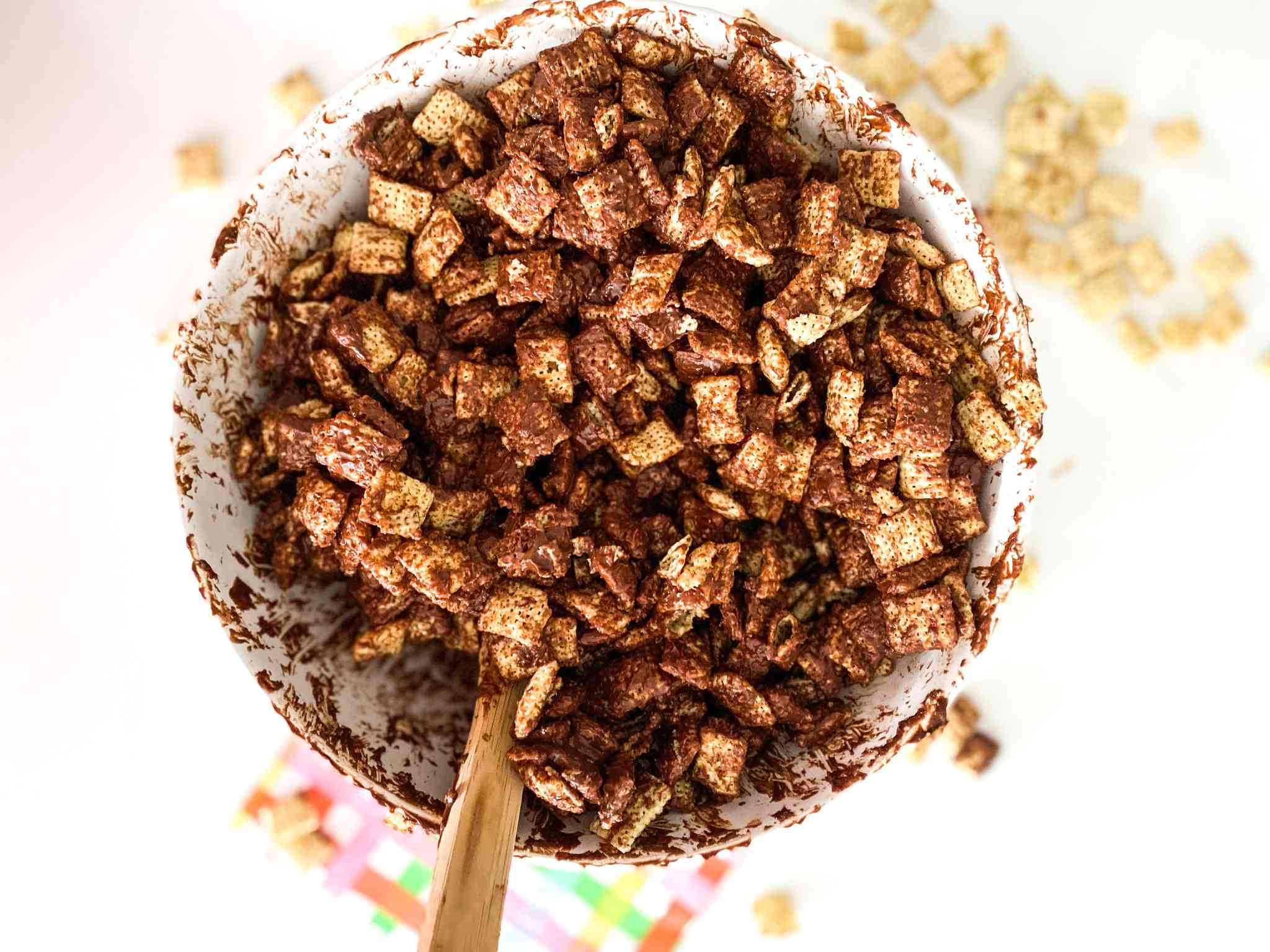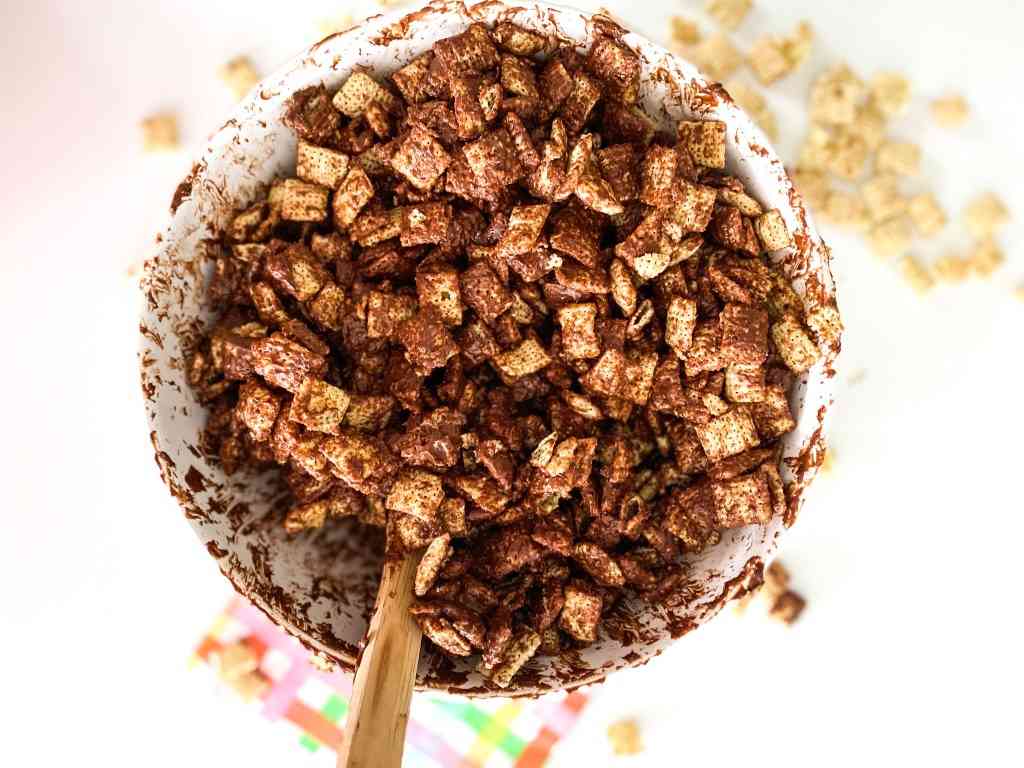 Chex's Cereal 
Let's be honest, this recipe is not new, muddy buddies have been around for a very long time and the classic recipe is on the back of the box of any Chex's cereal. This is not an ad, paid partnership – we just love muddy buddies or puppy chow depending on where you grew up. 
Growing up I was convinced that my best friend's mom invented puppy chow, in fact, I wrote down her recipe in my little-person handwriting on a piece of computer printer paper, you know the kind with the holes on the side so it could feed into the printer and then you tear it off at the perforated section. My first recipe, and I still have it. 
Let's discuss Chex's cereal. If you have never heard of Chex's I'm linking them here. They have so many different flavors now. I highly recommend sticking to Rice or Corn Chex for this recipe. Wheat Chex are little too "hearty" and the other flavors will compete in an undesirable way with the chocolate and peanut butter flavors. Full disclaimer, I never tried making muddy buddies with the Chocolate or Peanut Butter Chex flavors.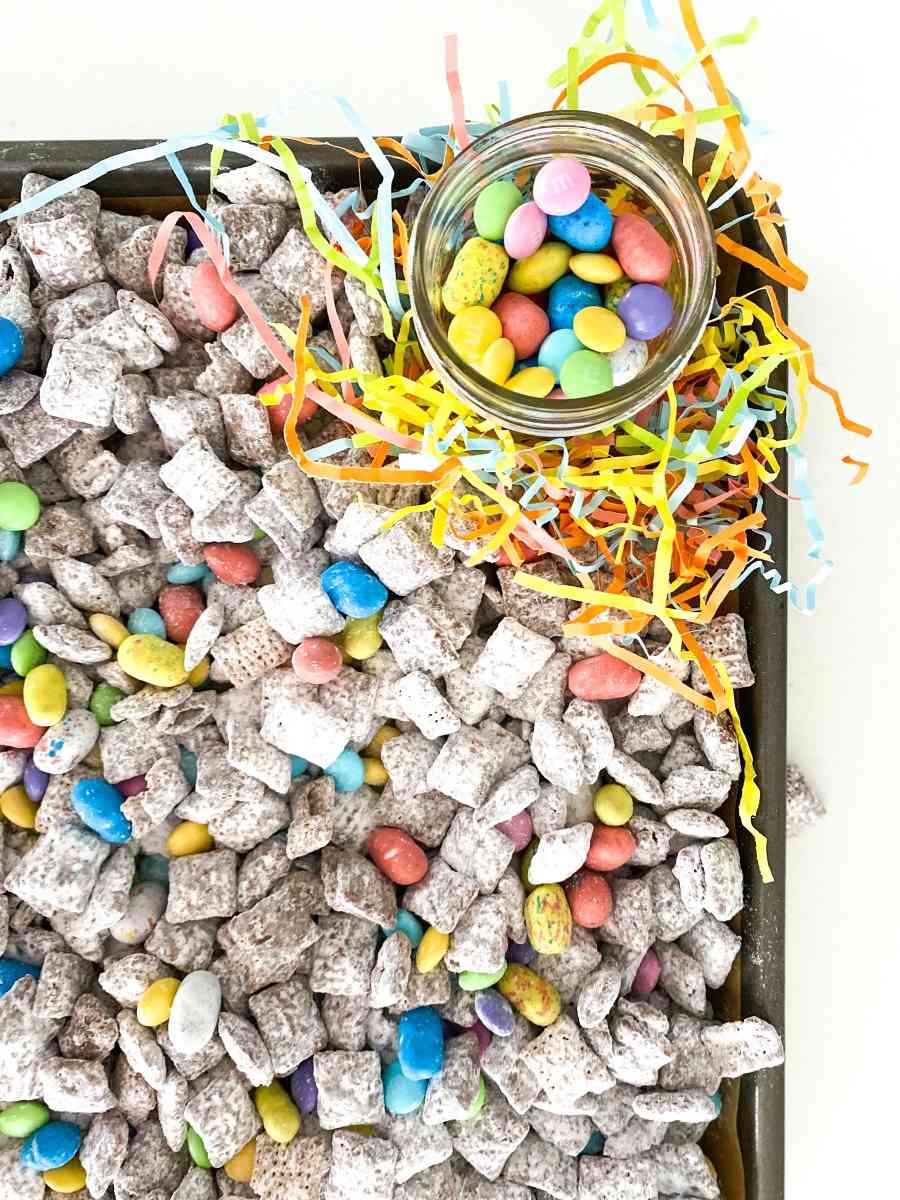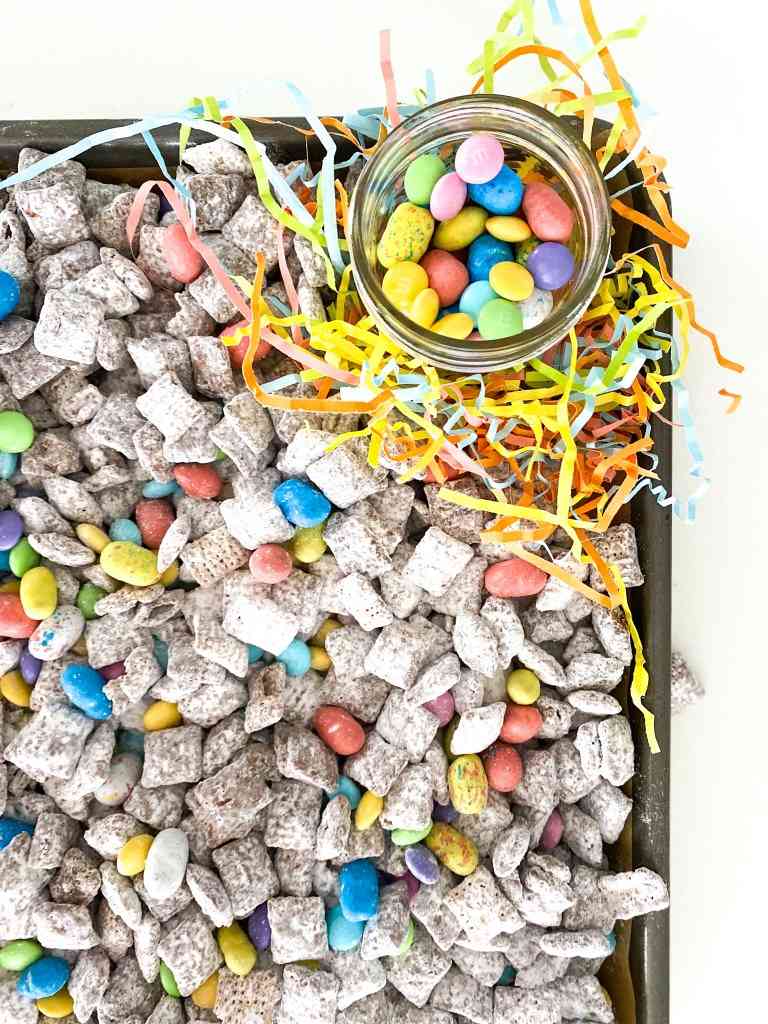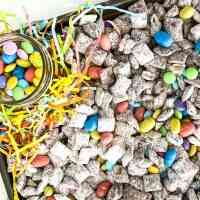 Springtime Muddy Buddies
There are so many reasons to make these springtime muddy buddies, most of all, they are simply delicious, crave worthy, cute as a button and they take less than 20 minutes. 
Print
Email
Pin
Rate
Ingredients
7

cup

Chex's Cereal

see blog notes

1

cup

Semi-Sweet Chocolate Chips

½

cup

Peanut Butter

see substitution options in blog notes

¼

cup

Butter

1

tsp

Vanilla Extract

2

cups

Powdered Sugar

10

oz

Seasonal Candies (M&Ms, other seasonal candies)

see blog notes
Instructions
Measure out your Chex mix into a large bowl and set aside.

In a small bowl, combine your chocolate chips, peanut butter and butter. Melt in the microwave for 1 minutes. Stir with a spoon, and if needed, add it back into the microwave in 30 second intervals until melted. Do not over heat.

Prepare a sheet-pan, lined with parchment paper. Set aside.

Seal the bag closed tightly and shake. Shake until the cereal is coated in powdered sugar.

Pour in your seasonal candies and give it another quick shake so that the candies are mixed into the muddy buddies