These cute little gingerbread cake pops make the holiday season pure magic. They were an instant hit with kids and adults alike. This recipe is the perfect ratio of cake to frosting leaving the sweetness and spices of gingerbread to shine as the star. Topped with white chocolate and sprinkles makes these a must-have for the holiday season. The annual gingerbread house is going to have to share the spot light from now on.
To keep things simple, you can use a box of cake mix or store-bought cake with the icing scraped off. I'll set you up for success with a full explanation step-by-step in the blog post below.
The cake pops should set up in the freezer for about 45 minutes (up to 24 hours if your busy holiday schedule needs it) before adding the white chocolate coating and sprinkles, so if you're decorating with kids, depending on their age and tolerance for waiting, you may want to prep ahead and bring them in once the cake pops are ready to dip and sprinkle.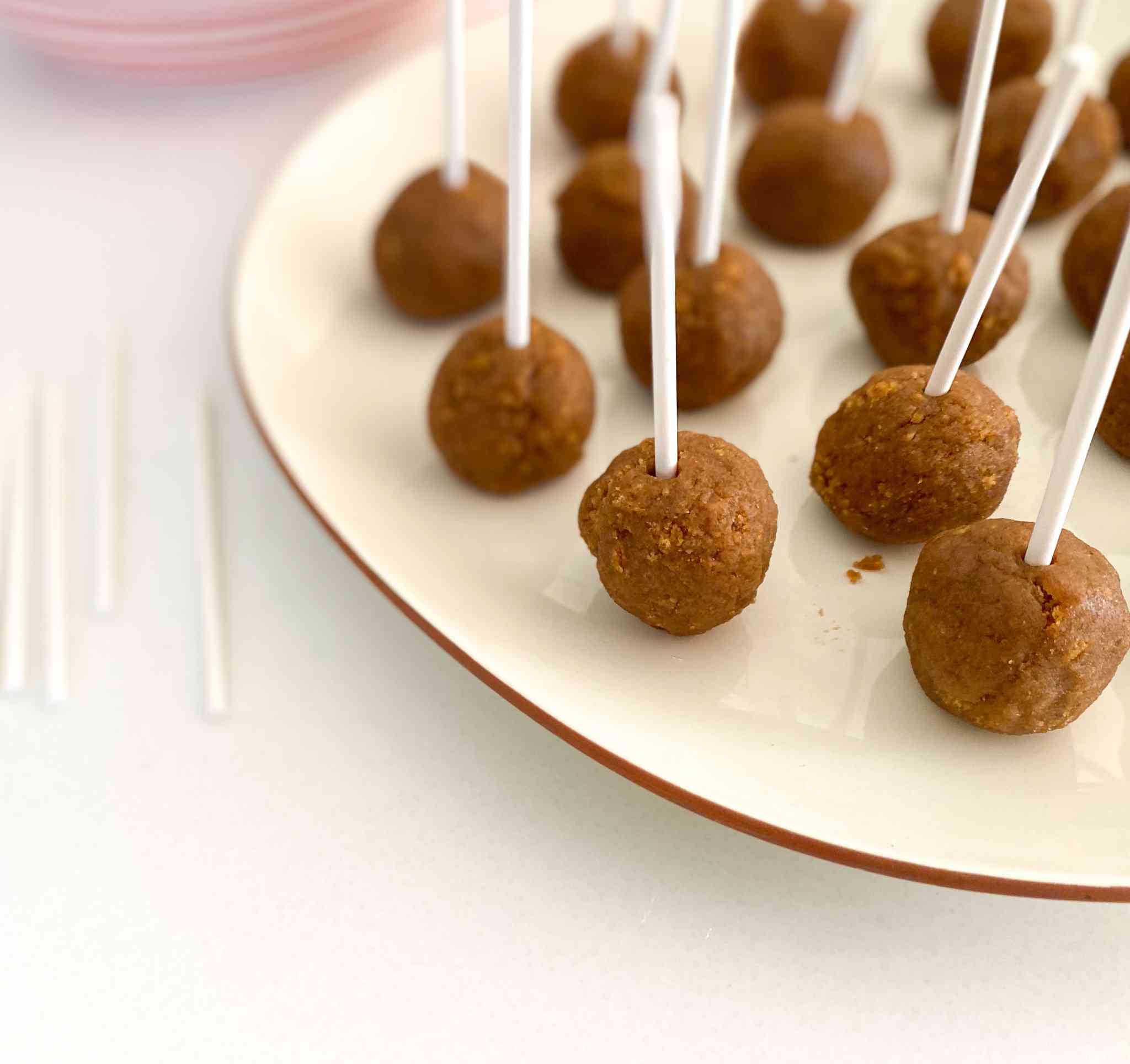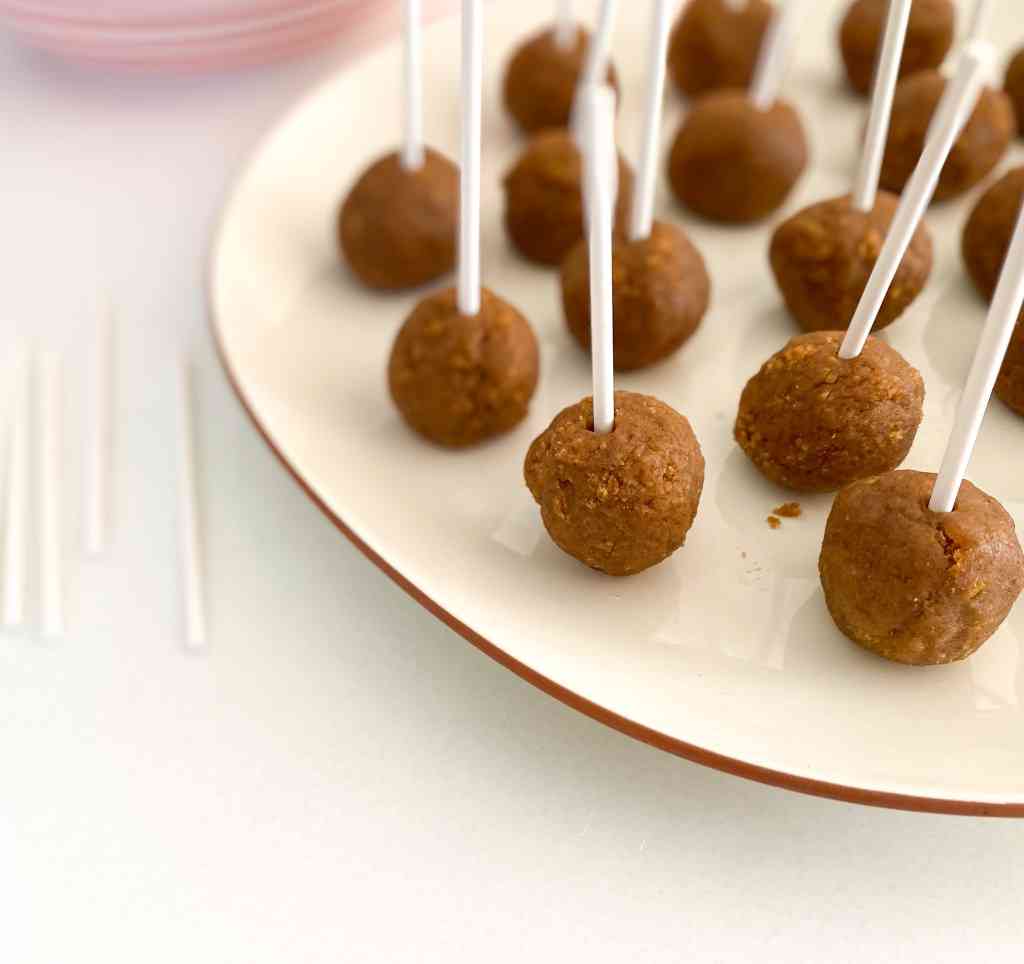 Bake the Gingerbread Cake
I used this 14.5 oz gingerbread cake box mix. You can also make homemade gingerbread cake from scratch or buy store bought cake – scrape off the icing if it has some – you only need a 9 x 9 cake size. If you are baking the cake, do it the day before so it has time to completely cool, you can store it uncovered in the refrigerator until you are ready to make the cake pops.
Frosting to Cake Ratio
Using a stand mixer with the paddle attachement or a hand mixer, whip together the vanilla frosting. I decided to make my own because we only need a very little amount and it's less sweet compared to the jar on the shelf.
You can also double the frosting recipe below to make more frosting to freeze for later (also delicious on cinnamon roll waffles).
The frosting will get mixed into the crumbled cake, this is what holds the cake pop into a ball. You may need to adjust the amount of frosting you use based on the cake you use because if it's too dry or too moist your cake pop ball will fall apart. This is not to intimidate you from trying. You need your ball to hold together when pressed together between your fingers but not be too moist – it'll be the consistency of wet sand like you're building a sand castle, too dry it falls apart, too wet it stays in the plastic castle.





Freeze your Cake Pops
Clear a space in the freezer! Once you roll your cake balls, you will want to gently stick your lollipop stick down in he center without it popping through to the other side. Gently pinch the ball to secure onto the lollipop stick, keeping the roundness of the ball and place on a plate (like the picture above). Place your plate in the freezer for 45 minutes – up to 24 hours if you want to prep ahead.

Dip in Melted White Chocolate
The outside coating is white chocolate. It's best to use white chocolate candy melts/wafers (for a visual, something like these, you can usually find them in baking aisle of your grocery store or craft store. You can find in the grocery store, it melts easily and it sets quickly.
For these gingerbread cake pops, I thought it would be super cute to only coat the top 2/3s do the cake pop and to leave the spicy holiday gingerbread peeking through the bottom. Also, and this is just my opinion, it's better in overall taste.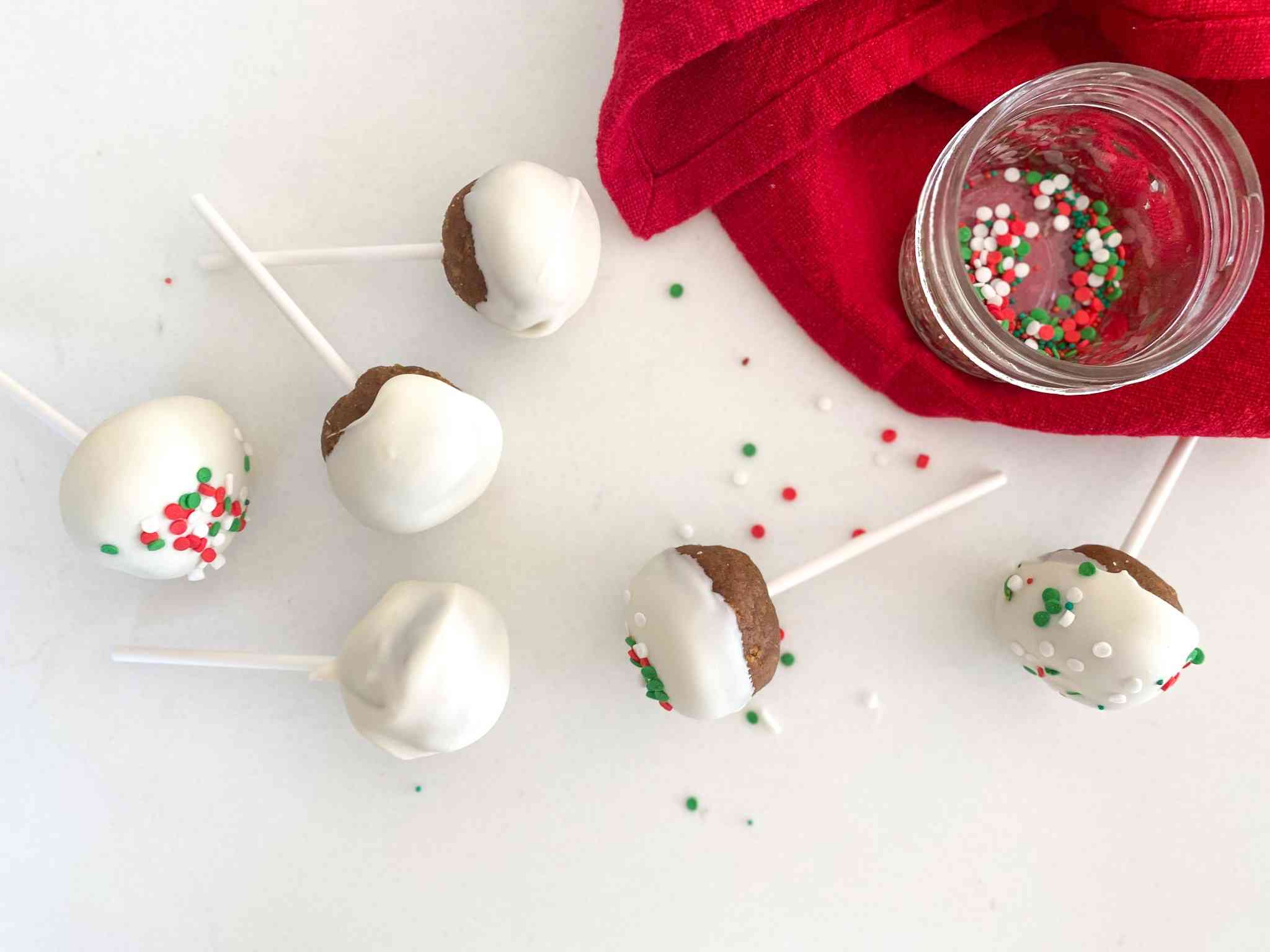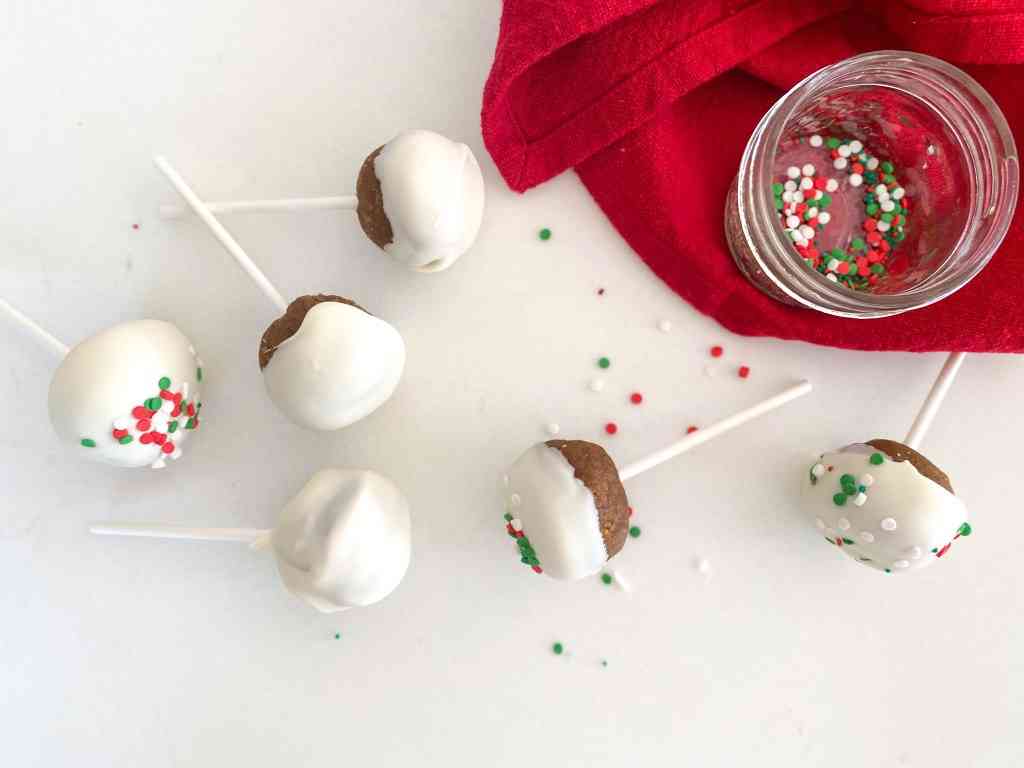 Here are some tips for easy dipping:

Make sure the white chocolate is fully melted – follow the recipe below to heat safely in the microwave. Stir between every couple of dips to redistribute the heat. If if cools down too much, pop in the microwave for another 15-30 seconds.

Make sure your cake balls are secure on your lollipop stick – before freezing your cake pops, give them a quick pinch around the lollipop stick to ensure they freeze securely around. If the lollipop stick still pops out give it a quick dunk into the melted chocolate and stick it back in the cake ball, it will act like glue to keep the ball on the stick.

If dipping is too problematic or stressful, use a spoon – remember the name of the game is to have fun, so if dipping the cake pop down into the melted chocolate is not as easy as I make it look (video below), use a spoon to spoon it over and give the cake pop a quick spin to coat evenly. Any imperfections can easily be covered with holiday sprinkles.

Make sure to sprinkle immediately – Sprinkle immediately!!! The white chocolate sets quickly (yay!) but that means you need to decorate each as soon as the dipping or spooning the white chocolate is done before the coating sets.

Have a box ready – You will need a place to rest these pops as they dry. Yes, they dry quickly but not that quickly and they will need a place to stand to dry. If you dye easter eggs – same gist – you don't want them to bump each other. A cardboard box is easy! You will need to slightly poke holes in the box with the point of your scissors but don't make the holes too big otherwise the lollipop stick will sink all the way down – which really is not bad if you're only coating the top 2/3 of the cake pop.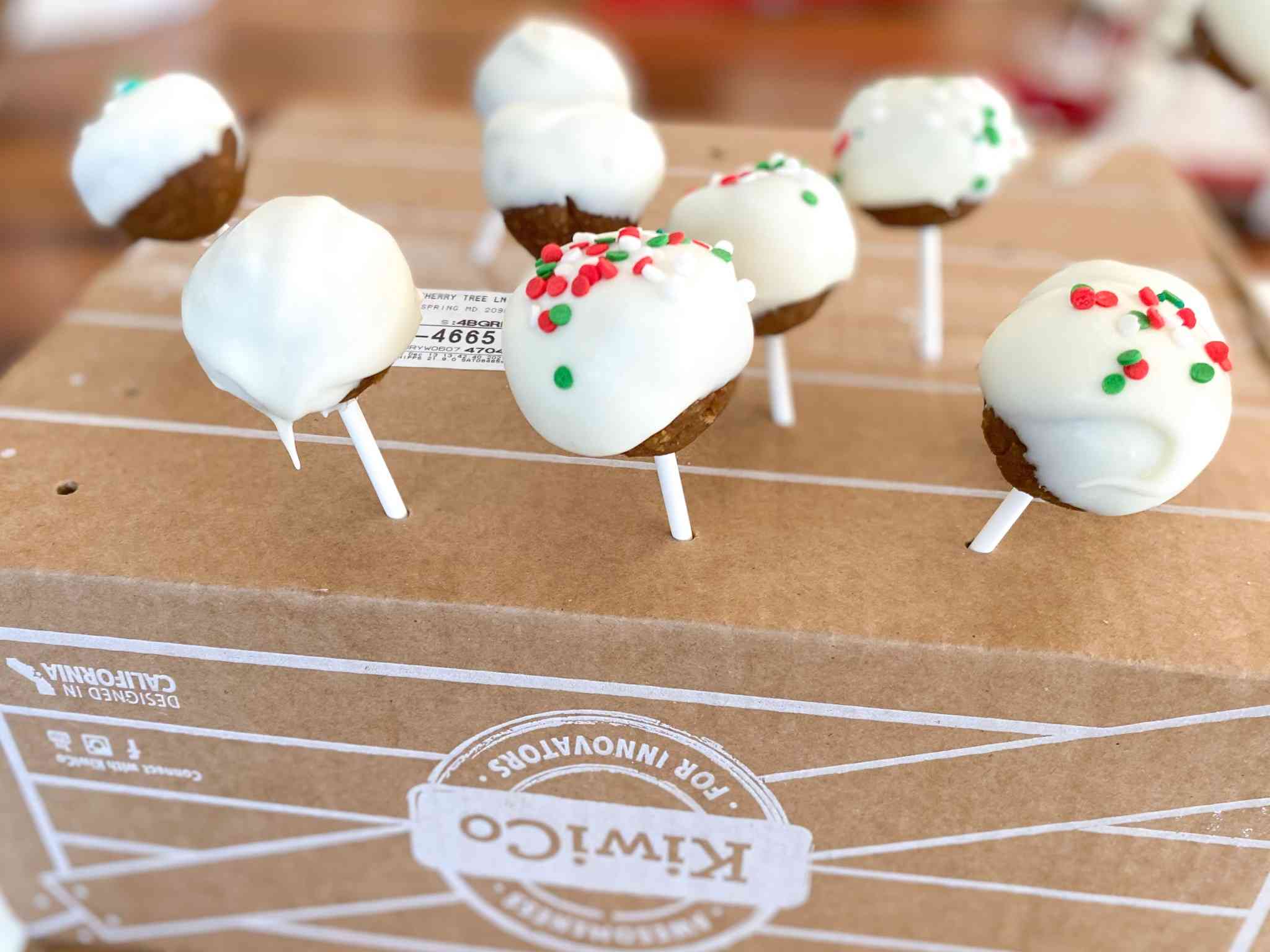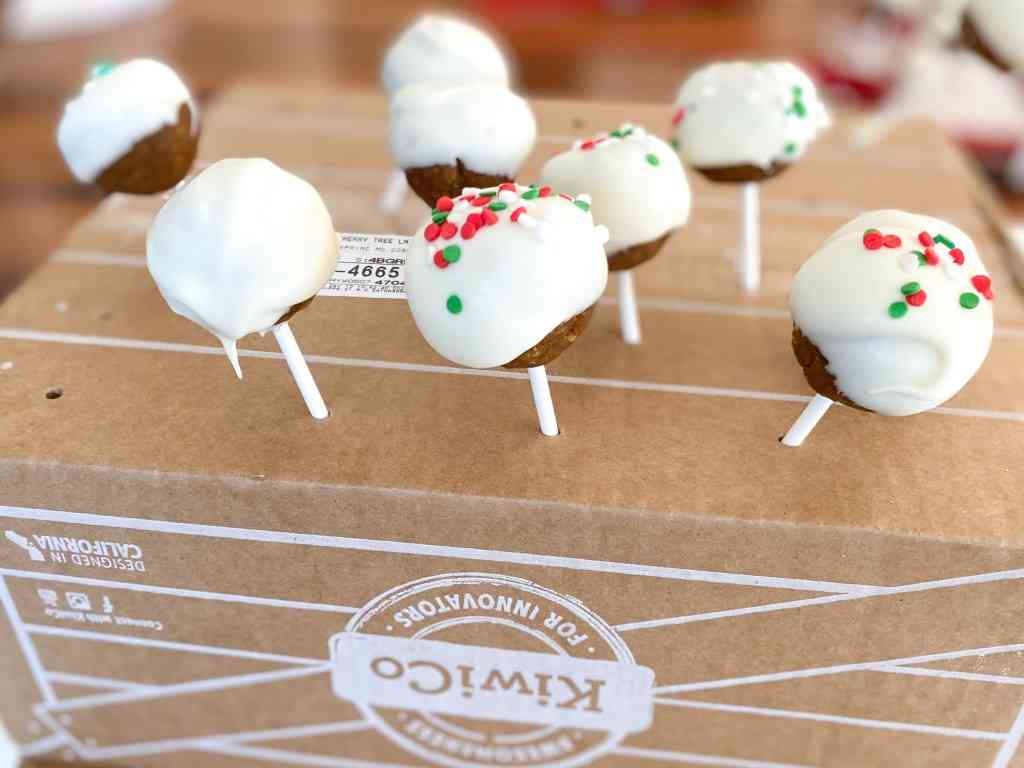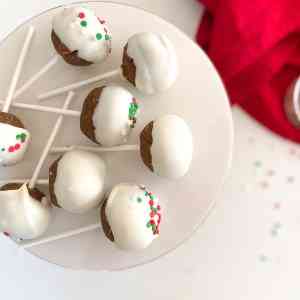 Cute Gingerbread Cake Pops
Such an easy and fun way to make dessert for the holidays, decorate with your favorite sprinkles!
The time does not include baking and cooling of gingerbread cake – that should be done the day before.
Print
Email
Pin
Rate
Ingredients
Lollipop Sticks

(4 in or 6 in)

1

14.5 oz

Gingerbread Cake – baked and cooled

See blog notes
Frosting
¼

cup

Butter

Room Temperature

1

cup

Powdered Sugar

1

tsp

Vanilla

½ – 1

tbsp

Milk
White Chocolate Coating
12

oz

White Chocolate Melting Wafers

See blog notes

Holiday Sprinkles (optional)
Instructions
Once your cake is cooled, make your frosting. In a stand mixer with the paddle attachment or hand mixer, in a bowl combine your butter, powdered sugar, vanilla and ½ tbsp of milk. Mix until it becomes a frosting consistency, add your other ½ tbsp of milk if necessary.

In a large bowl using your hands or a spoon, crumble you cake into small pieces. Scoop in your frosting and combine.

*See blog notes for ideal consistency

Using a spoon or cookie ball scoop, scoop out your cake balls. Roll between your hands and gently place in the lollipop stick.

*See blog notes additional tips

In a microwavable safe bowl, melt your white chocolate for 60 seconds in the microwave. Stir and if you need additional time continue to melt in increments of 30 seconds, stirring in between until melted.