Stuffed peppers & pepper steak COMBINED – similar to the Before and After Category on Wheel & Fortune. Skip take out, this recipe is so much better, combining the savory and spicy flavors of caramelized onion, brown sugar, soy sauce and optional red or green jalapeño peppers. Mixed together with rice and cooked inside of the colorful bell pepper.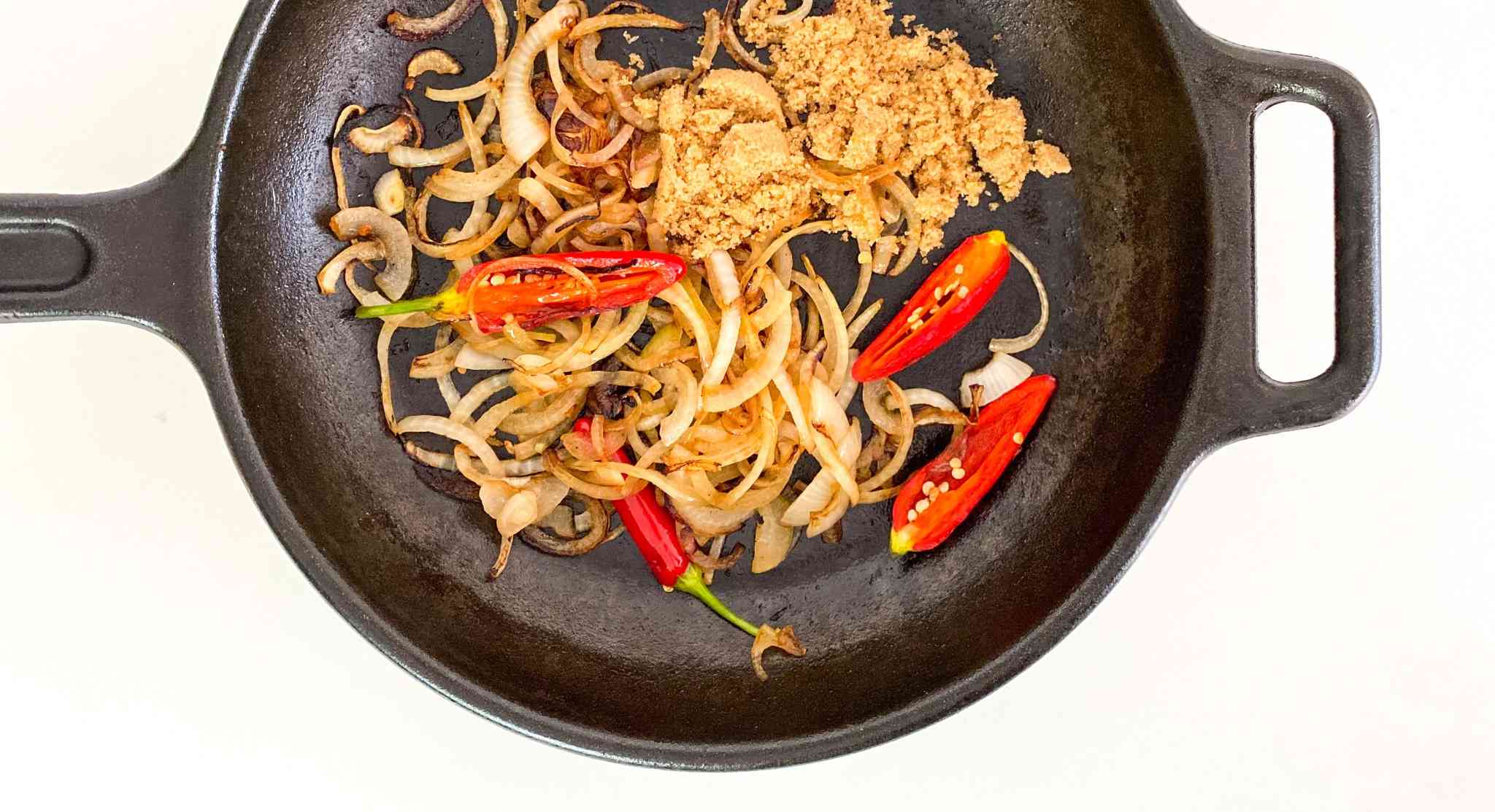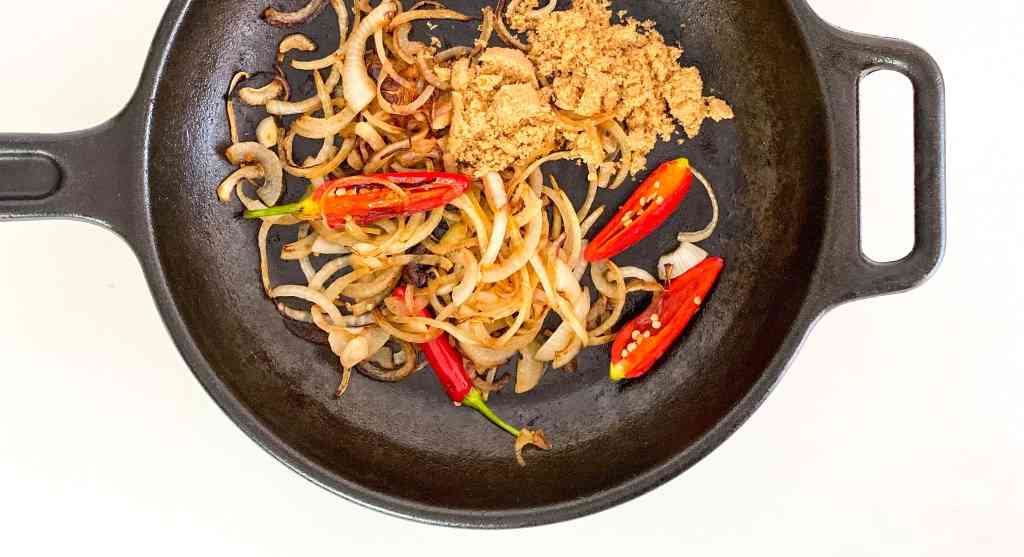 How to Pick your Steak
For pepper steak, you will want to use a "flat" steak for this recipe – skirt, flank or even flat iron steak will work with this recipe. They are leaner and less tender but come with a lot of flavor. Since the steak will cooked in a savory sauce and is in bite-size pieces it will stay tender(ish) and will be oh so delicious.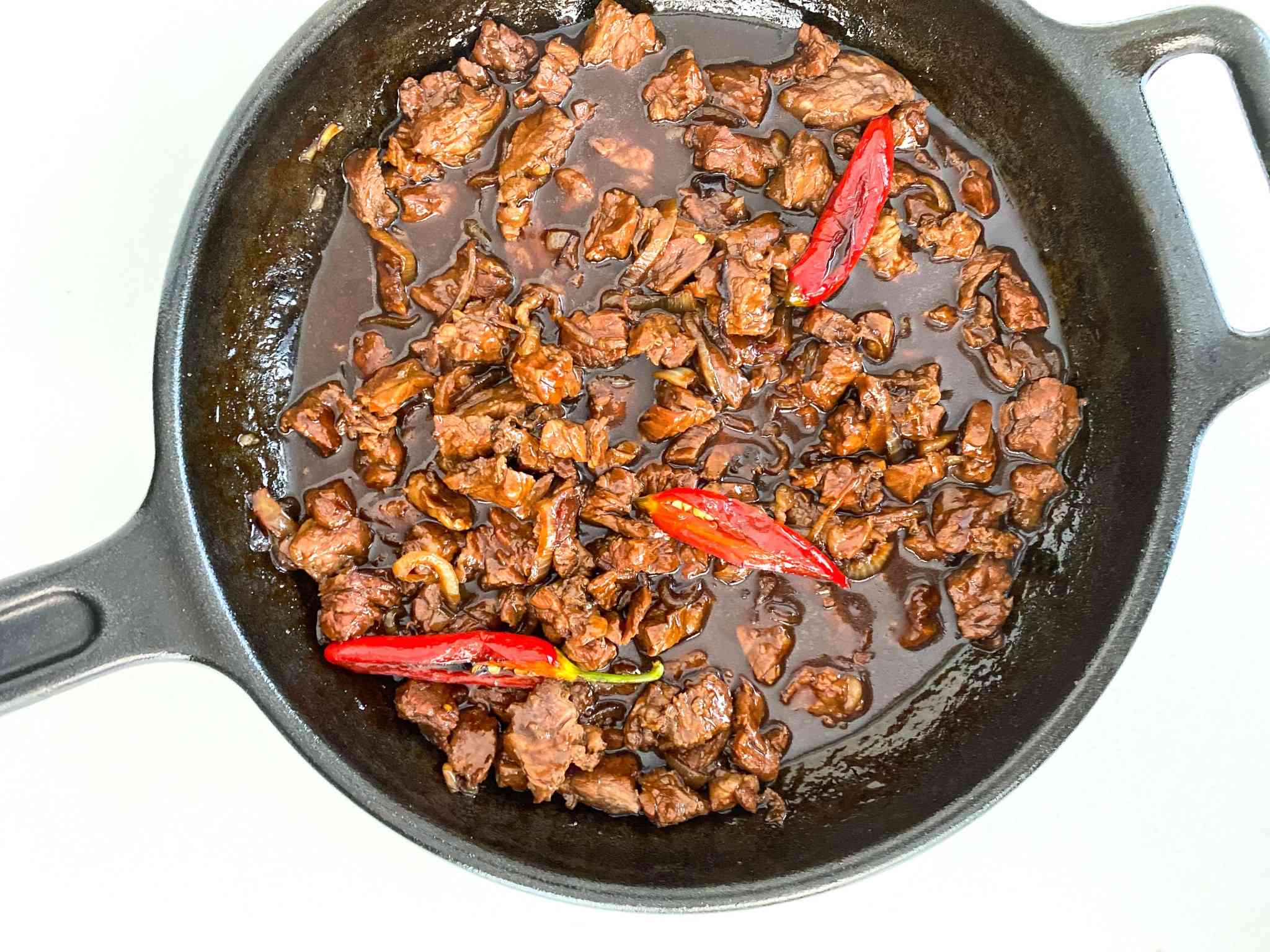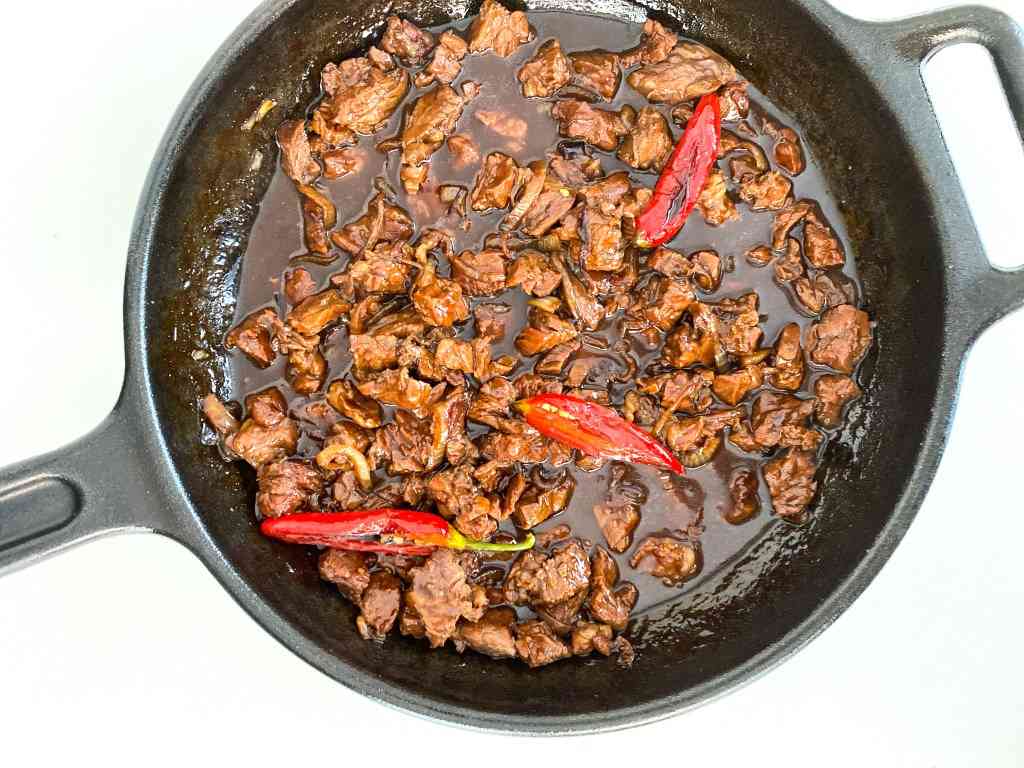 How to Make Rice
I love making white rice in my instant pot, if you do this you want to use a one to one ratio of rice to liquid, for this recipe I use 1 cup of rice : 1 cup water.
If you're making white rice on the stove top you will want to use 1 cup of rice : 2 cups of water – here is the perfect step-by step recipe or you can follow the directions on your rice package.
Feel free to substitute with brown rice or quinoa.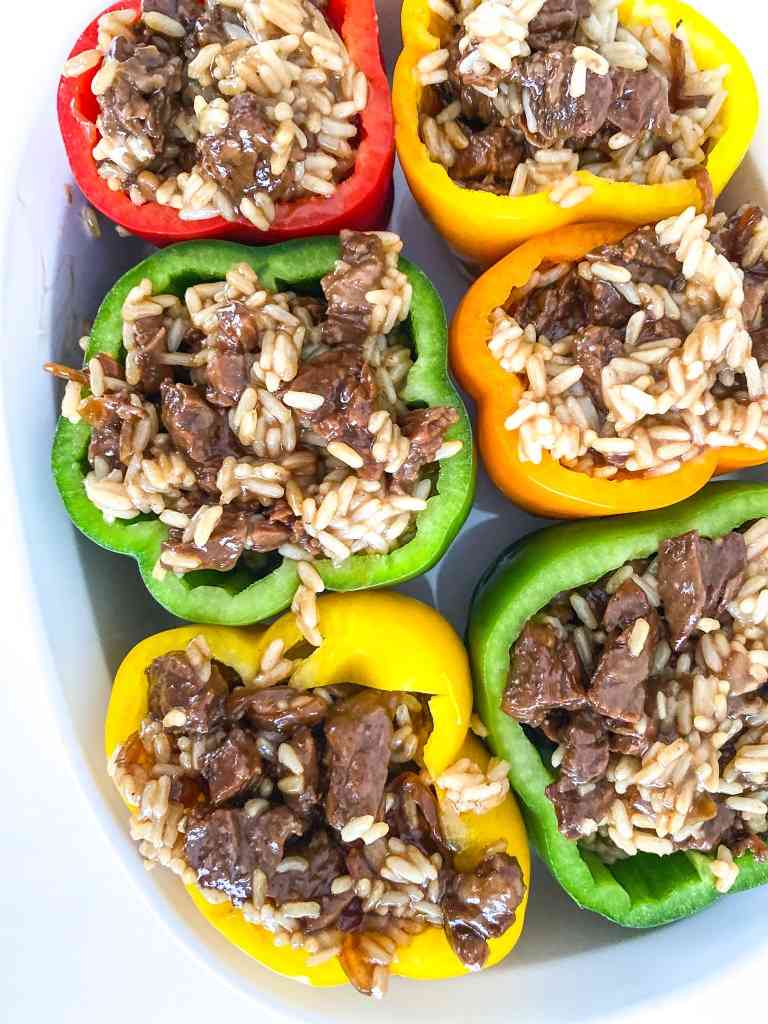 Stuffed Pepper Steak Crock-Pot Option
This dish is oh- so good and easy to make in a lot of different ways to cut down on your weeknight cook time, you can make the filling on your Sunday prep day, and then pop it in the peppers for the oven any night the week.
Or you can make pepper steak in the crock-pot/instant pot (this is my weekly go-to).
To make it in the crock-pot/instant pot: Use the recipe below, you will add the butter, the onion, your steak (uncooked and not cut into cubes), 1/2 cup of your low- sodium soy sauce, jalapeños, the brown sugar plus a 1/4 cup of water. Cook on low for 6-8 hours or high for 4-6 hours.
After your cooking time, remove your steak and cube into bite-size pieces. Make the slurry in a small bowl – whisk together the other 1/2 cup of low-sodium soy sauce and your corn starch until combined and then whisk into your pepper steak sauce until the lumps are out. Turn your crock-pot on high or your Instant Pot on sauté until the liquid starts to simmer/low boil.
Let it simmer until the sauce starts to thicken (about 2-3 minutes), remove your jalapeños, add your steak back in, add red pepper flakes (optional) and see steps 8 -11 are the same.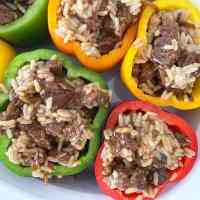 Stuffed Pepper Steak
Savory and spicy flavors of caramelized onion, brown sugar, soy sauce. Stuffed pepper steak cooked with rice in a colorful bell pepper.
Print
Email
Pin
Rate
Ingredients
3

tbsp

Butter

1

lb

Skirt/Flank Steak

See blog notes

1

medium

Onion – thinly sliced

Jalapeños – halved

optional

2

tbsp

Brown Sugar

1

cup

Low-Sodium Soy Sauce

1

tbsp

Corn Starch

1

cup

Rice

Measured before cooked – see blog notes

6

Bell Peppers

Red Pepper Flakes to taste

optional
Instructions
Start your rice. See blog notes for cooking guidance.

Once it's cooked, set aside.

Preheat your oven to 350F

Remove from the heat and cut into bite-size pieces (at this point it will still be rare – it will continue to cook throughout the prep and in the oven). Set aside.

In the same pan, over medium heat add your thinly sliced onions. Let them soften and caramelize. Add in your halved jalapeños peppers if you are using them.

Once the onions start to caramelize add in your brown sugar and let it cook for about a minute as you prepare your slurry.

In a small bowl, whisk together your soy sauce and corn starch. This is called a slurry and it will make the sauce thicker.

Add your slurry to your pan and stir to combine all the ingredients. Add in your cut up steak and bring up to a boil until it starts to thicken. Remove from the heat.

If your sauce becomes too thick, you can add water until you reach the consistency you want. Water will not change the flavor of your sauce. Do not add in more soy sauce – that will change the overall flavor of the dish.

Add in red pepper flakes (optional).

Remove the jalapeños peppers.

Set aside a 3-4 tablespoons of sauce – to serve on the side.

In a large bowl, combine the onion steak mixture, the remainder of the sauce and cooked rice together.

Cut the tops off your pepper and remove the inside seeds. Place standing up in a casserole dish. Fill each pepper up with the steak and rice filling.

Bake in the oven at 350F for 45 minutes, until your bell peppers are tender.