UPDATED (improved recipe & photos!) This super thick summer basil pesto is super easy, less than 10 minutes and perfect for your light summer meals. Toss the garlicky, nutty fresh basil pesto in with pasta, brush it on top of grilled chicken, baked fish or even spread it on top of crusty bread paired with fresh bruschetta.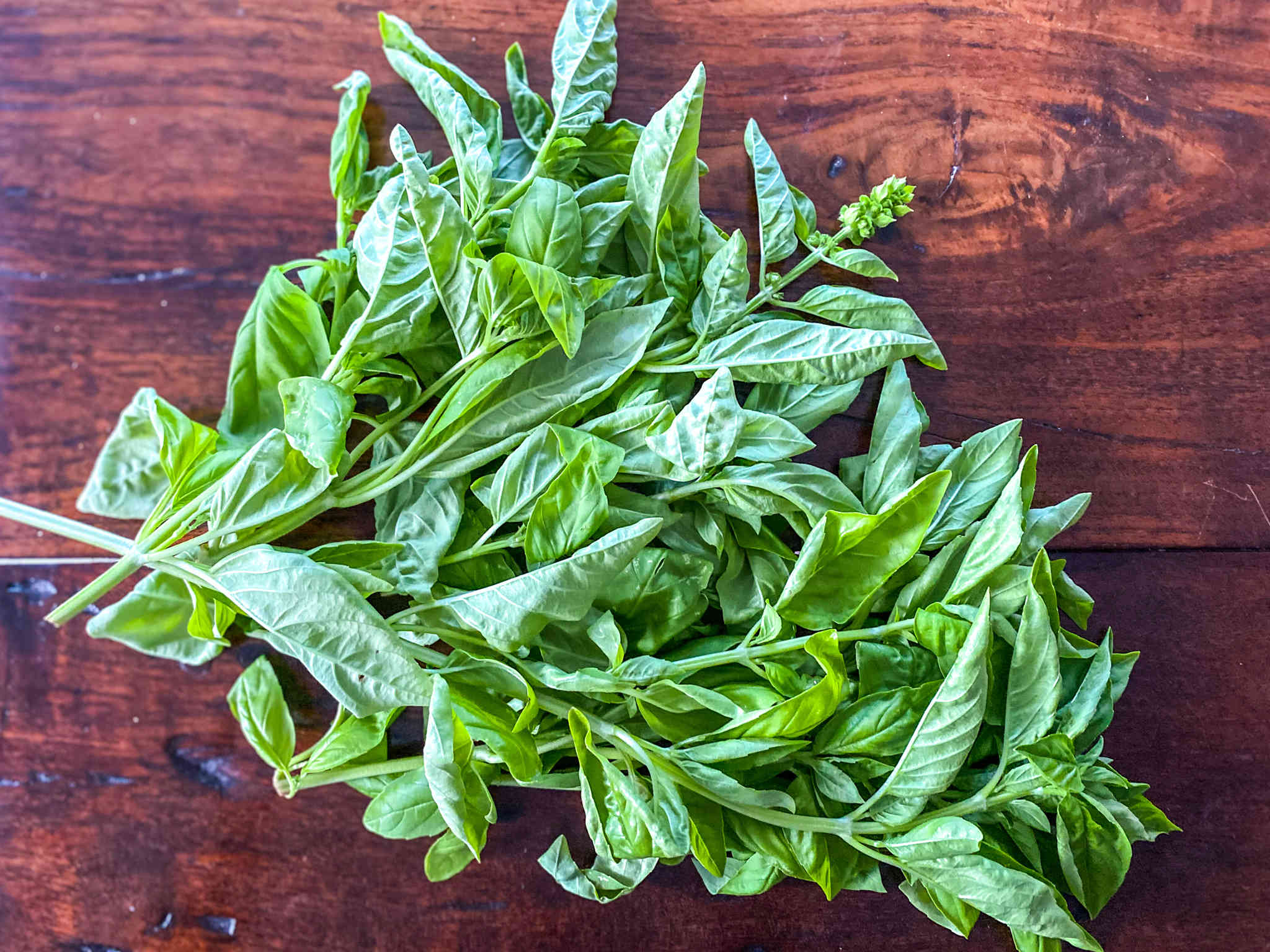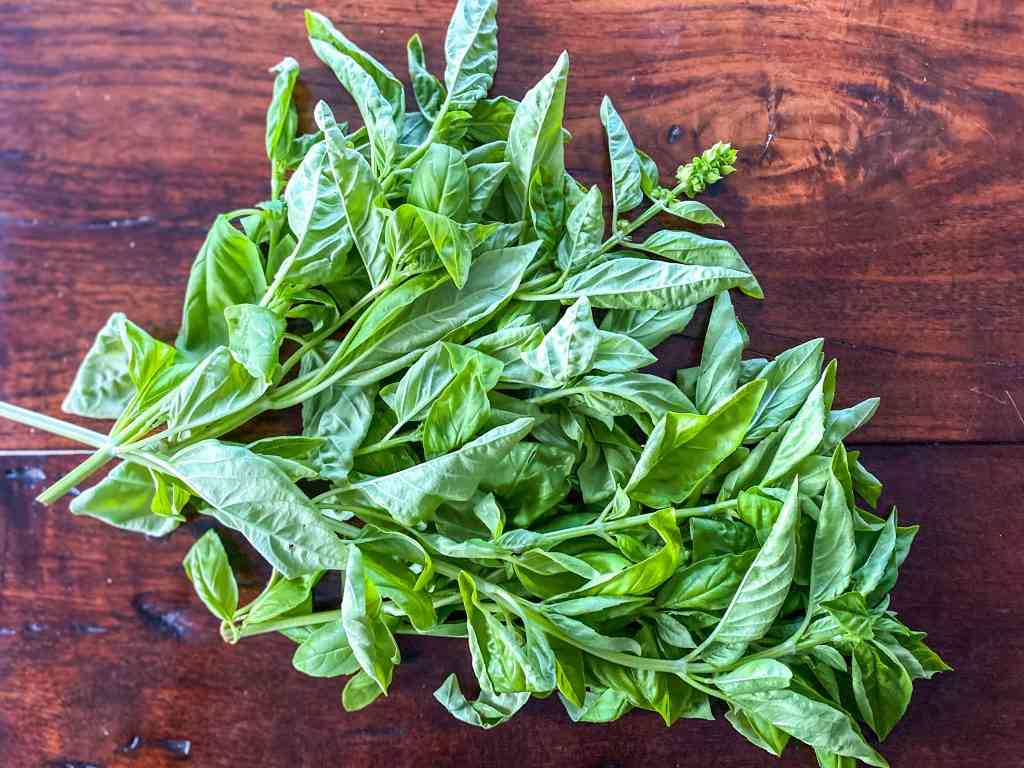 Growing Basil
The best part about it is that basil is so easy to grow – no requirement to be a garden pro to do it, trust me. Like a weed, basil needs very little help, for an easy start just buy a small plant from the grocery store, plant it and watch it grow (water occasionally, rain is the best). After seeing it grow you will be cautiously optimistic that you can grow anything and that is how the obsession of trying to garden is born.


To harvest basil, it will seem like you should take off all the large leaves, however I've found that if you leave a few behind on the plant it helps grow the little leaves better because they will capture more nutrients from the sun and water – this is completely my opinion and not backed by science or research just a gut feeling and practice.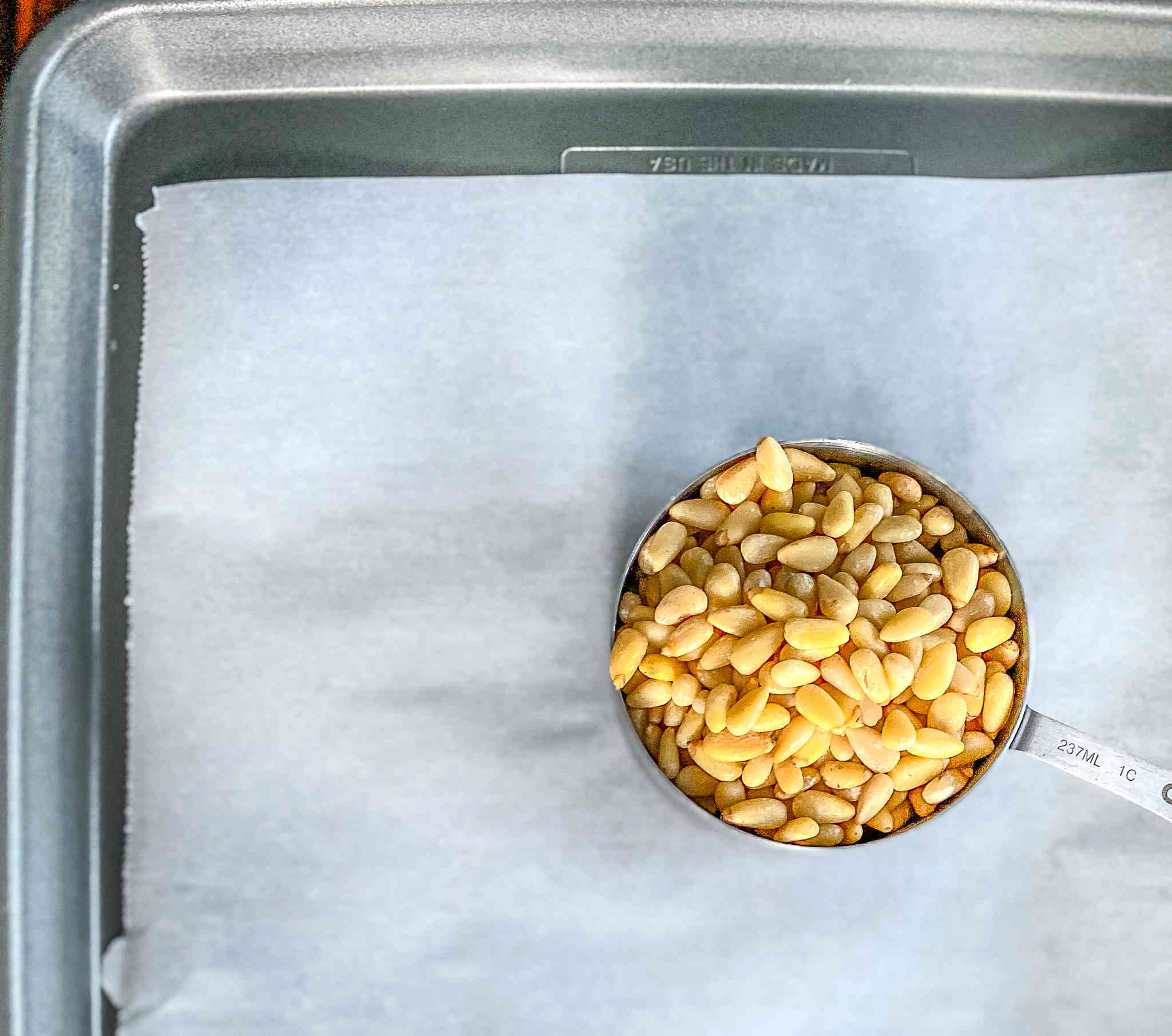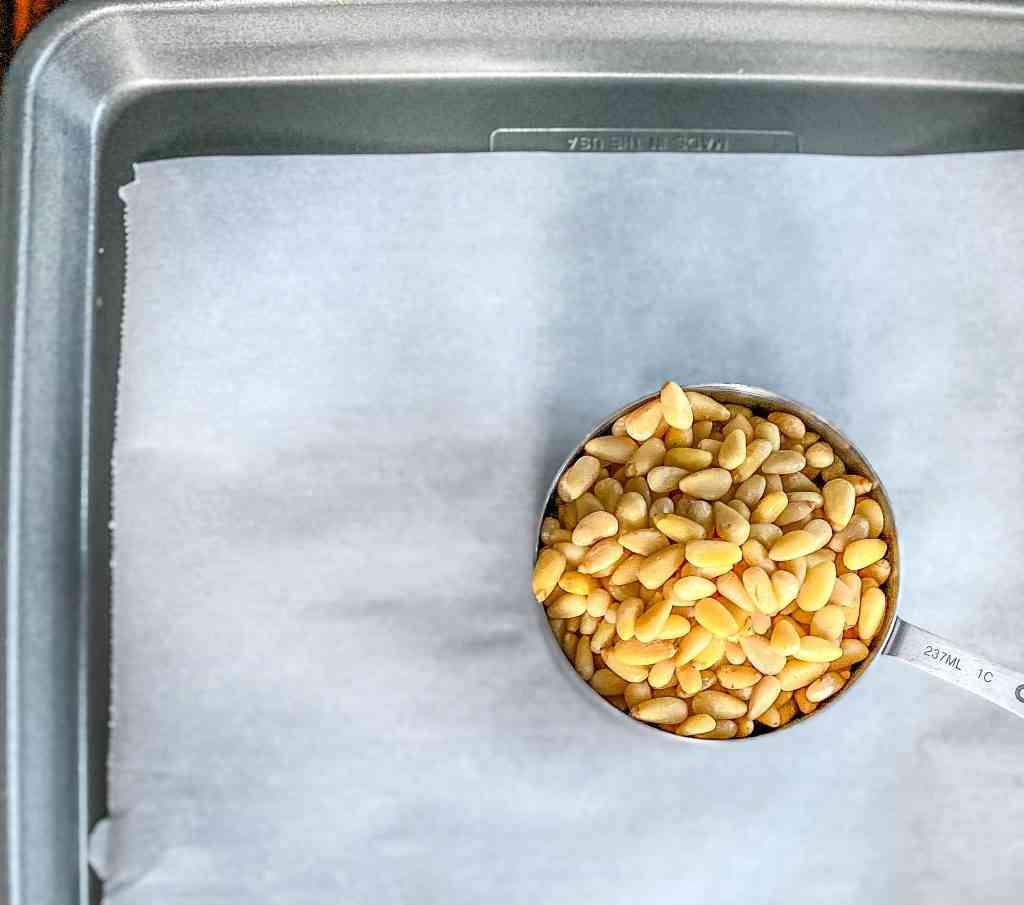 Pine Nuts
Toasted pine nuts is one of the ingredients for this basil pesto. Toasting the pine nuts is a step that should not be overlooked, it helps being out the nutty flavor and adds another depth of flavor.


To toast pine nuts, preheat your oven to 400F. On a cookie sheet (parchment paper optional) sprinkle your pine nuts out in a single layer. Toast in the oven until they start to smell fragrant and color is added. This will take 3-7 minutes. Stay nearby, keep the oven light on because it will happen quickly once it starts (just like microwavable popcorn, once it starts it the pop quickly picks up and then you a split second to stop the microwave before it all burns).


You can toast and save. So if you know you're going to be making basil pesto throughout the summer or for as long as your basil plant lives, you can toast a bunch of pine nuts and then save them. Once the oils are released from the heat of the oven, it is important to store them in a cold dark place to help slow down the aging process (this lesson comes to you from Culinary School). As soon as the pine nuts cool, them in a container with lid or a ziplock bag and store in your freezer for the longest lasting option. You can take from the freezer and use right away, no need to defrost or thaw.
Read how to store your left over pine nuts!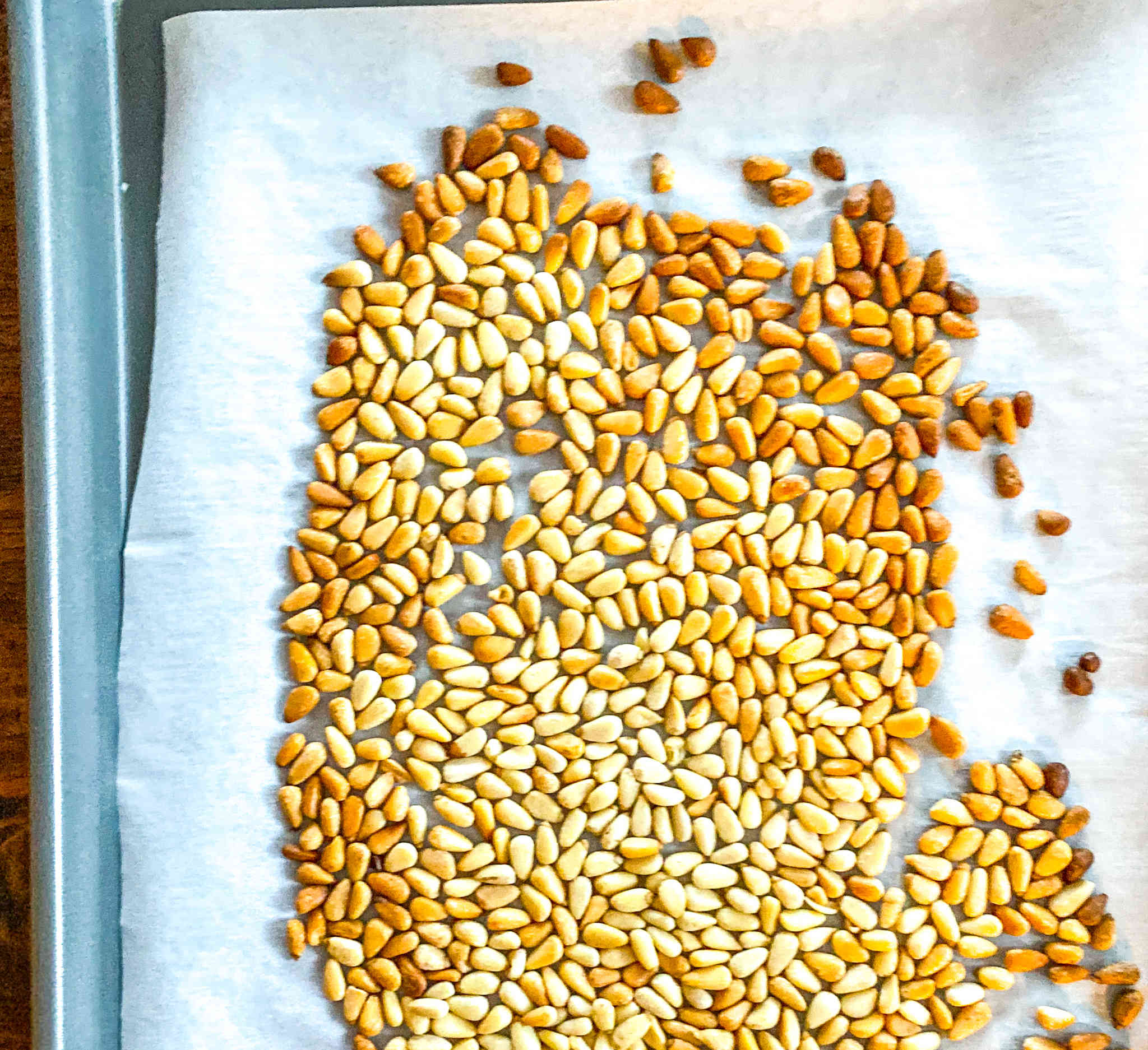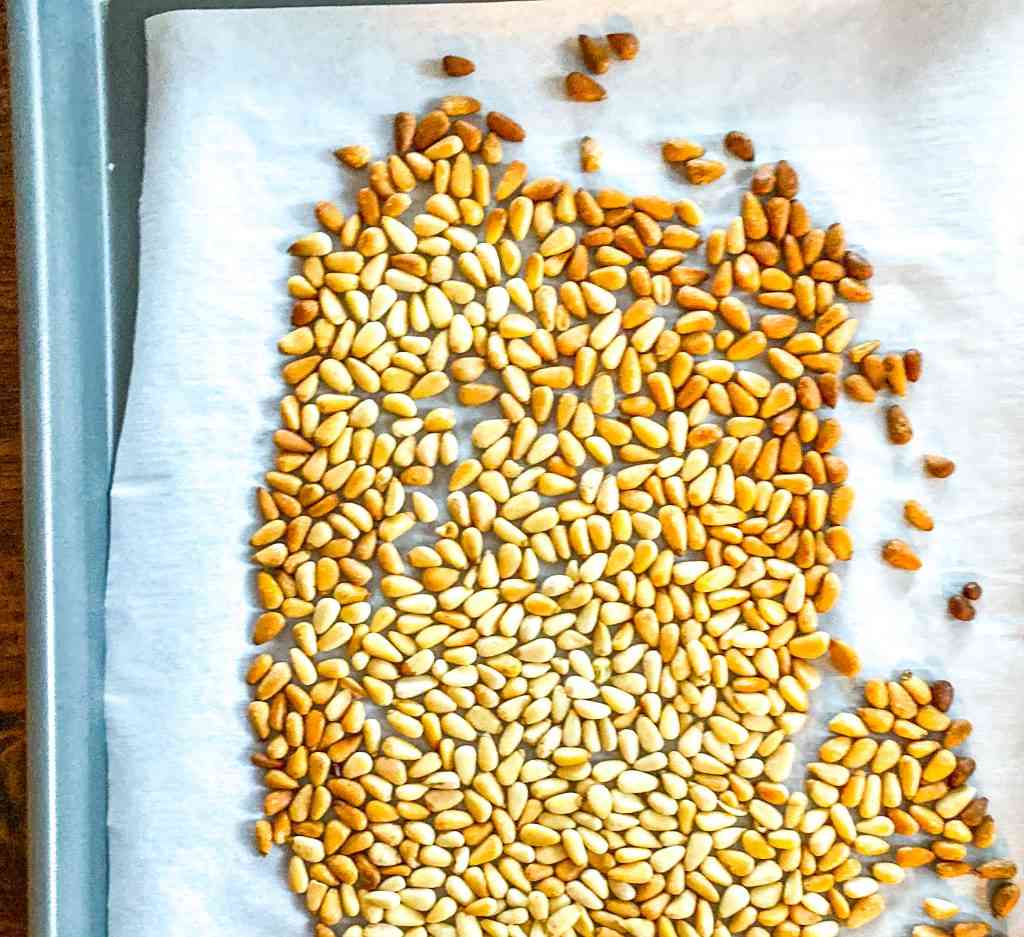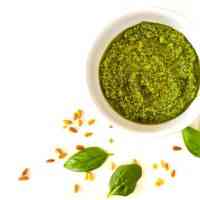 Summer Basil Pesto
Fresh basil pesto is so versatile and makes every meal extra fresh and delicious. Dip crusty bread into it, dollop it on pizza, toss it into pasta, or smear it on salmon the possibilities are endless.
Print
Email
Pin
Rate
Equipment
Food Processor or Blender
Ingredients
3

cups

Basil Leaves (packed)

1

cup

Toasted Pine Nuts

6

Cloves of Garlic, peeled and smashed

¾

cup

Parmesan Cheese – shredded

½

cup

Olive Oil

1

TBSP

Salt

Lemon Zest (Optional)
Instructions
In a food processor, add your basil, the toasted pine nuts, garlic, parmesan cheese and salt into a food processor. You can start with ½ the garlic and ½ the salt to start, you can always add more as we go for your taste.

*You can also use a blender if you don't have a food processor.

Pulse the food processor, as you pulse, pour in the olive oil. Continue to process until all ingredients are incorporated. Taste test!

Add in more garlic if you would like. It it's too strong or bitter (from the olive oil) add in a pinch or two of salt and pulse a few times to make sure it's mixed in. Salt will soften the intensity of the flavors.
Helpful Notes:
Once you get the flavor you love, you can add water to make it thinner. Water will not change the flavors. Using more olive oil will make your basil pesto more bitter.

This Summer Basil Pesto has strong flavors, this is because you want it to shine through when you add it to a dish without becoming too diluted.

If you are adding it to pasta, use some reserved pasta starch water to help create the sauce to toss it all together.

Make ahead or save the rest: You can drizzle a little olive oil over it and place a piece of plastic wrap down on top of the bowl, making sure to press in down to touch the pesto and to prevent the air from oxidation, and will let the pesto remain a bright green color longer. Stir before serving.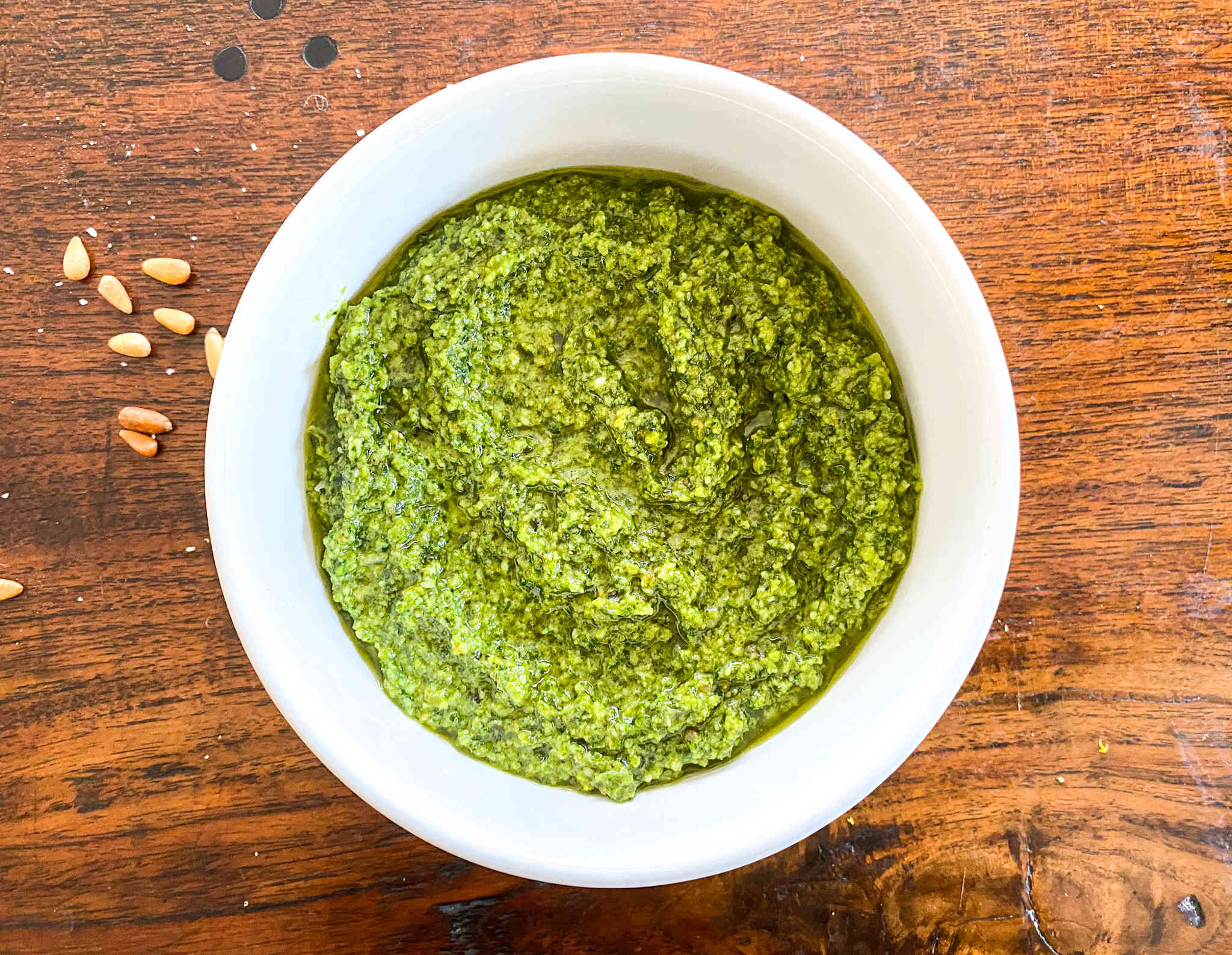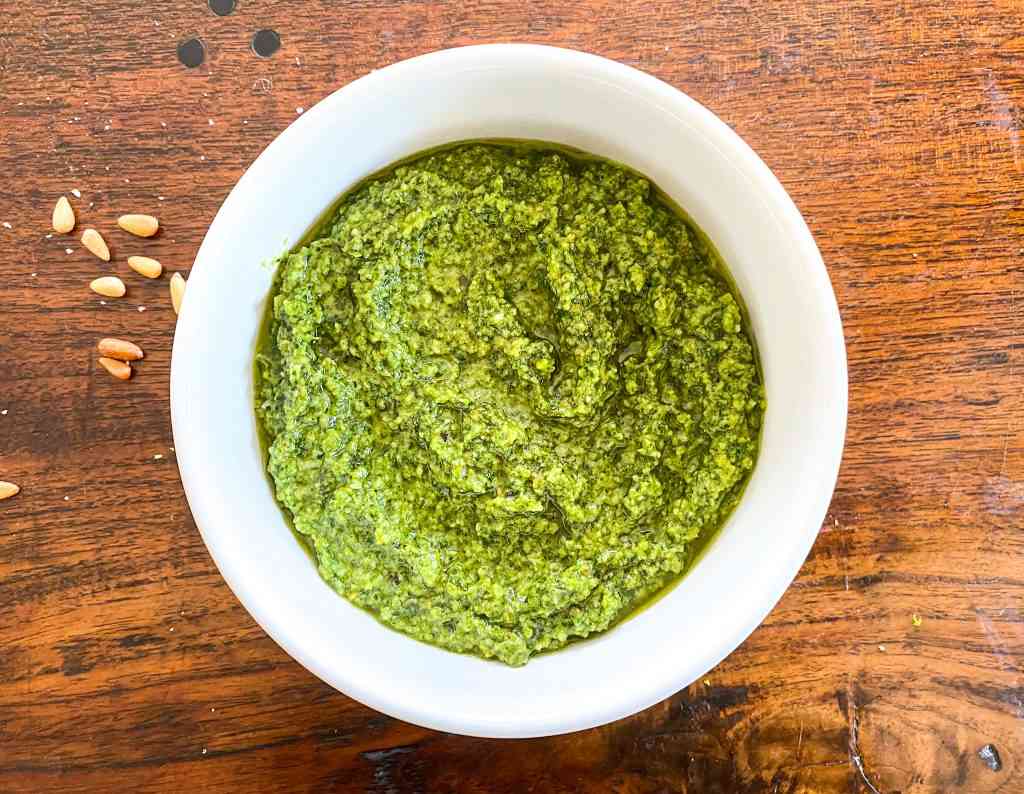 Making 15 Minute Pesto Pasta 
This is such a great easy weeknight dinner, you can serve it as is or on the side of your favorite protein. It is a favorite in our house and literally so easy to whip up when you're hungry. 
Make your favorite paste, spaghetti, fettuccine, penne, bow ties, gnocchi or even store-bought ravioli all work great. Cook your pasta according to the directions on your package so that it is al dente, just about two minutes shy of being done. Reserve two cups of pasta water. 
In a skillet heat up your pesto, I would say about 1/4 cup per serving, a little goes a long way. You want to turn the pesto into a sauce that will coat your pasta. Once the pesto is warm, add in 1/2 cup of your reserved pasta water at a time until the pesto is sauce-like consistency. Toss in your pasta and continue to cook and let the sauce reduce until your pasta is down and the sauce coats your noodles to your desired likeness. 
It's so incredibly easy and my family's go-to all summer long.