Gravy is hard, but it doesn't have to be. This super simple delicious gravy can be made with pan-drippings and or chicken/turkey stock. It comes together in 15 minutes – just enough time to get everyone to the table.
Everyone knows how essential gravy is. Mashed Potatoes are naked with out it. Dinner rolls live their best life sopping up it up as you smear it across your dinner plate. You can put it on that side dish Aunt Karen brought when you need help choking it down – politely. It gives your holiday meal life.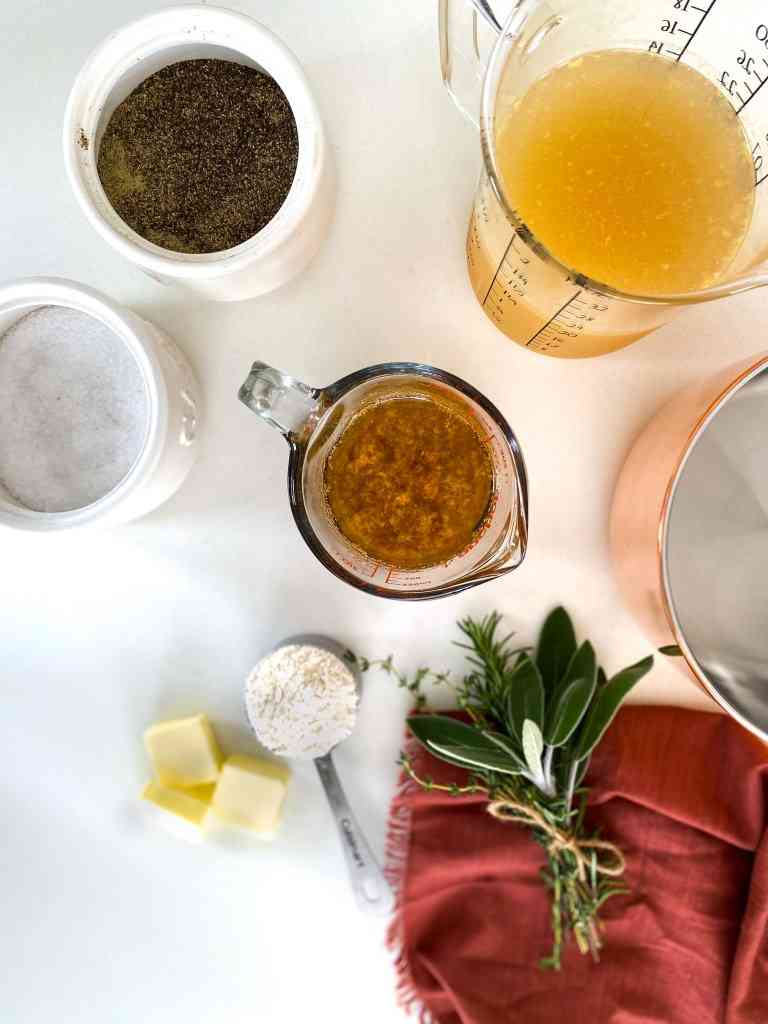 Simple Gravy Ingredients
All you need are a few simple ingredients to get the gravy of your dreams. You have complete control over the consistency, flavor, taste.
Butter and Flour – these are the base, you will make a roux – a wet sand like consistency that is formed when you add flour to melted butter.
Herbs – you're choice, you can skip them. I like to tie up a bouquet of fresh herbs just to give it a little extra warm-cozy flavor, but it's totally optional. You can do this and leave in the little pieces that break off (like my picture) or you can strain the gravy before serving.
4 cups of liquid:
Stock/Broth – I recommend stock over broth because stock has more of a concentrated flavor that will give a deeper layer of flavor.
Pan Drippings – Pan drippings have a lot of flavor, especially if you filled the cavity of the bird with aromatics (herbs, onions, fruit, etc). There is also a lot of fat. To keep your gravy from getting super greasy, you will need to scoop the fat out (easy tips and instructions below).
Your 4 cups of liquid can be one or the other or a mixture of both.
Salt & Pepper – Depending on your stock/broth choice, you may not need extra salt – definitely taste test. Salt will bring out the other flavors of the gravy so if it seems a little bland add a pinch of salt to see if that helps brighten it up. Add salt and pepper to taste.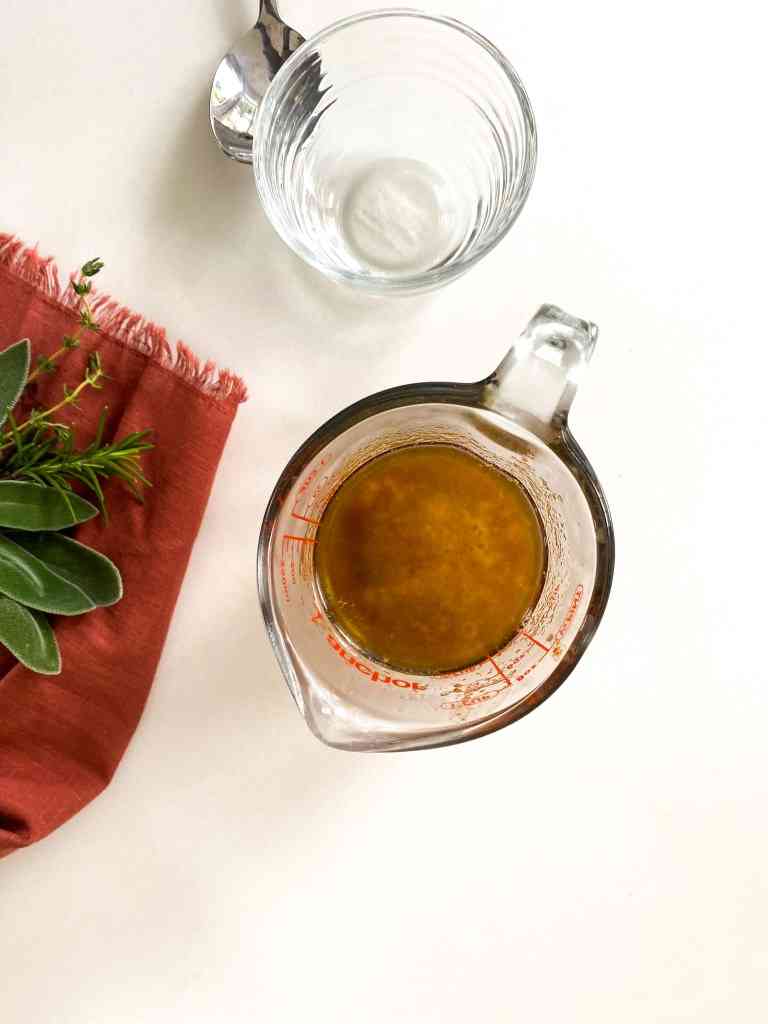 Prepare your pan drippings
One of the most important steps for gravy is to remove the excess grease, this step is usually overlooked but it shouldn't be. This super simple technique is fool-proof. Strain your pan drippings into a measuring cup – immediately after pulling your turkey out of the oven. Place the measuring cup in the freezer. The cooling will let the fat rise to the top making it easier to scoop out. If the fat doesn't have time to harden completely, you will still see the divided two sections, with a spoon, gently scoop out the fat, the more you can get off the top the better.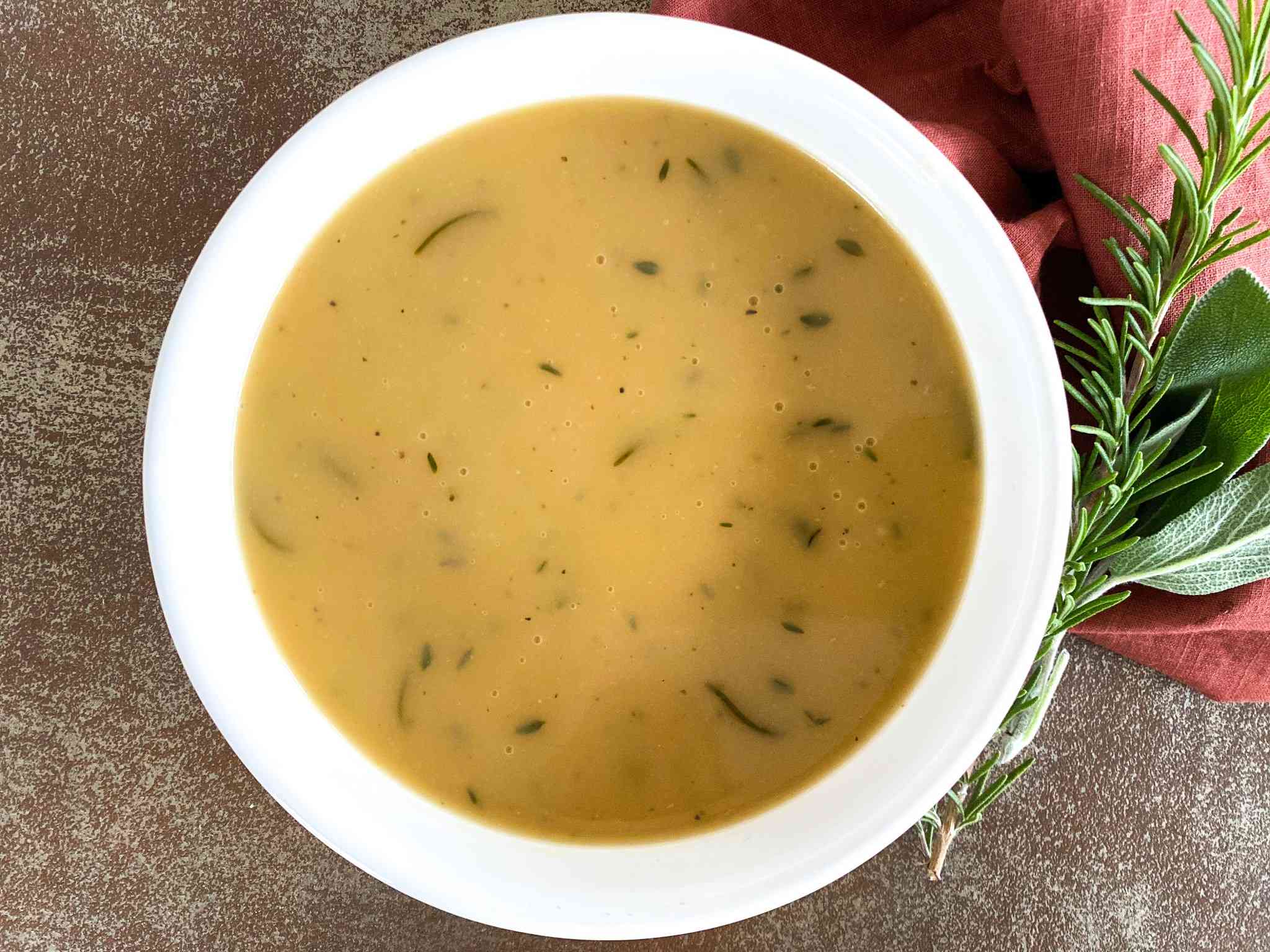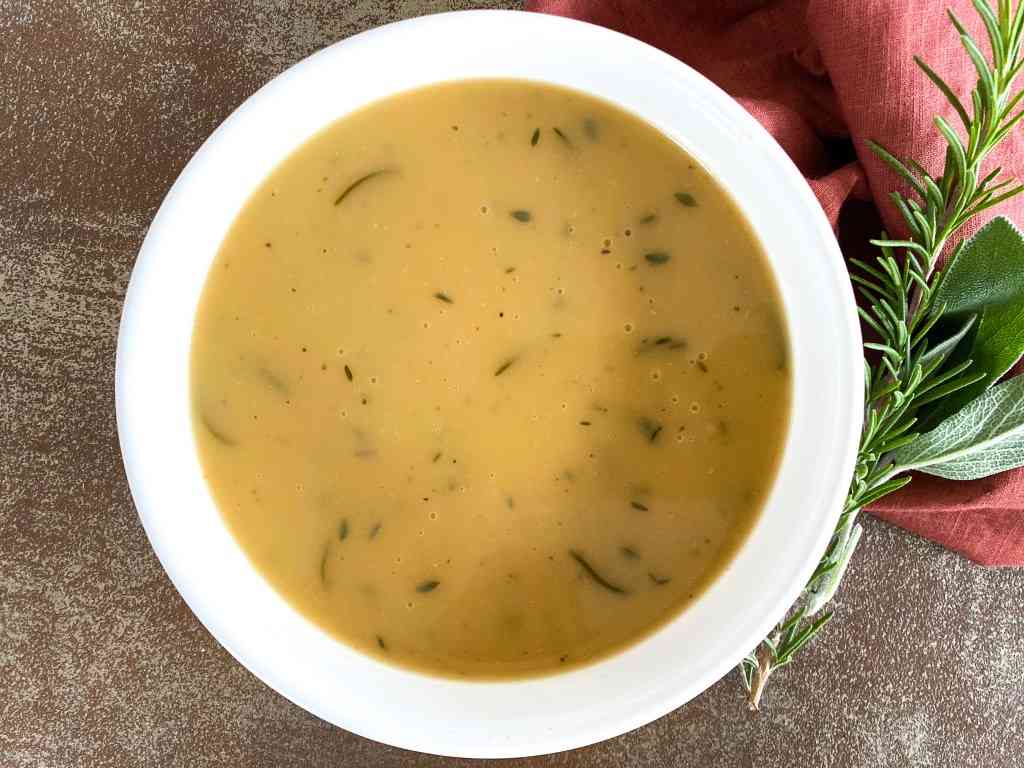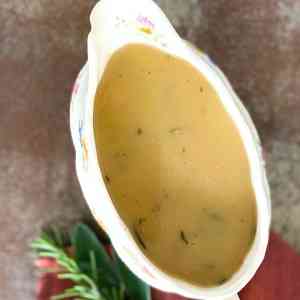 Quick Last Minute Turkey Gravy
Quick and easy gravy, the last thing you do before serving dinner. Simple and full of flavor, definitely a must have for your meal.
Print
Email
Pin
Rate
Ingredients
4

cups

Liquid: Pan Drippings – fat skimmed off & Chicken or Turkey Stock

See Blog Notes

3

TBSP

Butter

¼

cup

Flour

Fresh Herbs (optional)

Salt and Pepper
Instructions
In a pot over medium heat melt the butter. Add in your flour. Stir to mix until it looks like wet sand.

Add in your liquid, stir or whisk to break up the lumps until it's smooth.

Turn the heat up and let it bubble until it reaches the thickness you desire. Add in salt and pepper to taste.

*If it ever becomes too thick, add water. Water will thin out the consistency without changing the flavor.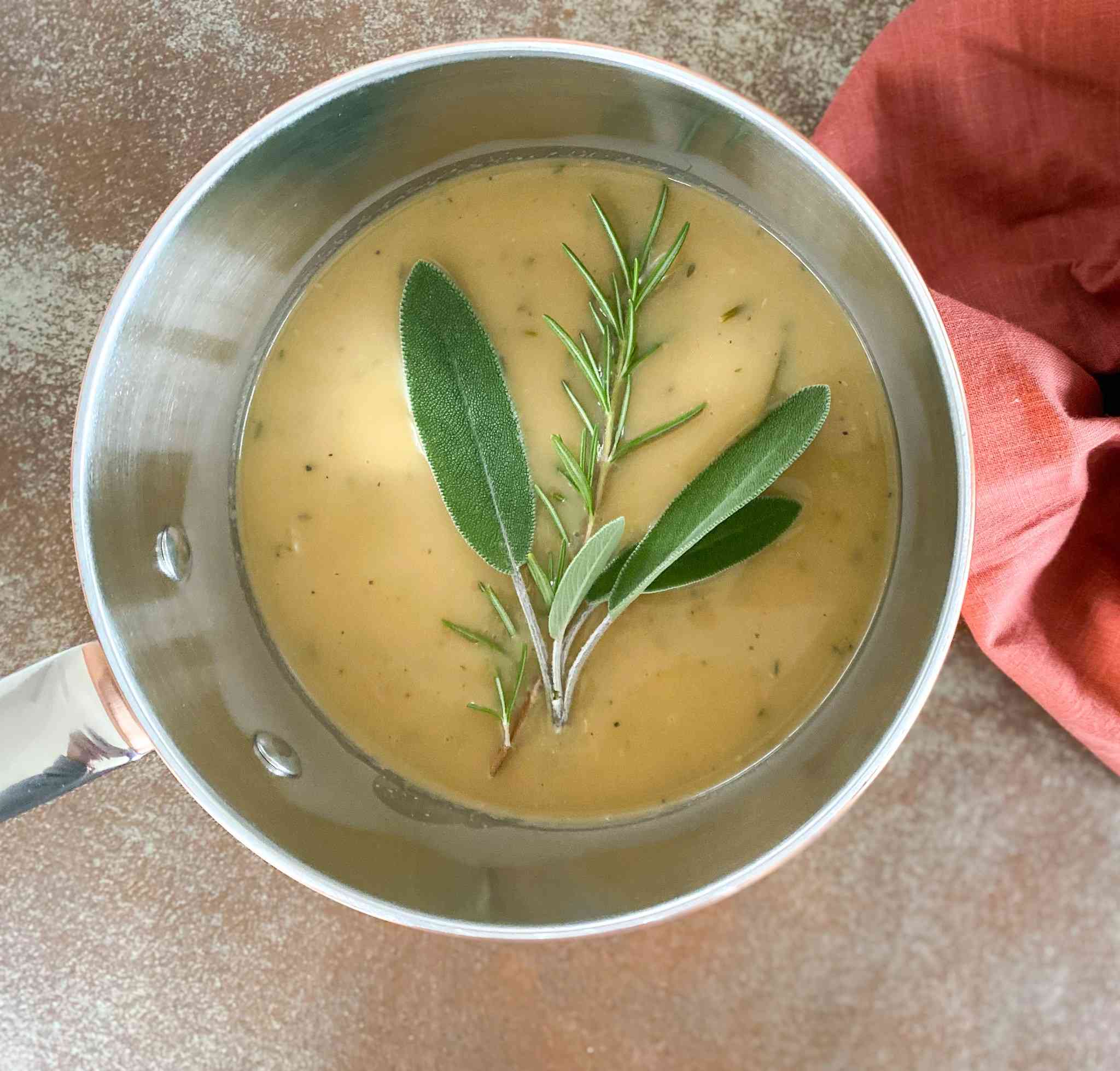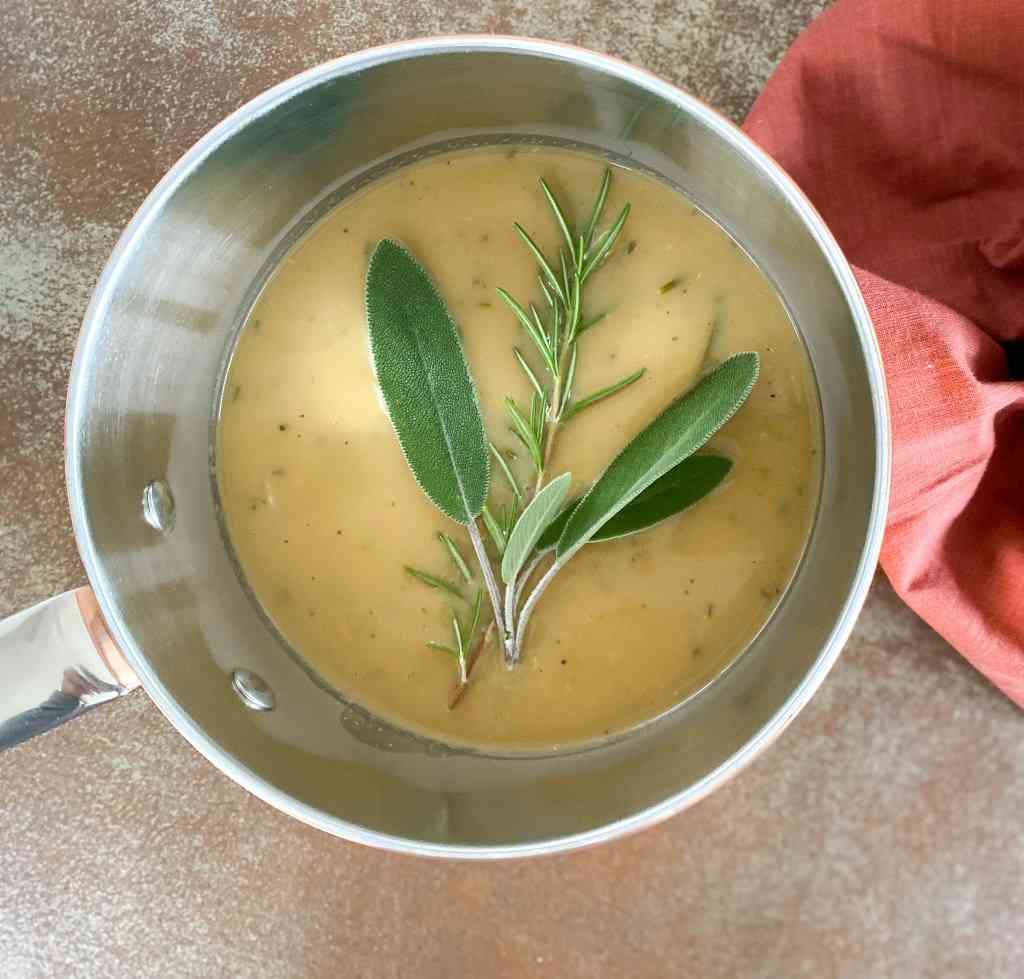 Roasted Turkey and Chicken Recipes
Classic Holiday Turkey (Herb Brine)
Cozy Apple Cider Turkey (Brine & Roast) with video
Lemon & Thyme Roasted Chicken