Beef Wellington is the perfect holiday dinner entrée. Filet mignon wrapped in savory herbs, sweet onions, salty soft prosciutto baked inside of a flaky buttery puff pastry. It is easy to prep ahead and gives the ultimate wow factor. I usually serve it with a classic French shallot red wine reduction. It's a truly ideal for a special occasion, dinner party or holiday entertaining. 
Individual beef wellingtons are usually a 4-6oz single serving. Each person gets their own! It's a little more work because you have to prep and wrap each individual steak but it's also a great way to make each person feel special. 

With that said, time is scarce, holiday energy is stretched thin. I totally understand. There is an upside to making a large beef Wellington. It's just as impressive and a little easier because you can get the full spectrum of steak temperature making it ideal for dinner party guests with different preferences. Here is that recipe.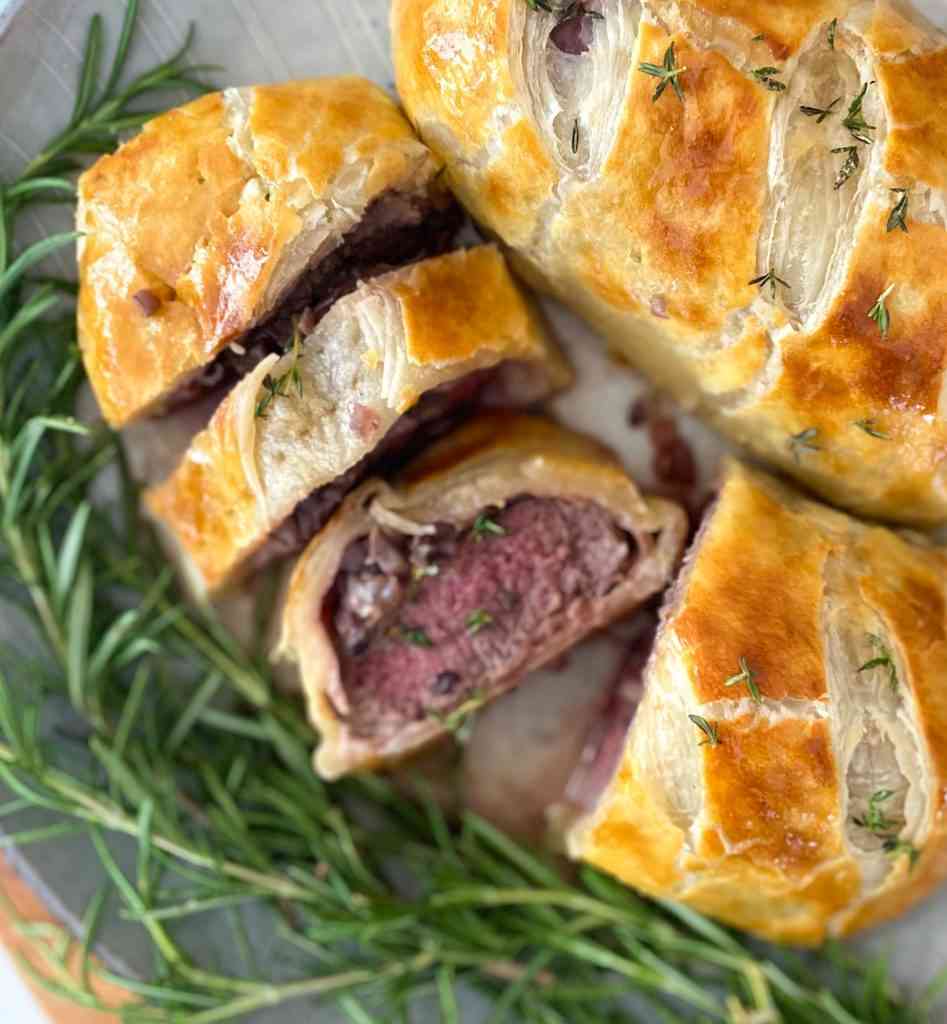 I <3 Beef Wellington
Oh my gosh, I have so much love for this recipe. Individual Beef Wellingtons is probably the MOST IMPORTANT recipe on my blog. This is THE recipe. The one that convinced me to conquer culinary school, the one I made the first 4 years of my relationship with my husband while I tried to woo him into marriage. Now it's the one I make because of tradition.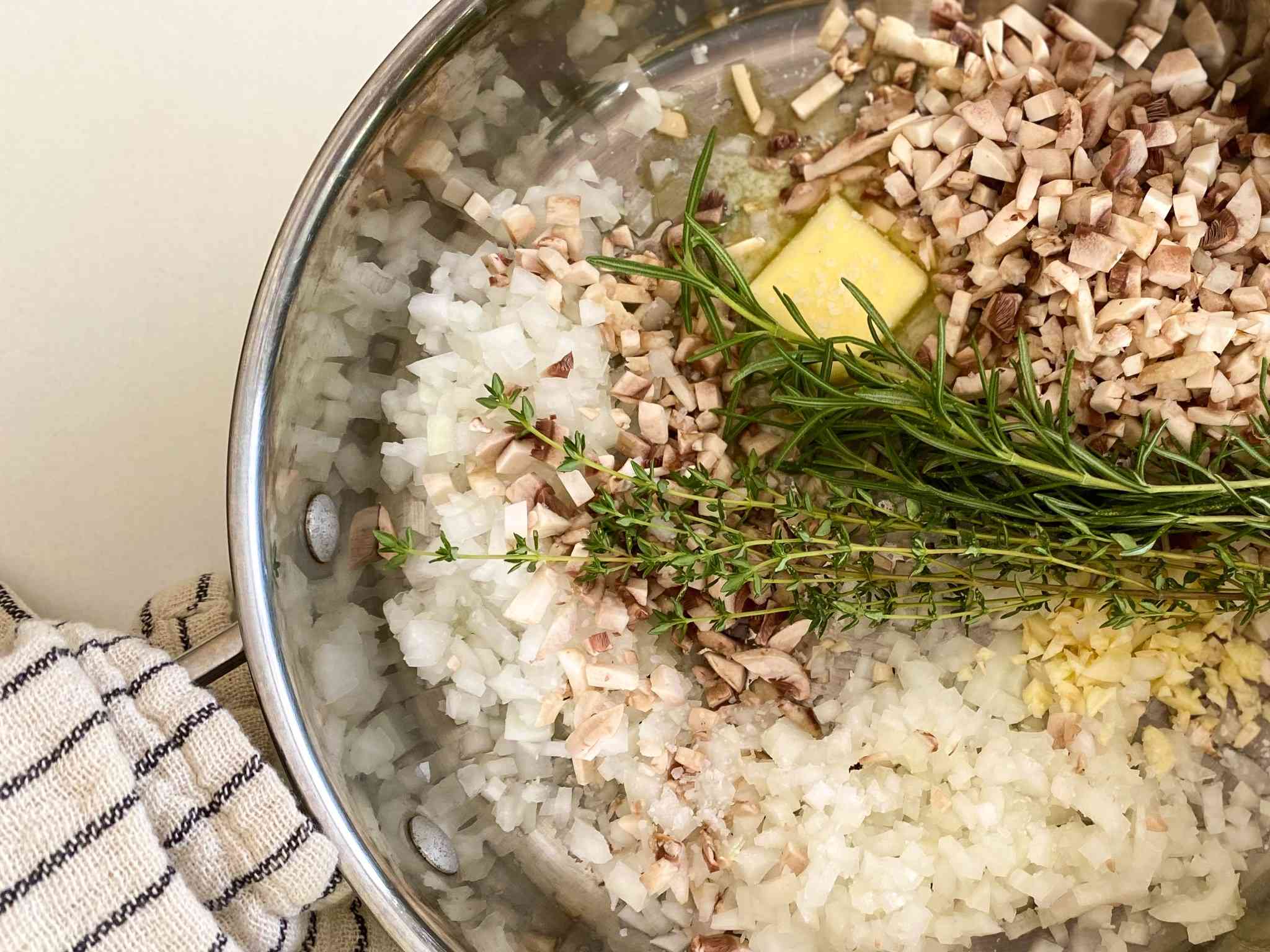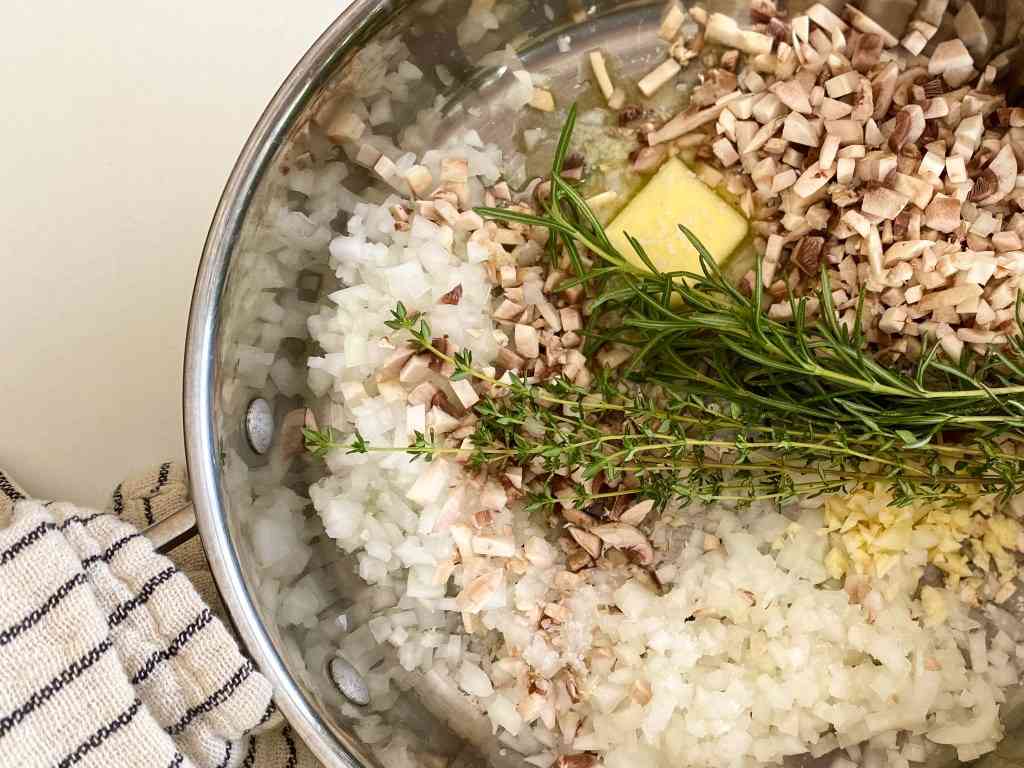 Duxelles Filling
French for a mushroom, onion, herb filling. It's optional to add red wine. This step is probably the most time consuming but once this part is done, it's smooth sailing. Both mushroom and onions shrink down in size when they are cooked so it's important to make enough to top each steak. You will want to aim for about 1/2 cup of mushrooms and 1/2 cup of onions, pre-cooking, per 4-6oz steak.

The recipe below is written for two but on the top corner you can scale it up for a double date or a dinner party.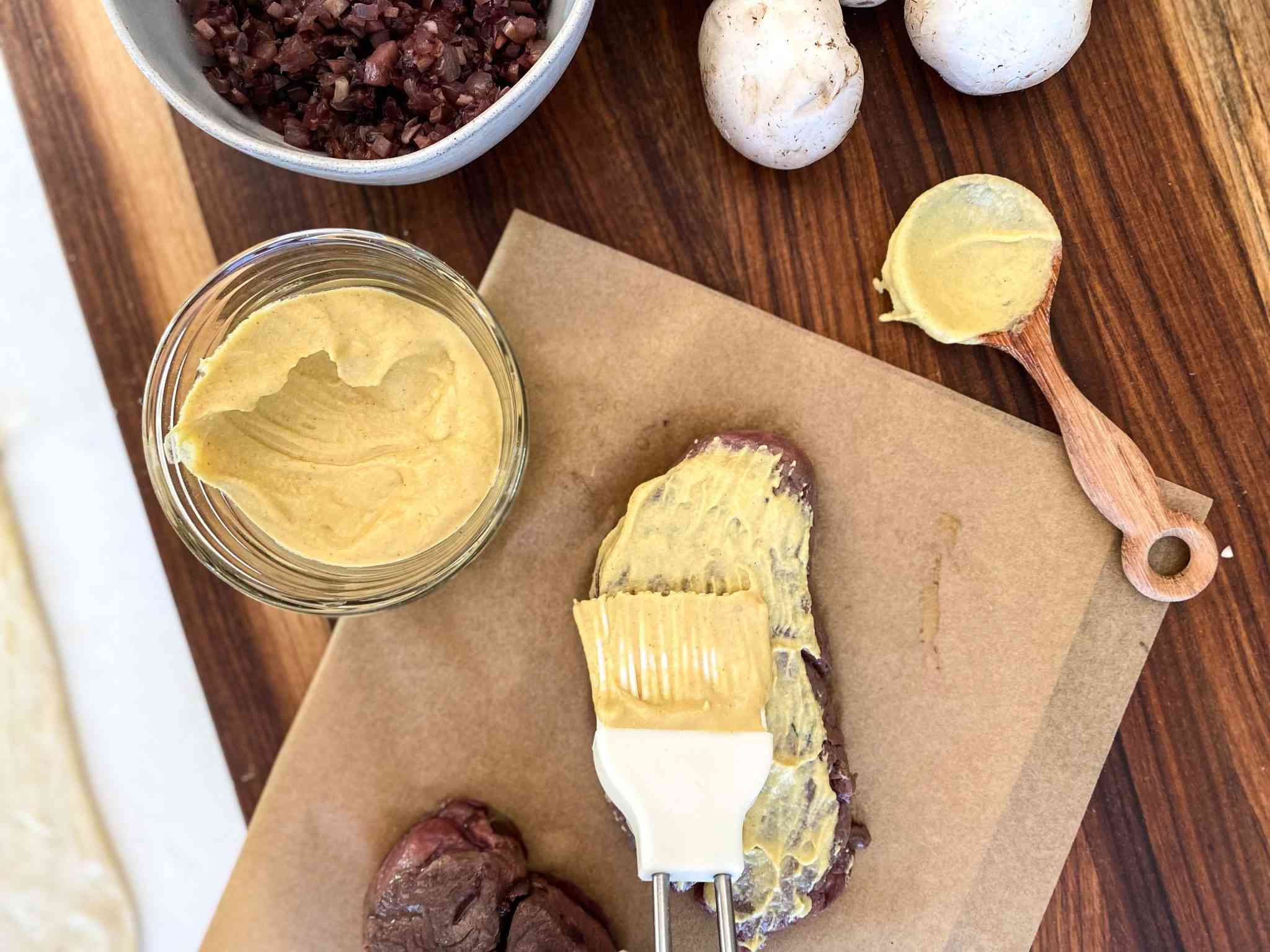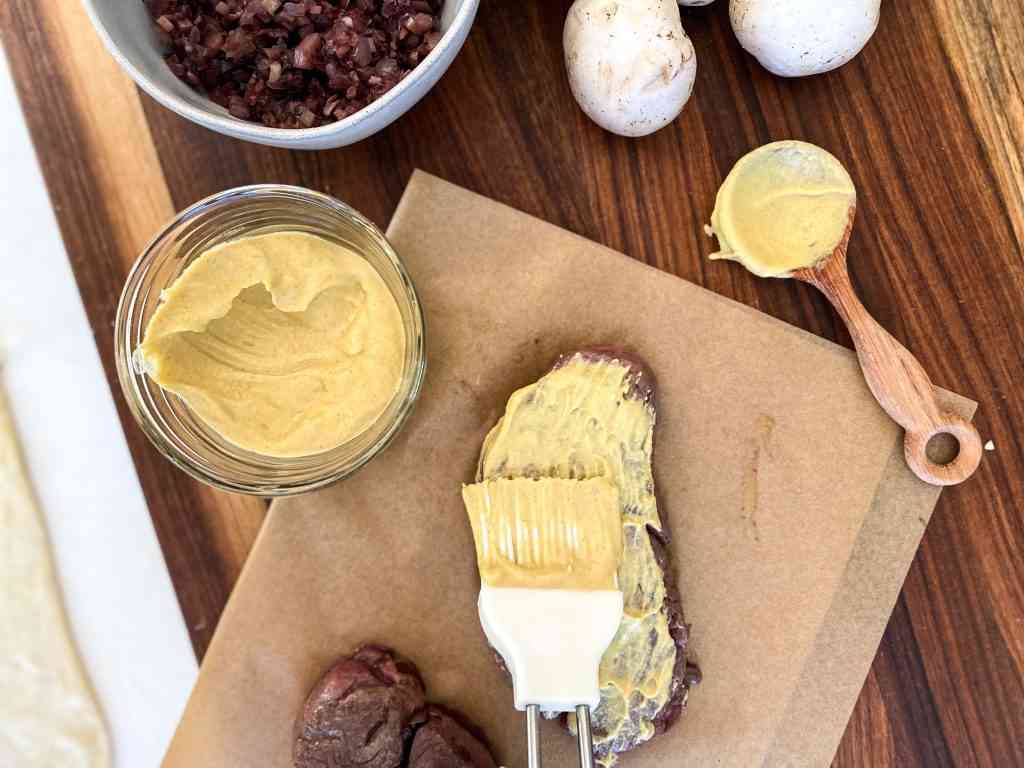 Yellow Mustard 
Is a must have. The creamy mushrooms, soft prosciutto, fatty steak and buttery puff pastry needs to have an acidic piece to the puzzle. Yellow mustard ties this all together so that it's the most delicious bite of all time. Other mustards would work, but yellow mustard is the least invasive, you barely taste it if you do at all, it just does its job behind the scenes. 
Prep Ahead
I recommend reading through the recipe before starting. There are several different break points, you can stop at all of them or just one, it's up to you. 
After Step #6, once the duxelles filling and the steaks are seared, you can take a quick break to let the steak cool. 
After Step #7, if you want to take a longer break, you can put your duxelles filling in a bowl with a lid, wrap your steaks up in plastic wrap and place in the refrigerator up-to 24 hours. If you want to pull the plastic wrap tight you can shape your steak in a circle or log shape. 
After Step #12, this is the last step before final touches and baking in the oven, you can do this and then refrigerate uncovered up-to 24 hours.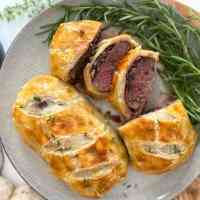 Individual Beef Wellington
Beef Wellington is the ideal dinner for any special occasion or holiday entertaining. Filet mignon smothered in mushrooms and onions, wrapped in soft prosciutto and a flaky buttery pastry. Easy to prep ahead. The recipe is for 2 individual 4-6oz steaks, scale up for a double date night or holiday dinner.
Print
Email
Pin
Rate
Ingredients
2

4-6 oz

Filet Mignon Steaks

Salt

2

TBSP

Butter

(divided)

2

Cloves

Garlic - minced

1

cup

Onion - small diced

1

cup

White Mushrooms - small diced

(about 4 oz)

4

Sprigs

Fresh Thyme

(1/4 tsp of dry thyme)

2

Sprigs

Fresh Rosemary (optional)

(1/8 tsp of dry Rosemary)

¼

cup

Dry Red Wine (optional)

¼

cup

Yellow Mustard

1

sheet

Puff Pastry - defrosted

A dusting of AP Flour

2

oz

Prosciutto

(4 slices)

1

Egg
Instructions
Sprinkle a pinch or two of salt on your steaks and set them aside.

In a large pan, over medium heat, add one tablespoon of butter, garlic, onions, mushrooms, herbs and a pinch of salt. Cook until the onions become soft and translucent. The garlic and herbs should be fragrant, about 3-5 minutes.

stainless steal or non stick, if you're using red wine, do not use a cast iron

(Optional, if not cooking with wine, skip to next step) Once the onion and mushroom mixture has cooked down, deglaze with the red wine. Add the red wine and let it reduce all the way, about 5 minutes.

If you are using a stainless steel pan, use a wooden spoon and scrape up the bits stuck to the bottom of the pan to allow the flavors reincorporate into the dish.

On a paper towel, drain the onion and mushroom mixture, remove the herb stems and set aside.

With a paper towel, pat the steaks to remove any liquid the salt my have released.

In the same pan you used for the onions and mushrooms, over medium-hot heat add one tablespoon of butter and let it melt.

Quickly sear all side of both steaks until brown.

Note: the longer you sear your steaks, the longer they will have time to cook making their internal temperatures rise. For instance, if you want a rare steak (130F), you will sear quickly, only a few seconds on each side. Likewise, if you want a well done (160F) steak, you will spend more time searing. This is the time to control the end-result because once the steaks are wrapped in puff pastry and placed in the oven you have to cook it long enough for the pasty to bake, but not too long it drys out. The steak will have additional cooking time in the oven so do not cook to final serving temperature at this stage.

If you want to serve steaks that are medium (140F) then you will sear each side for about 25 seconds.

Once the steaks are seared, remove from the heat.

On the top of each steak, scoop on the onion and mushroom filling. You want it to cover the entire surface area and be as thick as possible.

Drape a slice of prosciutto over to cover the filling and wrap onto the steak, tuck the ends of the prosciutto underneath so that it's snug and tight. Do this again with a second slice if the first one doesn't cover the entire surface.

Divide the rolled out puff pastry into two pieces that best fit the shape of the steaks. Wrap each beef wellington into the puff pastry dough. Place the prosciutto-wrapped steak upside down to keep the duxelles on top. Fold the edges and wrap tightly, trim any excess dough off and place seam-side down on prepared sheet pan with parchment paper.

In a small bowl, whisk the egg. Using a brush or rolled up paper towel, brush the puff pastry with egg. Set the whisked egg aside and refrigerate uncovered for 10 minutes. Preheat the oven to 400F.

(Optional) Remove from the refrigerator, brush again with egg. The double brush of egg wash is optional but it does create a thicker brown pastry top.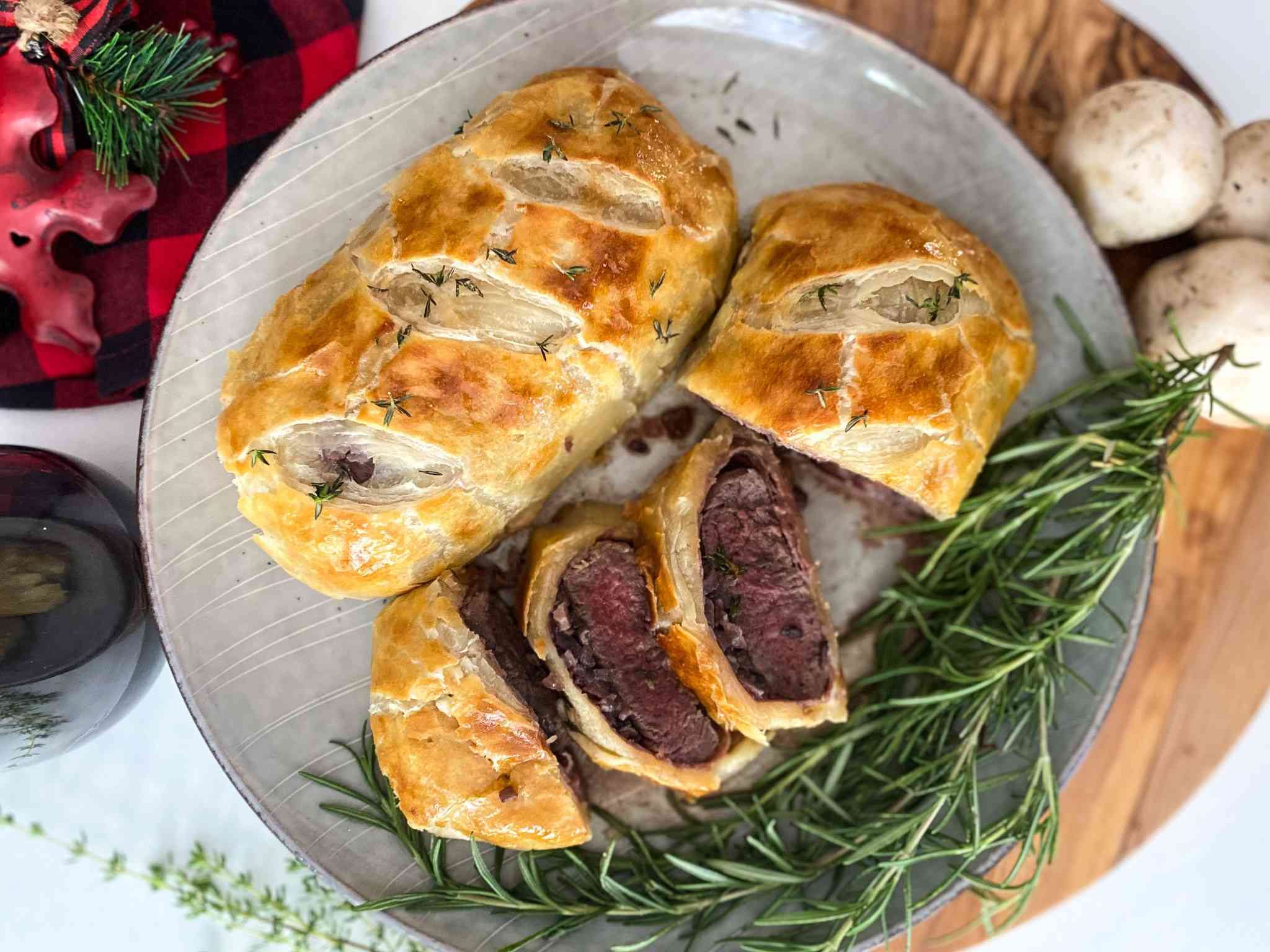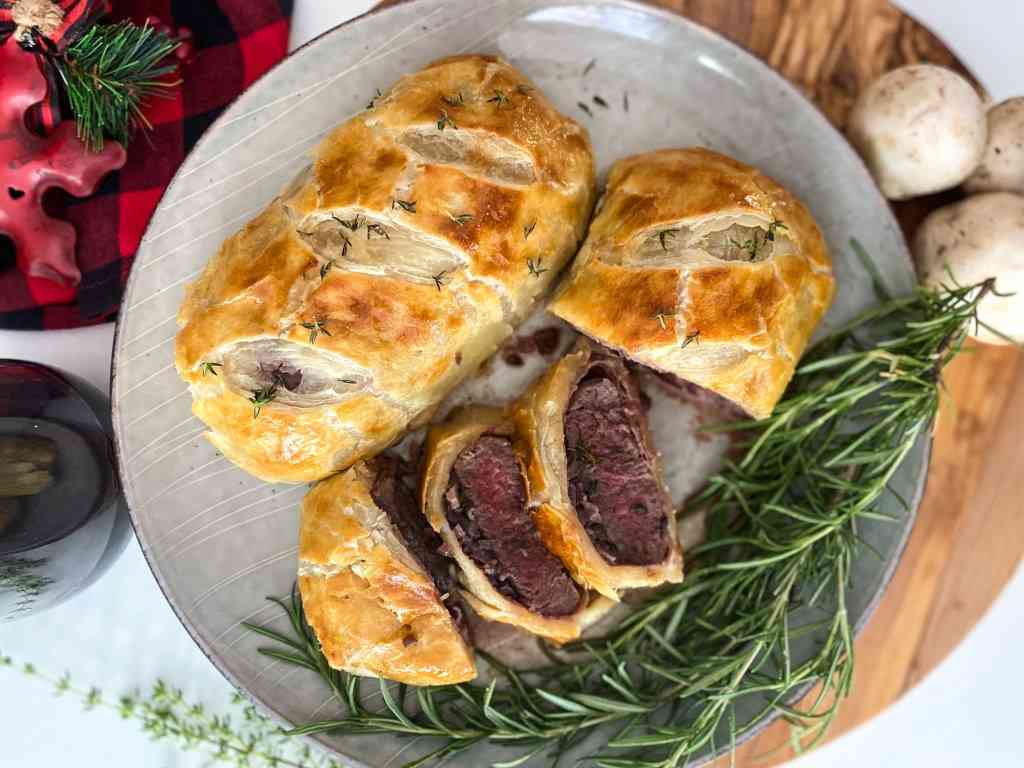 Complete the Dish with a Classic French Shallot Red Wine Reduction 
The classic French shallot red wine reduction may be the best thing that came out of culinary school. It's perfect for the holidays and special occasions. The savory richness of the sauce really adds another level to the Beef Wellington. 

This recipe is super easy to make, comes together in minutes. You can make it while the Beef Wellingtons bake in the oven or rest before serving.