These pumpkin stuffed pork chops make a great weeknight or weekend meal that everyone will love…I think, I mean my one-year old seems to be a bit picky these days and refused to try it, so I can't guarantee everyone will love it but it'll be close that's for sure.
I don't know if I've been completely honestly lately…I'm not a huge fan of pumpkin flavored anything, but my husband is. He complains these days that America has ruined the pumpkin-flavor-fall-love because now everything tries to be pumpkin and it usually falls flat with too much artificial flavoring. So with that in mind, I always set out to create new pumpkin inspired recipes that meet two goals, no artificial flavor and spiced just right to taste like fall. This dish does both.
The pictures below are for two people – but it's the same concept for as many as you want to make.
Pumpkin Stuffed Pork Chops
Servings: 2-6
Difficulty: easy/medium
Ingredients
2-4 Boneless thick pork chops (1/2 lb or so each)
1 box/bag of Seasoned stuffing (6oz, I used Kraft Stove Top Cornbread)
1/2 cup of Pureed Pumpkin (canned or homemade) + 1 TBSP per each pork chop
1/2 tsp Dry sage
1/2 tsp Cayenne pepper
1 TSBP Butter
*if you want to make 6-8 chops you can double the stuffing recipe and follow the same recipe directions below
Directions
Preheat the oven to 350 degrees.
Combine the dry stuffing with 1/2 cup of pureed pumpkin, dry sage, cayenne pepper until all seasonings are evenly distributed.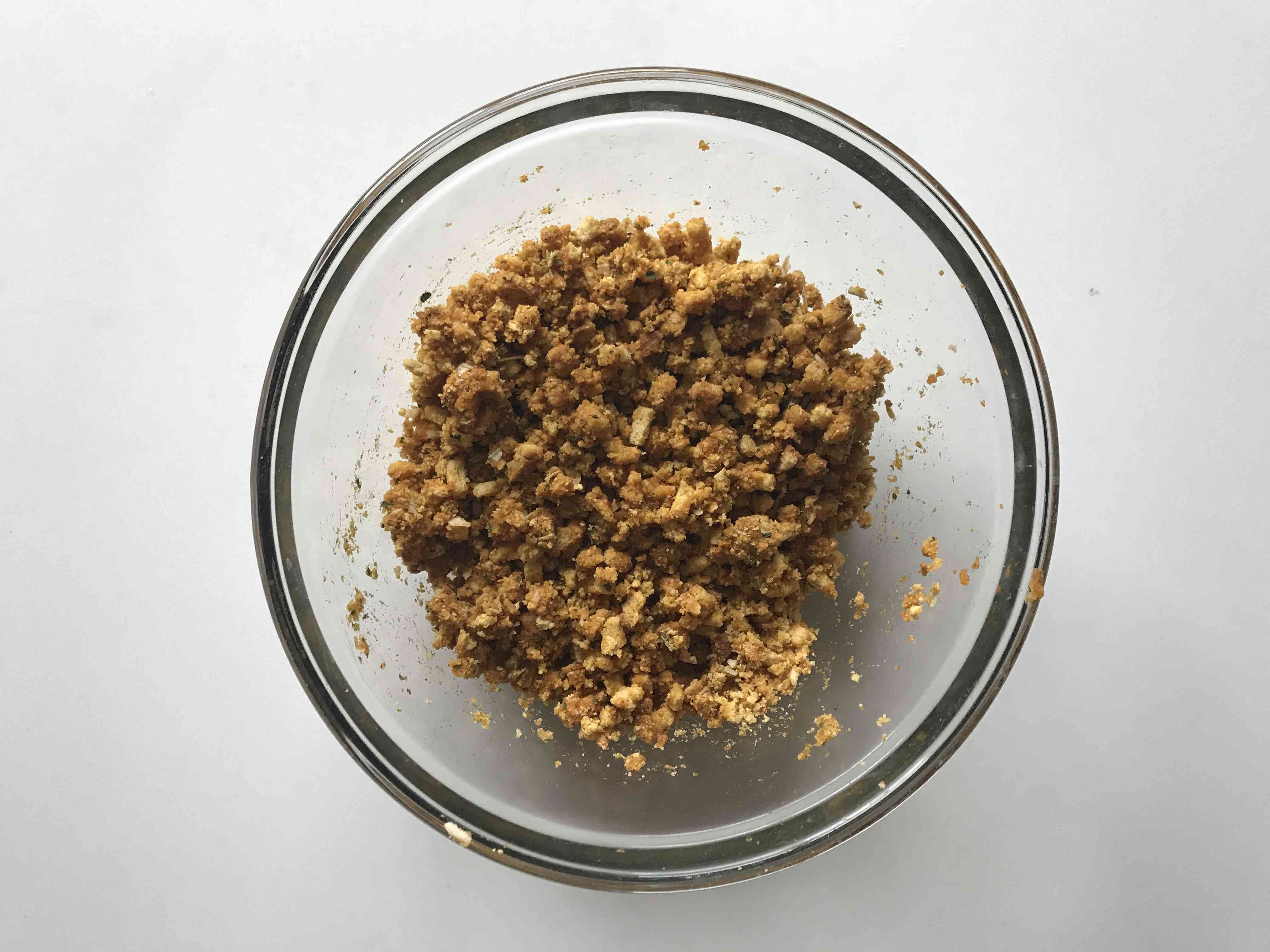 Lightly season your pork chops with salt, and cut open down the middle of the fat cap, if your pork chops do not have a fat cap just choose the best side you feel comfortable cutting. Remember not to cut all the way through, you are aiming to have a pork-chop-boat.
Fill in each chop with 1 TBSP of pureed pumpkin.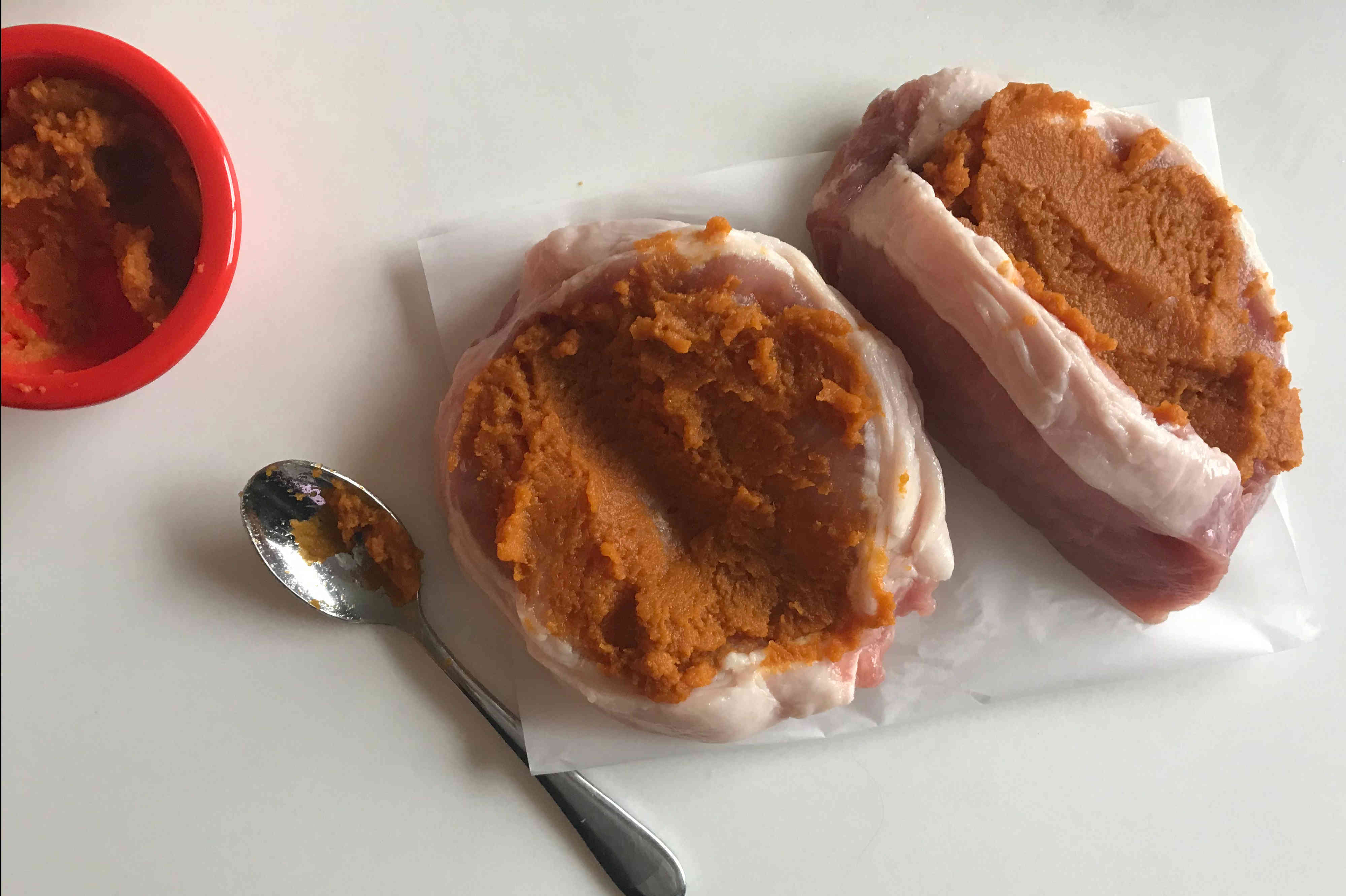 Stuff the chops with stuffing mixture. Pile it in until you can't pile anymore.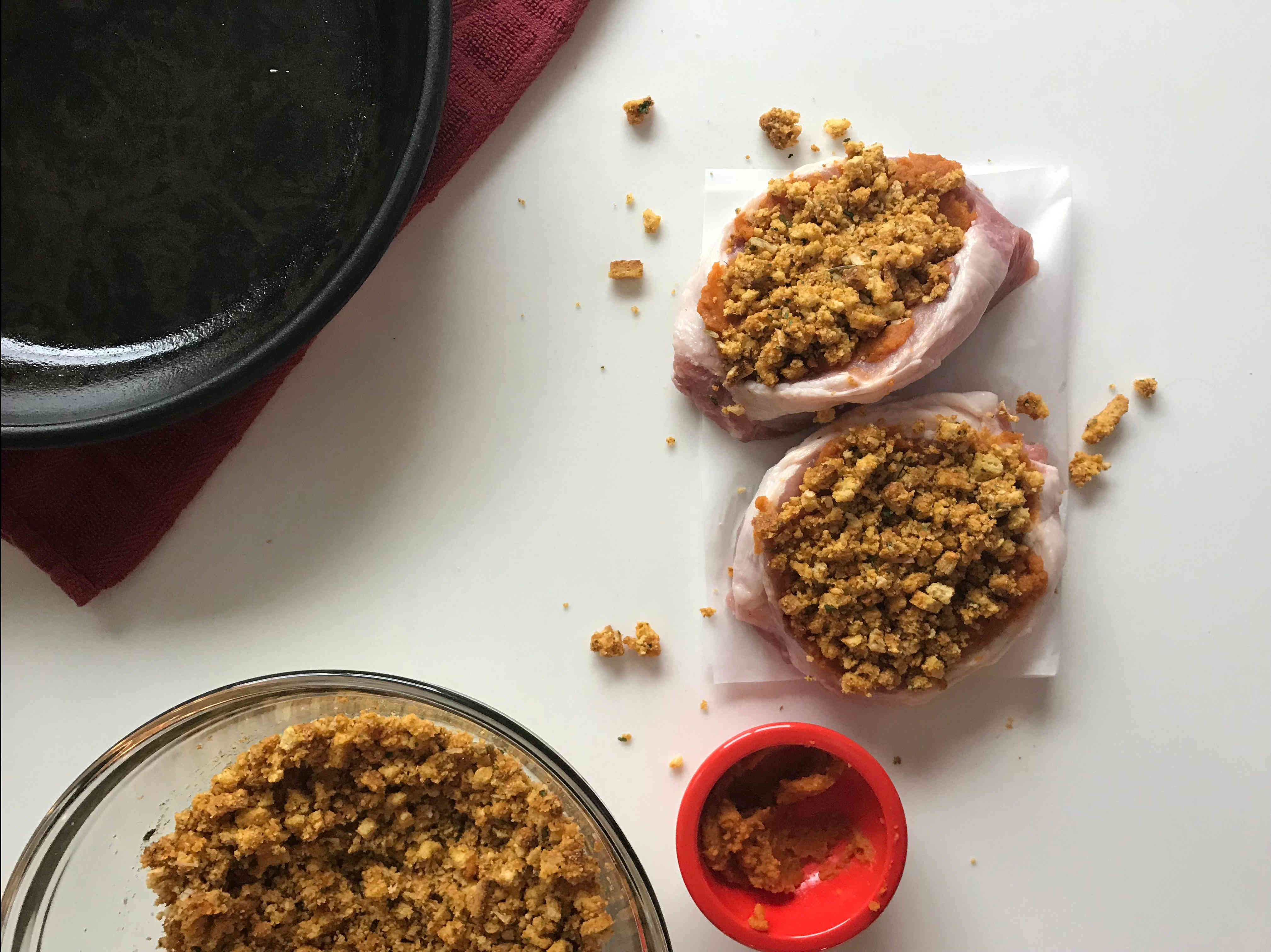 I used a cast-iron pan, I'm sure you can use (although I haven't tried) any oven safe-pan. I would spray with non-stick spray. With the cast-iron I wiped down the inside with olive oil first.
Add in the pork chops, and remainder of the stuffing. If you do more than 2 chops then you will just have less pan stuffing. Or you can always double your stuffing recipe :).
When you place the stuffed pork chops in the pan, you will want to place them so that they are not touching. It's okay if there is stuffing between them, but they will bake best if they have some space.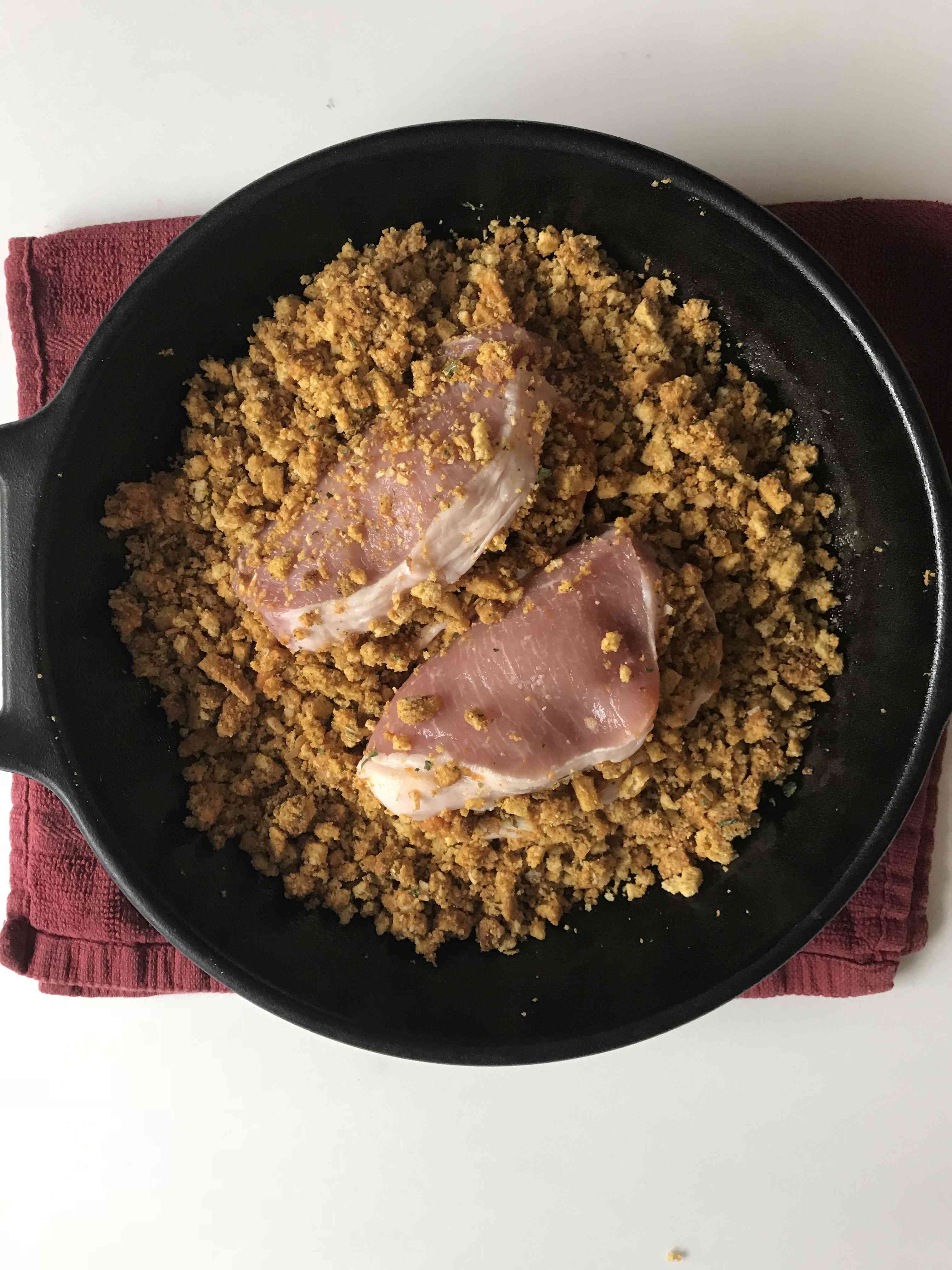 Dot with 1 TBSP of butter, cut up into small squares.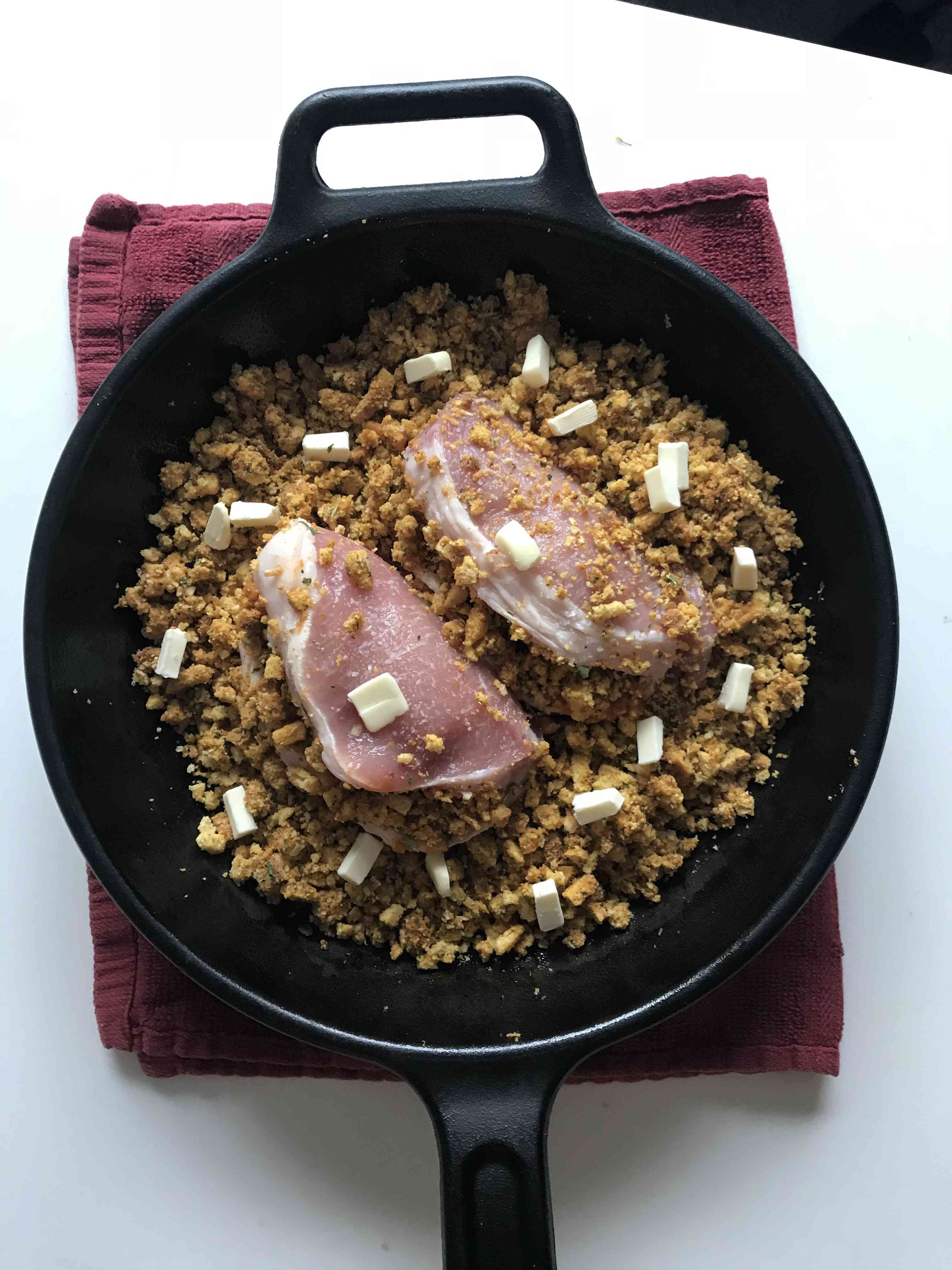 Bake in the oven for 40 minutes or until the internal temperature is 145-160 degrees inside. I usually shoot for 150 degrees.
Because the pork chops are stuffed, make sure to test only the meat, to keep the thermometer in the meat, you will want to drive the thermometer tip down one of the sides until it hits the center. I wish I had a picture of this.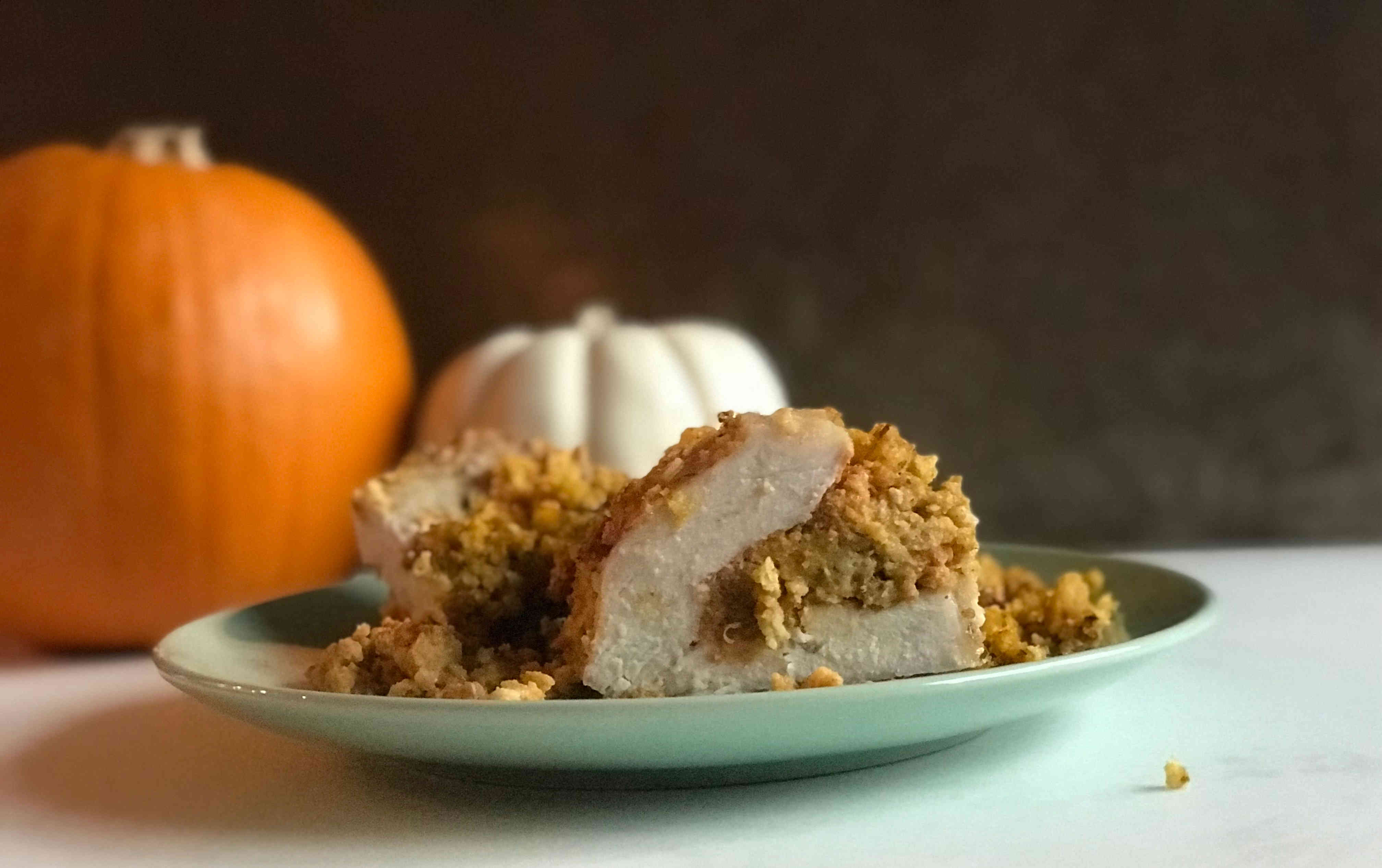 Then you have it! This dish is so savory it instantly became a family favorite. (and as a non-pumpkin fan that says a lot). The fall flavors of cornbread, pumpkin, sage and cayenne pepper come together and pop.
Serves best with a hearty green like sautéed kale or spinach.