Light, fresh, sweet and salty, this Italy inspired cantaloupe and crispy prosciutto flatbread is an ideal a quick bite. Perfect for a Friday "date-night-in" with a glass of chilled white wine, brunch, or appetizer, just think of it as the charcuterie board's little sister
Italy inspired. Have you been? I know a lot of people skip reading the inspiration behind a food blogger's recipe, but this is one of my favorite stories. We travelled to Italy for our honeymoon in 2015 and it was to this day, my absolute favorite vacation ever, and I'm dying to go back.
I love both cantaloupe and prosciutto, obsessed with both. I was always weary of them together. Rome changed it all for me. We were there on a day when the sun was relentless and we were tired and hot looking for relief and refreshments. We sat down at a small little restaurant, our table was on the sidewalk, in the shade and there was a welcomed breeze. As they say, when in Rome… we decided to get the cool cantaloupe and freshly sliced prosciutto plate and it was heaven – absolute perfection, sweet, salty, and the textures together just work. I love Italy, the place is magical in every way.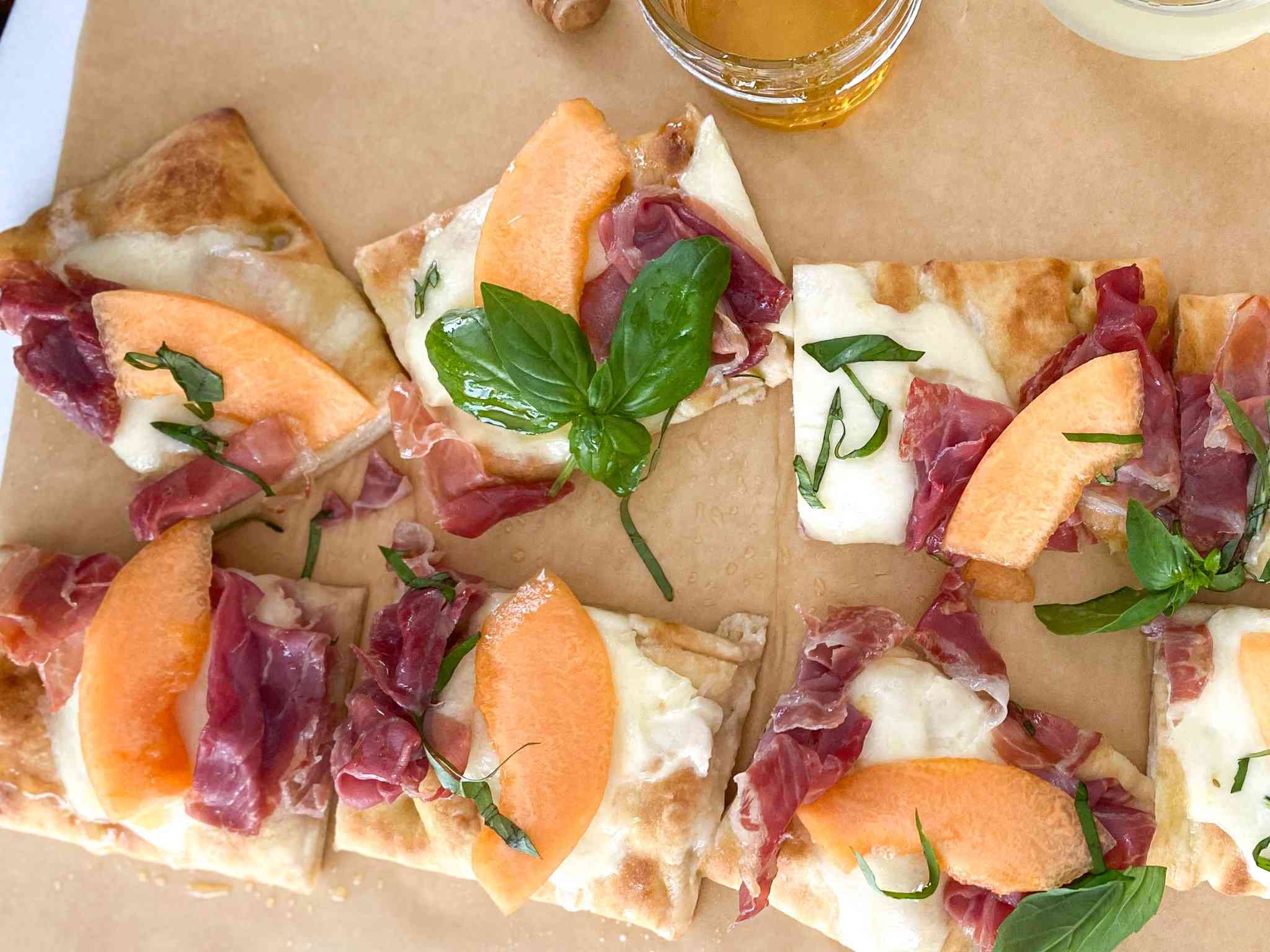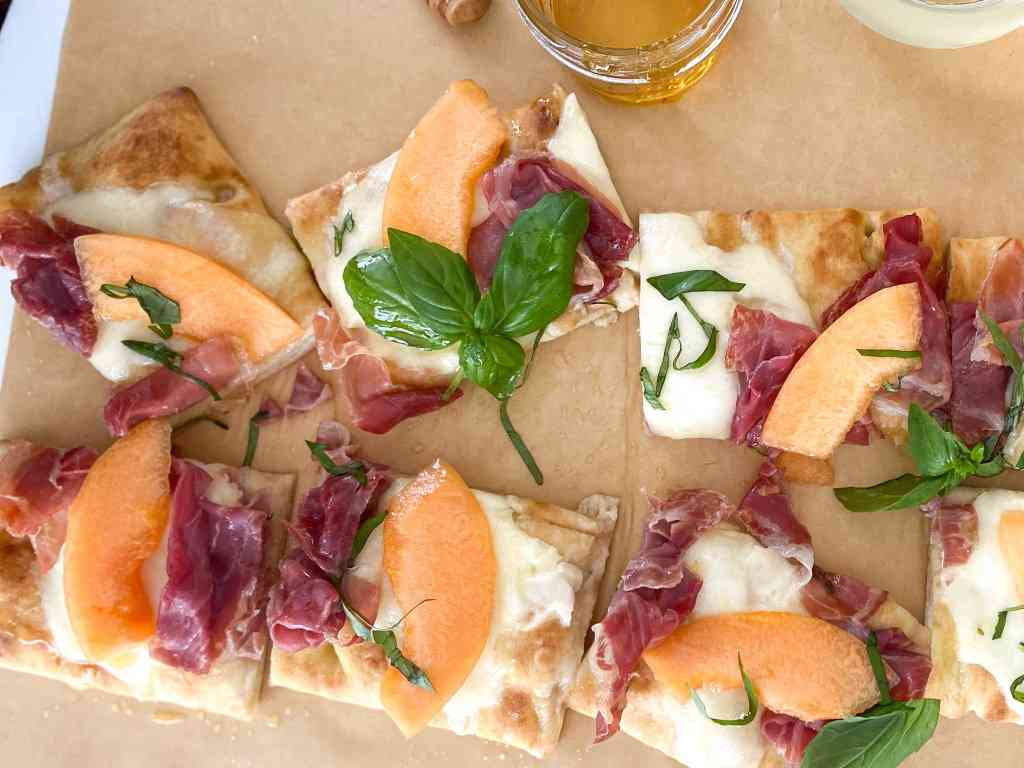 Cantaloupe & Crispy Prosciutto Flatbread vs. Pizza?
Good news, flatbread is so much easier to make from scratch than pizza dough. Traditional flatbread does not call for yeast so it does not require time to rise, which is why it is "flat" bread. The internet has a ton of recipes to pick from.
Great news, a lot of grocery stores sell amazing pre-made flatbread options so you don't have to make dough. Look for a pizza-like flatbread, not a wrap. I got mine from Trader Joe's. Look for a take-and-bake option.
You can also turn this into a pizza.
I have to admit, my husband was skeptical at first about this recipe but he's fully on board with this cantaloupe & crispy prosciutto flatbread, he loves it, so if you're on the fence, just try it!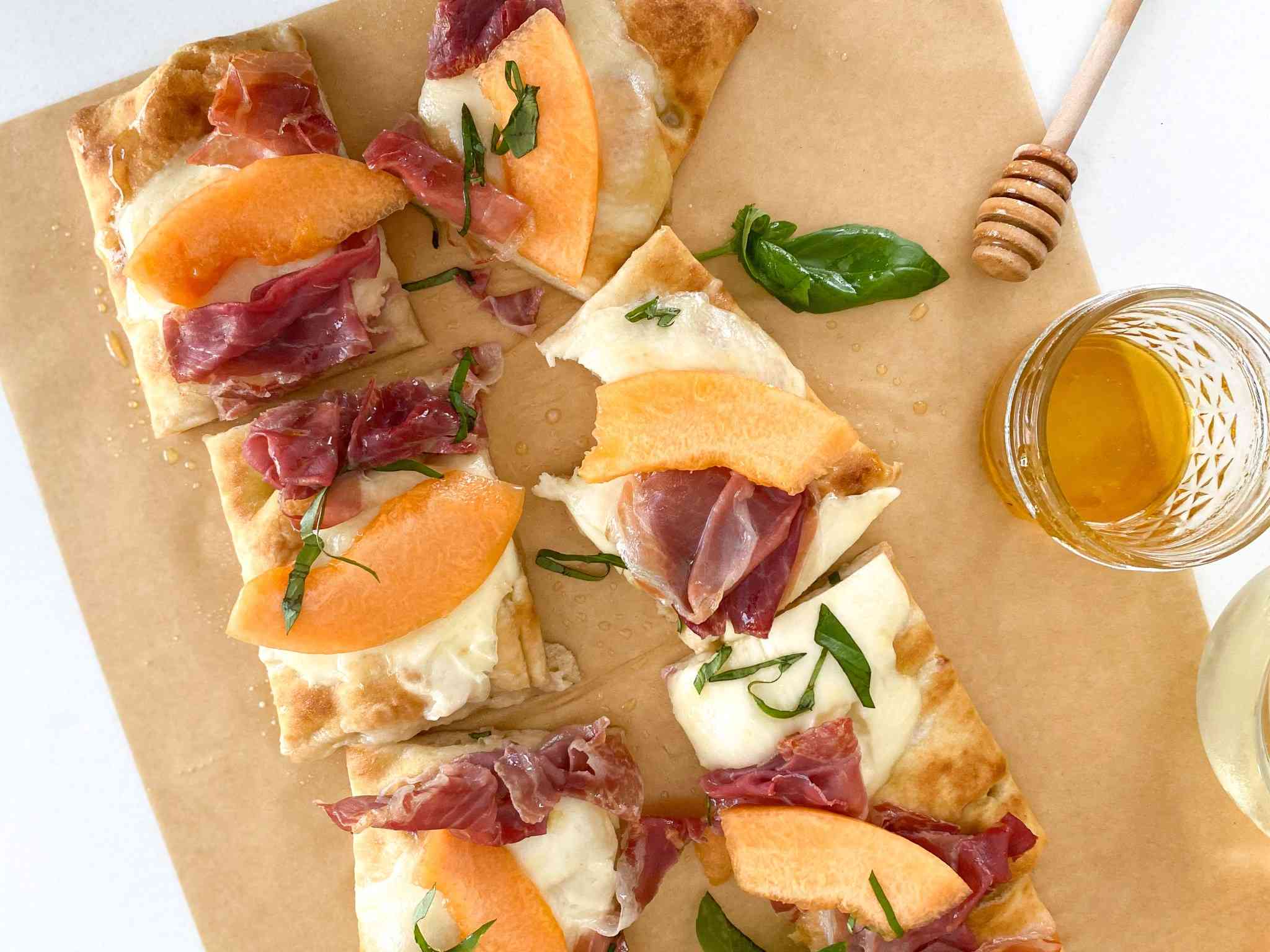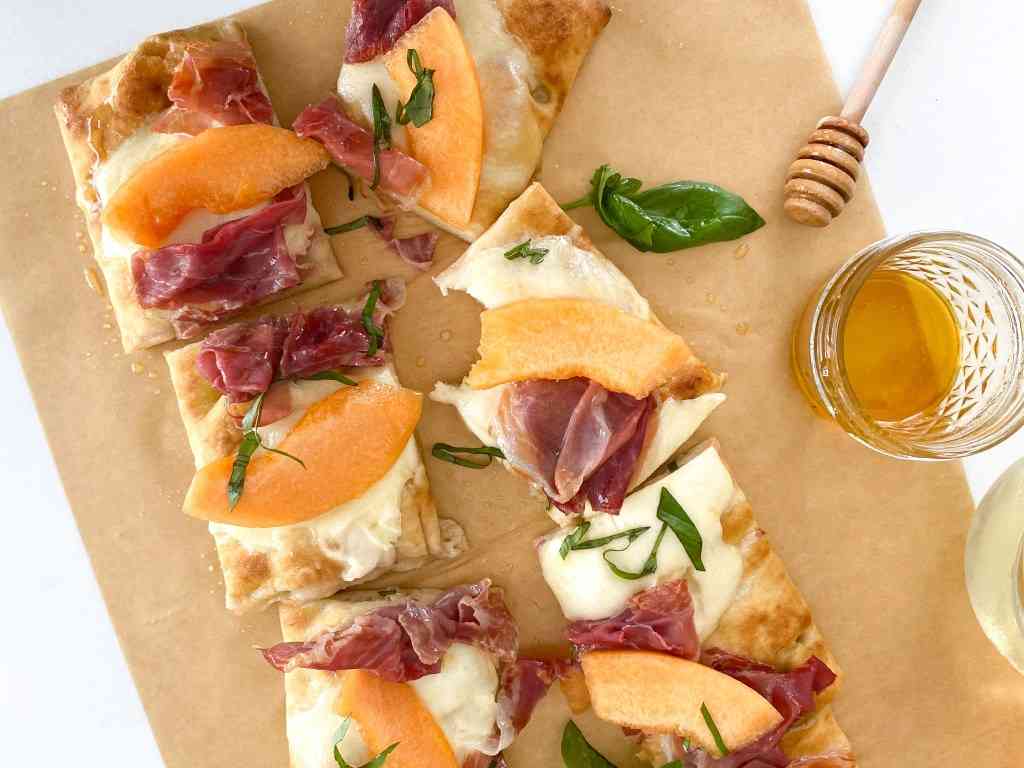 Cantaloupe & Crispy Prosciutto Flatbread Simple Ingredients
This cantaloupe and crispy prosciutto flatbread isn't fancy when it comes to ingredients, but it sure is show stopping and lovely. You can whip it together quickly and it's delicious served fresh out of the oven or at room temperature, it's easy to make ahead.
Fresh Mozzarella – Fresh mozzarella is melty, creamy and mild. You can buy fresh mozzarella now pre-sliced to save you a step.
Fresh Cantaloupe – If you don't know how to pick out a ripe cantaloupe, smell the top indent if it smells like a cantaloupe it's ripe and ready to go. If there is no smell, it is not yet ripe. If it is soft to the touch and easily indented or bruised when touched, it's over ripe.
Prosciutto Slices – You can buy these pre-sliced in the deli section of your grocery store or most sliced-to-order delis have it in the glass display case but it is usually much more expensive than the grab and go. Crispy prosciutto is a true favorite.
Fresh Basil – Adding this after the flatbread comes out of the oven really adds another layer of freshness. Basil really ties all of the flavors together to make it worth of Italy.
Drizzle of Honey – A little drizzle of honey really turns this cantaloupe and crispy prosciutto flatbread into something special, this final step really sets it apart and makes it undeniably memorable.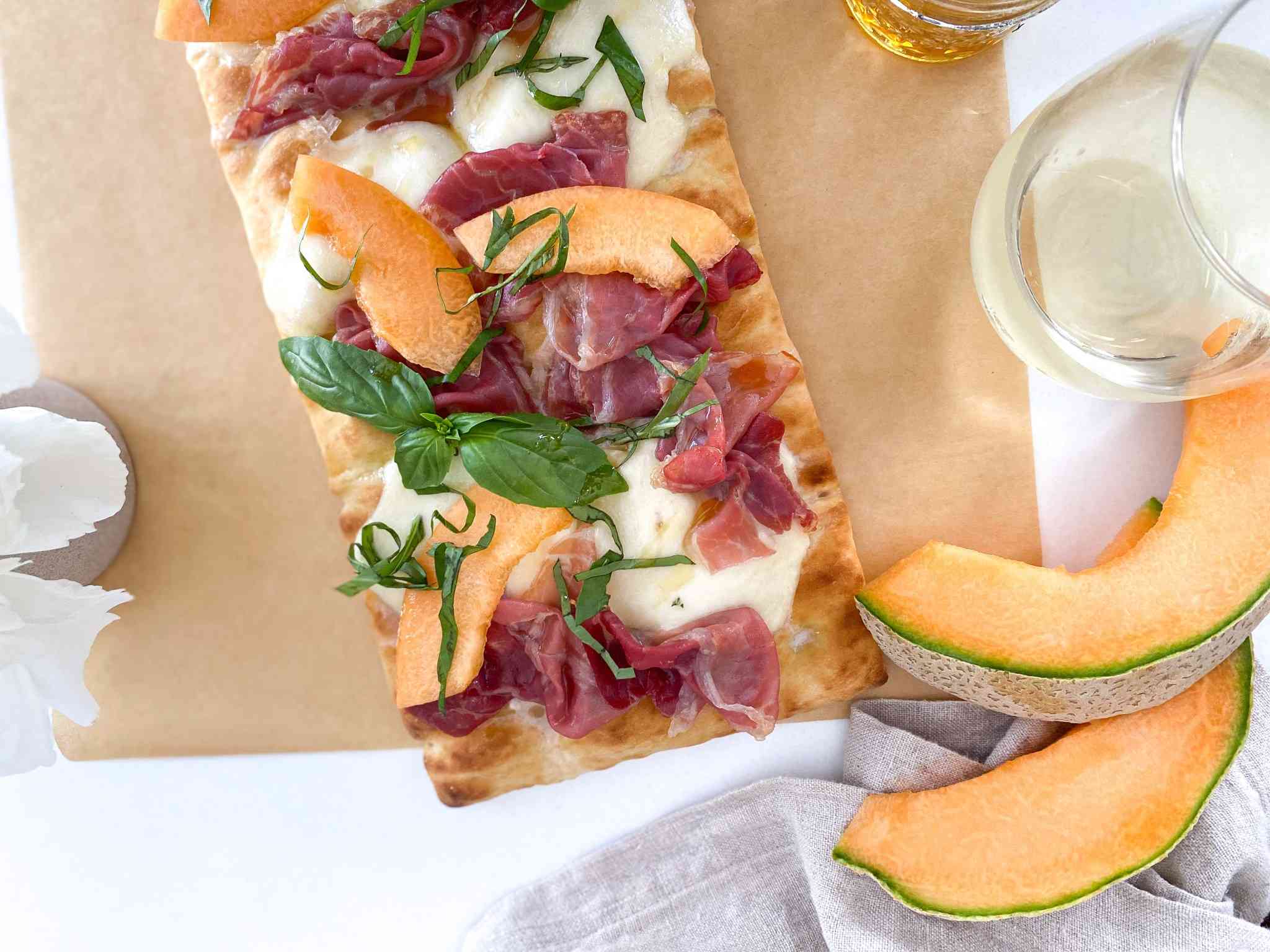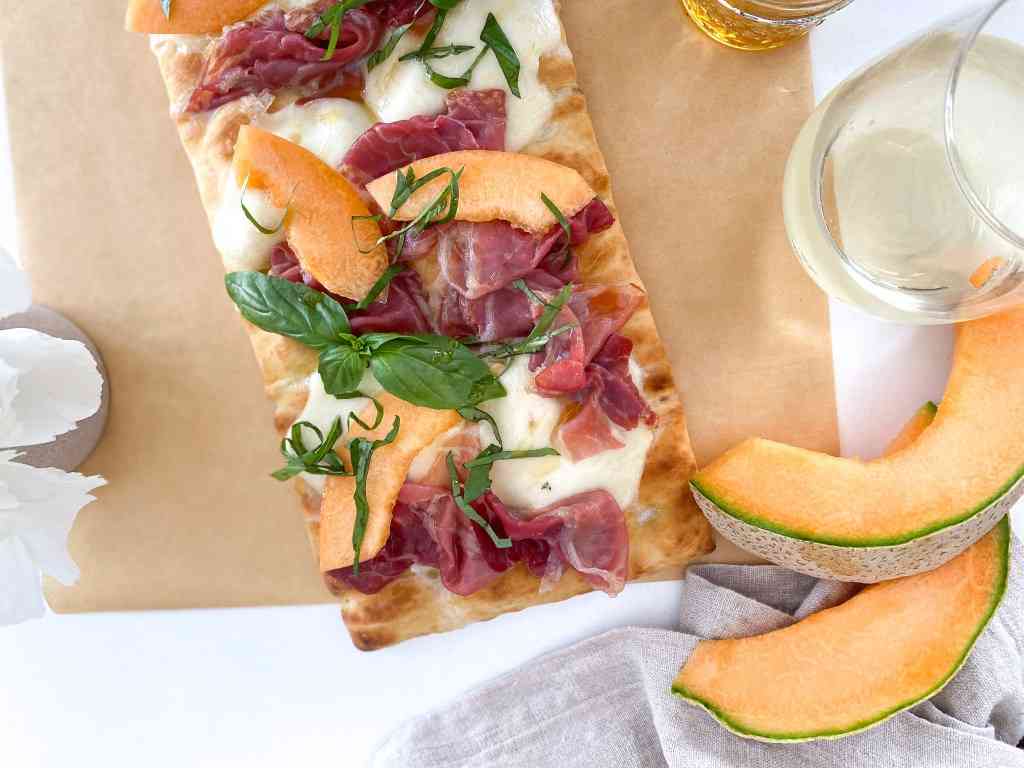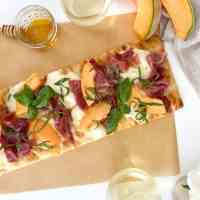 Italy Inspired Cantaloupe & Crispy Prosciutto Flatbread
I cannot tell you how happy this recipe makes me, it's a total dream. It's fresh, light, sweet and salty. It will instantly be your summer obsession, I promise you. Perfect for appetizers, brunch, pizza night, pot-lucks, parties.
Print
Email
Pin
Rate
Ingredients
1

Store-bought or homemade flatbread

see blog notes

Olive Oil

8

oz

Fresh Mozzarella Cheese - sliced approx. ¼ inch

4

oz

Sliced Prosciutto

4-6

leaves

Fresh Basil

6-8

Small Wedges of Cantaloupe

¼

cup

Honey
Instructions
Preheat your oven accordingly to your flatbread package directions or recipe.

Place your flatbread on a sheet pan and randomly add a layer of mozzarella cheese slices and prosciutto. Add on your prosciutto slices near but not on top of your cheese slices.

Bake accordingly to your flatbread package/recipe.

As it bakes, cut your cantaloupe into small bite-size wedges or chunks and chiffonade your basil into thin strips.

Remove your flatbread and add your cantaloupe and fresh basil.

Drizzle the top with honey and olive oil.