Gazpacho is one of the best summertime recipes – it takes no time at all and all you need is a blender!
You say gazpacho (ɡəˈspäCHō) and for some reason I say Gazpacheo. Do you ever mispronounce anything?

You can use fresh vegetables from your garden, the farmer's market or even the produce section of your favorite grocery store. Summer is when everything is looking their best, making it easy and fun to eat your vegetables which is exactly what we are going to do! This soup is served chilled, naturally vegan, super healthy, and jam packed with flavor. 
I LIVE for a good farmer's market. It's so fun to walk around and look at all of the fresh produce and it's a great way to cook in-season, support your local farmers and specialty shops. 

I know that right now, groceries are becoming much more expensive for everyone, this dish is easy to do on a budget.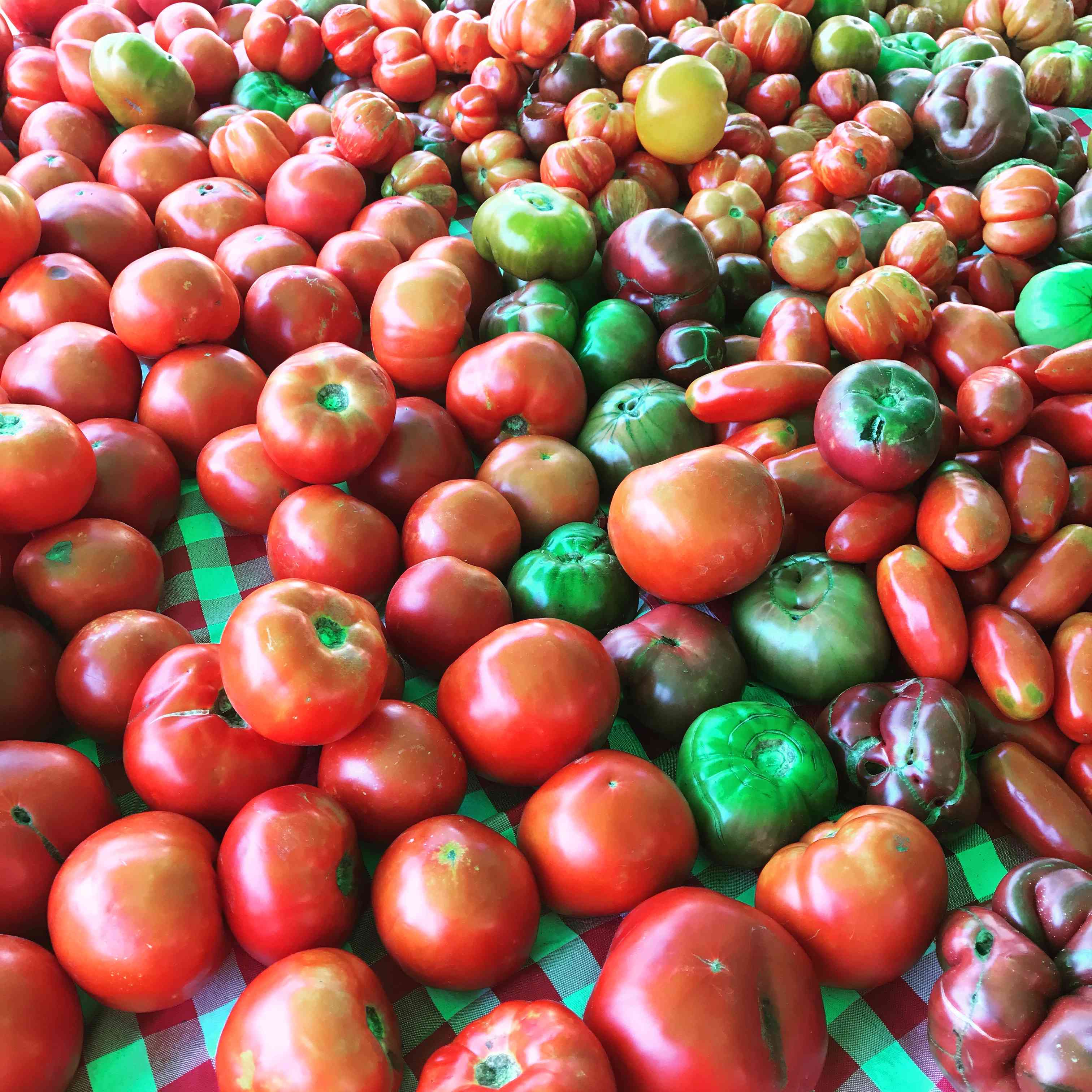 Gazpacho is an easy favorite for summertime.
In culinary school, I remember we made this dish quickly – it was the night before our summer break so everyone was itching to get out early. Good news, it's done in less than 20 minutes! Perfect for any busy night or when you're renting a beach house on vacation. 

The day I decided to make this to write the original recipe, I waddled to the farmer's market, at 39 weeks and 6 days pregnant (whoa!), totally worth the extra effort on my part, you are welcome.

By the way, Olivia was still a few days away from making her debut, this spicy gazpacho was not my last attempt to go into tabor. 


Your Vegetable List: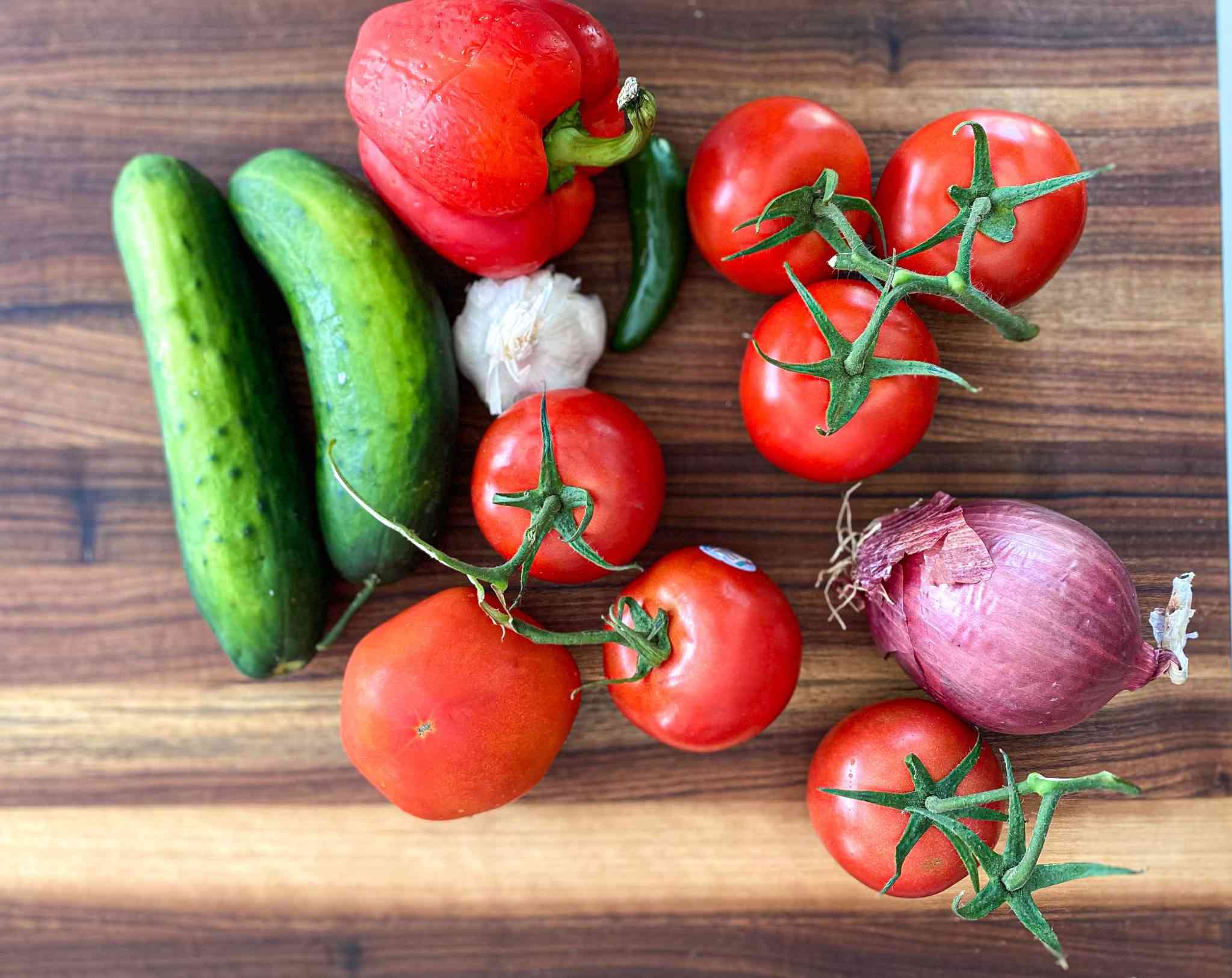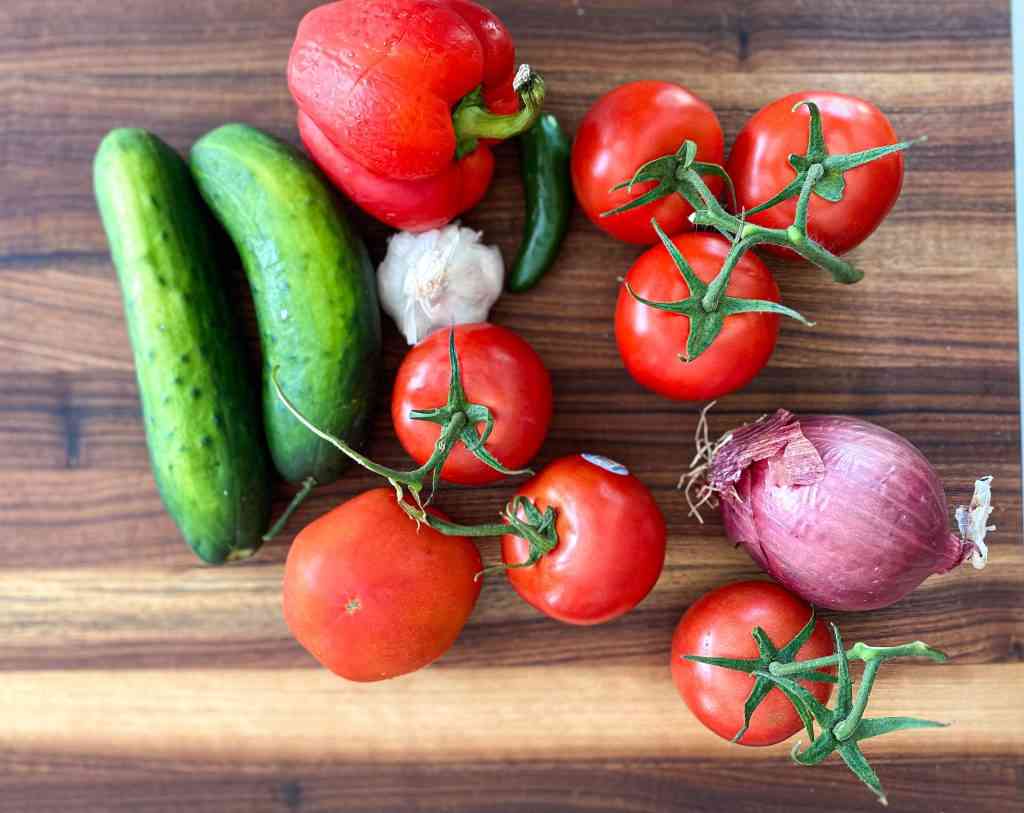 It's important that the ratio of ingredients is more tomatoes than everything else.  It should be a 1:1 ratio, Tomatoes : Everything Else
Tomatoes: For a more traditional gazpacho, you will want ripe red tomatoes, I pick the ones that are fresh off the vine. Heirloom tomatoes are a little sweeter and mild in flavor. You can also use Roma or beefsteak tomatoes, this is a great way to use up any extra un-used tomatoes. 
Cucumbers: I use cucumbers fresh from the garden these days, but if you're purchasing from the farmer's market or the grocery store, I prefer green, ripe cucumbers, I would skip the English cucumber which is usually wrapped in plastic and extra long. 
Bell Pepper: I prefer to use a red bell pepper to help keep the gazpacho color but you can use any color you want to or have on hand. Even if it's a little wrinkly, it'll work! 
Garlic Clove: Remove the paper peel and smash with your knife to help break it up. No need to cut it because it will go directly into the blender. 
Purple Onion & Jalapeño: These two ingredients give the soup a fresh tangy spice. If you want more heat, add in the seeds from the jalapeño as well.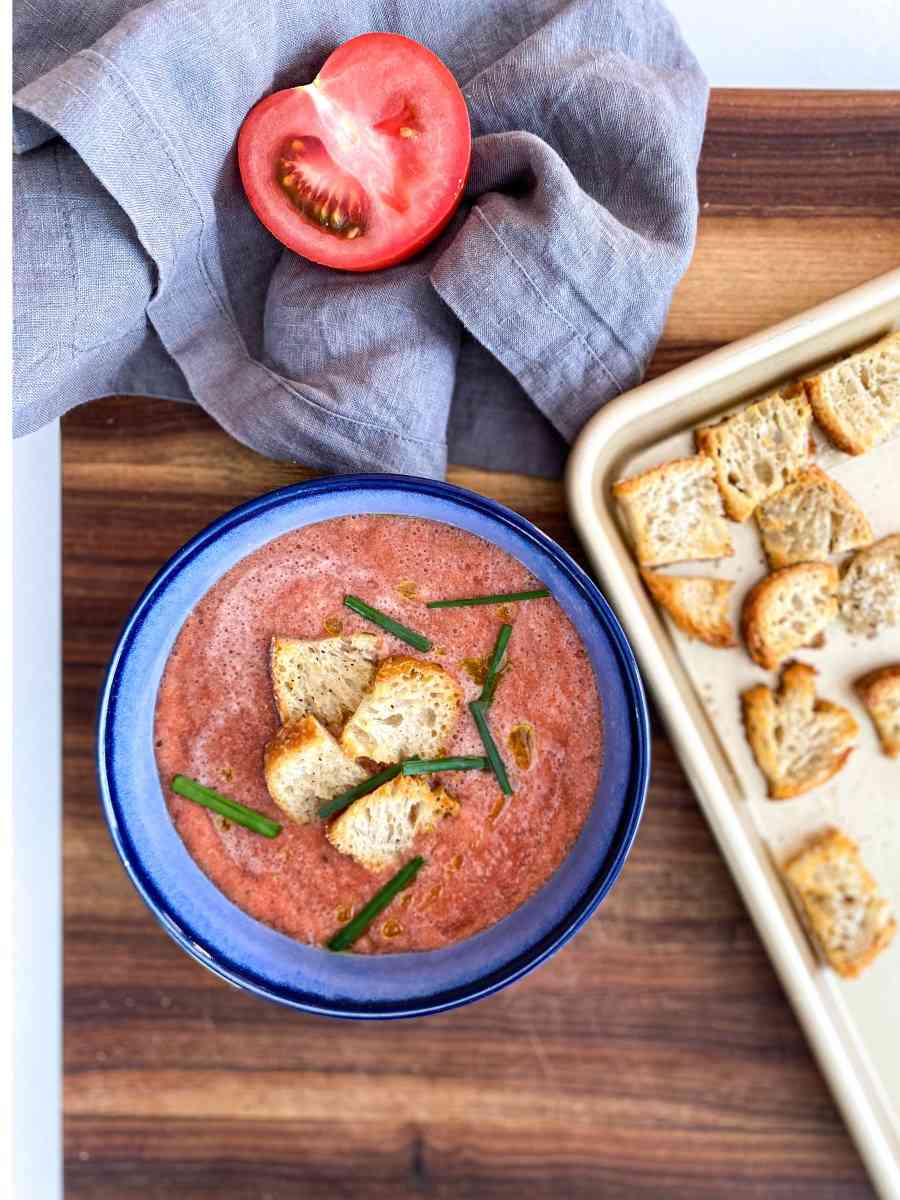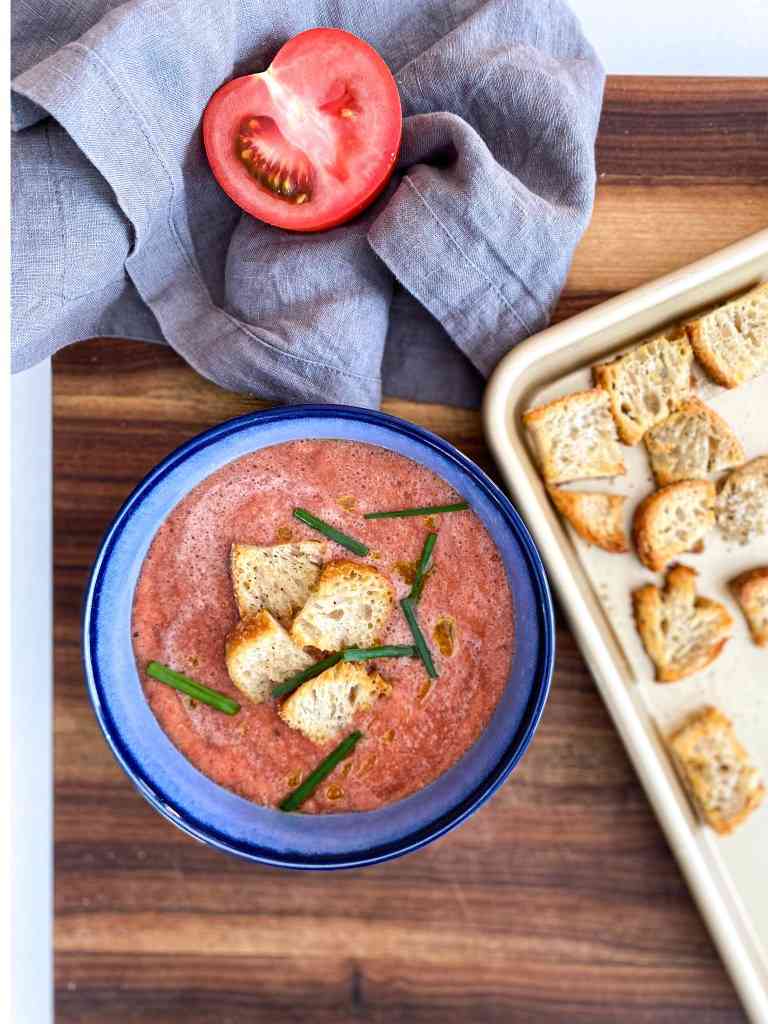 Gazpacho Salt and Pepper Sourdough Croutons 
Gazpacho is served chilled or at room temperature and best with a little crunch on top as a garnish. Homemade salt and pepper sourdough croutons are the perfect thing! These are super quick to make. 

Preheat your oven to 400F. Using two thick slices of sourdough bread, butter the top, sprinkle on salt and pepper. Cut the bread into bite-size cubes, toss in a drizzle of olive oil and bake at 400F for 12-13 minutes until the preferred toasted – crispy crouton.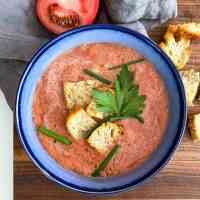 Fresh Farmer's Market Gazpacho
Gazpacho is a summertime must have! It's a chilled soup that has the perfect amount of flavor and spice to be the main dish or a wonderful dinner party appetizer.
Print
Email
Pin
Rate
Ingredients
7

Tomatoes

2

Cucumbers

1

Red Bell Pepper

1

Jalapeño

½

Small Purple Onion

2

Garlic Cloves

3

TBSP

Apple Cider Vinegar

1

tsp

Salt