Weeknight French Onion Meatballs are here! We can all agree that French Onion Soup is a fall favorite (well anytime favorite really). With it's familiar rich deep fall flavors it really is the coziest comfort food. And now we have French Onion Meatballs, same gist topped with warm melted cheese ready for you to dig in with crusty bread, add to pasta or just enjoy by the spoonful.
It's all made in one pan and baked to perfection.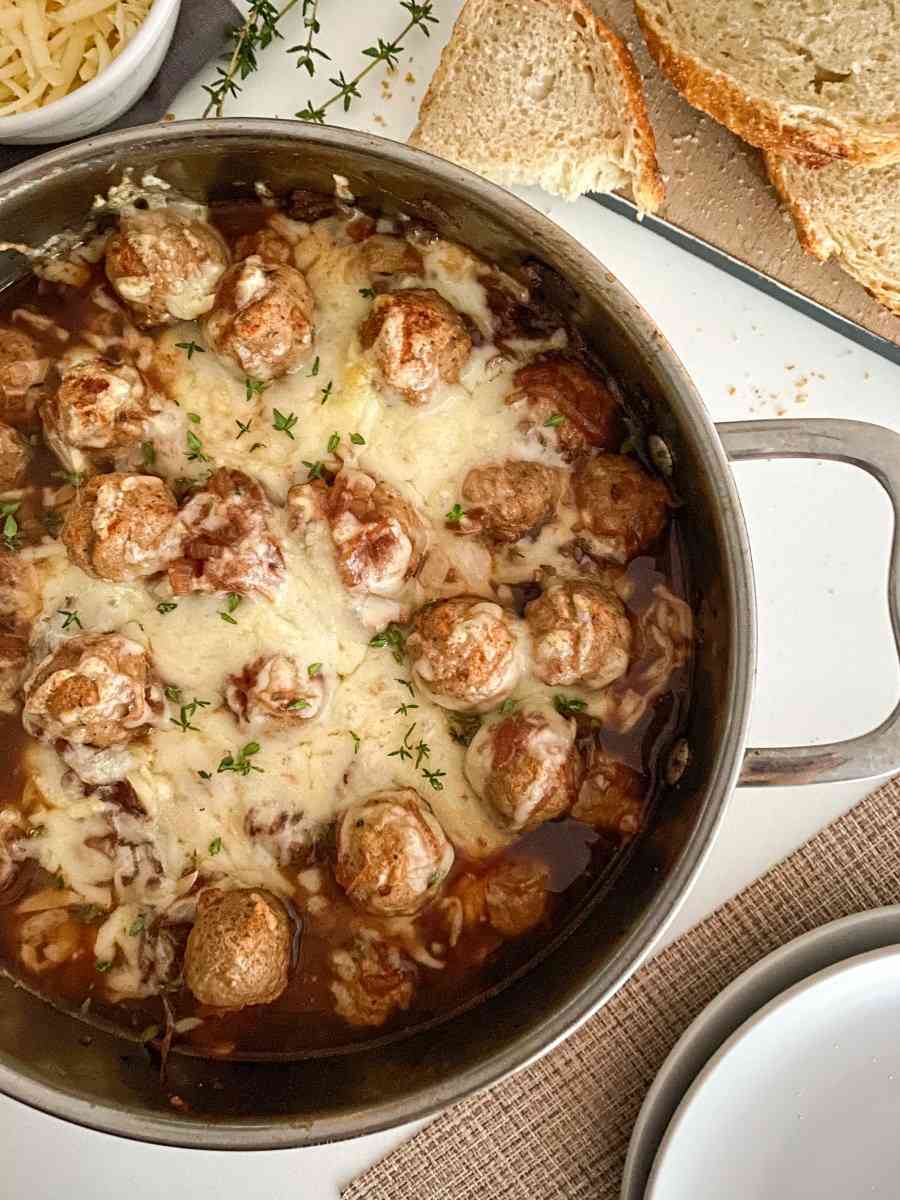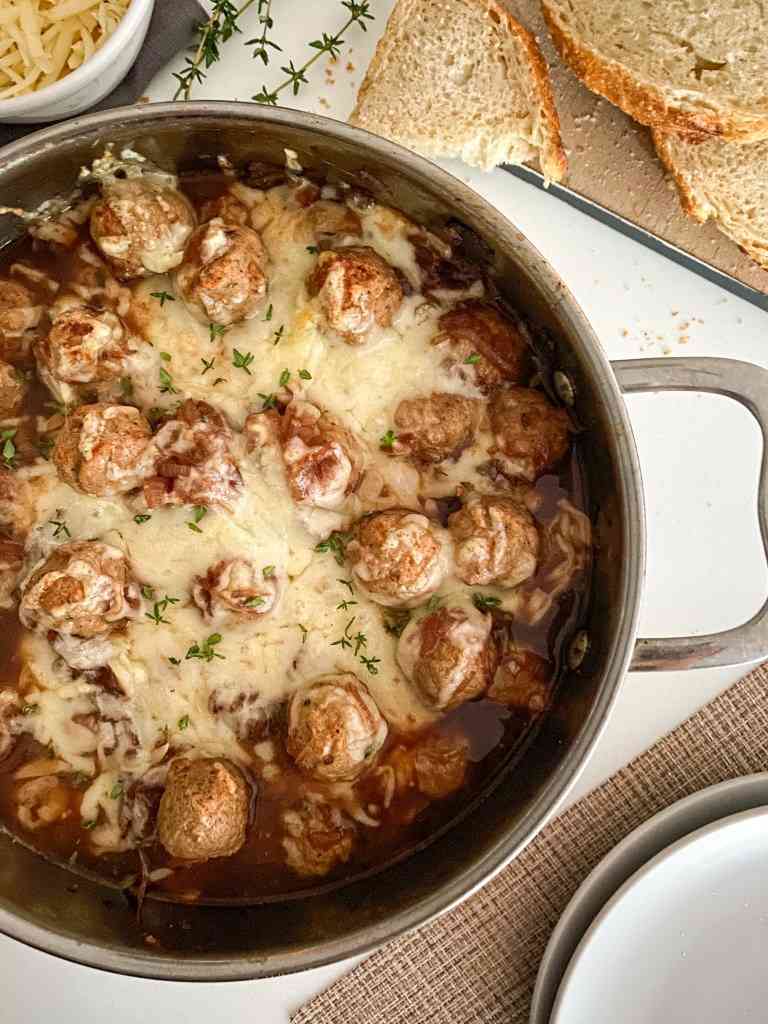 Brown Your French Onion Meatballs First
It's all about texture. Because the meatballs are cooked in stock they will have a softer texture. If you want your meatballs to be a little crispy, you can brown them in the pan before caramelizing your onion.
Simply add a tablespoon of butter to your pan, add in your meatballs and over medium heat let them brown up, it should only take a few minutes. Once browned, scoop them on a plate and set aside. Then follow the recipe below.
My favorite meatballs. If you're a long time reader, this is of no surprise. If you're new here, I have two favorite meatballs. I love my homemade meatball recipe but I also know that weeknight dinners need to be kept simple and easy, and sometimes making homemade meatballs is not ideal for meatball recipes…. so my favorite grocery store meatball are the Cooked Perfectly brand. They have so many options like organic, gluten-free, turkey, hidden vegetables, etc. and they come is many different flavors and sizes. For this recipe I used the Homestyle Bite Size.
I discovered this Cooked Perfectly brand in 2020 when we rented a beach house while we took on a change of scenery during stay-at-home COVID time. Since we were on vacation with a newborn and two toddlers, we opted in for frozen already cooked meatballs and once the groceries were delivered, I was hooked. It's truly a favorite brand, this is not an ad or paid sponsorship.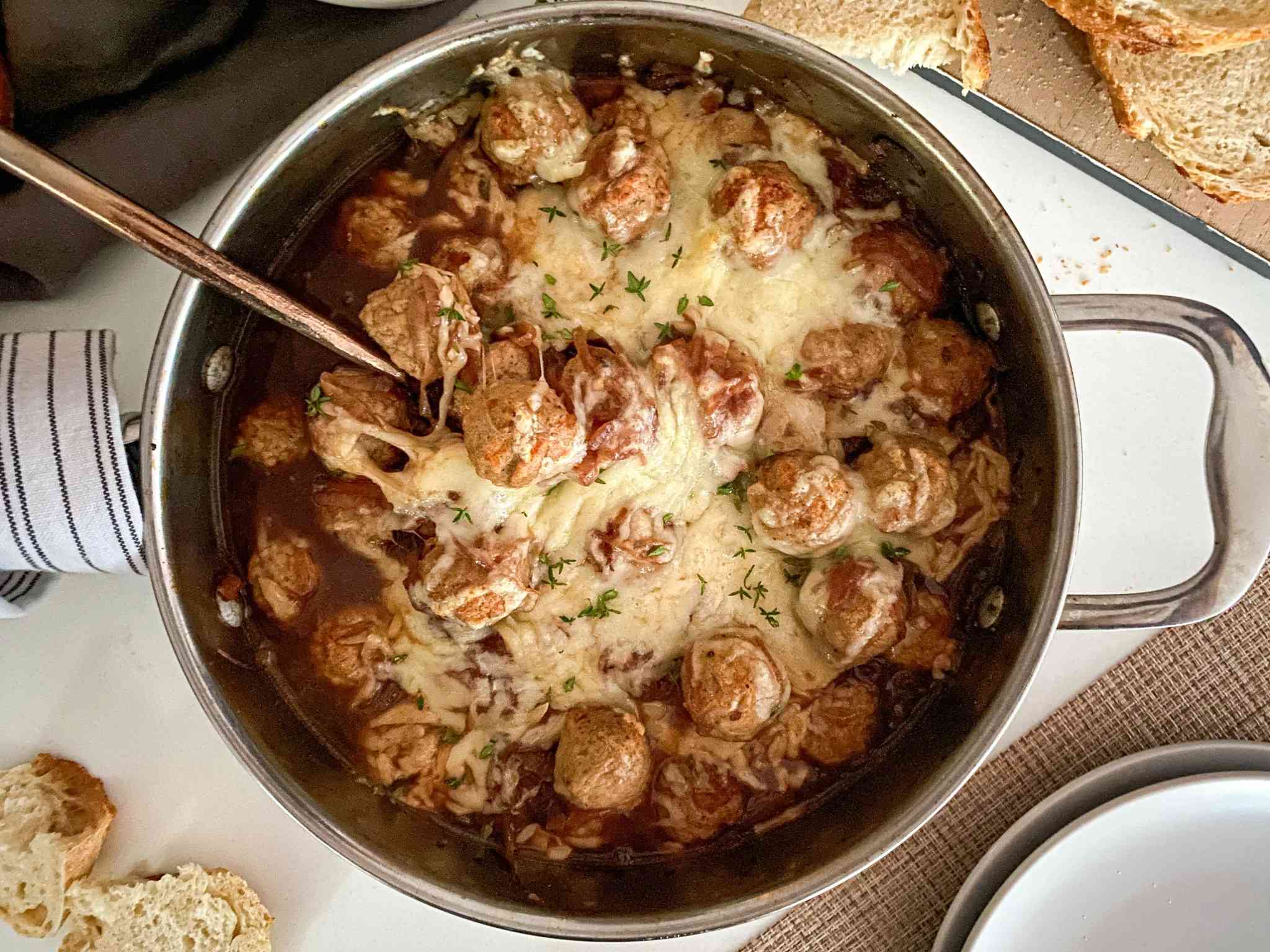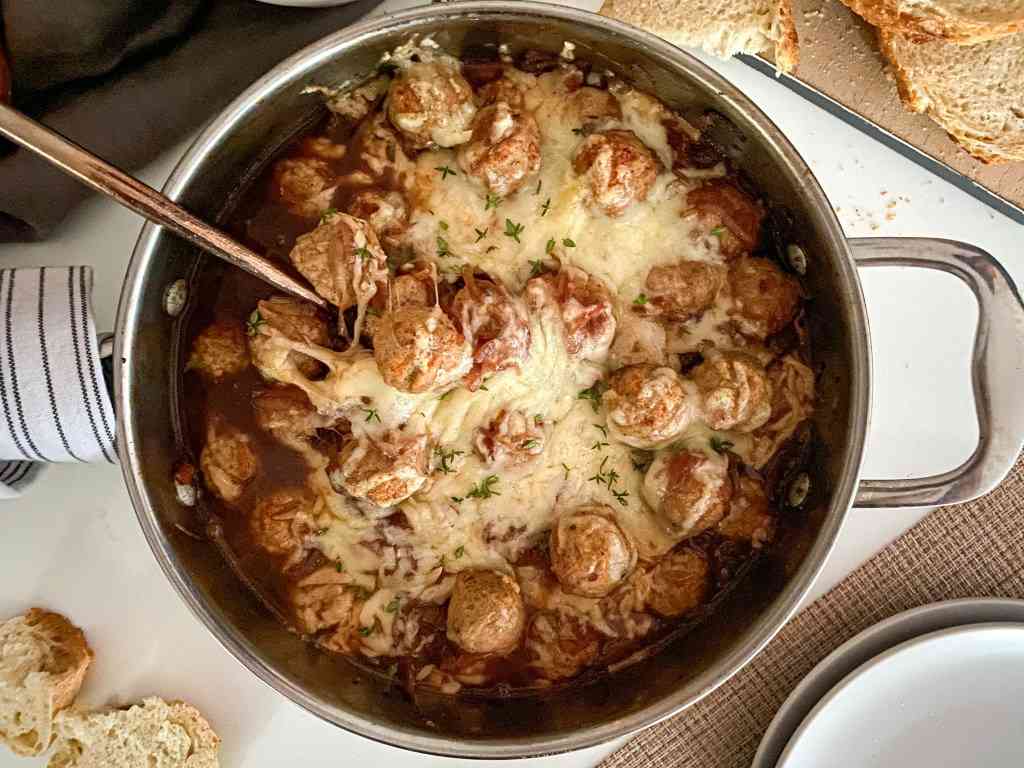 How to Caramelize your Onions Step-by-Step
Caramelizing onions can be a bit intimidating but once you follow these step-by-step instructions, you're see that it can be done easily, you just have to trust the process and let them sit without stirring.
Fun fact: Onions are full of water, they do not require butter or olive oil like other vegetables because they sweat out their liquid so easily, a lot of recipes, this one included, uses butter because butter adds flavor.
When you cook an onion you can see it go through many different stages. When you add a thinly sliced onion to a pan and place it over medium low heat, you can watch it go from being hard with a pungent raw smell to soft and translucent, then finally to caramelize brown with a sweet smell, all you need is time. If you do this too quickly over high heat, the onion will not cook throughly and risk the danger of burning.
The take-away, use medium low heat and patience. Stir minimally. When the onions cook on the stove top, you can grate the cheese or load the dishwasher.
Times will vary – this is based on the recipe below (5 small onions), it took 20 minutes for a low caramelization, building the foundation for that French Onion flavor.
As you can see the bottom of the pan has browning, that is okay, and will happen if you use a stainless steel pan, you will not see this in a non-stick pan. Once you add the wine and beef stock from the recipe the bottom bits will come up and will be incorporated back into the rich cozy flavors of these French onion meatballs.
Here are some of my favorite recipes that call for caramelized onion. French Onion Soup, French Onion Soup Pizza, and this Grilled Cheese!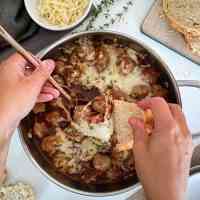 Weeknight French Onion Meatballs
Familiar rich deep fall flavors it really is the coziest comfort food.
Print
Email
Pin
Rate
Ingredients
5

Small Onions, peeled and thinly sliced.

1

TBSP

Butter

½

tsp

Salt

¼

tsp

Black Pepper

a few

Fresh Sprigs of Thyme

a few

Fresh Rosemary Stems

½

cup

Dry Red Wine

2

cups

Beef Stock

1.5

lbs

Frozen, already cooked bite size meatballs

See Blog for Favorite Brand.

Crusty Sourdough Bread (optional)
Instructions
Place your pan over medium low heat and caramelize your onions, about 20 minutes.

See blog post for more details on how-to-caramelize onions.

Preheat the oven to 350F.

Using a plastic or wooden spoon scrape the bottom of the pan to loosen up any of your brown bits from the onions.

If you are using a non-stick pan, you can skip this step.