Easy (crock pot) horseradish roast beef sliders are the the perfect anytime weeknight dinner, best for those days when you just don't have any idea what to do for dinner. Start the crock pot and let the thinly sliced roast beef slow simmer with garlic, onions and a few sprigs of thyme until you're ready for dinner, served on a buttery sweet Hawaiian roll smothered in a creamy horseradish béchamel sauce.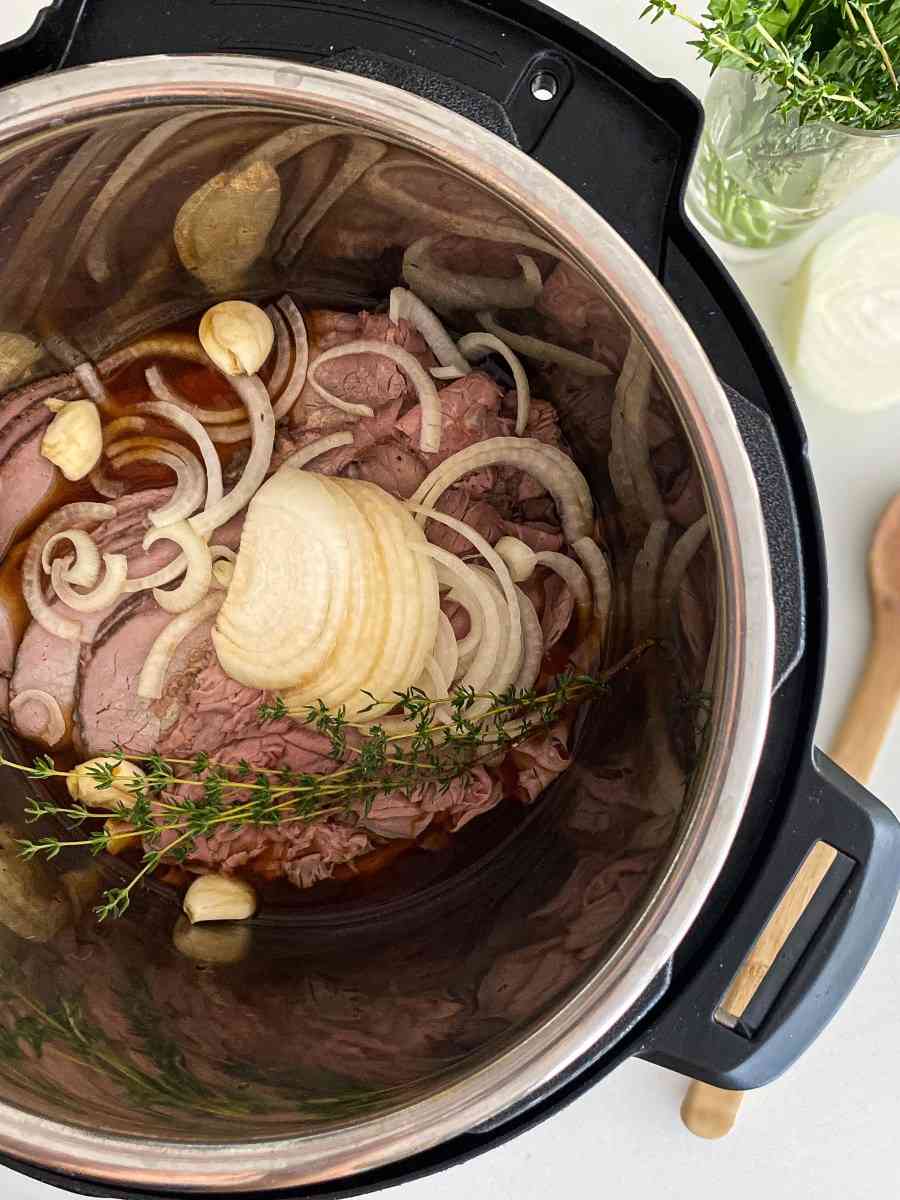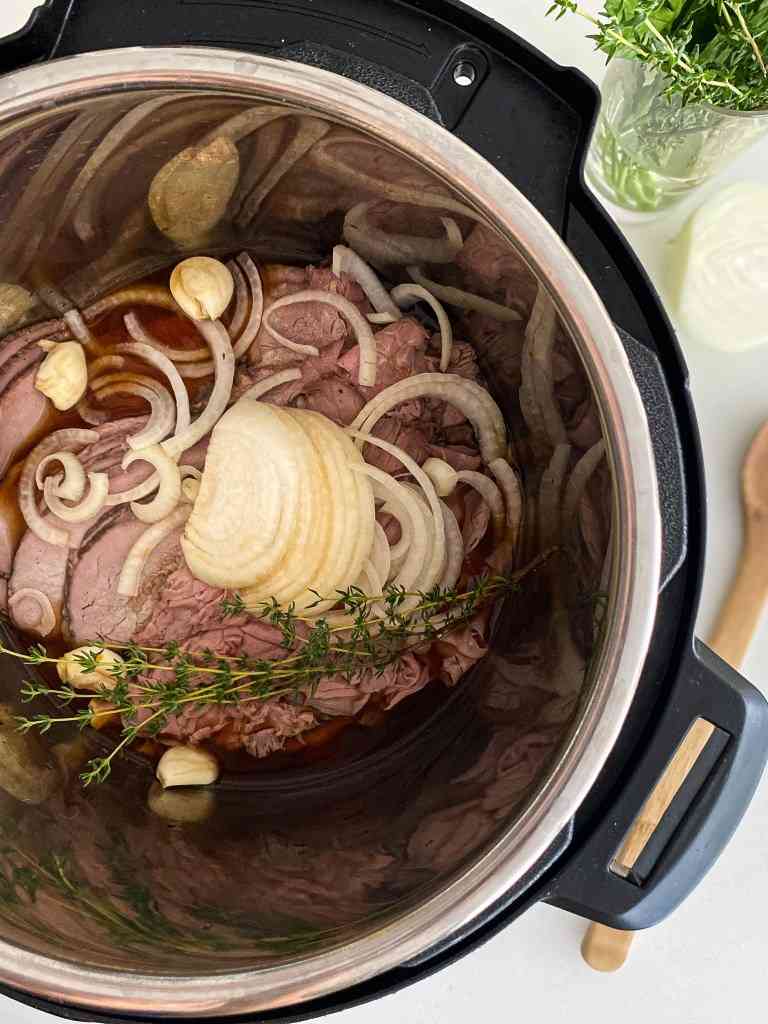 Easy Horseradish Roast Beef Sliders – The Inspiration
When I drive by any roast beef fast-food restaurant I am overcome with nostalgia. I am immediately reminded about visiting my grandma, there was a Roy Roger's at the bottom of the road near her house and we used to go when we were in town. Aside from roast beef sandwiches they had the best pickles on their self-serve buffet. As a child, I followed my mom's lead and ordered a plain roast beef, no cheese, no sauce.
When I got older I realized that roast beef goes well with melted cheddar sauce and onion topped buns, Arby's became my favorite go-to. These sliders are not a copycat or a replacement, but they were inspired by my love for fast-food restaurant roast beef sandwiches.
Leveled Up Easy Horseradish Roast Beef Sliders
These roast beef sliders have layers of slow simmered roast beef, onions, a tangy horseradish béchamel sauce, soft mild melted provolone, topped with butter, fresh thyme, and salt, baked to perfection, warm crusty outside, soft and delicious on the inside.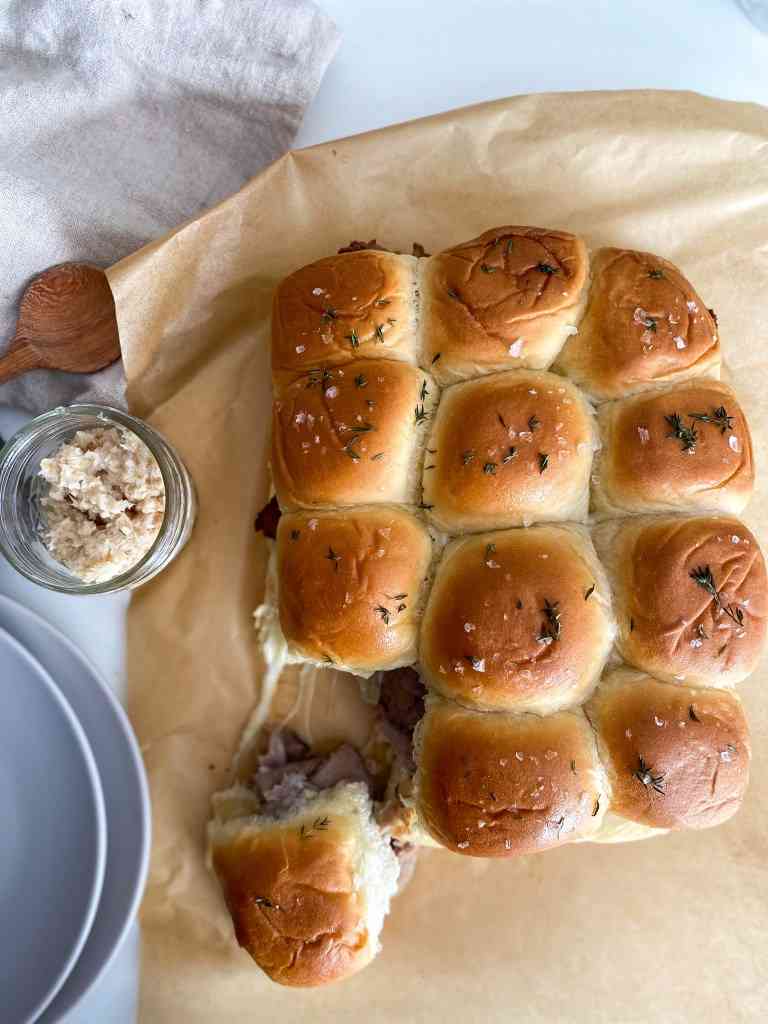 Also Great for Game Day!
These easy horseradish roast beef sliders are great for game day too! Using Hawaiian rolls make it so easy to serve to a crowd. You can make 12 pull apart sliders all in the same time it takes to make one individual sandwich. Hawaiian rolls are a game-changer. You can easily slice through the middle of the the entire roll-loaf, cutting the tops off the bottoms in one easy cut rather than doing each roll individually. Watch the video in the recipe to see just how easy it can be!
Hosting a crowd? Surely people will have at least two of these delicious little sliders. Double the recipe below for an easy conversion on quantities – same crock pot, same amount of time.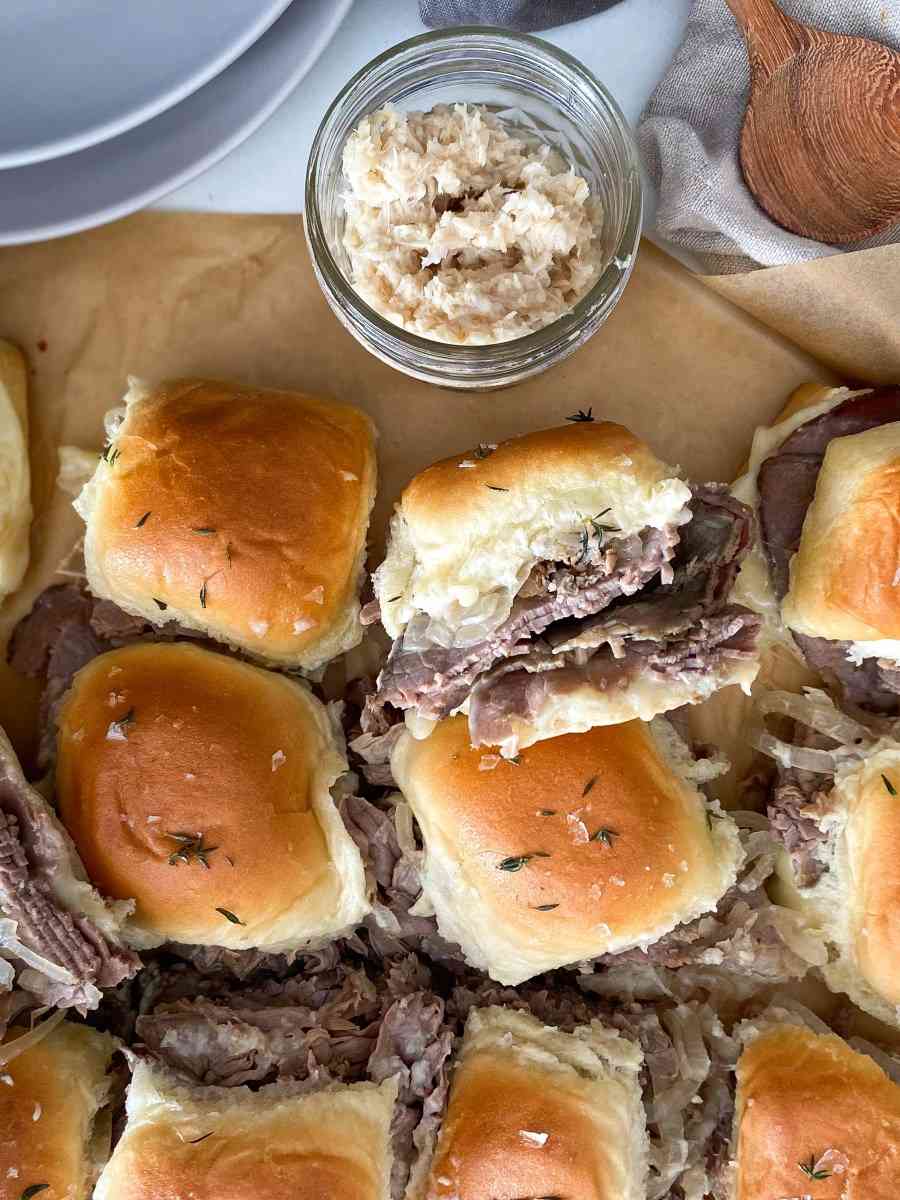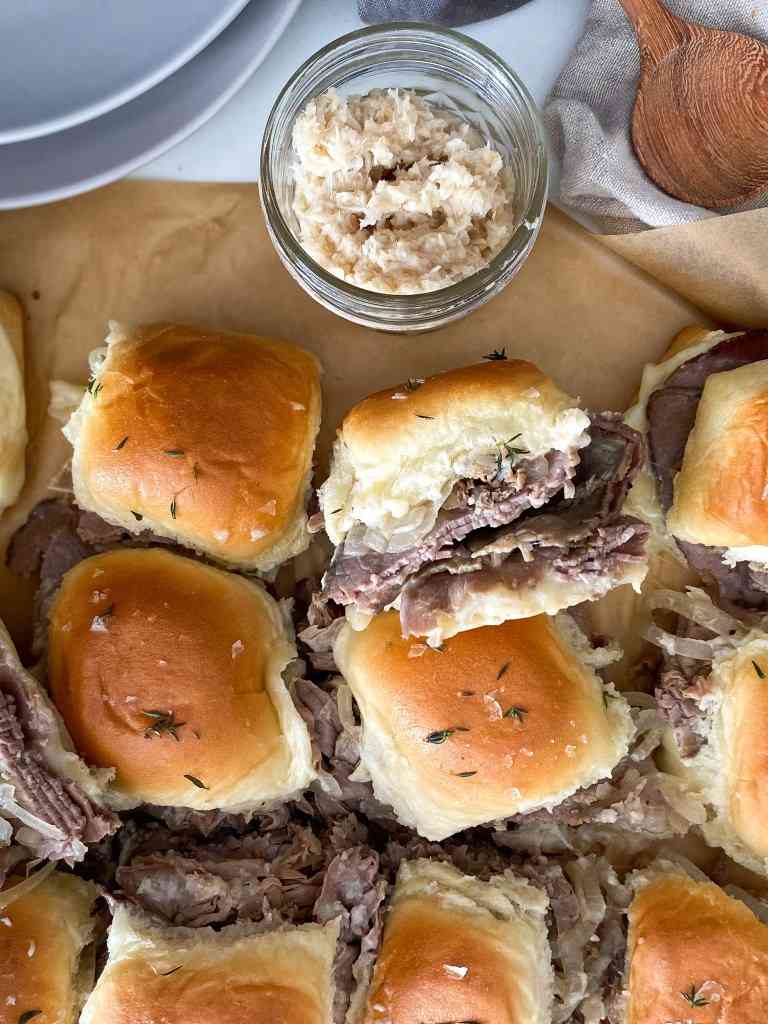 Horseradish
Horseradish is a root vegetable that is grated into a condiment. The sauce is pungent, tangy and has a reputation for clearing congestion. Used around the world as a holistic medical resource and also as a condiment for meats. Let's not forget the importance of horseradish in the brunch must-have bloody Mary.
These easy horseradish roast beef sliders use a creamy horseradish béchamel sauce which captures the tangy flavors without being too overwhelming. It strikes the perfect balance for the roast beef and mild provolone cheese.
Crock Pot Timing
You will want to add your ingredients to the crock pot and let the roast beef simmer in the herbs, garlic and beef stock for at least 3 hours on high. If you are preparing this before work and have more than 3 hours, you can do a low temperature for 5+ hours, whatever your schedule it'll be waiting for you when you get home.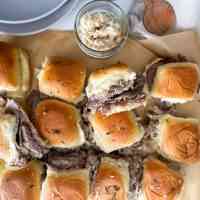 Easy Horseradish Roast Beef Sliders
This quick and easy crockpot recipe is an easy go-to for weeknight dinners, game day, or pot luck. Slow simmered roast beef, tangy horseradish, mild creamy provolone cheese served on a buttery herb sweet Hawaiian roll.
Print
Email
Pin
Rate
Ingredients
1

lb

Thinly Sliced Roast Beef Deli Meat

1

Onion - thinly sliced

3

cloves

Garlic - peeled and smashed

1

cup

Beef Stock

3

sprigs

Fresh Thyme (divided, you will need 1 sprig for the rolls)

½

tsp

Salt

½

TBSP

Butter

½

TBSP

Flour

½

cup

Milk

1-2

TBSP

Horseradish

1

package

Hawaiian Rolls

6

slices

Provolone Cheese

1

TBSP

Butter - melted

Sea Salt Flakes
Instructions
In your crock pot add your roast beef, onion, cloves of garlic, beef stock, 2 sprigs of fresh thyme, and salt.

Cover and cook for 3 hours on high or longer on low, see blog post.

When you are ready to serve, preheat your oven to 350F.

Make your horseradish béchamel sauce. In a small pot, over medium low heat, add your ½ TBSP of butter and let it melt. Add in the flour and whisk or stir until it's a wet sand consistency and let it cook for about a minute.

Whisk in your milk, whisk until all lumps are smooth. Cook over medium heat and let is thicken. Off the heat, stir in your horseradish and set aside.

Cut your Hawaiian rolls in half, cut through the middle so you can easily lift off all the tops off together. (see video for a demo)

Add your roll tops back on. Brush on the melted butter, sprinkle on your sea salt flakes and extra fresh thyme.