It's time for some cozy fall flavors like classic French Onion Soup Pizza! With Labor Day behind us and the pool closed, we are officially celebrating fall with the sweetness of caramelized onions, nutty gruyère cheese with the rich comforting flavors of a red wine pan sauce.
Full disclaimer, this french onion soup pizza may require a fork, knife and napkin. You can still pick it up to eat but the french onion soup topping is too good to let it slide off the edge of the slice.
This french onion soup pizza is a total vibe it's the most special specialty pizza I have ever made, you will absolutely love it, I promise. And it reheats for lunch like a champ!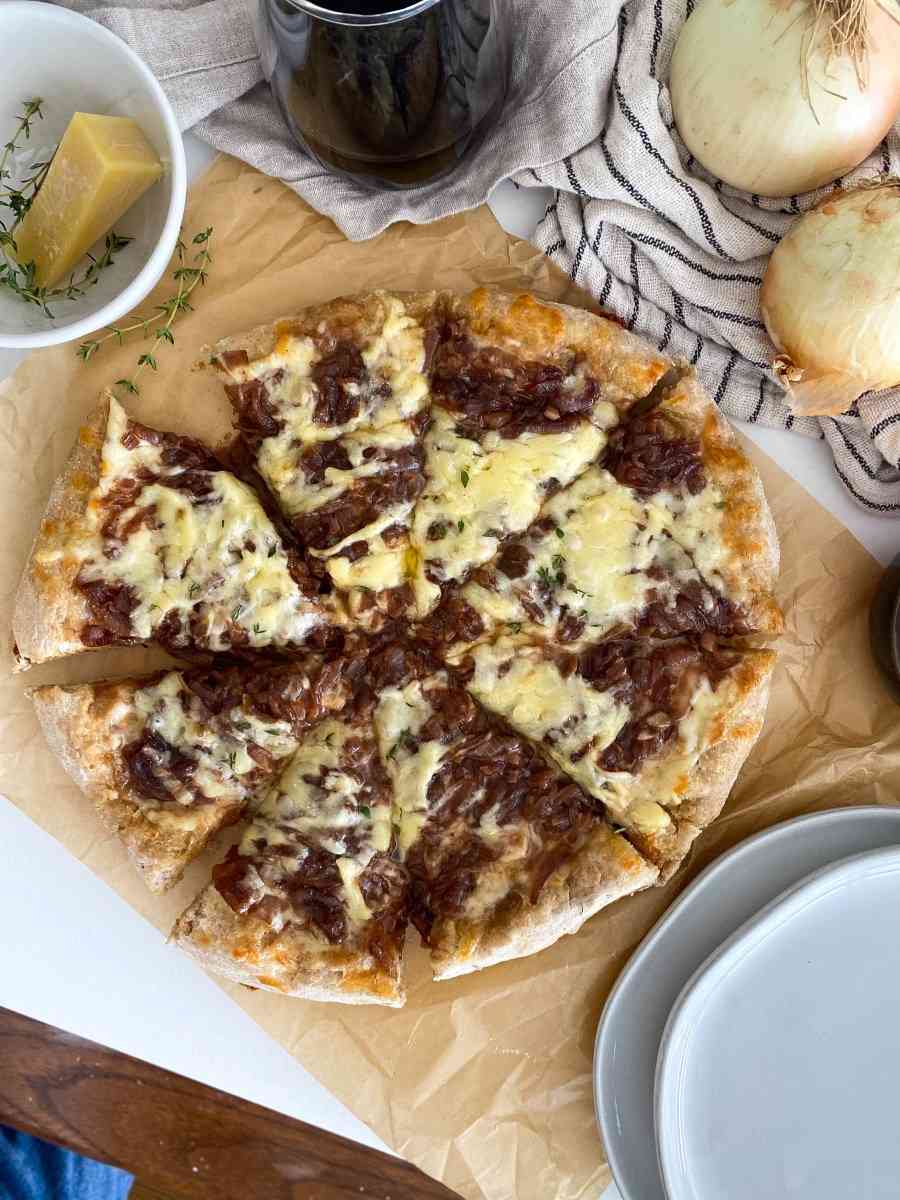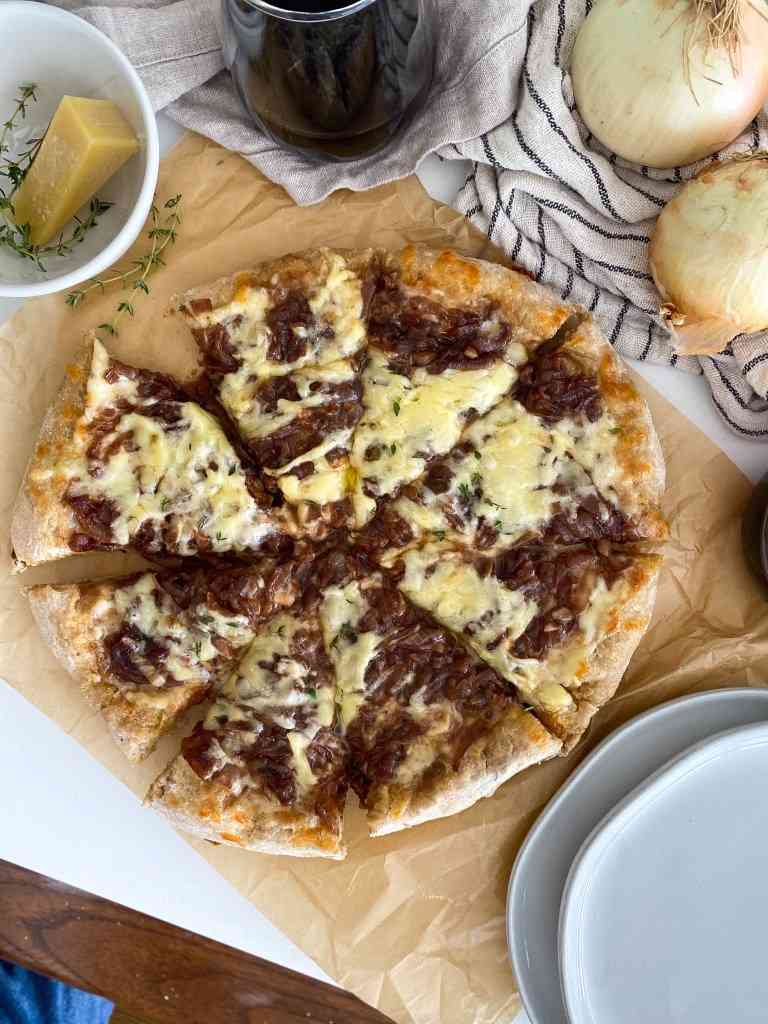 Pizza in an Hour – Faster than Delivery
This pizza take about an hour to make start to finish, not including making homemade pizza dough. If you want to use store bought, I recommend always using the ball of dough that is usually found around the deli section of your grocery store – they make the best pizzas. Always sit your dough on the counter for 30 minutes before trying to roll it out.
This french onion soup pizza has all of the traditional ingredients which is why it takes about an hour to make. The caramelized onions are the most tedious. They require a slow caramelization over medium low heat. The key is to let them cook without stirring too much, they need time to sweat, soften and brown, too much stirring will keep them from browning. Stir just enough to keep them from burning. The good news is that once you get them in the pot, you can then prep your other ingredients.
Just remember the browner they get the more flavor you have and the better the pizza will be.
On a side note, you can prep ahead and caramelize your onions a few days in advance, just store covered in the refrigerator.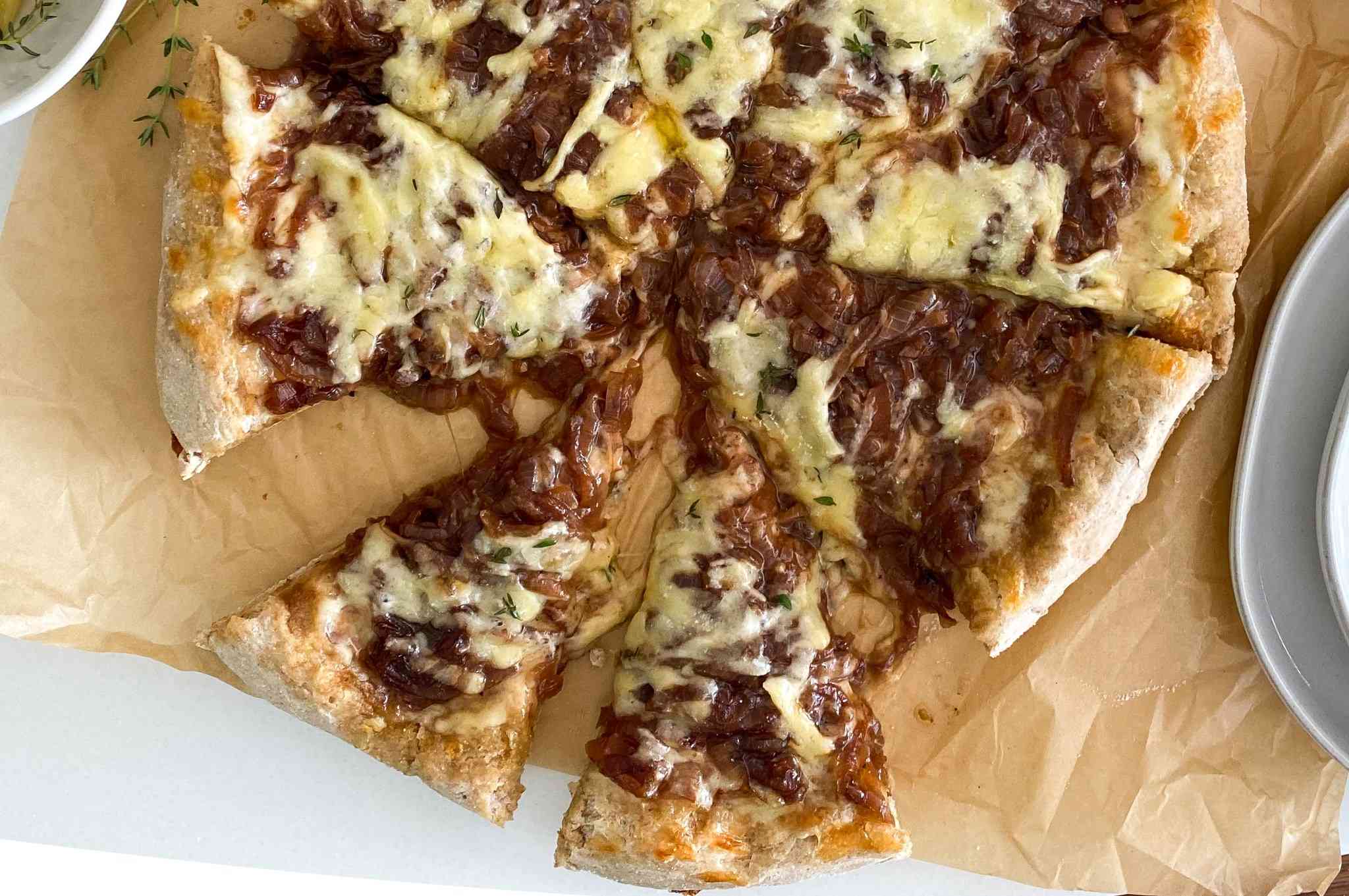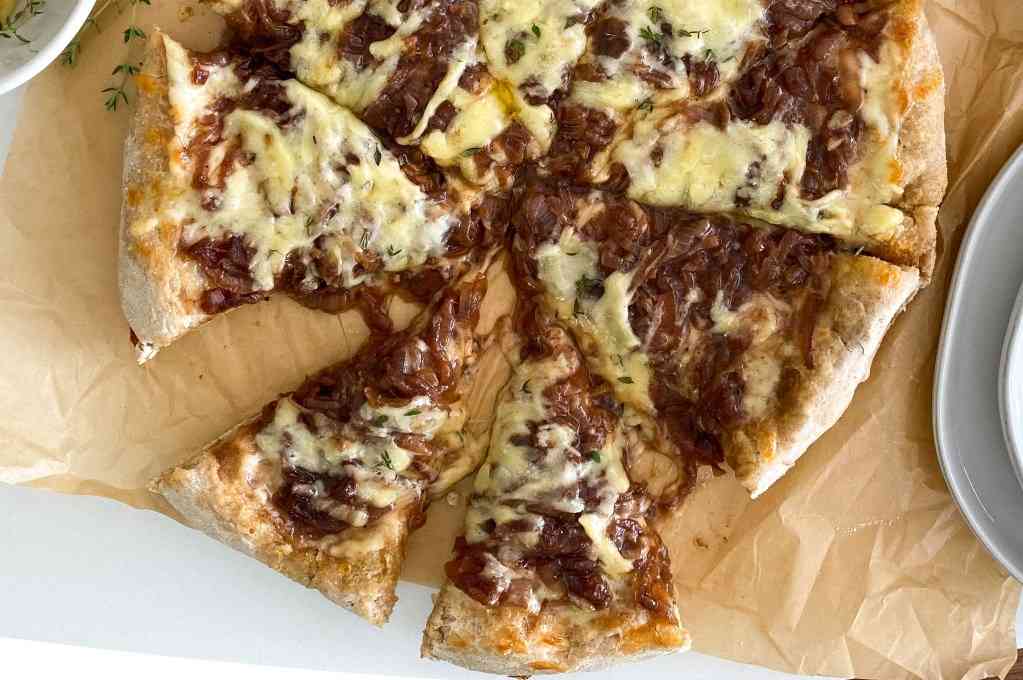 French Onion Soup Pizza – Cast Iron Pan
Using a cast iron pan is a fun way to make a classic pan-pizza with an even thick crust and soft center. The heat of the cast iron on allows the bottom to brown evenly.
An added health benefit to cooking with cast iron is that it's a good and easy way to add iron to your diet.
If you do not own a cast iron pan, you can always make this on a pizza stone or sheet pan as well. If you are using a pizza stone, make sure you put it in the oven when you start to preheat your oven, the pizza stone should also preheat up to 425F otherwise you risk it breaking.
Also use corn meal, no matter what you use (cast iron, stone or sheet pan) the corn meal will save your pizza from sticking and it gives the crust an amazing pizza texture.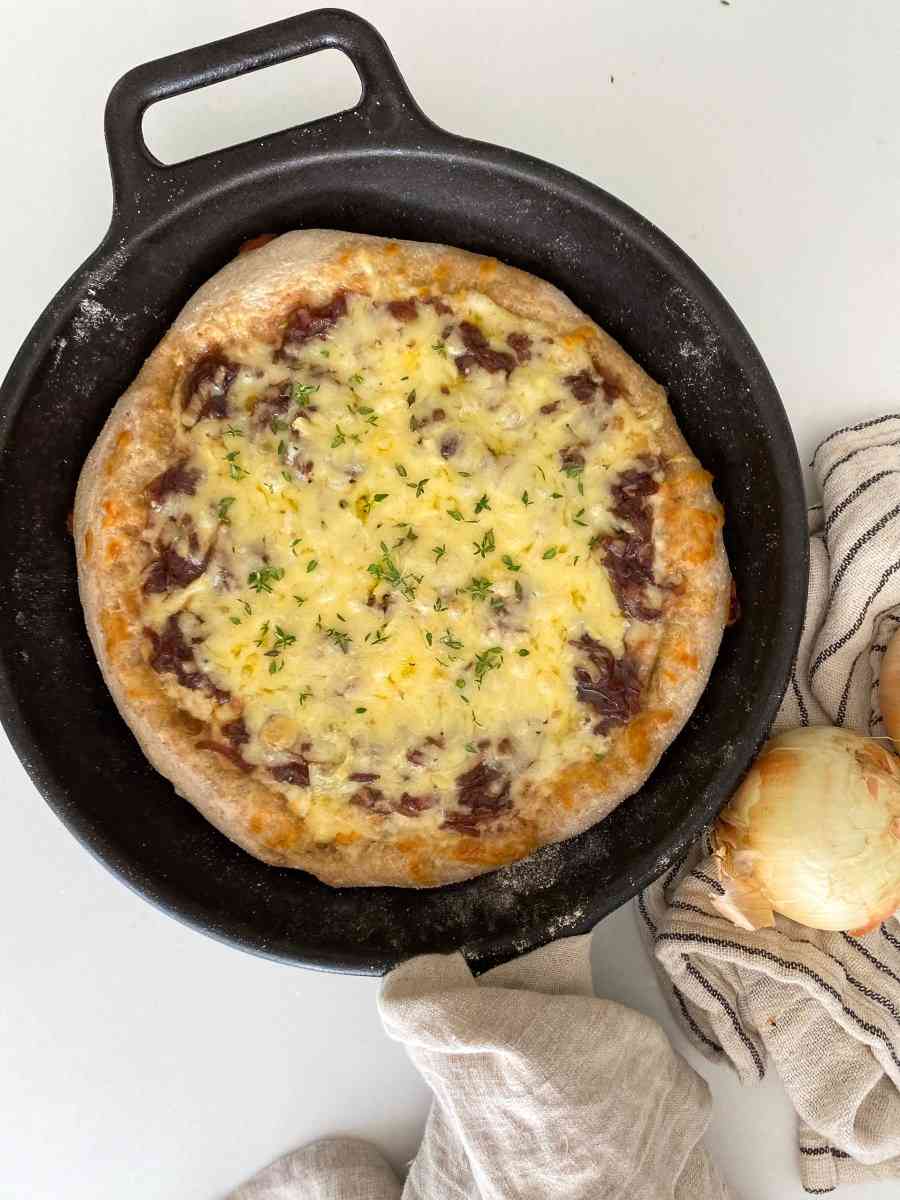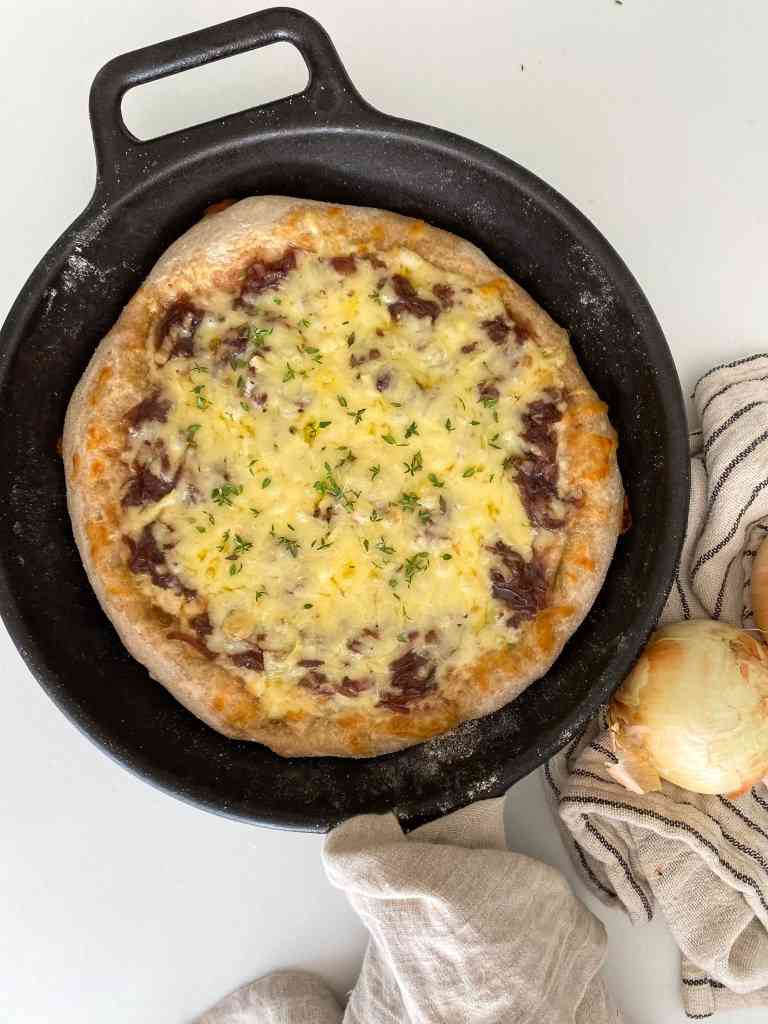 French Onion Soup Pizza – Vegetarian Alternative
The recipe below uses beef stock, however you can substitute vegetable stock. If you use vegetable stock, I also encourage you use white wine instead.
Classic French Onion Soup
Classic french onion soup is one of my favorites. If you love it too, you can also check out my classic soup recipe or this post on how to easily stock the freezer or take to the office for lunch.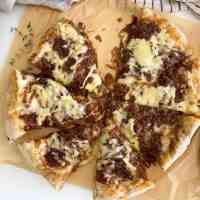 French Onion Soup Pizza
A pan baked pizza with buttery caramelized onions topped with irresistible nutty gruyère cheese is like a deconstructed french onion soup in all the best ways.
Print
Email
Pin
Rate
Ingredients
1

Pizza Dough

room temperature

1

TBSP

Butter

4

Medium Onions - thinly sliced

½

tsp

Salt

3

sprigs

Fresh Thyme

2

cloves

Garlic - minced

½

tsp

Black Pepper

½

cup

Red Wine

1

cup

Beef Stock

1

cup

Shredded Mozzarella Cheese

6

oz

Gruyère Cheese

3

TBSP

Corn Meal

Drizzle of

Olive Oil
Instructions
In a large pot, add your butter, onions and salt. Start to cook over medium heat.

Set out your pizza dough on the counter for later.

Over medium heat, continue to cook until the onions caramelize, stirring very minimal, only to prevent burning. The longer you go between stirring the more brown your onions will caramelize which gives the most robust french onion soup flavor. This will take about 20 minutes over medium heat.

This is the perfect time to prep your other ingredients.

Once your onions are soft, have a sweet fragrance and are brown, add in your thyme, garlic and black pepper.

Preheat your oven to 425F.

Deglaze with your red wine - over medium heat, add your red wine and with a wooden spoon, scrape the bottom of the pot to incorporate any of those flavors that were cooked on while the onions caramelized.

Over medium heat, let the red wine reduce and cook down so that there is no more liquid in the pot about 3-5 minutes.

(optional, you can skip to your beef stock if you do not want to cook with wine)

Add in the beef stock and over medium-high heat let the beef stock cook down until the liquid is thick and almost completely reduced about 3-5 minutes.. Take off heat and set aside.

Sprinkle the bottom of your cast iron pan with corn meal. This will prevent it from sticking and will gives the pizza crust the perfect texture.

Add your dough.

Press your dough out to the edges of your cast iron pan so that the dough goes up the edge just slightly, this will give you a pan style pizza crust.

Drizzle a little olive oil, this will make your crust strong and sturdy so it can be picked up to eat.

Add on your mozzarella cheese.

Using a fork or tongs, take out your sprigs of thyme and set aside. Then using your fork or tongs, add all of your caramelized onions to your pizza, this method will help any excess liquid drip off before going on the pizza.