Pumpkin pie is a holiday staple. My grandma makes the same pumpkin and apple pie every year, the exact same pies every year. Her pumpkin pie is a family favorite and one of her most requested desserts and loved by my husband. For me, I'm more of an apple pie lady, I'm not usually a pumpkin lover, however this creamy pumpkin pie is delicious!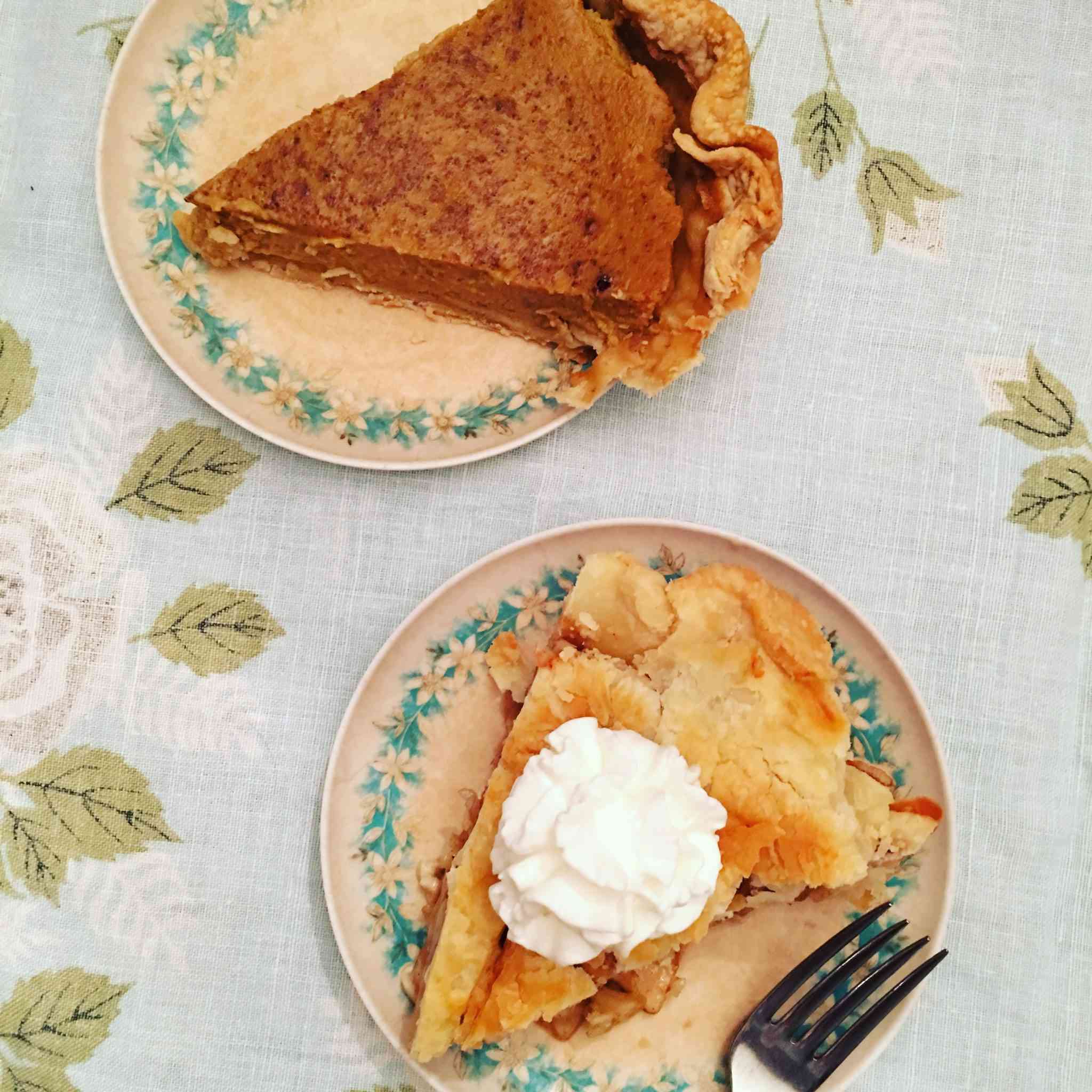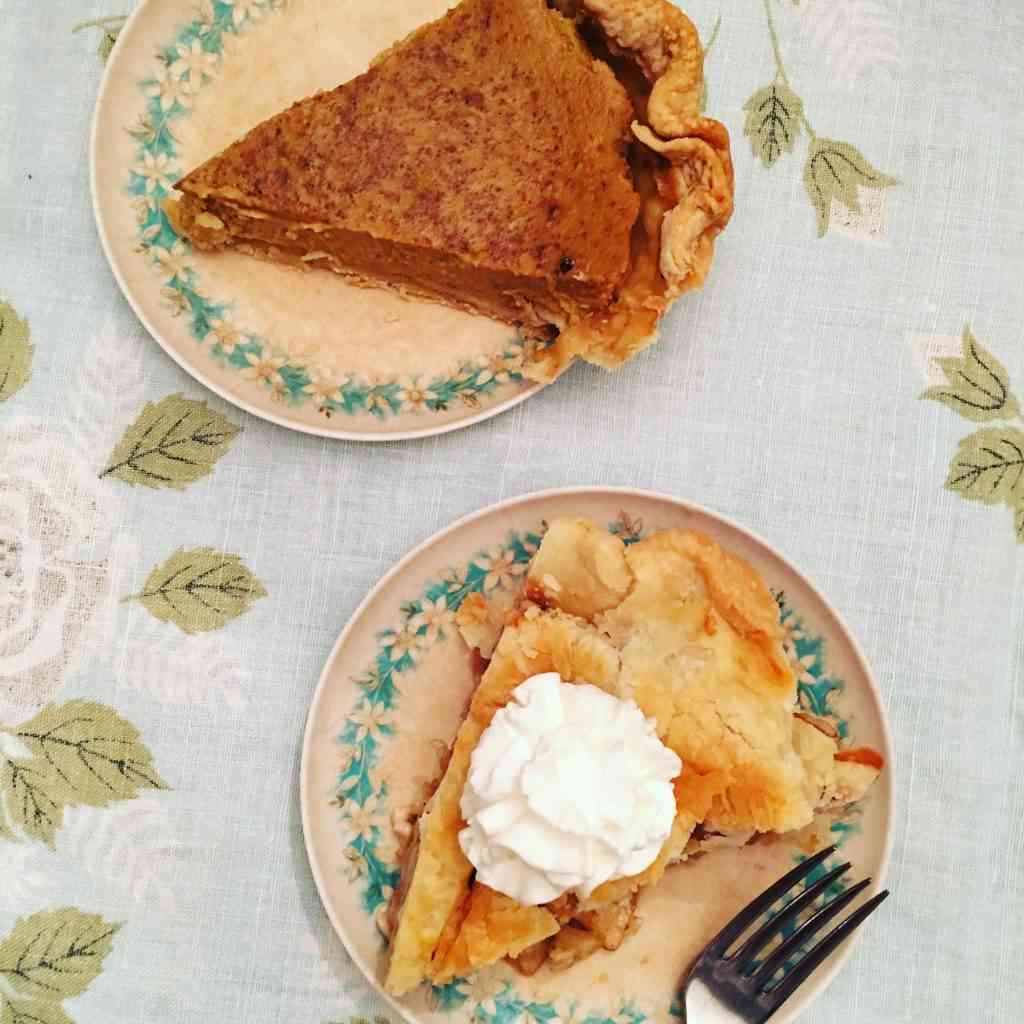 Grandma Miller is one of the best cooks I know, she makes everything by feeling or memory using very few recipes. I am forever thankful for her inspiration, you can read more about our story.
No family holiday or gathering would go without Grandma making something. The usual suspects were her baked beans and the most amazing chocolate sheet cake for summer get-togethers. For Thanksgiving we always have pumpkin pie, soups and turkey left over pot pie. There is no way to explain it, her little kitchen is always full of warmth, love and something cooking on the stove.

Only after I turned 30, got married, and went to culinary school did she finally share her famous pumpkin pie recipe with me. This is one of the very few handwritten recipes she has (that we know of). I took a picture of it and immediately sent the photo to a shop on Etsy where I had a pie plate made with it copied onto the bottom it's forever a piece of my kitchen. It makes the best Christmas present if you're brainstorming.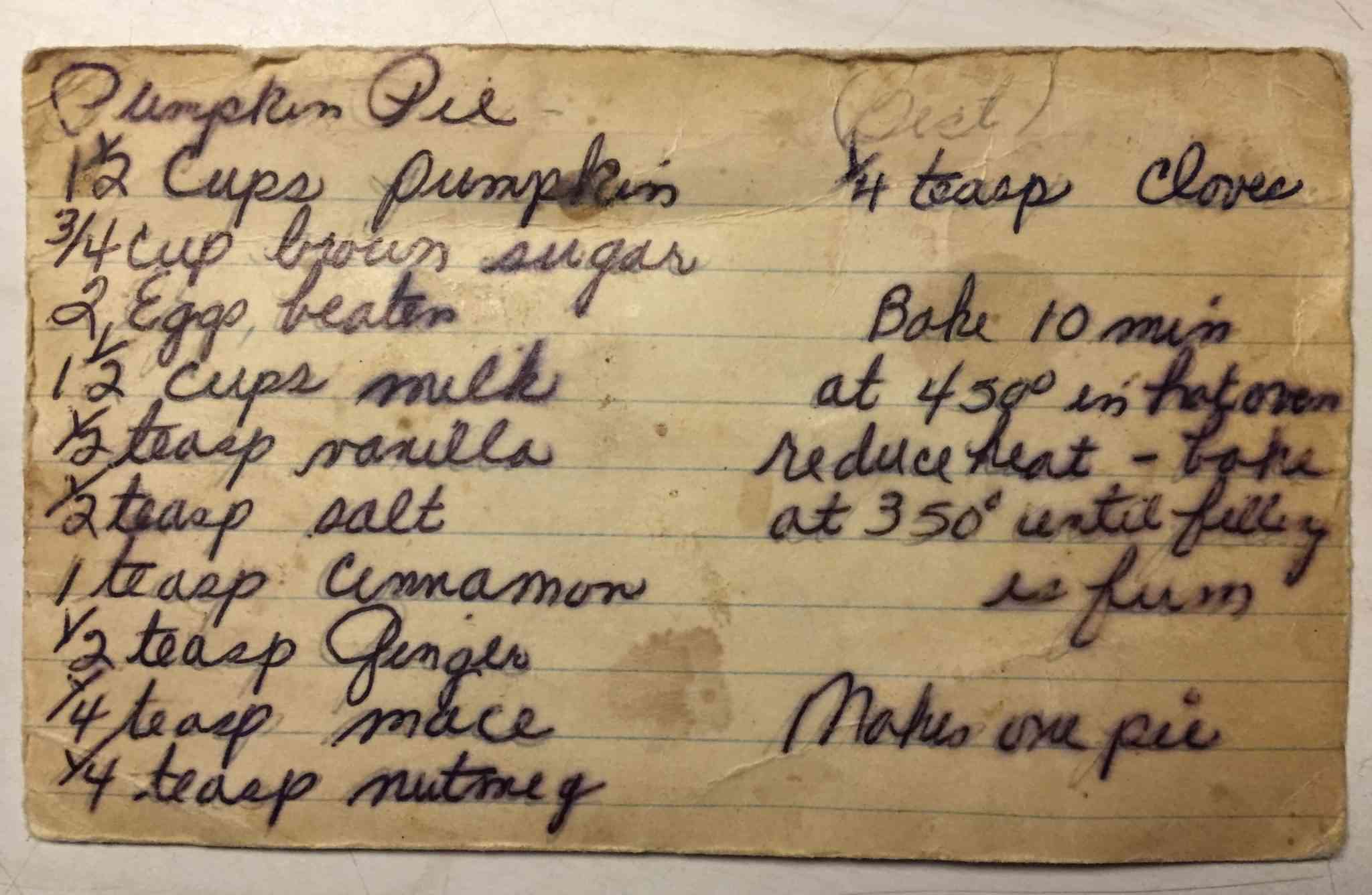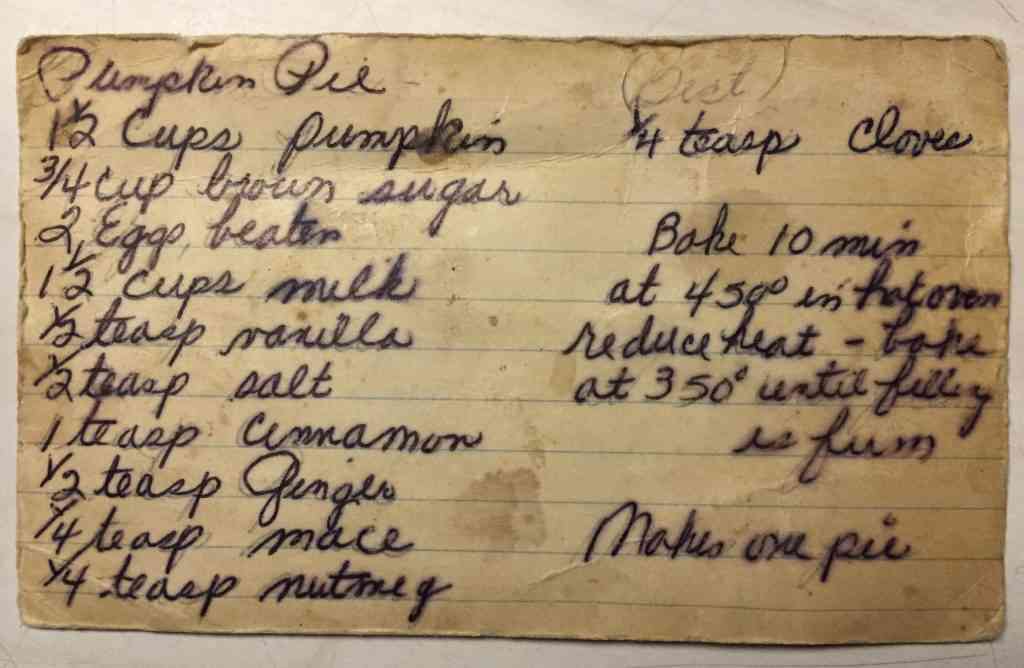 The Pumpkin.
There are two ways you can get your pumpkin puree for the pie filling.

Roast your own. You can cut a small pumpkin, scoop out the seeds and roast it in the oven until it's fork tender. Then scoop out the pumpkin flesh and puree it with a food processor or blender until it's smooth.
You can buy it in a can. This is what I do! You can buy a can of pumpkin from any grocery store, during the holidays it's usually stacked at the end of the aisle. Buyers beware, do not grab "pumpkin pie filling" just get the can that says "pumpkin" on it. The pumpkin pie filling comes flavored and sweetened, so you wouldn't want to use that in this recipe below.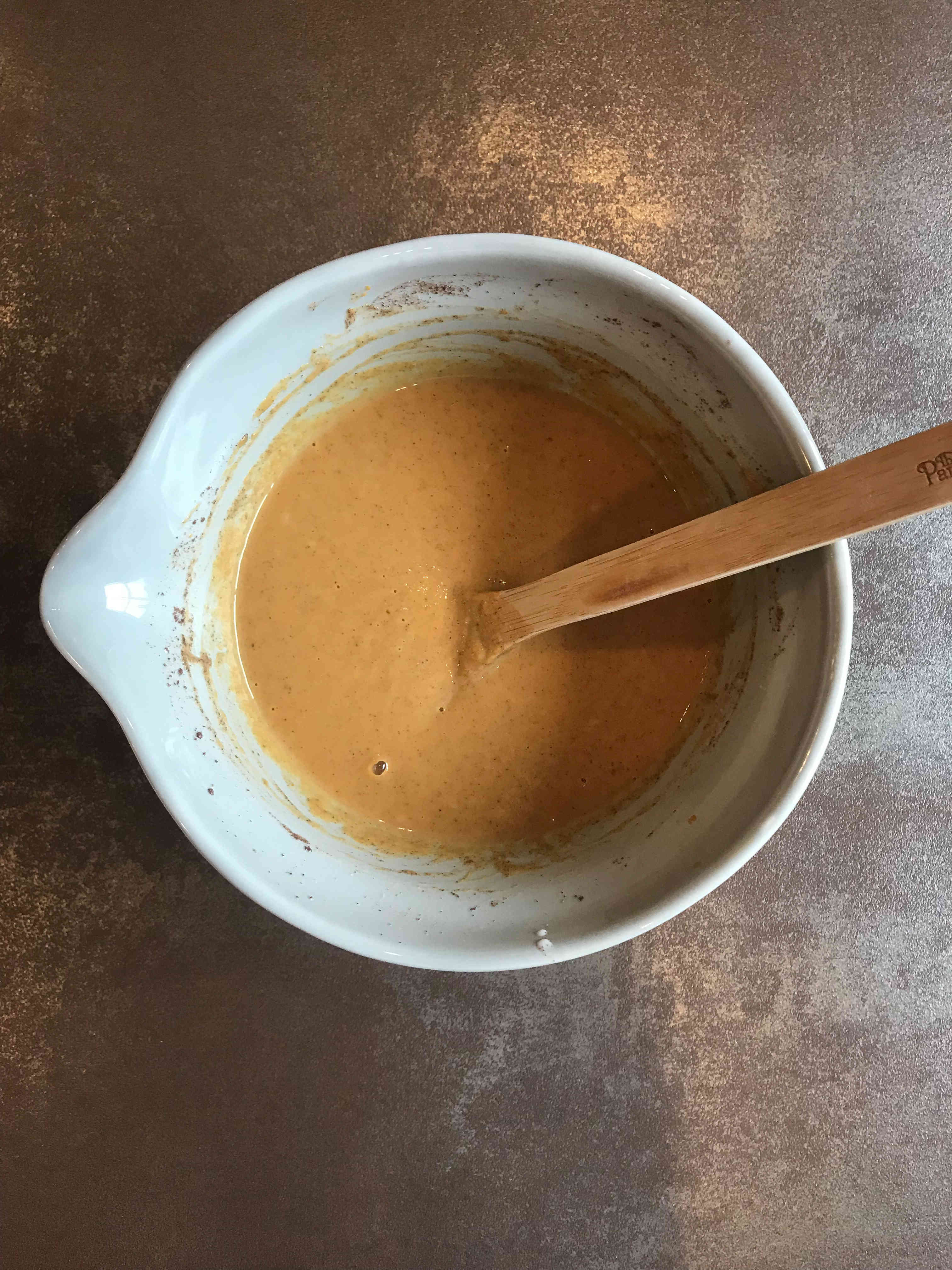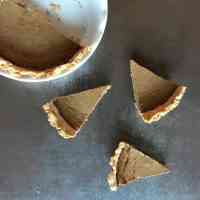 Grandma's Famous Pumpkin Pie
No family holiday or gathering would go without Grandma making something, for thanksgiving it's pumpkin pie.
Print
Email
Pin
Rate
Ingredients
1

Pie Crust

(homemade or store bought)

1 ½

cups

Pumpkin Puree

¾

cup

Brown Sugar

2

Eggs – beaten

1 ½

cups

Whole Milk

½

tsp

Vanilla

½

tsp

Salt

1

tsp

Cinnamon

½

tsp

Dry Ginger

¼

tsp

Dry Mace

¼

tsp

Nutmeg

¼

tsp

Dry Cloves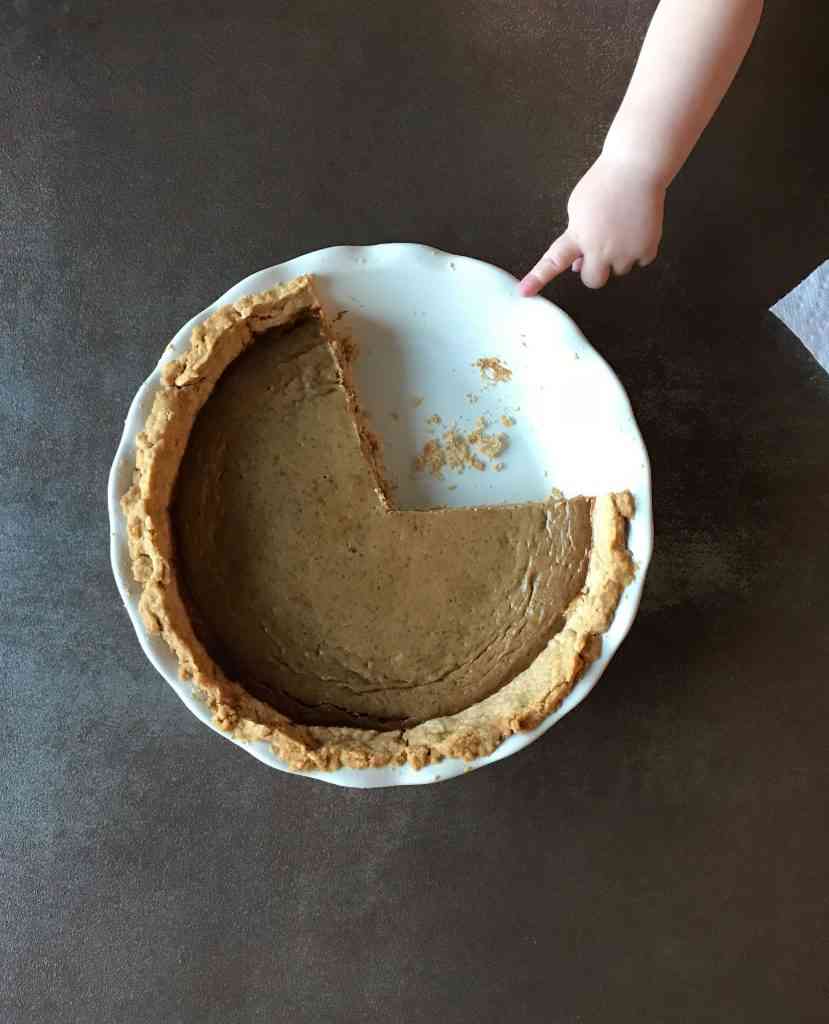 We are The Millers (well this is some of us in 2014).
Grandma and Poppie have 10 grandchildren, and 10 (& counting) great-grandchildren. They are two that started it all. The famous Grandma Miller is in the front wearing purple and Poppie is the sharp handsome guy in the back on the right wearing the aviators.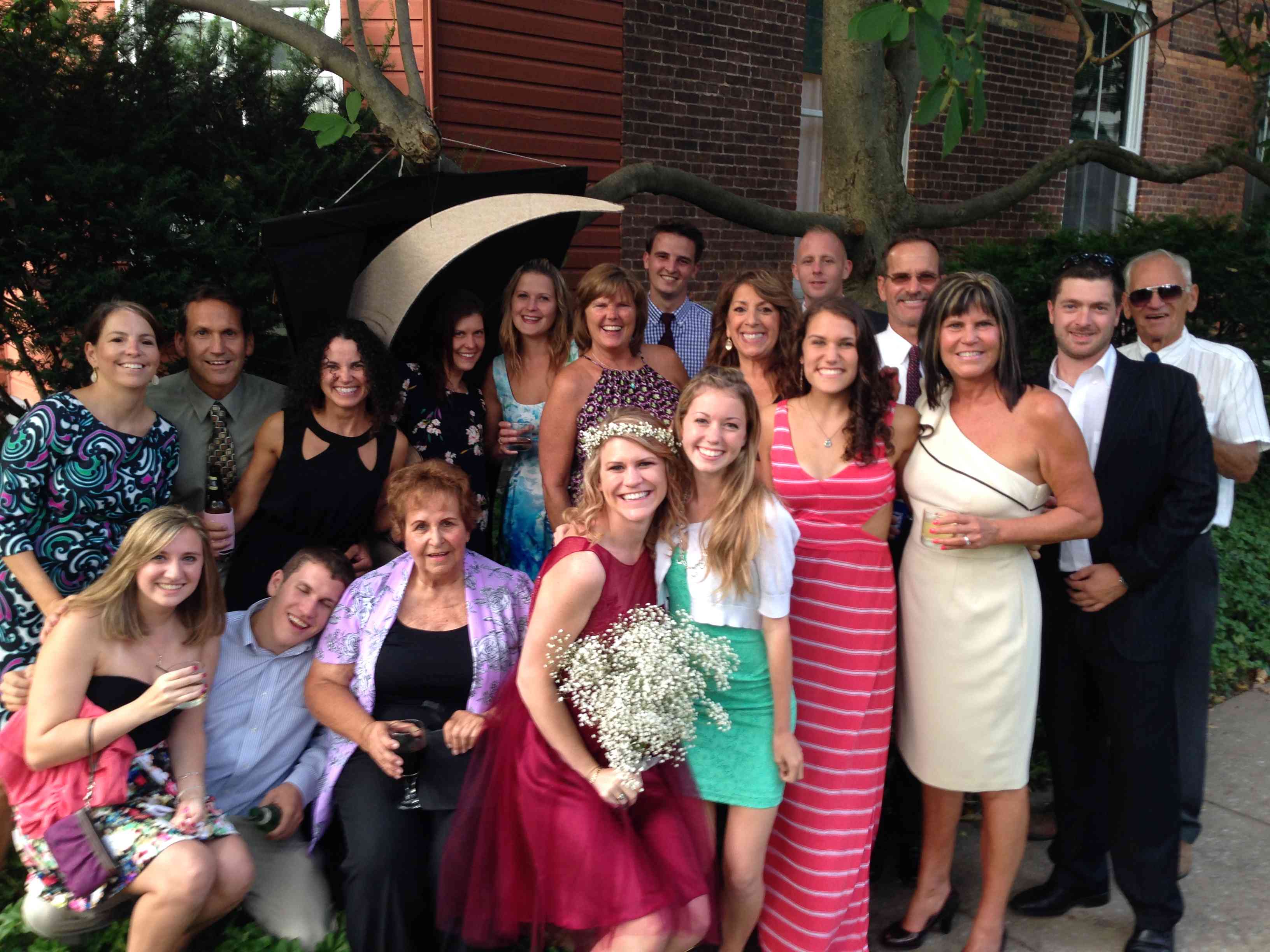 Other recipes that were inspired by Grandma Miller
My first blog post about her
Easy Pie Crust
Simple Apple Pie
Classic Holiday Turkey
Turkey Pot Pie