These grilled brats topped in IPA sauerkraut is a fun way to change up the usual go-to grill meats and is perfect for the upcoming July 4th weekend! Grilling has become a way of life at my house. We are still working from home and living our best lives. Using the grill for our weeknight dinners gets us outside and keeps the kitchen cool and (somewhat) clean.
This is the second July 4th we are spending home rather than in California visiting family. We miss them, it was such a fun tradition that Olivia still talks about and she was just about 2 the last time we piled into the truck tailgate to watch fireworks. Next year, 2022, we will get back to family holiday traditions. What are you doing this year?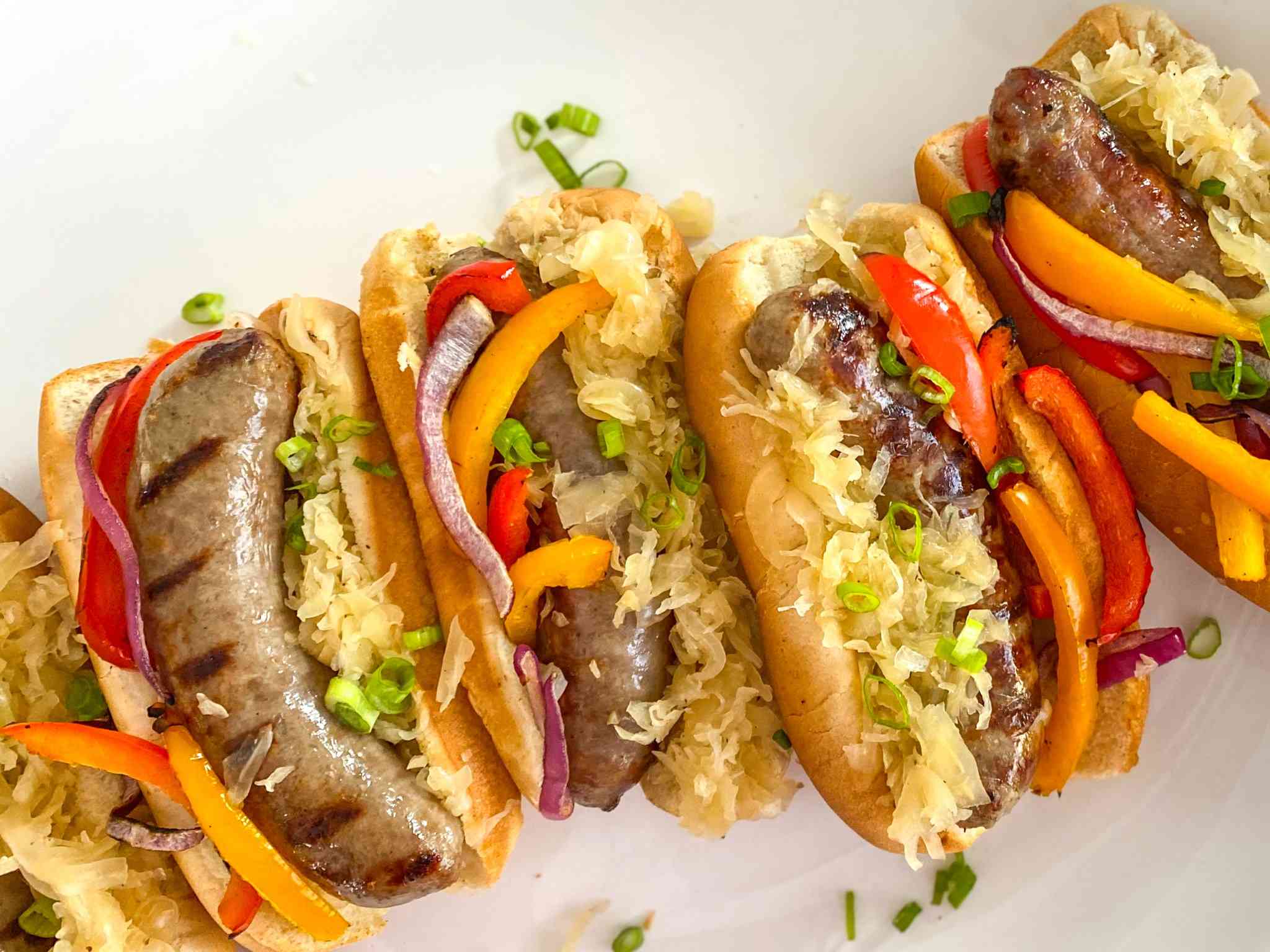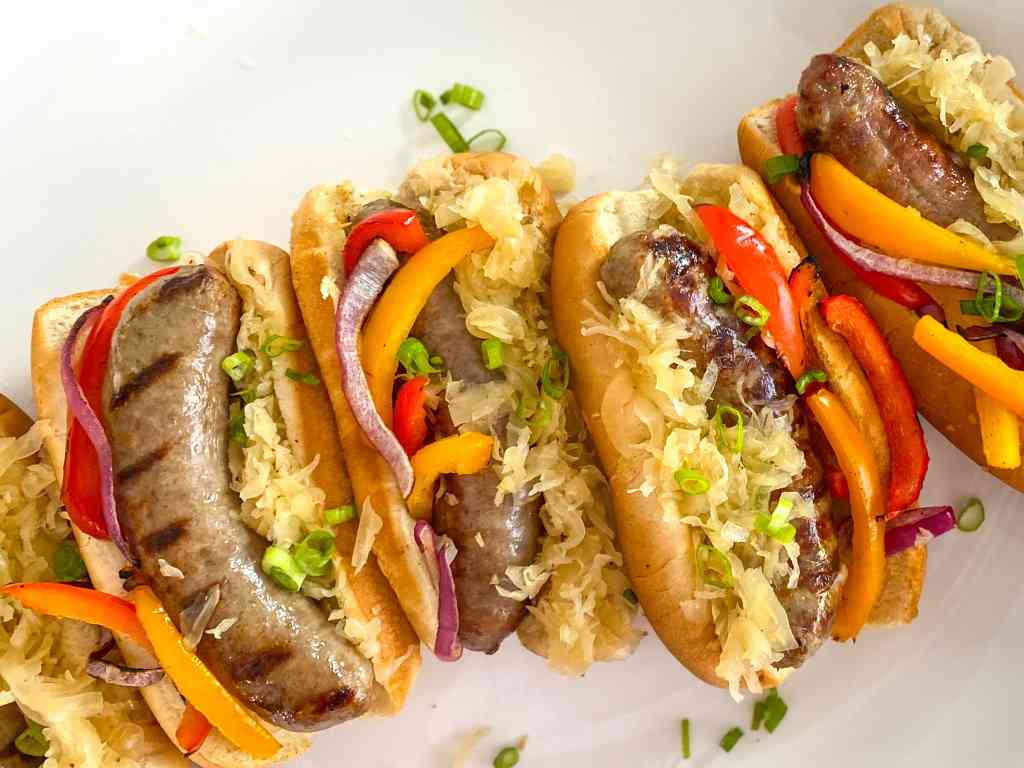 Let's talk about these brats! Bratwursts and sauerkraut, like my grandmother come from Germany – they just mesh well. They come is several different flavors, you can get regular, mild, or hot and spicy. For this recipe I grabbed the regular bratwursts so that we could really enjoy the leveled up IPA sauerkraut. The sour tangy IPA sauerkraut topped with the sweetness of a purple onion and bell peppers bring out so much flavor of the bratwursts. All together it just works like magic.
The unique twist and vibrant colors really make this dish an easy crowd pleaser, perfect for entertaining now that we are getting back to hosting friends and family. With a subtle green onion garnish, this dish dresses up the table all on it's own. Total summer vibes.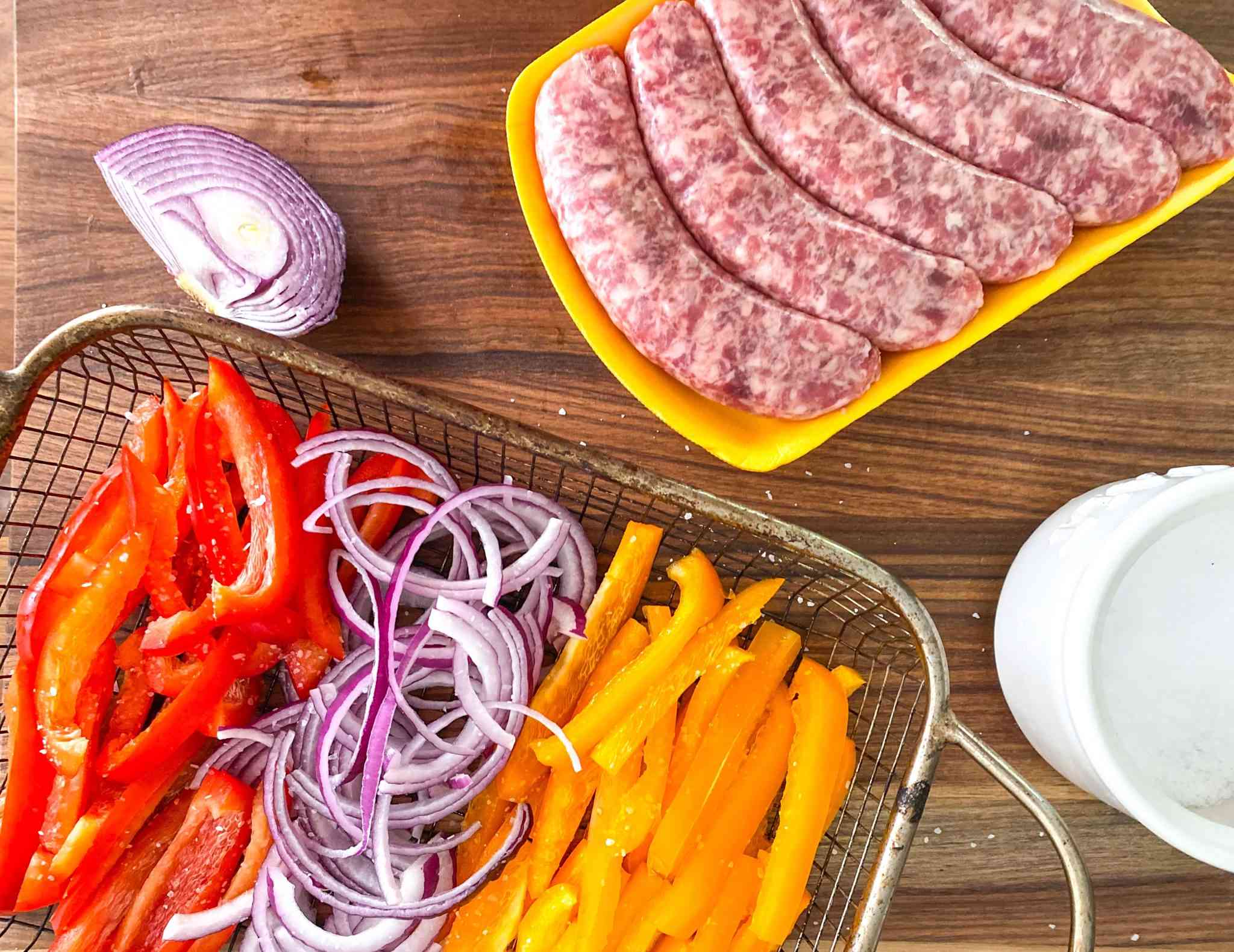 How to make IPA Sauerkraut
Fun fact: Sauerkraut is fermented cabbage. When I was going to acupuncture regularly they often suggested that I incorporate it into my diet to help with a healthy gut. It is loaded with vitamins and helps with your digestion.
Sauerkraut is better when it has time to simmer. But the most important step is rinsing the salt brine off the sauerkraut when you take it out of the packaging. Rinse and repeat. Add it to a medium sauce pan. Pour a can of your favorite IPA until the sauerkraut is fully submerged and add in some thinly sliced white or yellow onion. Sauerkraut can be just a tad too sour and the IPA can be a bit bitter, the onion will help balance that flavor to give you that delicious tangy bite we expect when we think of sauerkraut.
Beer me. IPAs are currently trending for summer get-togethers. The distinct bold hoppy-ness can be found in many different varieties making it easy to pick your favorite. For this, pick a beer you like to drink. We tested this recipe using a more traditional IPA and some citrus varieties, we decided if you like to drink it, you will like to eat it.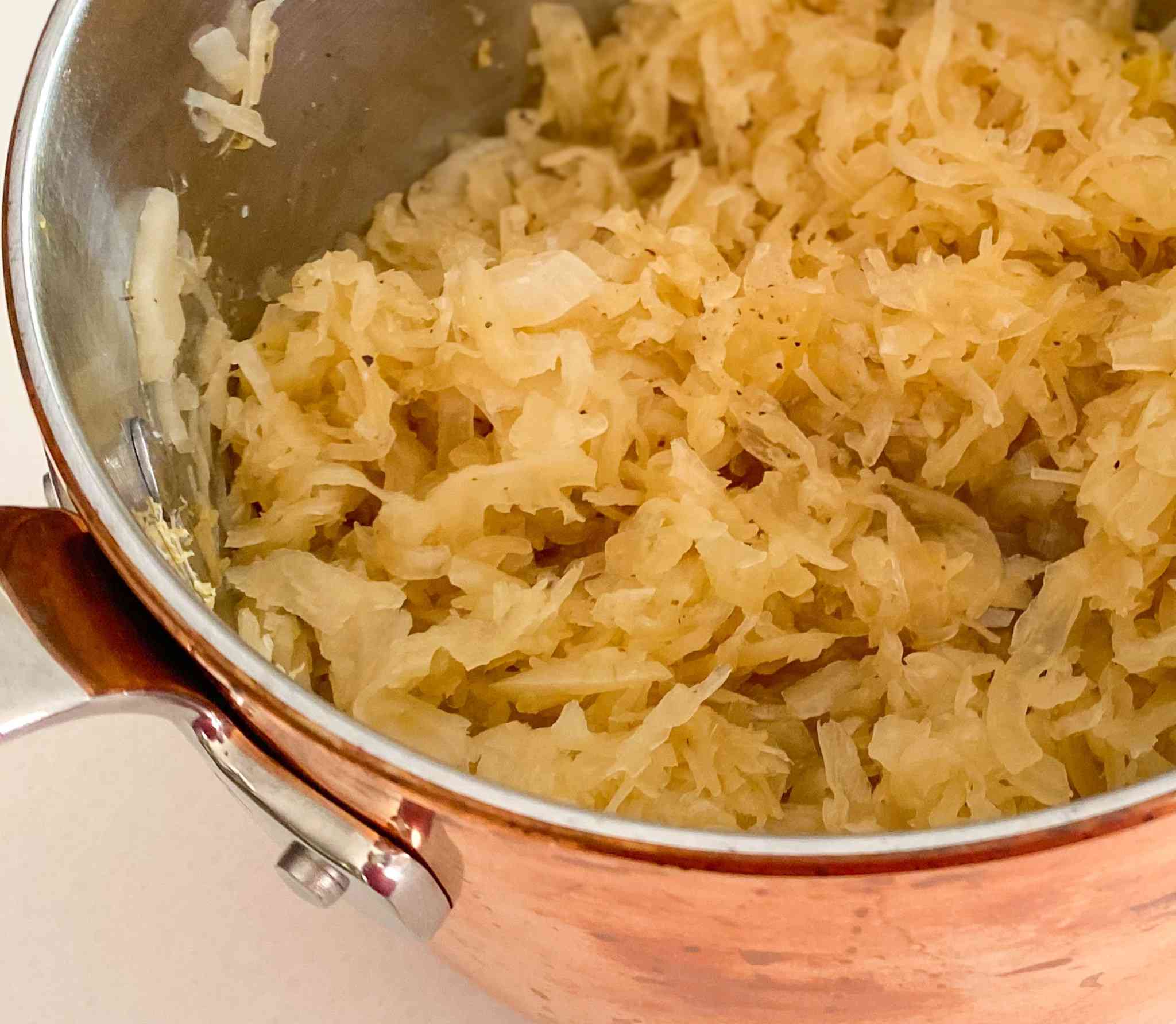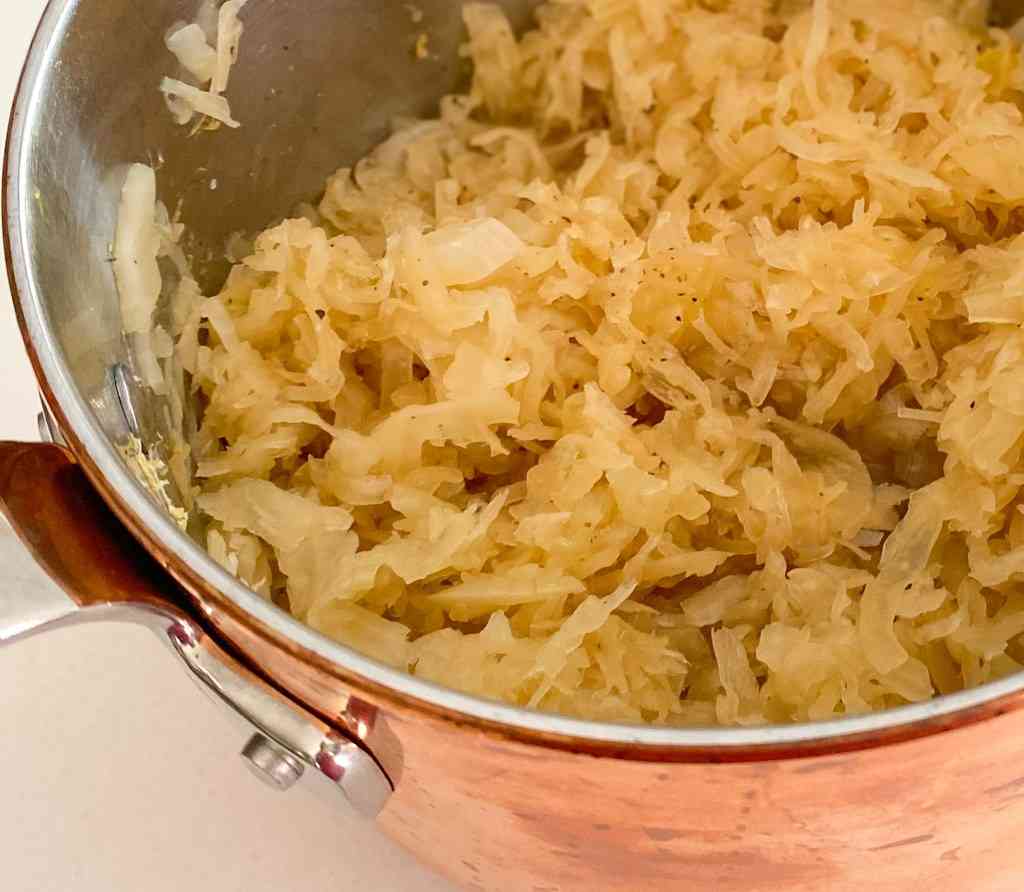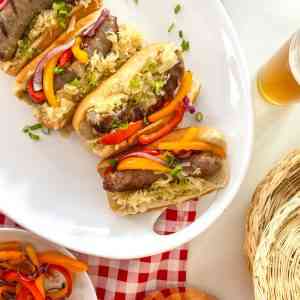 Ingredients
IPA Sauerkraut
16

oz

Sauerkraut – drained and rinsed

12

oz

IPA beer of choice

½

White or Yellow Onion, thinly sliced

1-2

heavy pinches

Salt and Pepper

(about ¼-½ tsp)
Brats & everything else
1-2

packages

Bratwursts – flavor of your choice

2

Bell Peppers, thinly sliced

½

Red Onion, thinly sliced

1-2

drizzles of

Vegetable Oil or Olive Oil

1-2

pinches of

Salt

1

packet of

Hot dog buns
Instructions
Under cold water, drain and rinse the sauerkraut.

In a small or medium sauce pot, add your sauerkraut and thinly sliced onion. Pour your IPA beer until the sauerkraut is fully submerged. Add in your heavy pinches of salt and pepper, stir to combine.

Simmer over medium low heat until the liquid reduces about half, about an hour. Taste and season if necessary.

On the grill over medium heat, add your bratwursts.

Using a vegetable basket add your bell peppers and red onion. Sprinkle on some salt and drizzle with oil. Cook over medium heat until soft.

Remove and assemble on a hot dog bun.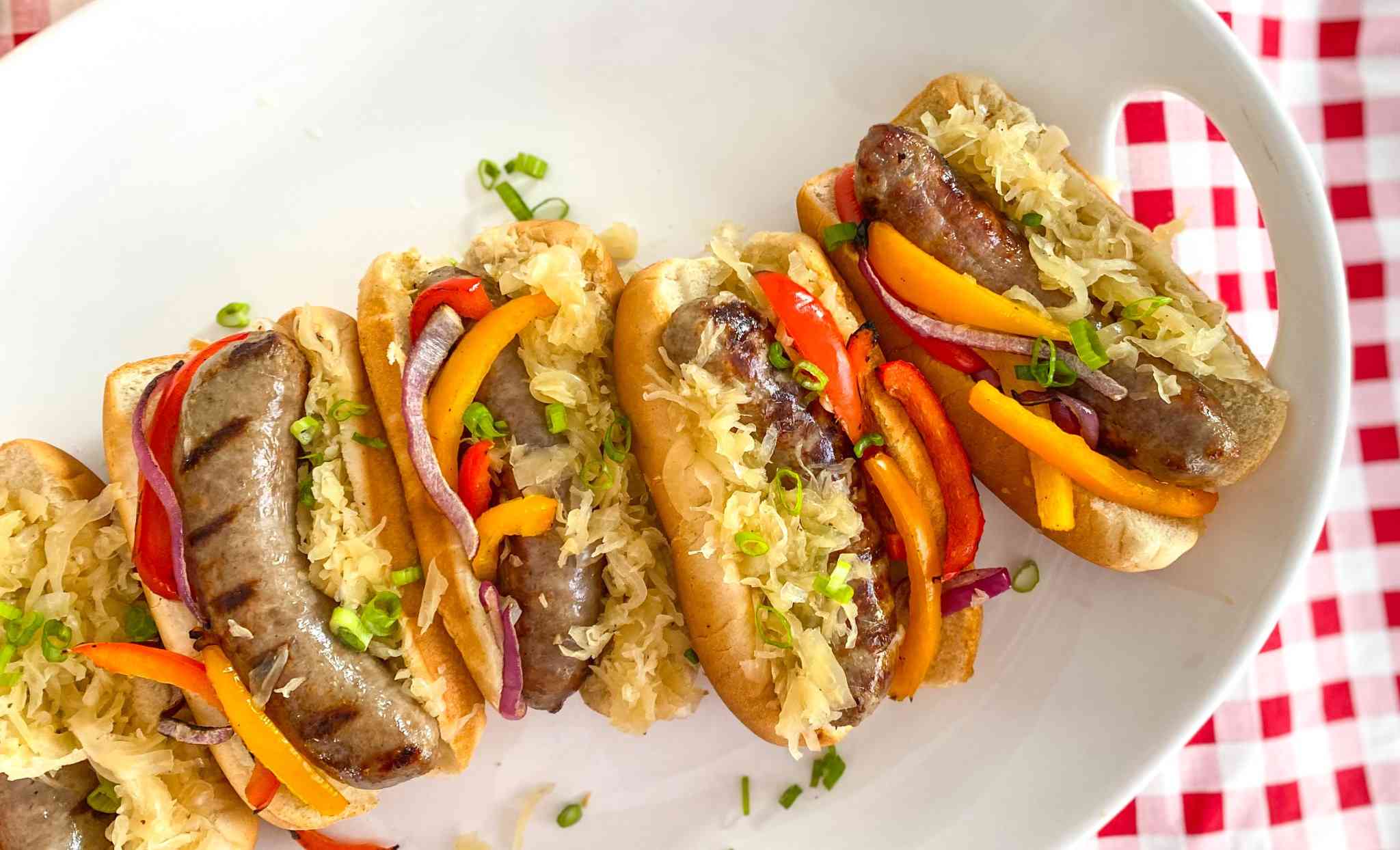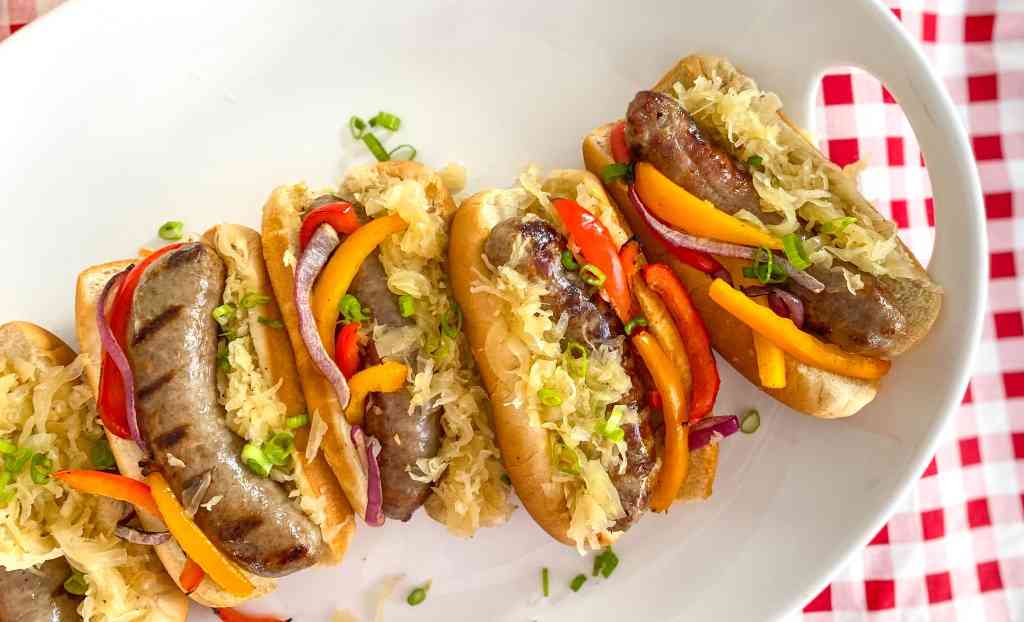 Complete the meal:
Easy Cucumber and Tomato Salad
Simple Lemonade (or an Arnold Palmer)
No-Bake Scotcheroos
Banana Pudding Pie